Is this going to be the lamest review of all time? Yes.
Will it be finished? Yes.
Alrighty, I have recovered from more trips to the dentist than I have fingers, vacation, business travel, and the end of exams for my graduate program. I am way behind! Oh well. I wanted to take a look at the April Women's Health Birchbox before May arrives. Which it will soon. Probably tomorrow!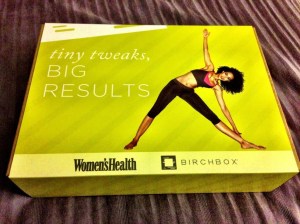 What's in the April Women's Birchbox?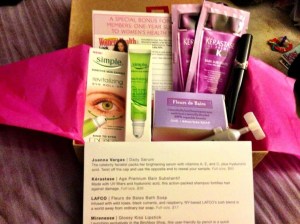 This!
Joanna Vargas Daily Serum. Teensy, but pricey. Judging by ingredients good stuff, but I'm already using Mela-D for pigment control (and it's working!) so right now I don't want to mess with ANYTHING.
Kerastase Shampoo for old ladies. Oooookay. My hair sucks. The only thing that makes it nicer is dying it. There is no shampoo on the planet that will make it look normal. Thumbs down.  BTW I don't want my hair protected. My stylist is always on my case to BLOW DRY MORE. It's very very fine.
Some weird soap. Who cares. I think hand bar soap is grody. I totally give every single bar soap I receive to my children so they can play with it. I am guessing this soap has an MSRP of at least five dollars for this size. This makes me a profligate something or other.
Mirenesse Glossy Kiss Lipstick. This would have been cool, but my pop sugar Revlon Just Bitten is chubbier and has an MSRP of like 1/3 of the Mirenesse.  Too slow Birchbox!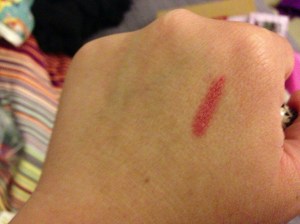 Women's Health Free subscription. Um, I'm sending in for the $9.99 rebate. I'm too lazy right now to read a magazine. Pretty much the only one I read is Rachel Ray. This totally cancels out giving expensive soap to my kids for a bath toy, right?
Oh yeah and then there was that bonus eye rolly thing by Simple (revitalizing eye roll on), and that was by far my FAVORITE item in the box. It wasn't minty, stingy, gooey, didn't make my skin tight or gummy, and I liked the cool metal ball roller a whole lot. I think it was supposed to be funny because Birchbox was all like haha, here's a drugstore item, and that's totally what I liked best.
Should you splurge?
Oh come on, just sign up for a year, it's totally fun. Even when I hate my Birchbox I still love it.  This is a staple box for me. Because I'm too lazy to find products myself. I need spoon fed things for just moi.  Birchbox would make an excellent mom's day gift too! Especially for moms that have too much crap. If you're not a subscriber, you can use my link to sign up for Birchbox (thanks!) but you'll need to wait a month or two to get in off the wait list!