My husband loves coffee!!!  Misto Box is a great treat for my husband. I buy coffee because it makes him so very very happy. He loves coffee. A lot. And he loves trying new coffees. Mistobox has been so awesome for doing that!  We use a Keurig brewer, with the EkoBrew refillable K-cup (and yes he has tried ALL the refillable K-cups and recommends this one in particular – so much that we gave them to his parents & brother for Christmas!). He & his family are all from Vermont and they all gleefully use Keurig machines (HQd in Vermont). But their loyalty only goes so far and my husband is cheap and likes to try new coffee.  I got him a Misto Box which has been sitting around until this morning because he didn't have a grinder! I purchased the Krups basic coffee grinder so he can grind beans at home and he reports that the grind on it is perfect for using in an EkoBrew refillable K-cup.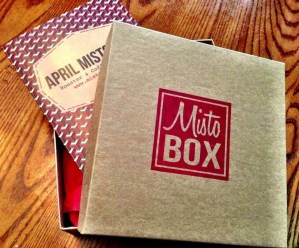 Anyhoo. MistoBox is a whole bean coffee subscription box!  They send hand-selected coffees from 4 unique artisan coffee roasters across the country for $15. Each delivery includes coffee tasting notes and roaster bios along with four 1.7 – 2 ounce samplings of whole bean coffees. When you find one you love, you can purchase a full sized bag in their online marketplace, and they will ship it to you for free! Full size bags of coffee run $13-$15 dollars. You can also get double the coffee for double the price. Or you can get the smaller box twice a month, which you would want to do because Misto Box changes its selections every fourteen days.
Currently: Your first MistoBox is $5 using my link! Or $10 for the larger box. It should be in there automatically!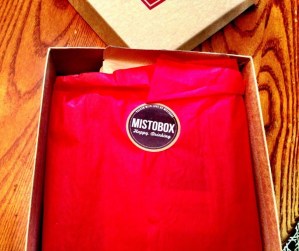 What's in the April Misto Box?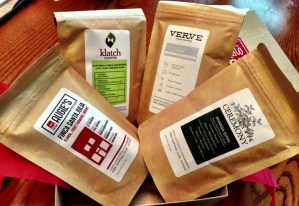 We got 4 1.7 bags of whole bean coffee – 2 from Guatemala, one from El Salvador, and one from Rwanda. Misto Box comes with extensive tasting notes.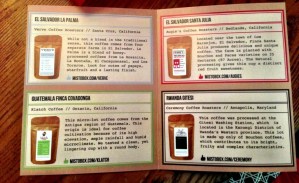 Um, for this morning's cup, my husband chose a Rwandan coffee which is roasted within 2 hours of our house. Guess we're supporting local, too! When he opened it he remarked that he could definitely tell it was an African coffee. I am so clueless about this, but he liked it! I think his very favorite is Kona coffee and his second is Costa Rican.
When you are done tasting your coffees you can go to the special URL on the coffee card and buy that very coffee if you want. For every dollar you spend in the store you get a Misto Point to redeem on your next order.
It's a little confusing but if you order a full bag that was featured in your order then you get free shipping on that bag. The free shipping code is right on your mini bag of coffee. So are the basic tasting notes, country, region, producer, process, variety, and elevation.
Should you splurge?
If you like unique varietal coffees and want to support artisan roasters, of course! Misto Box is a great way to do that! This is definitely a coffee subscription for coffee nerds/geeks/connoisseurs. I would love to hear your thoughts if you tried it. The best I can do without having my husband dictate a post for you is that he really liked it and wants another box. Lucky us we got a May box too. That was really the downside – I couldn't figure out how to pause it or whatever on the website (OMG don't make me talk to real people!!!) but Misto Box customer service was really fantastic about pausing it. I recommend! Obviously this would be a great Father's Day surprise, too!!