Subscription boxes are popular, and dental subscriptions shouldn't be any different. A smile is one of the best assets one can wear, so keeping oral health at its peak is really necessary. Dental care shouldn't be left out, so it's a great thing that subscriptions for better oral care come like clockwork when we need them!
Show More (3 items)
A good oral care routine helps in maintaining your overall dental hygiene, and these subscription boxes offer the best, high-quality products we can trust for our oral health. From toothbrushes to toothpaste, teeth aligners to night guards, floss and gums, they'll send regular supplies in the mail, so there's no need to go outside your homes! Prevent tooth decay and gum diseases to unleash your brightest smile! Everything will be delivered right to your doorstep and keep you stocked up on dental products.
Good habits start within oneself! So brush all the cavities away, floss plaques aside, and practice healthy oral hygiene. We've compiled on this list of the best oral care subscriptions you should go for!
All The Best Subscription Boxes For Dental Care!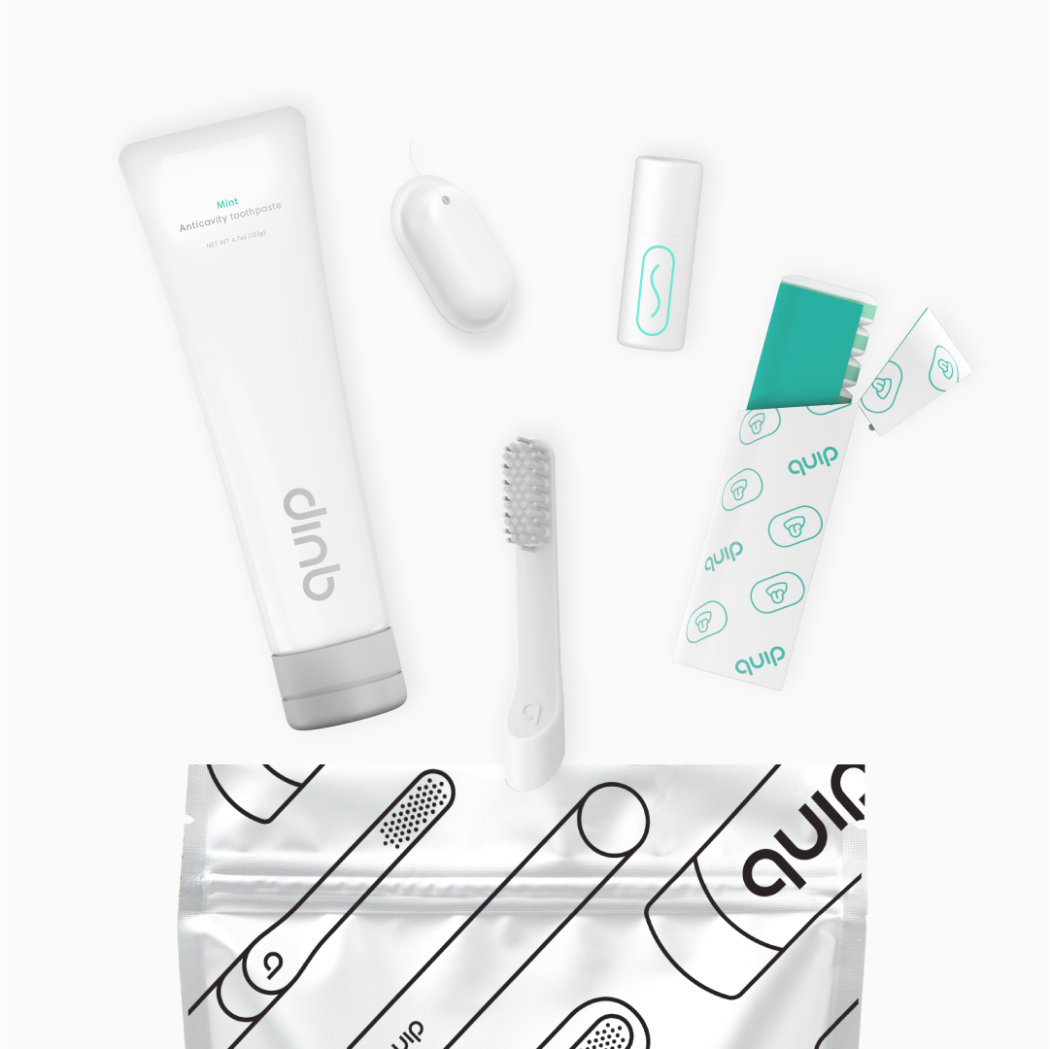 Image from: quip
What You Get: Keeping your mouth healthy is much easier with quip, as they've made better oral care as simple as it can get! They offer quality oral care products such as electric brushes, refillable floss, gum, toothpaste, and more for the whole family. Their sleek toothbrushes are created by dentists and designers with guiding features the teeth need. They have customizable bundles and starter kits to help you get a head start towards your journey to healthier teeth. You can get the starter set that includes a timed sonic vibrating electric toothbrush, a handy holder that can also stand, suctions that you can easily attach to the wall, and optional anti-cavity mint toothpaste. Build your own bundle is also an option to save more bucks. You can also get the refill plan that ships every quarter, keeping you loaded with the best products for a good oral care habit!
---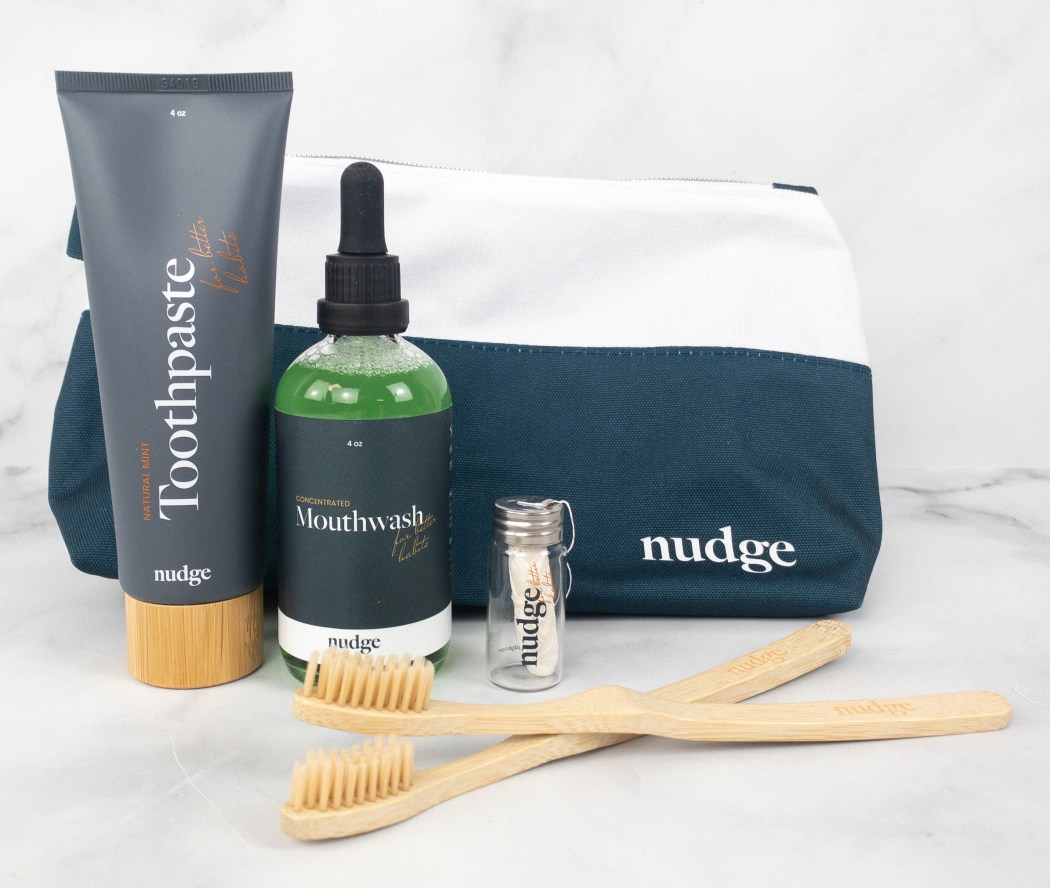 Image from: our review
What You Get: Nudge is an oral care subscription that seeks to give everyone the brightest smile possible! They provide sustainable and natural oral care solutions to assist everyone in developing excellent oral hygiene practices. Each product they send out contains natural formulas that are tested by dentists. Grab their Oral Care package and receive fluoride-free naturally whitening toothpaste, alcohol-free and fresh concentrated mouthwash, two sustainably sourced bamboo toothbrushes, and 100% biodegradable floss, plus a free toilet pouch! Refills are supplied every two months, so all you have to worry about is maintaining optimal oral health.
Deal: Get $10 off your first order! Use coupon code HELLOSUB. Does not apply to subscriptions.
---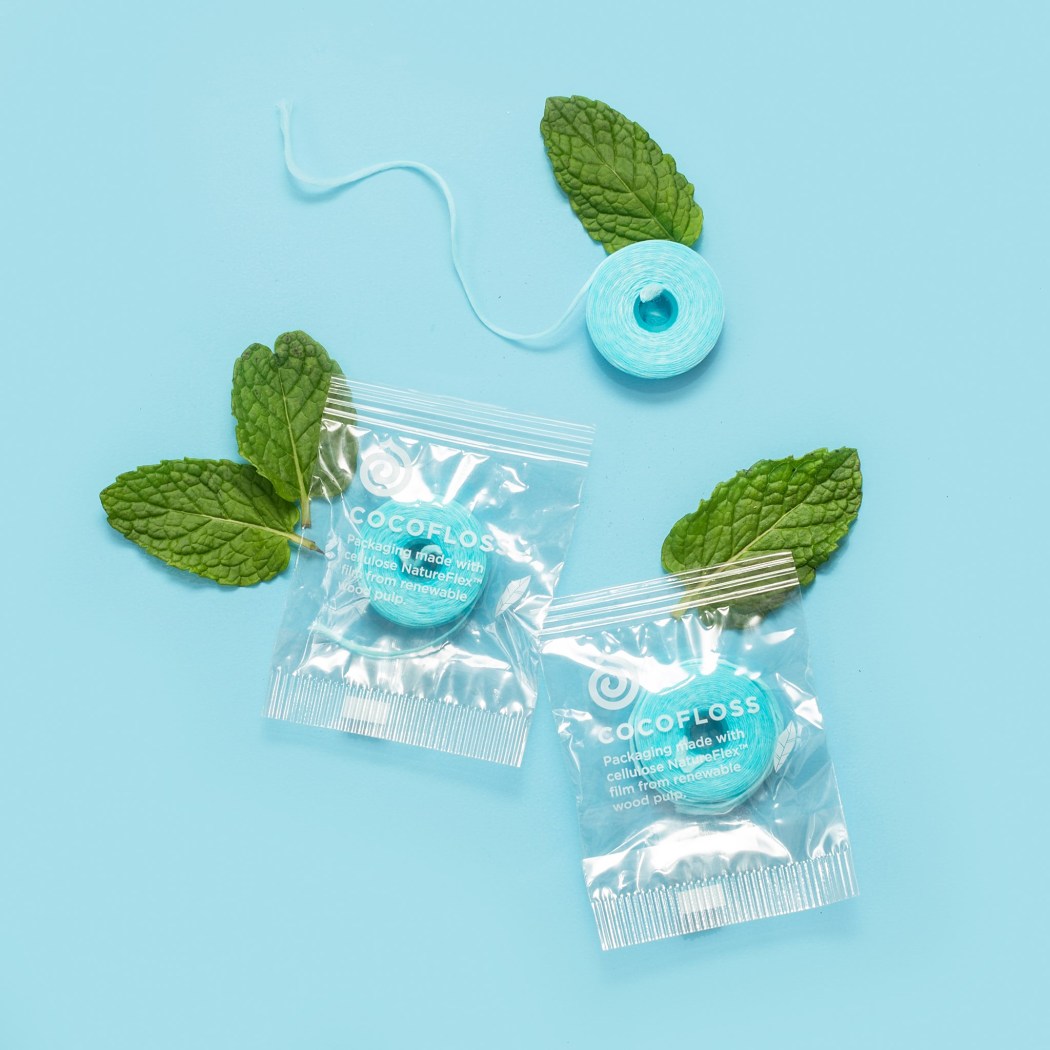 Image from: Cocofloss
What You Get: With Cocofloss, you can toss away the bad bacteria! Keep your mouth and your gum clean as you remove plaques and grime entirely. And because brushing is not enough, this floss will help you keep your smile sparkle with 500 interwoven filaments that glide gently over plaques, preventing cavity-causing bacteria to multiply. What's even better is that these flosses are scented with fine and fresh fragrances you'll love – Strawberry, Coconut, Mint, Orange, Peppermint, Dark Chocolate, Vanilla Bean, Passion Fruit, and Watermelon! Build your own box and choose your fave fragrances. You can also add Cocobrush (toothbrush) if you want to! Receive 3 spools of floss every 6 months and bless your whole mouth with the best products that your smile will thank you for later on!
---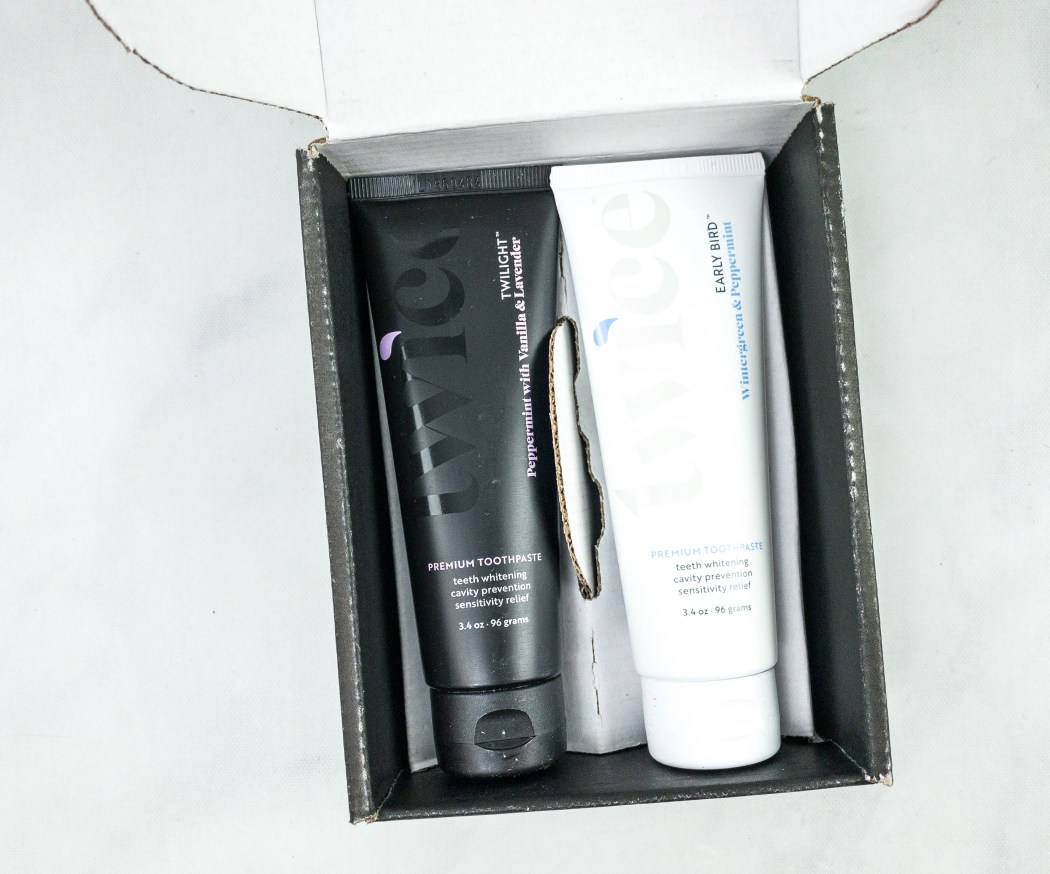 Image from: our review
What You Get: Twice provides a solution for keeping your teeth and mouth clear of unwanted microorganisms. This subscription offers premium toothpaste that will keep your teeth clean and white while keeping your gums and mouth healthy and strong – vegan, gluten-free, non-GMO, and cruelty-free! With the aim to take smiles to the next level, their toothpaste is packed with clean ingredients, clinical benefits, and mouth-loving vitamins. Choose from their duo or trio pack, and receive toothpaste in cooling spearmint eucalyptus, invigorating wintergreen and peppermint, and calming vanilla lavender mint flavors. You may also opt for the starter set with everything you need to keep your mouth in check. It's one marvelous way to practice better oral habits!
Deal: Get 20% off your first order! Use coupon code HELLOSUB20.
---
Image from: Candid
What You Get: If you're up for a change and pledge to better oral care, Candid is a subscription to go for! They want you to have the prettiest smiles to flash by offering clear aligners to keep your teeth straight and bright. Get started with a starter kit that will let you take photos and impressions of your teeth. Their team will assess your case, and they'll send a package curated on it. You'll receive a teeth straightening kit that includes a full set of aligners and everything you need to keep track of your progress. You'll now achieve that kind of smile that you wanted with their high-quality clear aligners, so no more finding the right reason to smile! With this subscription, the best smiles are candid!
---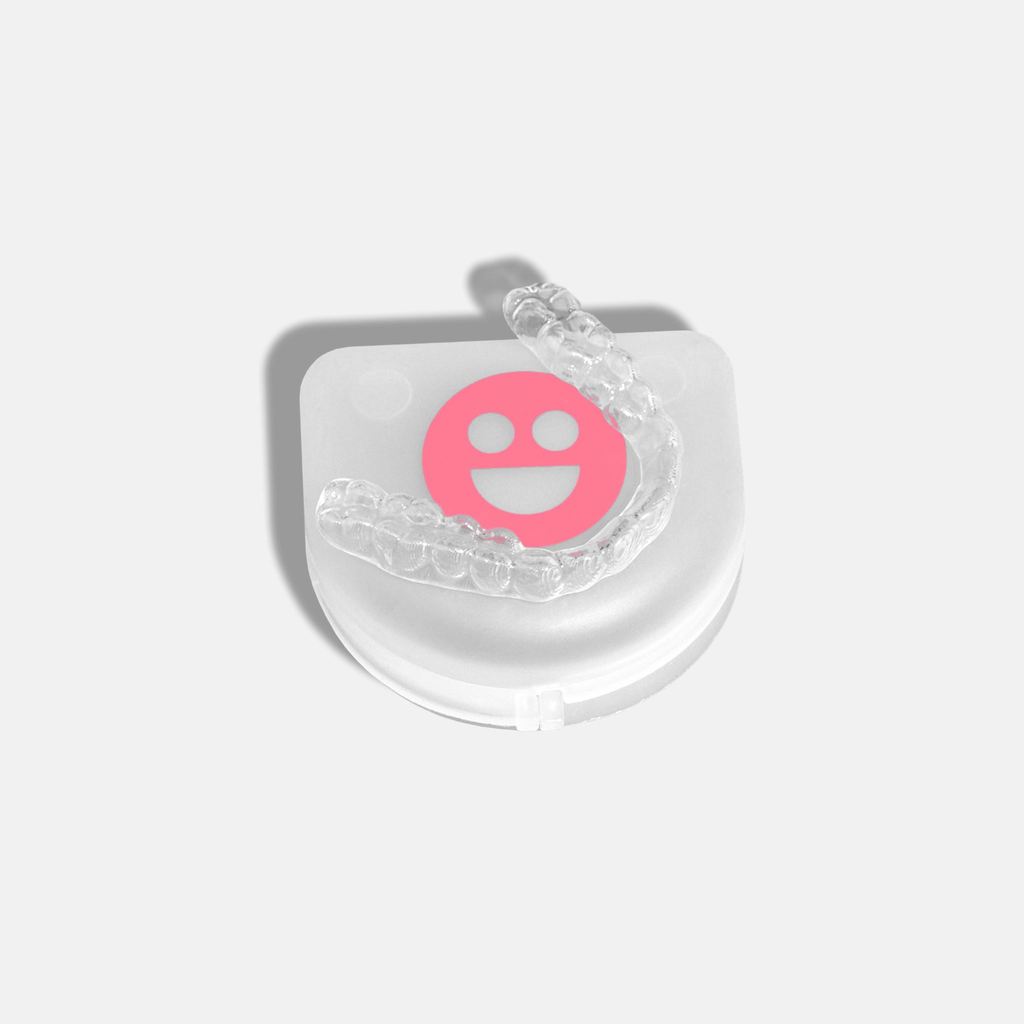 Image from: Cheeky
What You Get: Say no more to nocturnal teeth grinding! Cheeky has some custom night guards to help remove the discomfort at night and after you wake up at affordable prices. They offer both soft and hard/soft night guards for upper and lower teeth with varying thickness, depending on what you need. To start it off, you'll receive an impression kit. They'll do all the work for you by using a 3D scanning technology that'll perfectly replicate your impressions. Every three months, they'll send you a new one to protect your teeth and maintain optimal hygiene. It's one oral care product you need for the perfect sleep you need!
---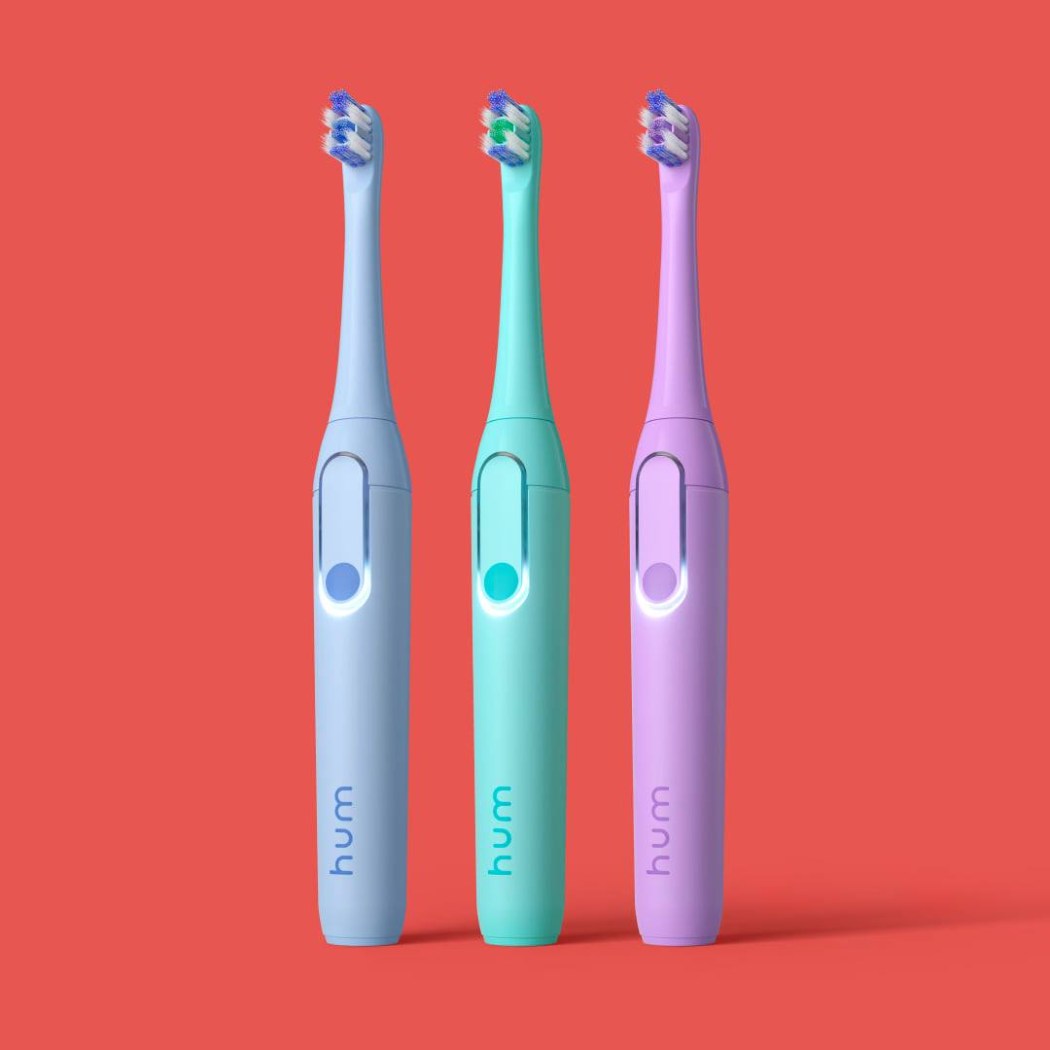 Image from: hum by Colgate
What You Get: Cleaning one's teeth and mouth requires brushing, and hum by Colgate is here to help with that. This smart electric toothbrush is your personal assistant when it comes to better oral care. It is designed with powerful vibrations in different modes, so you can choose which best suits your brushing style. You can also connect this to an app, where you can see all the details – tracks frequency, duration, and coverage of your unique brushing style to help you brush well! You can choose to receive the rechargeable electric ones or the battery-powered electric toothbrush, available in green, blue, and purple. Replacement heads refill plan send one head every 3 months. So get into the rhythm and brush your way towards a cleaner and whiter smile!
---
Image from: Better & Better
What You Get: Better & Better is a quarterly subscription that's not just better for one's personal oral health care but the planet as well! This brand reinvents oral care products into something that won't harm the planet. Their toothpaste is all-natural, vegan, and organic with no parabens, no artificial flavors, colors, and preservatives of any kind! These are also packaged in pouches that use 45% less plastics than the unfriendly tubes we're used to, resulting in an 84% reduction in landfill waste. Choose between Remarkably Pure or Fully Charged – infused with vitamin B12 and D3 for superior oral health, and brush safely and gently for better smiles and better tomorrow!
Deal: Save 10% on your first toothpaste purchase! Use coupon code SAVE10PASTE. Does not apply to subscriptions.
---
Image from: Bristle
What You Get: Bristle is here to keep your dental health at its peak! The goal of this subscription service is to determine the amount of good and bad bacteria in your mouth. They'll send you a kit to test overall oral health, including risk factors for cavities, gum disease, and bad breath. Then, they'll analyze the results and provide you with personal insights to improve and maintain oral health, aside from brushing and flossing. Not only will you learn the root cause for oral concerns, but you'll also prevent other issues from happening!
Deal: Get 10% off your first order! Use coupon code WELCOME10.
---
And there you have it, our rundown of the best oral care subscription boxes! Have you found what's the best for your dental health?
Go through our complete list of all the best subscription boxes in every category to find more must-try subscriptions!
Say Hello To More Essential and Personal Care Product Subscriptions