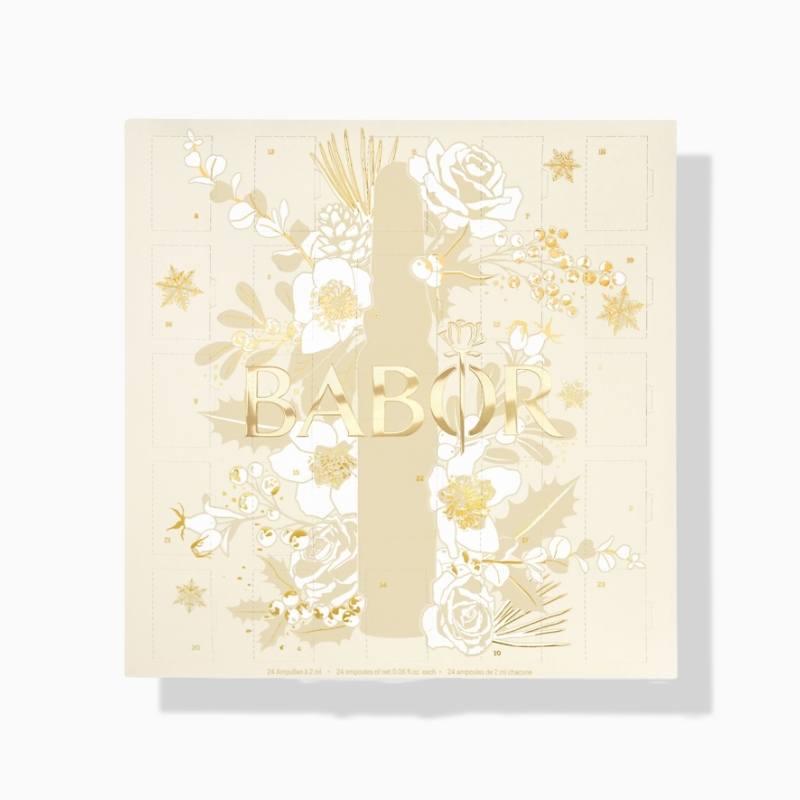 The 2023 BABOR Ampoule Advent Calendar is available now! The calendar is $99, and includes 24 skin treatment ampoules!
24 perfectly coordinated active ingredient concentrates for radiantly beautiful, youthful skin.

Counteract the pre-Christmas stress and pamper your skin with the concentrated active ingredient power of our ampoule intensive treatment . Make yourself happy when you open the dreamy BABOR advent calendar and experience exclusive beauty power behind 24 magical little doors. With radiant skin and an incomparable skin feeling, nothing stands in the way of the most beautiful days of the year.

Thanks to the highly concentrated formulation of active ingredients, the ampoule treatment ensures that the skin is revitalized , moisturized and regenerated for the holidays  Experience the feeling of youthful, fresh, vital skin after 24 days and let your skin shine with a new glow!
This calendar includes:
1 x Hyaluronic Acid Ampoule
1 x Hydra Plus Ampoule
2 x Algae Vitalizer Ampoule
2 x Perfect Glow Ampoule
3 x Beta Glucan Ampoule
3 x Active Night Ampoule
3 x Vitamin C Ampoule
3 x Multi Vitamin Ampoule
3 x 3D Firming Ampoule
3 x Lift Express Ampoule
Looking for even more advent calendars? Check out all our posts on Advent Calendars or find more on Amazon, or see the list of Advent Calendars in the directory!