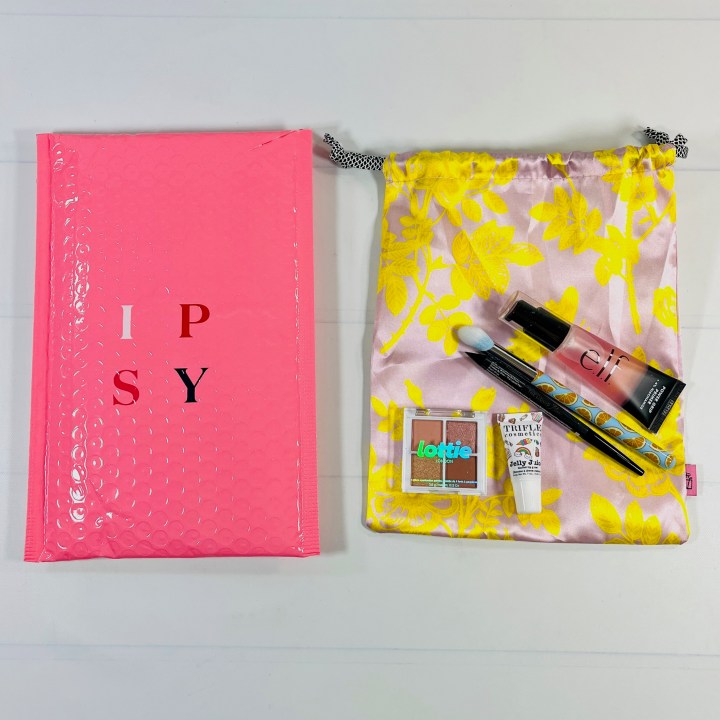 The Ipsy Glam Bag theme for July 2023 was The Great Escape! I received a bag and five beauty products including a pretty eye shadow palette, a cute makeup brush, and more. Read on to see all of my beauty items!
Note: Ipsy sends many variations, so the bag I'm reviewing may not match everyone else's.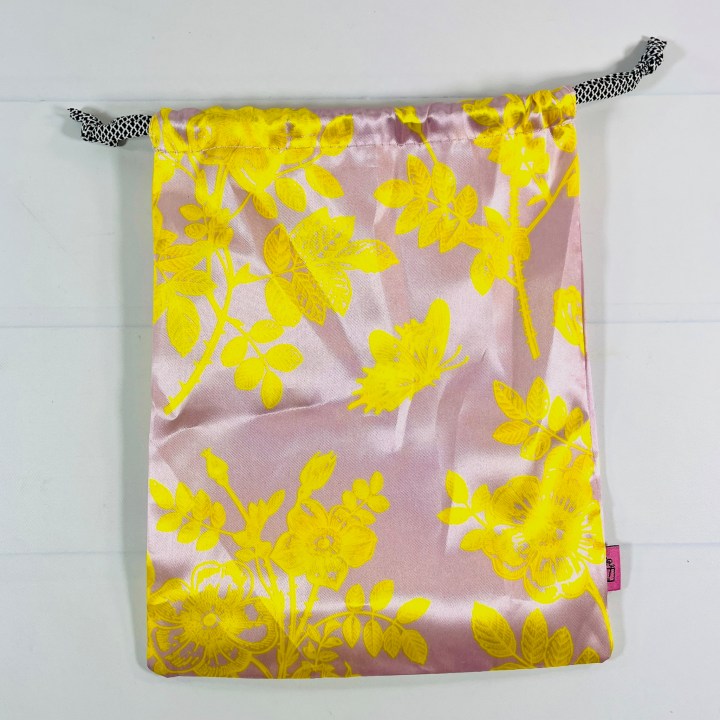 Ipsy Glam Bag The bag for this month is actually a drawstring pouch from Ipsy's Refreshments line. They offer things like razors, shave lotion, and more and the bag itself is silky-feeling and I was happy to see a butterfly included in the print.
E.L.F. Cosmetics Power Grip Primer + 4% Niacinamide ($10) This is billed as a "sticky gel-based primer" and sure enough, I felt like I was applying hair gel to my face. I decided to apply it to one side only to compare and that side felt cooler as the water evaporated, leaving a sticky, grippy texture. I saw no difference in sides after applying all of my face makeup. Did it look better at the end of the day? No, there was still no difference. I placed a clean tissue on each side and oddly, the side with the primer came away with makeup while the non-primered side did not. This just tells me that I don't need primer, but I get that others (especially those with oily skin) may want this type of product.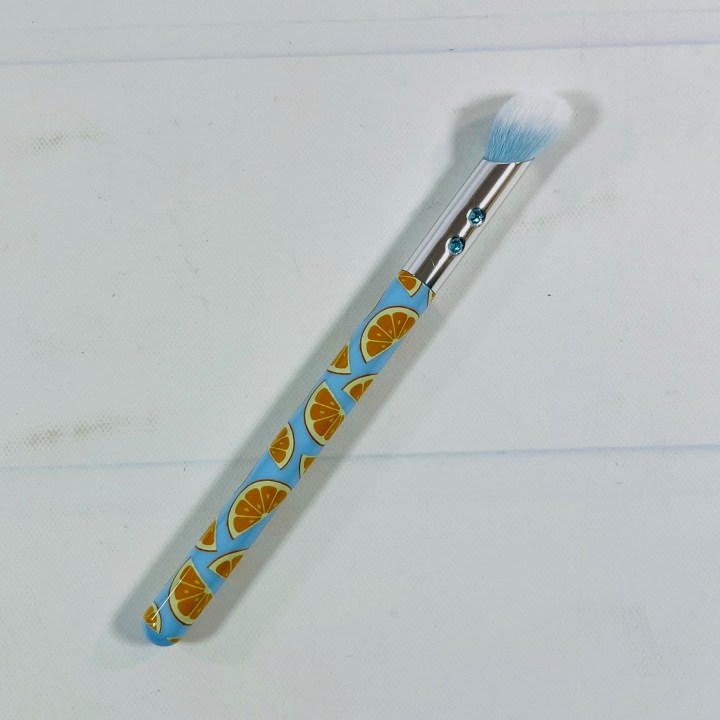 SLMISSGLAM Orange Concealer Brush ($23.50) This concealer brush is adorable, although I don't think it is $23.50 worth of cuteness (and I didn't even see individual brushes on the brand's website, they only deal in sets, which makes the value way lower). It's kind of short, which means it should travel well. It worked ok to apply concealer under my eyes, but worked even better to apply setting powder there. It could be used as a blending brush if you apply too much eye makeup and want to really blend it out. It could also be used to apply highlighter to the cupid's bow or nose.
Jelly Juice Trifle Cosmetics Tinted Lip Glow ($12) This is a fun, fruity lip gloss with a hint of sparkle, although not much, which is fine by me (it actually doesn't look like it has sparkles, glitter, or anything like that). It gave off more shine than shimmer. It's hard to see it to apply, I had to squeeze a bit out of the top and then turn it around to put it on my lips, otherwise I squeezed out too much. There's not much color to it but the container is cute.
Shades By Shan The Liquid Pen ($18) Me and liquid liner don't get along but as always, I tried it out anyways. This is basic matte black and I found it easy to apply. You have to wait for it to dry completely — I forgot to wait and ended up with a black line in my crease. I don't think it bled into my waterline thankfully, and it stayed where it I placed it throughout the day. Overall it was good for what it is.
Lottie London Eyeshadow Quad in The Rose Golds ($4 value?) I gave this a value based on size since the brand doesn't carry this exact palette, but 9-pan palettes from them are $7.98 so it seems about right. I thought it performed as well as most palettes, with some fallout and shimmery shades that need a primer and that look better when applied with a fingertip. The shades work well for this time of year, nothing super heavy and even the darkest color wasn't super dark. You can see by my swatch below that the powders are a little chalky but then again, expensive palettes seem to do the same.
Here's the swatch of the Lottie palette!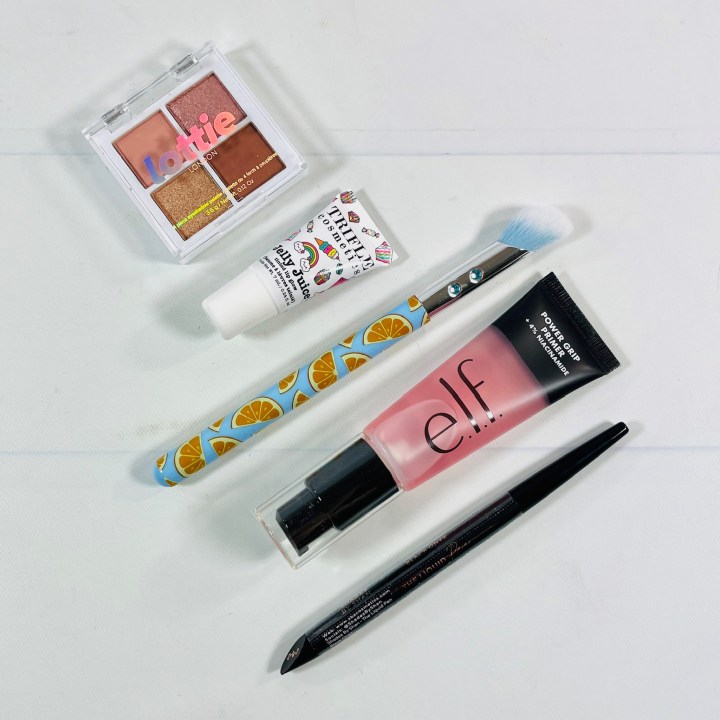 I thought this was a good assortment from Ipsy, and I was happy with my products for the most part. I have no need for primer but I had fun trying it out and seeing if it made any difference to my skin and makeup. The liner worked well, although I'm going to pass it to one of my daughters, I simply prefer pencil liner. The makeup brush is cute as is the lip gloss, and the mini shadow palette had colors that worked for me and that seemed perfect for summer. My box had a value of around $68! I hope we get a cute makeup bag next time, although the pouch is new to me and I'm sure it will hold several products in my work bag.
Below is the insert that was in the box!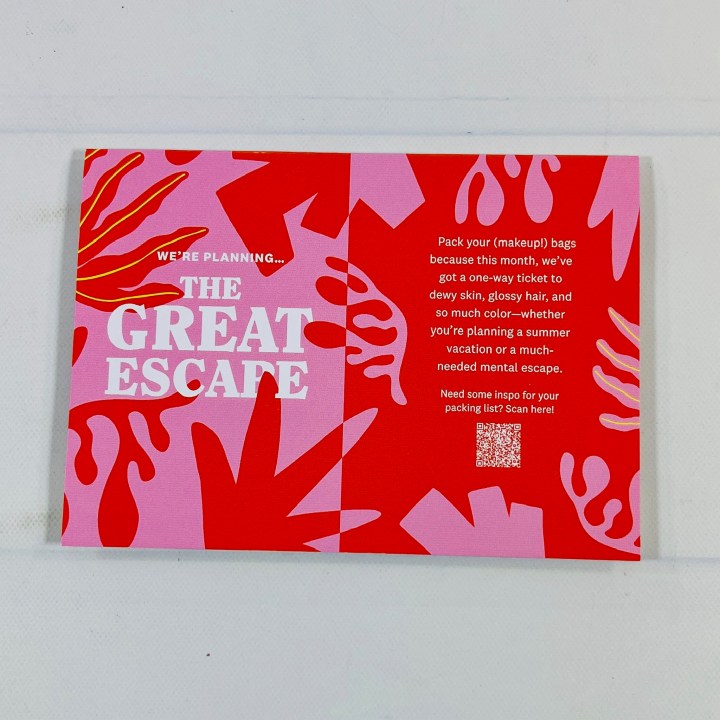 Ipsy is a monthly subscription beauty membership known as The Glam Bag and contains sample and/or full-size makeup and beauty products delivered straight to your door. Depending on your plan, once a month members receive a makeup bag filled with 5 cosmetic items such as perfumes, nail products, skincare items, and of course makeup and has a retail value of up to $70! Items in your Glam Bag are personally curated based upon your beauty preference results from your personalized beauty style quiz.