Prepare for a sticker extravaganza with Pipsticks! Whether you're a kid at heart or a grown-up sticker aficionado, Pipsticks has got you covered. Get ready for a monthly dose of sticker delight as you receive hand-picked sticker packs bursting with whimsical and adorable designs. Unleash your creativity and let the stickers take you on a colorful adventure! With Pipsticks, sticker lovers of all ages are in for a treat. Subscribe now and embark on a sticker-filled journey that'll bring joy and smiles to your world!
Get 50% off your first month of Pro or Kids Club Classic Pack! Use the coupon code HAPPYMAIL50. Does not work on gifts or Stationery Club.
With Pipsticks, you have the option to choose between two clubs: the Pro Club for adults or the Kids Club. Both clubs offer a delightful selection of stickers in either the Classic package (15 sheets for $17.95 per month) or the Petite package (7 sheets for $11.95 per month).
Each month, you'll receive a dazzling holographic pack brimming with new stickers from their collection. But that's not all – the stickers come in a reusable sparkly pouch that adds an extra touch of sparkle to your sticker game. Inside, you'll discover fresh and fun sticker sheets, paper products, and the exclusive sticker magazine called Zippy.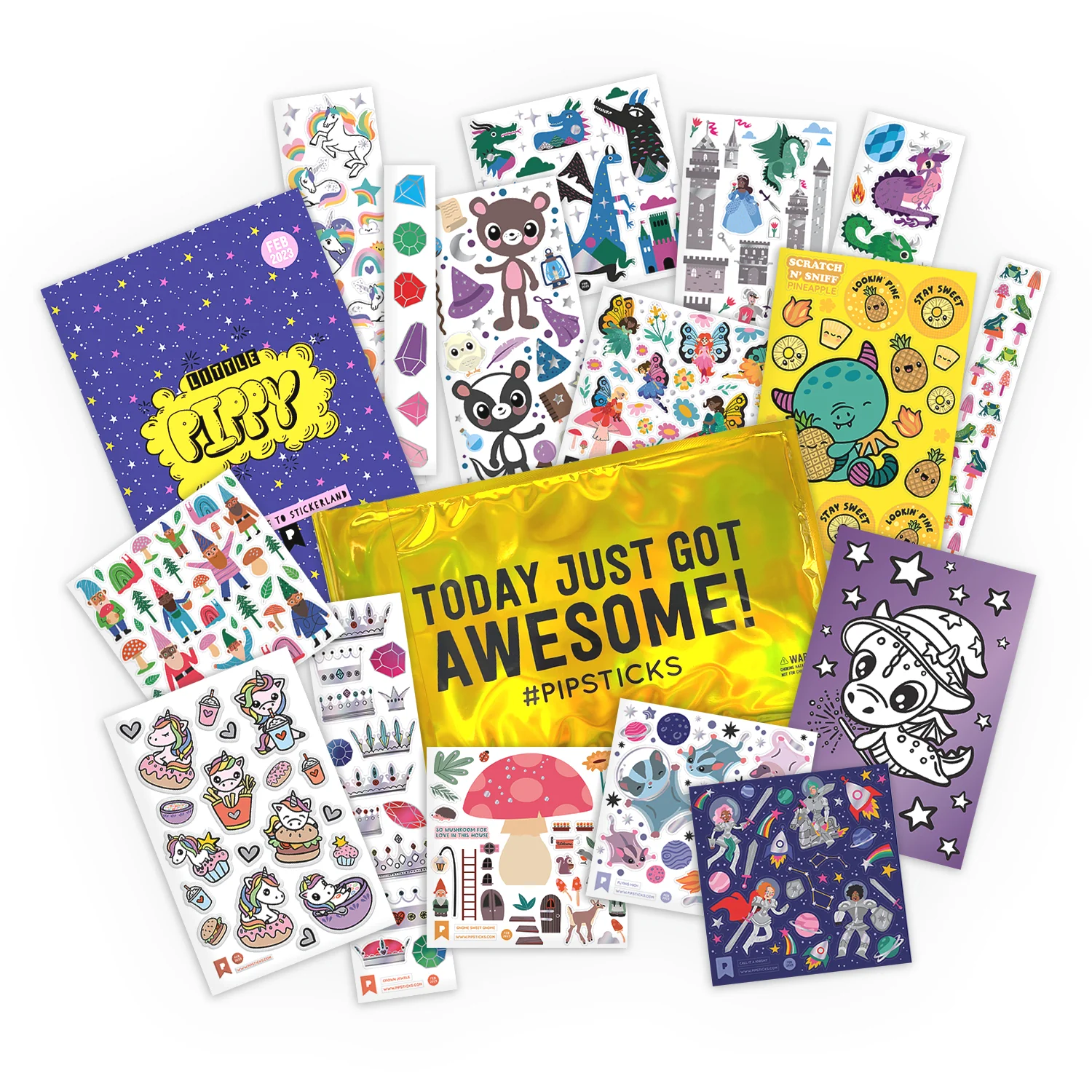 Every month, Pipsticks releases new stickers and brings them right to your doorstep. Brace yourself for an extraordinary sticker adventure as you receive a delightful assortment of stickers that will ignite your imagination. From cute animals and vibrant flowers to magical unicorns and playful emojis, the sticker collection knows no bounds. Let your creativity run wild as you explore a universe of sticker sheets, featuring an array of themes, colors, and designs. With Pipsticks, each month brings a new batch of surprises that will leave you eagerly awaiting your next sticker stash. See our Pipsticks reviews to find out more details about this fun sticker club!
If you're a stationery enthusiast, you can also check out Pipsticks' Stationery Club! For $69.95 per month, you'll receive an abundance of paper goodies delivered straight to your doorstep. From notebooks and notepads to pens and other delightful surprises, this monthly subscription has all the cute stationery you've been dreaming of. What's more, shipping within the US is absolutely FREE, ensuring a hassle-free experience.