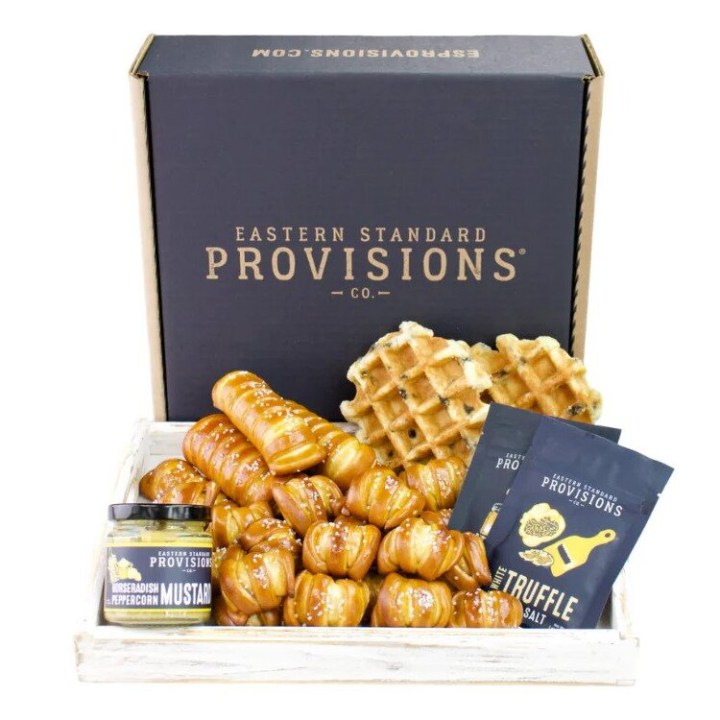 When it comes to gift-giving, you want to make sure you're getting your loved ones something special and unique. And what's more unique than artisanal snacks made with high-quality, natural ingredients? Enter Eastern Standard Provisions, a company that specializes in just that. Their vegan pretzels, Liège Belgian waffles, and sourdough pretzel pieces are not only delicious, but they also come in a variety of flavors that are sure to please any palate. And with their convenient monthly subscriptions and one-time gift boxes, Eastern Standard Provisions makes gifting versatile and delicious.
Their artisanal pretzels come with a crispy exterior and soft, chewy interior that is sure to satisfy any pretzel lover. Meanwhile, their Liège Belgian waffles have a slightly sweet flavor and caramelized crunch, a versatile addition to any breakfast or brunch spread and can be paired with one of the company's artfully blended sauces, salts, or sugars. And don't forget about the Sourdough Hard Pretzel Pieces, with their tangy flavor and convenient resealable bag, they're perfect for snacking on the go or sharing with friends. These snacks from Eastern Standard Provisions are the perfect gift for any occasion or recipient, whether they're a pretzel lover, a baked goods fan, or just someone who appreciates tasty snacks.
A tasty, artisanal gift that keeps on giving. For just $34.99 a month, your loved one will receive a curated assortment of mouth-watering treats, including the ever-popular Liège Belgian waffles, artisanal soft pretzels, and crunchy Sourdough Hard Pretzel Pieces. The subscription box also includes a carefully crafted selection of artfully blended sauces, salts, and sugars, designed to perfectly complement the baked goods. Some examples of the sauces that may be included are white cheddar cheese, onion mustard, dark chocolate fudge, peanut butter caramel, and more. The salts and sugars can be used to add an extra touch of flavor to the already delectable snacks. This thoughtful selection of add-ons elevates the subscription box to a true gourmet experience, and is sure to impress any foodie or culinary enthusiast.
For those who love to cook or try new recipes, the subscription box comes with two recipe cards with easy-to-make recipes based on the contents of the box. These recipes are a great way to showcase the versatility of the products, and to inspire your loved one to get creative in the kitchen by turning the contents of the box into a full-fledged meal or a tasty snack with a twist. The recipes are also a fantastic opportunity to try out new flavor combinations and techniques, and to learn more about the ingredients used in each box.
If you're looking for a one-time gift, Eastern Standard Provisions also offers gift boxes starting at just $22.99. They have gift boxes for birthdays, thank-yous, and congratulations, making it easy to find the perfect box for any occasion. No matter which option you choose, you can rest assured that you're giving your loved one something special and unique. With these artisanal snacks, you'll give the gift of mouthwatering flavors that are sure to impress. They also offer downloadable certificates that you can email or print, so you can let your recipient know that a gift is on the way!
Give a gift that's both delicious and thoughtful with Eastern Standard Provisions. Their commitment to quality ingredients and fantastic gift options make them a standout choice for any occasion!
Looking for more subscription box gift ideas? See our full subscription box gift guide!