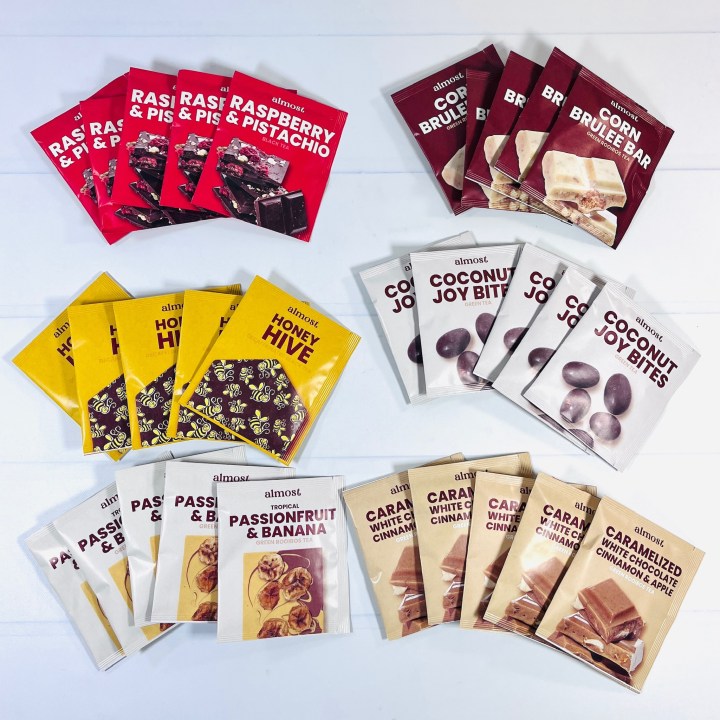 Almost Tea for March 2023 featured teas inspired by Disset Chocolate, which means the flavors were very indulgent (but then they always are!). Three of the teas had a rooibos base, one was green tea, one black, and one was decaffeinated black. This is a review of The Slurp, which comes with 30 individually wrapped bags of tea (6 different flavors, 5 bags each flavor). There is a smaller version called The Sip which has 12 tea bags (2 of each flavor).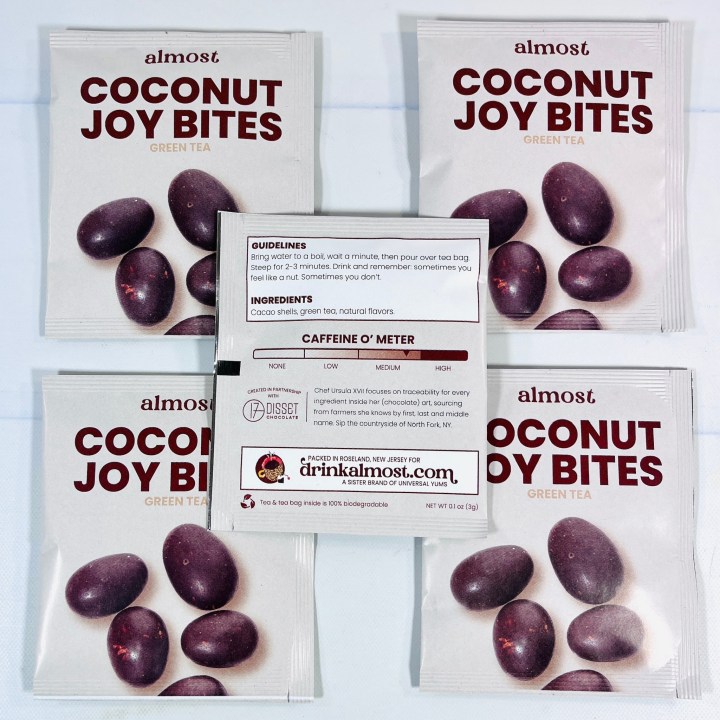 Coconut Joy Bites has a green tea base so keep in mind that there's some caffeine in this drink. It also has cacao shells and other flavors that might make one think of a chocolate-covered coconut candy. The chocolate flavor was strongest here and I couldn't tell it had green tea at all. The coconut flavor presented as cherry almond to my palate.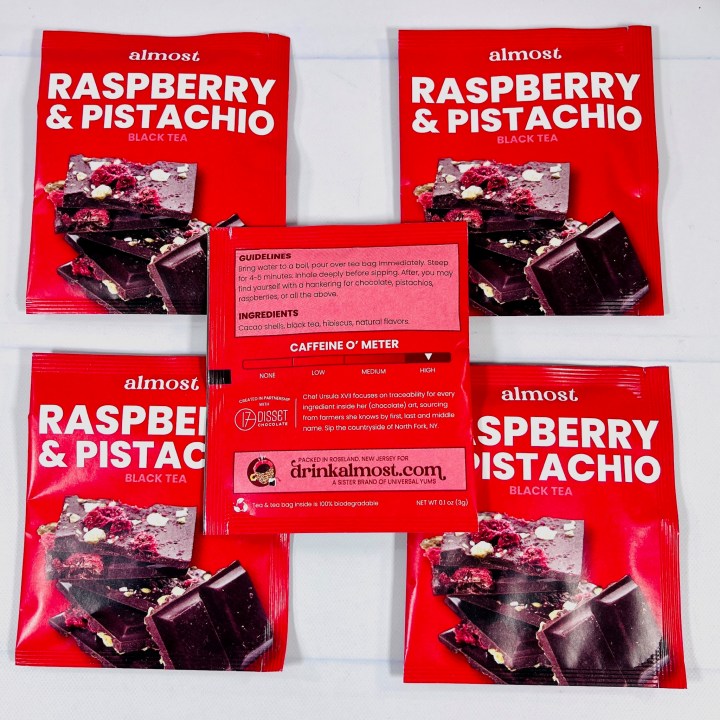 Raspberry & Pistachio I decided to try this one after lunch, so the caffeine would have time to exit before bedtime. It has a black tea base and is flavored with cacao shells, hibiscus, and natural flavors. I know it's supposed to taste like its name, but I thought it was an amazing rendition of a chocolate covered cherry! It smelled wonderful and the flavor was just as good. The hibiscus added a touch of tartness so I added sugar to offset that note and it was truly like drinking dessert.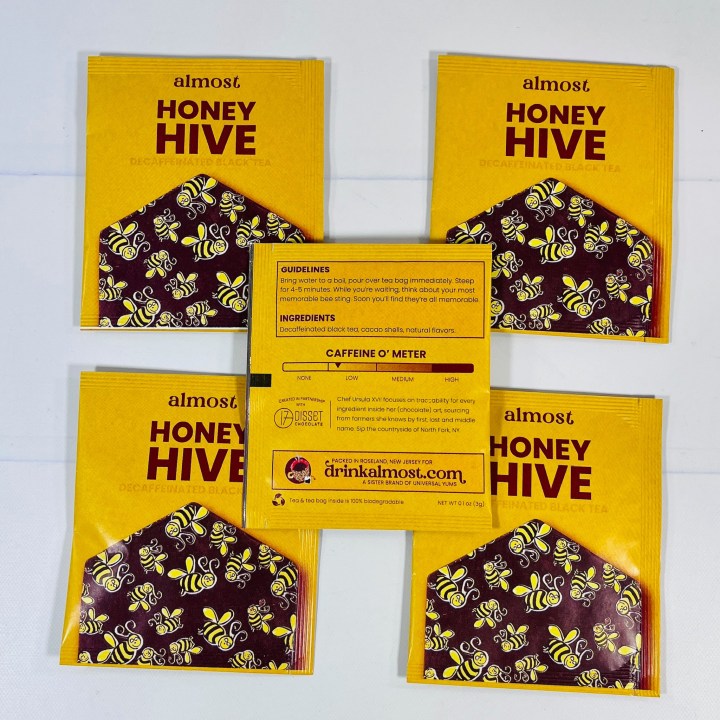 Honey Hive Honey Hive is inspired by a bar of chocolate shaped like a honeycomb. It's made of decaffeinated black tea, cacao shells, and natural flavors. It's not sweet but it also doesn't require any sweetener for my taste buds (which are not fans of bitter, this isn't bitter). It reminds me of the other rooibos-based teas in flavor, not like black tea at all. Cacao shells don't really remind me of chocolate either, but overall it seems like an herbal tisane.
Tropical Passionfruit & Banana This was my favorite of the bunch! It's a green rooibos base so it's caffeine-free and it's flavored with cacao, hibiscus, and other flavors. The hibiscus gave it that punch-like tang and the scent was amazing, even before I steeped it! No sugar was needed and my plan is to make more of this and mix it with water for a refreshing way to drink water this coming summer.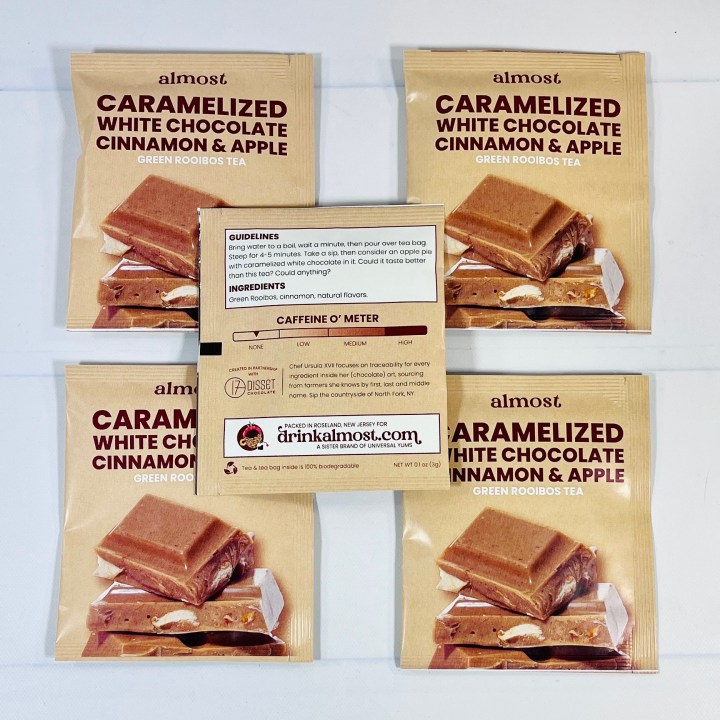 Caramelized White Chocolate, Cinnamon, & Apple I'm having a hard time describing this delightful cup. It has a base of caffeine-free rooibos and is flavored with cinnamon and natural flavors. It is described as hot spiced apples with caramelized white chocolate. I guess I've never had caramelized white chocolate before but I think the overall effect is caramel apple cider. No sugar needed.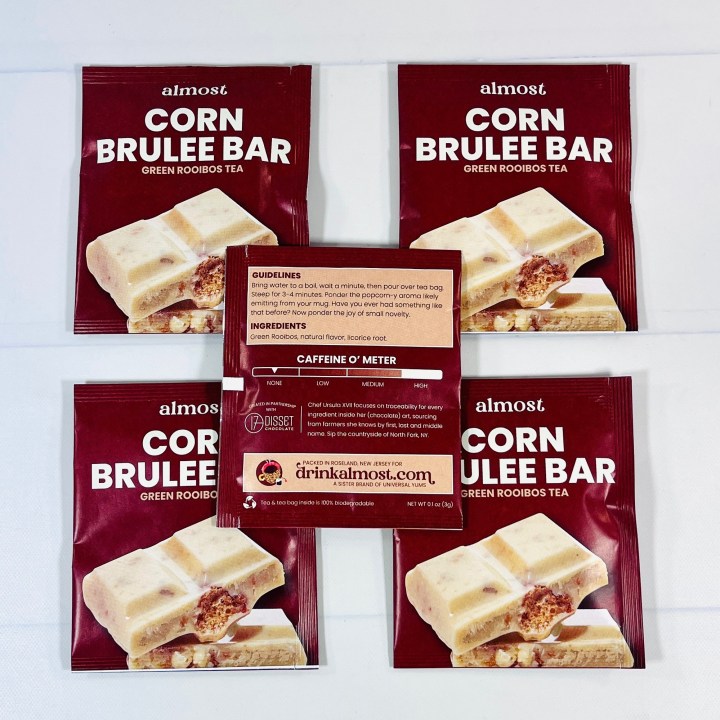 Corn Brulee Bar This tea had a rooibos base so it is caffeine-free. No sugar was needed and while I typically have an aversion to licorice, it must not have been strong in this version, my tongue didn't feel weird. This smelled slightly buttery and while they may have been aiming for a popcorn-like scent, it reminded me of that coconut oil they use instead, and for whatever reason I didn't care for this one. I don't think it had much flavor, it was more scent than flavor for me.
There were so many yummy teas in the March 2023 Almost Tea box! Chocolate was a featured flavor of course but my favorite was the tropical Passionfruit & Banana tea. The amount of caffeine in each tea varies but half of them had no caffeine at all, and I prefer to sip those in the evening (I sipped the others during the early afternoon). While these flavors all sound decadent they are pretty much calorie-free — they are flavored teas and if you want them sweetened then you can add whatever you choose (sugar, stevia, honey, etc.). It's worth noting that the bags are compostable too.
Here's the insert I received, which lists the flavors and has a place for you to write down your personal rating. There's also an interview with the founder of Disset Chocolates.
Almost Tea is striving to ERADICATE THE EARTH OF BORING CHAMOMILE TEA with fresh, never-been-seen tea blends inspired by great desserts. They leverage a "monthly drop" model, where new teas are inspired by a different dessert maker every month. Almost Teas do not contain any added sugar or artificial sweeteners.