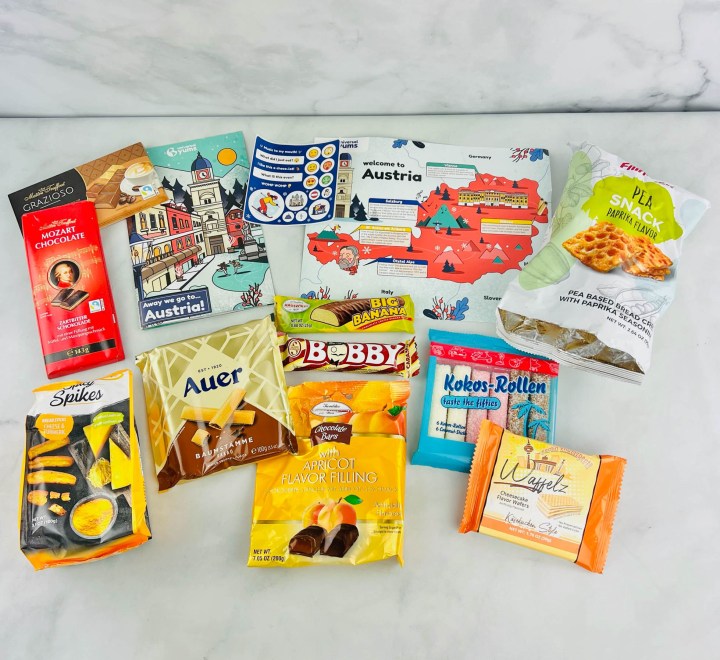 With Universal Yums, we deliciously welcomed the year 2023! The box was loaded with fantastic snacks to try and taste from the beautiful country of AUSTRIA. Ours is the Yum Yum Bag with ten local goodies, including crackers, chocolate bars, and more! It's a fun and yummy experience to start the new year. Read on to know more!
DEAL: Save 10% on a 6+months Universal Yums subscription!! No coupon code needed, just use this link to sign up!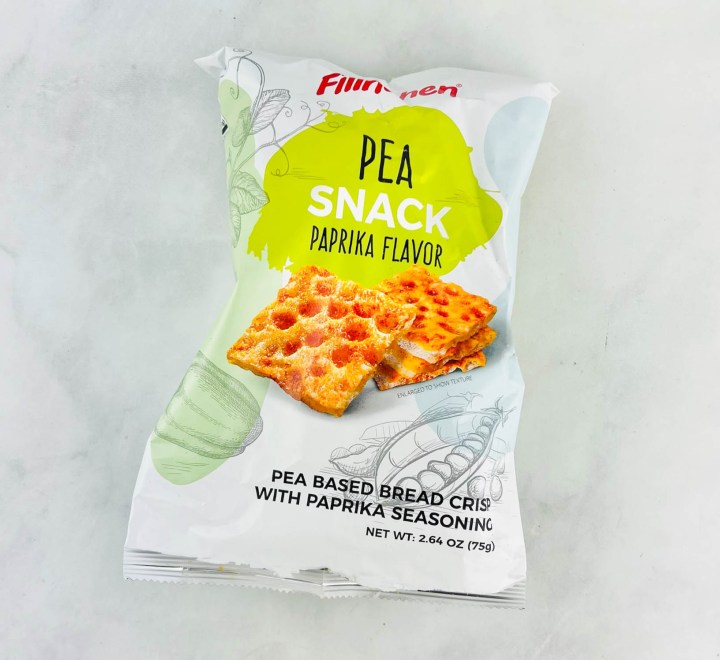 Let's start with something crispy and crunchy! Inspired by the culture of Austria and Hungary, Paprika Pea Crackers are puffed pea crackers that ooze with zesty/pungent flavors. A strong smell of a good kind welcomed us upon opening the pack. The crackers look like cheese slices and taste very familiar (like barbecue). The texture is similar to rice puffs, and I like the crunch with every bite! It's a healthy snack with a tasty peppery twist that you can enjoy between meals or while binge-watching your favorite show. Unfortunately, my bag arrived busted opened.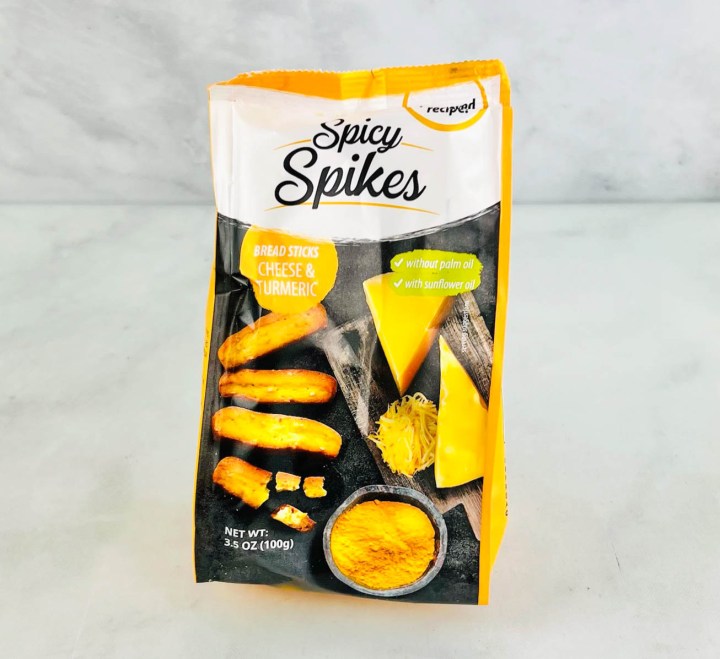 Cheese & Turmeric Breadsticks gave us a taste of Austria's cheesy traditions. The cute breadsticks are gently baked (not fried) with olive oil and have the perfect crunch for snacking. Each bite-size stick also contains cereals and oatmeal for some extra texture. It just lacks the cheesy flavor that I expected, probably because of the turmeric seasoning. But overall, it tastes good and is healthy too!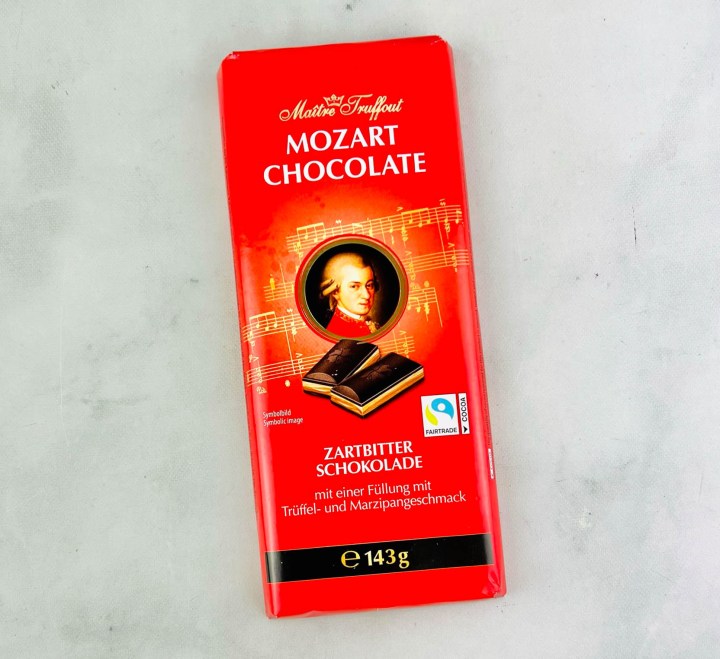 There's also a Dark Chocolate Marzipan Bar in the box featuring the ever-great Mozart. This sweet and decadent treat is made with fair-trade chocolate. It's creamy and indulgent, definitely a reward to the tastebuds. The luscious dark chocolate is perfectly layered with a flavor filling of truffle cream and tasty marzipan that complements the flavors well. It's an explosion of sweet flavors in one delicious bite, like music in the mouth. I like it!
This Milk Chocolate Cappucino Bar came from the same brand as the Mozart bar. This decadent treat will give you a taste of the Viennese coffee culture. There are small packages inside, each with four squares of chocolate. The delicate taste of milk chocolate mixed with full-bodied cappuccino filling can easily wake up your senses. It absolutely smells like coffee, and the flavor combination made it an indulgent treat. It's right up my husband's alley. If you like any coffee-flavored dessert, this one's for you!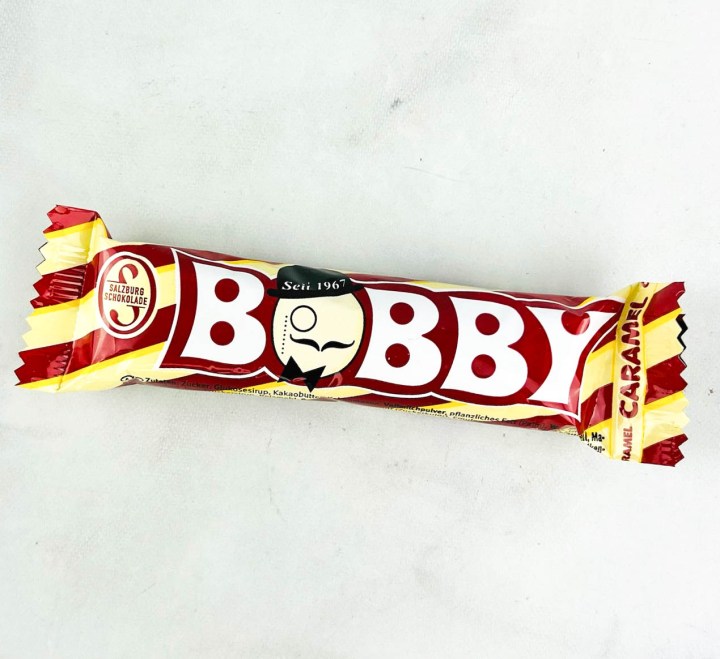 Here's another chocolate treat in this month's box: Crispy Caramel Milk Chocolate Bar. The packaging has some "Pringles" vibes when it's Count Bobby upfront! It looks retro, and I was happy to try it. It's a thick caramel-flavored nougat in the middle double coated with milk chocolate and sprinkled with a generous amount of rice crispies. I was expecting a caramel-type center, but it's okay. It's over-the-top sweet, but I appreciate the texture the rice crispies give with each bite.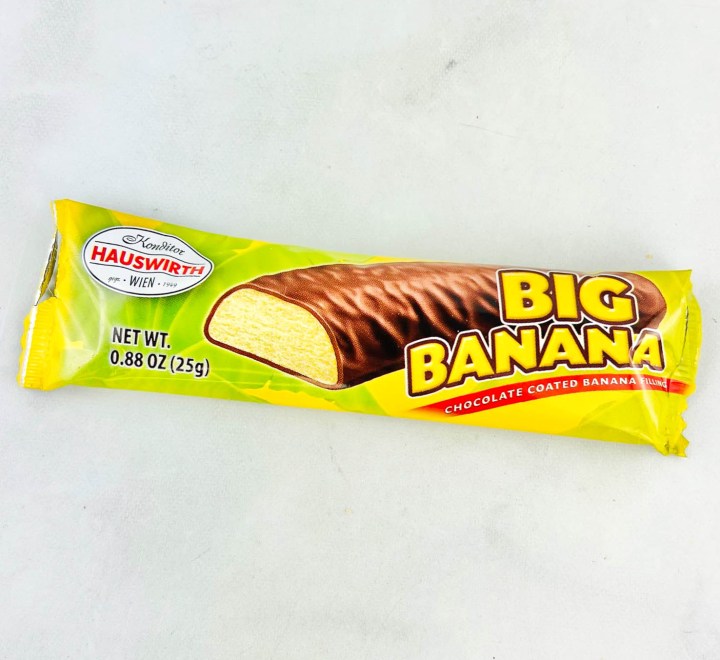 The next snack is a Dark Chocolate Banana Bar! It's amazing to know that bananas are the second most popular fruit in Austria when it's mostly cold there. This snack bar is shaped like a banana and it's just so cute! The center is soft, squishy, and fluffy (like a marshmallow type) and coated with a thin layer of chocolate. It has a lot of banana flavor that might put you off if you don't like anything banana. It started great, but the aftertaste is a no-no for me. It's still a good try!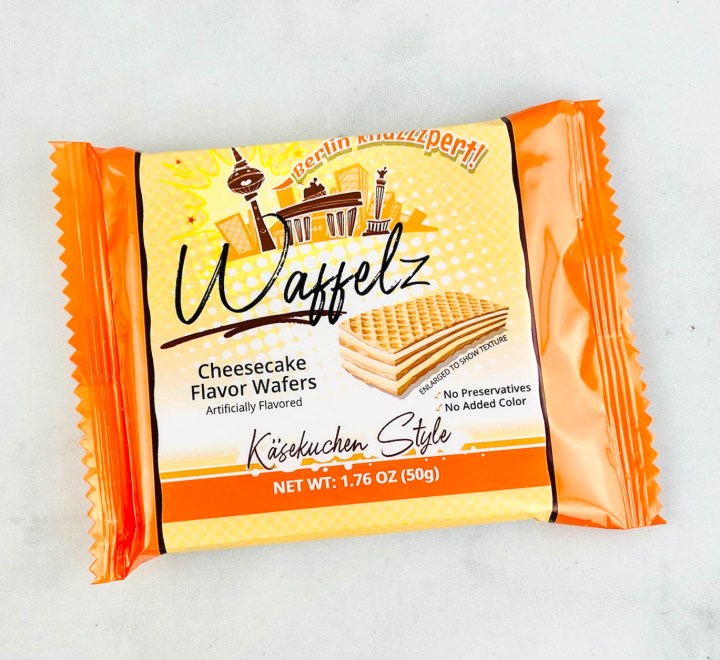 This pack of Cheesecake Wafers is artificially flavored. They look like regular wafers and they have a good flavor, but nothing stands out. The cream filling has a vanilla taste that's very light and not too sweet. No hint of cheesecake. But for the record, it still tastes good and is ideal for on-the-go snacking!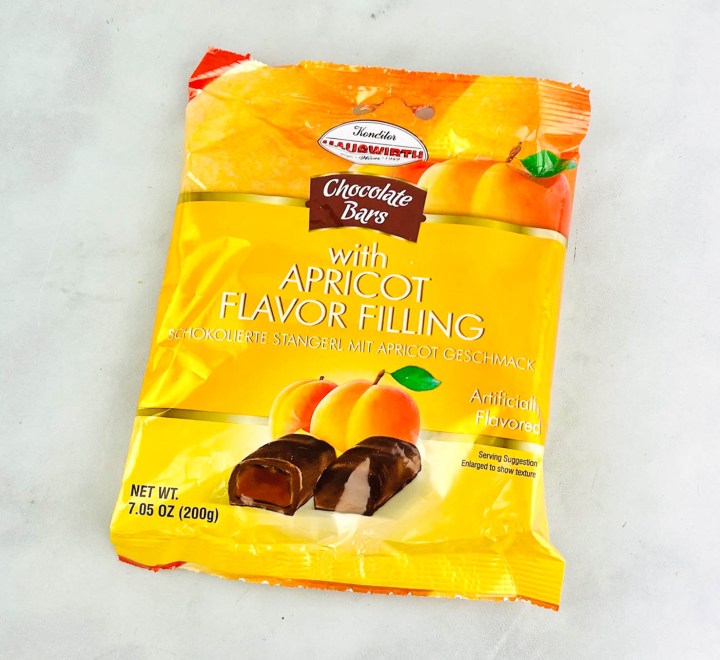 Chocolate Covered Apricot Jellies are such interesting treats from this month's box! These will take you to Wachau Valley, where some of the tastiest apricots can be found. Like the other goodies, they're coated with chocolate too! It's straight-up apricot jello inside, and it's good. The sweet apricot filling has a tart flavor profile, which harmonizes with the creamy chocolate coating. Some may not like it, but I do! I love the decadent taste of chocolate and the sweet, tangy flavor of apricot in the middle. It's a lovely treat!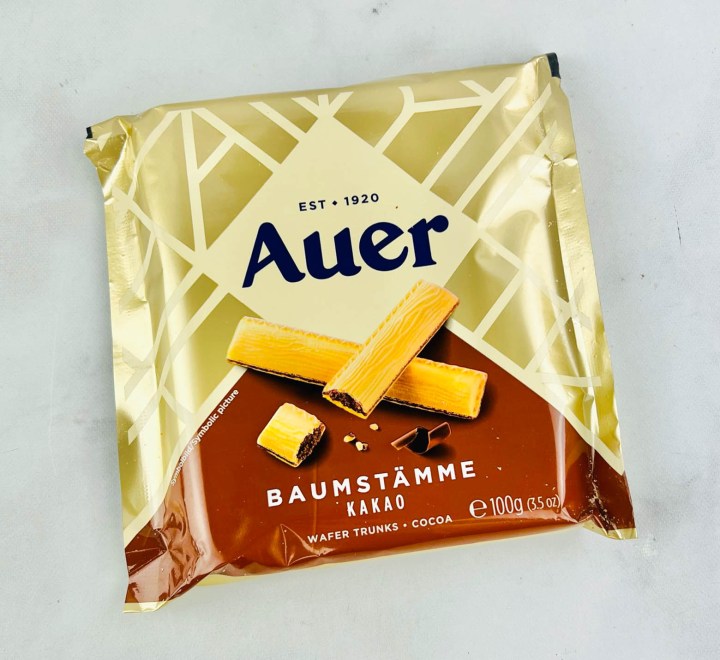 Chocolate Tree Stumps is another wafer snack, but this time, in the form of sticks. We already tried a similar snack before, so I'm not expecting something big from it. It smells good from the start, and they look like tree trunks, not stumps. The wafer is crispy, flaky, and airy, while the cocoa filling is creamy and tasty. They taste good together, and I wish for more chocolate inside.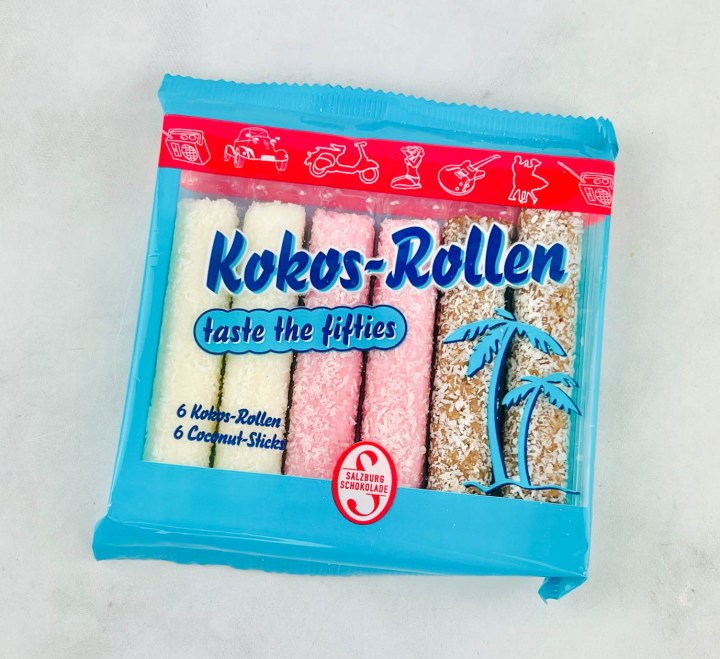 Coconut Rolls are an Austrian specialty. These rolls appear to be very coconutty with coconut flakes sprinkled on them. There were 6 rolls inside – two vanilla, two strawberries, and two chocolates, all covered in coconut flakes. They're soft, chewy, sweet, and a bit addicting (at least for me). It has an exotic tropical taste that I appreciate. In my opinion, the white ones are the most delicious, followed by the strawberry, then the chocolate.
The box is filled with mostly chocolates, and the snacking experience is great! Most goodies are covered in chocolate or, if not, have a hint of chocolate in them. Although others tasted familiar, I still had fun trying the snacks. I like the paprika pea crackers and breadsticks for some salty, savory flavors. I even enjoyed the coconut rolls and apricot jellies, as they're really great too! Overall, it's a great snacking adventure to start the year. If you love trying snacks from different places all over the world, Universal Yums is one of your best bets!
Each snack box also includes an interactive guidebook with fun facts, brief descriptions of the products in the box, a local recipe, and more! See it here: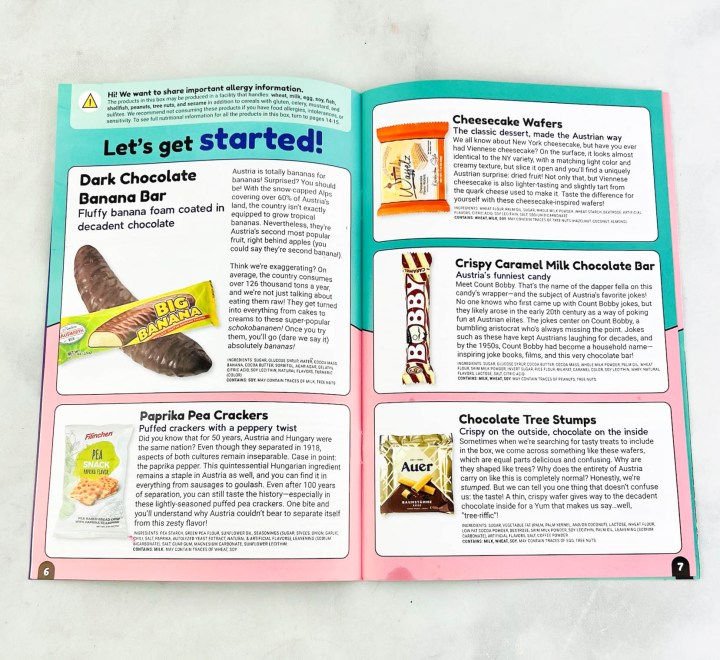 Universal Yums is an international snack subscription! Featuring a new country each month, the box contains unique and delicious snacks that are either difficult or impossible to find in US stores. They promise to always include a variety of sweet and savory snacks, all with the featured country's distinct flavors and spices. Each box also comes with an interactive guidebook containing an explanation of why they chose each snack, as well as trivia, games, recipes, and other cultural features! This monthly snack subscription is a reader favorite – it's taken top honors 3 years in a row in our reader's selections for the best snack subscription box!
There are three available box sizes:
Yum Box – 5-7 snacks plus a 12-page booklet for $17 a month
Yum Yum – 10-12 snacks plus a 16-page booklet and other bonus content for $29 a month
Super Yum Box – 19-20 snacks plus a 16-page booklet and other bonus content for $45 a month
Have you tried Universal Yums? What do you think of their snacks? Let me know your thoughts in the comments!