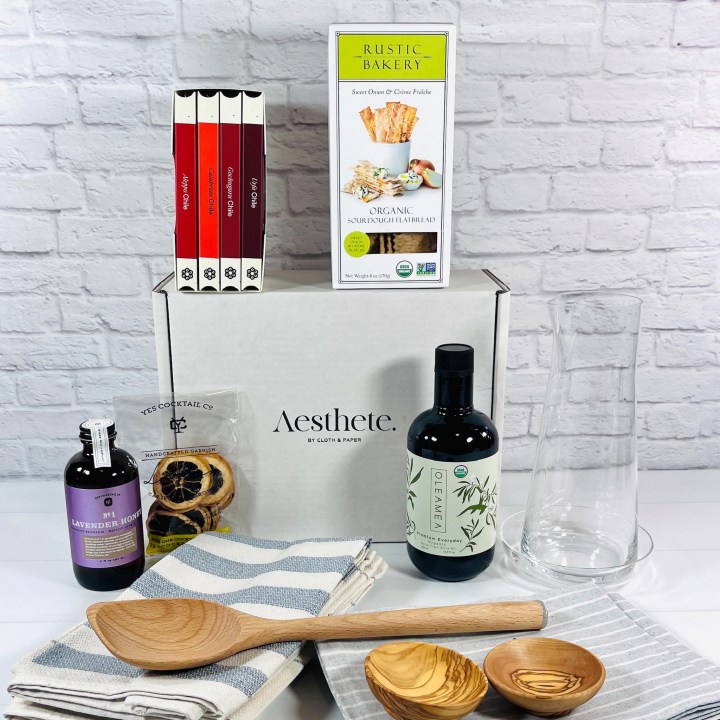 Aesthete Box by CLOTH & PAPER theme for Winter 2022 was was "You Are Cordially Invited…". Inside I discovered items that are perfect for hosting a dinner party, or for elevating every day meals into something special. I found products that are meant to be consumed and will disappear shortly and others that will be here for months or years to come! See what I received below!
DEAL: Want to try Penspiration Box, Planning + Stationery Box, OR Penspiration & Planning + Stationery Box? Get 10% off your first box! Use the coupon code HELLOSUB10 at checkout!
Yes Cocktail Company Dehydrated Lemon Slice Garnish Bag & Lavender Honey Cocktail Mixer ($6 for the lemons and $10 for the mixer) We received a mixer plus dehydrated lemon slices to concoct a fancy drink. The mixer is flexible and can be added to gin, champagne, rum, etc. to make a cocktail. I appreciate that it can also be combined with lemonade, iced tea, or sparkling water (which is what I used) to make a mocktail.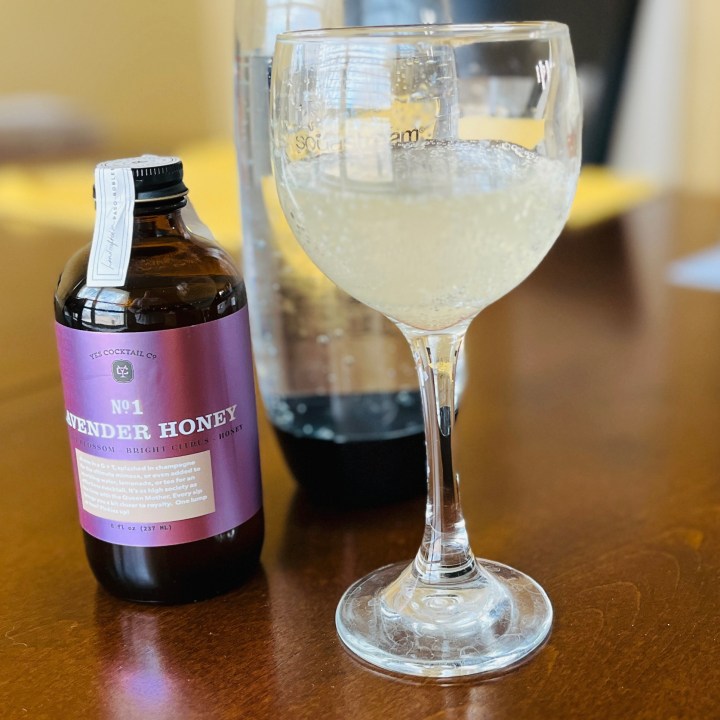 I added some of the mixer to a wine glass (I was feeling fancy) then topped it with sparkling water but I can see how it would also taste great in tea or lemonade. It is sweet and tart with a hint of lavender, which really brings out the flavor of the honey.
Rustic Bakery Organic Sourdough Flatbread ($8) I know charcuterie boards are still having their moment but I appreciate a cracker that is versatile enough to be served with cheese and sausage but that also has great flavor when unaccompanied. This cracker has a wonderful flavor thanks to the sweet onion and sea salt.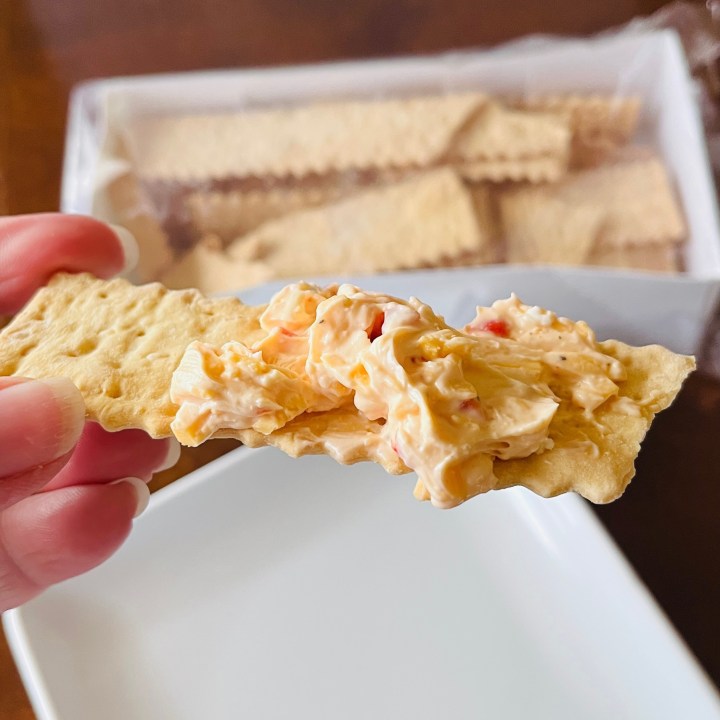 Here's the cracker paired with homemade pimento cheese.
Oleamea Organic Extra Virgin Olive Oil ($18.99) This olive oil is meant to be used in all of your cooking and serving needs, it's an everyday sort of olive oil! It's made with olives from Turkey and can be used for sautéing, salad dressings, or dipping bread. It is fruity and has a hint of bitterness (which is normal) and may be bolder than the kind you get from the grocery store.
Material Kitchen The Wooden Spoon ($20) I much prefer wooden spoons when cooking and this one is very sturdy and perfect for using in my stainless steel pots and pans. It's made with sustainably-grown European Maple wood and has a cool detail, a metal base at the bottom of the handle with the brand's letter M logo. Hand wash and please don't let it soak in water.
Occo x Aesthete Spice Tasting Kit ($20) What a fun activity! This is a set of four different ground peppers that you can pair with olive oil and bread for dipping, or you can add to recipes, either in the preparation or as a finishing topper. Each pod has 1/2 teaspoon of pepper.
Here's some of the Aleppo pepper combined with the Oleamea olive oil and a pinch of sea salt. I used soft, fresh French bread as a dipper. The pepper (or possibly the olive oil) gave a kick to the back of my throat but otherwise, it was pretty mild. I look forward to trying the other peppers soon!
Ryan's Woodworking Set of Two Olive Wood Bowls ($22) These pinch bowls are made of 300-year-old wood from olive trees that no longer produce fruit. They will vary (as natural products will) and are 3″ across the top. Hand wash only please.
Orrefors Crystal Informal Carafe with Bowl ($130) This glass carafe comes with a matching bowl, which can be used as a coaster or I suppose as a bowl. The carafe holds 34 ounces and you can fill it with a cocktail/mocktail, juice, water, or other cold-to-room temperature drink (I don't think it's tempered so I wouldn't use it for hot drinks).
Meema Set of 4 Kitchen Towels ($30) and Set of 4 Gray Striped Napkins ($35) come in compostable bags and are made of recycled denim! The towels are 20″ x 28″ and each one has a different pattern, but the colors are blue and ecru. The napkins are all the same and measure 19.5″ x 18.5″.
As someone who makes dinner almost every night and who likes to eat and drink things, I can't even tell you how much I was delighted by the Winter 2023 collection from Aesthete Box! The napkins, washcloths, wooden spoon, carafe + bowl, and pinch bowls are made to last, they will be here for quite a while, although they would also make wonderful gifts for my daughter, who is about to move into a new home. The olive oil, chile tasting kit, crackers, and drink mix have all been used already, although even some of those things might take a couple of months to use up. I was a huge fan of this theme and of course, the quality was excellent, these are items that are well-made and worth their retail prices. The value is around $300!
Below you will find the product info card plus some more box opening pictures. There were some collaborative cards with a couple of coupon codes plus two sample bags of Twinings Tea. The info card lists a discount on each brand in this box!
Aesthete Box by CLOTH & PAPER is a deluxe quarterly lifestyle subscription from the same brand that offers a monthly pen and stationery box for those who prefer a minimalist style in subdued yet classic colors. The Aesthete Box will include a deluxe Cloth & Paper exclusive product plus 6 or more items from other brands that range from beauty to home goods. Each box will have a $300+ value and ship quarterly. Aesthete Box is $149.99 a shipment.
What do you think of the Aesthete Box? Are you subscribing?