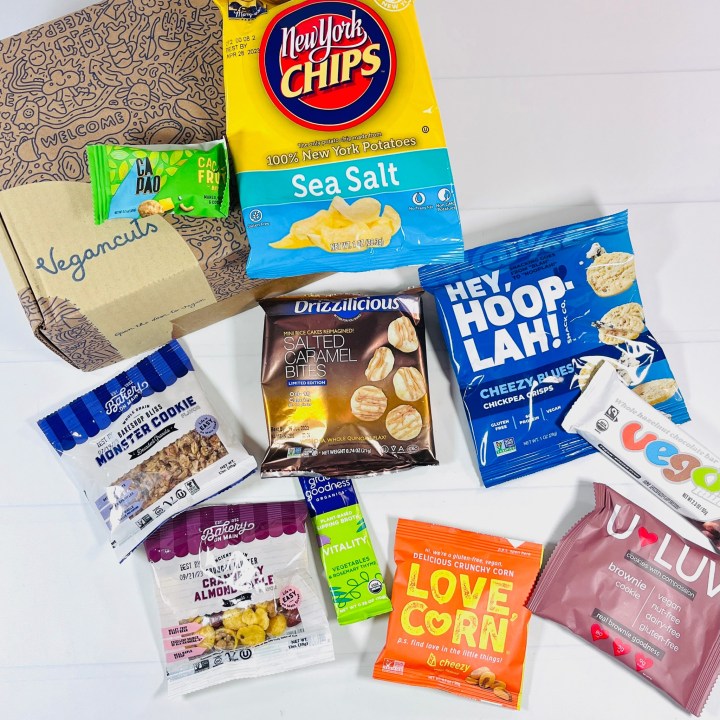 November 2022 Vegancuts Snack Box came with sweet and salty snacks and even a sippable broth. I've already repurchased one snack a couple of times! Read on to see what I received!
DEAL: Use the coupon code hellosub to get $5 off your first box on any Vegancuts subscription! It can only be used once per customer, but it can be used on multiple subscriptions at once so long as they are in the same transaction.
The card lists the snacks in the box. Please note that sometimes they send one of two snacks listed or you may receive one of several flavors available. Proceeds go to a charity that helps animals.
New York Chips in Sea Salt ($0.75) I'm not really a potato chip person so these will go into my husband's lunch box. According to the bag these are the "only potato chip made from 100% New York Potatoes" but otherwise they seem similar to every other brand out there. Sounds like it's mostly broken pieces inside the bag.
Hey, Hoop-Lah! Cheezy Blues Chickpea Crisps ($1.09) Vegancuts sent several flavors of this and I got the one I would be least likely to pick for myself. When I was a kid I used to eat blue cheese dressing (because ranch dressing wasn't a thing until I was in high school). I was very careful to avoid the actual bits of cheese because they were not good and sadly these chips taste like ripe blue cheese. Otherwise, it's a bland rice cake type of cracker made with chickpea flour but I can't get around that flavor. Of course, the flavoring is vegan and I don't even want to know how they can make a flavor like that.
Bakery On Main Monster Cookie Decadent Granola and Bakery On Main Cranberry Almond Maple Granola The route to my usual grocery store was blocked one day so I went to the same store but in a different part of town and was surprised to see this brand on the shelves there! I like the Monster Cookie best, it goes good on a yogurt parfait or can be eaten like trail mix. I tried the Cranberry Almond Maple for breakfast and had to pick out the cranberries, they were hard as rocks. Neither one of these snacks is new to me.
Drizzilicious Salted Caramel Bites These were so good that I've already purchased a full-sized bag (um, make that two bags). They're mini rice cakes drizzled with a little caramel white chocolate-like coating and then sprinkled with salt.
Vego Mini Whole Hazelnut Chocolate Bar This bar was huge (and at least two servings are in here). The chocolate is smooth and creamy and there's whole hazelnuts here and there. Like Nutella but in bar form.
Love, Corn Cheezy ($0.87) Usually I like corn nuts but I wasn't a fan of this flavor, plus something smelled rancid so I ended up tossing it.
U Luv Brownie Cookie ($2.50) This was ok. It's a big soft-baked brownie cookie that was super sweet and sweetened with monk fruit (which I don't care for). It's free of 8 major food allergens.
Grace's Goodness Organics Vitality Sipping Broth ($2.66) I was missing one of the listed snacks (Lil Bucks snacks) and received this instead (the card says substitutions may be made). I didn't care for this. I added 10 ounces of boiling water and stirred, then stirred, and stirred yet again and it still settles in the bottom. I can take some spice in my snacks but the cayenne was too much heat for my throat. I love vegetable broths and minestrone soup and yet this has some smell and flavor that I didn't like.
Capao Cacao Fruit Bites ($1.24) There were one of two varieties sent and I received Mango Cashew Coconut. I was expecting this to have chocolate of some sort but it is actually made with cacao fruit pulp and tastes nothing like I was expecting. It was very tasty though, kind of like a LARA Bar, chewy and sweet. It also has dried apples plus the stuff mentioned in its name.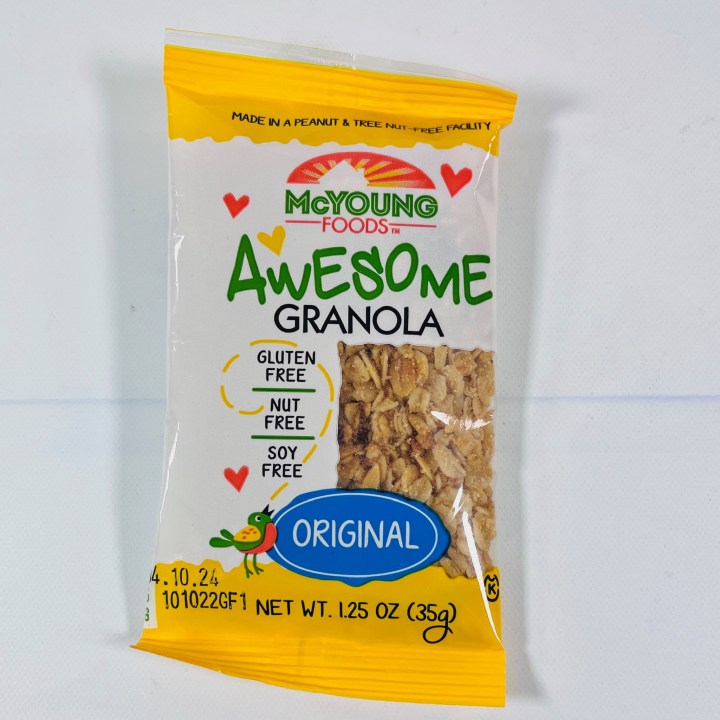 McYoung Foods Awesome Granola ($0.99) This granola is covered with "pea butter" and is free from the top 9 allergenic foods and is gluten-free. There's no nuts or fruit so I used it in a breakfast parfait and it was pretty tasty and sweet.
As always there were some hits and misses but that's to be expected as we don't all have the same tastes and I don't mind trying something new because that's how to find new faves, right? My favorite this month was the Drizzilicious Salted Caramel Bites, and I have repurchased them a couple of times already. I even heard the lady who was bagging my groceries comment to the checkout person about how good they are. I also liked the cacao bite, granolas, and hazelnut chocolate bar. I wasn't a fan of the bleu cheese chips or broth but otherwise it was a good assortment and I appreciate how easy it is to place a snack in my work bag to eat when a craving strikes.
Vegancuts Snack Box is a monthly vegan food subscription that delivers 10 or more organic and vegan treats each month. Snacks can include a pantry item or drink and most snacks are gluten-free. Each subscription box costs $24.95 monthly, or save a bit with a longer pre-paid term.
Have you tried Vegancuts Snack Box? Let me know what you thought of the box!