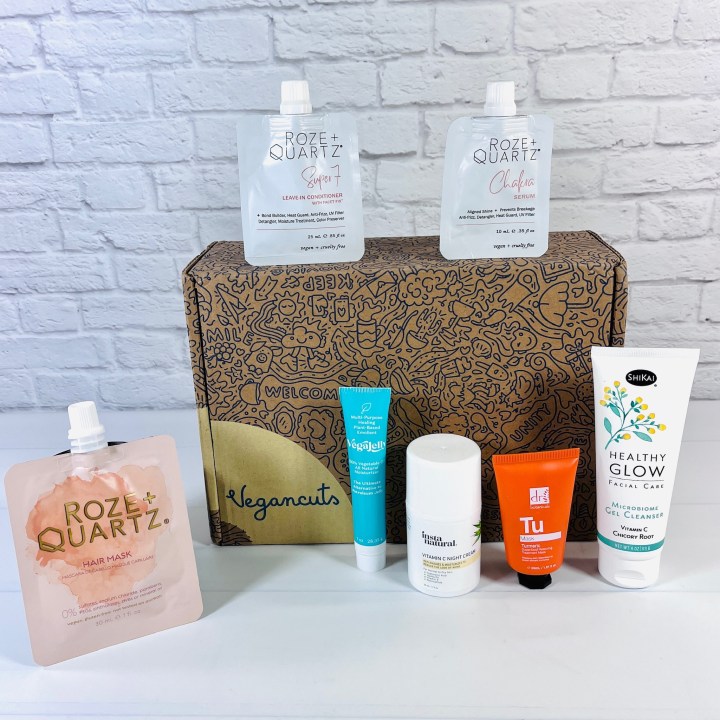 The October Vegancuts Beauty Box theme was Beauty Treats, Not Tricks. This month I received hair conditioners (yes, plural!), a vegetable-based emollient jelly moisturizer, and a cleanser plus a few more items. Vegancuts sends vegan and cruelty-free products and they offer a snack box too! See what I received in this month's box below!
DEAL: Use the coupon code hellosub to get $5 off your first box on any Vegancuts subscription! It can only be used once per customer, but it can be used on multiple subscriptions at once so long as they are in the same transaction.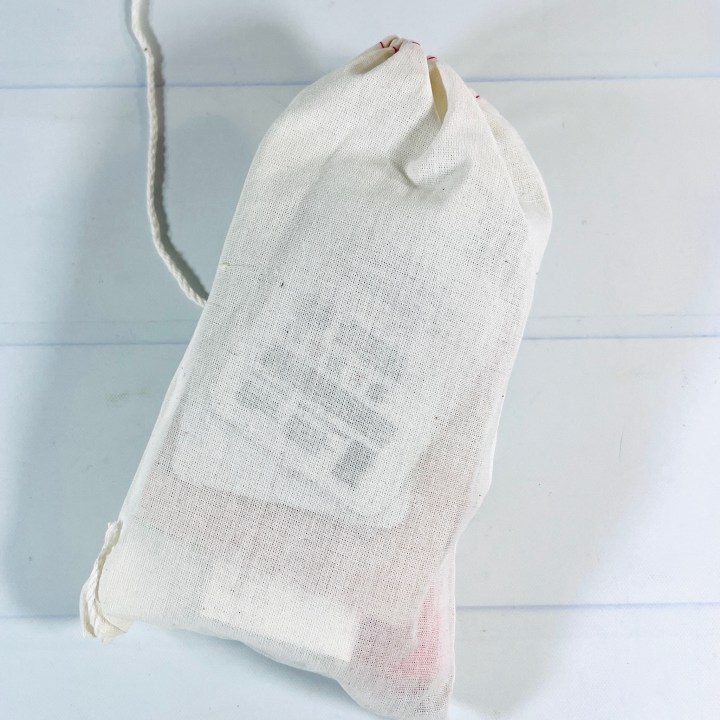 My beauty items ship in the same box as my snacks subscription but the beauty items are placed in a reusable linen pouch.
ShiKai Healthy Glow Facial Care ($9.99) You don't need very much of this cleanser to get the job done – it lathered very well, but it did leave my dry skin feeling tight afterwards. It smells a little like oranges thanks to orange peel oil.
InstaNatural Vitamin C Night Cream ($27.50) This moisturizer also smells a little like citrus, and a little like something I can't name but don't like, like burnt plastic or something weird and unappealing. It's a thickish cream that left my skin feeling smooth after applying. It's supposed to deeply moisturize the skin while minimizing fine lines and replenishing skin. I cannot get past the smell.
Dr. Botanicals Tu Mask Superfood Restoring Treatment Mask ($13.81) This mask is supposed to provide the face with antioxidants, moisture, and radiance. Some of the ingredients include turmeric, glycerin, sweet almond oil, and shea butter plus some essential oils. I was expecting it to be thick but it was a rather thin yellow cream and smelled like lavender. Like most of these types of products, it left a soft feeling behind, probably due to the oils or glycerin.
VegaJelly All Natural Moisturizer ($5.95) I love my tube of Dr. Pawpaw and apply it to my lips at night and it's still there in the morning. I thought maybe this tube of VegaJelly would make a good replacement but I don't think it will. The product is made of "purified vegetable oils" but nowhere on the brand's website does it say exactly what oil or oils are used. I have reached out to them for clarification because I want to know what is in there (what if someone is allergic to one of the plants used?). The product is separated and try as I might I have massaged the tube and have not been able to blend it up. Also, it is grainy but the beads dissolve after rubbing it in. It doesn't last throughout the night either.
Roze + Quartz Hair Mask ($7) There were three conditioning products from this brand in the box and all three had parfum which I'm supposed to avoid so I only tried this hair mask since it's supposed to be rinsed out and the other two are leave-in products. It said to apply a generous amount after washing hair but I used a small amount and that was plenty – it took a long time to rinse out and left my hair feeling super slick. It was highly perfumed in a floral sort of way. It was very easy to comb my hair afterward.
Roze + Quartz Super7 Leave-In Conditioner ($9) and Roze + Quartz Chakra Serum ($9) These two products also smell very nice and I discovered that there is a fragrance-free version of the leave-in conditioner available. The conditioner is creamy while the serum is oily. The conditioner is supposed to detangle, reduce frizz, etc. while the serum provides protection from hot tools.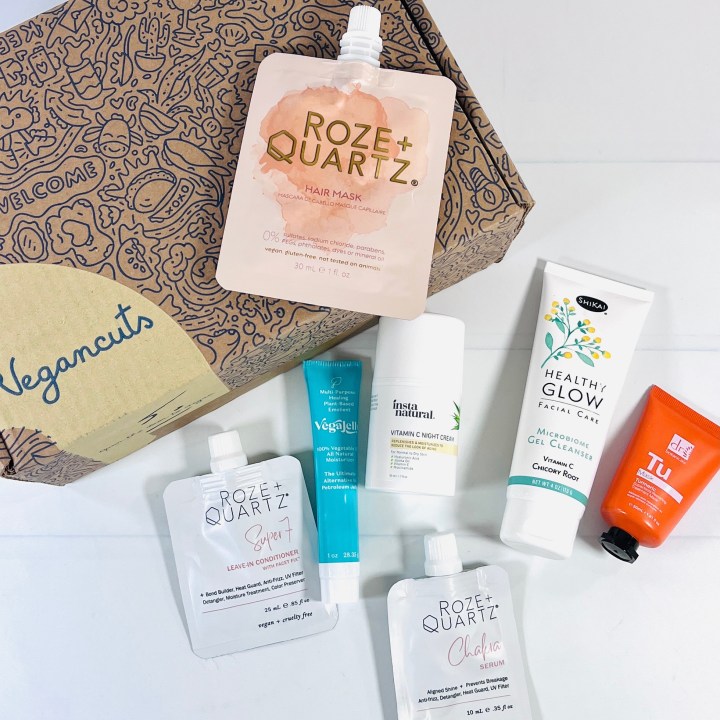 If you are into conditioning your hair, then this was probably a great box for you! I enjoyed using the rinse-out product on my hair. I also liked the creamy face mask and the cleanser. I'm not sure why the face moisturizer smells so awful to me but the jelly, despite being gritty at first, worked well (but I still haven't heard back on what ingredients are used). The value of this box was around $82.25!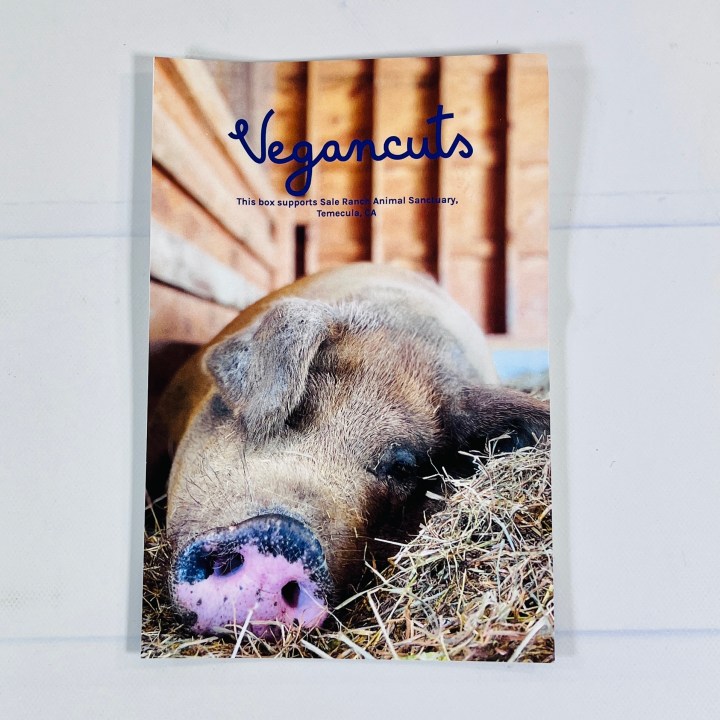 Here's the product info card!
Vegancuts Beauty Box is a monthly beauty subscription service that sends 4 or more items ranging from unique cosmetics to luxurious skincare. Best of all, they are 100% cruelty-free and vegan, plus most items are natural and non-toxic! Monthly recurring shipments are $24.95 with free shipping in the USA (there is an additional charge for other countries). This sub is also available in 6 or 12-month terms that do not renew but that do earn you a discount.
What do you think of this month's Vegancuts Beauty Box? Let me know which product you're loving in the comments!