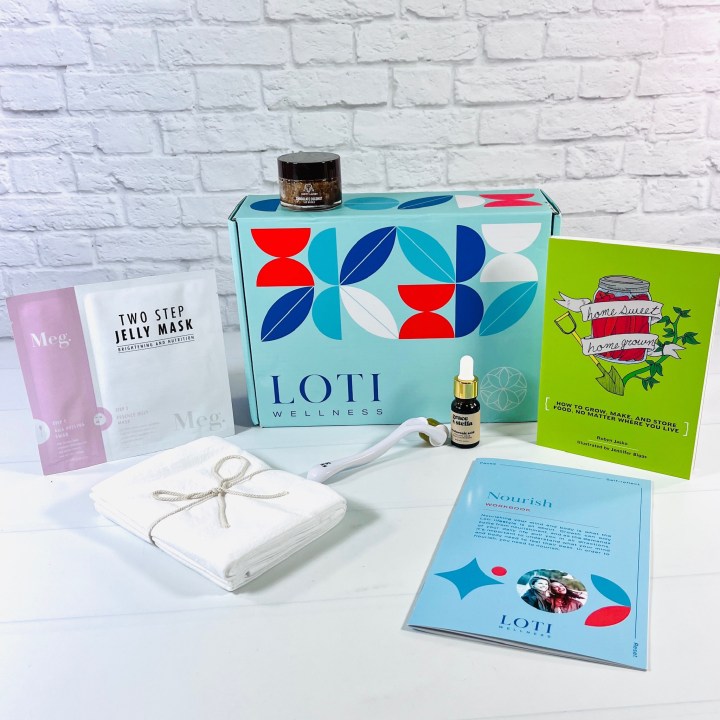 It's time to see what came in my Loti Wellness box for this month! October's theme was NOURISH and I was encouraged to feed not only my body but my mind, too. Inside I found a gardening/canning book, micro-needle set, and more. Read on to see the full review of the Loti Wellness box plus grab a coupon!
DEAL: Save 10% on your first box! Just use this link and coupon code SUBSCRIBE10.
Nourish Workbook The latest workbook encouraged me to plan my meals ahead of time (which is something I've done most of my adult life) and discussed intuitive eating. It also touched on relaxation techniques and other activities. There are 14 pages in all.
Homesweet Homegrown: How To Grow, Make, and Store Your Own Food by Robin Jasko ($9.95) Somewhere in my storage shed is a canning set that I've used a couple of times and then gave up on for some reason (like it's too hot, time consuming, etc.). This book touches briefly on canning but it also has some info on growing your own veggies and even has a few recipes.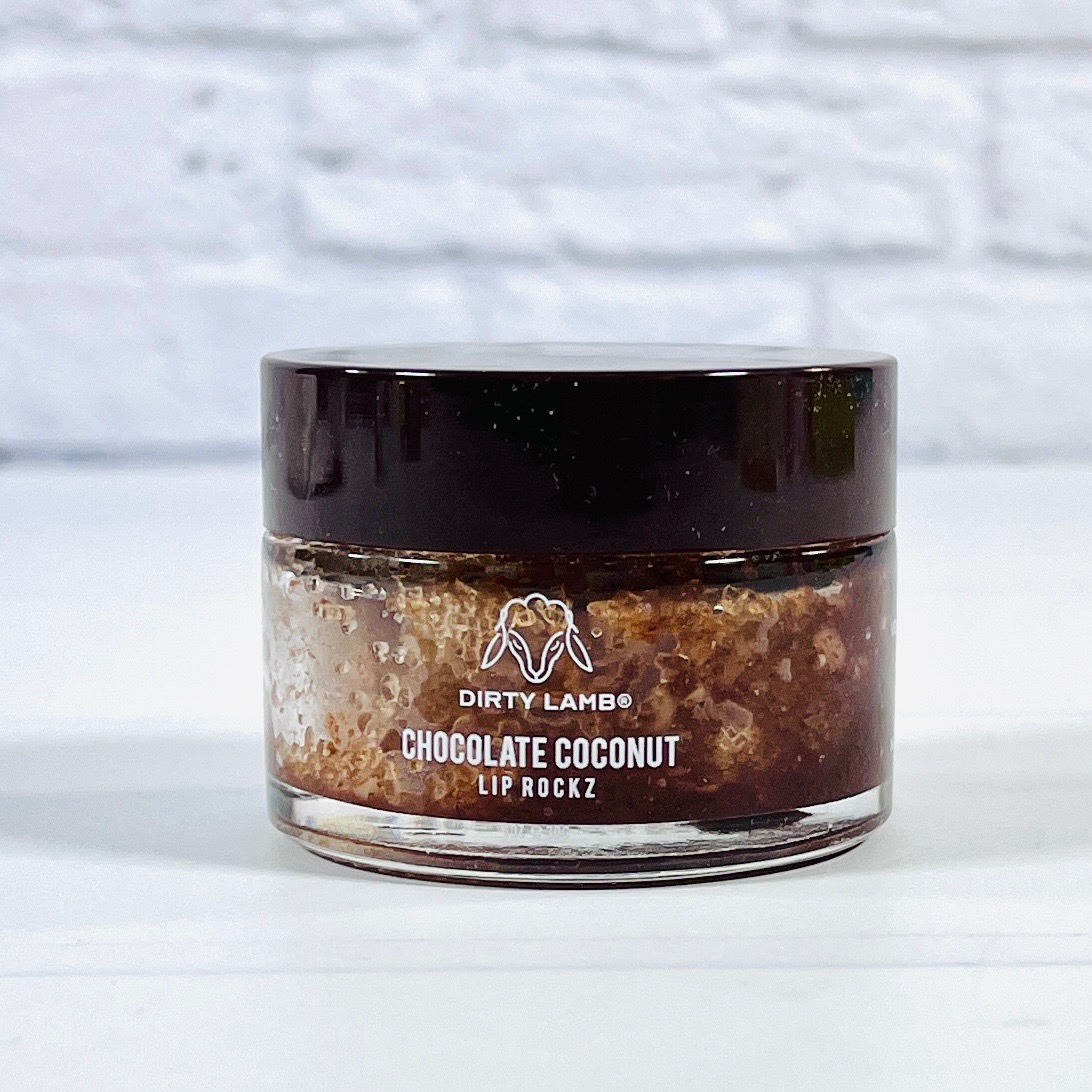 Dirty Lamb Chocolate Lip Rockz ($18.99) This scrub is made of simple ingredients – you could probably find them in your pantry! It has sugar, coconut oil, cocoa powder, and shredded coconut plus a few other things and smells really good. This is a little chunky and didn't hurt my lips but it did leave them soft afterwards.
Meg Cosmetics Two Step Jelly Mask ($8) It looks like this mask is no longer available. It has two pieces – a peeling swab and the sheet mask. First swipe the swab over a clean face and then put the mask on for about 15-20 minutes. Some of the ingredients in the sheet mask are glycerin, cica, chamomile, and a couple of flower essences, plus a whole bunch of things I can't pronounce. You can pat in any remaining essence afterwards and enjoy the glow.
Alt Linen Eco Friendly Kitchen Towels ($39 listed value) I guess the idea here is that when these 100% cotton towels wear out, Alt Linen will replace and recycle them. The goal is to reduce dependence on paper towels. They measure 17″ x 26″ before washing and a set of 24 "flour sack tea towels" that are slightly larger sells for the same price on Amazon. I received two in this box.
Grace & Stella Microneedle Set ($33) Um, I don't think I signed up to roll micro-needles all over my face! I have rosacea and this is supposed to boost brilliance, which is something I have in abundance. The brand claims micro-needling at home can boost collagen production, but from my research, these needles are too shallow to do anything other than help boost product absorption, you'll need to see a professional for anything else. I applied the hyaluronic acid serum to the back of my hand and went over it with the roller a couple of times. I did this on two different nights and in both cases I was left with itchy skin and raised red marks. This isn't a treatment that I enjoyed but I'm sure there are plenty of people who do.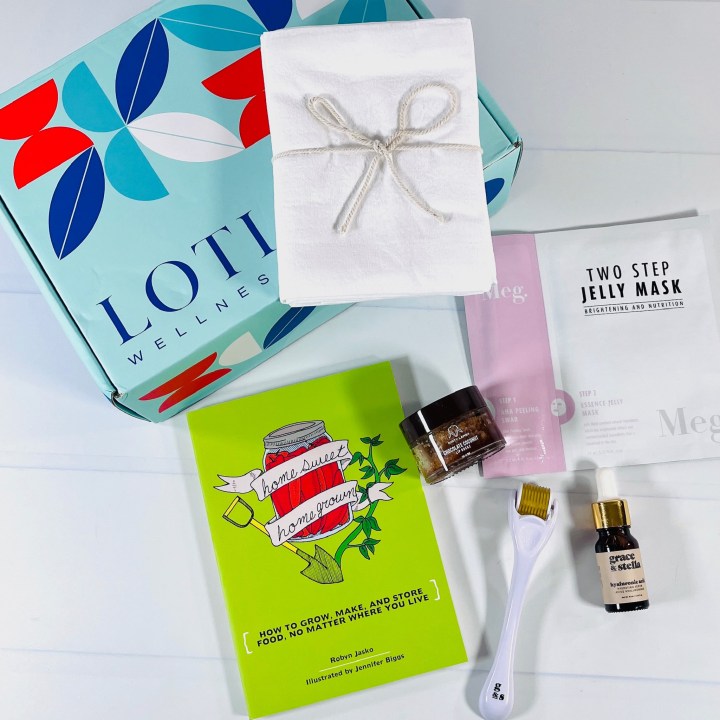 I was especially excited to get the NOURISH workbook this month, it seems helpful and had tips on meal planning and mindful eating. I'm not a fan of the micro-needling kit but I understand that it may help "nourish" the skin by making it easier for skin care products to be absorbed. There were two napkins that can be used at mealtimes instead of paper towels or paper napkins. The face mask is the nourishing type and the lip scrub was almost good enough to eat!
Below you will find the product info pamphlet and box opening pictures!
DEAL: Save 10% on your first box! Just use this link and coupon code SUBSCRIBE10.
Loti Wellness is a subscription box with a focus on self-care. The box has a monthly theme curated by therapists to focus on items and rituals to promote positivity and improve one's self. Loti Wellness works with local brands and small businesses whenever they can, and choose cruelty-free and natural products. The box will have 5-7 products for self-care and wellness. The box is $45.95 USD with lower prices on multi-month subscriptions and drops to as low as $37.95 USD when you sign up for 12 months. Shipping is $10.95 USD.
What do you think of Loti Wellness' self-care subscription?