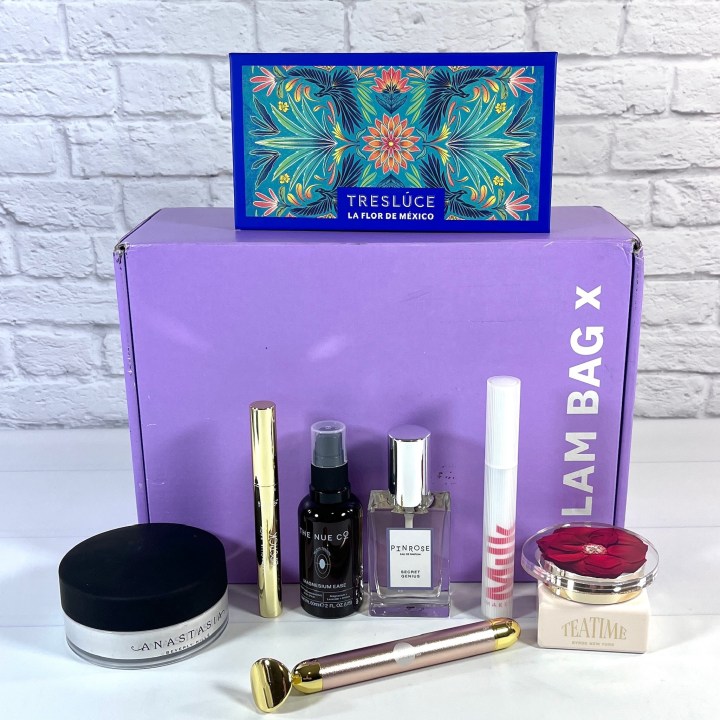 Ipsy Glam Bag X November 2022 was curated by Becky G, a singer/actress who is the founder of Treslúce Beauty, and whose products were featured this quarter. Ipsy picked 5 out of 8 of my products, and then they presented me with a short list of other items in 3 different batches and I was able to choose one item from each. Read on to see what I received, which was four makeup items and four other items from a few different beauty categories.
PINROSE Secret Genius Eau de Parfum (My choice, about $54 value) I picked a different fragrance from this brand earlier this year and it (and its replacement) arrived empty, having completely drained during shipping. I was afraid this might happen again but it looks like this lid was applied securely so no problems there. Ipsy calls this a gourmand fragrance, like something that smells good enough to eat, but this vanilla is warm and the caramel just enhances that note without making me drool. There's a little floral note in there too. This isn't a heavy scent, although it seems fine for the season. It's a youngish type of scent, perfect for work, no strong musky tones. It lasts a while but mainly in a "hmm, I forgot I wore perfume this morning but there it is" kind of way.
BYROE Rose Tea Eye Cream (My choice, $76) I chose this eye cream because I like trying this type of product, although there are very few that I use on a regular basis. Most derms say you can use your regular moisturizer but I'm partial to rollerballs with an oil base myself. This has a jelly-like feel and I always grab too much, so I need to find a scoop to use because that doesn't seem like the most hygienic practice. This leaves a cooling effect and it has that slick dimethicone primer feel to it that dries to a matte finish. It smells a little like roses and it has added fragrance, which is listed last. Some of the other ingredients include niacinamide, glycerin, and a few different hyaluronic acids.
The Nue Co Magnesium Ease Body Spray (My choice, $38) I chose this item because I enjoy trying items that claim to promote sleep and magnesium is often suggested for that purpose. The ingredients on the bottle differs from the brand's website, and the website doesn't list the size so I have to assume that this is actually full-sized (although it seems over priced for what it is). I couldn't apply it to my arms due to an allergic reaction to another item (not from this box) so I sprayed it on my thighs instead. I should have sprayed it into my hands first because it was really cold, brrr. It left behind a slightly sticky feeling and smelled of lavender and something else that reminded me of cleaning products.
Skin Inc Sculpt Lift Bar (Ipsy picked, $125) This is the biggest waste of money and resources, and it doesn't even work. I had to add my own AA battery (for $125 you would think it would be included). I inserted it into the bottom and as I touched to cap to the battery it came on. Too bad the battery was still exposed, because once I tightened it, it wouldn't work. Ok, so in the interest of testing it I held the cap to the battery and applied to my face and it was simply irritating. Like, it stimulated a nerve near my nose and made me want to sneeze and instantly caused tears to spring from my eyes. It was too aggressive and made me dizzy. No thanks.
ANASTASIA BEVERLY HILLS Loose Setting Powder (Ipsy picked, $38) I don't wear setting powder, due to the fact that I wear powder mineral foundation and don't need any more powder on top of that, so this was a huge flop for me. It's used to set makeup and absorb oil while blurring the look of fine lines and can be used by all kinds of skin tones (at least according to the brand). I have dry skin noted in my account so again, not sure why I received this as Ipsy says it's perfect for shiny skin.
MILK MAKEUP Rise Mascara (Ipsy picked, $28) The case this came in was pretty cool and definitely different, with a kind of ribbed, rubberized material that feels weird and wonderful at the same time. The formula is supposed to give lift and volume but like most mascaras it didn't do a lot for me but it wasn't clumpy and didn't smear so that's a win in my book.
TARTE™ Maracuja Juicy Lipstick in Rose (Ipsy picked, $21) I recently received a similar product from this brand (a Maracuja Juicy balm) and I like this creamier version just as much, I am sure I will be reaching for it often as I have the other lippie. This version has a satin finish and the shade Rose is described as "soft pink beige" and suits my coloring. It was easy to apply, only needed one swipe, and it left my lips soft but not sticky or greasy. Swatched below.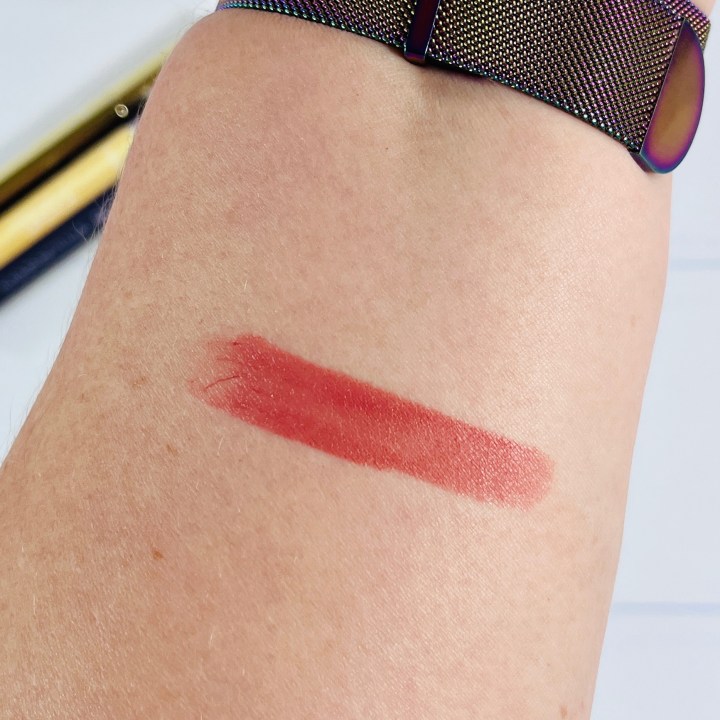 Here I've swatched Tarte Maracuja lipstick. It's kind of opaque on my lips but similar to my natural lip color but better.
TRESLÚCE BEAUTY La Flor de Mexico Palette (Ipsy picked, $30) The back of the box says this palette is "perfect-for-spring", which I find funny because the shades seem kind of warm. Please note that Dahlia is considered a "pressed pigment" and may not be safe for use around the eyes. This palette has 8 shimmers and 10 mattes. I don't know about you but I generally only use a few shades in a palette, so I applied Yucca Flor, Birds of Paraiso, Flowers de Mayo, and Chocolate Cosmos and those are probably the only ones I will ever use because I avoid oranges and reds as they don't complement my coloring. I used primer and found that the color payoff was not what it could have been, although the matte Chocolate Cosmos in my crease was pretty strong, but the shimmers were weak. Overall I was still happy with the look I came up with and it seemed to last all day.
Here's the top row of the Tresluce Palette swatched.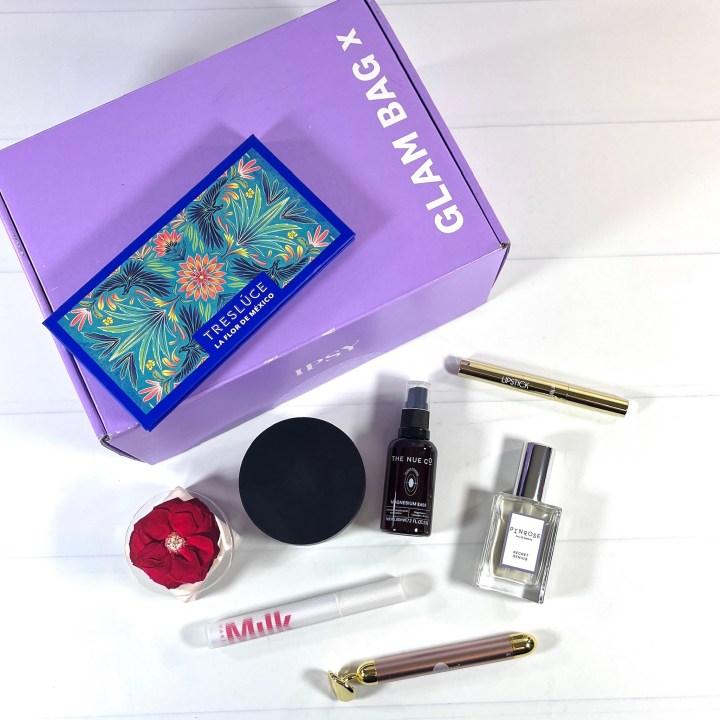 There was a mix of hits and misses for me this quarter but this happens with just about every subscription box, I'm sure it's hard to please everyone 100% of the time. My biggest misses were the talc face powder, because that isn't a product that I use, and the useless face massage tool, I couldn't even get it to work correctly and I'm sure I rated a previous, similar product lowly. The palette was fine, as was the mascara. The eye balm and magnesium spray were fine. I was happy to get a full bottle of perfume and I've been wearing the tarte lipstick daily. The box had an unbelievable value of around $410, and yup, I'm not believing it, especially that $125 facial tool. I'm sure Ipsy gave me options to add up to a huge retail value but I wasn't able to choose the makeup bag (which, while low value, is something I would actually use) but looking at the all of the other products for this month, I think I'm ok with what I received. Except for that dang tool.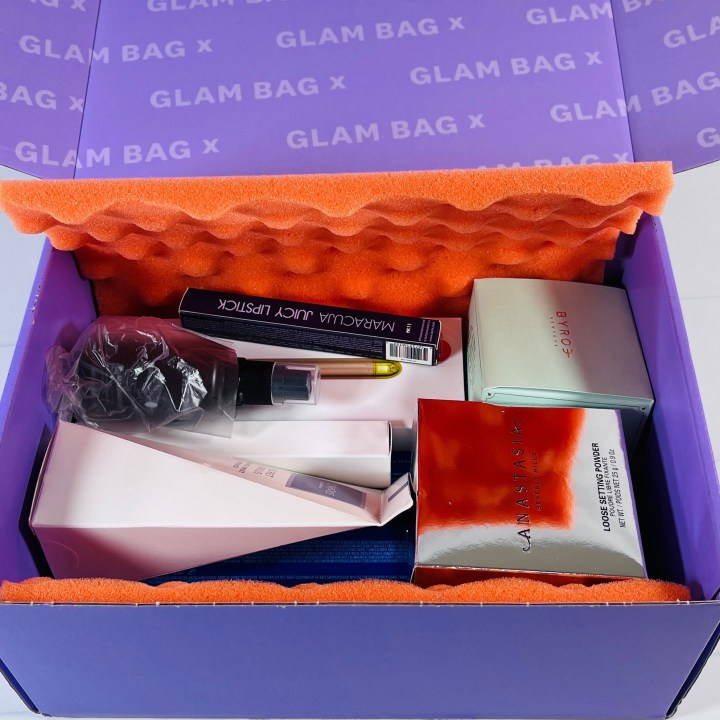 Each Ipsy Glam Bag X also includes a newspaper with info about the curator and brief descriptions of the items. See it here:
Ipsy Glam Bag X is the upgraded version of the monthly Ipsy Glam Bag! If you subscribe to the regular $13 Glam Bag, you would pay $42 extra and this will replace your usual bag for the month ($55 total). If you are a Glam Bag Plus only member, then this will replace that bag for a $27 up-charge (again, $55 total). If you subscribe to both of those bags, this will replace the Plus bag and you will also get the $13 bag, unless you skip. This will ship in the months of February, May, August, and November.
There are many bag variations every month for Ipsy – log in to your account to check out how-to videos and tips for your products.
Don't forget that you can rate your items and you earn bonus points when you do that, so you can get additional products in your bag. All subscribers now have the chance to pick a product for their next bag – just log in on choice day and pick one!
What do you think of this month's Ipsy Glam Bag X?