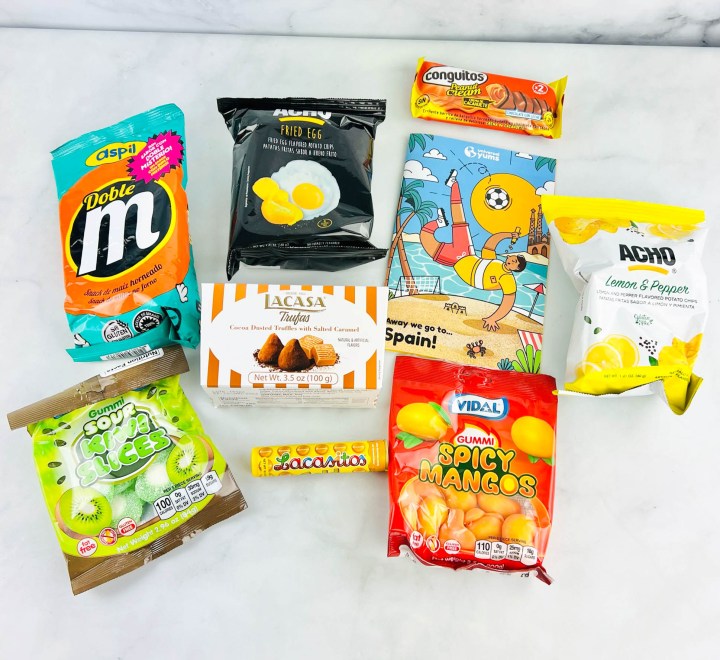 Spain is incredibly rich in art, culture and, of course, comida or food! Universal Yums took our taste buds on a thrilling adventure to this beautiful country via local goodies. There were ten delicious snacks in our Yum Yum box, all of which come with a Spanish twist. It's the most convenient and delectable way to explore and discover Spain without leaving home!
DEAL: Save 10% on a 6+months Universal Yums subscription!! No coupon code needed, just use this link to sign up!
Hola! Let's start with this Yum Bag. It's a staple in every box and comes as a mini surprise. Inside are eight candies in total, four of each type. Both have nutty flavors that are a pure delight to the mouth!
Made from an 80-year-old recipe, the Chocolate Pine Nut Candy has a hint of coffee flavor. It starts a bit hard but softens as you chew, releasing a burst of pine nut flavor as well. The Pistachio Flavored Toffees, on the other hand, are made with Spain's "green gold", the most expensive pistachios on the international market. It's soft and creamy, like the pistachio kind of ice cream.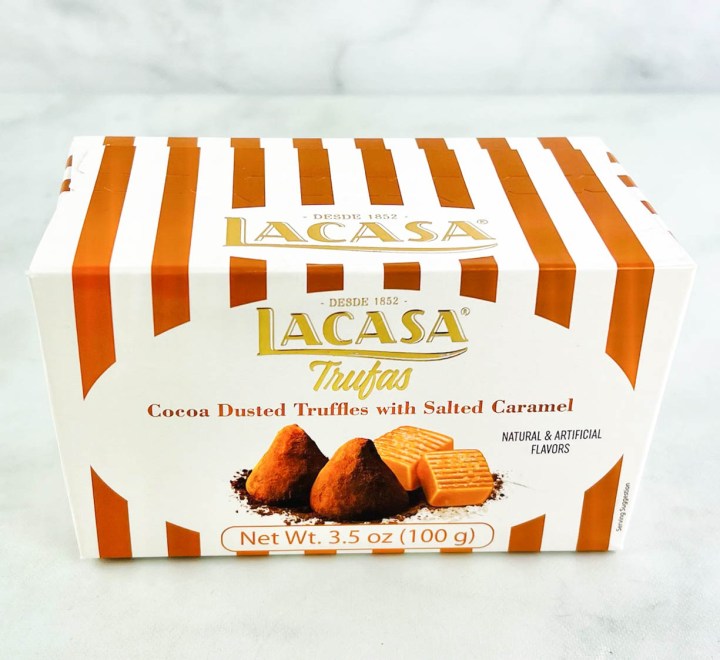 Next, we have Cocoa Dusted Salted Caramel Truffles. Chocolate is one of the most loved desserts in the world, and it's no wonder why. But mixed with luscious caramel and a sprinkle of salt? It's heaven! These truffles are the right kind of cocoa bitter, especially when chewed and combined with the rich and creamy inside. It's decadent and smooth, satisfying chocolate cravings with each bite.
Lemon Pepper Flavored Potato Chips is another Spanish snack worth raving about. Upon opening the bag, there was a zesty scent that made it so mouthwatering. The gluten-free chips were crispy, and they were flavored with Spanish lemon and black pepper that gives each bite a refreshing taste with a kick. If you love potato chips but you're tired of the same old flavors, this one is for you.
You'll surely strike gold with Lacasitos Gold Chocolate Candy! These are round, shelled candies that look similar to M&M's. They're kept in a tube, allowing candy lovers to carry them wherever. The outer shell is crispy, while the inside is rich and creamy. The caramel and white chocolate flavor combination is perfection. It will get you hooked on popping not just one but two or more at a time in your mouth!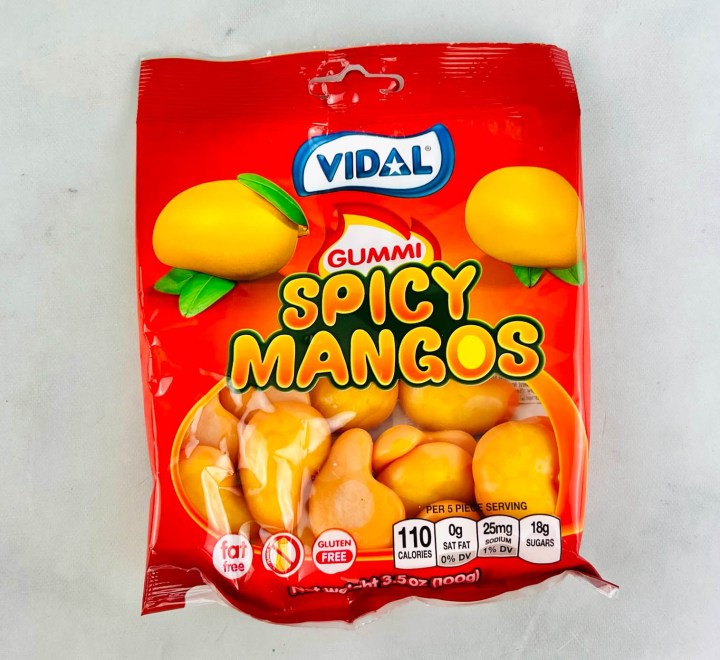 A fan of sweet and spicy snacks? Well, Spicy Mango Flavored Gummies is a must-try. Mangoes are undoubtedly delicious, and this pack of gummies delivered the exact mango flavor but with a twist. You'll be welcomed with an intense spiciness kicking after the juiciness and sweetness of mango. It has a soft gummy texture, which is really nice. I'm impressed by the flavor combination and find myself obsessing about it, although the spice builds up one bite after another!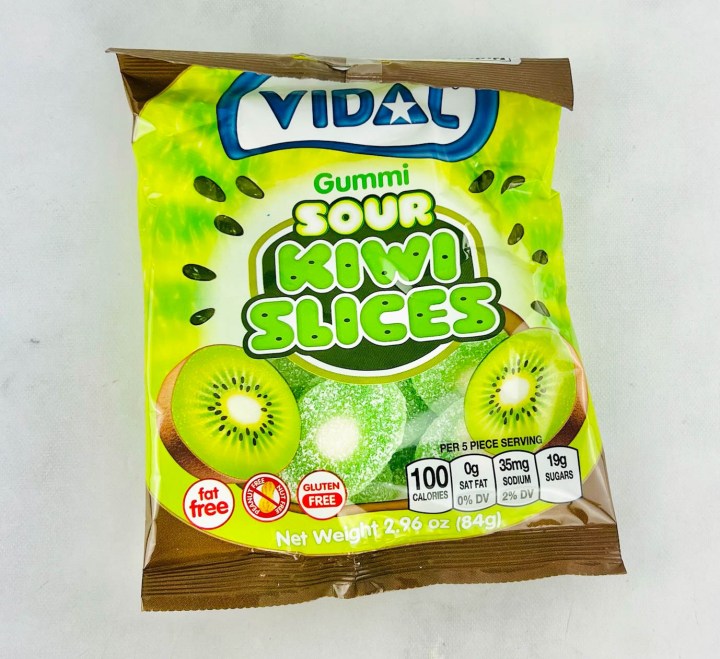 We've received another gummy pack in the box! Gummies come in different flavor profiles, and these Sour Kiwi Flavored Gummies are really sour but delicious. Each piece is oval-shaped and coated with sugar! If you're a fan of sour candies, these flavored gummies won't disappoint. You'll enjoy the citrusy sourness of every gummy slice. They're fun to eat and they look cute too. Plus, they're fat-free and gluten-free!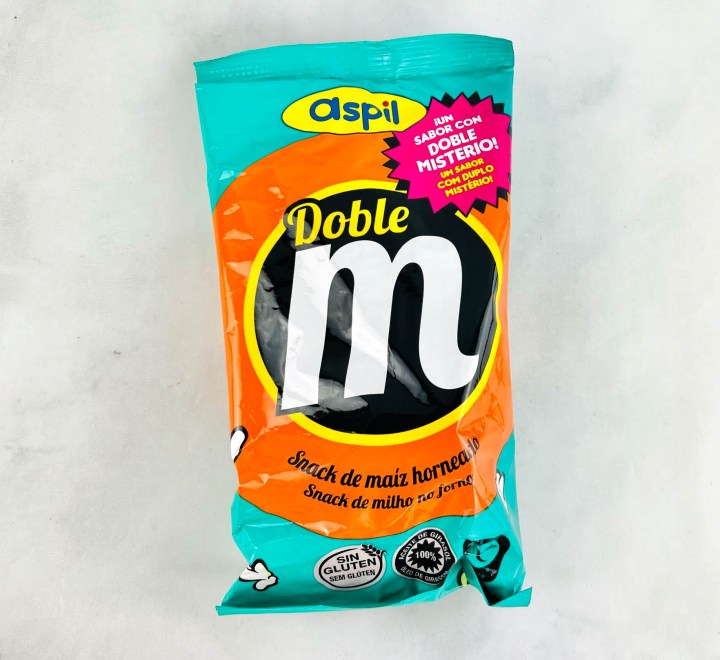 Love honey butter flavored snacks? Here's a bag of Flavored Corn Puffs smothered with "liquid gold" or Spanish honey and butter, and it hits the spot! Each piece was sweet and buttery, and they melt in the mouth. These corn puffs make the perfect companion when binge-watching your favorite shows or films.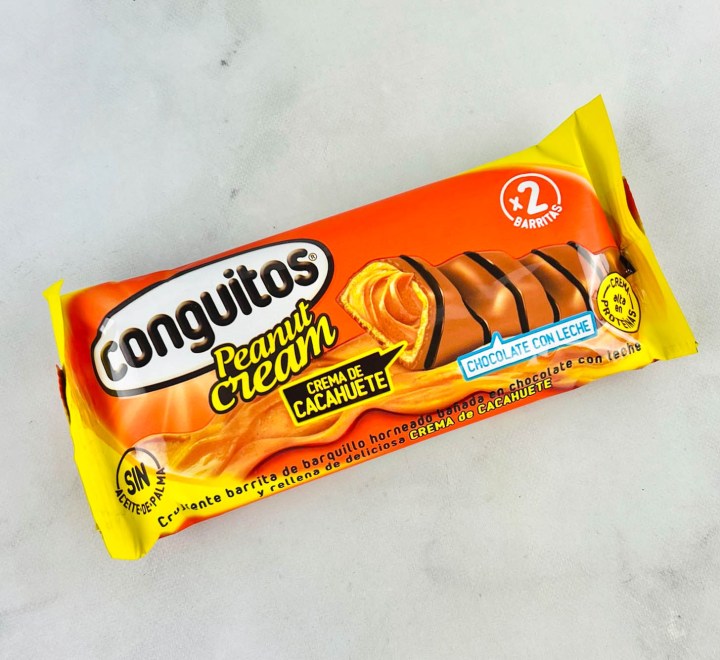 Chocolate and peanut butter are perfect together, and I'm excited about the Spanish take on this combination. This pack of Milk Chocolate Peanut Cream Wafer includes two individually wrapped bars, made with crispy wafers and a yummy peanut cream in the middle. Each bar is also coated with milk chocolate which makes the snack more flavorful. This is one of the best treats to satisfy sweet tooth cravings!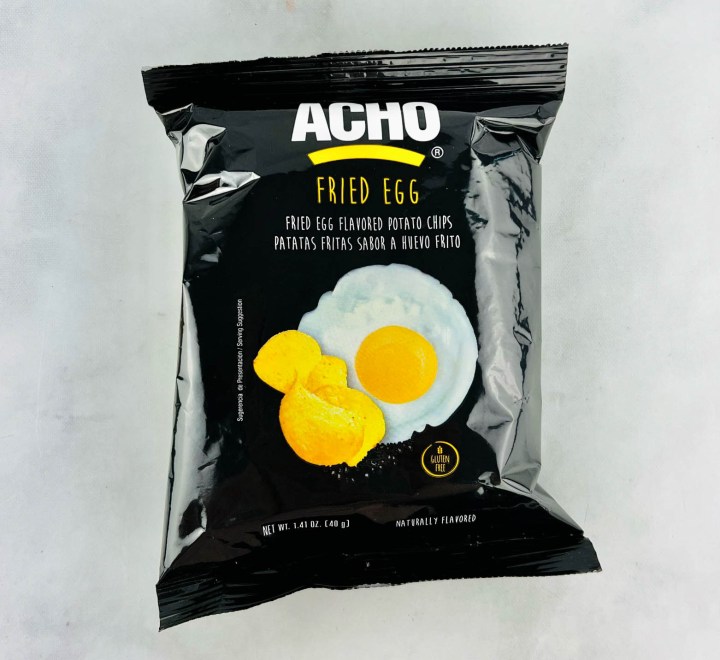 Spain doesn't run out of unique snacks! This time, we tried the Fried Egg Flavored Potato Chips, inspired by the fresh-from-the-pan Spanish favorite (classic fried egg). This snack has a rich and savory flavor. It smells like regular chips, but you can definitely taste the egg. It isn't overpowering and tastes okay, although it may take a while for you to get used to the flavor.
Universal Yums October 2022 is pretty interesting. Each snack in the box features flavors that locals love. Although half of the products are candies, I enjoyed them all. I especially love the salted caramel truffles because they're really good! The spicy mangoes are also top-notch. They're sweet, soft, and juicy with a kick! I love trying different snacks, and Universal Yums gives me a fun way to do it every month. If you're also the adventurous kind of snacker, don't pass up the chance to get this international snack box!
Each snack box also includes an interactive guidebook with fun facts, brief descriptions of the products in the box, a local recipe, and more! See it here:
Universal Yums is an international snack subscription! Featuring a new country each month, the box contains unique and delicious snacks that are either difficult or impossible to find in US stores. They promise to always include a variety of sweet and savory snacks, all with the featured country's distinct flavors and spices. Each box also comes with an interactive guidebook containing an explanation of why they chose each snack, as well as trivia, games, recipes, and other cultural features! This monthly snack subscription is a reader favorite – it's taken top honors 3 years in a row in our reader's selections for the best snack subscription box!
There are three available box sizes:
Yum Box – 5-7 snacks plus a 12-page booklet for $17 a month
Yum Yum – 10-12 snacks plus a 16-page booklet and other bonus content for $28 a month
Super Yum Box – 19-20 snacks plus a 16-page booklet and other bonus content for $42 a month
Have you tried Universal Yums? What do you think of their snacks? Let me know your thoughts in the comments!