Here's everything you need to know about this gut health supplement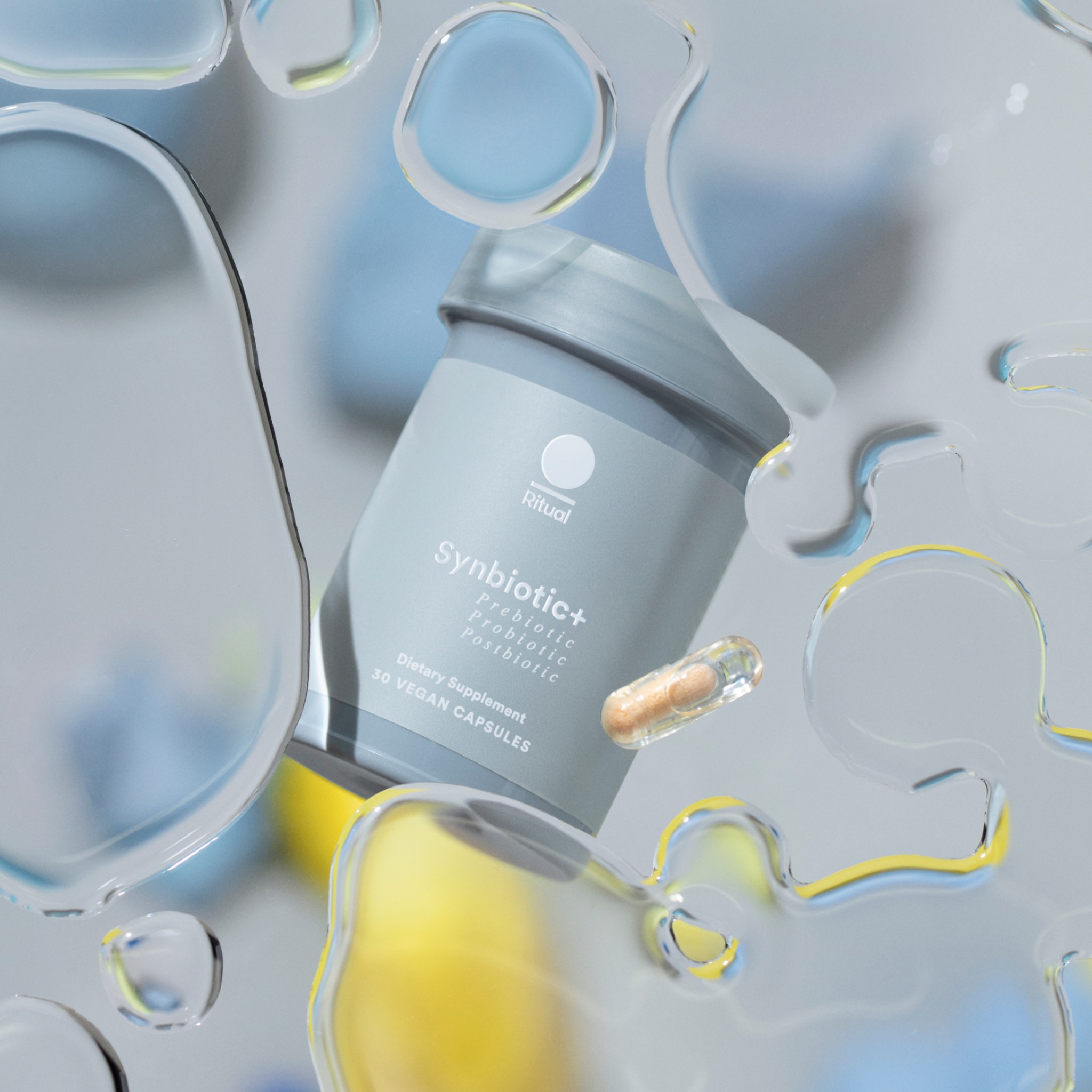 Ritual Synbiotic+ Review
Most of us have heard of gut health, but do we really know and understand what it really is? Gut health is very important as it not only promotes healthy digestion but also helps maintain general health and overall well-being. If you're a health-conscious person, gut health should be one of your top priorities. There are several ways to keep your gut health at its peak, and one of the most popular choices for restoring a healthy balance of microorganisms in the gut is taking synbiotic supplements.
But what exactly are synbiotics? In general terms, synbiotics are mixtures of probiotics (helpful gut bacteria) and prebiotics (non-digestible fibers that help these bacteria grow). They work together to ensure that the digestion-friendly microorganisms arrive in the gut alive and well.
There are numerous brands on the market offering synbiotics, and Ritual is one of them! They upped their health game by adding synbiotics to their product line. Ritual Synbiotic+ combines not just prebiotics and probiotics but also postbiotics. In this review, we'll cover everything you need to know about Ritual's new subscription service, so keep reading to learn all about it!
Ritual Synbiotic+ Benefits & Drawbacks
Before we proceed, here's a list of advantages and disadvantages of Ritual Synbiotic+:
Ritual Synbiotic+ Benefits
Three powerful biotics in one
Clinically-studied formula
Third-party tested
11B CFUs housed in a delayed-release, stomach-acid-resistant vegan capsule
Can be taken with or without food
No need to refrigerate
Traceable ingredients
Ritual Synbiotic+ Drawbacks
A bit pricey compared to other supplements found in stores
It's relatively new
Not everyone likes mint flavor
My Ritual Synbiotic+ Review
The capsules arrived sealed in a moisture-controlled container that protects the probiotic strains. Supplemental facts, instructions, and other ingredients are written on the bottle's label.
The jar contains 30 vegan capsules, enough to last a month. A stomach acid-resistant outer vegan capsule houses the inner vegan capsule, which carries the formulation. These synbiotics consisted of 11B CFUs for digestive support, plus two of the most clinically studied strains – LGG® and BB-12®. It is safe to take these supplements with or without food.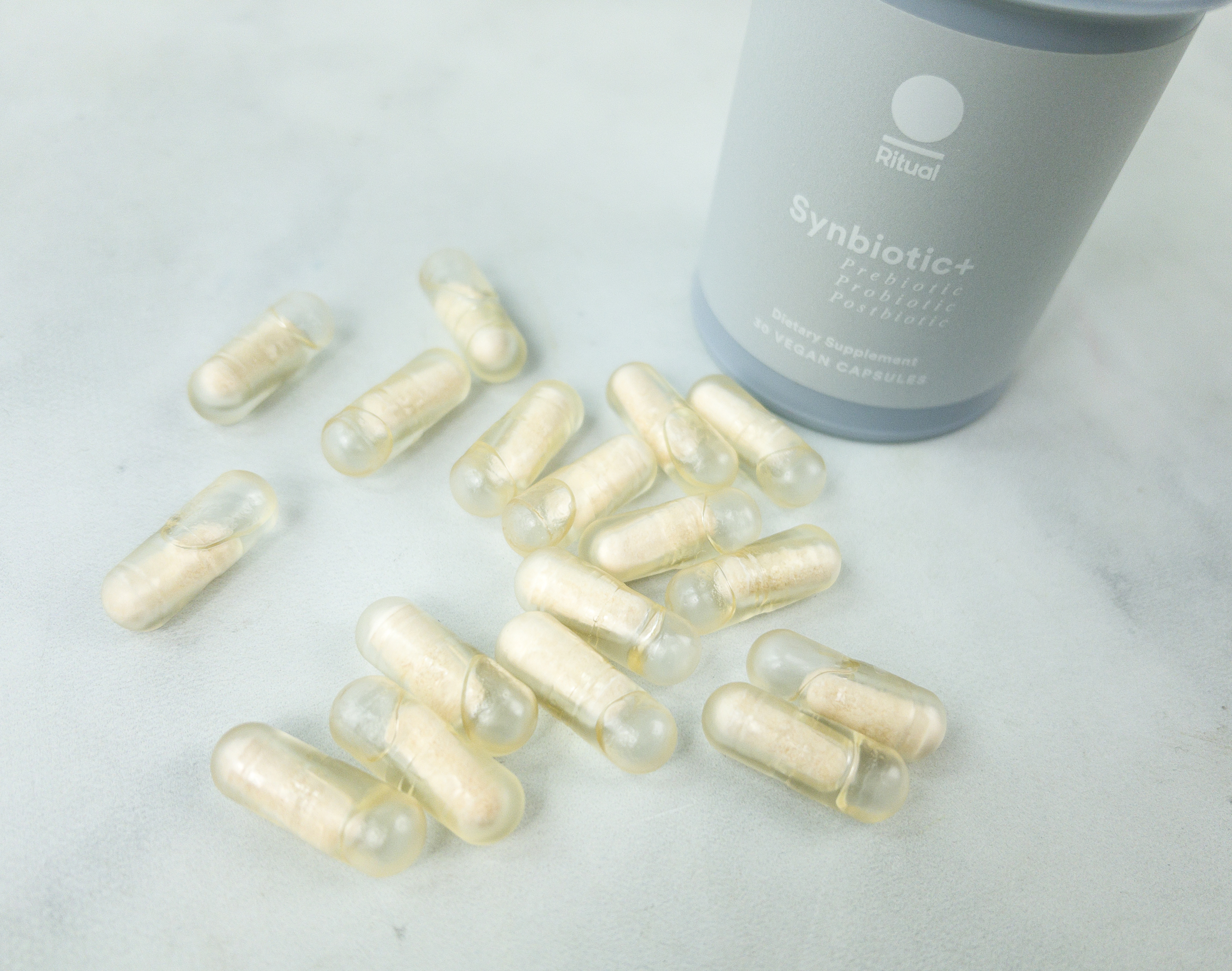 It has an excellent delivery system that ensures the probiotics reach the colon at the proper timing, where they survive and grow. It only takes one single-nested, minty capsule a day to support your gut health! Also, Ritual Synbiotic+ doesn't need refrigeration. You can store your Ritual supplements where you can easily see them, so you won't forget to take them.
Is Ritual Synbiotic+ Worth it?
Ritual Synbiotic+ is worth trying if you want to boost your gut health! You may experience side effects at first, but it's just your body adjusting to the formulation. It will gradually fade over time, and results take effect within 2-4 weeks of continued use.
Ritual Synbiotic+ is made traceable, giving subscribers an understanding of what they are putting into their bodies, where it comes from, and how it works. It contains prebiotics, which supports the growth of beneficial gut bacteria; probiotics, which are live microorganisms that contribute to a healthy gut microflora; and postbiotics, which provide fuel for the gut lining and support gut barrier function. They are third-party tested to ensure these capsules adhere to strict regulations and guidelines. Overall, it's a great choice if you seek clean and better supplements to support your gut and overall well-being.
Subscription benefits include: Free Shipping, 30-Day Money Back Guarantee, and Easy Cancellation
All About Ritual Synbiotic+
Ritual Synbiotic+ mixed three biotics – prebiotics, probiotics, and postbiotics – in a single-nested, vegan capsule to effectively deliver the formulation directly to the colon, where they survive and grow. Having them in one pill is beneficial because you don't need to buy separate supplements to support your gut, digestive, and immune health.
How does Ritual Synbiotic+ Work?
You don't need to spend hours reading labels on supplement bottles because everything you need to know about Ritual Synbiotic+ is available online. It is subscription-based, which means you'll get a regular supply of daily Synbiotic+ supplements with just a few taps from your fingertips.
No surveys, no medical questionnaires, no confusing vitamin aisles. It works just like any other subscription. You sign up, add the product to your cart, adjust the quantity (if desired), then check out. Fill out your shipping details and wait for your Synbiotic+ to arrive at your doorstep. You don't need to run to the nearest pharmacy once empty because Ritual Synbiotic+ will show up in your mail monthly on auto-pilot.
Ritual will send you an email each month before shipping and charging you for the next bottle. You can also control your delivery date. Pause, skip, delay, or rush your order – tell them when you need it, and they'll be there to support your journey toward a healthier gut. If you aren't satisfied with what Ritual can do for your gut health and well-being, they also offer a 30-day money-back guarantee. The subscription is also easy to cancel at any time if you choose.
How much does Ritual Synbiotic+ Cost?
One jar of Ritual Synbiotic+ contains 30 daily supplements, and it costs $54 a month. Make it two or more to unlock a $15 bundle discount! You can also bundle it up with other ritual products, including Multivitamin Women 18+ and Multivitamin Men 18+ for $65, or with Multivitamin Women 50+ for $70 to save $15. Whether you rush or delay your order, shipping is always free! You can also apply promo codes for discounts off your total! Ritual also offers exclusive military discounts to active duty, veterans, retirees, military spouses, and military dependents.
Where can I buy Ritual Synbiotic+?
You can keep your gut health at its tip-top shape whenever! Ritual Synbiotic+ is available through this link, which leads you to their official website. Choose Ritual Synbiotic+ from their product lines, add it to your cart, and adjust the quantity based on how many jars you need at a time, plus add-ons (if you wish). Click check out to start your unique journey to support a balanced gut microbiome!
Where and how does Ritual Synbiotic+ ship?
The subscription currently ships to addresses within the US, including APO/FPO addresses. They also ship internationally to Canada and the UK. You can access the Canadian site or the UK site when you scroll down to the bottom of the page. They partner with Passport Shipping to process and deliver international orders. Ritual will send you an email before shipping your order, plus a follow-up email with a tracking link after it's been shipped. Or, you can open your Ritual account on their website to see tracking updates.
Ritual Synbiotic+ is also available in China on TMall Global.
How is Ritual Synbiotic+ packaged?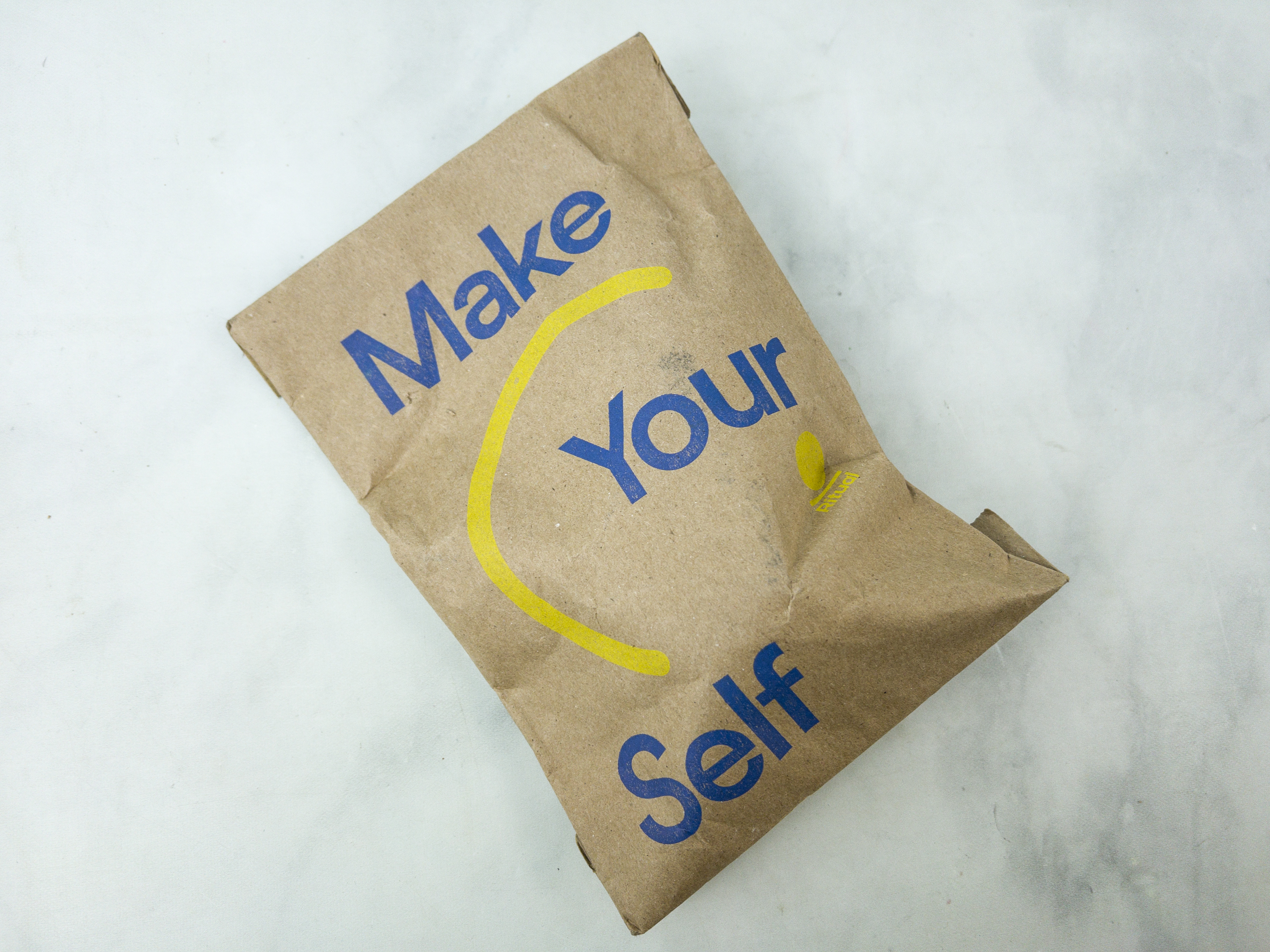 Ritual Synbiotic+ is made with traceable ingredients, including its packaging. Unlike most synbiotics you see in drug stores or pharmacies, Ritual Synbiotic+ doesn't need to be refrigerated. Bottles and caps are made from 100% recyclable plastic with moisture-controlled technology to protect the probiotic strains, while mailers are made exclusively from recycled newsprint and plant fibers. All orders are shipped in recyclable materials, keeping not just you, but the planet in mind!
What products does Ritual Synbiotic+ sell?
Focusing on your gut health and overall well-being, Ritual Synbiotic+ offers a three-in-one daily synbiotic supplement. Each jar contains 30 mint-essenced capsules to be taken once a day, with or without food. Prebiotics, probiotics, and postbiotics are encapsulated in one delayed-release capsule to bring support and help balance out the gut microbiome.
Aside from Synbiotic+, Ritual also offers daily multivitamins for women, men, teens, and kids age 4-12 to help fill nutrient gaps. Over the years, they have expanded their product line and offer daily protein shakes for adults 18 to 50+, and pregnancy & postpartum supplements for expecting mothers.
Can I give a Ritual Synbiotic+ as a gift?
Of course! You can send a digital gift card to loved ones to give the gift of healthy benefits. Choose a gift card value between $50 and $360, or customize your gift with your desired amount. Provide them with your gift recipient's name and email, and make it personal by writing a gift message. You can even pick a digital card design to make it extra fun! Choose your desired delivery date so they can send your gift out on the date you've chosen.
Will you be getting Ritual Synbiotic+ for a healthier gut?