Super fun live streaming fitness classes every day, 7 days a week.
Obé Fitness has a discount right now that you aren't going to want to miss. YES, on that ad you've seen on Facebook that makes you totally want to subscribe and work out!
Our mantra: Keep. It. Fresh. (And bring the 🔥 playlists.) At obé, variety and fun are non-negotiables—every single day we bring you something special and new. Let's find the mix that's right for you!
Get 30% off your first month when you sign up for the Monthly Membership! Sign up here for a 7 day free trial and use the coupon code OBE30 at checkout.
Or, treat yourself with a full year of obé Fitness for just $99 (orig. $199) when you signup for a membership with code GET99!
With 20 live classes daily and 6,000+ on-demand workouts available 24/7, you can obé your way, every day—on your TV, laptop, or phone. Any screen, anywhere!
Plus, connect via Obé Fitness (it's web-only for now, but app's coming soon!) with your IRL friends and your favorite obé fam members—and share calendars, class history, and more.
Heard of Netflix Watch Parties? Now, you can have obé Workout Party too! Find out more here!
About obé:
At obé, variety and fun are non-negotiables—every single day we bring you something special and new. Members can receive unlimited access to 14 live classes a day and 4,000+ on-demand classes. Sculpt, strength, power, dance, circuit, HIIT, yoga, & more.
obé classes are designed for all levels. If you are just starting out, no equipment is needed. As you get stronger, you can add resistance loops, hand weights, ankle weights, and sliders.  obé also offers classes for stationery bikes and trampoline! Want to rebound and looking for a trampoline? Visit Jumpsport to see great Trampoline options! or, check out our other favorite rebounders here!
Here's what you'll get with your subscription: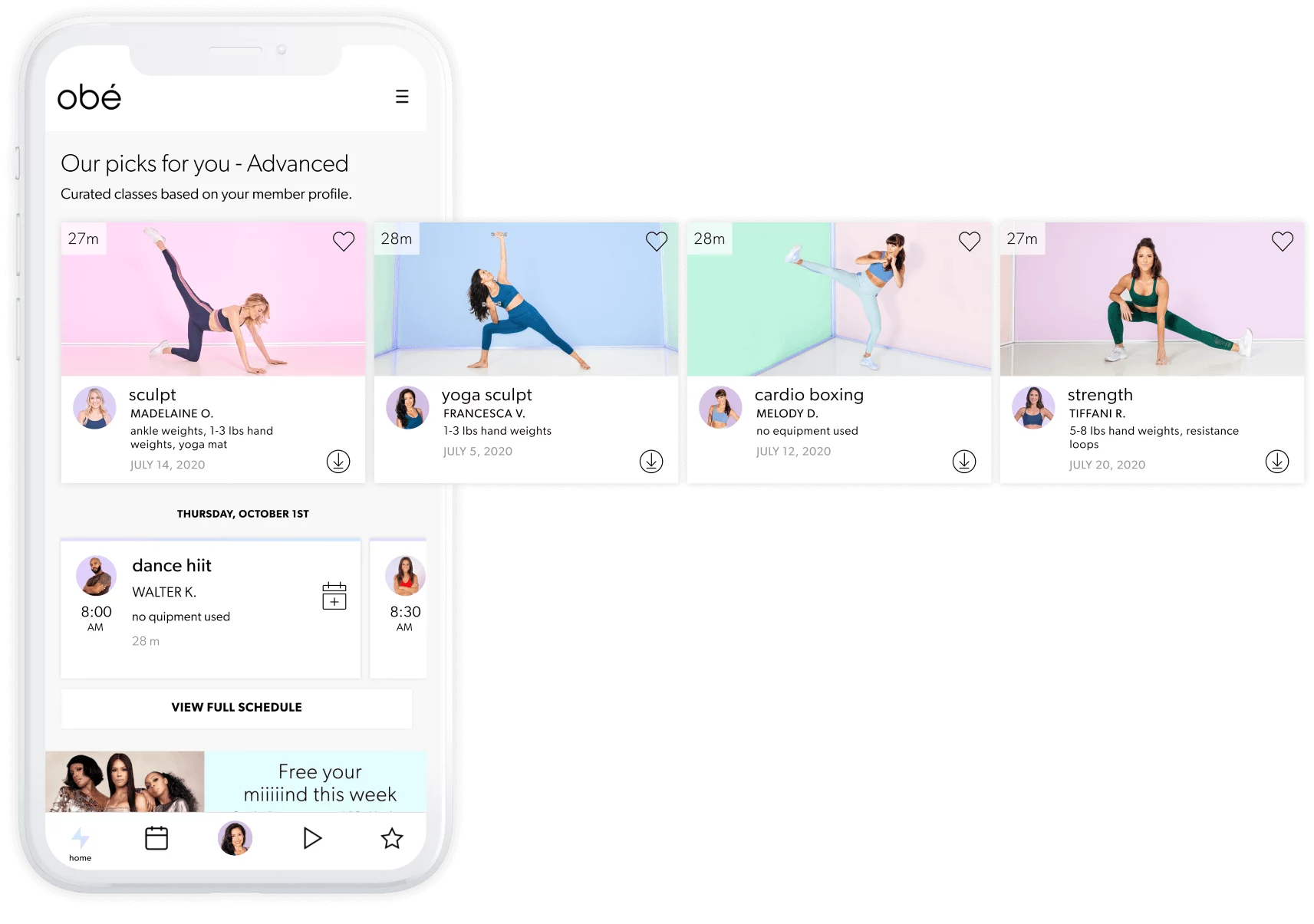 Join one of 22 live classes daily Obé's can't-miss LIVE programming makes showing up every day something you want to do, not have to do. Make it more fun and cast to the big screen, available on Apple TV, Roku, Fire TV, and Chromecast.
Choose from 5,482 on-demand classes Can't catch a live class? Browse the ever-updating library of 5,400 classes that always challenge you and never leave you bored.
Programs for everyone (really) Whether you're a beginner who's starting your workout journey, a fit fam member who needs a Hard AF challenge, or you're doing the Whole 30 thing, you can find a program to jump-start your routine.
Visit obé to subscribe or find out more!