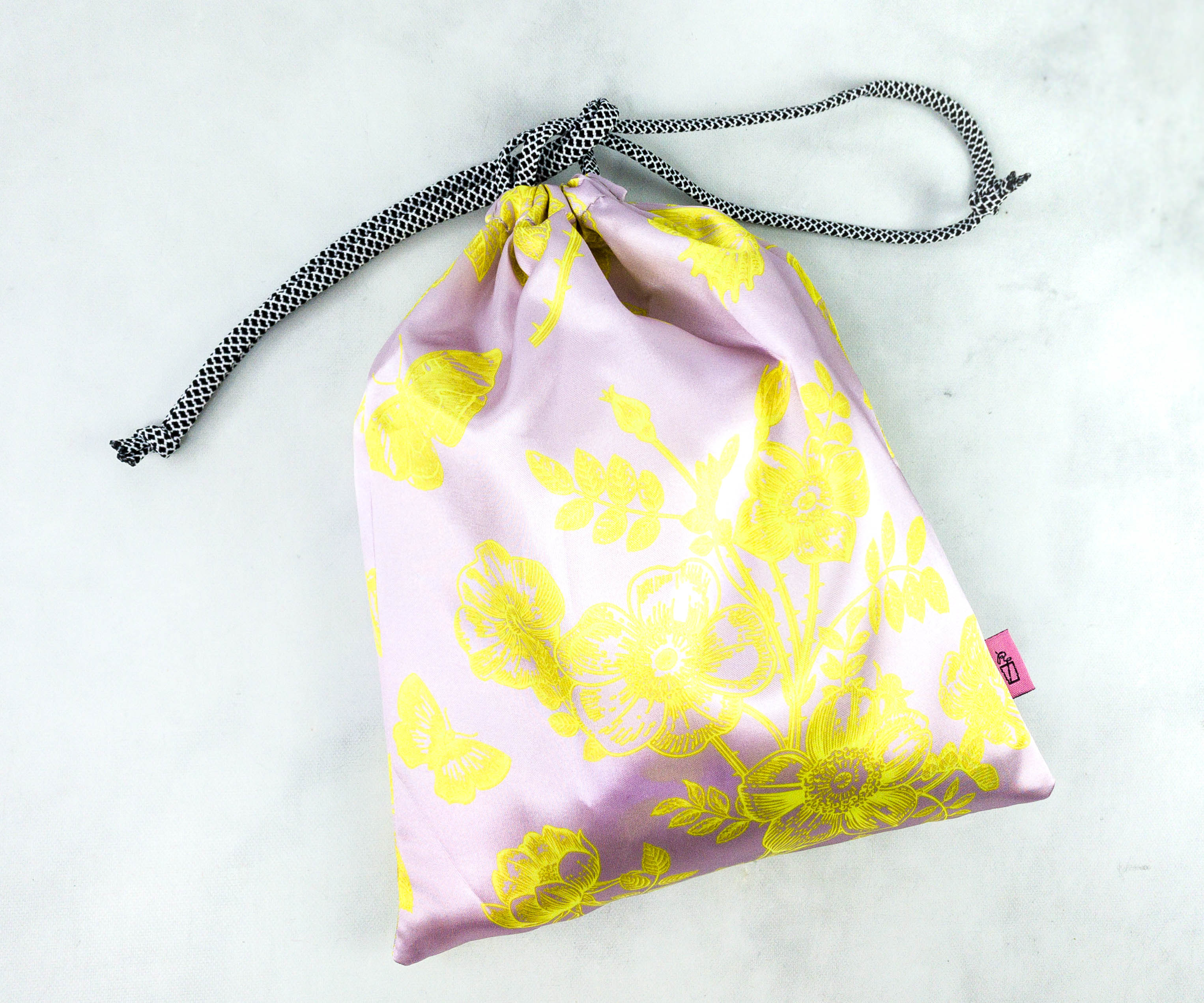 Everything you need to know about this personal care subscription
Ipsy Refreshments Review
Personal hygiene is a must. And while we are at it, it is also important to think of mother nature. As years go by, many companies and brands join the clean trend, keeping the environment in mind with every product they sell.
Ipsy is one of the most well-loved subscription brands around, and we're not surprised why. They've launched Ipsy Refreshments, which is focused on jazzing up your bathroom and personal hygiene routine while being mindful of the earth. They work extra to ensure that all products are sustainable, clean, and work wonders so you can feel good not just for yourself but also for the planet. They're anything but boring!
Their brand-name products are effective and guaranteed to be vegan, cruelty-free, and dermatologist tested! If you haven't tried it yet and want to test the waters, our review might help you decide. So scroll down and read all the info gathered on this page to learn more about this personal care subscription from Ipsy!
Ipsy Refreshments Benefits & Drawbacks
But before that, let's look into the advantages and disadvantages of Ipsy Refreshments:
Ipsy Refreshments Benefits
Vegan and cruelty-free
Made from effective and clean ingredients
Mother nature-friendly personal care products
Dermatologist-tested formulas
It is customizable – add your fave products and set the delivery frequency
They look pretty on your bathroom shelves – party on!
Ipsy Refreshments Drawbacks
Always come in the same bag, which is a waste
For some, the scents are off putting
No international shipping
Ipsy Refreshments Review
Summary
Ipsy Refreshments is a personal care subscription from Ipsy. This subscription line will jazz up your bathroom and your personal hygiene routine with clean, sustainable, high-quality products you can feel good about. It is a separate subscription from the Ipsy Glam Bag but ships together with it to reduce packaging materials. Whether you need a razor, deodorant, or wipes, you can fully customize your box and decide when to receive them. It's that easy!
All About Ipsy Refreshments
Taking care of oneself is easy peasy with Ipsy Refreshments on the side! Grab your fave products and allow them to perfectly sit in your bathroom so you can have a party for one with mother nature in mind!
How does Ipsy Refreshments work?
Getting your Ipsy Refreshments is, without a doubt, easy. Although it is a different subscription to the regular Ipsy, it ships together with your glam bag.
If you're already an Ipsy member, you can try Refreshments the first time for free – after the free trial is where the party for one really starts. You can customize your personal care box the way you want it! Head on to the Refreshments tab on the home page to modify orders. Pick your products and add them to your cart. You can even set the delivery for each one, making it really convenient to get self-care products and accessories – you can always get one whenever you need it!
Sometimes, they also add something new that can be a potential favorite. They'll even send an email to remind you of the customization and let you know if they've added anything for you to try. It is as flexible as it can be, allowing members to add, skip, or remove products in their cart at any time before it ships out. It's also easy to cancel – simply remove products from your cart, and you won't get billed or receive shipments in the future. In case you want to resubscribe, just add the products to your cart, and the subscription will automatically be up again.
Not a member or didn't want to sign up for a glam bag? That's not a problem with Ipsy! Whether you're a glam bag member or not, you can experience what this personal care subscription is all about. They give you the chance to shop and try individual Refreshments products even without membership or without subscribing.
How much does Ipsy Refreshments cost?
Ipsy members can get Refreshments starting at $6 or 20%-30% off MSRP, and it ships free too! For example, the Breezy Deodorant originally costs $12 but drops to $9.50 for members. The Spa Soiree Headband 3-pack costs $24 but is priced at $12.99 for members. The total cost of your Refreshments shipment depends on your product preferences.
For non-members, prices for products start at $9, accessories start at $6, and bundles start at $14.99. Free shipping is offered on orders over $19 and varies if below the mark.
Where can I buy Ipsy Refreshments?
Getting a fresh stash of personal care products is available through this link, which will lead you to Ipsy Refreshment's official website. Simply add your favorite Refreshments products and decide when you need them delivered. You can also skip or cancel anytime.
Where and how does Ipsy Refreshments ship?
Ipsy Refreshments ships everywhere in the United States, including its territories, but with the exception of Washington DC due to some restrictions. They also don't ship to APO, DPO, FPO addresses, Canada, or any international locations.
Orders ship within 3 business days after you place your order. If you're currently subscribed to Ipsy Glam Bag, your Refreshments order will ship along with it. You'll also receive a confirmation email with a tracking code. Or check the status of your shipment on the Refreshments tab of your account.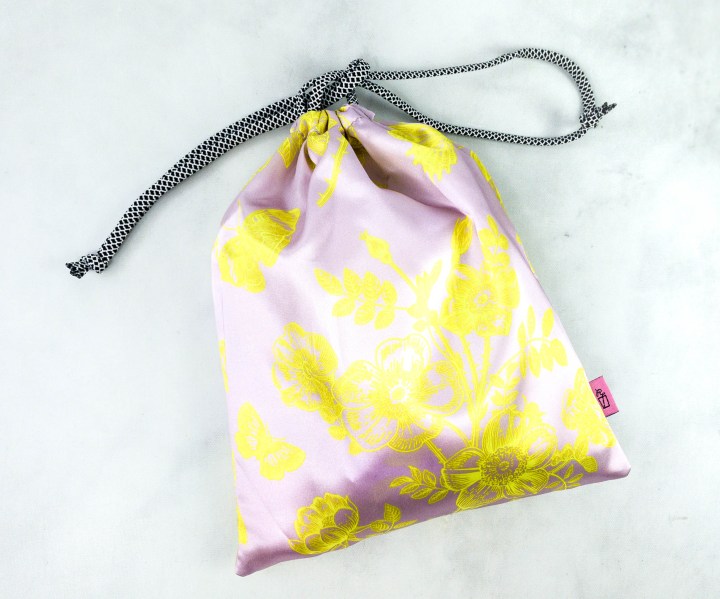 How is Ipsy Refreshments packaged?
The items were packed inside this cute drawstring pouch!
Ipsy Refreshments is tagged with extra love for mother nature. They're into keeping your bathroom jazzed up while keeping the planet in mind! They support sustainability by using at least 30% post-consumer recycled (PCR) materials in their plastic packaging, which helps reduce the effects of plastic pollution and waste.
Their Luxe 5-Blade Razor handle is reusable, and their cleansing face wipes are 100% biodegradable and compostable. Plus, they combine shipments for members that are also IPSY subscribers to significantly reduce packaging materials. They also said they're working on refillable packaging for new products.
What products does Ipsy Refreshments sell?
Ipsy Refreshments have quite a few offerings to try and love. They have personal care products like the Dazzling 5-Blade Razor, Pillowy Shave Cream, Luscious Hand Cream, Breezy Deodorant, Velvety Body Cream, Pearly Body Wash, Oh My Moisture Shampoo & Conditioner, Superb Strength Shampoo & Conditioner, Brilliant Body Bar, and Radiant Micellar Water.
They also sell accessories to make self-care a fun thing to do! Their product line includes Tangles be Tamed Comb, Partied Out Pillowcase, Towel With A Twist, Snazzy Shower Cap, It's A Vibe Candle, and Spa Soiree Headband. And to keep the party going, they also offer bundles.
My Ipsy Refreshments Review
Ipsy Refreshments is a personal care subscription that provides essentials for everyday routines as an add-on to your monthly Ipsy subscription. The initial offering will include face wipes, hand cream, body cream, and body wash, with a broadened assortment launching in 2021 and beyond. You'll be billed separately but your items will ship together.
They promise that every item in their Refreshments collection is always vegan, cruelty-free, paraben-free, phthalate-free, sulfate-free, formulated without gluten and nut allergens, and clinically, allergy and dermatologist tested. To ensure this, the products go through a strict examination process according to a standard set by BFA Clean Standard. This is to make sure they don't contain any of the 1800 ingredients that may have potential negative health impacts. This is the December 2020 review.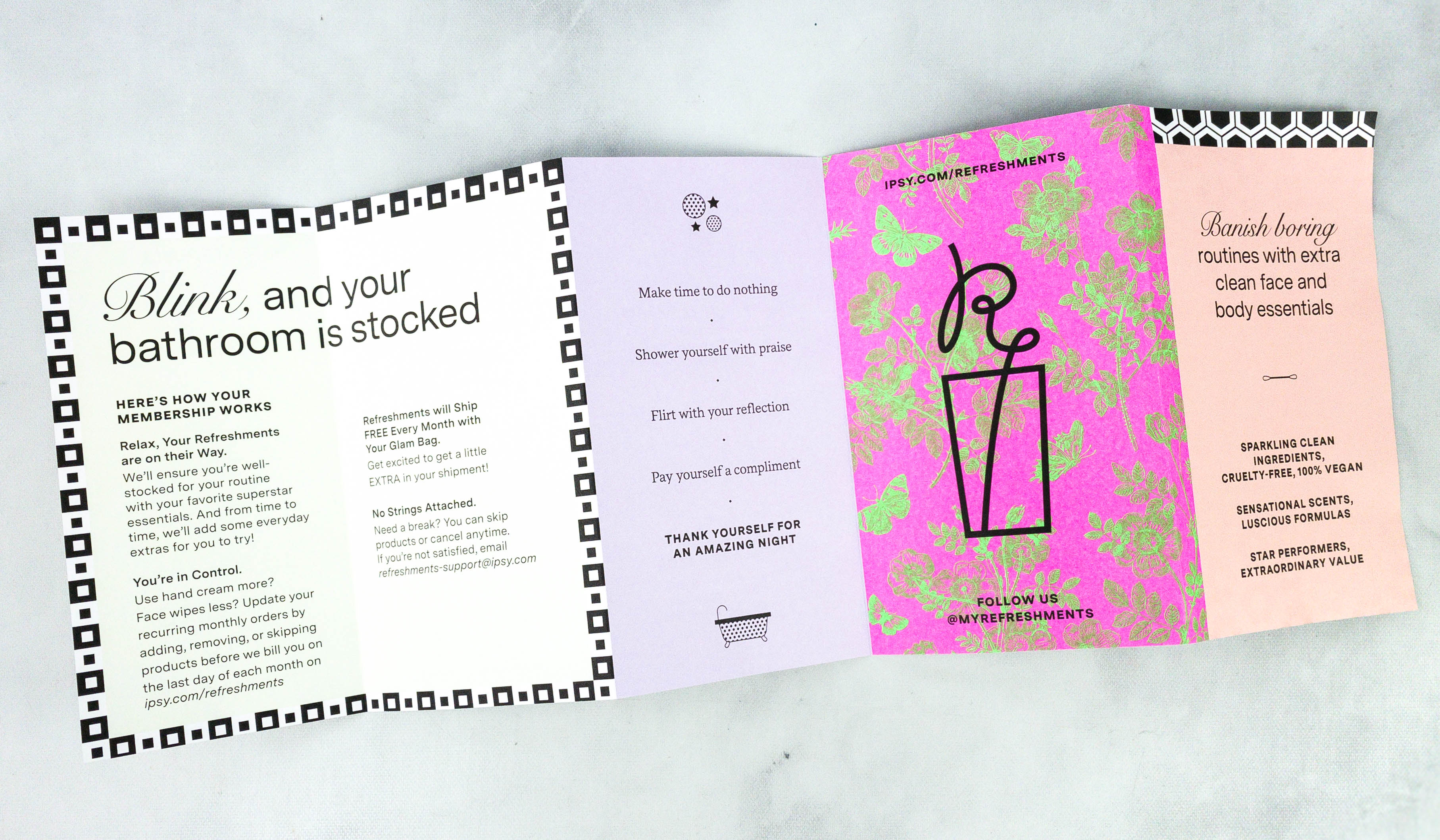 There's also an info sheet that explains how the subscription works.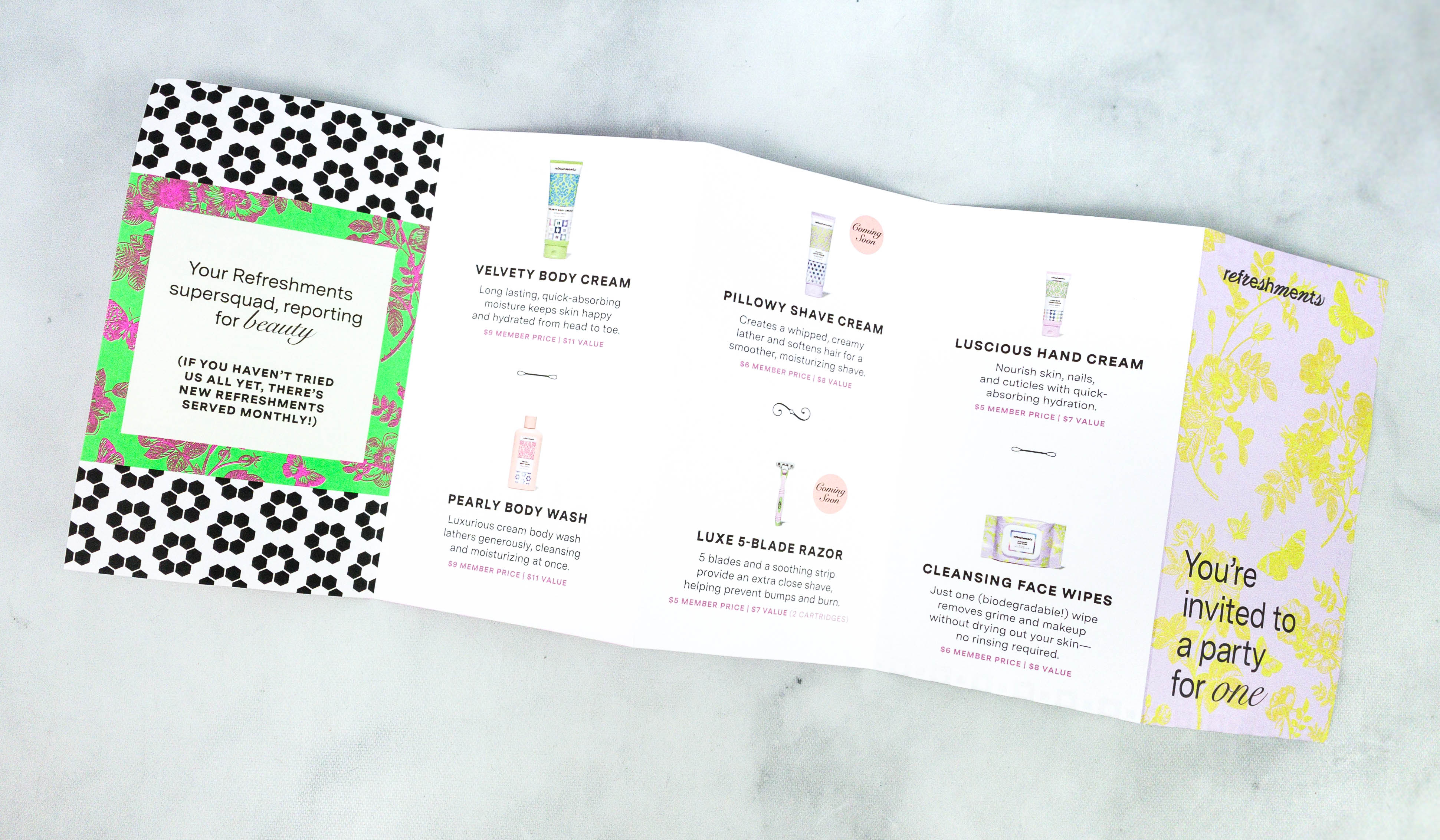 At the back is a list of the items you could possibly get, as well as a short description of each.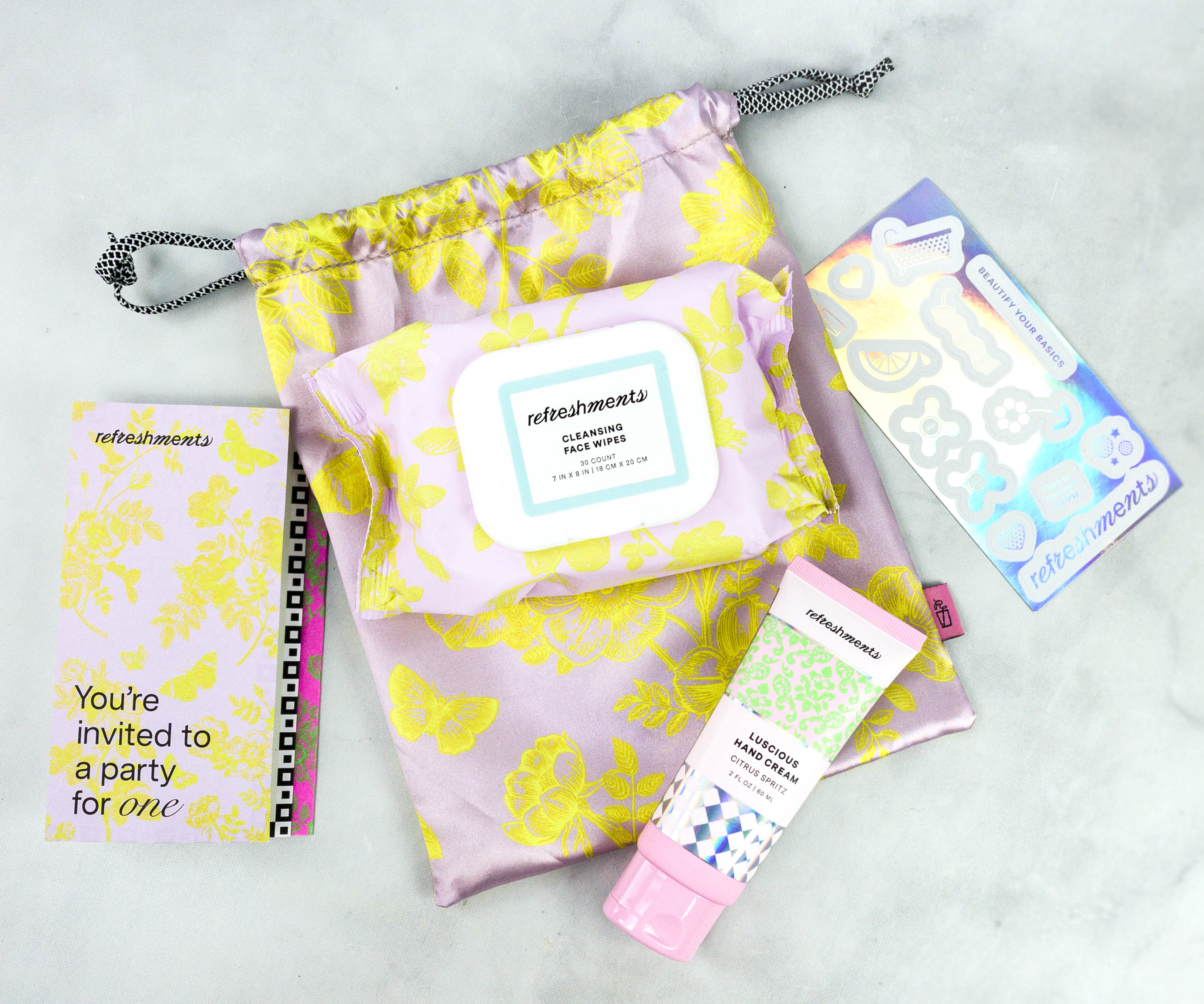 Everything in my bag!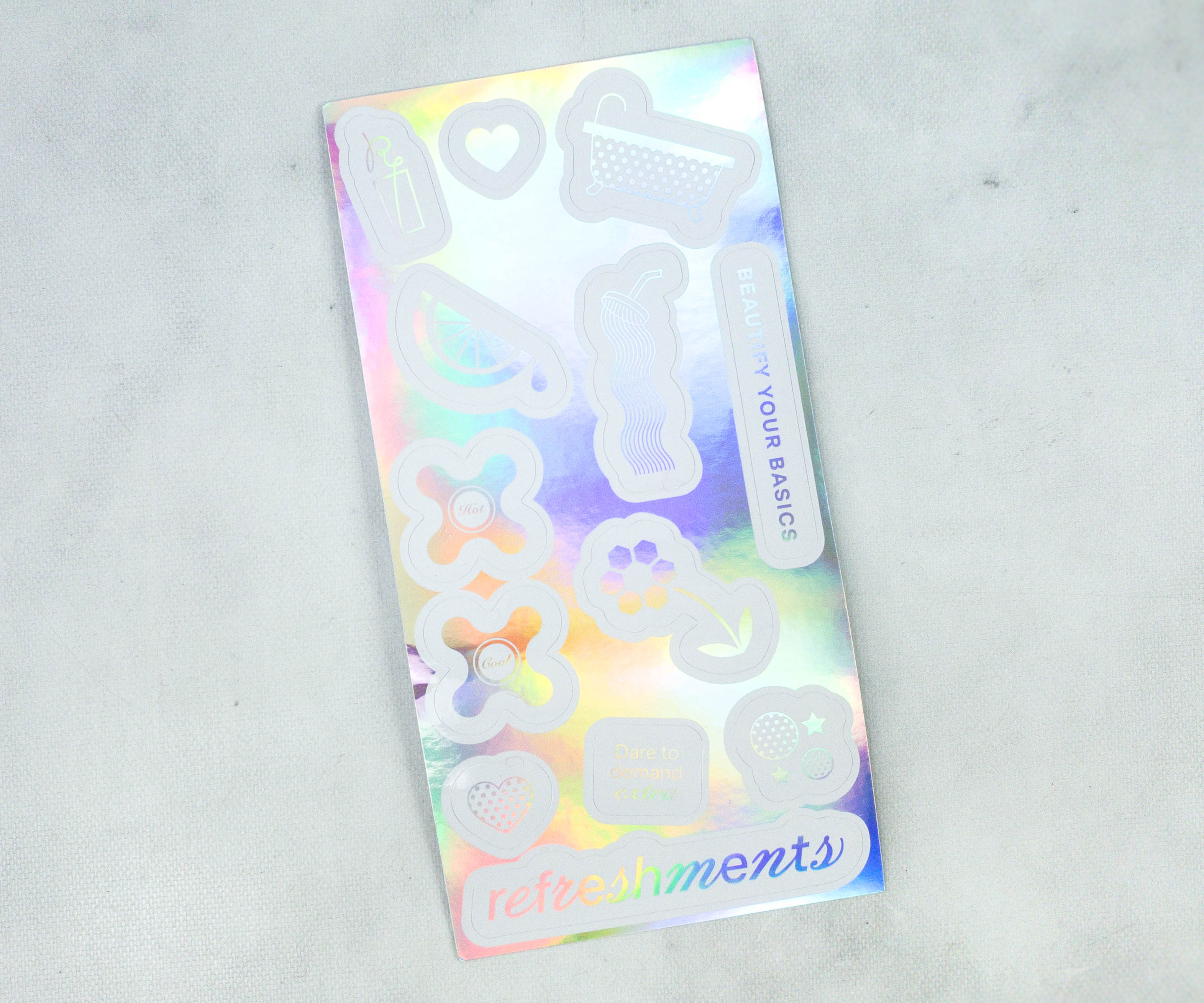 Refreshments Hologram Stickers. To start off, they sent us these cute holographic stickers! I'm putting them on my planner for a touch of cuteness.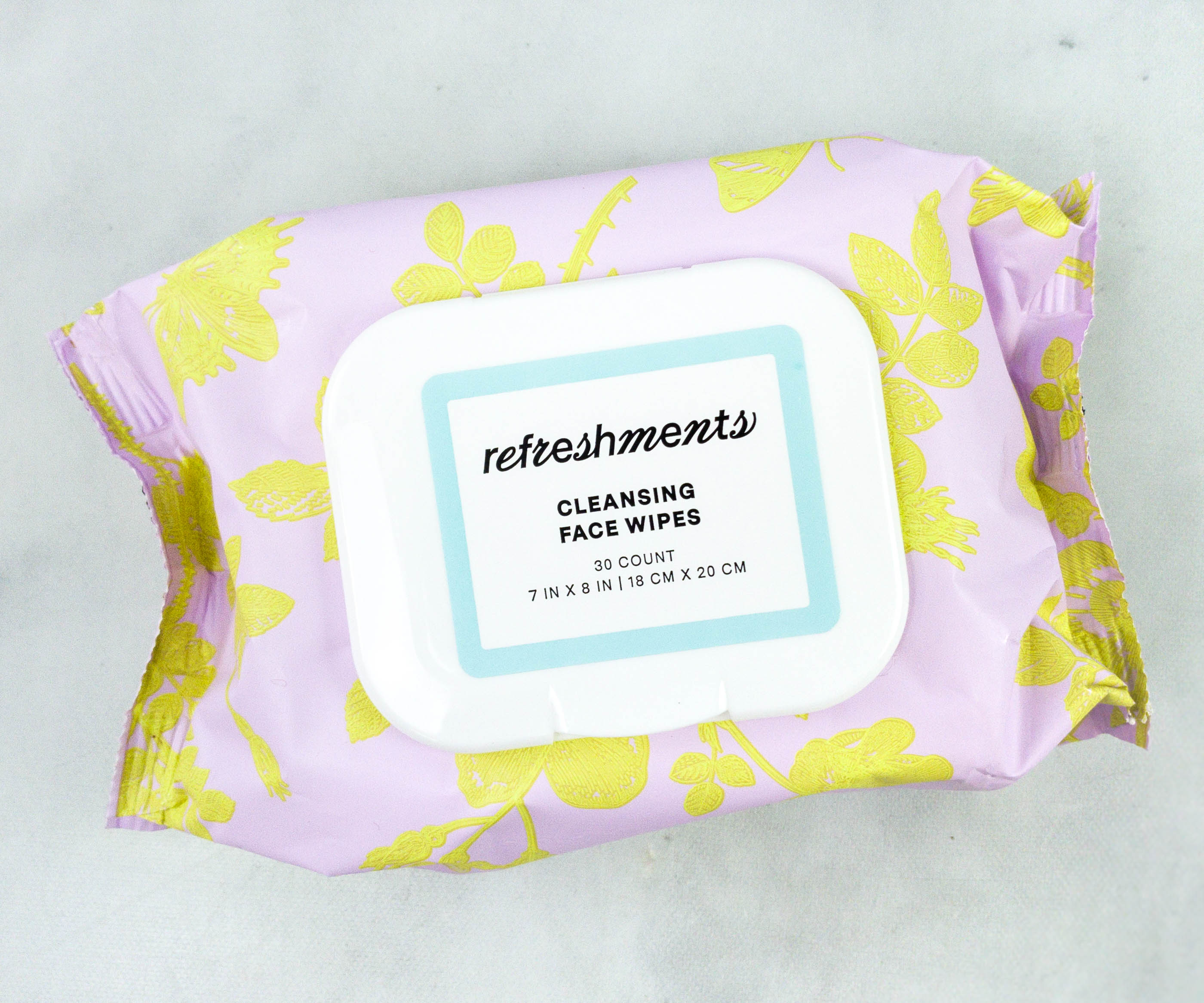 Refreshments Cleansing Face Wipes ($8 – $6 on subscription) These biodegradable wipes are formulated to be non-drying and non-irritating. They're perfect for removing makeup from your face, and you can also use them on your eye area!
Each wipe contains aloe vera juice that hydrates, sunflower seed oil that helps retain moisture, and argan oil that helps heal and soothe the skin! They are soft and nice and large, and we really liked these for a quick mid-day face cleanup.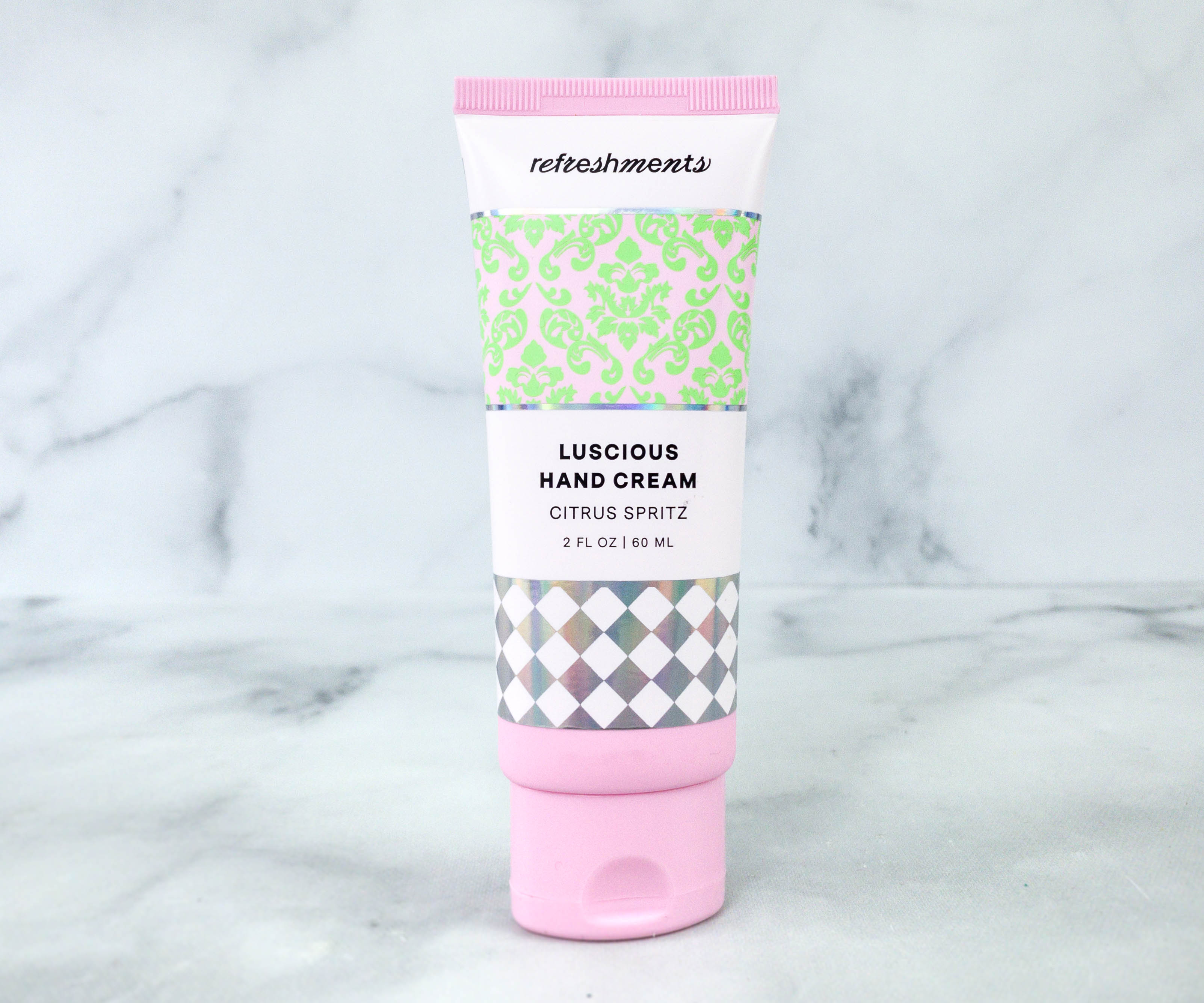 Refreshments Luscious Hand Cream in Citrus Spritz ($7 – $5 on subscription) I think this hand cream smells sort of like a mimosa! Plus, it doesn't leave my hands feeling greasy and sticky after putting it on. It's great to have, especially now that the weather is getting harsher.
Formulated with shea butter, this product supports soft and healthy skin. It also contains grape seed oil and olive oil, both of which contain antioxidants that keep the skin nourished, improve skin tone, and reduce signs of aging.
Is Refreshments Worth It?
My first bag was free, which was a nice way to sample these products. In January, Ipsy is adding Velvety Body Cream in Citrus Spritz for $9 to the lineup. After that, 5-Blade Razor, Pillowy Shave Cream, and Pearly Body Wash will be available.
This round of Refreshments has been a great one ($11 total retail value), but I think the products are overpriced for private label products, although they're convenient. If you have an existing Ipsy subscription, it's easy to get this as an add-on. For face wipes without actives, I love getting interesting and unique ones in different subscriptions, but if I need more than I get with subscriptions, I'll always just get a case at my local warehouse store (e.g., Sam's or Costco). They also went all in on the scent, and while it's nice, I'd prefer a different scent or different scents for different products with some layering possibilities! I recommend trying out Refreshments with a free month offer and then evaluating, but more likely than not, I'd probably recommend adding other subscriptions to your lineup, unless you 100% need the convenience of adding this one on. For a couple of dollars less per product, my verdict might be different!
Will you be subscribing to Ipsy Refreshments? Let us know in the comments!