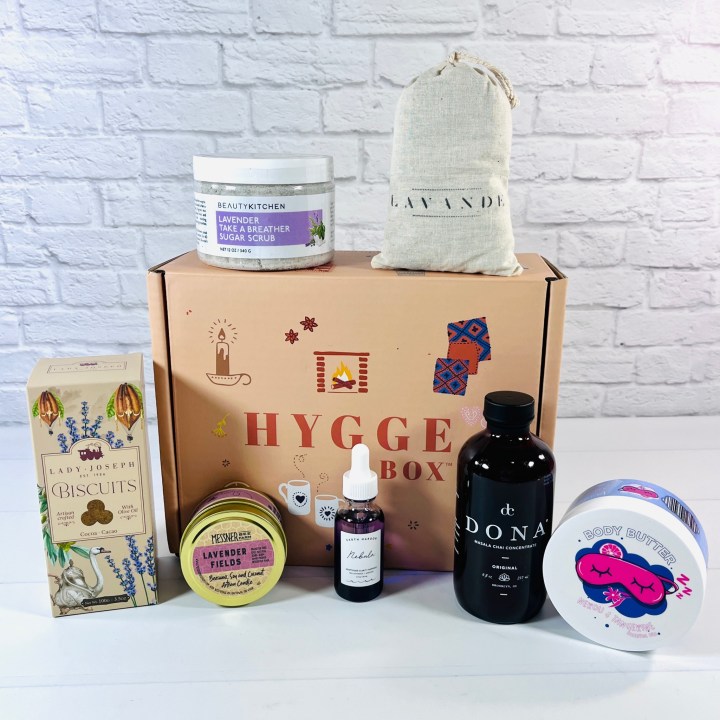 Hygge Box is perfect for those who like to get cozy and comfy in their homes while connecting with their mind, body, and soul. The theme this month was Soothe Your Soul and came with so many items that smelled amazing, with lavender in the starring role. I found a candle, chai drink mix, and more. See what else I received below! Please note that this is a review of the Deluxe Box and that extra item is at the end of the review.
Beauty Kitchen Lavender Take A Breather Sugar Scrub ($30.50) Wow, this sure is pricey for what is basically sugar, lavender, and rice bran oil. Of course, I can't say I'd pay that for one product but that's the fun thing about subscription boxes, treating myself to special goodies that I wouldn't otherwise buy. I was surprised by how light and fluffy it felt as I scooped it out of the jar. I worked on one area at a time and scrubbed until the sugar melted into nothingness and rinsed it all down the drain. It smelled good and natural (but didn't linger after the shower) and I didn't need a separate body lotion when finished. The texture was pretty cool, it reminded me of kinetic sand.
Messner Bee Farm Lavender Fields Candle ($12) I think I've tried the honey from this farm, the name is familiar to me. This is a 4 ounce travel candle made with a wax blend comprised of beeswax, soy, and coconut and scented with lavender. I lit the candle, walked away for a few minutes, and pretty soon I could smell it from the other room. It was overwhelming to my nose and I guess I don't care for the scent of lavender in a candle, but if you do then this one sure can carry!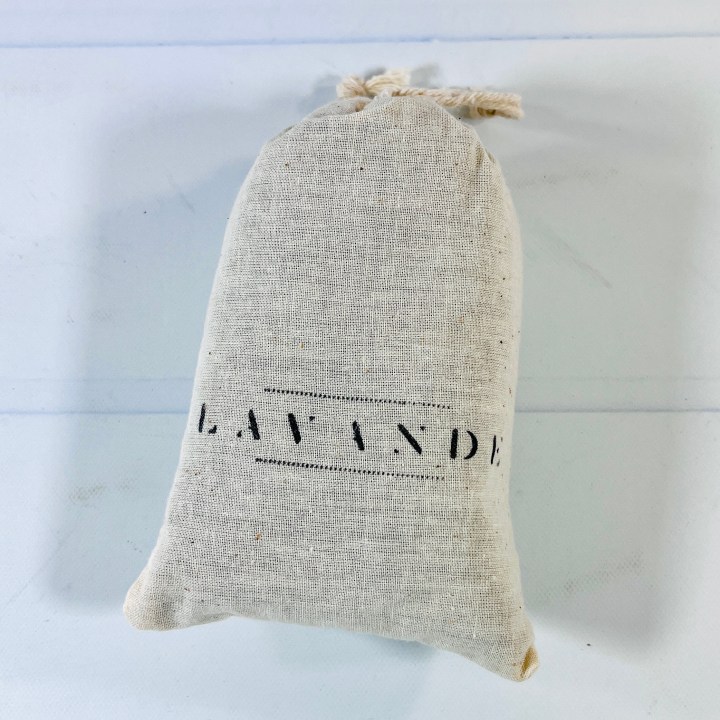 Lavande Lavender Bud Sachet ($6) I haven't untied this bundle because it's simply a sachet filled with dried lavender buds! You can hold it, give it a little squeeze, and take a big sniff to get the aromatherapeutic benefits of this herb that is known to induce relaxation. You can also place it in a drawer to help keep delicates or linens smelling fresh (the word lavender comes from a word meaning "to wash").
DONA Masala Chai Concentrate ($6.25) This is a concentrate that already has black tea, sugar, and spices so you just have to mix it with milk (vegan options work too) and there you have it, a chai tea latte. You can serve over ice or heat it if you want to feel like the drink is hugging you from the inside. It's going to be 100 degrees here today so I tried it iced. Use half a bottle then place the rest in the fridge for another day. This brand has their own subscription so if you're a fan you can receive regular shipments of the concentrate. I'm not a big fan of chai lattes so I'm probably not the best judge here but I thought it tasted pretty good.
Lady Joseph Biscuits ($4) These are simple chocolate cookies from Spain that have the texture of a gingersnap and a gentle cocoa flavor. I think they may be similar to Nabisco Famous Chocolate Wafers, the kind that are used to make desserts and such. They're not too sweet and the fat used to make them is olive oil.
Deluxe Box Item
Earth Harbor Nebula Adaptogen Clarity Ampoule ($46) I enjoy using Earth Harbor products, and I have quite a nice collection thanks to subscription boxes. Nebula is an ampule/face oil that is supposed to clarify skin and is best for those with acne, blemishes, and/or oily skin. Those aren't concerns for my mature skin but I think one of my daughters will appreciate it. I did try it out and I accidentally used like half a dropperful instead of one or two drops so my skin had more than it could absorb. Some of the ingredients are ginseng, sea lavender (which isn't actually lavender, it's statice, a flower commonly used as filler in arrangements), and sunflower seed oil. It smells like roses and the scent is light and fades quickly.
Bubble T Body Butter in Neroli & Tangerine Essential Oils ($4) There were two bonus items this month! I thought surely this was going to smell like lavender due to the container color but it's actually scented with neroli and tangerine. The brand calls it calming & relaxing but also calls it fresh & uplifting, so it kind of contradicts itself (I tend to think of citrus as sunny and energizing). Either way, the scent isn't super strong and smells good and lightly fruity and reminds me of California, maybe it's the neroli or maybe it smells a bit like beachy sunscreen perfumes. Although I thought it was buttery when I first dipped into it, once I rubbed it on my skin I felt it was similar to regular body lotion, there was no greasiness and I wouldn't reach for it to keep my skin hydrated overnight, but I will continue to use it as a body lotion. The scent fades quickly after applying. Note that while it says "suitable for vegans" it also lists beeswax in the ingredients.
What a wonderful theme for the latest Hygge Box! There used to be a subscription box that was curated around a different scent each month and this reminded me a lot of that much loved box. I started my morning with the body butter and face oil and later in the afternoon I burned the candle and sipped the chai tea latte. I also indulged in the cookies around the same time. I currently have the sachet on my desk and give it a sniff from time to time. I used the body scrub to start a different morning, and was thrilled that I didn't have to follow with separate body lotion. All in all I thought it was a wonderfully curated box!
Below are some box opening pictures along with the front of the product information card!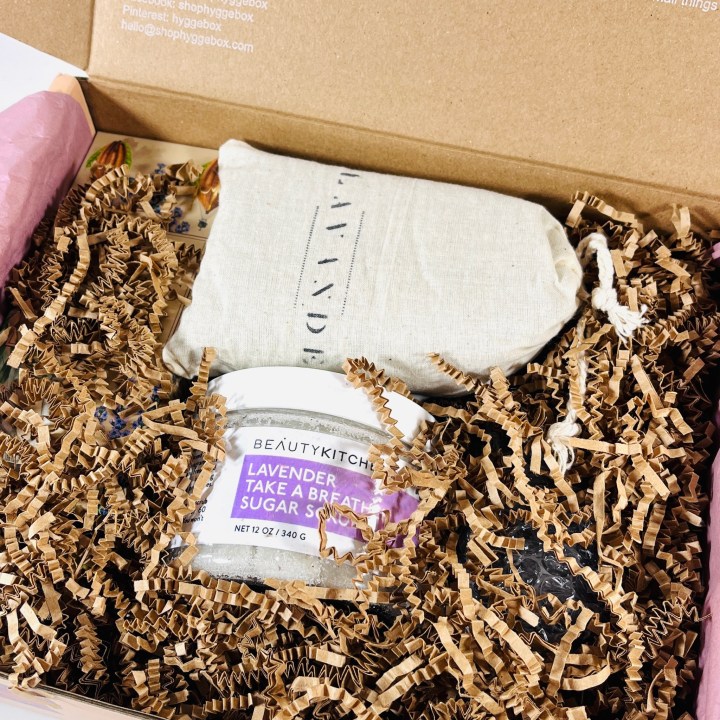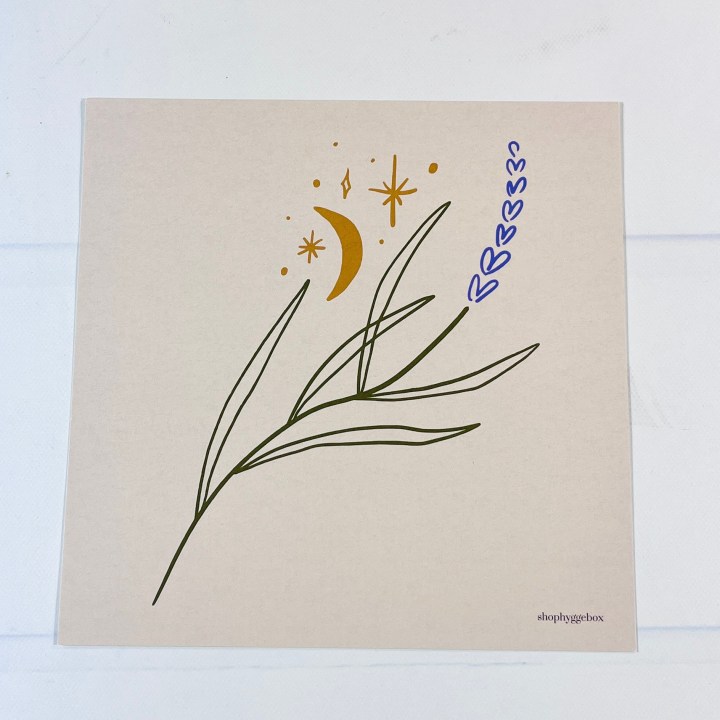 Hygge Box is a monthly subscription box for those who want to surround themselves with comforting objects that contribute to a sense of coziness and general well-being. You can choose from the Deluxe Hygge Box ($40 for 5-7 items) or the Standard Hygge Box ($29 for 4-5 items) and shipping is extra. Items sent may include candles, drink mixes, edibles, home decor, or wellness products.
What did you think of this month's Hygge Box?