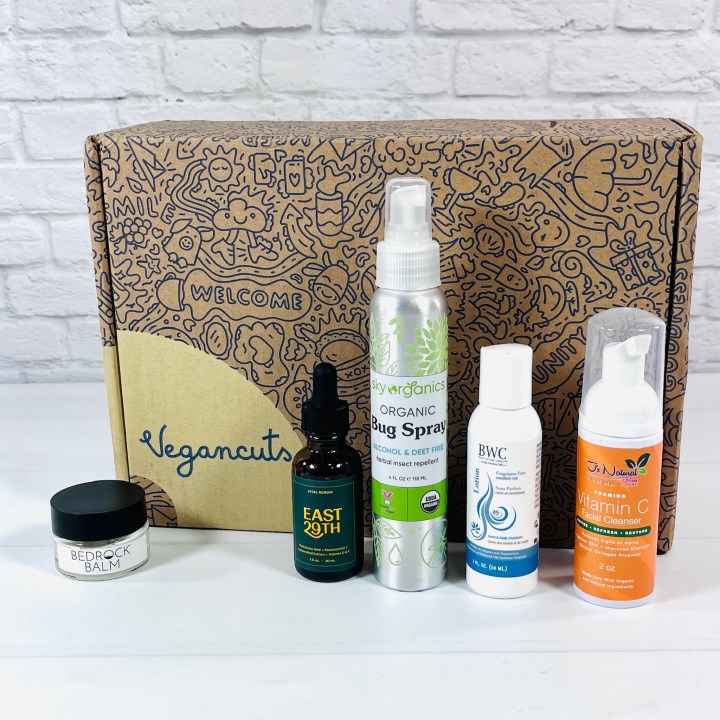 The July Vegancuts Beauty Box theme was Save Our Seas: Beauty Edition. All of this month's items are skincare – some for the face, and some for the body. Vegancuts sends vegan and cruelty-free products and they offer a snack box too! See what I received in this month's box below!
DEAL: Use the coupon code hellosub to get $5 off your first box on any Vegancuts subscription! It can only be used once per customer, but it can be used on multiple subscriptions at once so long as they are in the same transaction.
Sky Organics Bug Spray ($20) I think the only advantage to having no rain and 100+ temperature days this entire summer is that mosquitos seem to be dormant or hiding somewhere, and besides, I just don't leave my house, it's that hot, even in the evening! Of course, I realize that other states may have mosquitos and more so this spray should come in handy. It is DEET-free, but if you are going to be anywhere that might have Lyme disease-carrying deer ticks or if there's reports of West Nile or Zika being spread by mosquitos in your area, I would skip this and go for the heavy duty stuff (but that's just me). It's got water and a couple of carrier oils, plus an assortment of essential oils including citronella and lemongrass. It smells like most natural bug sprays that I've encountered before, and doesn't feel greasy.
J's Natural Beauty Vitamin C Facial Cleanser ($5) I know natural beauty companies like to put citrus in their products but it's not the best ingredient for skin as it can cause irritation. I gave this a try and the citrus scent was really strong, like what you would expect in a body wash. I used two pumps to start and while it briefly had suds, I had to keep pumping more product and still didn't feel like my skin was clean, so I used another product afterwards. I will keep it near the sink as a hand wash.
Beauty Without Cruelty Fragrance Free Hand and Body Lotion ($4) I've been able to travel several times these past few months and I'm running out of travel-sized products so this hand and body moisturizer came just in time for my upcoming weekend trip. The moisturizer is fragrance-free and doesn't smell like much of anything, plus it wasn't heavy and my skin absorbed it quickly. You could add a few drops of essential oil of your choice if you prefer some kind of scent but I'm really happy with this product as it is!
Bedrock Balm ($23) I didn't see a full list of ingredients on this product's jar but I detected lavender essential oil right off the bat. It also has zinc oxide (which is a skin soother), grapeseed oil, sunflower wax, various plant oils, some essential oils, calendula, and vitamin E (you can see all of the ingredients at the link above). The 5-in-1 benefits that they claim are anti-redness, anti-itch (in case any mosquitos get through your bug spray), smoothing, nourishing as a night cream, and complexion protection. You only need a bit and can apply directly to skin. It didn't leave a white cast but it did make my skin a little shiny, which at my age is actually a plus. It smells wonderful, but then I like the smell of natural lavender.
East 29th Vital Serum ($88 CAD, about $68) This serum is different in texture compared to others I've tried, which are usually a bunch of different oils that for some reason are called a serum. This one has a surfactant as an ingredient, and in fact that ingredient is found in the cleanser shown earlier in this review. There's also niacinamide, plant extracts (like bilberry and sugar cane), several citrus extracts, hyaluronic acid, salicylic acid, and more. It's supposed to firm skin and smooth wrinkles. It doesn't have much smell and as anticipated, it foamed up but then disappeared after application.
There was a lot of skincare items in the latest Vegancuts Beauty Box! I especially liked the moisturizer, it accompanied me on my trip and was perfect for the weather, not too heavy on my skin. I also appreciate having the Bedrock Balm, it smells lovely and can be used on all kinds of skin irritations. The rest of the items seemed like great products for this time of year, although the cleanser didn't really work for my needs. Just a little FYI, Vegancuts donates a portion of proceeds to organizations that help animals, and for July it will go to the Marine Mammal Care Center in California.
Below is the product info card and a box opening picture!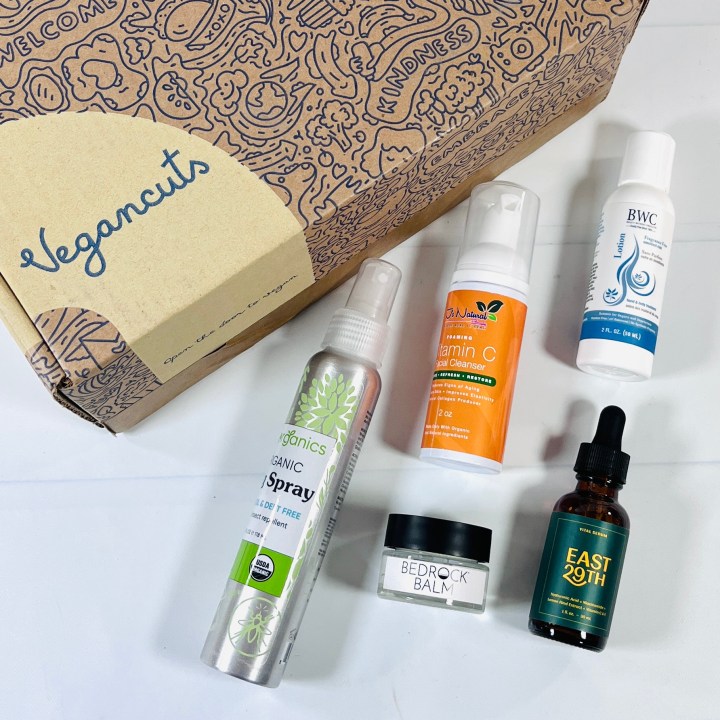 Vegancuts Beauty Box is a monthly beauty subscription service that sends 4 or more items ranging from unique cosmetics to luxurious skincare. Best of all, they are 100% cruelty-free and vegan, plus most items are natural and non-toxic! Monthly recurring shipments are $24.95 with free shipping in the USA (there is an additional charge for other countries). This sub is also available in 6 or 12-month terms that do not renew but that do earn you a discount.
What do you think of this month's Vegancuts Beauty Box? Let me know which product you're loving in the comments!