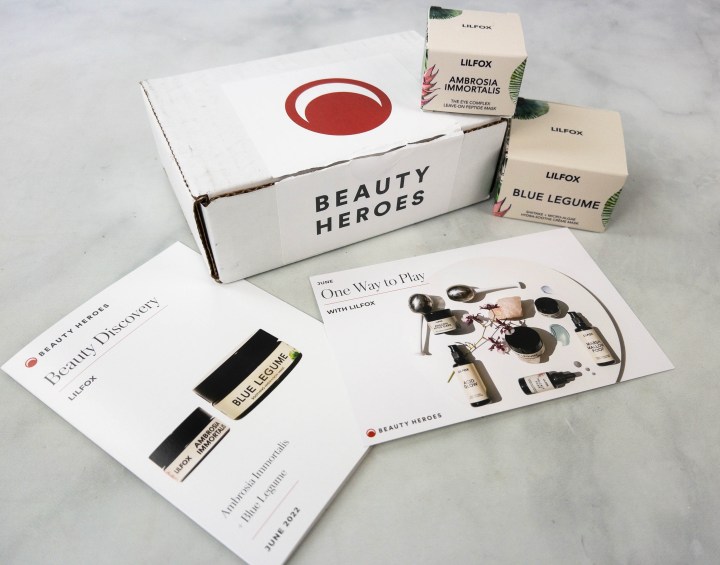 Beauty Heroes showcases exceptional botanicals that soothe the skin! This month's featured brand is LILFOX, a luxury beauty house formulating Intelligent Skin Couture since 2014. There's one hero product to hydrate and soothe the face and one sidekick product to revitalize the eye area. Read on to know more!
DEAL: Get 10% off your first Beauty Heroes subscription of any term! Use this link to subscribe and use the coupon code HELLOBH10 at checkout. Valid for new subscribers only.
Beauty Heroes June 2022 Review: LILFOX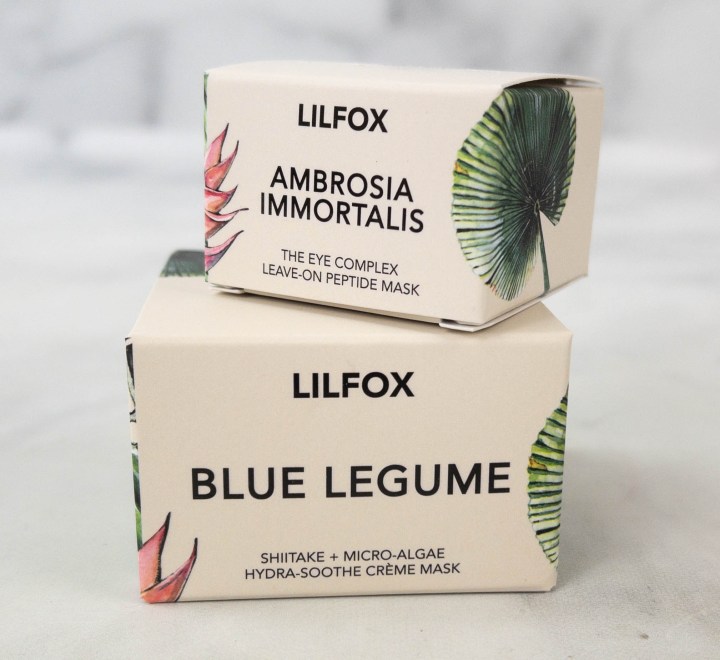 I received two clean beauty products for my skin – a leave-on peptide mask for the eye area and a creme mask for the face. The products arrived in their own box made from natural, ethically sourced materials and printed with branding and classic watercolor illustrations.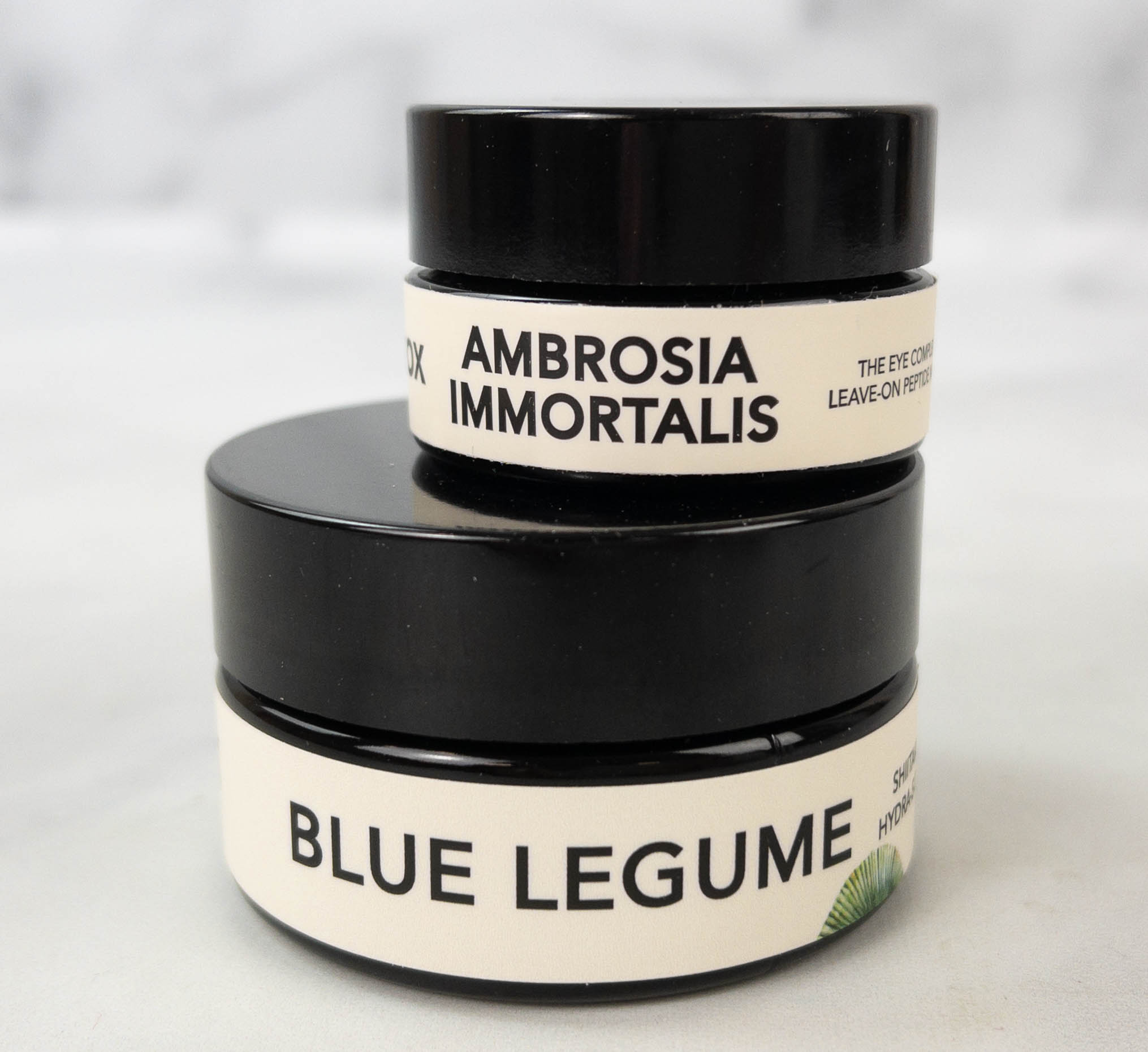 To awaken eyes and senses, the hero item for this month is Ambrosia Immortalis Eye Mask ($130). This product is infused with antioxidant and omega-rich babassu oil to revitalize the eye area. It also has aloe vera, hyaluronic acid, and marshmallow root that deeply hydrates the skin, plus horse chestnut that diminishes the appearance of dark circles. Formulated with three peptide chains and a botanical retinol alternative from dew beans, it firms, smoothens, and energizes the delicate eye area!
This eye product smells sweet and fruity with freshly pressed strawberry and pomegranate juice scent notes. Aside from the eye area, you can also apply this oil-free lightweight cream mask to your forehead or anywhere with visible lines and creases to support natural cell repair and restoration. Apply a thin layer during the daytime and an even thick layer at night to wake up the next day looking radiant!
For a complete face routine, the sidekick item included in the box is Blue Legume Soothing Hydration Mask ($88). It helps reduce redness and irritation with polysaccharides from violet, blue spirulina microalgae, shiitake & reishi mushrooms, wild pansy, and edelweiss. It naturally detoxifies the skin while improving blood flow. This creme mask increases skin elasticity and collagen formation, which helps to decrease sagging skin and the appearance of fine lines. It also contains anti-inflammatory butterfly pea and lupine legumes, which are high in amino acids and antioxidants.
Like the eye mask, it also contains babassu oil and bamboo extract. This face creme mask has a refreshing and soothing scent with Tahitian lime, menthol, & rosemary leaf as top notes, rosy palmarosa & basil leaf as middle notes and clove spice as base notes. Just apply an adequate amount on damp skin whenever needed.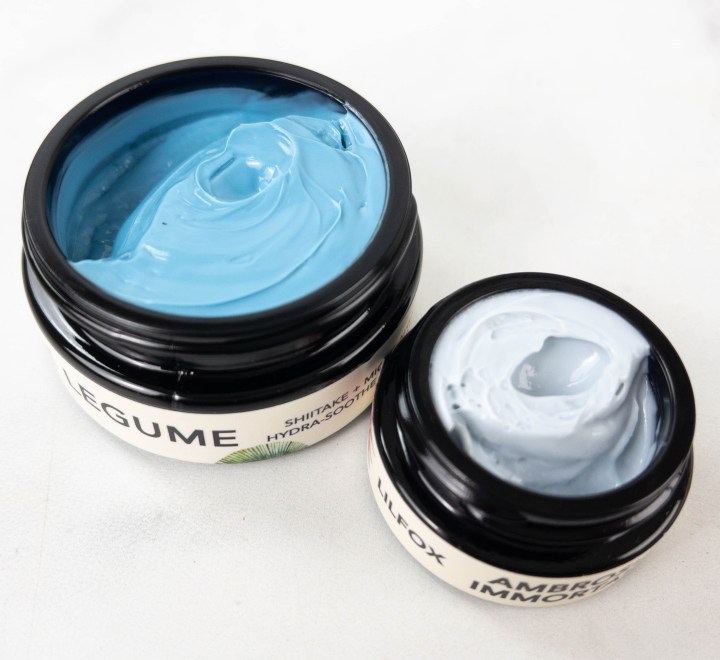 Both LILFOX clean beauty products I received come in a blue hue! The eye peptide mask is light blue, while the face creme has a rich blue color. They also have a thick and rich creme texture that is easily absorbed by the skin. Also, both products came in full size, enough to last for a month (or so)!
Beauty Heroes June 2022 hero and sidekick products keep the skin properly hydrated and leave the skin with a youthful glow. LILFOX's products are amazing as they are made with botanicals, which make them gentle on the skin. They are scented, but the great news is that both the eye and face cream smell relaxing with natural aromatics. If you're a fan of botanicals in your skincare, these clean beauty picks would be worth a shot!
Every month, the box also includes an info card with an introduction of the hero brand and a description of beauty products in the box. Look here:
Beauty Heroes is a healthy beauty discovery service featuring one clean beauty brand each month. They send a full-size Hero product in every box, plus a deluxe size Sidekick. Sometimes, they send more than one Hero or Sidekick, depending on the featured brand. Boxes are always $100+ in total value. Beauty Heroes members also receive a 15% discount in the Beauty Heroes Beauty Store, insider exclusives, and early access to new product launches. They currently offer 1-, 3-, 6-, and 12-month membership subscriptions. Here are the prices: 1-month – $58.95 ($58.95/month), 3-months – $137.85 ($45.95/month), 6-months – $251.70 ($41.95/month), 12-months – $479.40 ($39.95/month).
What do you think of this month's Beauty Heroes box?