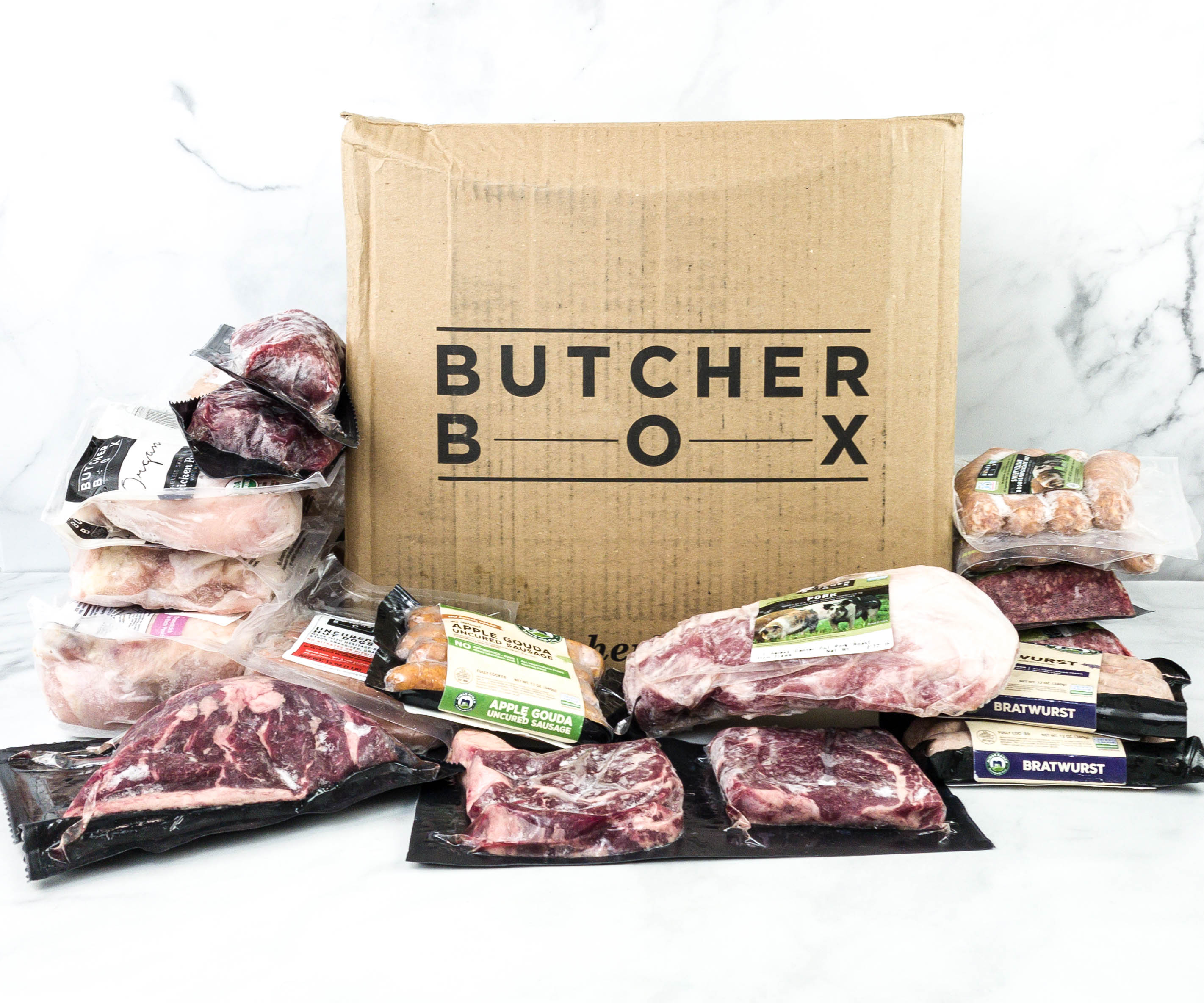 Nothing matters more than putting good food on the table for you and your family, and choosing the best meat and seafood to cook with may be a bit of a task. Sure, there are many options available, but there's a subscription solely focused on providing quality proteins. ButcherBox is a reliable source of meat and seafood for a variety of reasons. This subscription gives access to high-quality, humanely raised meats and seafood, taking the guesswork out of food shopping!
1. Meats from Butcher Box are free from hormones or antibiotics
Butcher Box delivers 100% grass-fed beef, ​free-range organic chicken, heritage-breed pork, and wild-caught seafood – all of which are free of added hormones or antibiotics! From filet mignon to party wings to breakfast sausage to wild Alaskan sockeye salmon, all proteins were raised and sourced from ranchers, farmers, and fishermen, who practice sustainable farming techniques. The company is also a Certified B Corporation, which means it meets the highest standards for social and environmental impact, making it one of the best and trusted meat and seafood sources out there!
2. "For Life" deals
If you sign-up with a For Life deal (click here to check the current deal!), Butcher Box will include free meat in every order for the life of your membership, regardless of whatever plan you choose. The offer is applicable for new subscribers, giving you an excellent value for their money! Past deals include Bacon for life and Wings for life. If you cancel your subscription, you will lose access to the For Life deal, until you re-subscribe. Our family's fave? Ground beef for life! We're subscribers!
3. Several plans and box sizes are available
With Butcher Box, every order is on your terms. As a subscriber, you have the option to select your plan and choose a box size to suit your needs. The Curated Box (starts at $137) includes options for a Mixed Box (beef, chicken, pork), Beef & Pork Box, Beef & Chicken, and All Beef, available in Classic Box size (8-11 lbs) or Big Box size (16-22 lbs). The Custom Box (starts at $159), on the other hand, contains 20% more meat than curated boxes. This plan allows you to select and choose which meats to include in your box. It's also available in two sizes: Classic box (9-14 lbs) and Big box (18-26 lbs).
Classic boxes are ideal for individuals and small families, while Big boxes are good for mid-size families and large freezers. Butcher Box also offers recurring add-ons, which means they'll be included in your order each time you get a box unless you remove them. Boxes are delivered every 4 weeks, 6 weeks, or 8 weeks depending on your chosen frequency. Shipping is free! We also love selecting from the member specials and seasonal cuts. Plus, I always have something to defrost and cook.
4. Cuts are sealed and packaged for easy defrosting
Each protein cut Butcher Box sends is flash-frozen for freshness and vacuum-sealed to lock in flavors. Meats and seafood arrive rock solid and with dry ice, ready to store away in the freezer or thawed for cooking. They are perfectly portioned, making it easy to defrost the exact amount needed for cooking.
5. No more back-and-forth trips to the grocery store
Of course, it's convenient! Everything is safely packed and delivered straight to your door in an eco-friendly, 100% recyclable insulated box. You can save a decent amount of time and energy, compared to visiting butcher shops, fish markets, or grocery stores yourself. You can even alter meat choices in your box and adjust frequency, so you'll never run out of proteins to serve on the table.
You can easily cancel, pause, or skip deliveries. Plus, they also provide tailored recipes to help you discover and explore new cooking ideas! Your subscription also supports farmers, ranchers, and fishermen from all walks of life, giving them fair wages for their work.
Have you tried ButcherBox yet? What do you look for in a meat subscription?