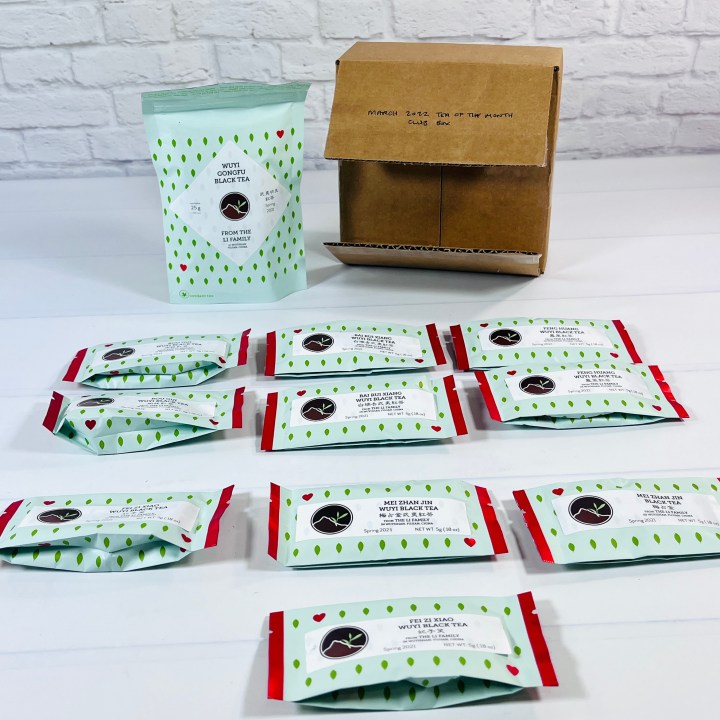 This was my first time reviewing Verdant Tea so let me tell you about it: they send teas from small, family-run farms that handpick their teas, sort of like a CSA but for tea! Each month they send 3-10 teas, 75 grams total, enough for about 30 cups. You could receive black, white, green, oolong, pu-erh, and/or herbal teas, whatever the farmer decides to curate! Read on to see what I received for March!
DEAL: Get $10 off your first box! Use this link to subscribe and use the coupon code HELLO10 at checkout
There were three sheets included. One had info on the farmer, the second listed the teas I received plus tasting notes, and the third had a quick guide to steeping the teas. I chose to follow the "western style" when sampling each of the teas below for consistency. There was a discount code for the featured farm too in case you want to buy more tea. I received 6 different teas: five of the teas came with two, 5 gram bags each and one of the teas came in a larger, 25 gram bag, so 75 grams total. All of the teas I received were black.
Wuyi Gongfu Black Tea ($9) I tried this tea first as it was described as "classic and original black tea". It bears almost no resemblance to the English Breakfast tea I usually start my day with! This is a lighter cup and the sweet flavor of the tea isn't bitter or strong, no need for sugar or milk at all. It smells almost spicy in my cup, with a subtle floral bouquet. This is a tea made for sipping in the afternoon while gazing out the window.
Bai Rui Xiang Wuyi Black Tea On the first sip I thought of a term usually heard in wine descriptions, minerality. It wore off as the tea cooled off but it was noticeable and unique. It had a light rose flavor and aroma and again, it wasn't bitter but was a bit stronger than the previous tea, although I used slightly more tea leaves and less water this time around too.
Feng Huang Wuyi Black Tea This tea was stronger than the others and I felt like it most closely resembled what I sip to start my day. Like the others it was fruity and floral, but other tasting notes include nutmeg and pear, and this would be lovely over ice.
Fei Zi Xiao Wuyi Black Tea The tasting notes say that this tea should remind one of lychee, but I am not familiar with that fruit (I think I've had canned lychee before but that was years ago). The next note likens it to peach and I see what they are getting at, it has a stone fruit note with a hint of floral. Once again, the flavor is light but not flat and no sugar or milk is needed, which I'm sensing is a trend here and since I want to keep drinking black tea but need to cut down on sugar, these teas can help make that possible.
Rou Gui Wuyi Black Tea The tasting notes online said jasmine and that is exactly what I am picking up, a soft, sweet floral flavor in this laid-back tea. It has a hint of a fruity flavor and goes down very easily.
Mei Zhan Jin Black Tea ($10.25) I tried this tea last and it tasted different than the rest. This tea had notes of honey and a touch of grass and maybe pine. I think it was the lightest in color too.
Verdant Tea also offers various teas and accessories on their site, and they sent me The Essential Gongfu Travel Set ($59, on sale for $53.10). I haven't had any experience with gongfu-style tea preparation so this is a very nice gift because I have wanted to try this tea preparation ritual for myself, and now I can! Not only that, but it can be taken on the road, or to work, or on vacation, etc.
The set includes a fine lustrous porcelain gaiwan, edged with a warm natural band for contrast, three matching cups with just the right flare to bring out the aromatics of tea, a tempered glass pitcher to show off the color of the finished brew, a tea towel that doubles as a runner for a formal gongfu set up, and a plastic case to dump extra tea whose lid doubles as a tea boat for your gaiwan.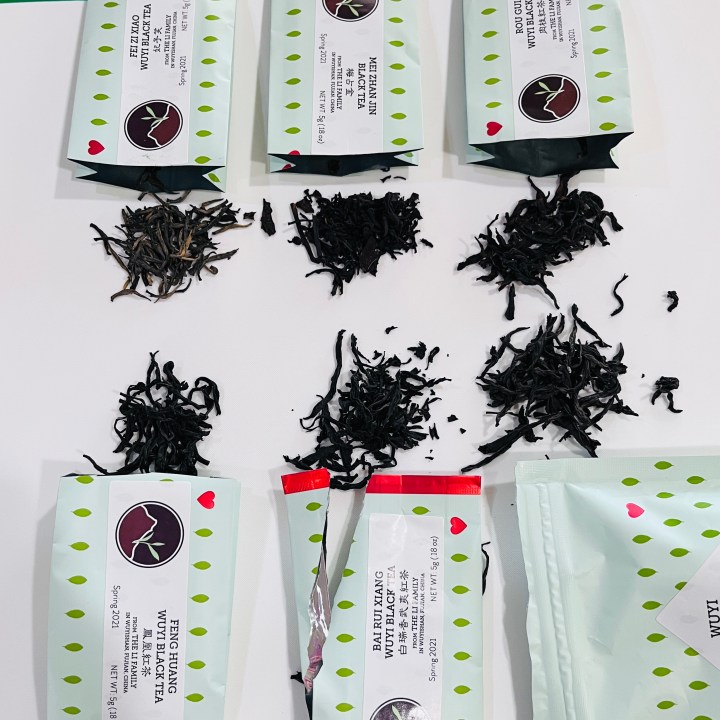 Here is a look at all of the different teas. Some of them are darker or thicker than others, and I find it fascinating that there are so many different flavors from one plant, Camellia sinensis. The climate, processing, age, terrain, and so many other factors go into the making of the most popular drink in the world (after plain water).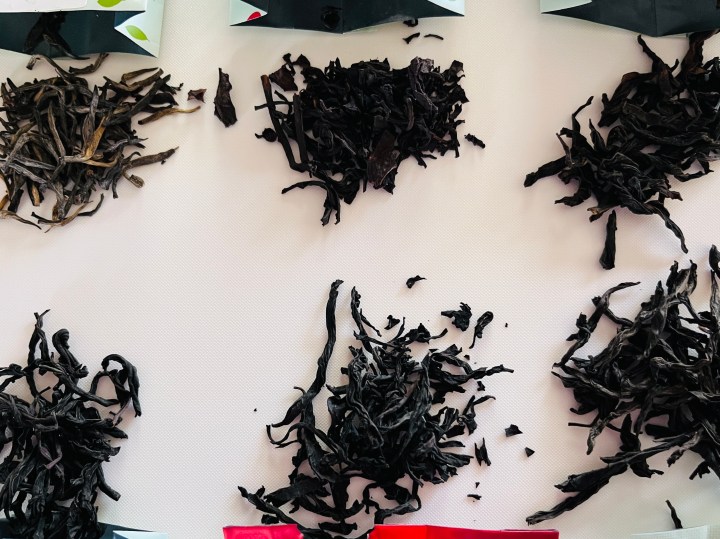 I had such a fun time sampling the various teas from the March Verdant Tea, Tea of the Month Club! I appreciated learning about the farmers and there was more info, and even some videos, of the teas and growers on the Verdant Tea website. Some of the teas tasted similar but there were little flavor differences so I could taste maybe rose in one, jasmine in another. I decided to take some of the mixed up teas shown in the above photo, processed them to make them smaller, and then made tea the way I drink it in the morning, but it actually ended up similar to 2 minute steeping, still mellow and sweet and without bitterness. I think that shows how different they are from the teas from India, of which I am sure my usual English Breakfast tea is from.
Verdant Tea sends tea curated by small farms throughout China and the type may vary depending on what the farmer wants to share with you each month! The subscription comes with a sheet that discusses the farm and owner plus tasting notes on each of the teas. Verdant Tea is $30 a month with free shipping the the U.S. and is available for an additional shipping charge to Canada and other countries. There are discounts for longer subscription terms.
Are you getting Verdant Tea?