KiwiCo activity boxes are always a hit with my kids and Yummy Crate – the newest addition to the family of subscriptions – has not failed to bring the same fun and excitement! This month's RISE & SHINE-themed box focused on how leavening agents help make food light and airy, like pillowy pancakes, light loaves, and cushy cakes. It was another chance for aspiring chefs and scientists to learn cool things about food!
DEAL: Save 30% on your first month with this link on any KiwiCo line, no coupon code required!
Every Yummy Crate includes a folder with all the information that kids need to know about this STEAM-based box. It has the experiment card, recipe cards, the ingredient list for all three recipes, Yummy Zine, a featured activity, and suggested ingredient substitutes if a family member has dietary requirements. Plus a cute and zany sticker that matches the theme!
The Yummy Zine contains a bunch of information about the science of leaveners, fun facts about pancakes around the world, and a short story entitled The Baffling Waffles to keep kids entertained.
Rise & Shine's featured activity is Flipping Flapjacks which involves flipping pancakes in the air and then catching them.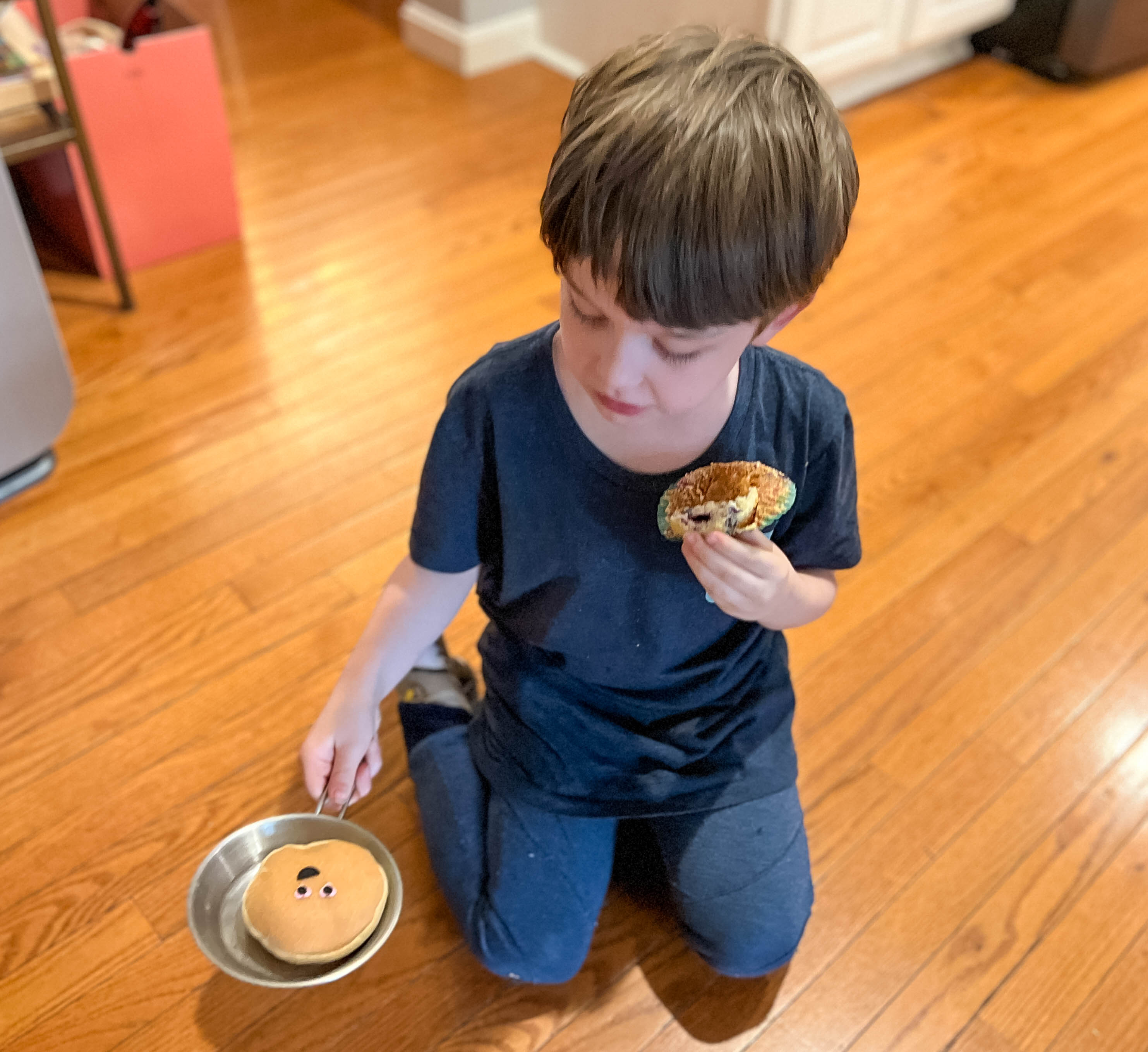 There's no need to use actual pancakes for this activity because Yummy Crate sent a pancake plush and even stickers for decorating it. My son tried flipping the plushie and his pancake-flipping skills definitely leveled up!
My kids won't pass up the chance to carry out a science experiment! This time, they tried the Fizzing Leaveners experiment to test the powers of basic baking ingredients! Some leavening agents needed for this activity can be easily found at home, like baking powder and baking soda.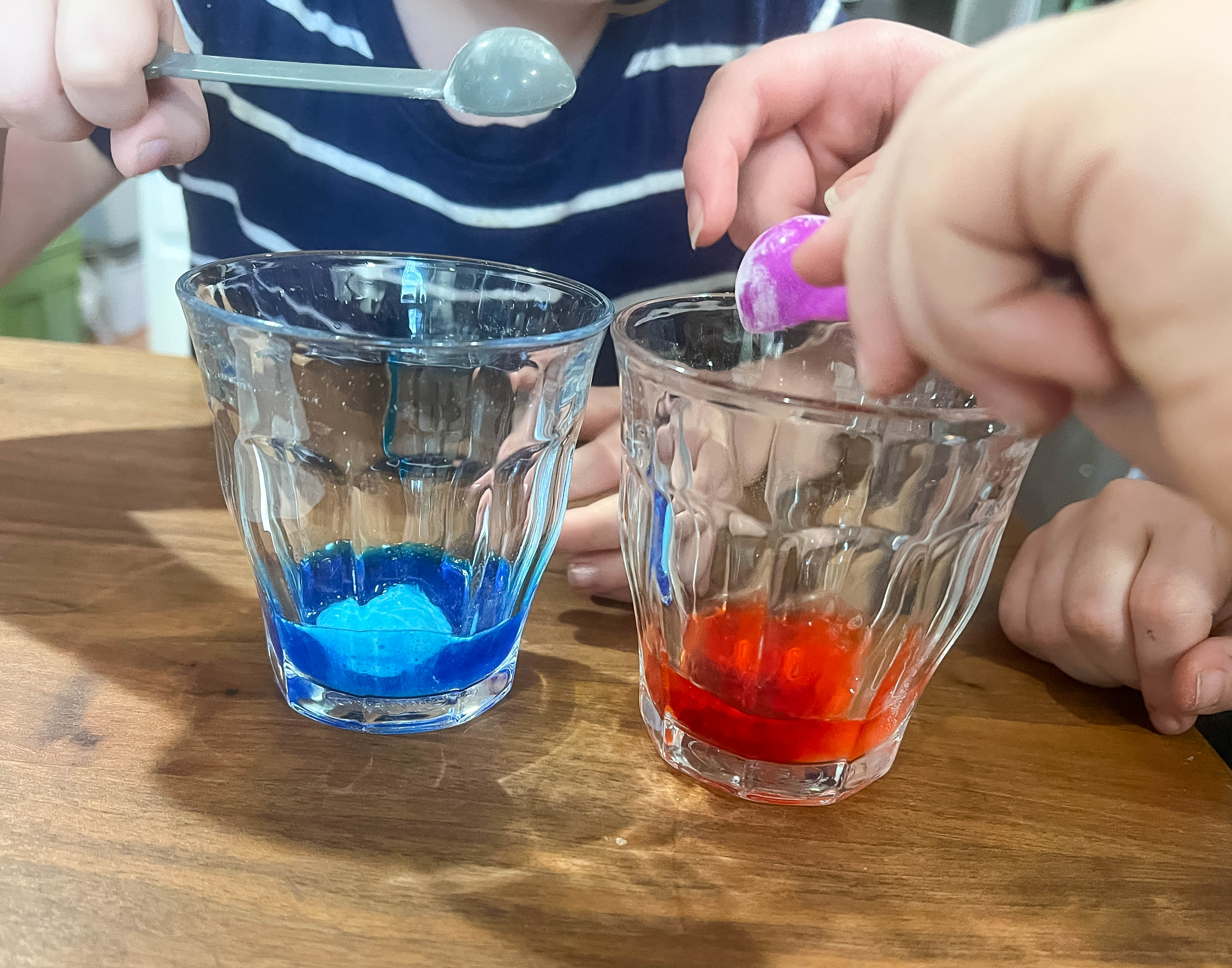 Leaveners have the ability to make food bubbly and airy! Like what the experiment card suggested, my kids tested both the baking soda and baking powder and identified each using blue and red food coloring. It's also a way to test out if these baking ingredients are still good to use.
The baking soda (red) is mixed with vinegar, while the baking powder (blue) is mixed with hot water. Both samples bubbled and fizzed, and my kids were in awe. Gladly, the pamphlet contains an explanation of the science behind it. We discussed how the baking soda activates with vinegar and how the baking powder fizzes with just hot water. They had fun doing this experiment as well!
For kids to be able to express their artistic side and create pancake art, the box included three stencils – a spiral, a smiley face, and a star, together with a mini sifter.
In addition to the templates and sifter, there's also a squeeze bottle. This kitchen tool will make it easy for kids to design unique pancakes!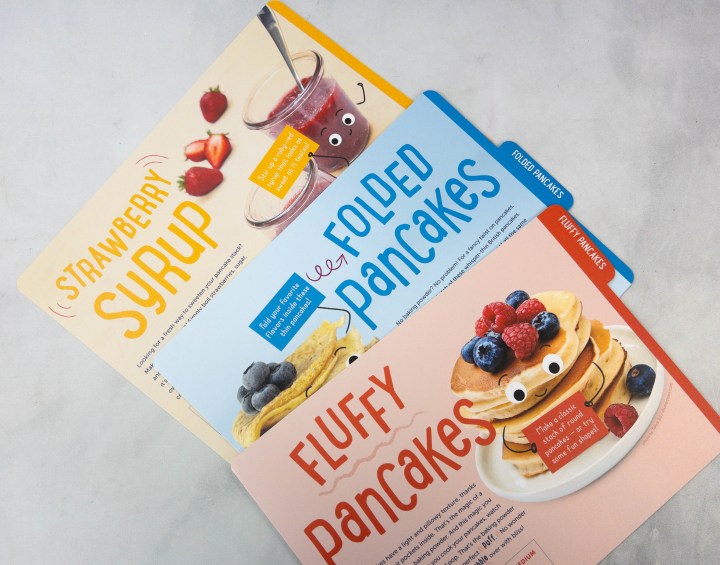 There are three different breakfast recipes to try, and each of them explores the science behind leaveners, and how these agents create air pockets within a dough or batter to give baked goods a light and fluffy texture.
My kids were excited to make the first recipe in the crate: Fluffy Pancakes! This recipe yields 12-16 pancakes, allowing kids to stack fluffy pancakes. Prep time is 20 minutes while cooking takes about half an hour. Kids will improve their stovetop skills with this delightful recipe.
The recipe card lists down all the tools and ingredients needed, so prepping comes easy. Following all the instructions, my eldest daughter made stacks of fluffy pancakes (pan-cairns!). She watched how air bubbles formed over the heat and pop, then learned that it's the magic of baking powder at work.
Stacking the pancakes high and balancing them out was so fun. Sprinkling them with powdered sugar using the mini sifter added a whole lot of enjoyment too!
My daughter used the squeeze bottle and tried everything on the recipe card. She filled it with batter and made the pancakes just how she wanted them. As the pancakes cook, air pockets form and pop!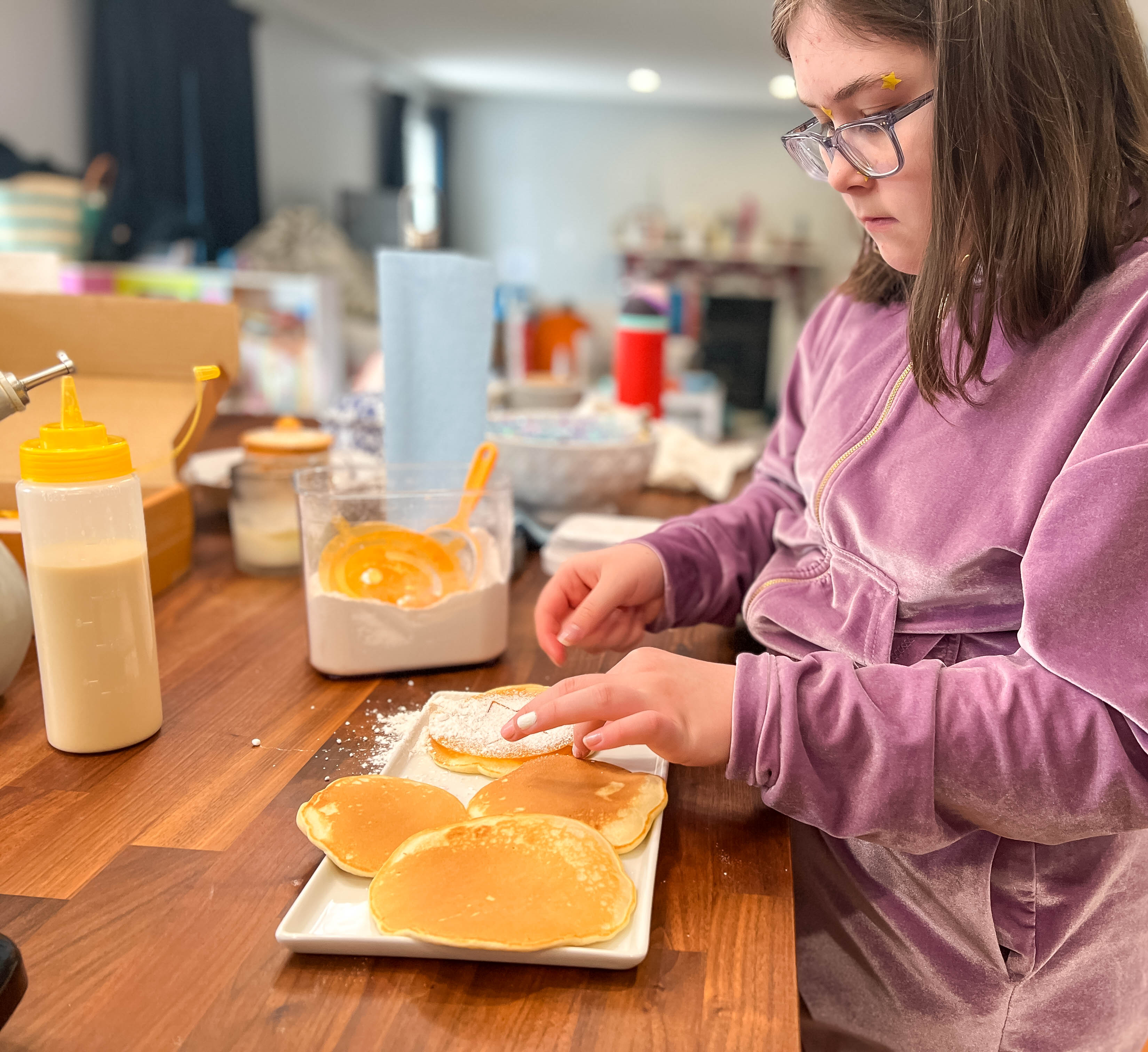 Using the stencils, she added designs on some of the pancakes, like smiley faces, stars, and swirls. It made me so happy to see my kids having fun with the recipes!
The next breakfast recipe is Folded Pancakes! This recipe is similar to making crepes, and it teaches little chefs how to prepare pancakes even without baking powder. It's still the same yummy pancakes but no puff-making leavener involved. Prep time takes 20 minutes, while cooking takes 30 minutes.
My older son mixed the ingredients for this recipe, with the help of my youngest child! This was a great exercise for their measuring skills. With my supervision, they also made sure that the batter spread on a thin layer over the entire pan. If not spread in an even and thin layer, the pancakes will be harder to fold.
Since it contains no leavener, the pancake won't be as puffy as the first recipe. The recipe card also included ways to customize these folded pancakes! They suggested adding chocolate & bananas, turkey & melted cheddar, jam & whipped cream, and cherry tomatoes & cream cheese, which are all great flavor combinations! My kids absolutely love building their food, and KiwiCo knows that kids just love that. What a fun idea – we're adding this to our rotation for sure!
The last recipe can help add more flavor to the already delicious pancakes: Strawberry Syrup! It's also simple and only needs three ingredients to make – strawberries, white sugar, and water. Prep time is 10 minutes, cooking time is 10 minutes, and cooling time takes 15 minutes. Kids will learn to practice stovetop and knife skills with this recipe.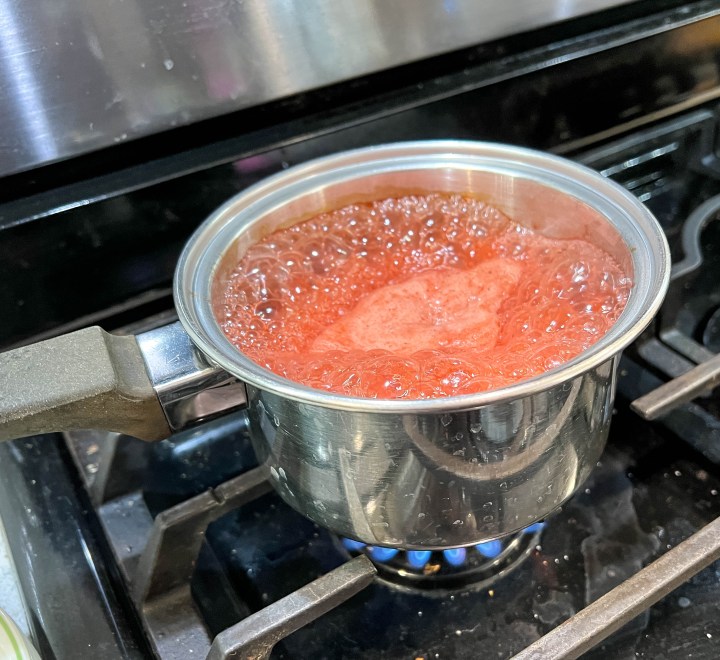 My kids cut the strawberries (with adult supervision!), mixed white sugar with water, and brought them all together to a boil. Bubbles formed as it boiled, similar to the sight of the fizzing leaveners experiment! We let the jam cool once done and stored it in a jar. It tasted great!
My kids loved the Rise & Shine box! They had a blast cooking while learning about a food-centered STEAM concept at the same time. This subscription also allows aspiring chefs to collect their own kitchen tools. The experiment using leavening agents and the pancake-flipping activity also added fun to the whole experience. After learning something new and cooking their own breakfast, my kids enjoyed eating the pancakes with the jam. All in all, this activity box is a great way for kids to develop kitchen confidence and learn useful science concepts at the same time!
Yummy Crate was designed to foster a love for science and cooking in kids ages 6 to 14, with recipes and activities that explore hands-on experimentation in and out of the kitchen. Your monthly crate includes delicious family-friendly recipes that teach kitchen skills and explore the science of cooking.
Yummy Crate explores STEAM (Science, Technology, Engineering, Art, Math) topics through engaging, hands-on recipes and projects that aim to inspire, celebrate, and build kids' natural creativity and confidence — in the kitchen! Each crate explores three delicious family-friendly recipes and two fun projects while providing hands-on experimentation and demonstration of scientific, culinary, and creative concepts.
Have you tried Yummy Crate by KiwiCo?