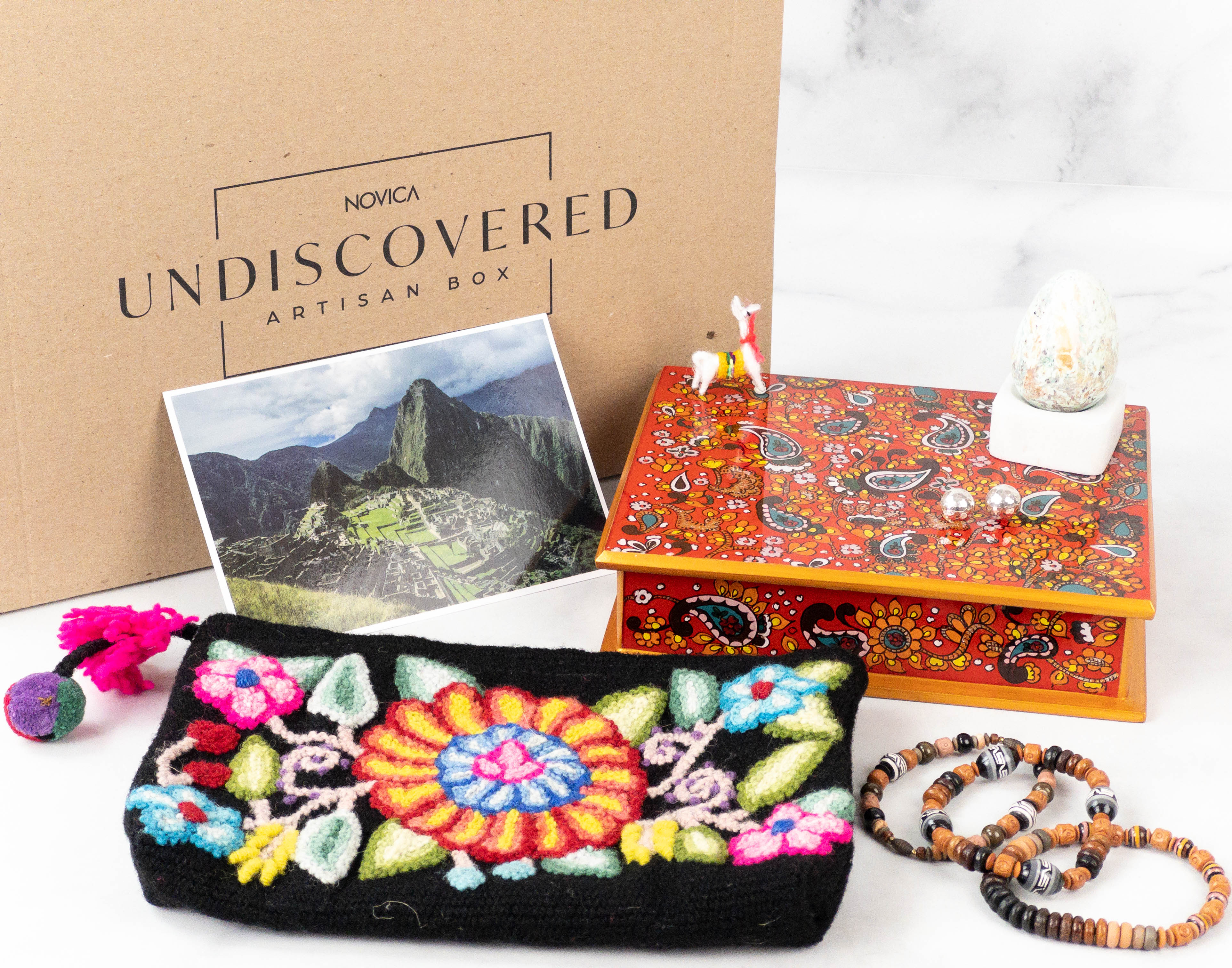 With Novica Undiscovered, you'll be transported on a journey of discovery! The Winter 2022 box put the highlight on local artisans of Peru! Discover what the land of the Incas is known for through artisan gifts, including jewelry and home decor. The featured artisan for Undiscovered Peru is Nilda Callañaupa! The box is fully customizable, and I've received the products that I've chosen. There also comes a small booklet with brief descriptions of each item.
DEAL: Save $10 on your first subscription! Use coupon code ARTISANBOX10 .
The first artisan surprise is the Soul of the Andes Ceramic Beaded Bracelets by Dina. There are three handcrafted bracelets included in the box, and each of them showcases the artistic skills of the local artisan of Peru, starting from creating the beads using red Andean clay to constructing the bracelet. You can stack all three on your wrists or wear them individually. Either way, they look awesome! I also appreciate that each bracelet is packaged individually in a clear ziplock pouch.
There's another craft accessory in my box, the Modern Moons Sterling Silver Stud Earrings by Teodoro Melendez and Family! It looks absolutely stunning with its moon shape, resembling a disco ball in style! I also adore the gleaming sheen that the hammered texture produces. These post earrings are versatile, and they're easy to wear for whatever occasion there is. They look great on the ears but are not too heavy when worn.
I also received a great statement piece for our home, the Calming Ovus Chrysocolla Gemstone Figurine by Cesar Gonzales! This oval figure is hand carved from a natural stone called Chrysocolla and it has pretty blue-green colors that give it a unique character. It looks charming, and I love that it came with a white onyx base for easy display. This will make a lovely addition to a styled shelf!
The next artisan discovery is a beautiful pouch I can bring with me when I travel! It's the Andean Bouquet 100% Alpaca Clutch by Milagros Campos, a rectangular purse embroidered by hand using handwoven fabric from a traditional treadle loom. The colorful embroidered flowers make it such a standout. It even has an inner lining for extra durability, plus a tassel and a pompom on the zipper.
For storing my newly acquired artisan accessories, they also sent the Passion Reverse-Painted Glass Jewelry Box by Felicita Espinoza who is a self-taught painter. It looks gorgeous with the intricate brushwork, which is a centuries-old Peruvian art form. It's spacious enough and the bright colors will make it stand out on my vanity table!
There is also a postcard in the box featuring the Incan citadel in the Andes Mountains, Machu Picchu! It has a handwritten note from this season's curator, Nilda Callañaupa, thanking subscribers for appreciating their art.
My first Novica Undiscovered box is an awe-inspiring one. I love all the effort they put into each artisan item, and it shows how rich the Peruvian culture is. Everything has a hint of craftsmanship that the Incan land worked hard for, from the bracelets up to the jewelry box. If you're into collecting artisan goodies or supporting artisans from around the world, this new subscription would be worth it!
Each box is well packaged and tied with a gold ribbon for an elegant finish. There's also a pamphlet that sits atop the items, and it contains info and trivia about the featured region, a recipe you can try recreating at home plus, a little bonus handwoven llama figure! See them here: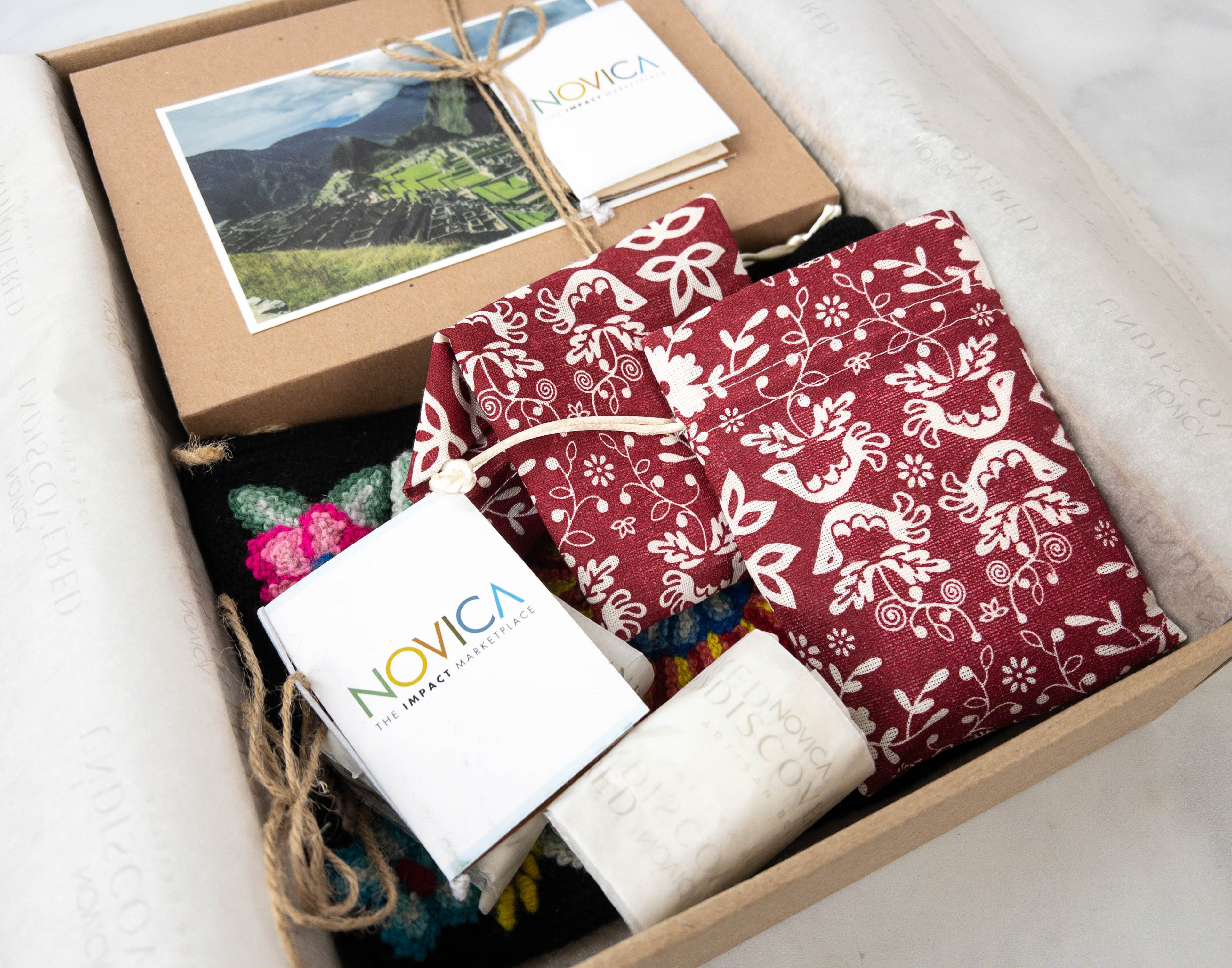 Novica Undiscovered is a quarterly subscription that showcases unique artisan creations from a particular region. For $59.99 per quarter, you can either customize your box or let Novica surprise you. Each box also includes behind-the-scenes stories, insider facts, Novica's regional curator's favorite recipe of the season, and cultural treasures!
Are you getting Novica Undiscovered?