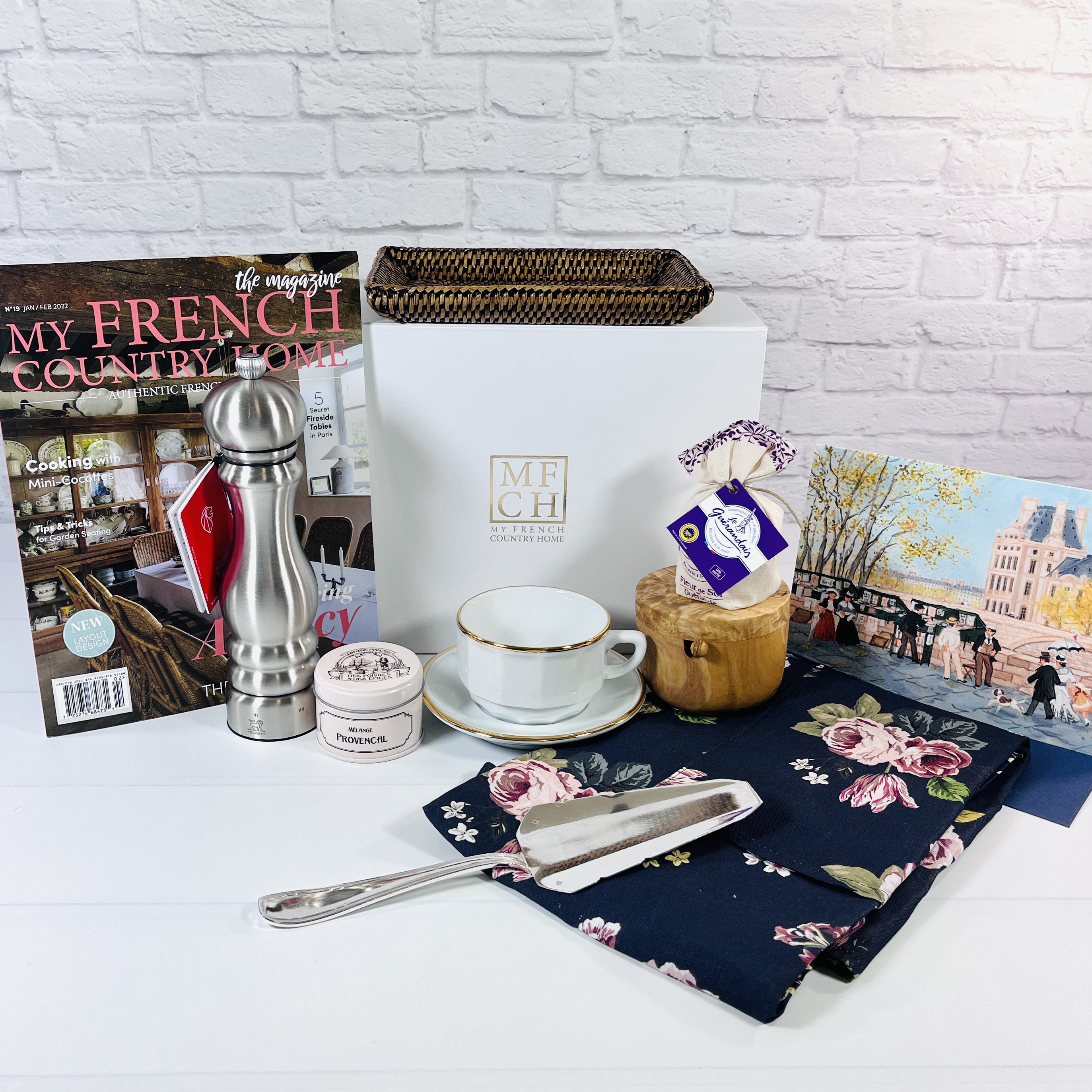 The February 2022 box from My French Country Home is here and I am loving the theme – Le French Chef! I had the pleasure of visiting Paris many, many years ago and I still remember it as having the best food I've ever had in my life, so this theme was right up my alley, and the box was filled with amazing items that had me smiling in appreciation the whole time, so please read on to see what I received in this luxurious subscription box!
Exclusive Wicker Tray ($40) My French Country Home has an online boutique where you may be able to purchase the items from their subscription boxes, such as this wicker tray. The tray measures 8.5″ x 5.5″ and can be used to hold all kinds of things on the kitchen counter.
Apilco Bistro-Style Tea Cup and Saucer ($50) Here is another item that I found at the MFCH online boutique. Subscribers will receive this pair in either white, green, red, or blue but all have gold trim around the edge of both pieces. I think these pieces are of wonderful quality and elevate my tea time, whether in the morning or afternoon, with a classic, timeless look. In fact, one of my favorite mugs to use (besides the pair that have my daughters' elementary school artwork on the sides) is a blue floral piece from a previous box from MFCH.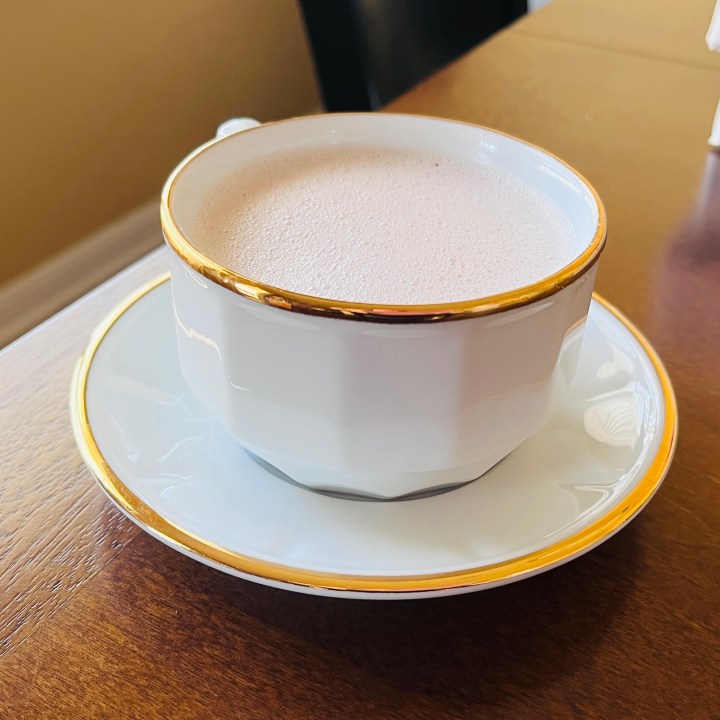 I think this holds around 6 ounces of liquid, it might hold 8 but it would be up to the rim. Speaking of rims, I will be hand washing these pieces to preserve the gold trim and of course, won't place it in my microwave for fear of sparks.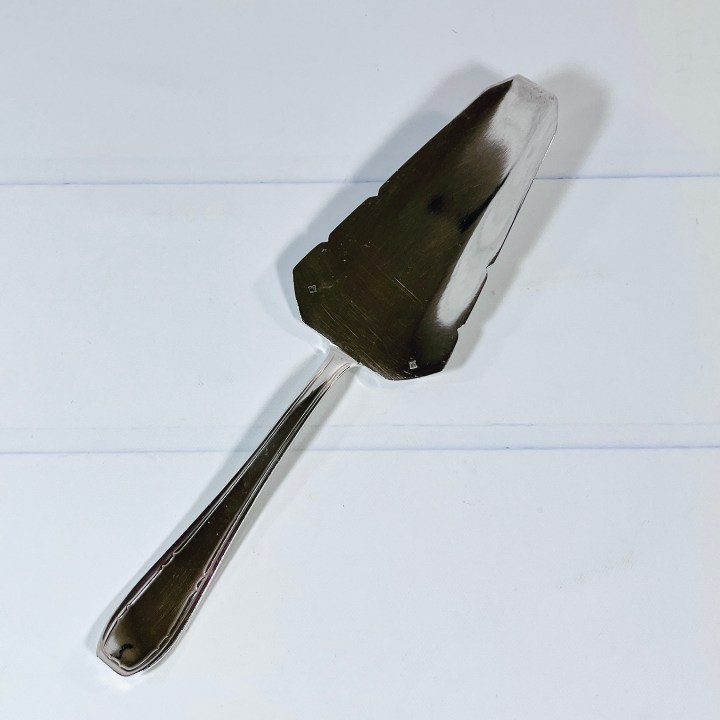 Silver Cake Slicer MFCHB always sends an antique piece and this time around it's a silver cake slicer/server! I don't have anything similar, but this is sure to help me serve perfect slices, rather than the broken pieces I usually put on the plate (which still tastes fine but still).
Berard Salt Pot with Spoon (45 Euros, around $49.71 USD) I found this exact bowl on the brand's French website, but a salt pot by this brand without the spoon and notch is $57 on Amazon, and much higher elsewhere. It's made of sturdy and solid (except for the inside) olive wood that has a beautiful pattern both inside and out. If it needs to be cleaned then make sure to do it by hand and you can also give it a rub with vegetable oil or food-safe wood wax, like beeswax. The lid is attached and you twist it to open and then a magnet keeps it closed when not in use. It will be filled immediately with the item shown below.
Fleur de Sel de Guerande Sea Salt by Le Guerandais ($8.99) I found the price of this bag of hand-harvested sea salt to be all over the place but the least expensive option is linked above, and it was lower by at least half over other places. This is a finishing salt, meant to be sprinkled on top of a dish just before serving – not measured into cookie batter, not to salt the pasta water, but on top of something like an omelet after plating.
Peugeot Pepper Grinder ($62.70 list price, on sale for $54.95) I had no idea Peugeot made anything other than cars and possibly motorcycles or scooters, but I stand corrected. They also make pepper grinders (and presumably the salt kind too). This alone made my heart sing when I saw it because I have wanted a pepper mill for so long – I love freshly cracked pepper, and for some reason, I've been buying the little store brand grinders and refilling them, but they aren't all that easy to use. I have no idea why I haven't splurged and bought one already but I now have my very own and I couldn't be happier. I was surprised to find it had a few peppercorns inside already!
La Compagnie Francaise des Poivres & des Epices Provencal Spice Blend (12 Euros, around $13.29 USD) Oh, I love spice blends, they add such great flavor to so many dishes, and this is suggested to be used on vegetables, sauces, fish, chicken, and more. It is a blend of turmeric, paprika, garlic, long red pepper, basil, shallot, oregano, thyme, cinnamon, rosemary, and sage. I appreciate that it is salt-free so I can use it liberally, and I plan on using it on baked fish and to spice up the sautéed veggies I serve in a lunchtime omelet. I wish you could smell this blend!
My French Country Home Apron ($70) Here is another exclusive MFCHB item created by French home goods brand Charvet Editions. It's made of 100% linen and you may receive a blue version like mine or a lighter linen color background. There's a huge pocket in the front and the top loop fits over the neck and the back has adjustable ties. I think the rose clusters are adorable and am grateful I got the dark apron as I tend to make a mess in the kitchen!
Fabienne De La Croix Water Color Print and Envelope In past years we have received a different print for each box and they can be framed as a collection if one so desires. For this year, the featured artist's print is 8″ x 6″ and opens up like a card but is blank inside. It comes with an envelope in case you would prefer to send it to someone special and I think that's a wonderful idea! Of course, it can also be framed but at least we have options!
My French Country Home The Magazine ($14.95) You can subscribe to this magazine directly or have it added to your subscription, it's $10 extra. Inside I found a pamphlet that described some of their other offerings. It's fun to sit and read while enjoying a cup of tea outside on a pretty day or snuggled on the couch if it's chilly.
You can call me a super fan because I loved every item in my latest box from My French Country Home! I'm a home chef, nothing fancy, but these items added a touch of class to my kitchen and dining room, with a gold-rimmed cup, a rattan basket, and a beautiful apron. I have already put the pepper mill and salt box to use, and the fleur de sel makes me feel like a chef every time I sprinkle a bit over my eggs or vegetables. The rest of the items round out the box nicely, and from what I can tell, all of them were made in France (which is where this box is based, it actually ships from Normandy). Some of the items can be found on U.S. or French websites, others were exclusive to this box. I have always found the value to be well above the price paid for the box, and I am always delighted but what I find inside. It has a beautiful presentation, the box itself can be reused for storage, and I cannot wait for the next box to ship!
Below are a few more box opening pictures plus the fancy brochure that came with the box.
My French Country Home Box (formerly My Stylish French Box) is a quarterly lifestyle box that sends authentic and stylish items all the way from France! The box is curated by Sharon Santoni, an author and the blogger behind My French Country Home. This box is based in France and they work directly with highly coveted and timeless French brands to create a box that will help chic up your home and self. They send 6-8 items in each quarterly box. This box is $285 a quarter.
Any thoughts about My French Country Home Box? Let me know what you think of the Saint Tropez theme!