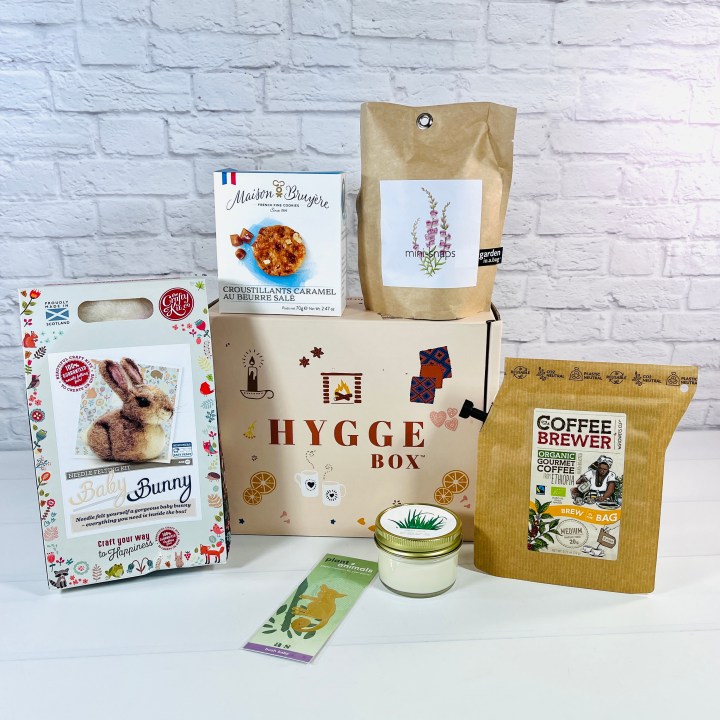 Hygge Box is all about enjoying the simple things in life that contribute to a sense of contentment and overall coziness. The March 2022 theme was Live Life in Full Bloom and was full of things that smelled good, tasted good, and looked good plus they have a spring-time feeling to them! This is one of my favorite boxes, I always look forward to seeing it in my mailbox!
Maison Bruyēre Salted Butter Cookies I couldn't find these cookies for sale in the US, because they come from France (most snacks in this box are from other countries, what a treat!). These are extremely crispy cookies with burnt caramel, almonds, and hazelnuts. The flavor is unique, I'm not sure how to describe them except maybe as super well done chocolate chip cookies without the chocolate and with nuts instead. I don't even try to chew them, I just let them melt in my mouth and then chew the nuts afterwards.
The Coffee Brewer Brew in the Bag ($2.59) The drinks sent in this sub vary and this month it's coffee, which I don't really drink and couldn't tell you good coffee from so-so coffee so I will skip over that part since I haven't tried it. This is a neat idea: the ground coffee is in the bag and you pour in hot water, let it steep, then pour into a cup and drink. The bag can be rinsed and reused, perfect for those who want to take it camping or somewhere remote (but with hot water). It has markings for where to pour the water if you like your coffee mild, medium, or strong and steep for a few minutes or up to 8 minutes to further personalize it to your tastes. I guess I could use it to make iced coffee concentrate, and just store it in my fridge, ready to pour!
Mini-Snaps Garden in a Bag ($10.50) Here is another item in a bag – it's a kit to grow snapdragons! You get the soil wet, pour into the bag, sprinkle the seeds on top, and then wait for Mother Nature to work her magic. The directions are on the back and I watched a video demonstration on the brand's website, easy peasy.
Plant Animals Bush Baby ($8) What a cutie, a bush baby to hug your houseplants! Basically, you stick it on the plant using the bush baby's bottom feet/legs. It's just a tiny cute thing that might make you smile when you look up from doing the dishes and see it on the plant. I'm going to see how long it takes before someone else notices it on the pothos! NOTE: Bush Baby doesn't like pothos and cut the leaves right off and since that's the only house plant I own I will need to repurpose it somehow.
Hygge Haus Græs Soy Candle ($12 for similar) I took the lid off this candle and stuck it under my older daughter's nose and asked her what she smelled and she immediately answered "grass" and that is exactly what it smells like! This is perfect for welcoming spring into the home, even if your part of the country is still covered in the white stuff.
The Crafty Kit Co. Baby Bunny Needle Felting Kit ($17.94 approx.) This craft kit comes all the way from Scotland and has real wool plus a sewing needle and glass eyes. On a related note, I recently found real bunny fur in my yard, I guess it's baby bunny season! I have a confession to make and that is: I don't much care for crafting. I like to cross-stitch but for the most part, I love reading and cooking, and cooking tends to be my creative outlet. My younger daughter, however, loves to craft and she paints, does cross-stitch, is working on a miniature greenhouse, and enjoys all kinds of activities. I am setting this kit aside for her to work on when she comes home from college for the summer, I know she will love it!
The March Hygge Box had a craft, a plant, some consumables, and a wonderfully realistic smelling candle! For me personally, the candle was my favorite, I love to have one burning nearby while watching tv or reading. I also liked the cookies, perfect to serve alongside my afternoon tea. The bush baby didn't work for my plant, it's just so tiny and delicate, maybe my daughter can place it with her cactus? I know she will be excited to receive the bunny craft, I plan to give it to her for Easter, and I bet she would like the plant-in-bag to help welcome spring.
Below are some box opening pictures along with the product information card!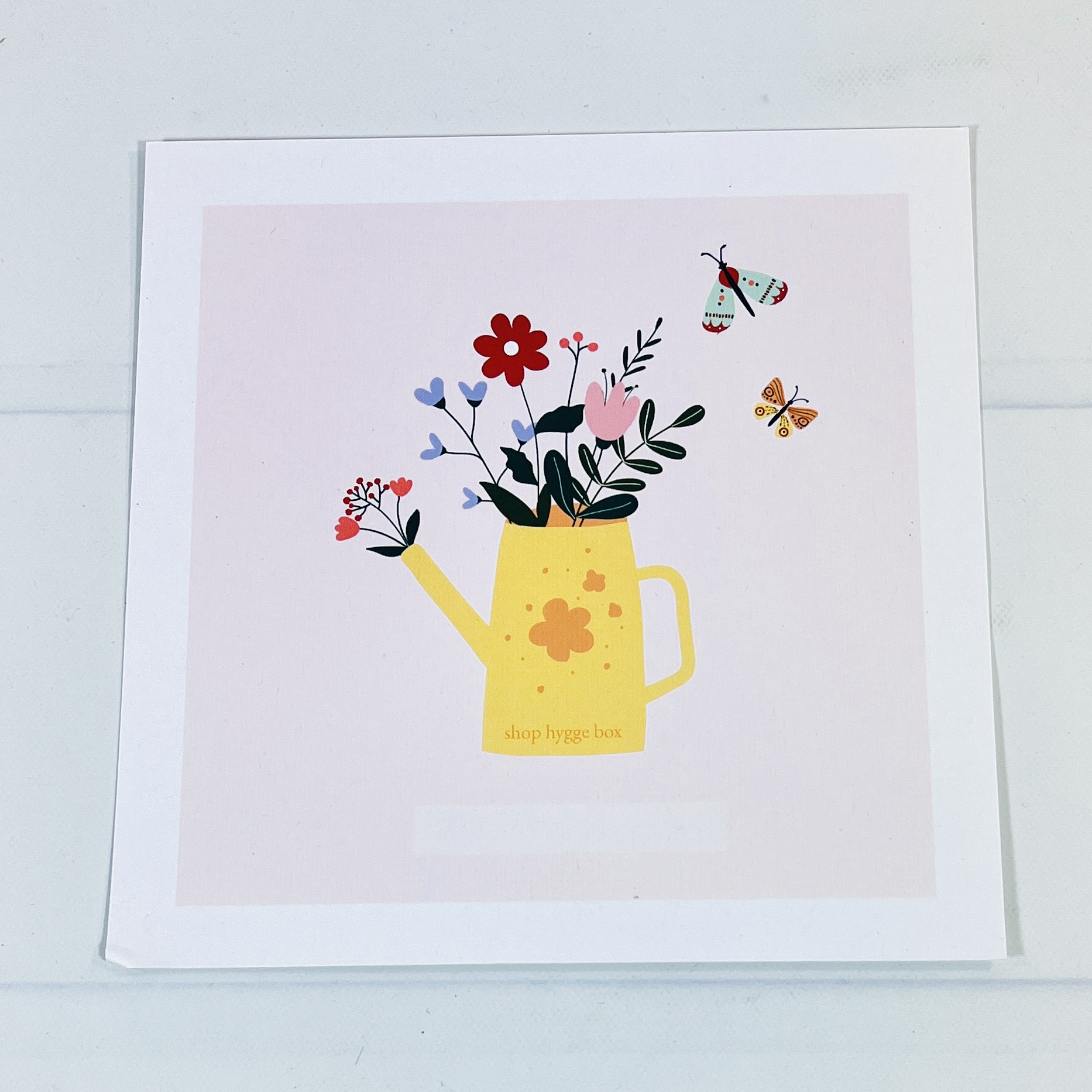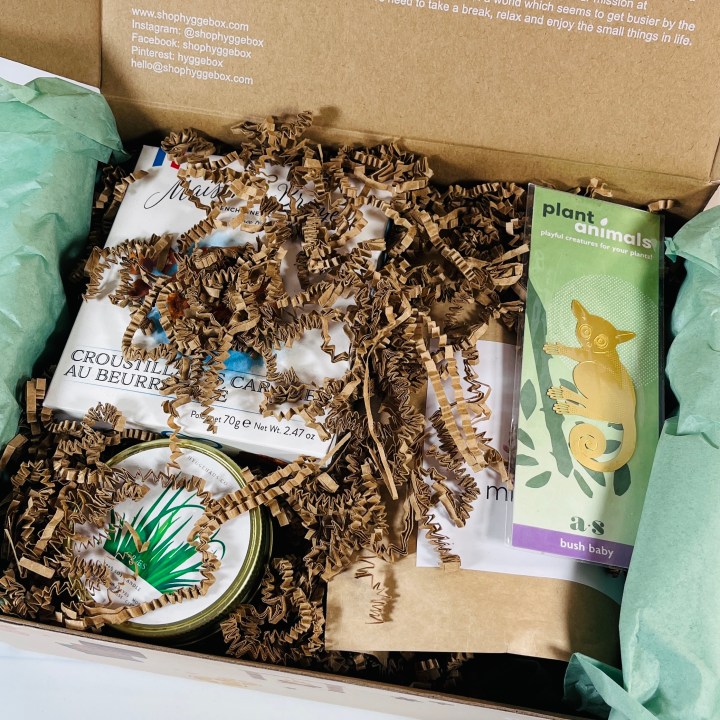 Hygge Box is a monthly subscription box for those who want to surround themselves with comforting objects that contribute to a sense of coziness and general well-being. You can choose from the Deluxe Hygge Box ($40 for 5-7 items) or the Standard Hygge Box ($29 for 4-5 items) and shipping is extra. Items sent may include candles, drink mixes, edibles, home decor, or wellness products.
What do you think of the Hygge Box?