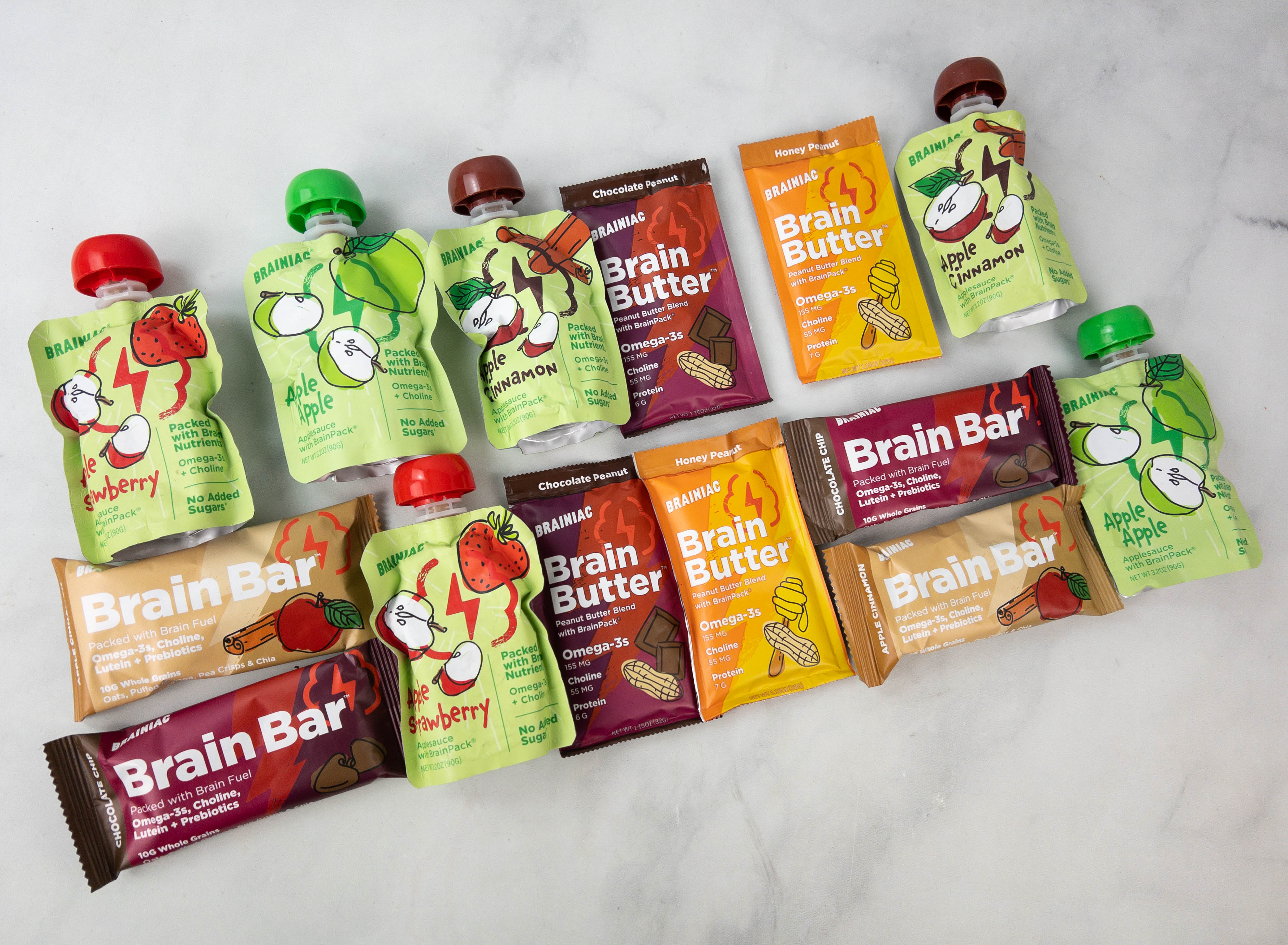 It can be challenging to find snacks for kids (especially for picky eaters) that tick all the right boxes regarding taste and nutritional content. Brainiac helps solve this problem with their organic and nutritional snacks which come in flavors that appeal to children's palates. These healthy snacks are available on a subscription, including yummy spreads, snack bars, and applesauce packed with brain-boosting nutrients. Brainiac is great for kids but can be enjoyed by adults as well.
What makes Brainiac snacks unique is BrainPack, a blend of Omega-3 DHA, Omega-3 EPA, Omega-3 ALA, choline, and lutein that support healthy brain development. They believe that feeding the brain with the right nutrients helps enhance brain performance, as well as attention and focus, critical thinking, memory, and even a person's mood. Plus, they only use ingredients that are sustainably produced and minimally processed.
Brainiac's Brain Butter or peanut butter packets are packed with Omega-3 DHA, Omega-3 ALA, and choline! They come in a size that's easy to toss in a bag and bring on the go. There are two flavors available: Brain Butter Chocolate Peanut ($3.40) and Brain Butter Honey Peanut ($3.40). Both are great whether with toast or drizzled on top of fruits.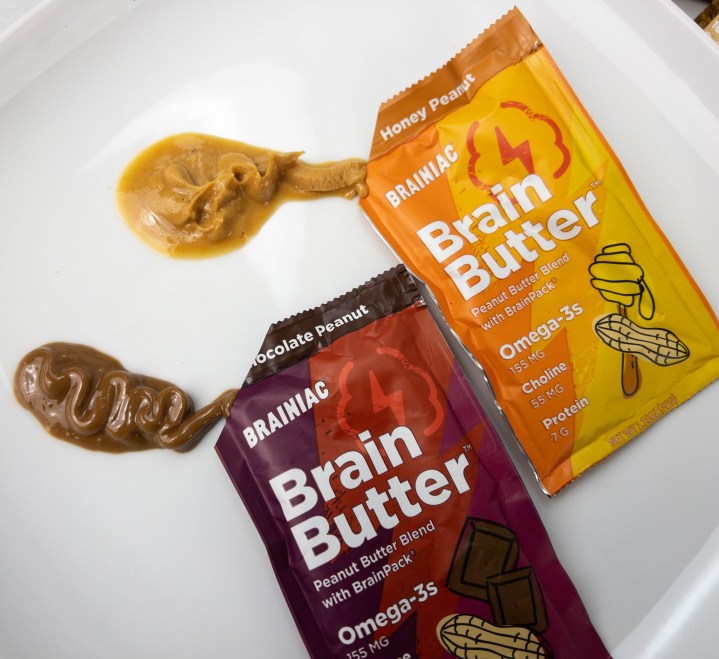 The rich chocolate and nutty flavor in Chocolate Peanut is a hit with my kids. They didn't overpower each other and blended well instead. Honey Peanut also suits my kids' taste, as the sweetness of honey and the nuttiness of the peanut complemented each other.
Unlike traditional peanut butter spreads, Brainiac's Brain Butter is packed with fatty acids, minerals, and vitamins essential for optimal brain development. Plus, all ingredients are non-GMO, gluten-free, and plant-based, which makes it a healthy treat. Many kids will shy away from taking Omega-3s in pill form, but they'll eat this spread right up!
Next up is Brainiac's brain-boosting snack bars! Each Brain Bar is packed with nutrients like organic certified gluten-free oats, puffed quinoa, chia seeds, and pea crisps. There are also two flavors to choose from, Brain Bar Apple Cinnamon ($4) and Brain Bar Chocolate Chip ($4). Both are delicious and also provide a great alternative to granola bars.
The Apple Cinnamon flavored bar easily satisfies kids' sweet tooth while offering a healthy dose of fatty acids, prebiotics, and nutrients. It's also nut-free which means it's great for school lunches. The Chocolate Chip snack bar is the perfect treat for kids who love chocolates! It has all of the same great benefits as the Apple Cinnamon bar but with decadent chocolate chips. I love having these on hand to take with us when we're on the go. The bars also have lutein which helps support healthy eyes.
My kids also tried Brainiac's no sugar added fruit pouches! The applesauce comes in pouches with a twist cap, so kids can easily enjoy them anytime and anywhere. They have three variants: Brain Squeezers Apple Apple ($1.70), Brain Squeezers Apple Strawberry ($1.70), and Brain Squeezers Apple Cinnamon ($4). Among these, my kids' favorite is the apple-strawberry combination. The classic apple sauce is also good, while the apple-cinnamon flavor has a nice kick of spice to it.
The texture of Brainiac applesauce is smooth. It's also gluten-free, dairy-free, and non-GMO. This healthy snack is something that both kids and parents will love.
Brainiac snacks are both tasty and healthy! If you're looking for a nutritious alternative to your usual snacks, they are worthy of a try. The peanut butter can be used either as a spread or drizzle, while the snack bar can easily make kids feel full. The applesauce in pouches is also delicious and easy to eat. Brainiac also came up with different flavors, and some of them even include chocolate. Yum! Of course, the brain-boosting benefits of the snacks are also a big plus for us. As a parent, I love that these products have all-natural ingredients and are packed with brain-boosting nutrients. This means my kids get a healthy dose of fatty acids plus important nutrients for their developing brain. Another thing to love about Brainiac is that the packaging they use is designed to keep the product fresh and safe, with a low environmental footprint. They are great snacks for kids, but even adults would love them!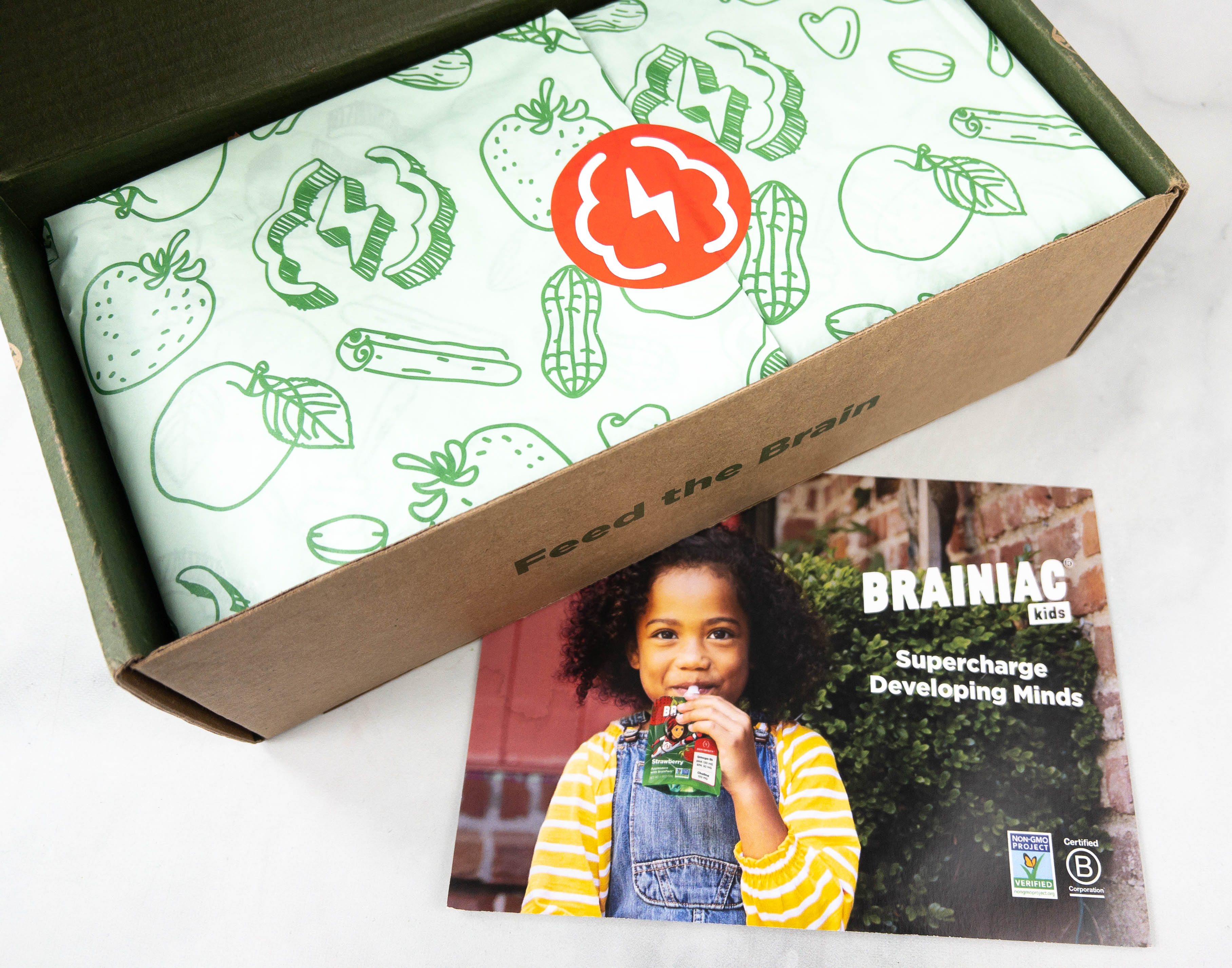 Brainiac makes healthy snacks for kids to help supercharge their developing minds. They currently offer Brain Bar, Brain Butter, and Brain Squeezers, and subscribing to recurring shipments of these snacks saves you 10% off the regular price. Prices start at $15.29, and shipment frequency can be every 2, 4, 6, or 8 weeks. Shipping is free for orders $30 and above. You can also cancel or change your subscription at any time.
What do you think of Brainiac?