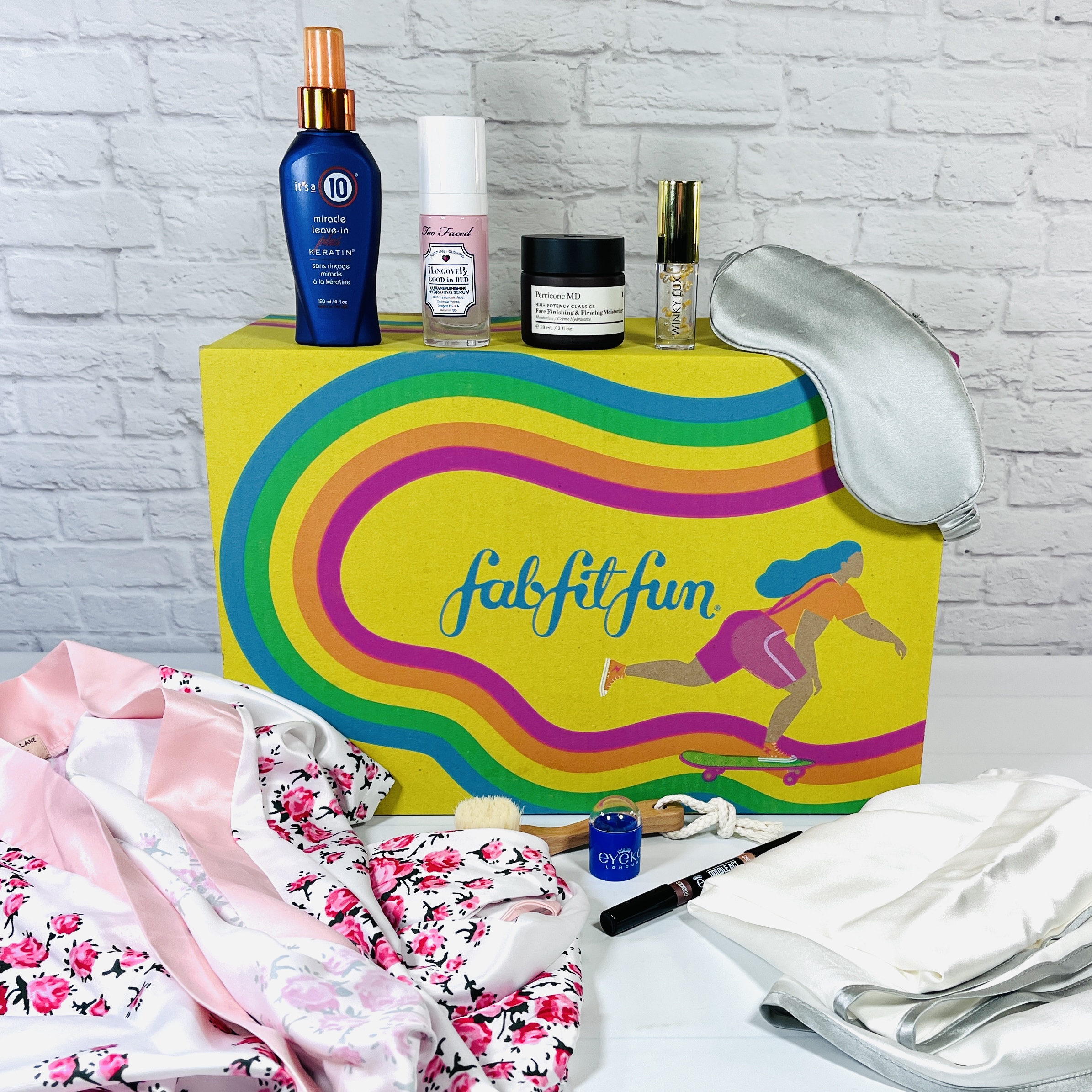 FabFitFun Box is a quarterly women's subscription box that delivers 6-8 full size, premium products from the beauty, wellness, fashion, and fitness categories for $49.95 per quarter or $45 per box if you prepay for 4 boxes. You get to choose from a variety of items to customize your box, too!
This box is still available! Check out the full spoilers and all the variations for the Spring 2022 FabFitFun Box here.
DEAL: Use this link and coupon code FAB10 to get your first box for $10 off!
OR get a FREE Mystery Gift (up to $125 value) when use the coupon code FREEGIFT at checkout.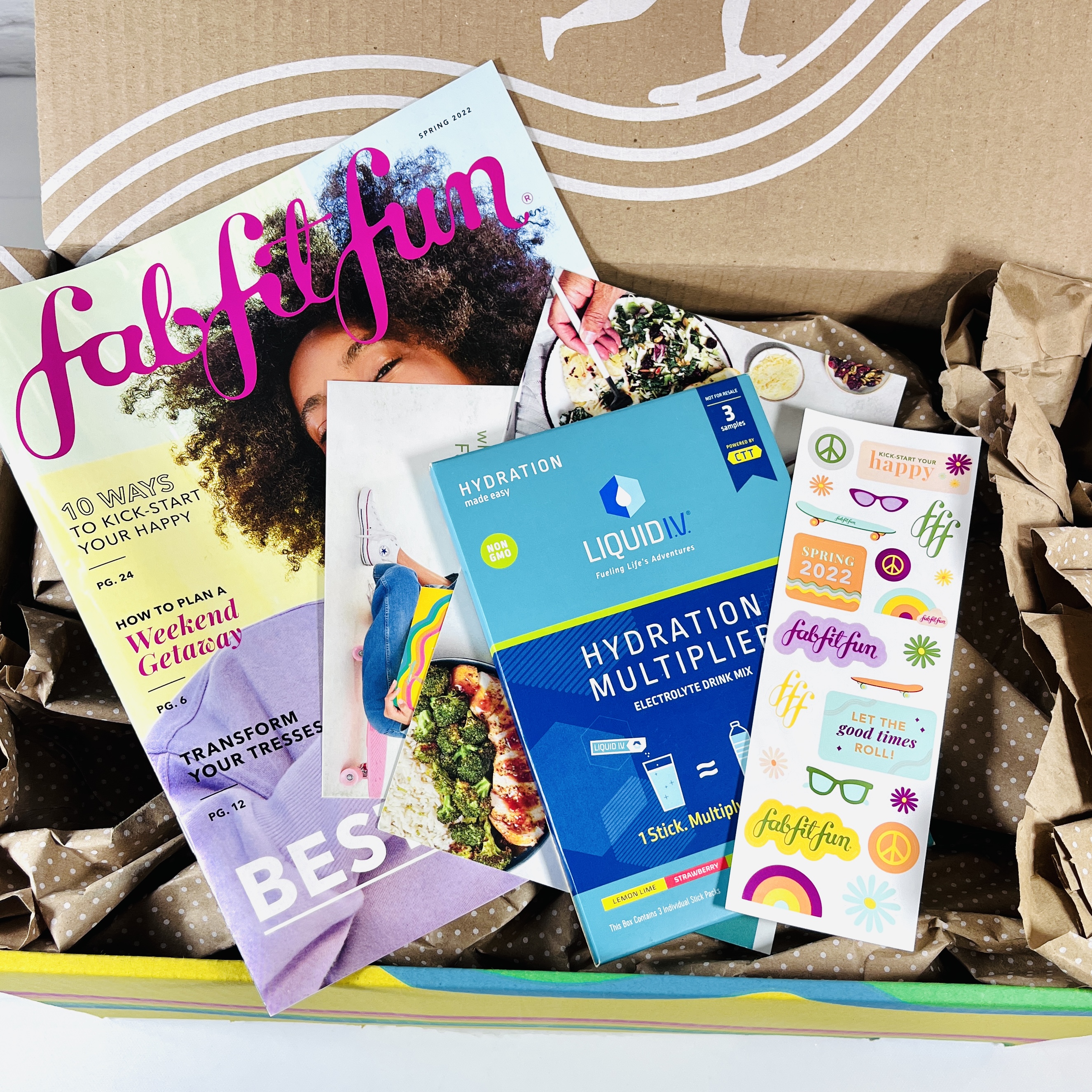 This box is packed full of goodies, as it is every season. All items came in their original packaging. The box had a woman skateboarding on the outside and inside.
The box also includes discount cards! One is from Hello Fresh and another is a discount on FFF! I also received a 3-pack of Liquid IV hydration drink mixes ($4.69 value) and a sheet of stickers.
First peek!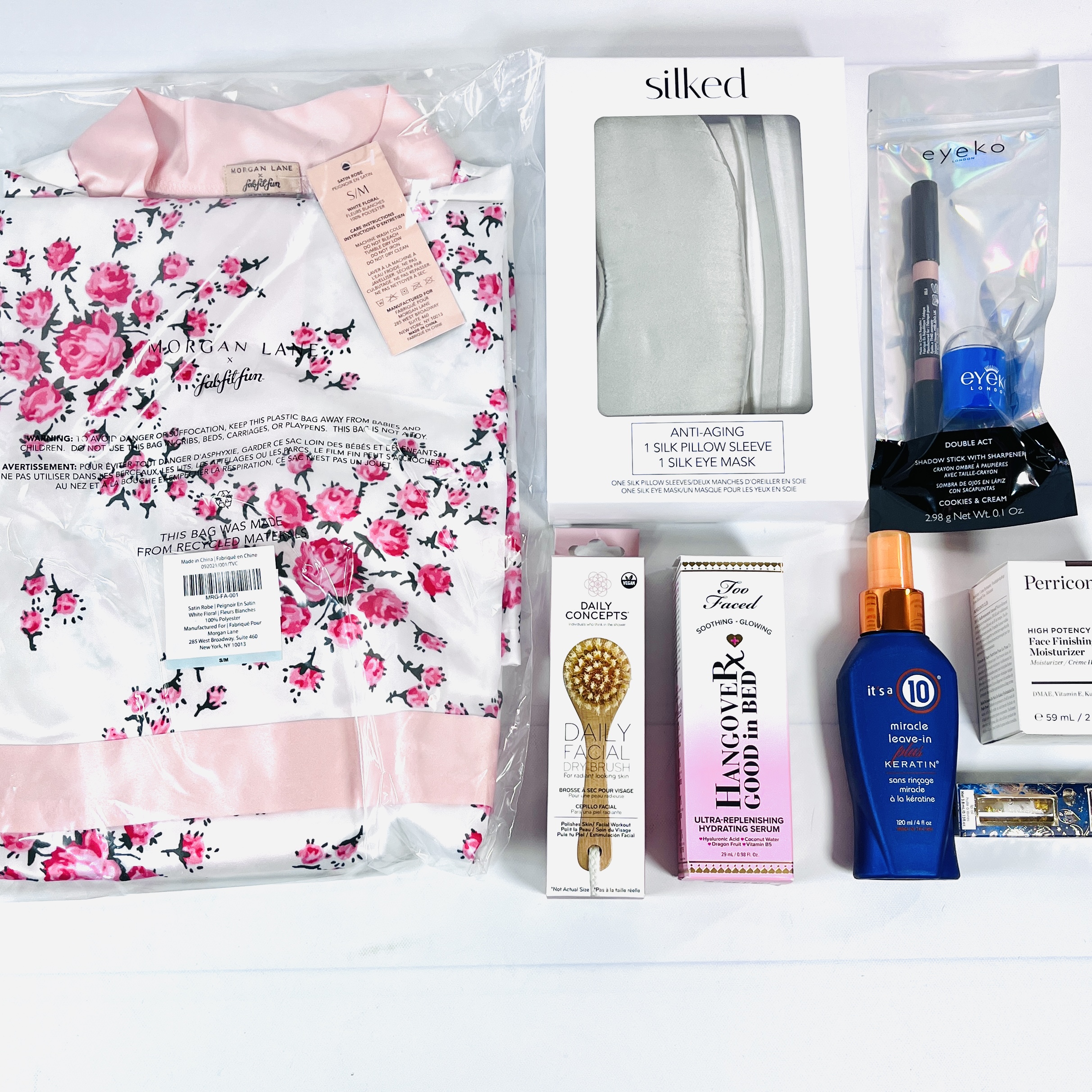 Most items were either in plastic bags or boxes.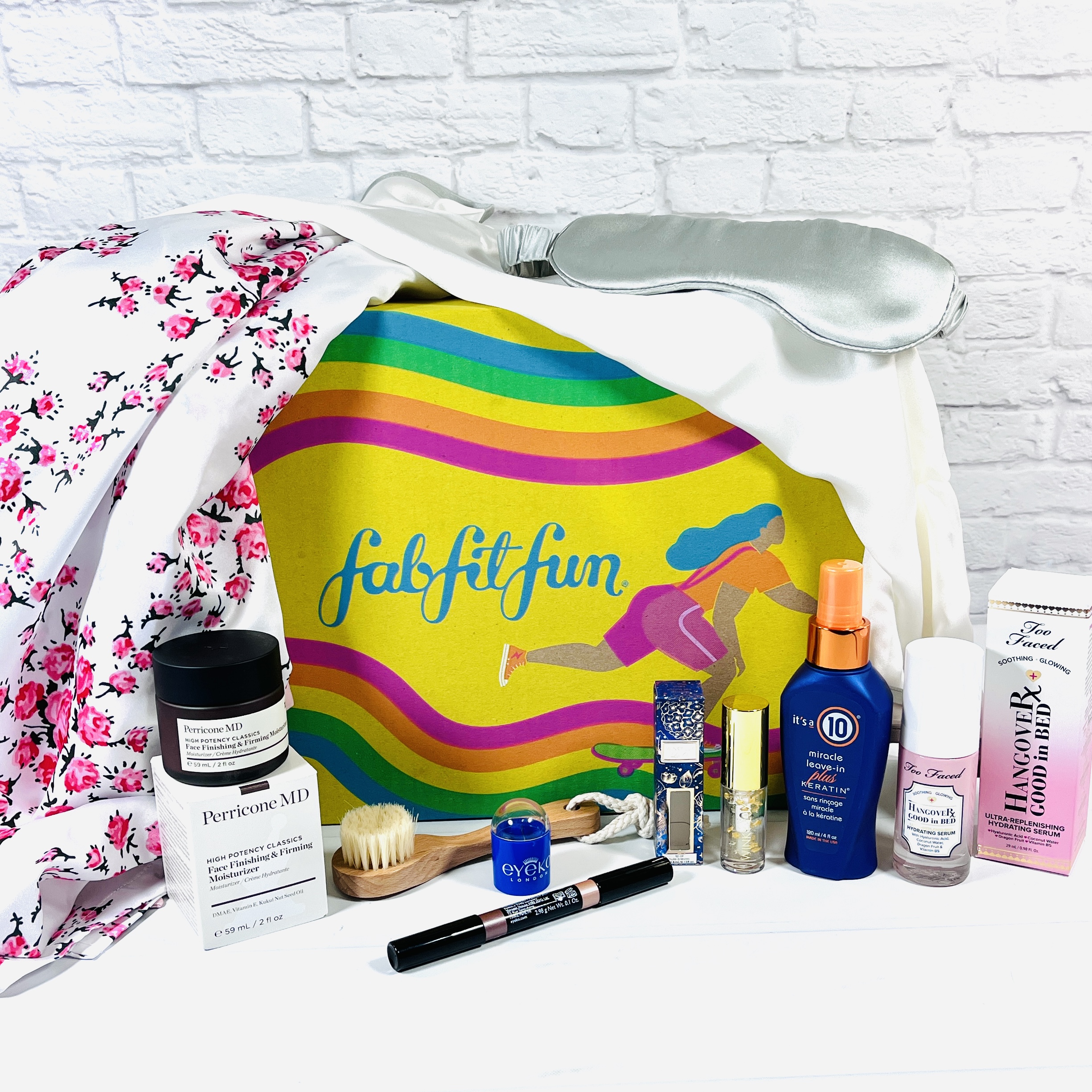 Everything in my FabFitFun VIP Box for Spring 2022! There are lots of item variations that are detailed below. Please note that we received this box for review and my items are not necessarily the same as a subscriber would receive.
Customization 1
Subscribers will get to choose among the following:
I received the Morgan Lane Allie Robe in White Floral!
Morgan Lane Allie Robe in White Floral in Size S/M ($198) There were lots of feminine pajamas on this brand's website and they are what I would consider pricey, although the four similar items I clicked on were made with a silk blend (and priced higher than this product). This robe is 100% polyester so it should be easier to put through the wash! It has side pockets and belt loops to corral the pale pink self-tie belt. I adore the print, with bright, beautiful roses on a white background. This will be gifted to my daughter since it is out of my size range but it sure is pretty!
Customization 2
Subscribers will get to choose among the following:
Perricone High Potency Classics: Face Finishing & Firming Moisturizer ($69) is a moisturizing lotion that is supposed to soften dry skin and reduce the appearance of fine lines and wrinkles. It has that classic dimethicone "primer" finish and smells strongly of rose perfume (of which I'm not a fan). DMAE is supposed to firm skin while vitamin E is an antioxidant. The first few ingredients are water, glycerin, and kukui seed oil.
Customization 3
Subscribers will get to choose among the following:
Hmm, I didn't receive a product from this category, such is the life of a reviewer.
Customization 4
Subscribers will get to choose among the following:
I got the It's A 10 Miracle Leave-In Plus Keratin!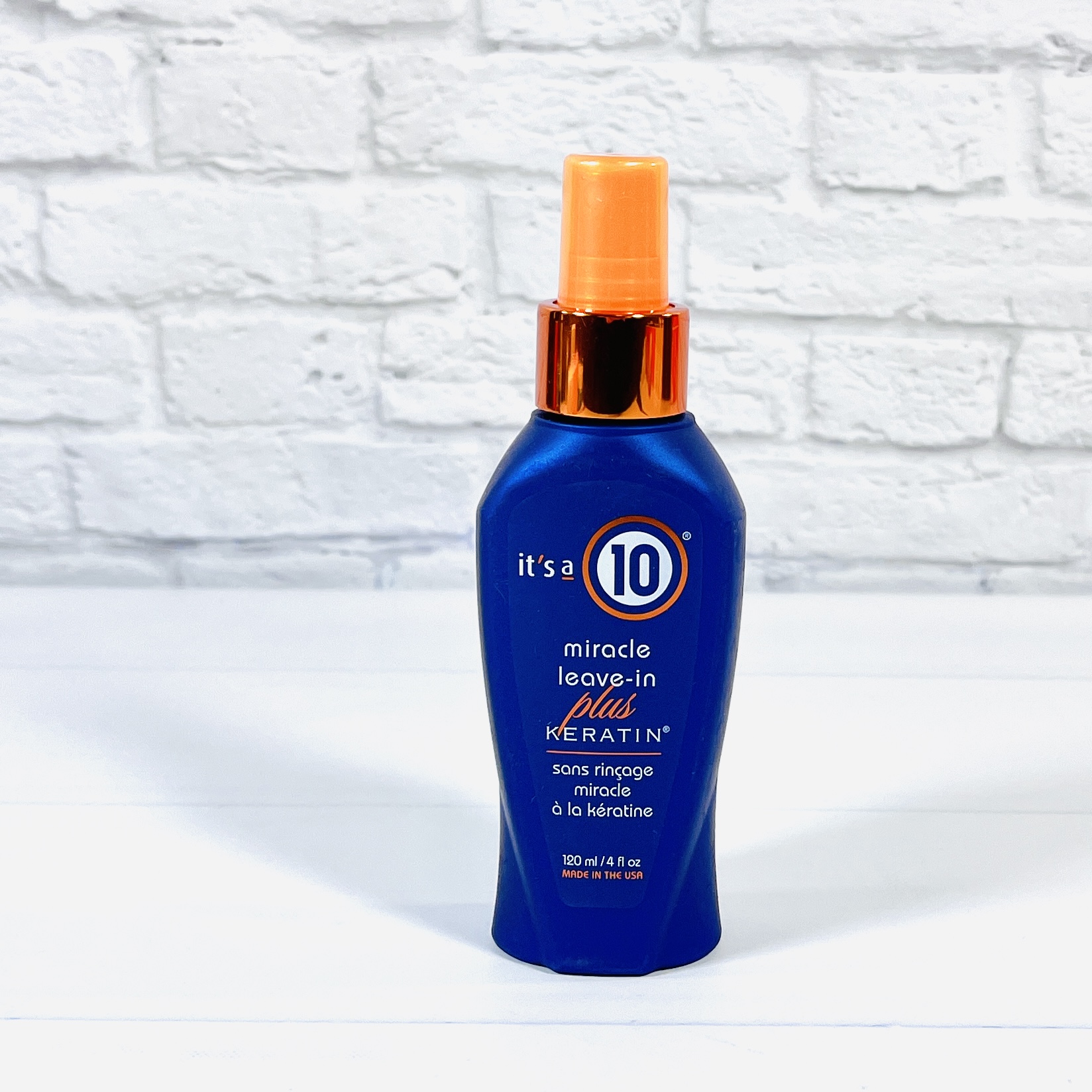 It's A 10 Miracle Leave-In Plus Keratin ($23) Here is a leave-in conditioner that help strengthen hair thanks to keratin. It's supposed to keep hair from getting frizzy and protect it from heated appliances. I find it best to spray it into my palms before dispersing into hair as it shoots out a pretty strong stream and one shot is all that's needed for my short, fine hair. It smells floral and can be used straight out of the shower.
Customization 5
Annual Subscribers will get to choose among these items (and FFF will pick for everyone else):
Again, I didn't receive a product from this category.
Customization 6
Annual Subscribers will get to choose a 1-, 2-, or 3-item bundle (and FFF will pick for everyone else):
[bundles as shown above – retail prices for individual products in the bundles below!]
I received the last bundle.
Winky Lux Lip Oil ($18) is a glossy lip "oil" that isn't oily feeling, it's like traditional non-sticky lip gloss. I tried many times to get the golden stars to come out but they have stayed put, I'm sure they're not supposed to leave the container. I can see sparkles too but my lips didn't look shimmery, just shiny. I think the flavor is vanilla and it's just right.
Daily Concepts Daily Facial Dry Brush ($20) is simply a nylon bristled brush that can be used dry on the face and neck to stimulate lymph drainage (which may help depuff face) and increase circulation on the cheeks, forehead, etc. while providing an exfoliation. I used it on my dry, clean skin and I think I preferred it on my neck and forehead, but it felt rough on my cheeks.
Eyeko Double Act Shadow Stick ($12.50) I wanted to like this product, which is a dual-ended eyeshadow stick and it seems like this color isn't available anymore (Cookies and Cream). I applied the lighter shade all over my lid up to my brow bone, and it was hard to tell whether it was there or not, it didn't really show up. Next I applied the darker shade to my crease, and it was better. I thought my eyes looked good in the mirror, it was pretty natural for every day, not glam at all. Then I looked in the mirror an hour later and the product was completely in the crease, it had no staying power. Sure, it's creamy, but I wanted it to dry and stay all day (like the Birchbox LOC shadow sticks). Of course, the swatches wiped off without any remover so I was pretty sure it wouldn't stick, and I even used primer.
NOTE: The following two items weren't in any category, but again, the box is provided for review while subscribers have access to those other goodies.
Silked Anti-Aging 1 Silk Pillow Sleeve, 1 Silk Eye Mask ($89.50) This brand makes pillow "sleeves" that you slide over your pillow, but the ends will still stick out (so maybe keep your regular case on before putting this one in place). The sleeve is white with silver grey trim while the mask is completely silver grey. Both items are made with Mulberry silk charmeuse, although the backing of the pillow sleeve is rayon jersey. They are smooth and silky and a nice upgrade from my usual pillow cover and eye mask.
Too Faced Hangover Good in Bed Ultra-Replenishing Hydrating Serum ($39) is a gel serum with hyaluronic acid to draw water to the skin to keep it moist. In fact, several of the other ingredients listed, such as glycerin and algae extract, are also humectants. There's something in it that gives this gel a shimmery effect, although I didn't notice it once it was spread over skin. Fragrance is lower on the list and it doesn't smell like perfume
Here is the mini magazine that came in the box and it has some of the products listed along with usage tips. I enjoyed seeing the recipes and look forward to trying a couple of them. There were exclusive offers and even a chance to win a trip!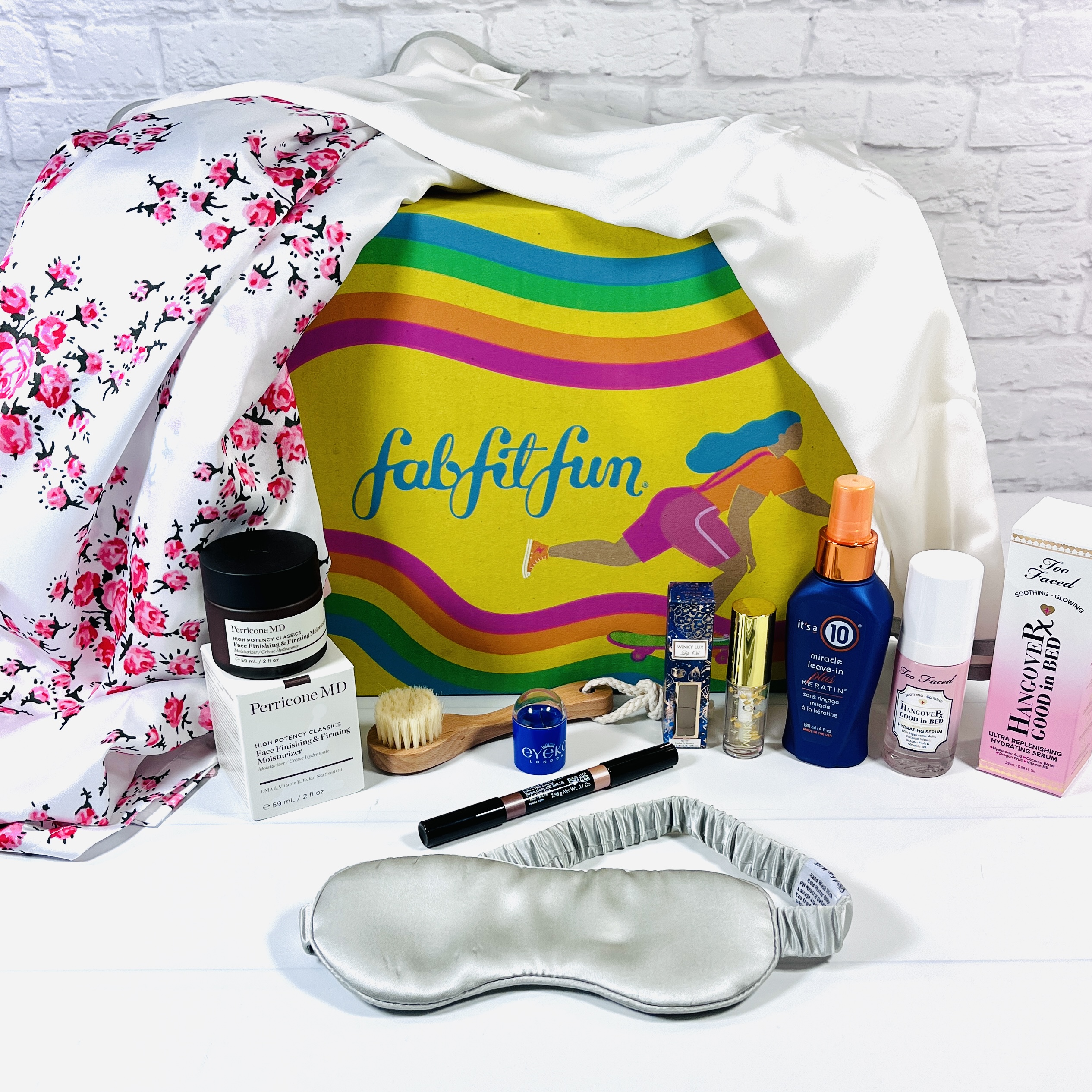 My box may not have had an item from every category, but it was packed with value! My favorite item was the pillow case, it is a luxurious upgrade to my nighttime routine. The robe will make a lovely gift for my daughter, I know she will love it. There was quite a bit of skincare items and a couple of makeup items, so this version was more of a beauty box with a few lifestyle items, but subscribers have the chance to choose their products and get the combo they like best. The value for my assortment was around $469!
What do you think of the FabFitFun Fall Box?