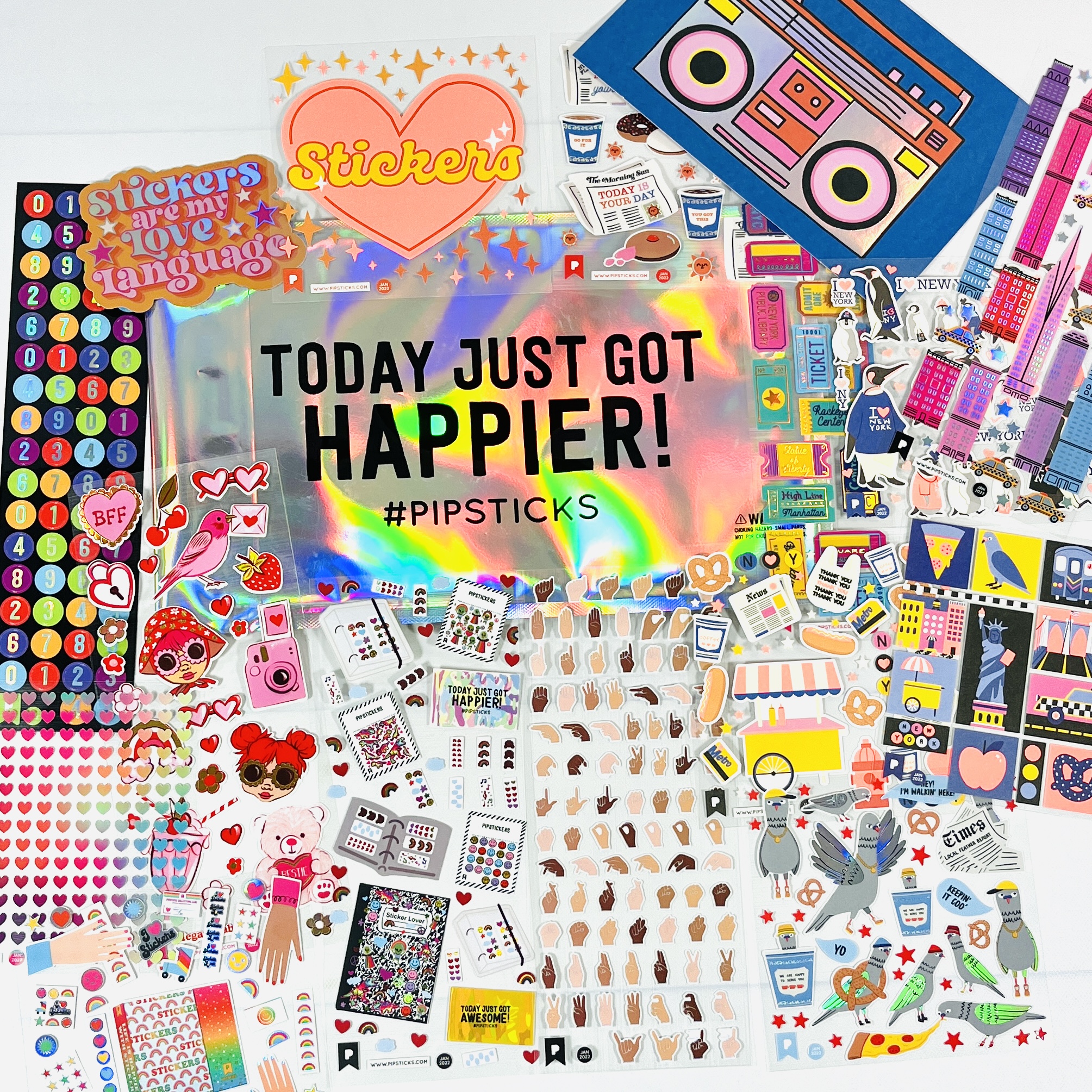 The January shipment of Pipsticks Pro Club Classic is here and I am already imagining all of the places I plan on sticking these beauties in my life — in my planner first and foremost, but they look great on snail mail, journals, phone cases, and more. Check out all of the colorful stickers I received below. FYI I am reviewing the Pipsticks Pro Club Classic!
DEAL: Get 50% off your first month of Pro or Kids Club Classic Pack! Use the coupon code STICKER50.
Note: You can find the following items, and even past sticker packs, in the Pipsticks online shop, usually in the month following their release.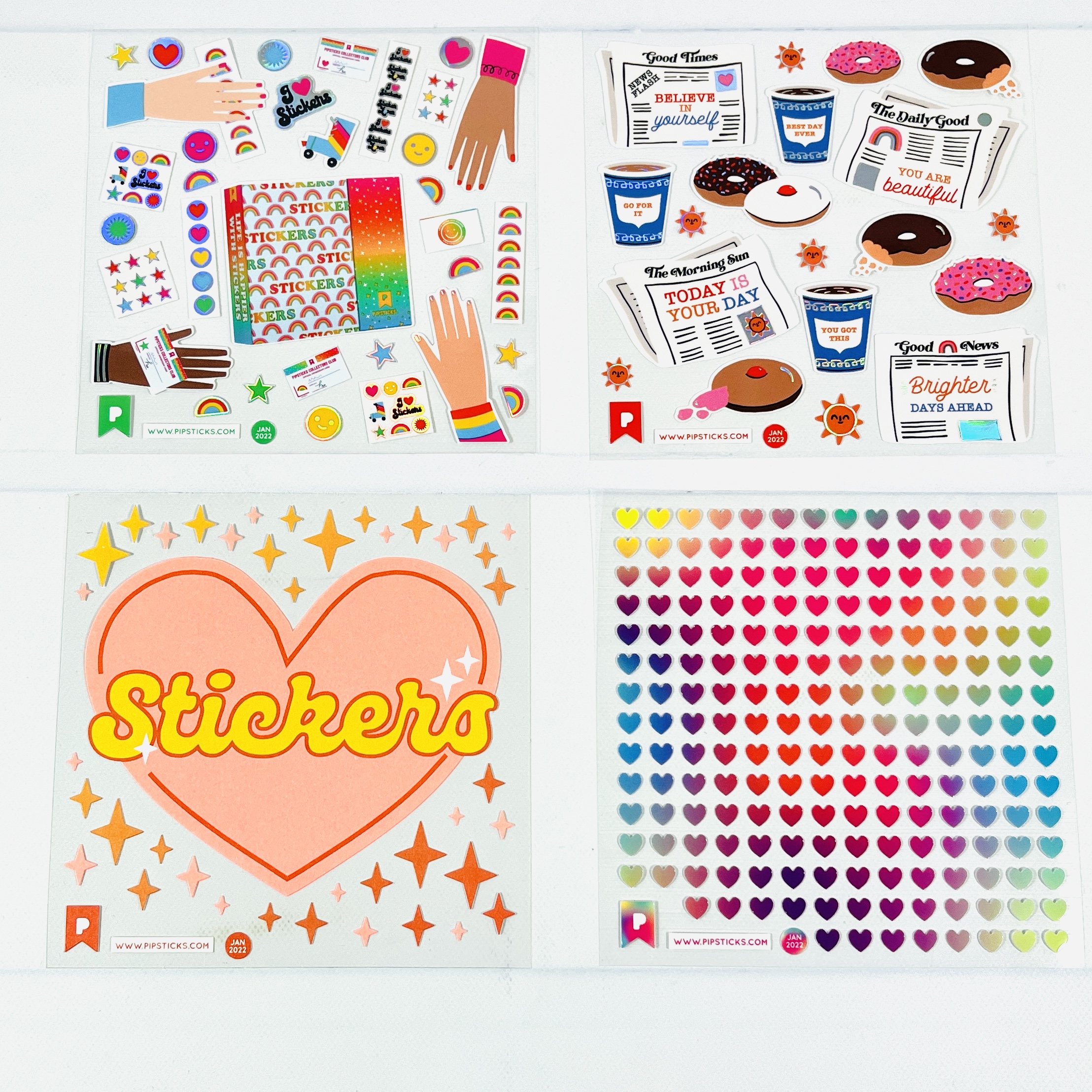 As always, the stickers cover a variety of themes and incorporate all kinds of colors. From top left it's a sticker sheet about … stickers! Top right looks like what passes for breakfast time for some people, with donuts, coffee, and the morning paper. Bottom left has a huge "Stickers" sticker, and bottom right is a beautiful ombre rainbow array of hearts.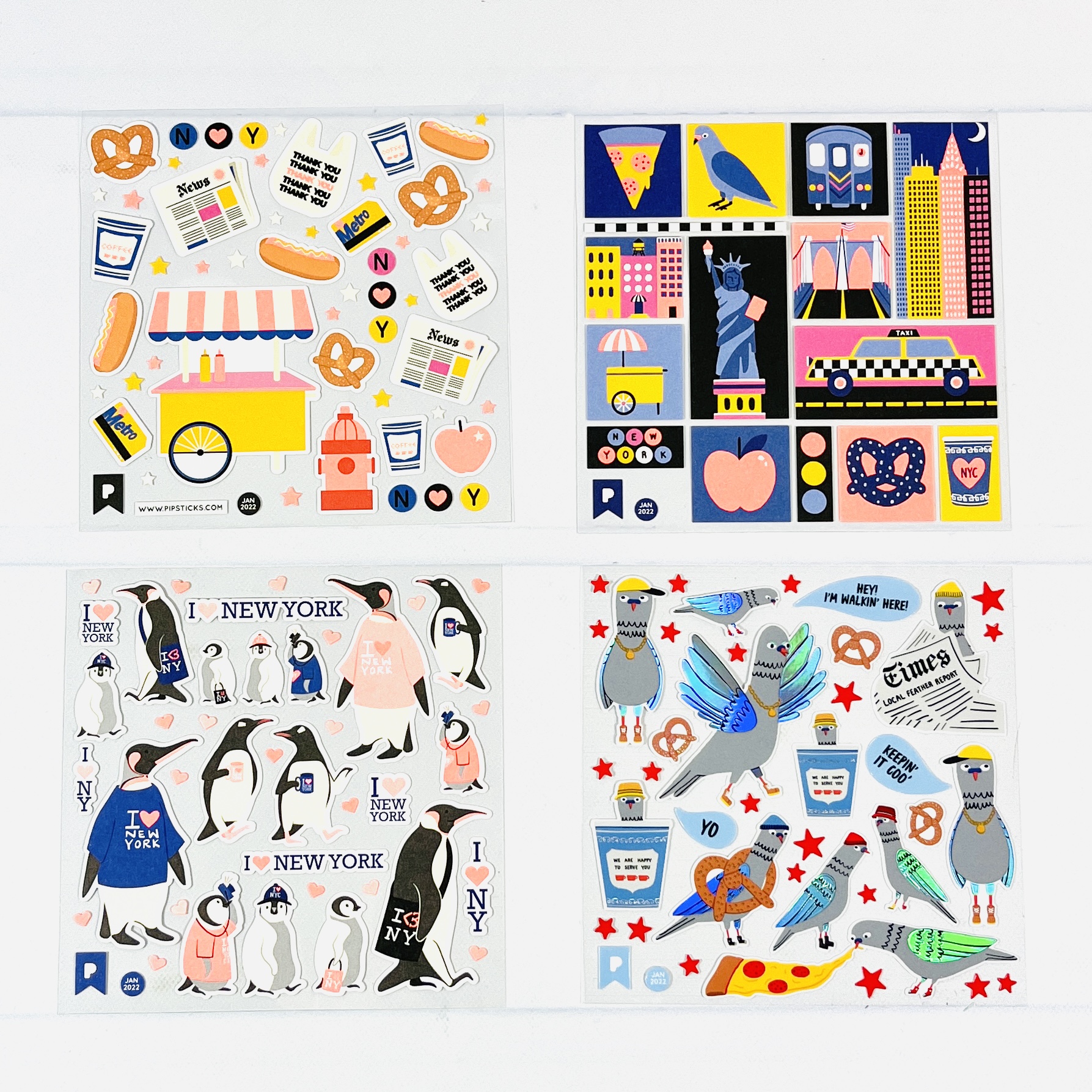 These four sticker squares look like they were inspired by the Big Apple, NYC. The top left has pretzels, hotdogs, and a food cart. Top right has sights you are sure to see in the big city. Bottom left has penguins who look like they've traveled here for the winter, they've been there and bought the shirt to prove it. Bottom right has pigeons and look at the word blurbs, do you think that's what they're thinking while they're strutting around?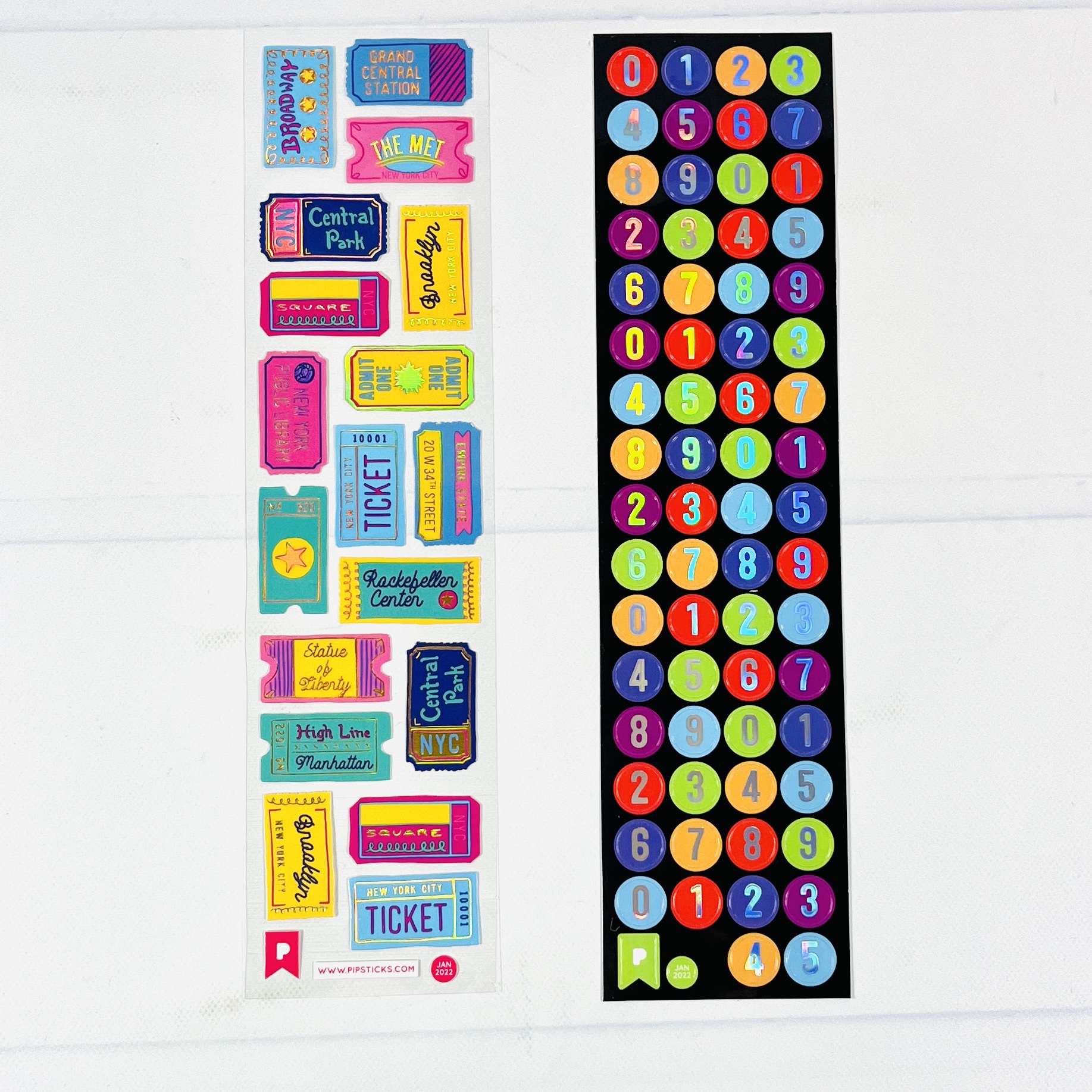 Here are a couple of sticker strips. The one on the left has tickets for sites you might see while visiting. The sheet on the right has metallic numbers in each of the colorful circles.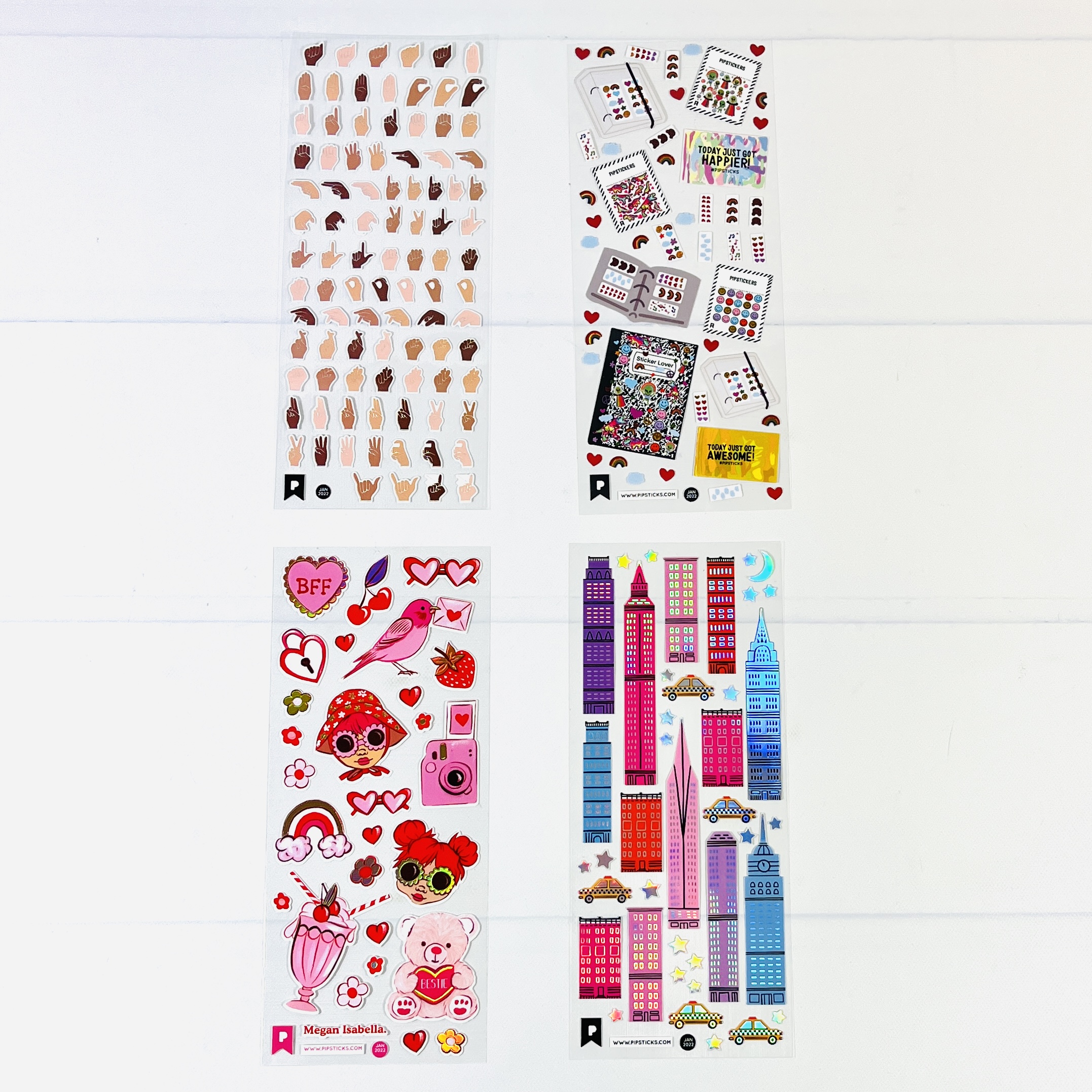 Here's four more sticker sheets! Top left has hands demonstrating the alphabet in American Sign Language. Top right is another sticker sheet about stickers, but these look like they are specific to Pipsticks! Bottom left is the sheet designed by the collaborator of the month, and the sheet on the bottom right looks like one more nod to NYC, with skyscrapers and yellow taxis.
Here's the vinyl sticker of the month (design may vary). This sticker is larger than the others and measures about 3″ across.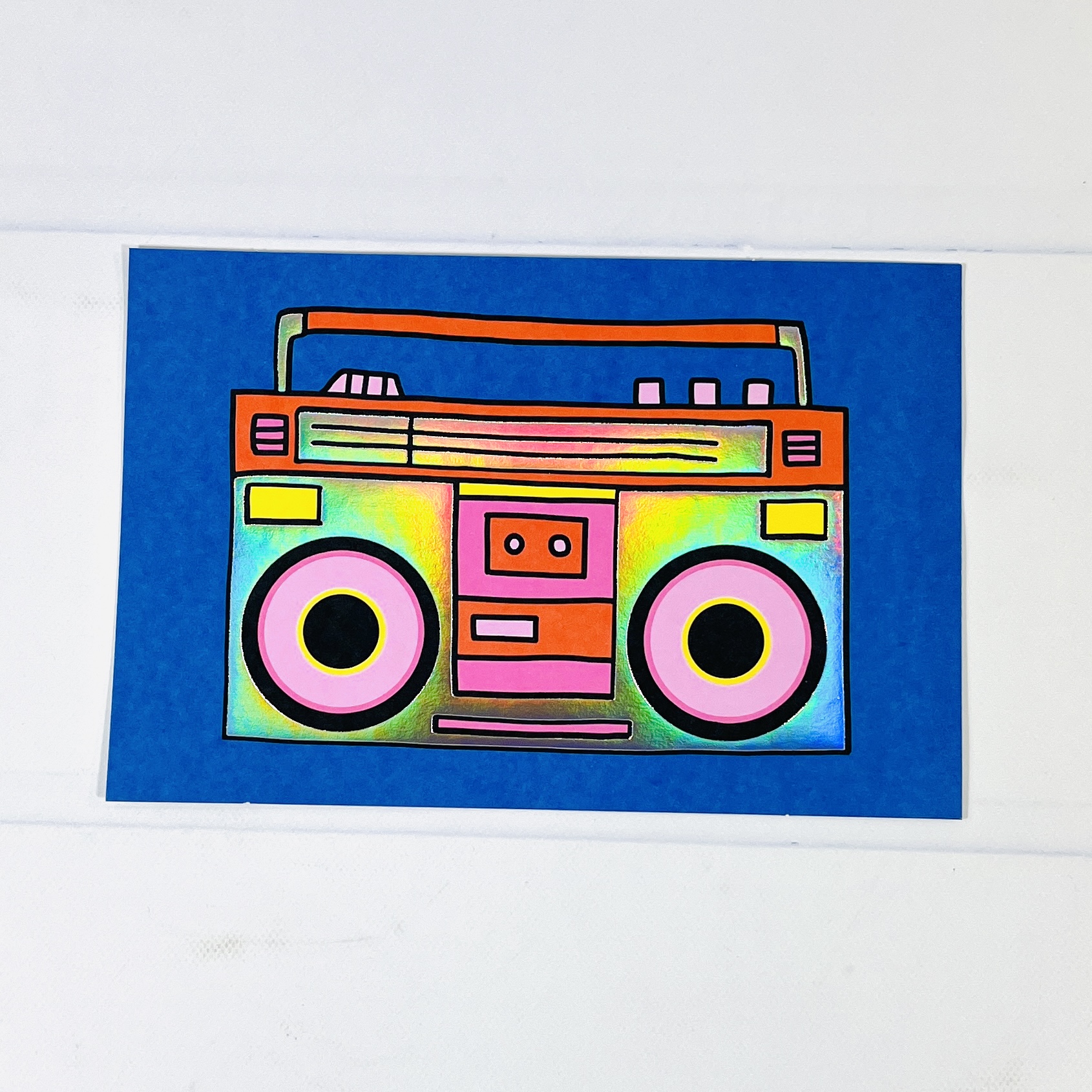 We always receive a postcard and this month it has a retro boombox! The colors on the front change with the light and it sends me right back to high school, I loved my boombox. I am currently listening to the same music I would listen to way back then, but I'm streaming it on satellite radio on my iPad, which takes up a lot less room. Seriously, even the DJ is the same, way to take it national Richard Blade!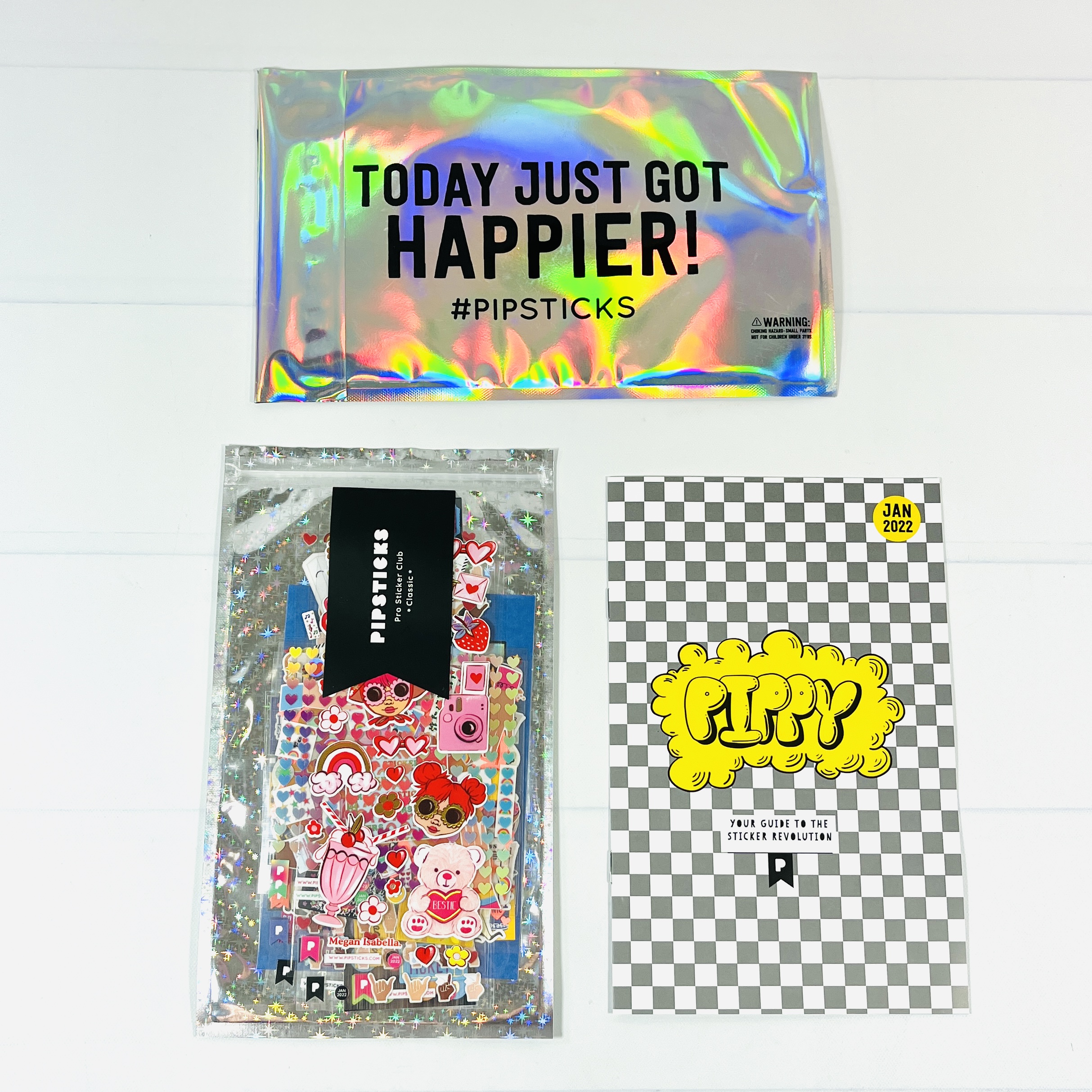 The stickers in my latest pack were super colorful and I love finding ways to add them to my life, but most of all I use them to decorate my planner. Most of the stickers were vinyl, a few were woodless paper, and most have some kind of iridescent or metallic touches that makes them sparkle and shine.
Below you will find the Pipsticks magazine, Pippy!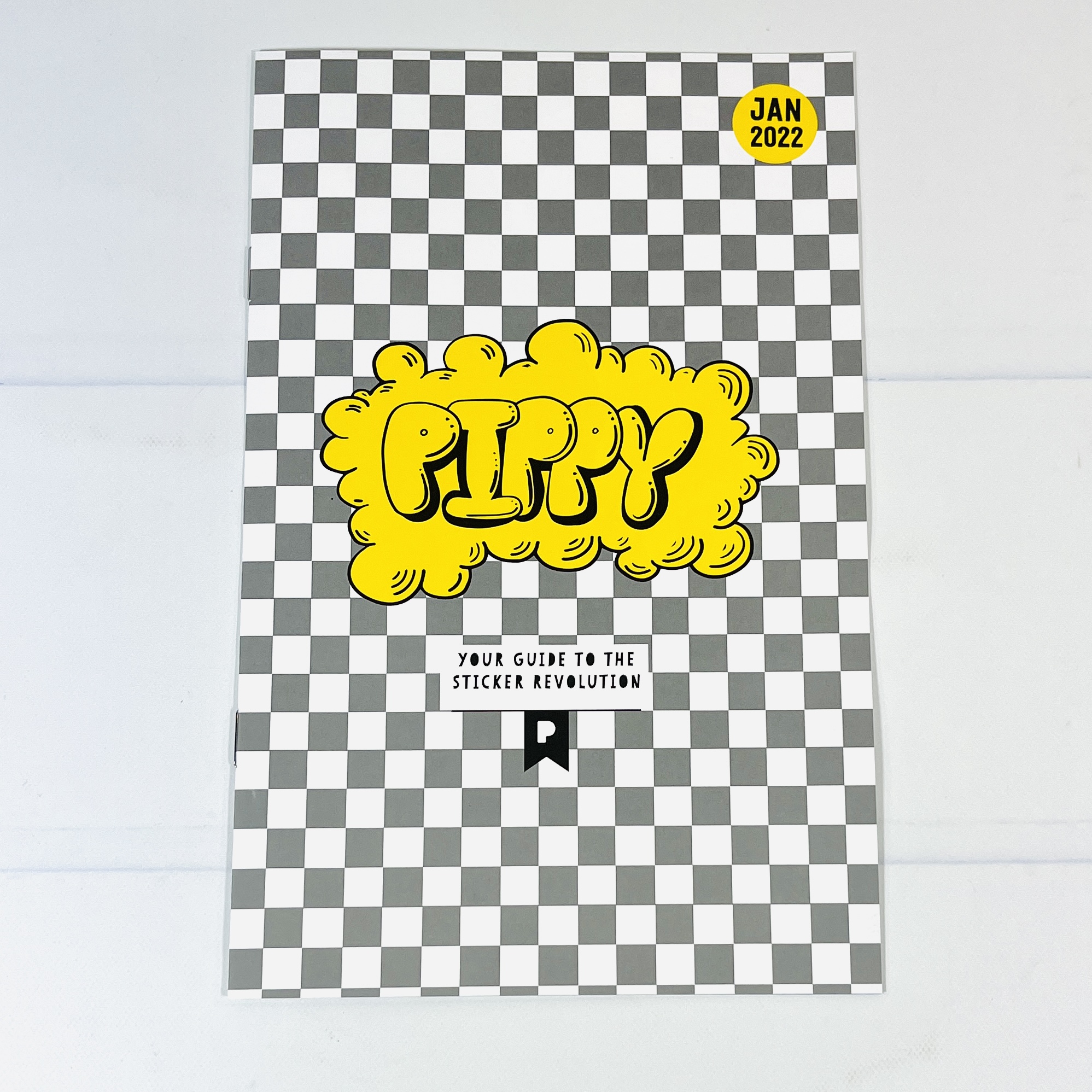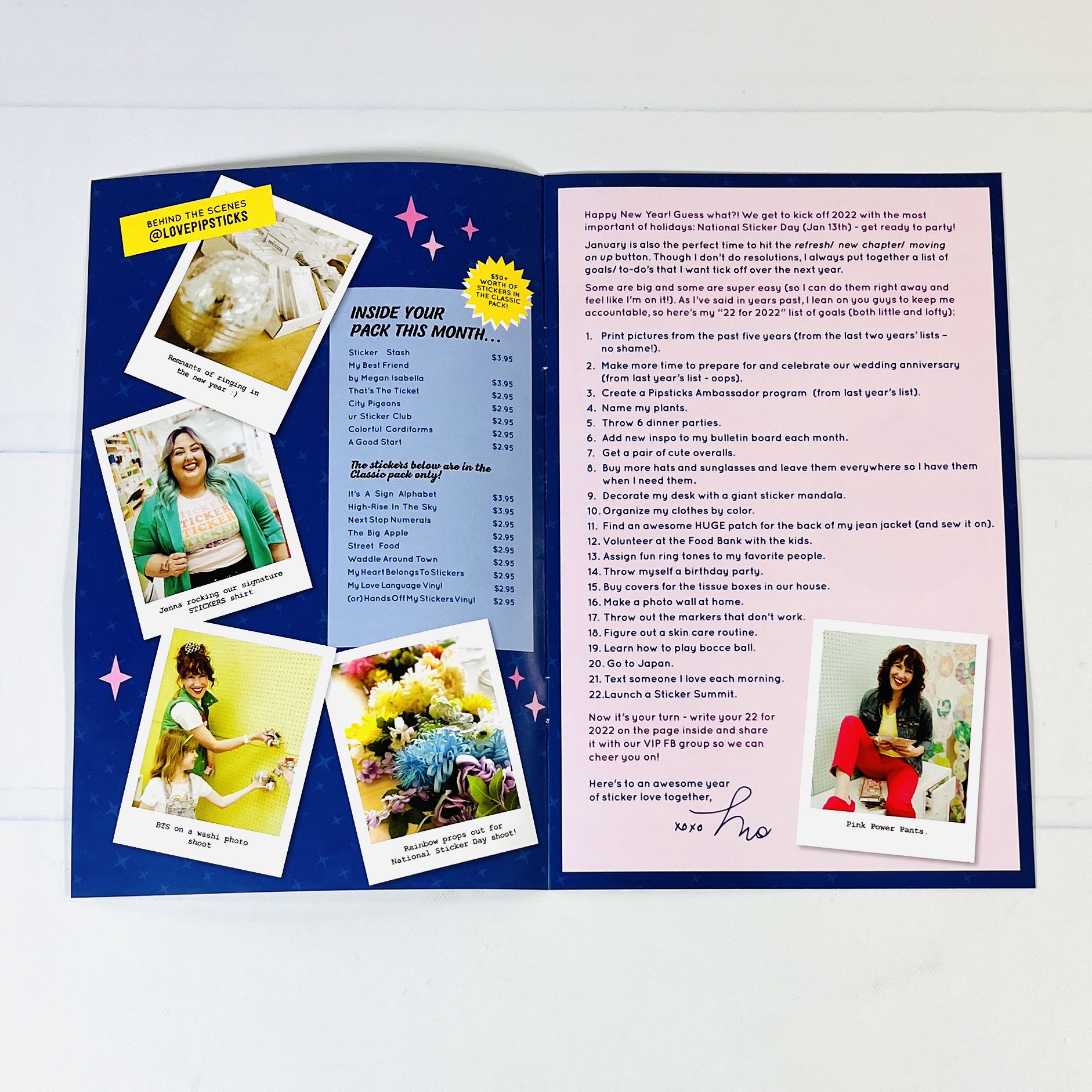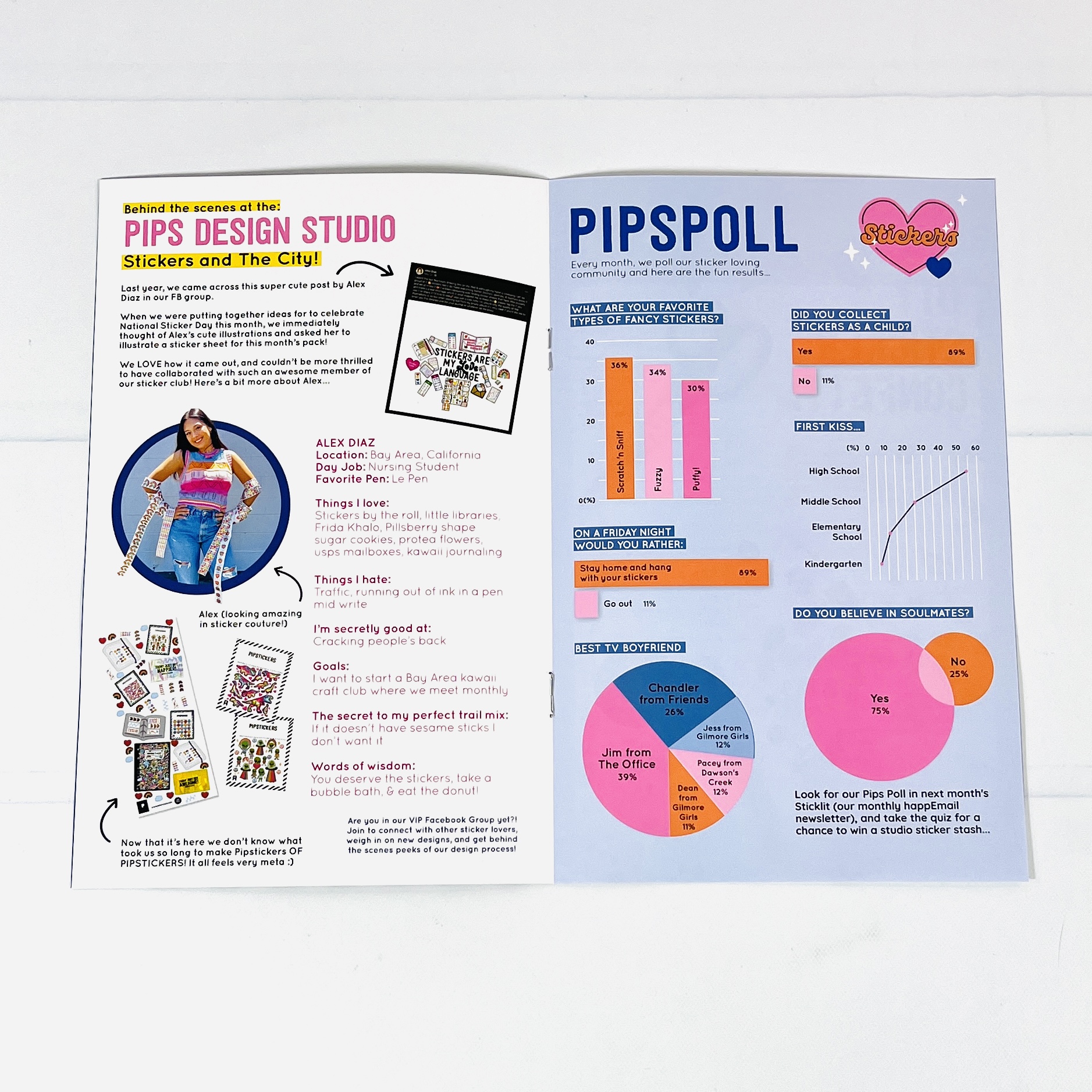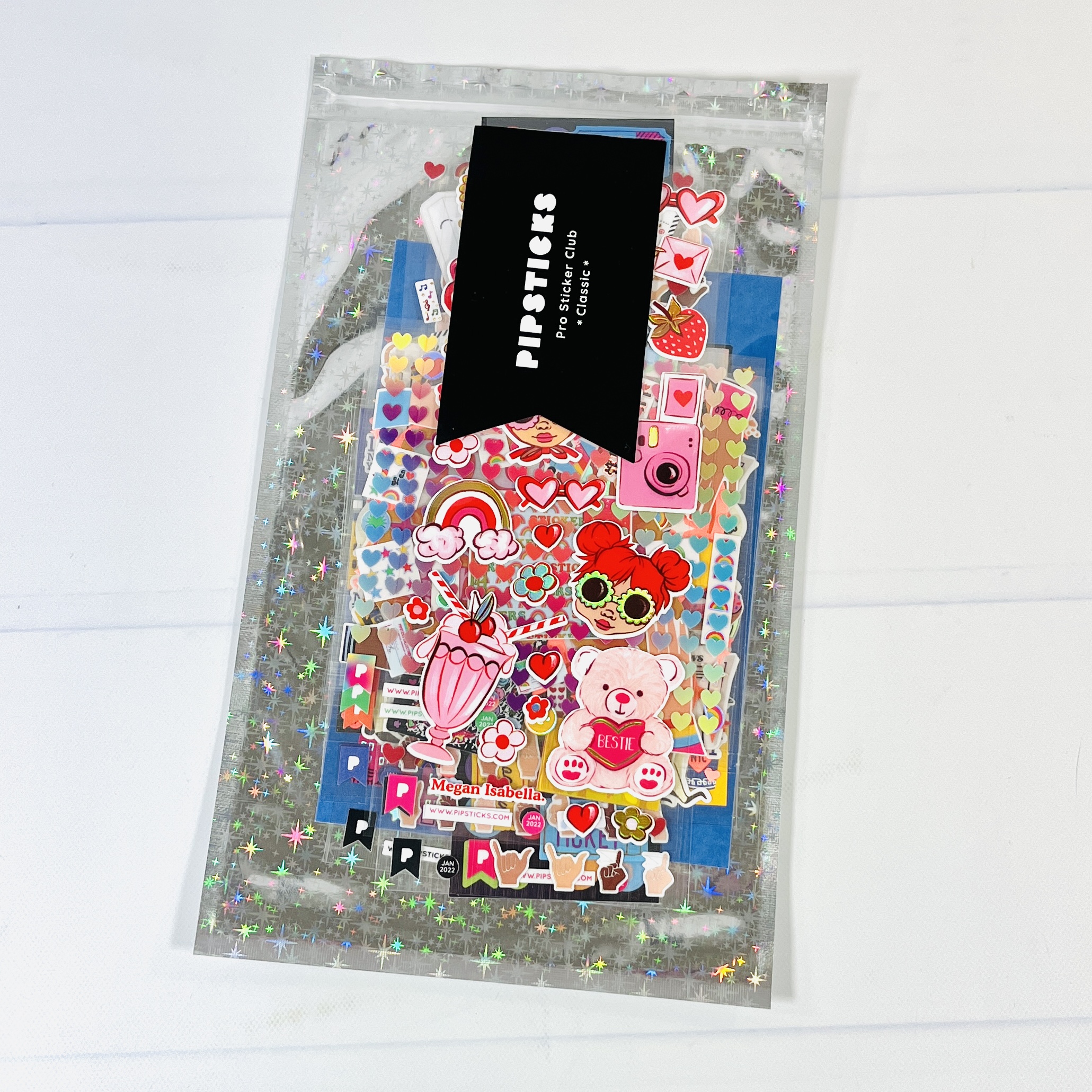 Pipsticks is a monthly sticker subscription that sends new designs from their collection in a super shiny holographic pack every month! The stickers come in a reusable sparkly pouch and include sticker sheets, paper products, and Zippy, an exclusive sticker magazine. You also get 5% savings in the online store, and more. You can choose to get stickers for adults (Pro Club) or kids (Kids Club). Both clubs come in Classic (15 sheets for $17.95 a month) or Petite (7 sheets for $11.95 a month). Shipping is free to the U.S., and Pipsticks can even be shipped worldwide for a fee.
Are you getting any of Pipsticks' subscription?