Miraculous Box made the holidays fun and action-packed with the Winter 2021 box! Themed MIRACULOUS HOLIDAY, the box was packed full of exclusive merch to help fans channel their inner superhero, including wearables and collectibles.
Pins are fun collectibles. In this box, they included another cute acrylic pin featuring our main hero, Ladybug herself!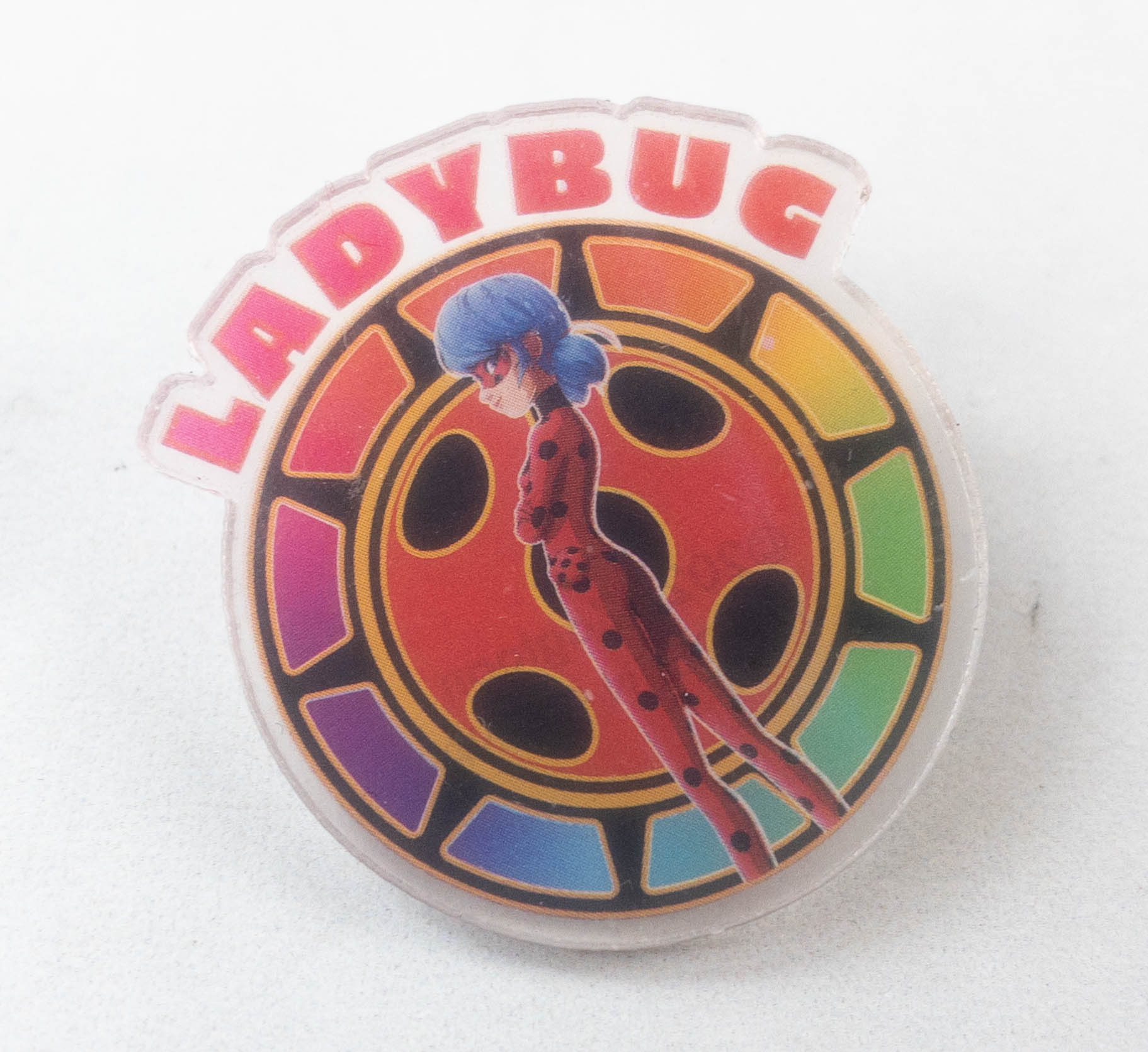 Because the pin is made of acrylic, it's lightweight. The pin also has a protective layer to prevent it from getting scratches. You only have to peel it off for the colors to look more vibrant!
These greeting cards are bright and colorful! All three of them feature snowflakes, which adds winter vibes. The first one is Ladybug on the red card, the next one is Cat Noir on the green card, and the last one is Tikki and Plagg on the blue card. My daughter feels excited to send these unique cards. The pack also comes with envelopes where she can seal them in.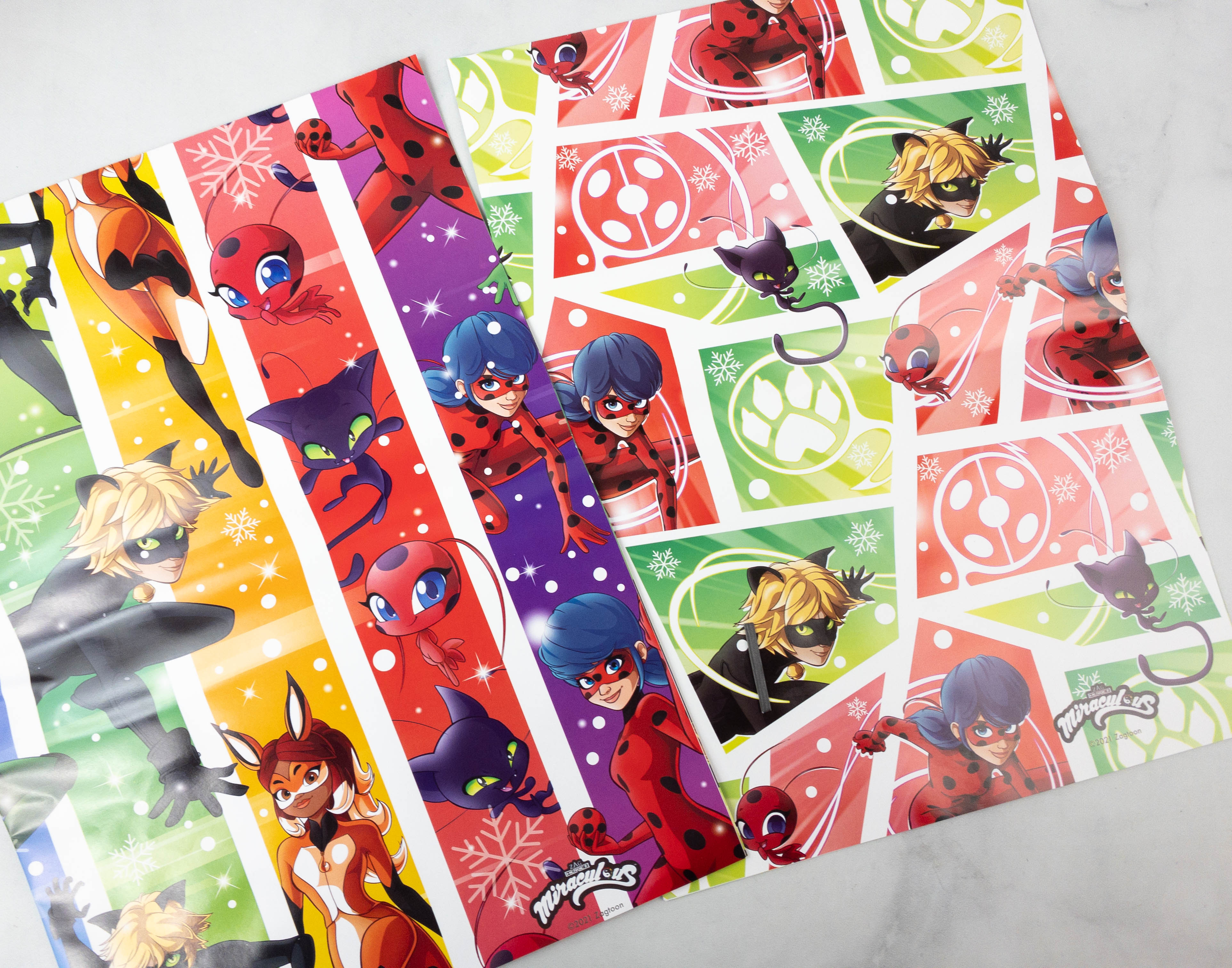 There are two high-quality wrapping papers with a glossy finish included in the box. The first one has various color stripes representing the different characters from the show, including Ladybug, Cat Noir, Rena Rogue, Carapace, and the Kwamis, Tikki & Plagg. The design of the second sheet is identical to that of the box and card.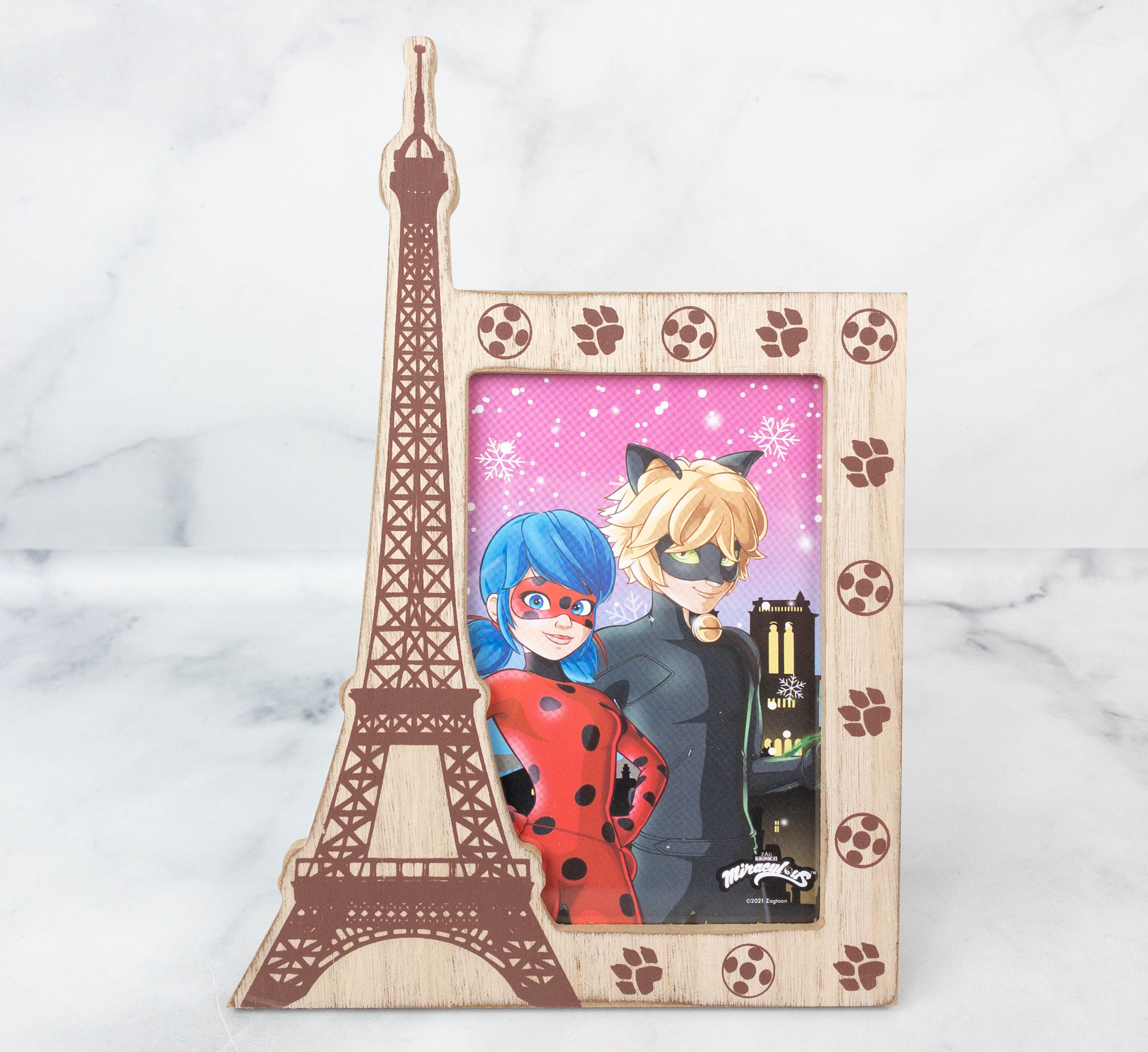 This wooden frame comes with a stand so it can sit on any desk or shelf. The frame has Ladybug and Cat Noir's symbol and a big Eiffel tower on the side. It also came with an image of Ladybug and Cat Noir, but you can easily swap it out with your own photos.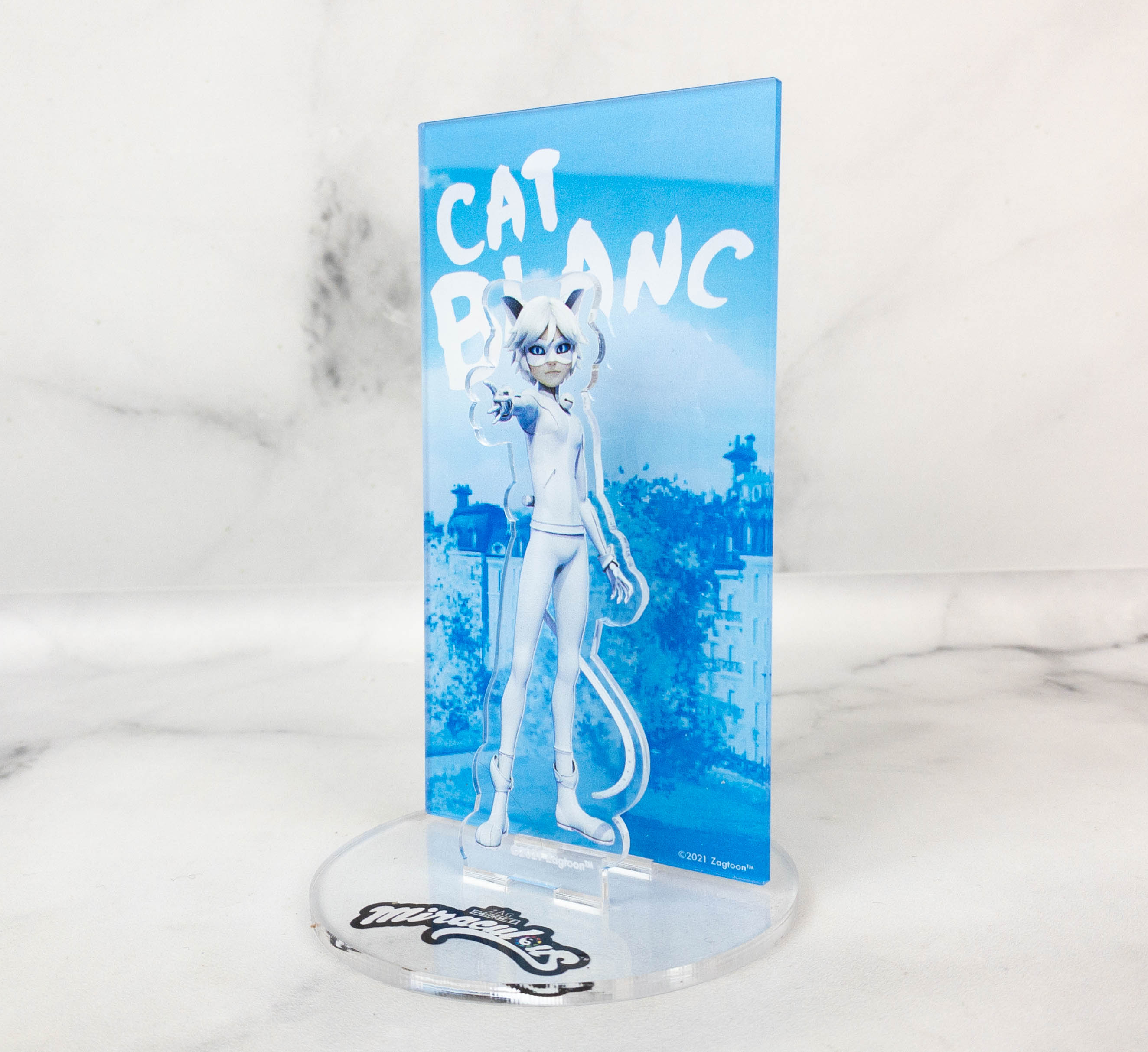 This season, we received an acrylic standee. It features Cat Blanc, the akumatized form of Adrien Agreste, and we think it does fit the winter season. He looked so good in white despite being a supervillain! The addition of the backdrop makes it feel more wintery than it already is. The notches on the base fit the standee and backdrop, keeping them in place.
Next up is a double-sided scarf. The material used is perfect for combatting the cold winter breeze! It also has black frills on the bottom for added texture and design.
The one side is lime green with paw prints that represent Cat Noir and Plagg, while the other side is red with Ladybug and Tikki symbols. It feels so soft, cozy, and warm!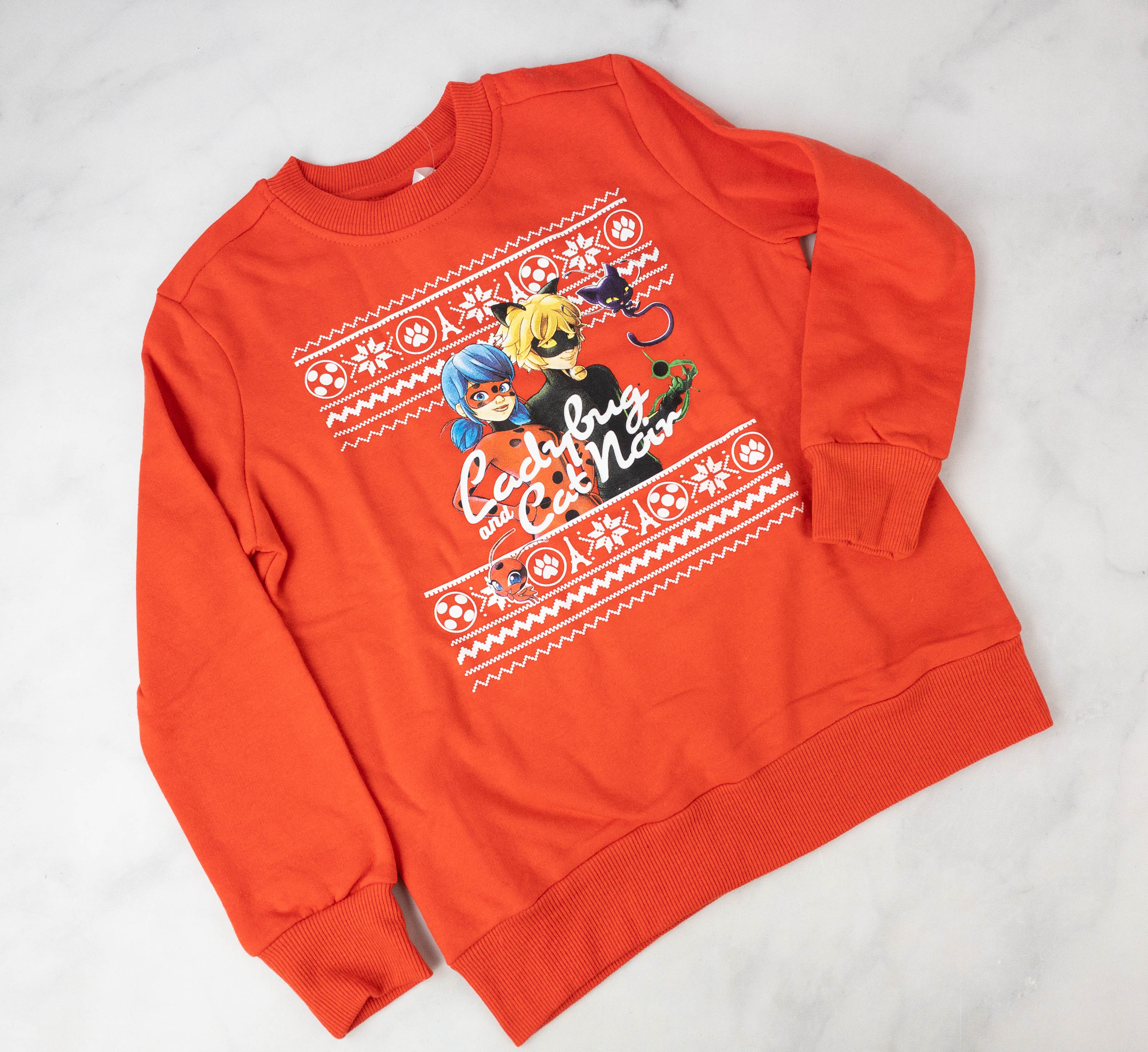 Another wearable included in the box is a holiday sweater. It comes in red, and the print features Ladybug and Cat Noir with their Kwamis, Tikki, and Plagg. It looks festive and Christmassy! My daughter put it on and said she felt so comfortable wearing it. Just like the scarf, it is warm and cozy.
It is another fun curation of Miraculous merch! Everything is of excellent quality, and my daughter can't help but love each item. My little superhero also loves the appearance of different characters, like Rena Rogue, Carapace, and Cat Blanc. The sweater and the scarf provide the perfect amount of warmth. The wooden frame is one of my daughter's favorites in the box, and it now sits on her bedside table. This subscription is a fun surprise for Miraculous fans and for kids, especially when they're in the mood to be a superhero!
Each box also includes a card with product images and names. Here's a look: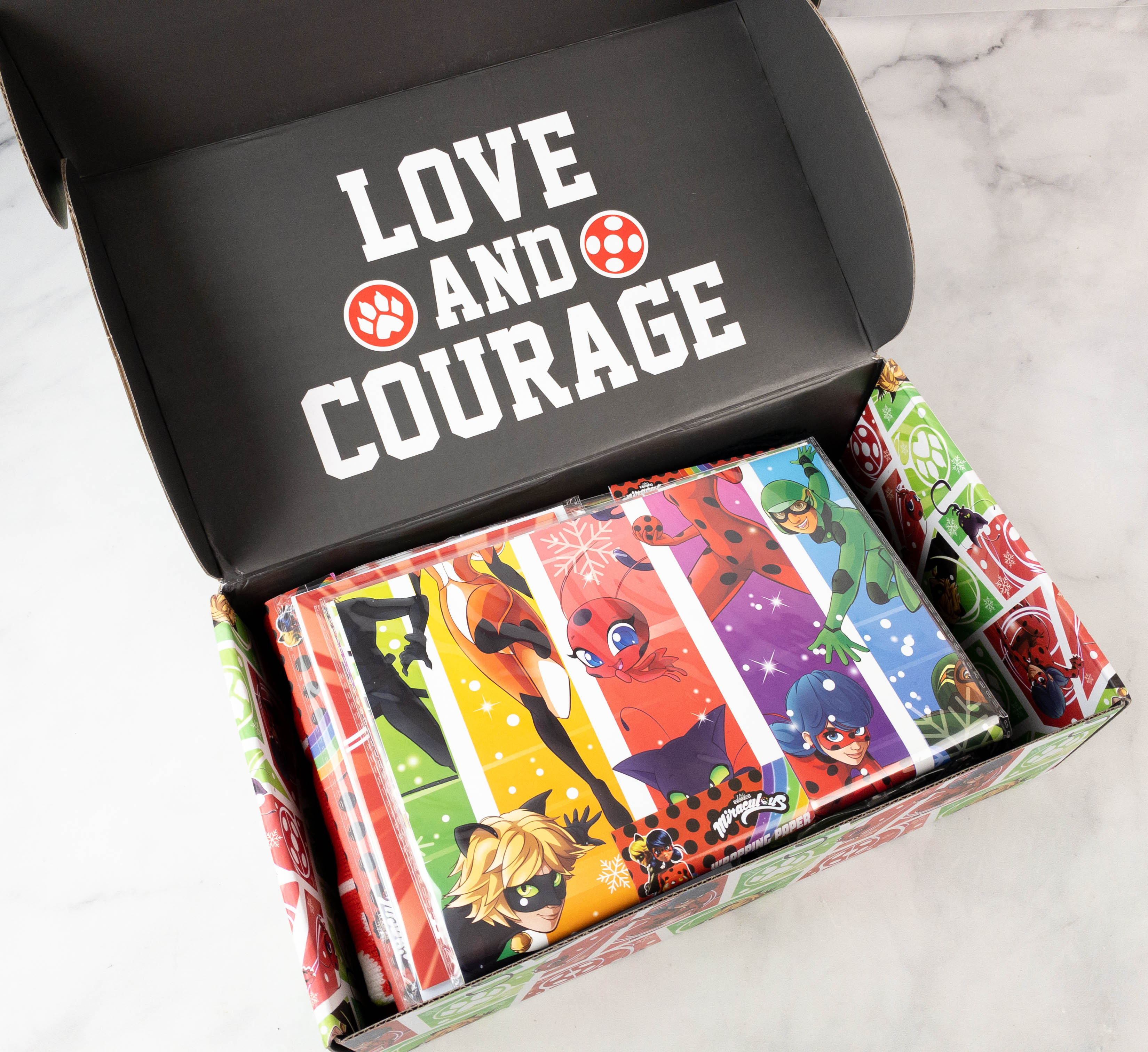 The Miraculous Box by CultureFly is a subscription for Miraculous fans! Miraculous: The Tales of Ladybug and Cat Noir is a French CGI animated television series featuring Parisian teenagers who can transform into superheroes and help protect their city from villains. Each box from this subscription will contain 7-10 Miraculous merch, which may include apparel, accessories, collectibles, stationery, homeware, decor, and more. The subscription is $29.99 per quarter on a quarterly plan, but you can get it at $26.99 if you subscribe to an annual plan. They promise a total retail value of $50 in every box.
Are you getting Miraculous Box?