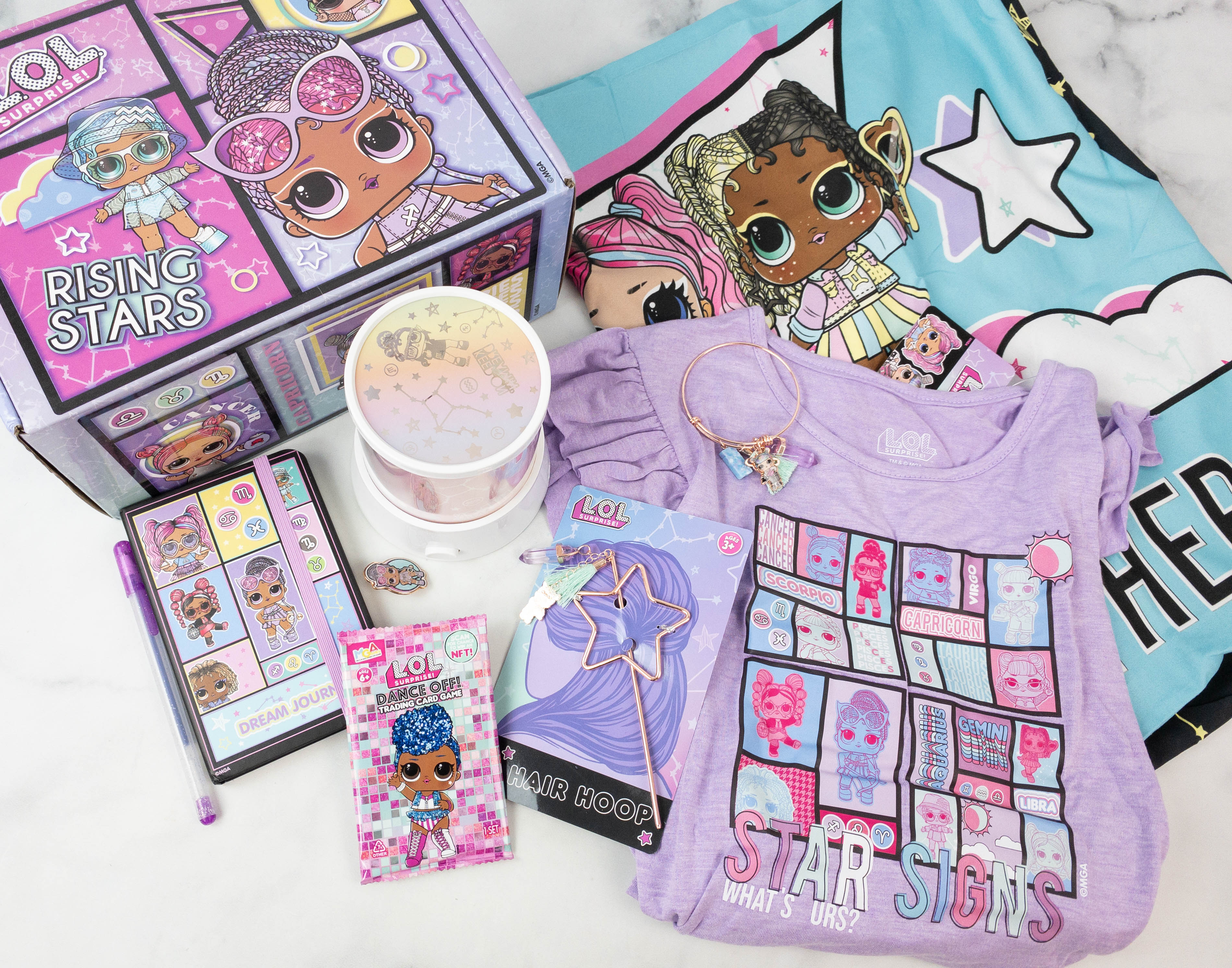 L.O.L. Surprise Box makes the ideal subscription for young girls, especially for L.O.L. fans! The Winter 2021 box is themed RISING STARS, with stellar surprises to make their holidays shine even brighter. This quarter, instead of individually wrapped items, everything came in a big blind bag.
DEAL: Get a FREE ITA bag when you sign up for the L.O.L. Surprise! Box annual plan! Just use this link to get started, no coupon code required!
Dance Off! Trading Card Game. Fans of LOL Suprise will surely enjoy trading their cards! The pack contains eight cards, some of which features LOL Surprise dolls while others are special cards. The cards are fancy and shiny, and my daughter liked them all!
Enamel Pin. There's also a rose gold enamel pin to add to your daughter's growing collection of LOL Surprise! pins. The Sagittarius doll named Star Gazer looks so chic holding a bow and arrow!
Dream Journal and Pen Set. Next up is this lovely journal and pen set! The cover looks so fab, with five of the twelve LOL Surprise star signs babies featured. The pages are of high quality, and they are also lined. Plus, the notebook has an elastic to keep it closed when not in use. It even comes with a glittery purple gel pen, which makes it more exciting for kids to write on the dream journal.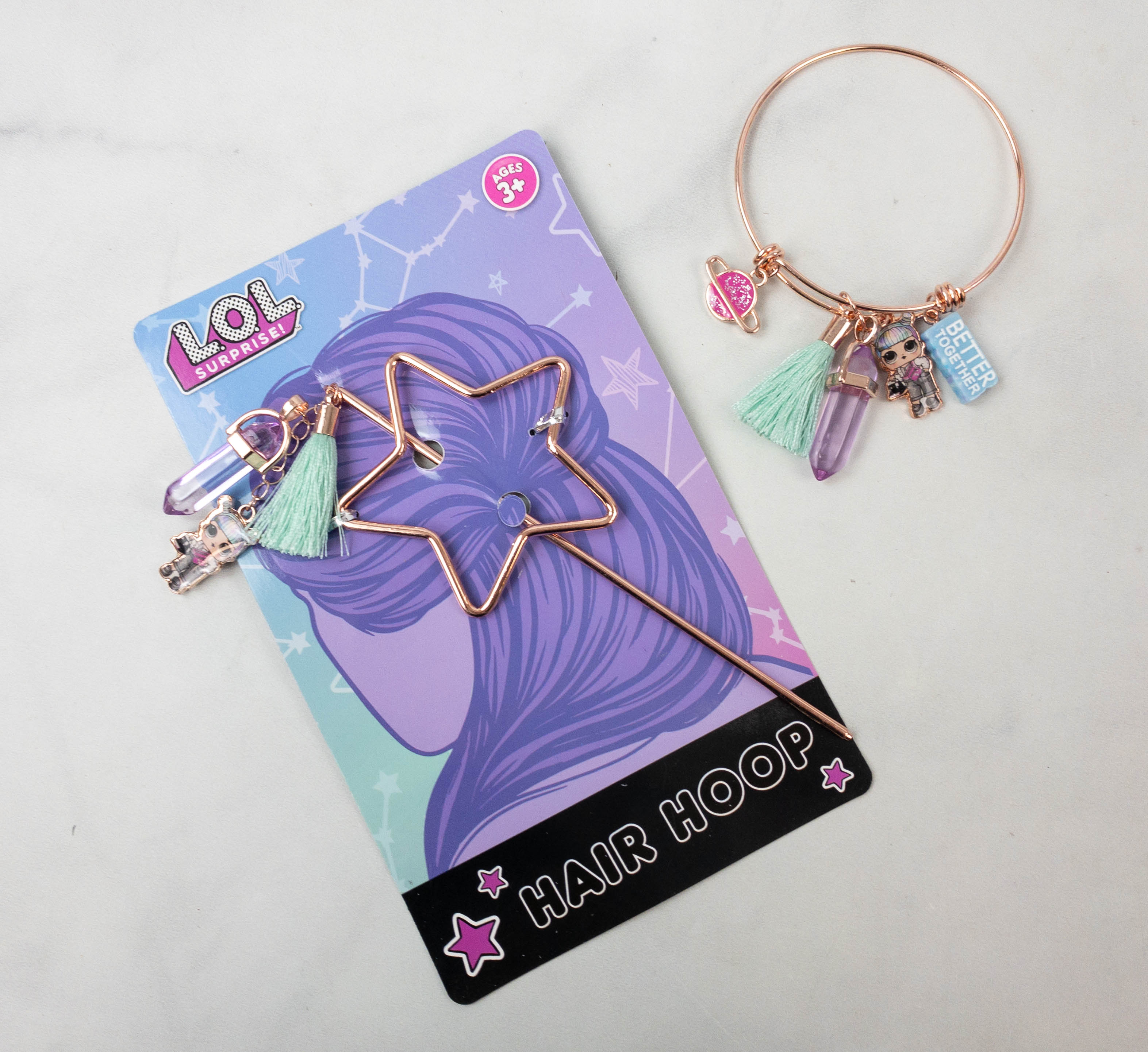 Hair Hoop. Included in this season's box is a star-shaped hair hoop. This hair accessory looks cute and unique. It has a tassel, a cute crystal, and a LOL Surprise doll as a charm.

Bracelet. Another fun addition is a rose gold bracelet! It has the same charms as the hair hoop except for the planet and better together tag charm. In addition, the bracelet can be adjusted to fit any wrist size!
Projector Nightlight. This projector nightlight is perfect to add to any bedside table as it helps enhance a room's aura! It has two buttons, one on each side. One turns on/off a plain white light, while the other is the switch for color-changing lights. Turn on the nightlight and see constellations projected into the walls! It works with three AA batteries, and my daughter loves it very much.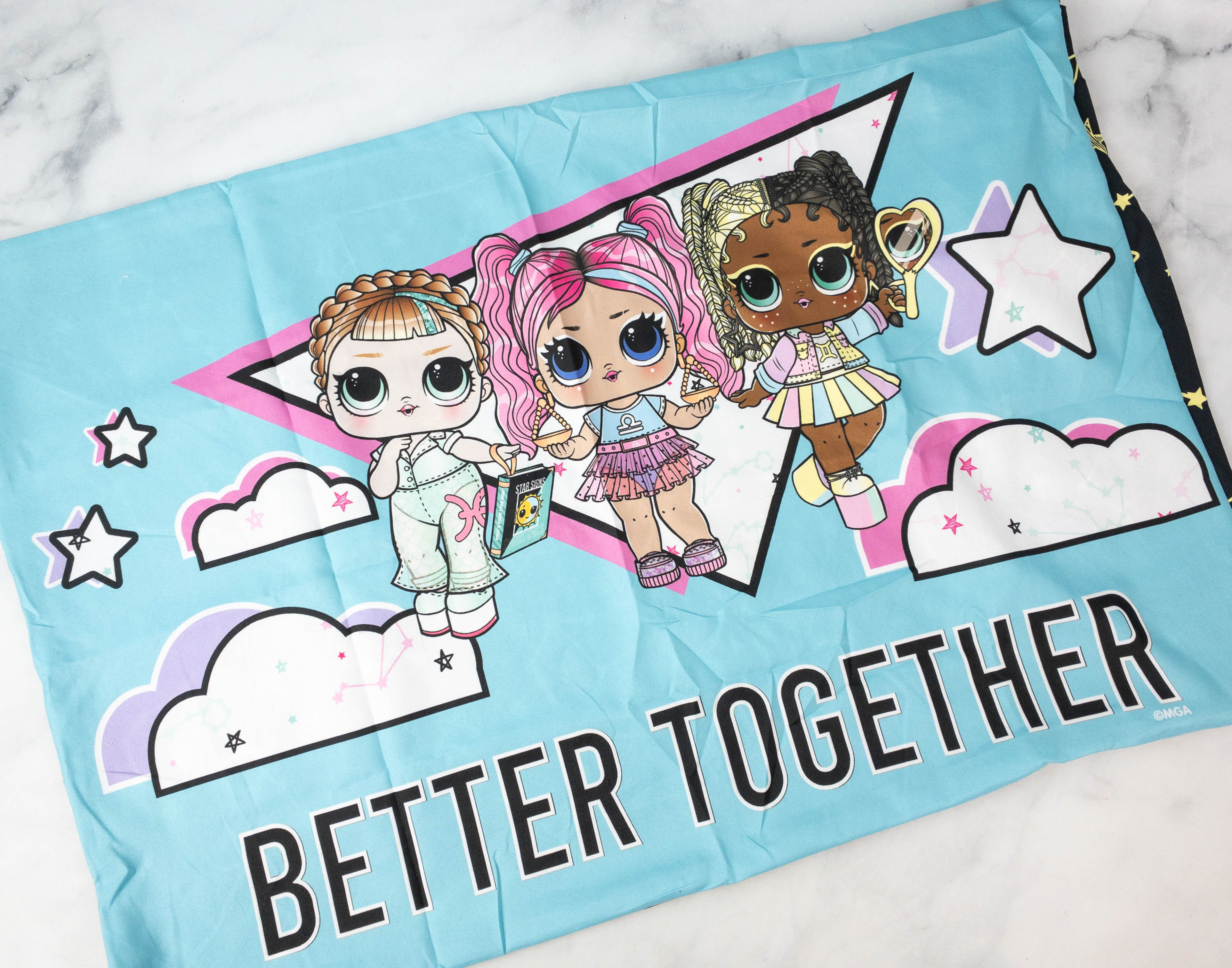 Pillowcase. This cute pillowcase also goes to the bedroom! The colors are lovely, and the front part features three zodiac sign babies: Marine Q.T (Pisces L.O.L.), Unity (Libra L.O.L.), and Flipside (Gemini L.O.L.). The text at the bottom says "better together", just like the charm on the bracelet.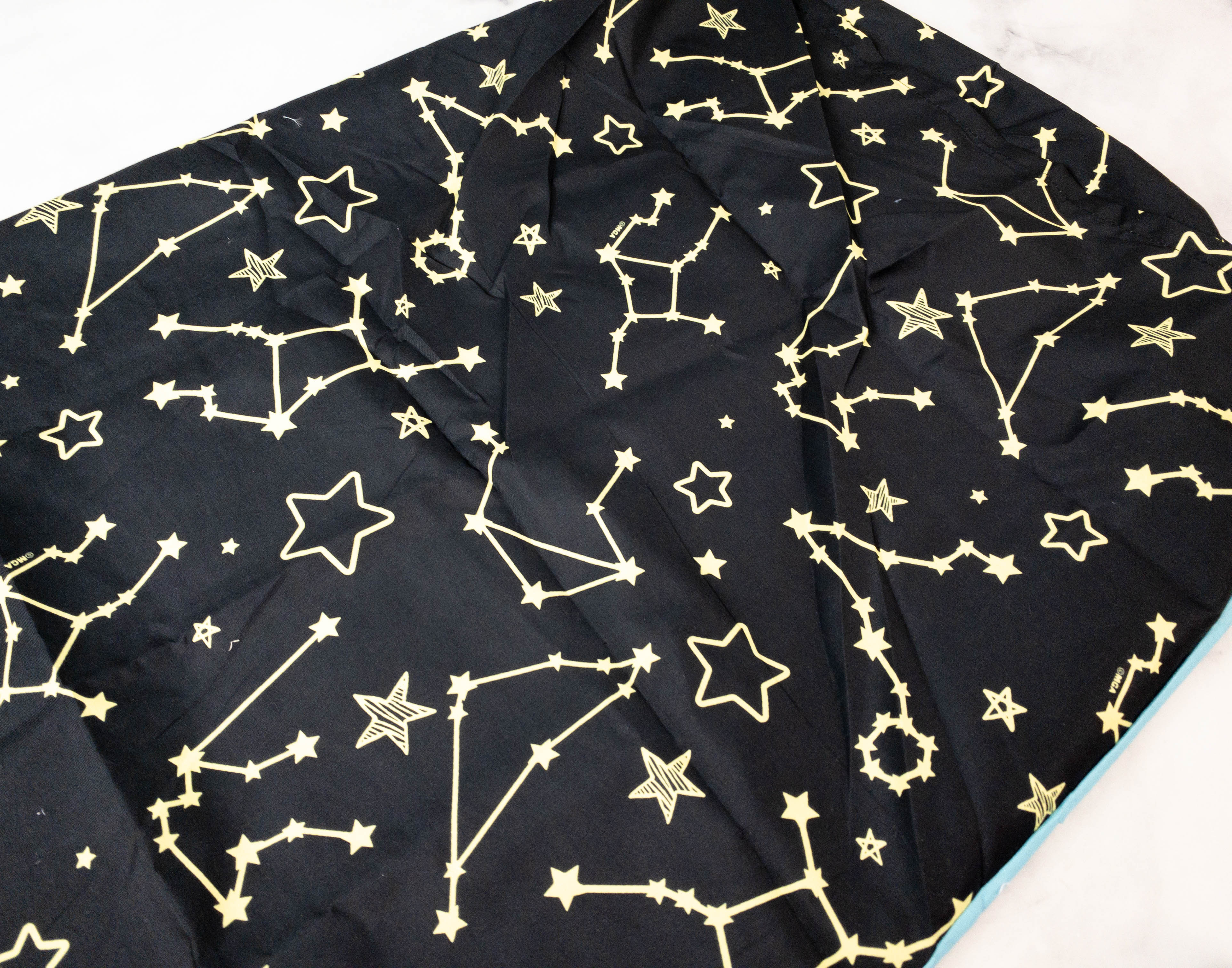 The back part is black and decorated with various constellations and star motifs!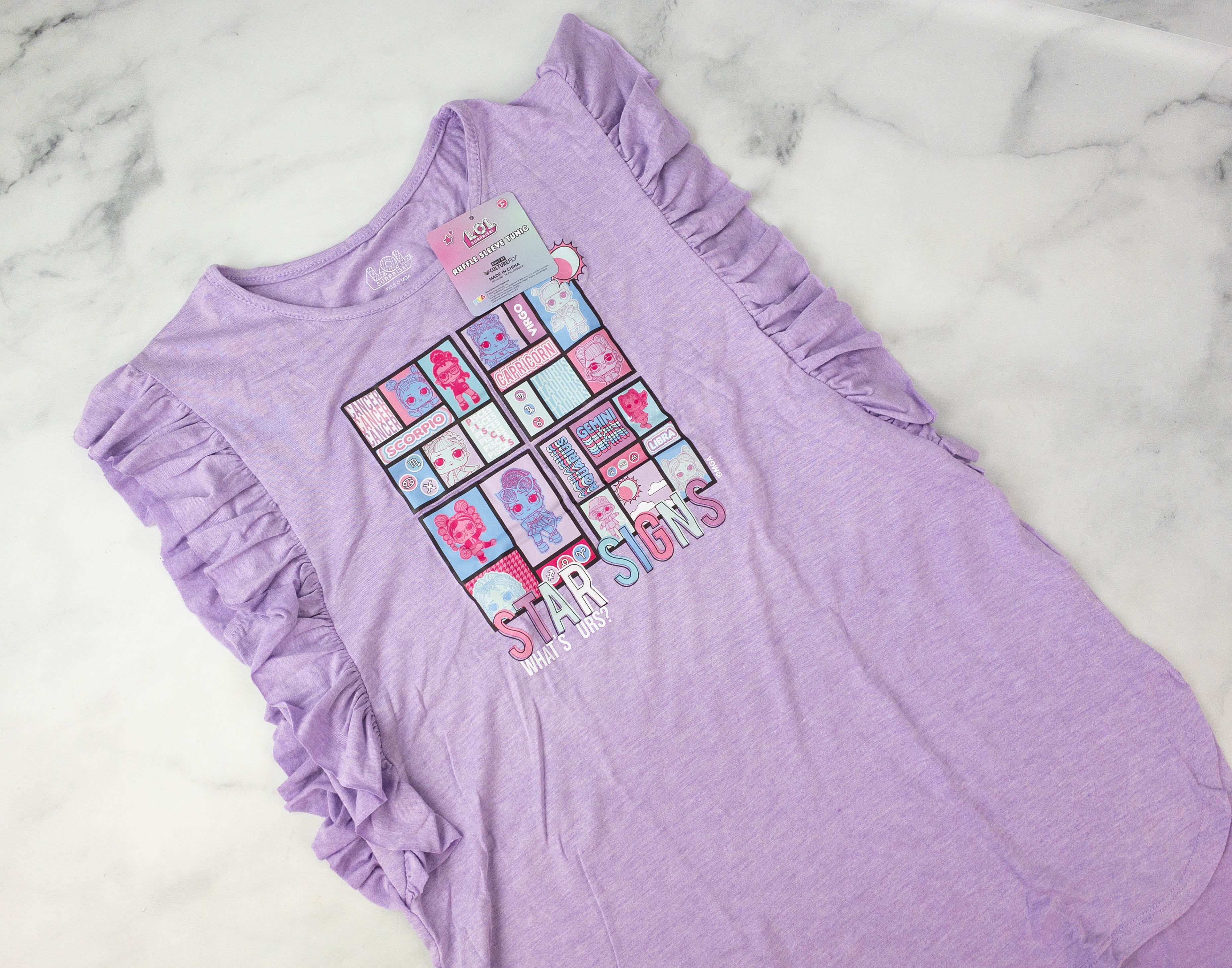 Ruffle Sleeve Tunic. The wearable in the Winter box is a purple tunic! It has ruffle sleeves and it's pretty stretchable as well. The huge print in front features LOL Surprise Star Sign dolls, each representing a certain sign of the zodiac.
The cute LOL merchandise in this box is Rising Star themed and my daughter couldn't be happier!  She loved the zodiac-inspired designs, as well as their adorable LOL doll counterparts. The nightlight and the ruffle sleeve tunic are her favorites from this quarter's box, but the rest of the items are also of great quality. The journal with a pen is also a nice inclusion. Kids can fill it with doodles or even personal notes. Overall, it's another well-curated box with the best LOL merch for young girls!
L.O.L. Surprise Box is a quarterly subscription box for kids and L.O.L. Surprise fans. For $38 per season, each box contains 6 to 8 L.O.L. Surprise goodies for kids to wear, use, and play with. They are all custom-made and exclusive, and you can't get them anywhere else.
Are you getting L.O.L. Surprise Box?