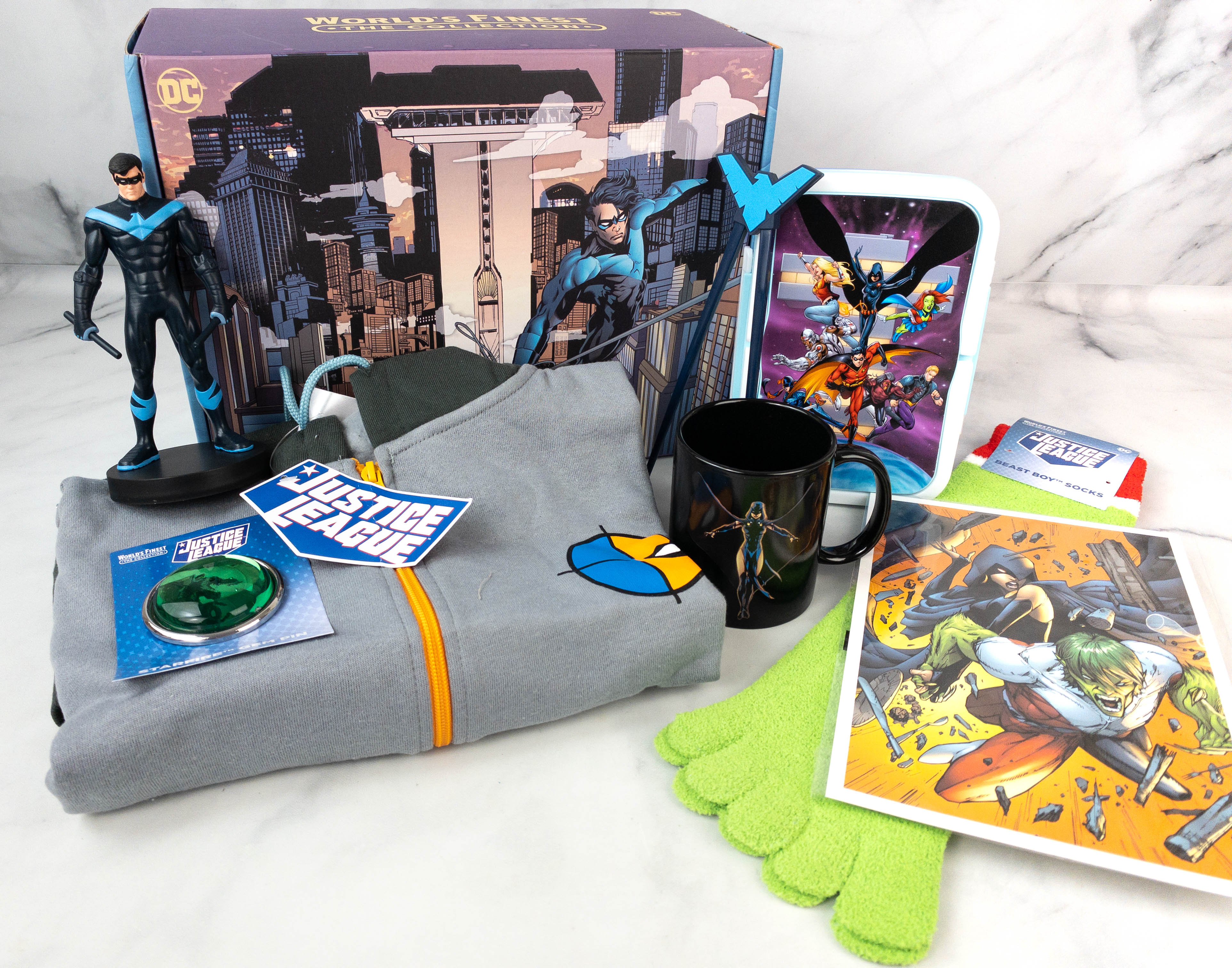 Members of TEEN TITAN were present in the Winter 2021 DC Comics World's Finest: The Collection. Featuring Nightwing, Starfire, Raven, Beast Boy, and Deathstroke, it was another fun-filled box for DC fans!
Raven & Beast Boy Art Print. It's a cool art print featuring Beast Boy with Raven! Just look at them battling the villains, hand in hand! I loved the artwork, and the print is of high quality. This can be framed and hung on a wall.
Starfire Gem Pin. I was shocked seeing this pin! It looks the same as the gem on Starfire's chest. I wasn't expecting it to be this huge when I saw the spoilers, but it is. It's of good quality, but I'm not sure where to put it.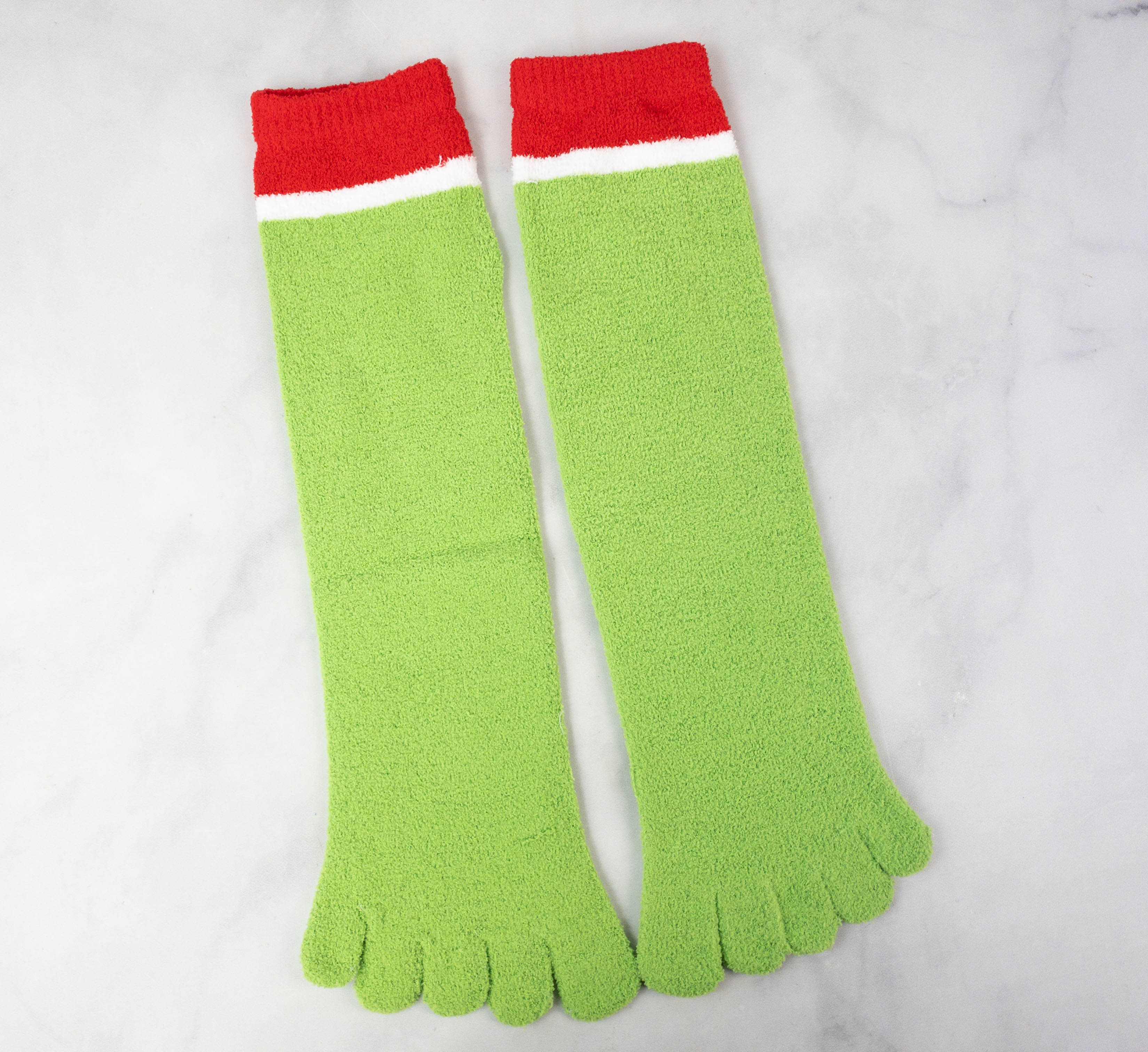 Beast Boy Toe Socks. Next up is a pair of fuzzy green socks. They're Beast Boy-inspired, and they look simple but cool. The socks are also soft and cozy, keeping my feet warm despite the cold weather. If you want to dress like Beast Boy, this will work too!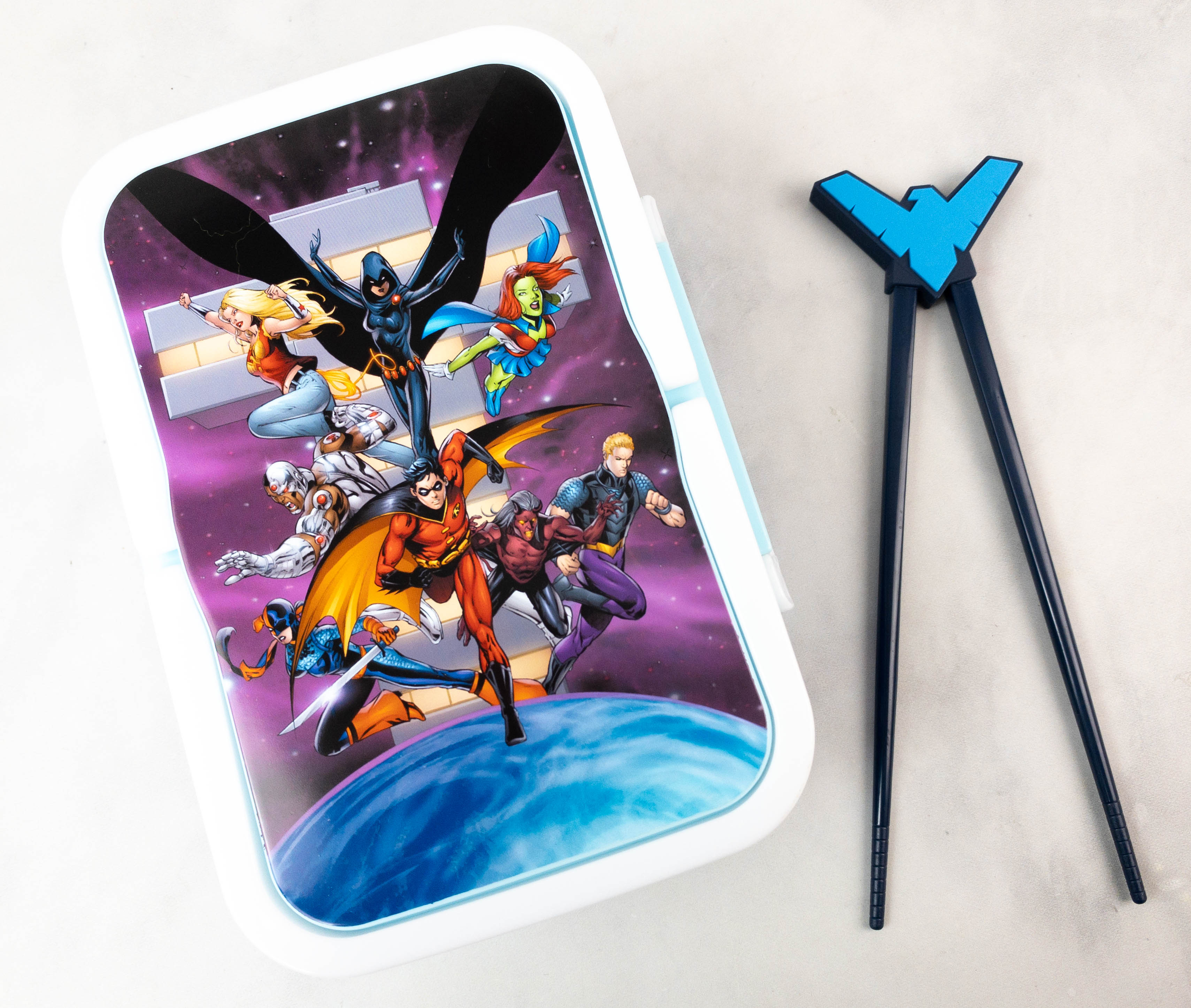 Teen Titans Bento Box. The box also includes a bento box for packing lunch or snacks. It's an airtight, leak-proof lunch box, and the cover features the Titan Tower and the Titans.
Night Wing Chopsticks. To pair with the bento box is a pair of Nightwing Chopsticks! They come with a Nightwing logo rubber topper that can be used for training. It holds the chopsticks and helps you use them with no worries.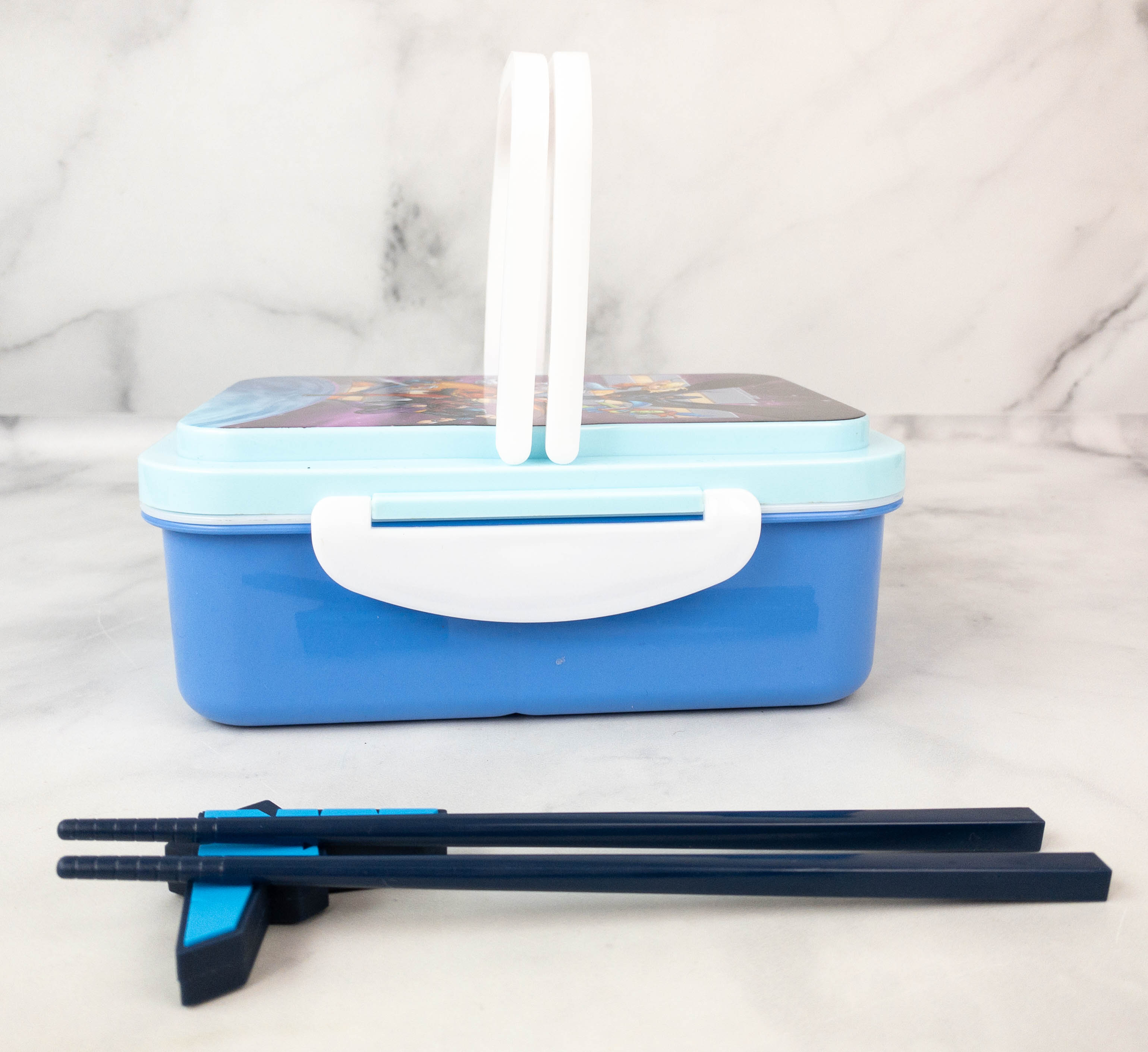 I love the coordinating colors of these two items. Also, the bento box has a flap on both sides that locks it. There's even a handle for easy carrying!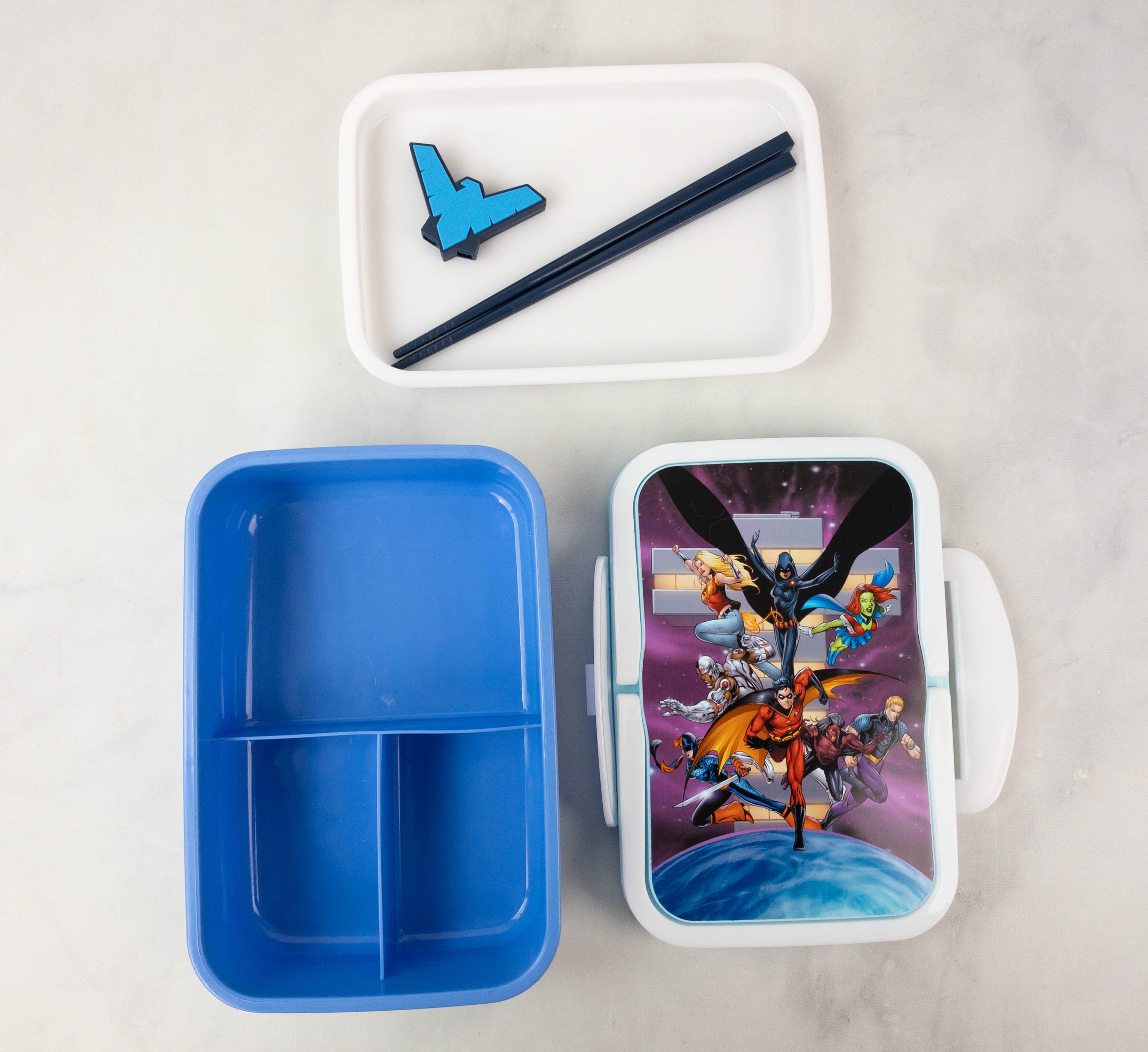 The main box has three compartments to separate courses. And if you know how to use chopsticks, you can utilize the rubber as a chopstick rest.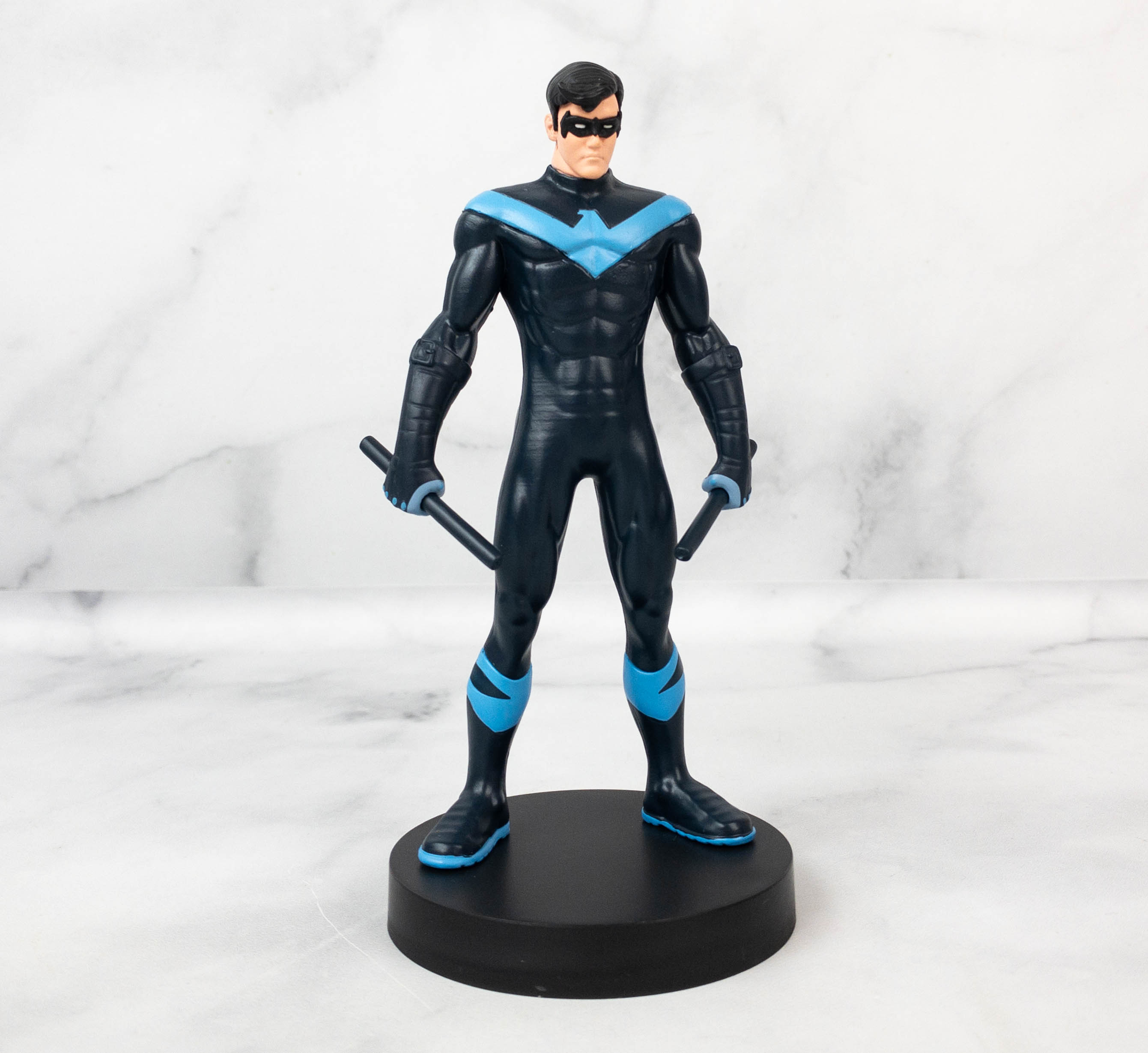 Night Wing Vinyl Figure. Of course, the box wouldn't be complete without a vinyl figure. This season's box features Nightwing standing tall holding one Escrima stick in each hand! For those who are not familiar, Robin decided on a new persona and became Nightwing after his relationship with Batman grew strained.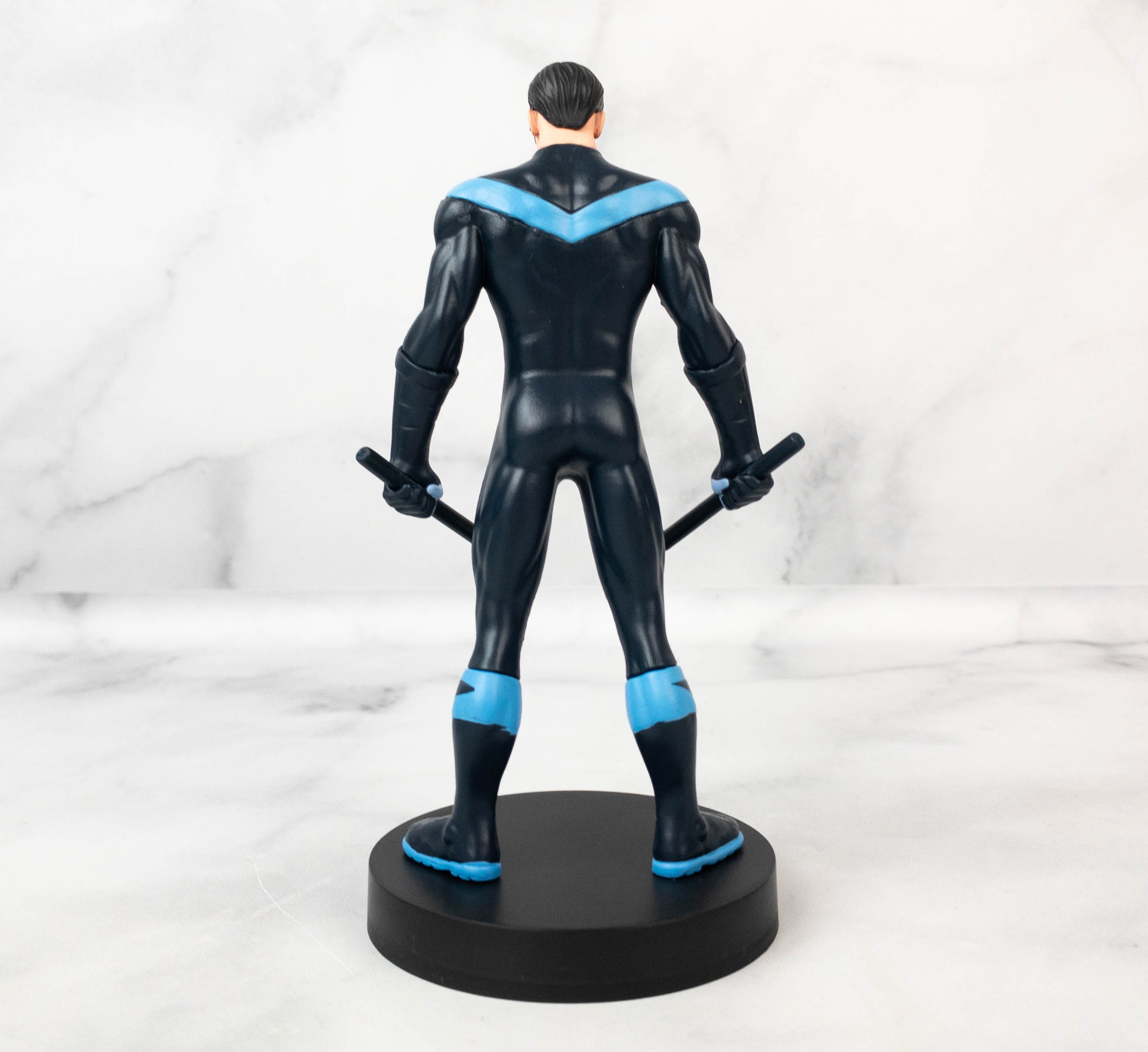 The details are excellent. This vinyl figure also came with a base for display.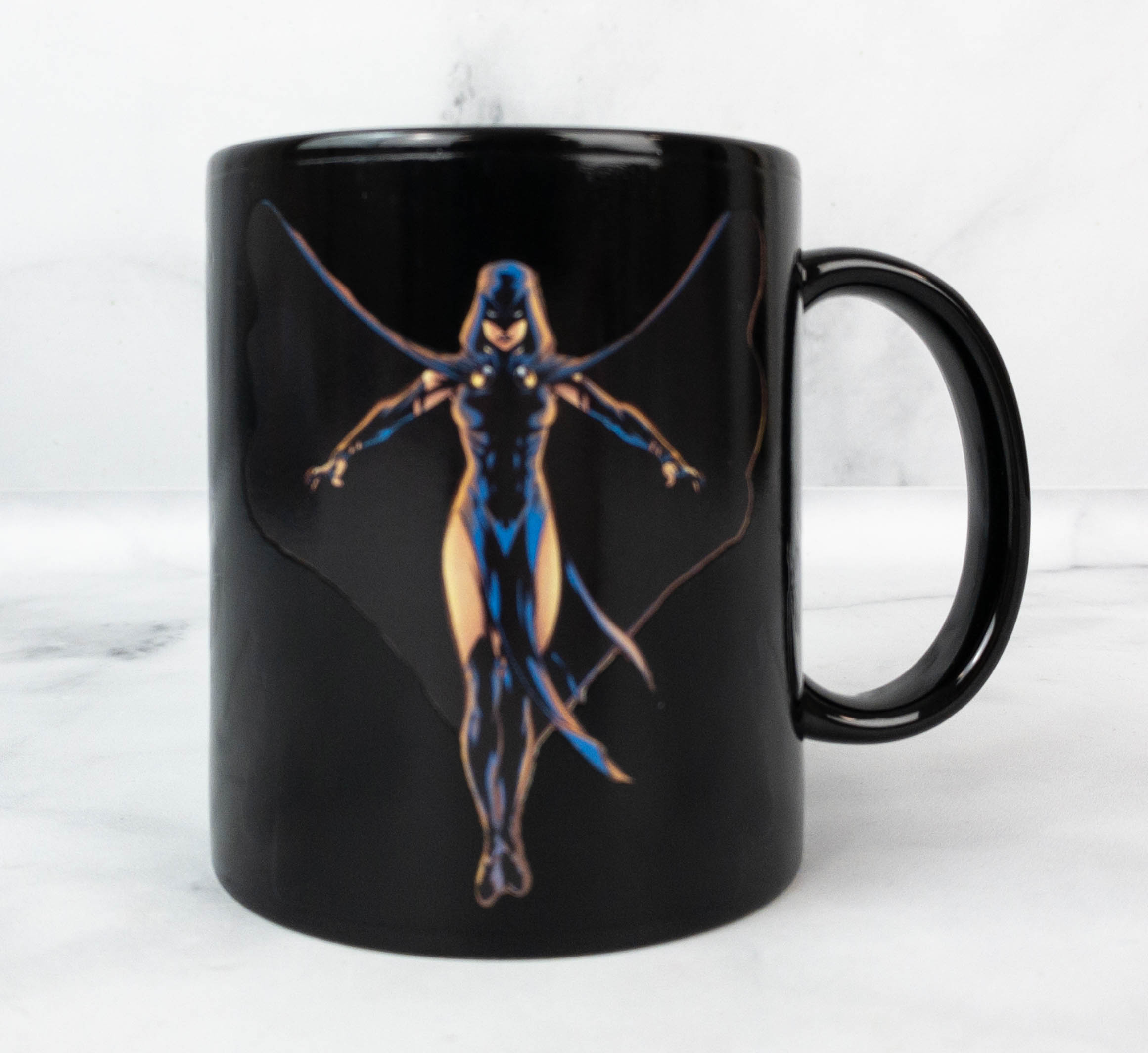 Raven Color Changing Mug. The next item in the box is a heat reactive mug, and this time, it features Raven! Initially, it looks like this. It's in black, and when you pour any hot beverage, the mug reacts!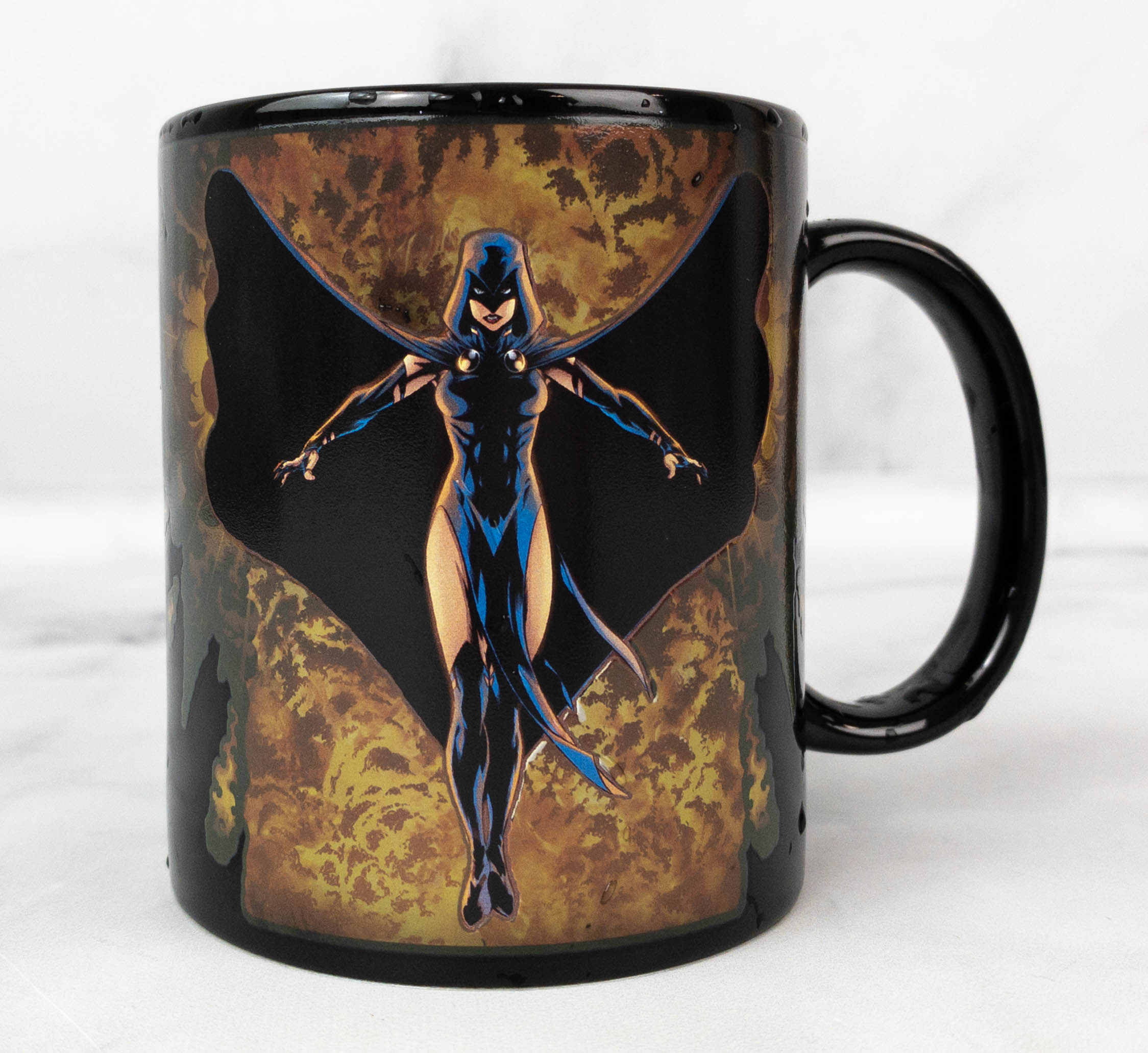 The only downside is that the heat-reactive material is quite visible. Nevertheless, this mug is still nice. Raven looks so cool and chic with the explosion effect!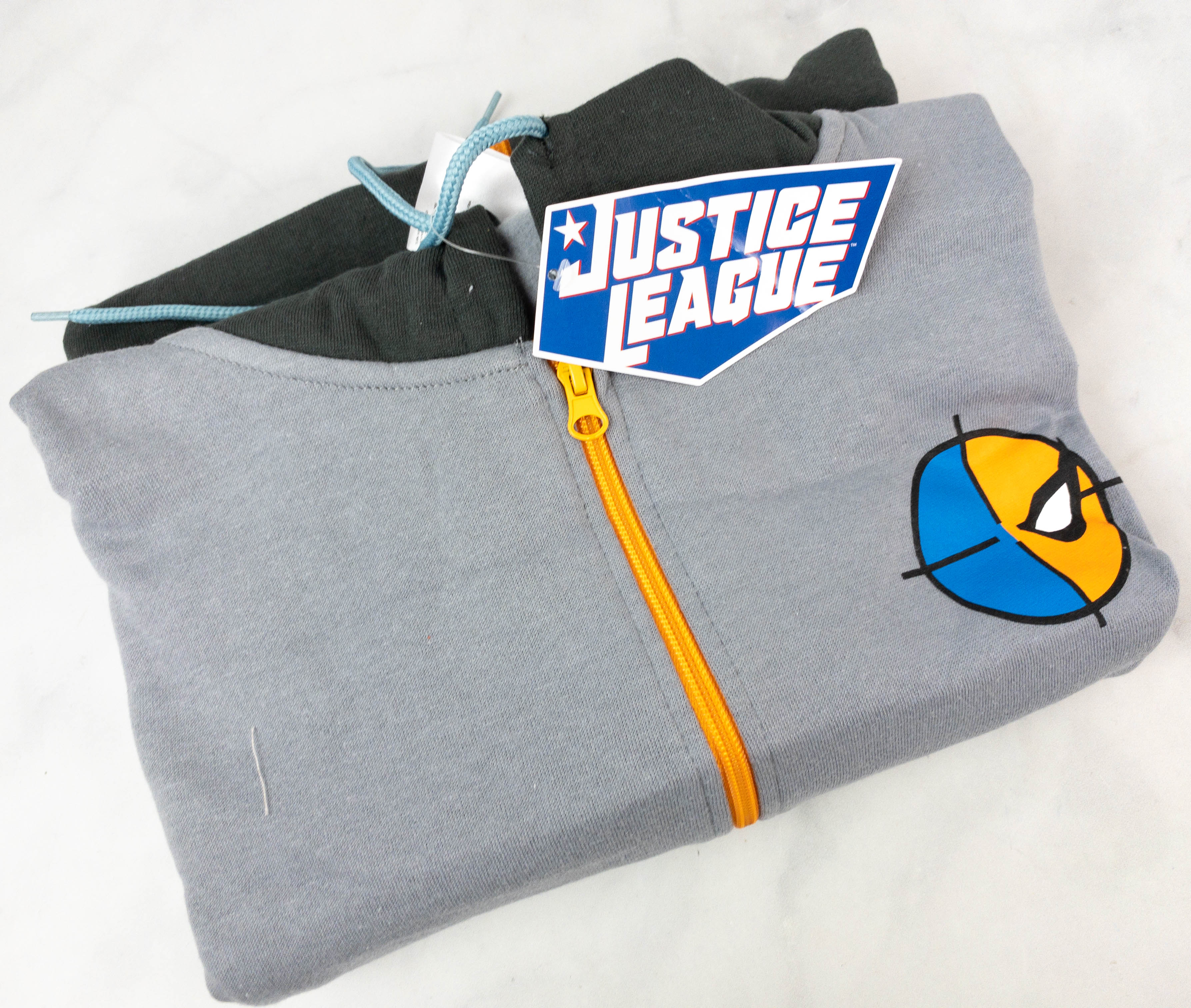 Deathstroke Hoodie. The last item from the winter box is a hoodie, and it's Deathstroke-themed!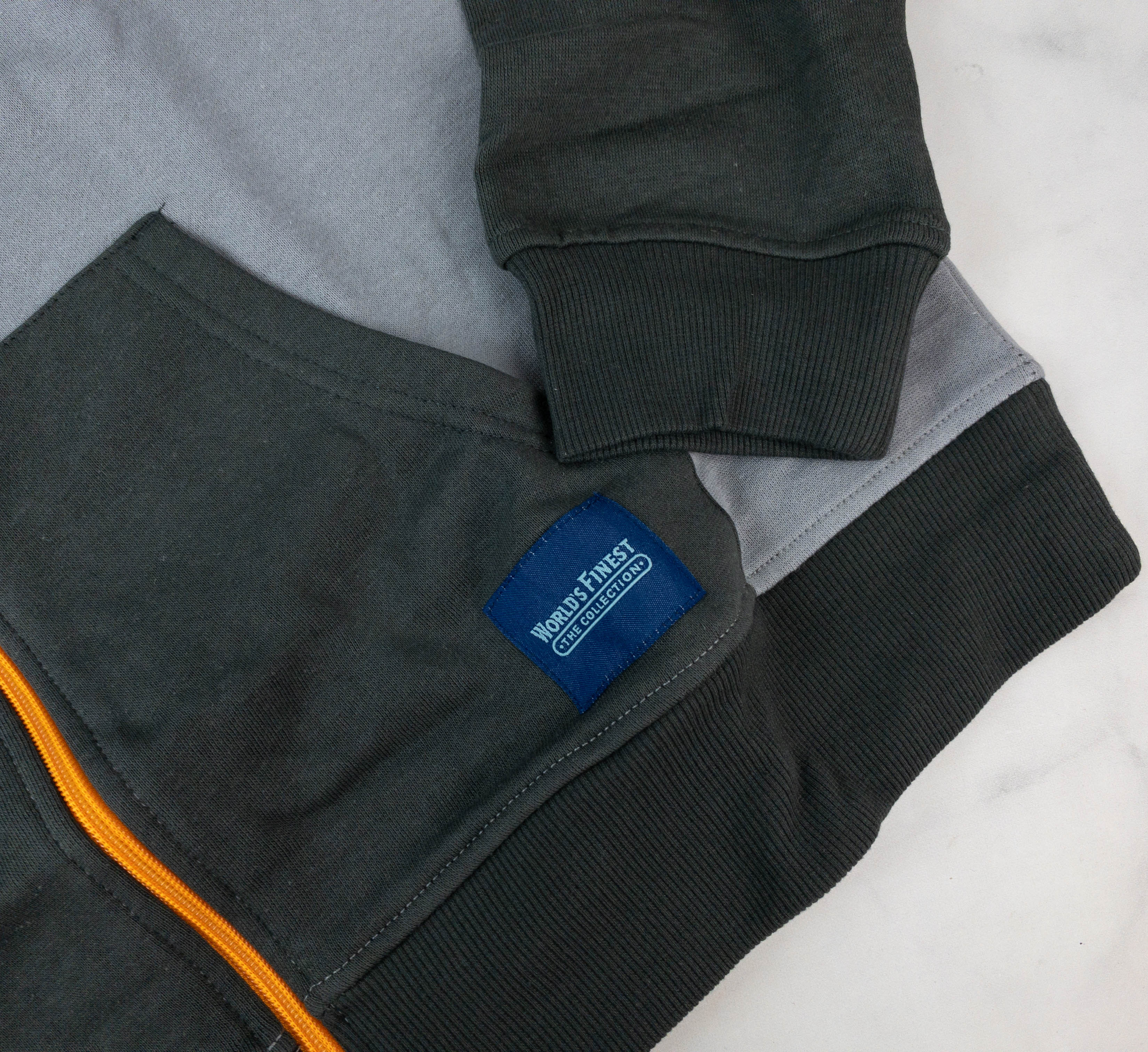 The branding is sewn on the bottom part of the hoodie, just above the hem.
It's so soft and comfy! I also like the gray base color of this hoodie. The sleeves, hem, hood, and front pockets are in a darker shade of gray. On the left chest part is Deathstroke's logo.
The back also features Deathstroke, looking ready for battle with his name down under.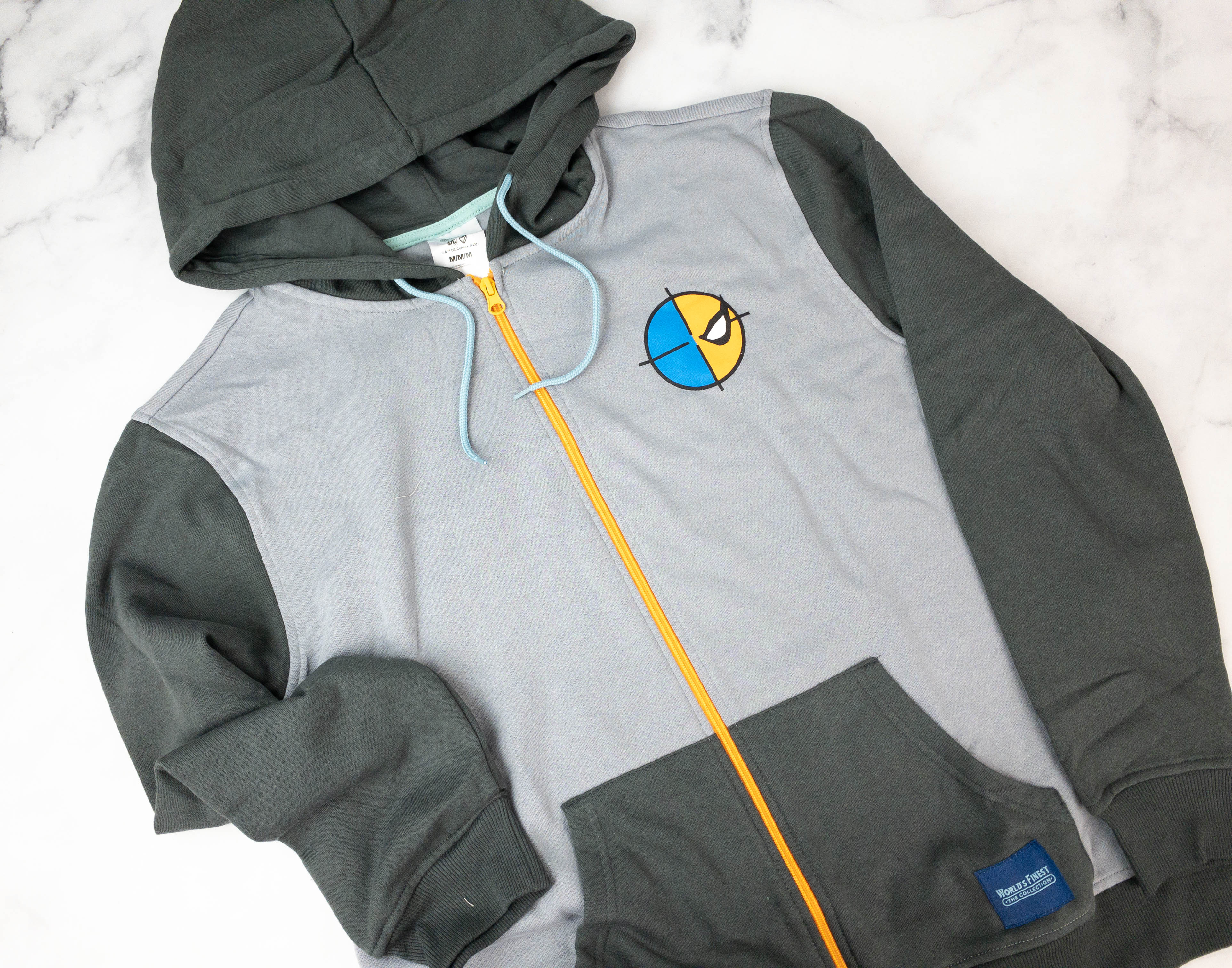 Touches of orange made the hoodie look even cooler!
The Winter 2021 box is brimming with exclusive Teen Titan merch for collectors and fans. Some of them are great for display like the vinyl figure, while there are also items for everyday use like the bento box, chopsticks, and mug. There's even an awesome hoodie to wear whenever you're feeling cold. The socks and the gem pin are fun inclusions as well. This subscription never fails to keep me excited every season with all the themed merch. My inner DC enthusiast is always satisfied!
Seasonal boxes also include a card that lists the items inside the box. See it here: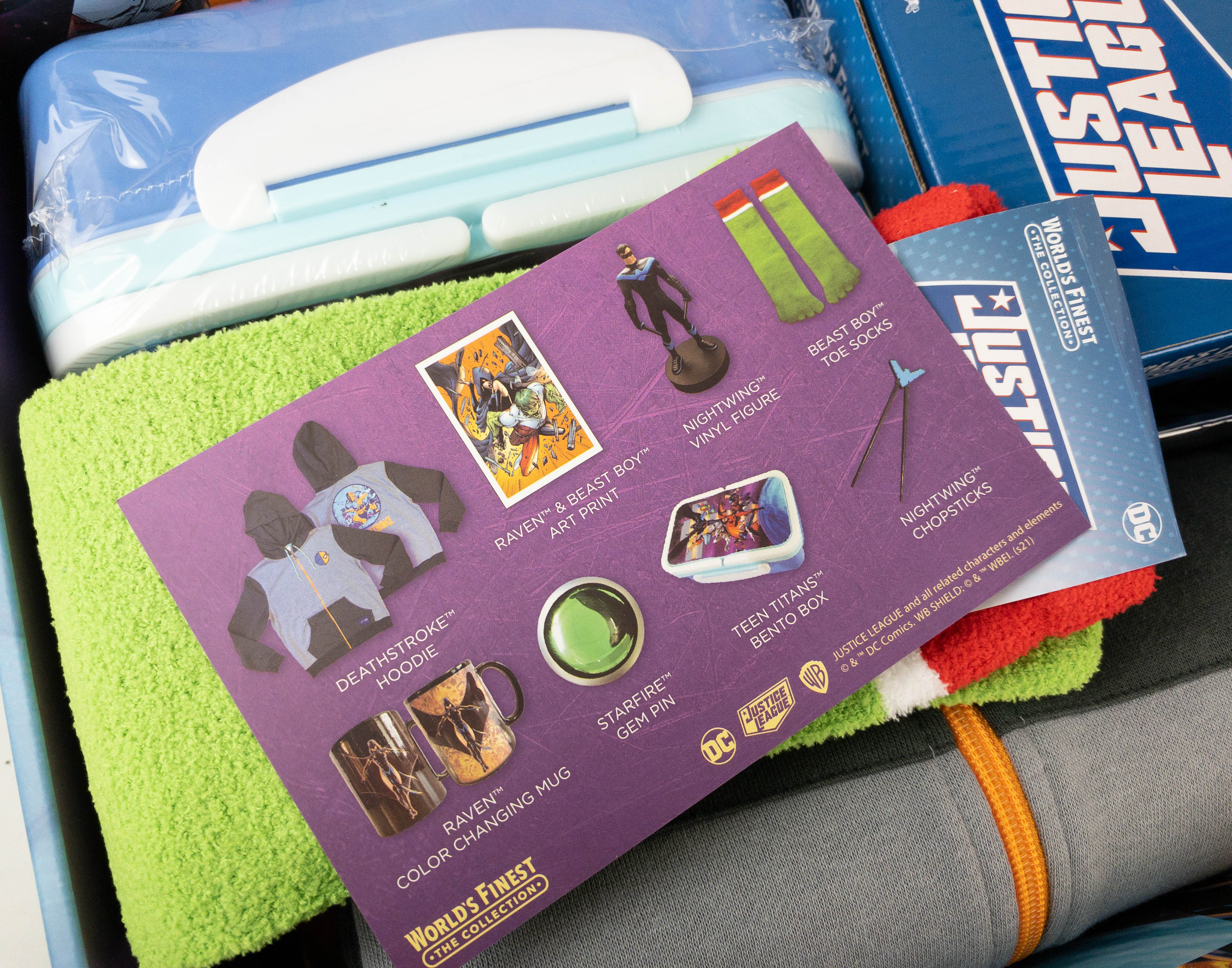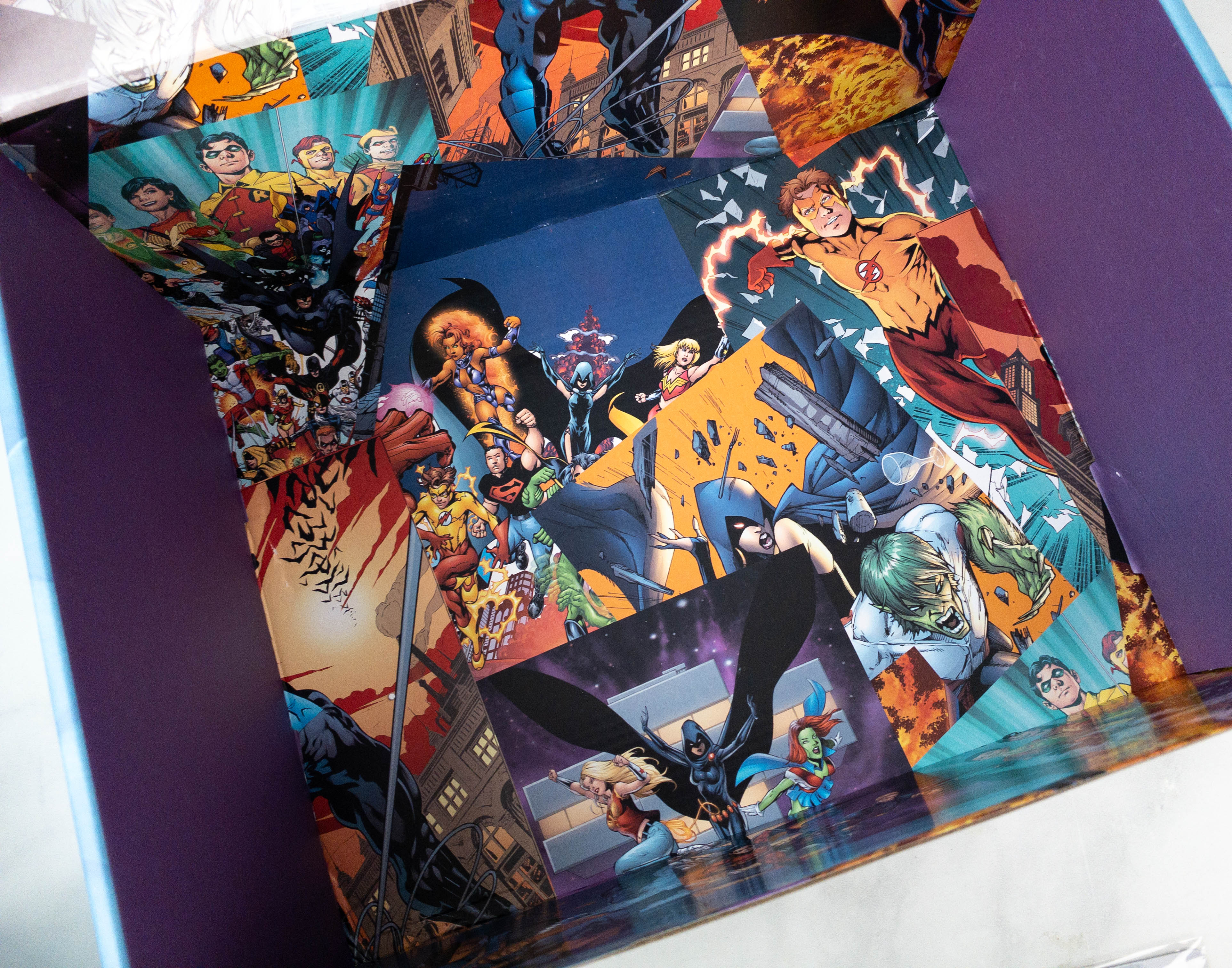 DC Comics World's Finest: The Collection is a subscription box that delivers 8-10 100% exclusive DC Comics items every quarter, including apparel, accessories, homewares, and a unique vinyl figure. The subscription costs $48.99 per season + shipping with a retail value of over $120.
What did you think of this quarter's box?
Visit World's Finest: The Collection to subscribe or find out more!