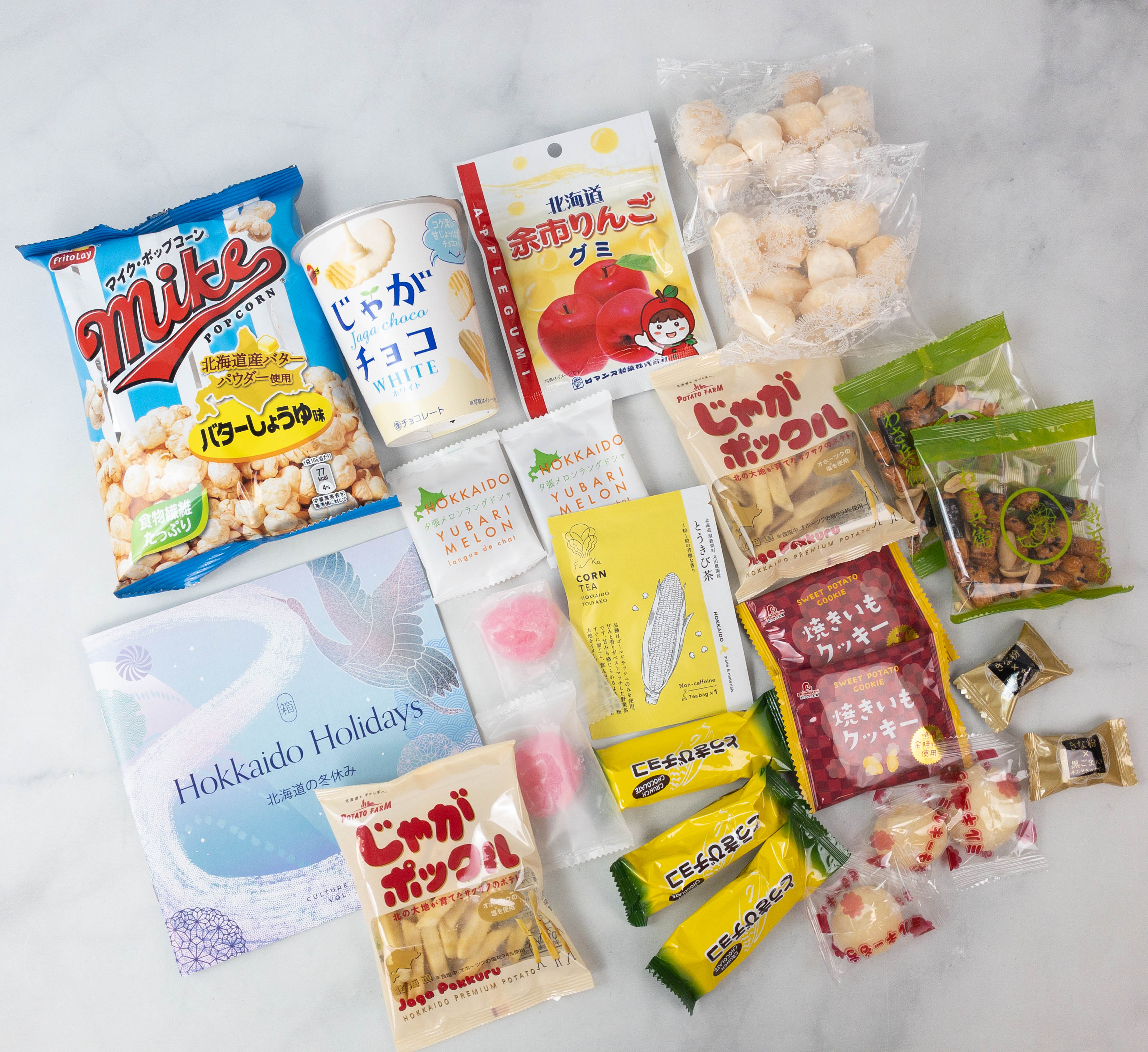 A box full of authentic Japanese snacks is one of the best treats for snack lovers and Japan fans. Bokksu December 2021 box is themed Hokkaido Holidays, which focuses on what Japan's Northernmost Island has to offer! Ready your taste buds for a delicious adventure that will bring coziness to the cold weather. We received the Classic Bokksu box to review!
DEAL: Save $5 on your first box with coupon code HELLO.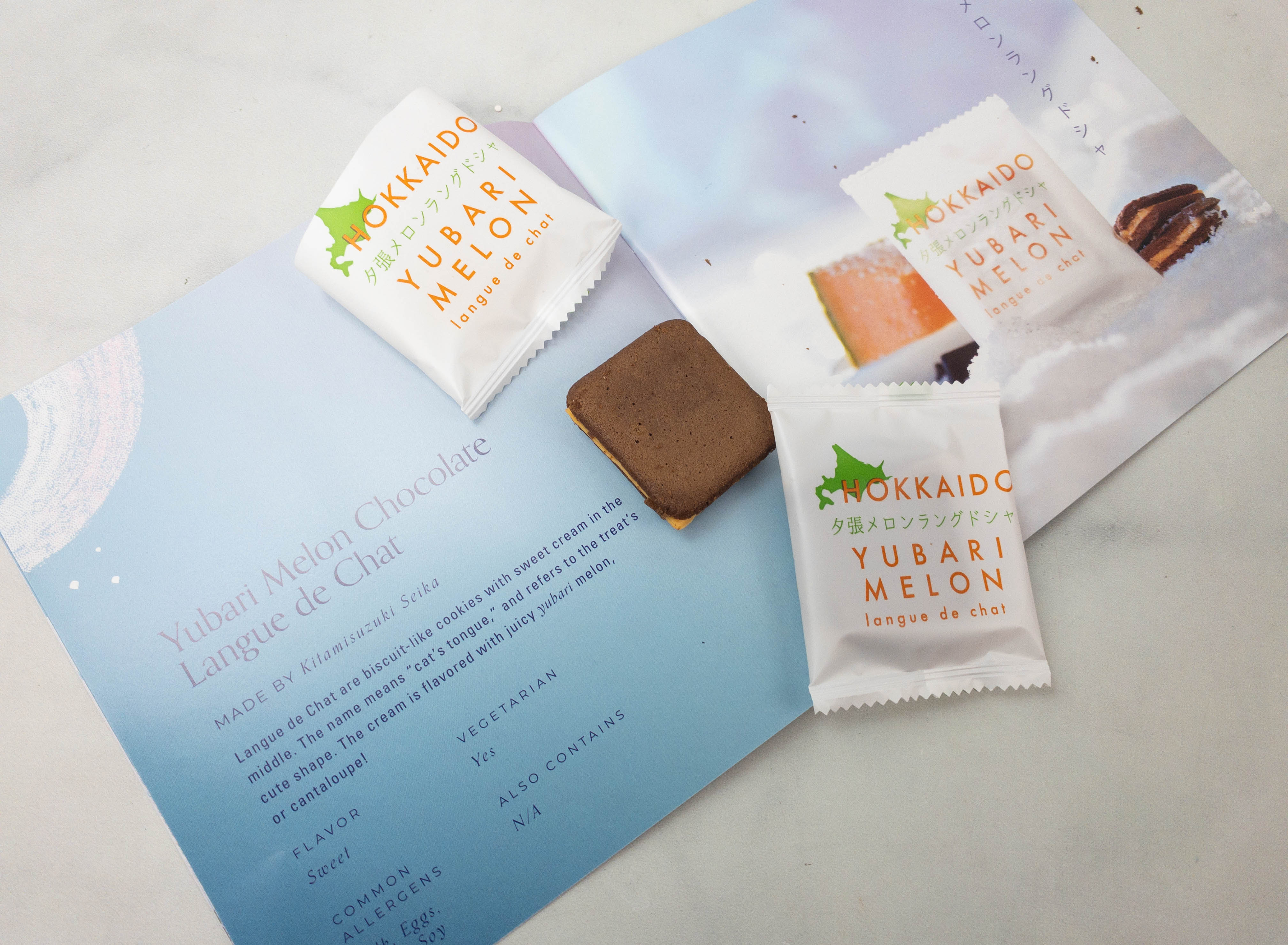 We're starting on a sweet note with these biscuit-like cookies named Yubari Melon Chocolate Langue de Chat ($5)! The Yubari melon is a top-grade melon that originated in Yubari, Hokkaido, Japan (thus, the name). The delicious cream is made with juicy Yubari melons, then sandwiched between two chocolate biscuits. Plus, it's crunchy when you bite on it! The chocolate flavor is not overpowering, which makes this treat a tasty blend of cantaloupe and chocolate!
Another tasty delight in this month's box is this White Peach Kibi Dango Mochi ($1.78). Just like the regular mochi, this is so soft and chewy. The sweet, ripe peachy flavor bursts in the mouth at first bite! It's light and delicious, making it ideal for on-the-go snacking.
Fujiya Milky Mochi ($2.25) is another chewy treat from Bokksu! This particular snack is made in collaboration with Fujiya Milky, a popular candy brand in Japan. It also has a chewy texture and a sweet, creamy filling in the middle. Condensed milk from Hokkaido is used to make the milk paste filling. Then, the paste is covered in marshmallows for a soft, comforting bite.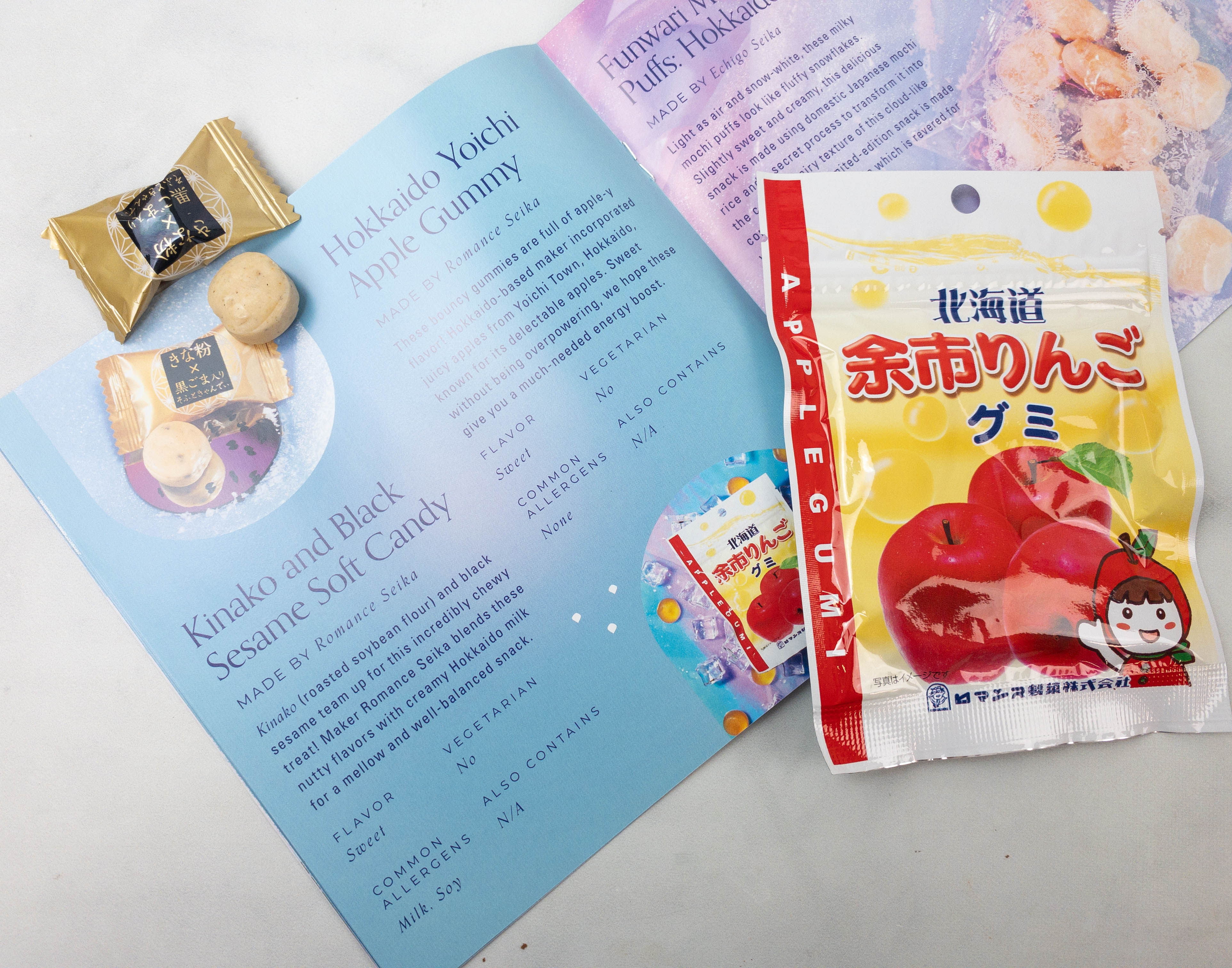 The box has yummy Japanese candies as well! Kinako and Black Sesame Soft Candy ($0.40) has a chewy, caramel-like feel. If you love the nutty black sesame flavor, this is a strong nod to your palate. Although small, it's very rich in flavor. This soft candy is made with a combination of Kinako (roasted soybean flour), black sesame, and Hokkaido milk.
There's also the Hokkaido Yoichi Apple Gummy ($40), oozing with a strong apple flavor. It's a chewy candy made with juicy apples from Yoichi Town, Hokkaido and it's refreshing without the overpowering sweetness that other apple candies have!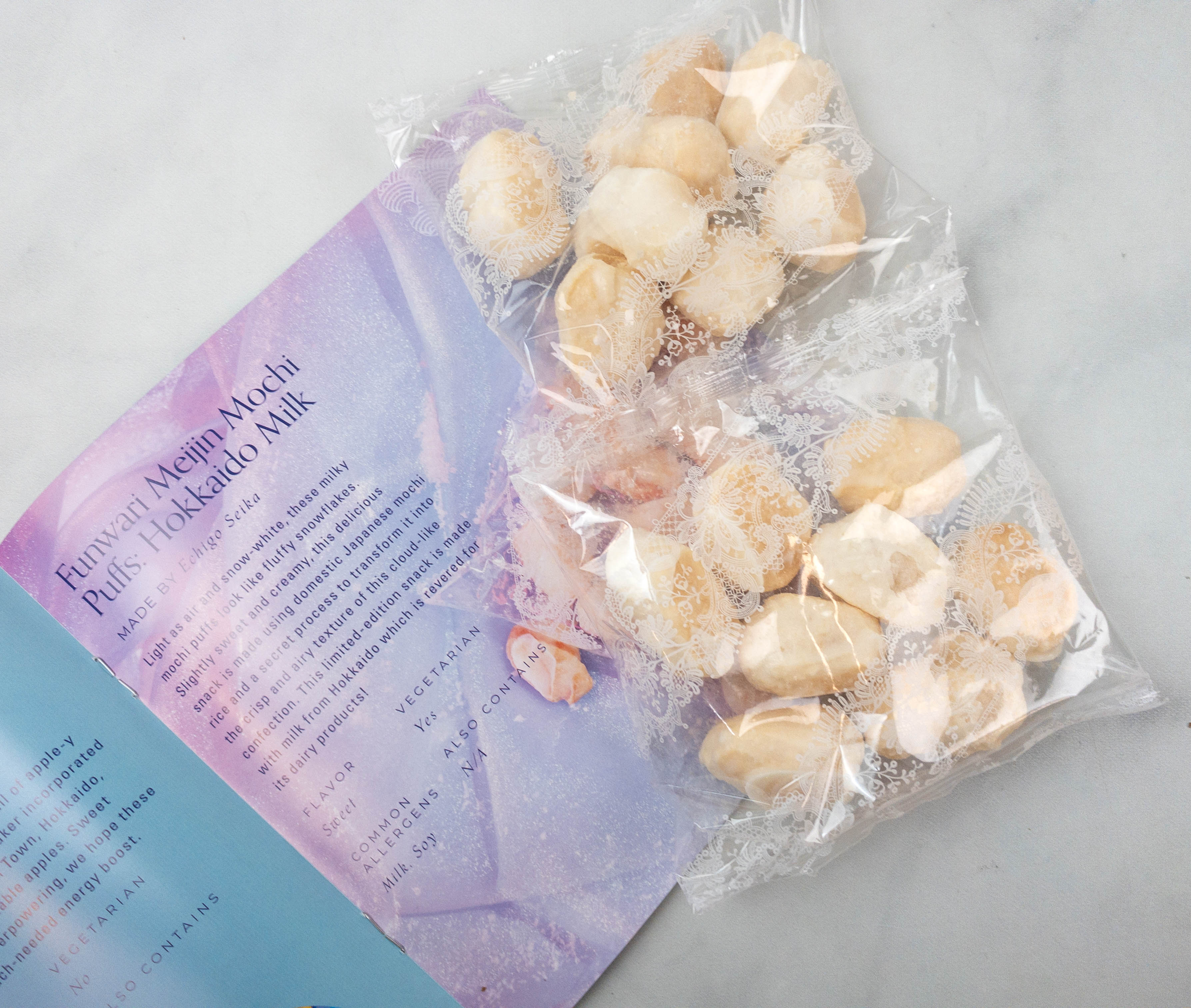 Funwari Meijin Mochi Puffs: Hokkaido Milk ($24) has a similar soft, light, and cloud-like texture to marshmallows or cotton candy. The smooth, sweet, creamy flavor melts in the mouth. They're addicting in a way, and I would definitely go for more!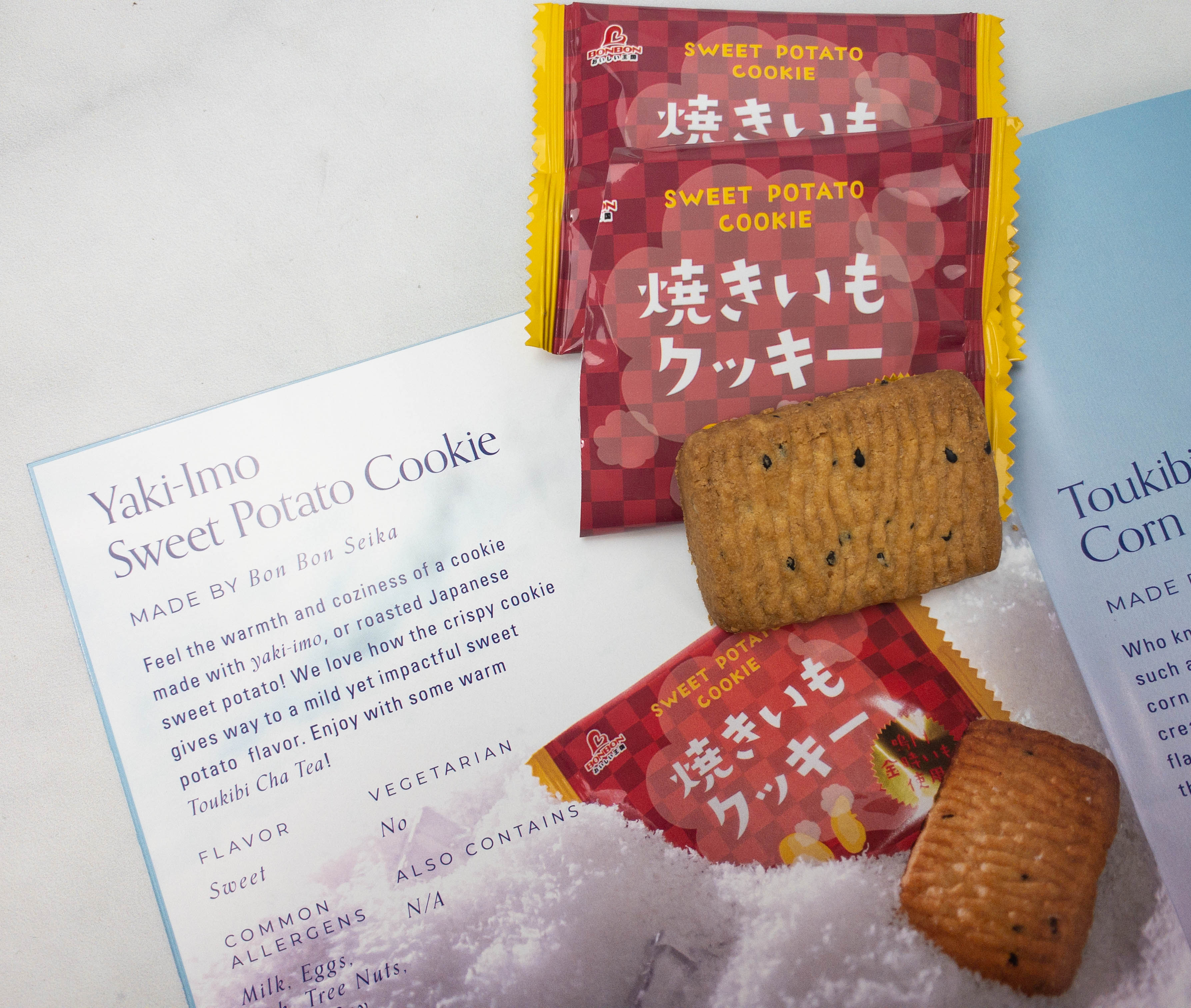 Yaki-Imo Sweet Potato Cookie ($4) has a neutral flavor profile and is ideal to be served with tea! Although it's a bit plain, and I can't taste the sweet potato flavor, I like the addition of what appears to be black sesame. It adds more texture and flavor, and it has that crunch and a hint of sweetness!
If you love corn and chocolate, Toukibi Corn Chocolate ($6) is for you! It has the appearance of a rice crispy bar with a strong corn taste and a touch of chocolate. It's not as bad or as odd as I imagined it to be!
Mike Popcorn: Butter Soy Sauce Flavor ($2) is an automatic hit for popcorn lovers like us! It has a Hokkaido butter soy sauce flavor, which is rich and savory. If you want something different from your usual buttered popcorn, this is it.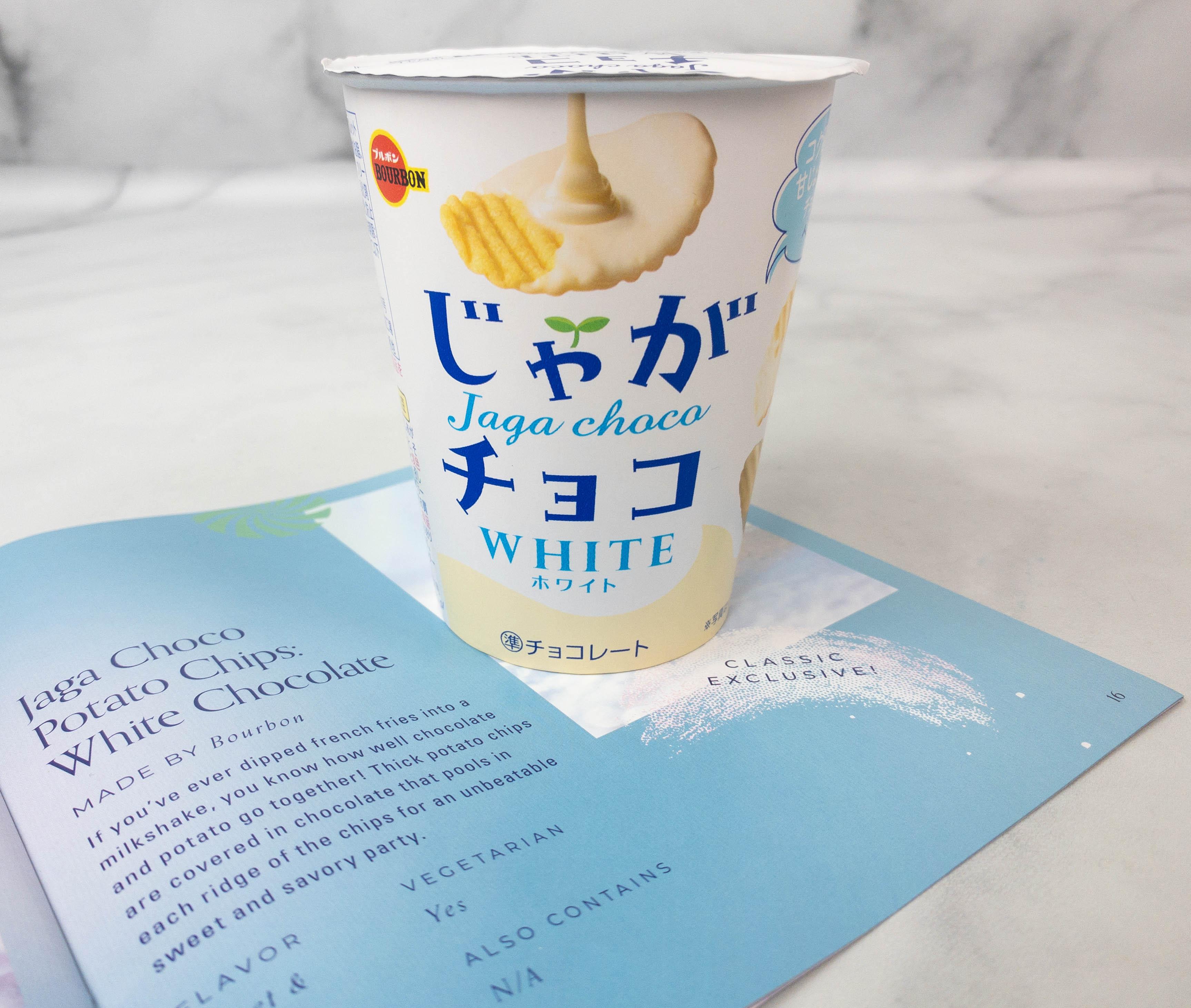 Seafood ramen from Japan? Nope! It's Jaga Choco Potato Chips: White Chocolate ($3.50) – potato chips covered in white chocolate! The flavor is kind of light to the taste, but it's so good. The combination of sweetness and saltiness delighted my tastebuds! It's like dipping French fries to a vanilla sundae or milkshake.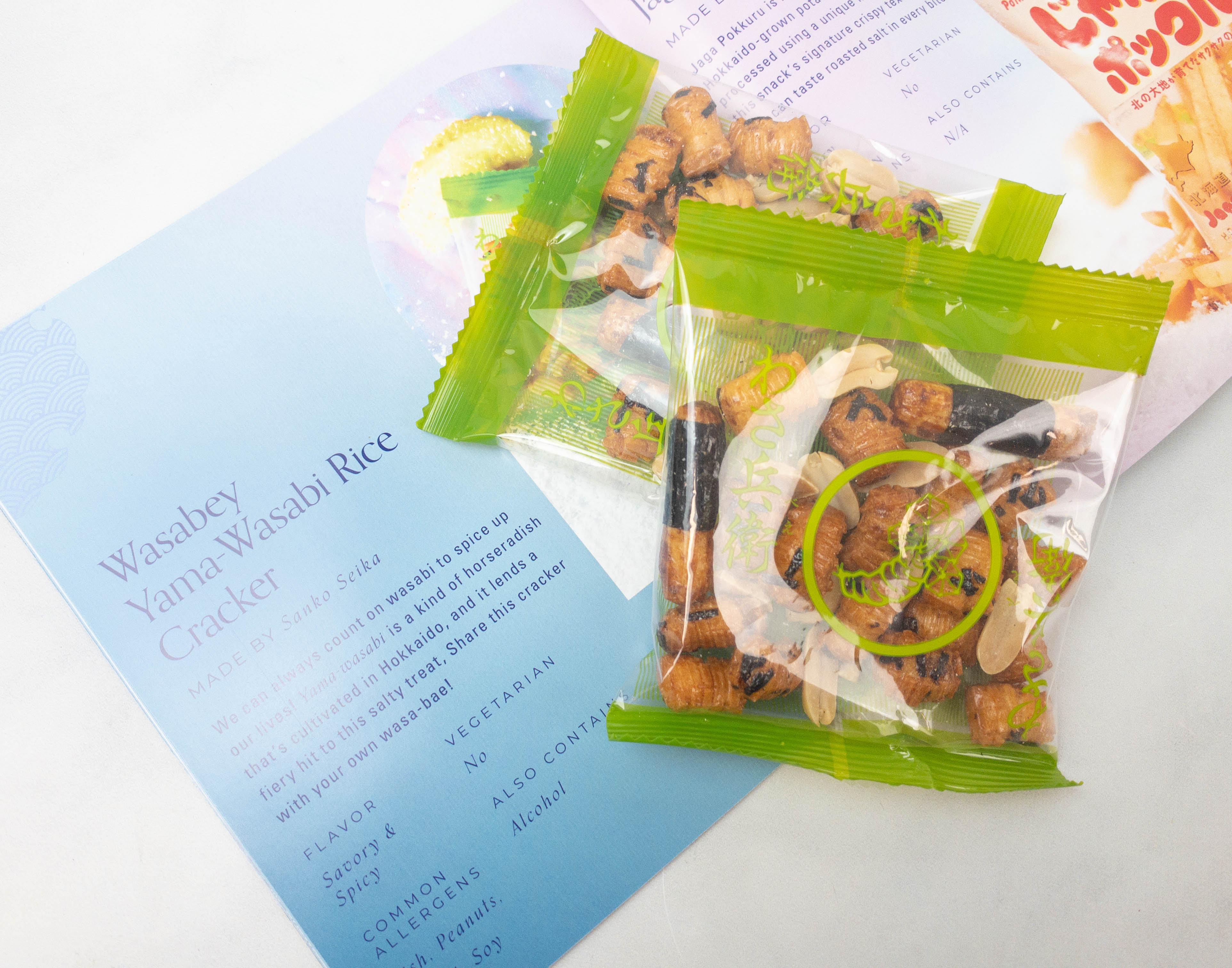 Wasabey Yama-Wasabi Rice Cracker ($1.60) looks like a trail mix kind of stuff, but extra as it is flavored in wasabi. I'm not a fan of wasabi, and these rice crackers taste very much of that flavor. It's spicy, and I could try some, but I guess that's all there is to it! However, I enjoyed the crunch.
Jaga Pokkuru ($4) looks very similar to French fries! It has that potato flavor that I like, and it's extra crunchy too. I loved the texture, and I'll definitely keep a pack in my bag! Or probably, I could eat them all in one seating.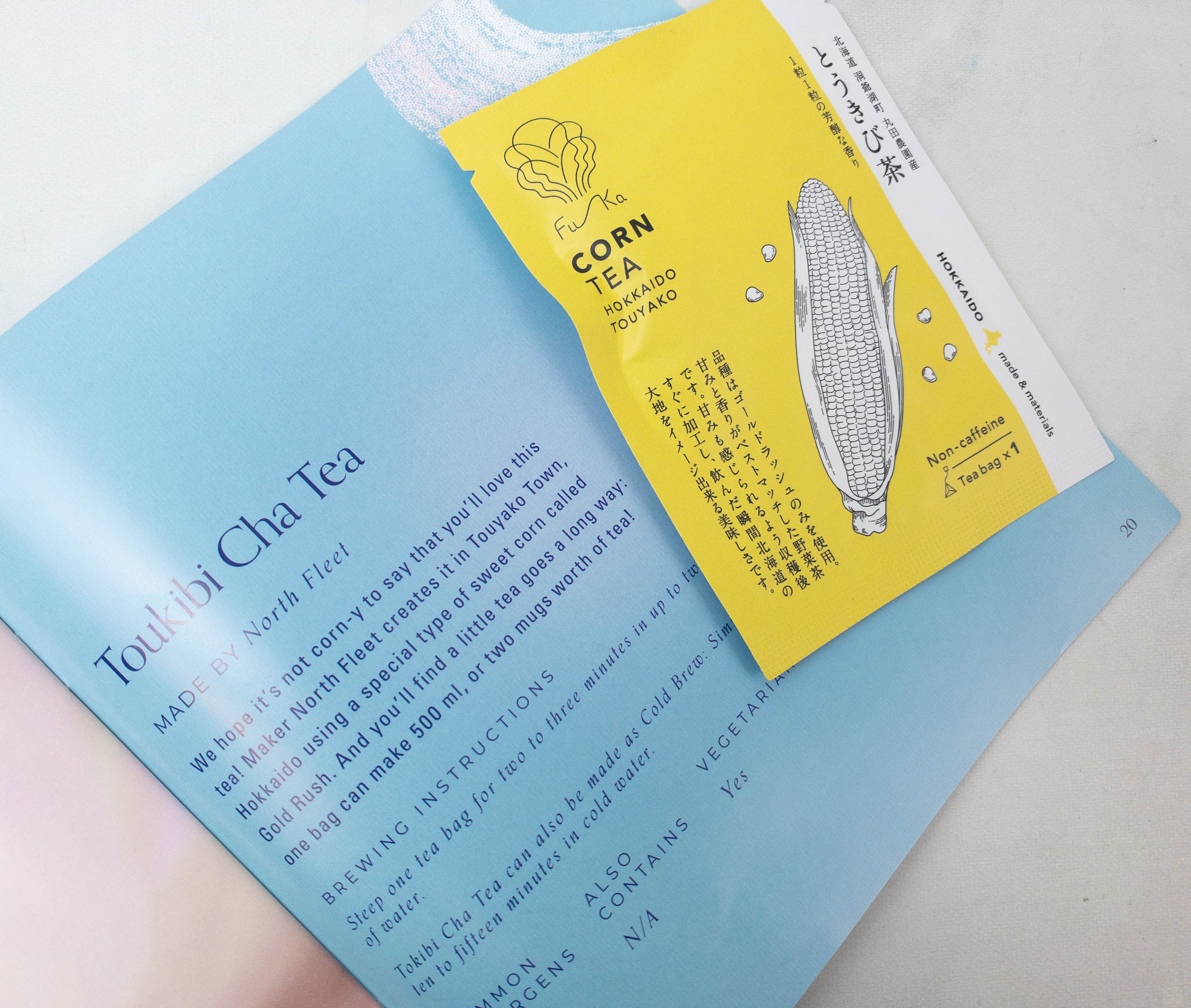 The last item in the box is Toukibi Cha Tea, which you can pair with the sweet potato cookie. Once submerged in hot water, it releases a strong corn smell. But the taste isn't so powerful. If you like corn flavor that much, I guess this will work well for your taste buds.
Bokksu Hokkaido Holidays box contains a mix of sweet and savory snacks! It's curated for us to enjoy the unique flavors of Japan's northernmost island and it didn't disappoint. Most of the snacks are infused with flavors that Hokkaido is known for, like dairy! I also appreciate that most snacks or sweets are individually wrapped to retain freshness and flavor. My favorites in this month's box are the mochi snacks, and although usual, I liked the chocolate-coated potato as well. What's interesting is there's also a cultural guide that allows subscribers to learn more about Japan from the comforts of their own home. This box is ideal for sharing with travel-loving friends or with family members who love Japan snacks!
Here's a peek at the cultural guide from Bokksu: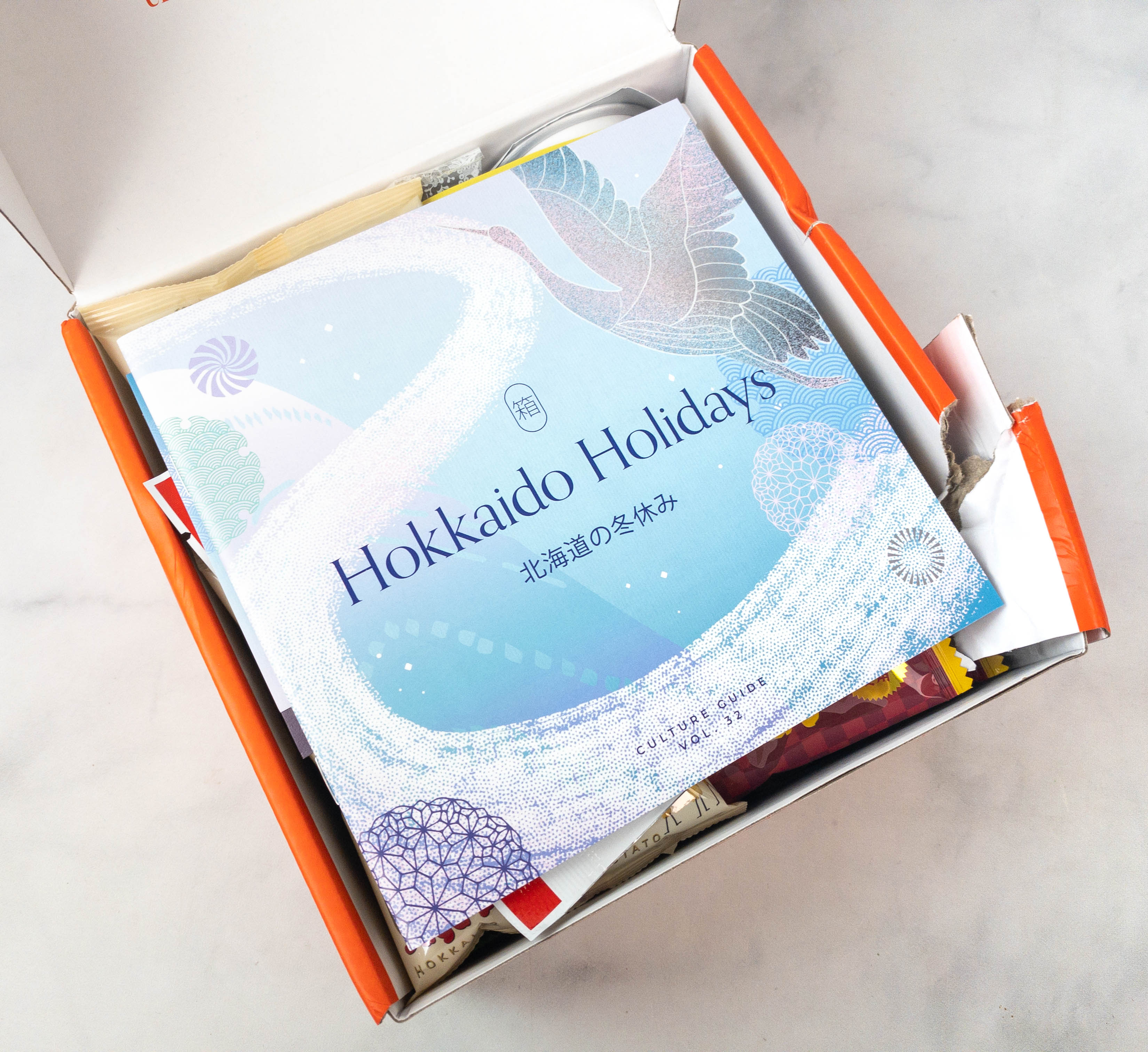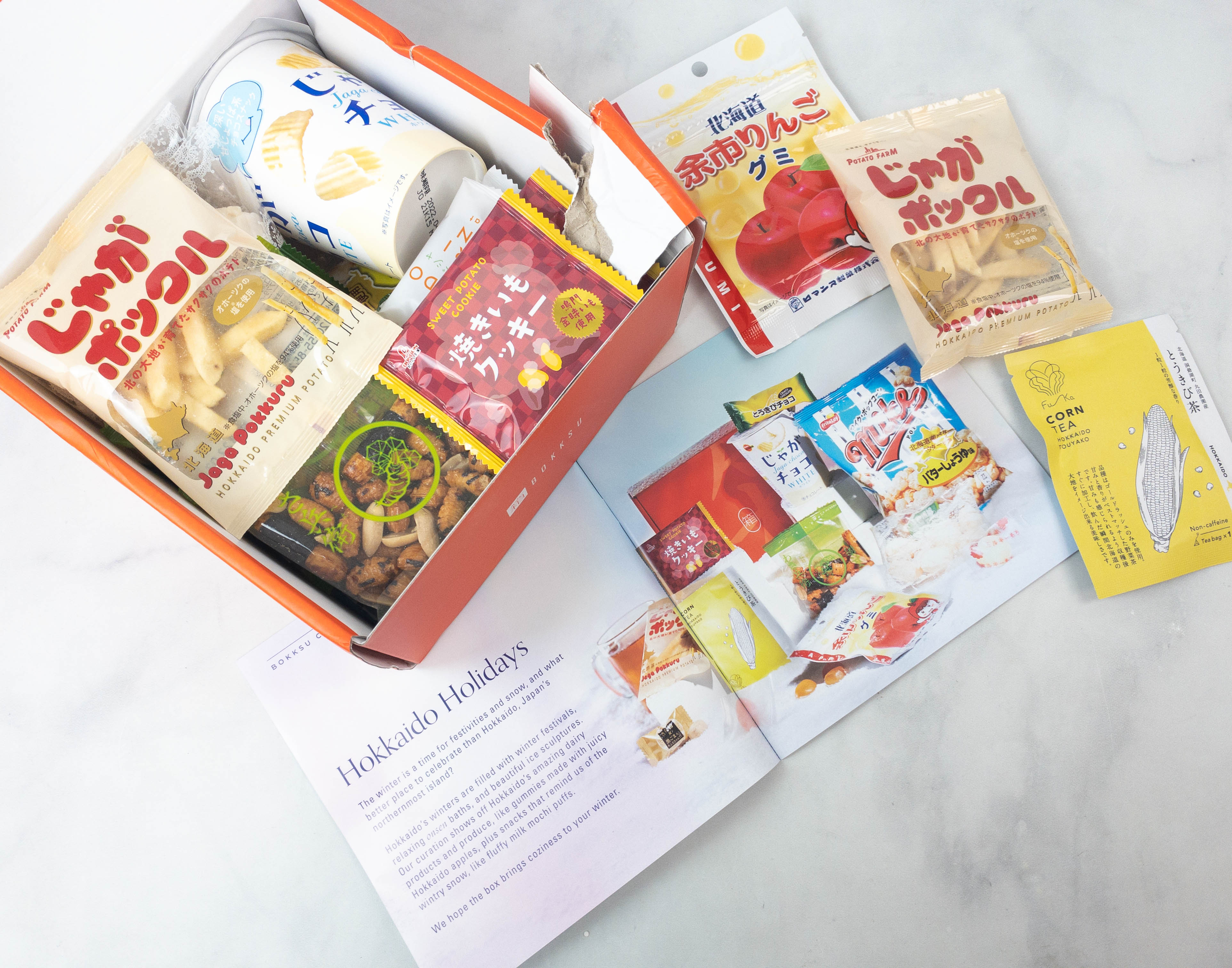 Bokksu is a premium snack box that features authentic Japanese snacks, as well as a tea pairing to go with it. There are two levels to choose from: Classic Bokksu ($44.99 USD) includes an assortment of 20-25 premium Japanese snacks and a tea pairing; Tasting Bokksu ($29.99 USD) includes 10-14 premium Japanese snacks and a tea pairing. Both boxes offer a discount for longer terms. The snacks sent are not easily found outside of Japan and this subscription ships internationally from Japan. Shipping is already included in the price.
Bokksu's authentic Japanese snack subscription box was voted as a top subscription in the 2021 list of our readers' favorite snack subscription boxes!
What's your favorite snack from this month's box?