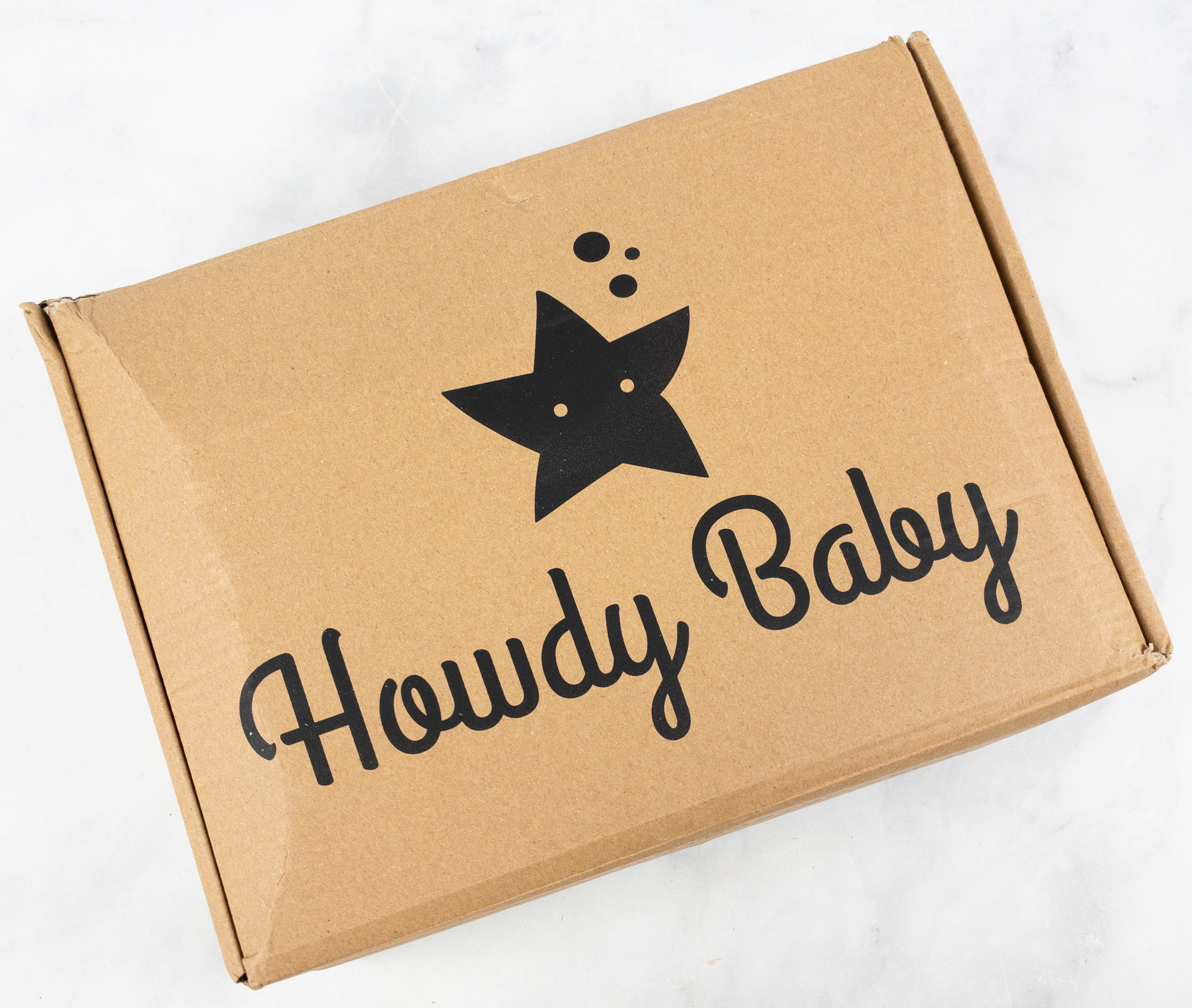 The Howdy Baby Box is a monthly subscription box for babies, toddlers, and big kids that promises to send ethically-made children's products from independent brands & makers in the USA. They currently offer two box types: the Essential Box ($40 per box + $9 shipping) which includes 4-6 premium full-sized items and the Deluxe Box ($60 per box + $9 shipping) which includes 7-10 premium full-sized products. Upon sign up, you can also choose between a Girls box and a Boys box. Each box is tailored to the child's age and developmental stage and may include clothing, accessories, care products, toys, and activity items.
DEAL: Get 10% off your first month! Use coupon code HELLOSUB10.
This is the review of the Howdy Kids Box. They also offer a Howdy Baby Box, check out the baby version of this month's box here!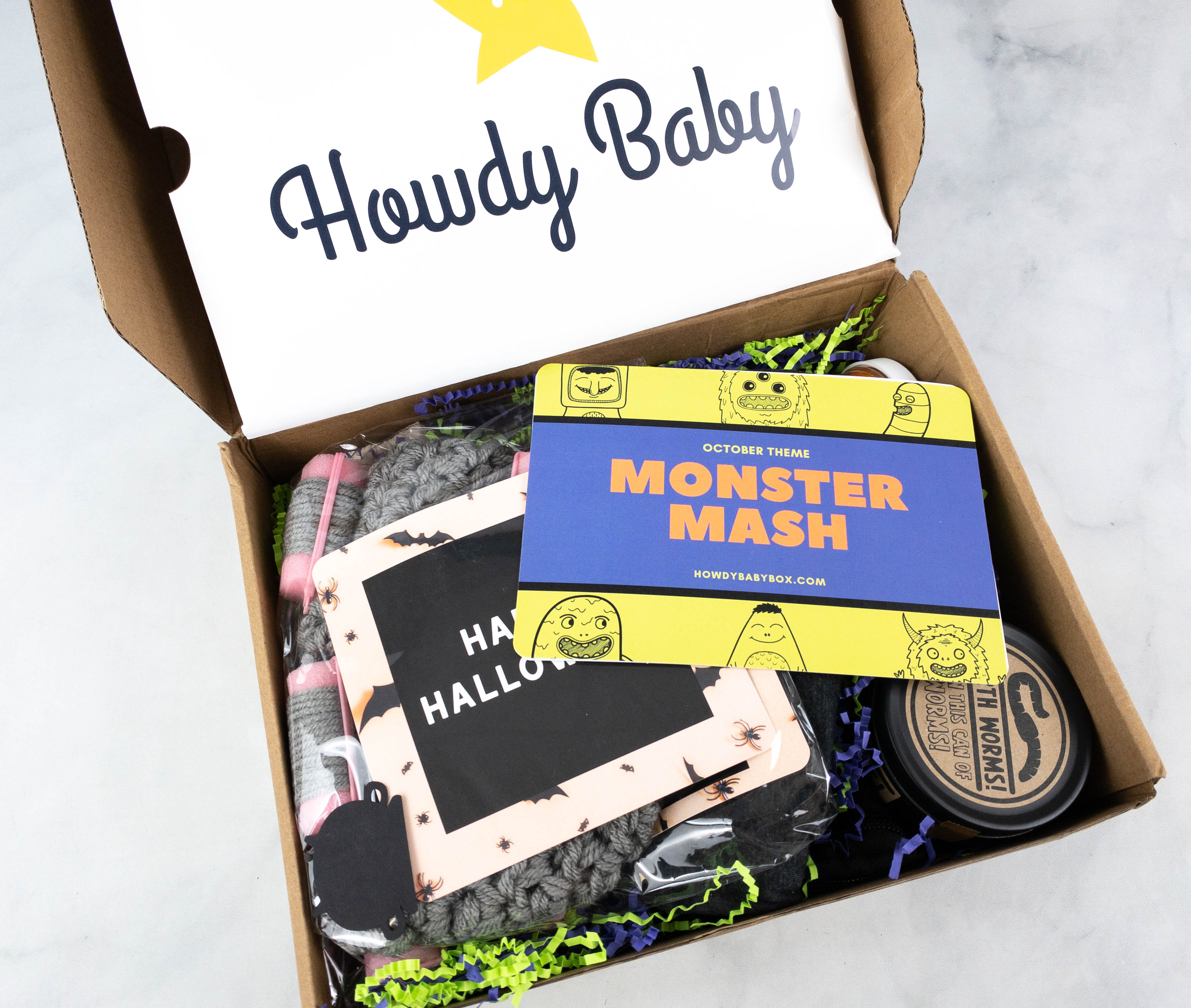 This month's theme is Monster Mash!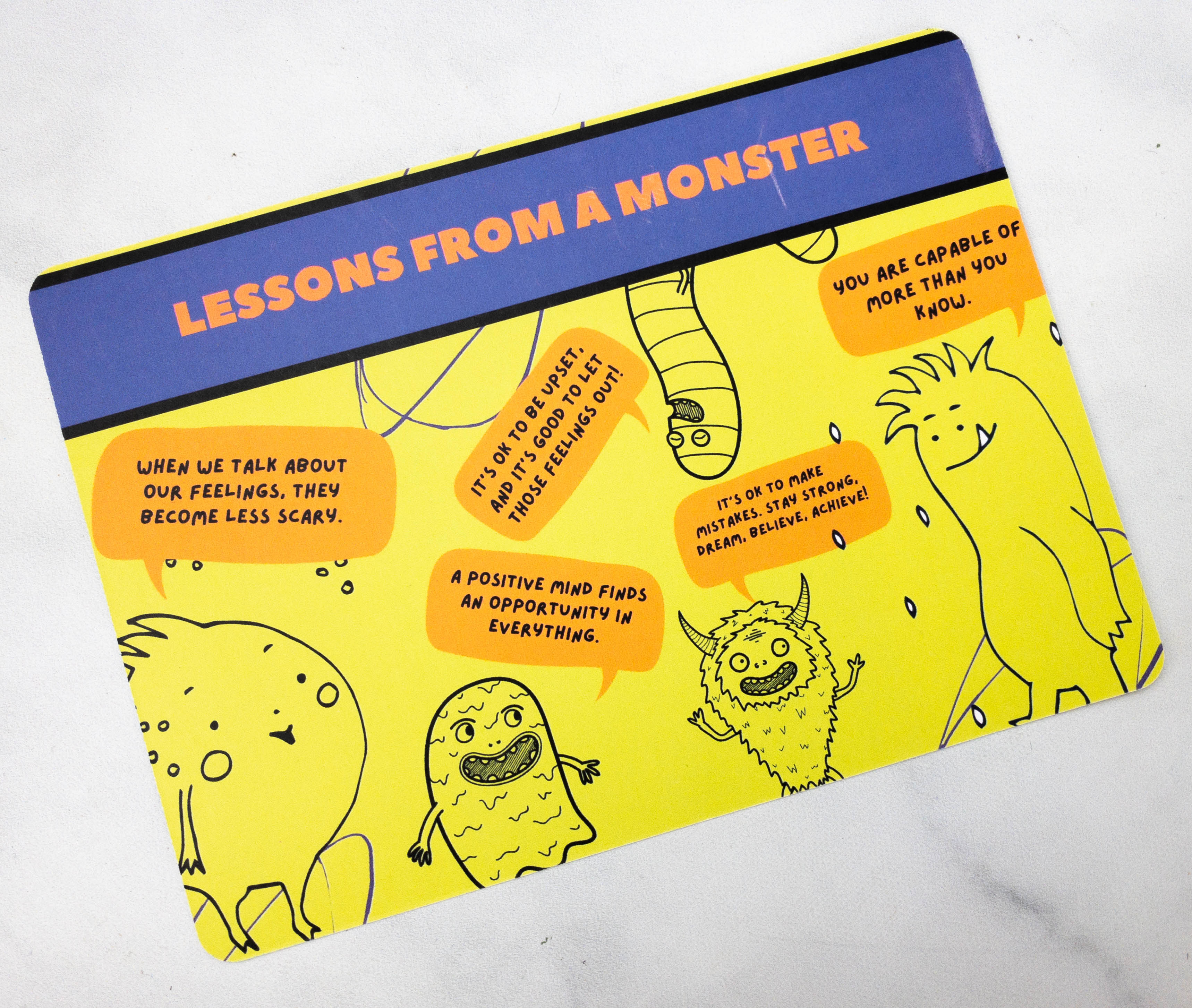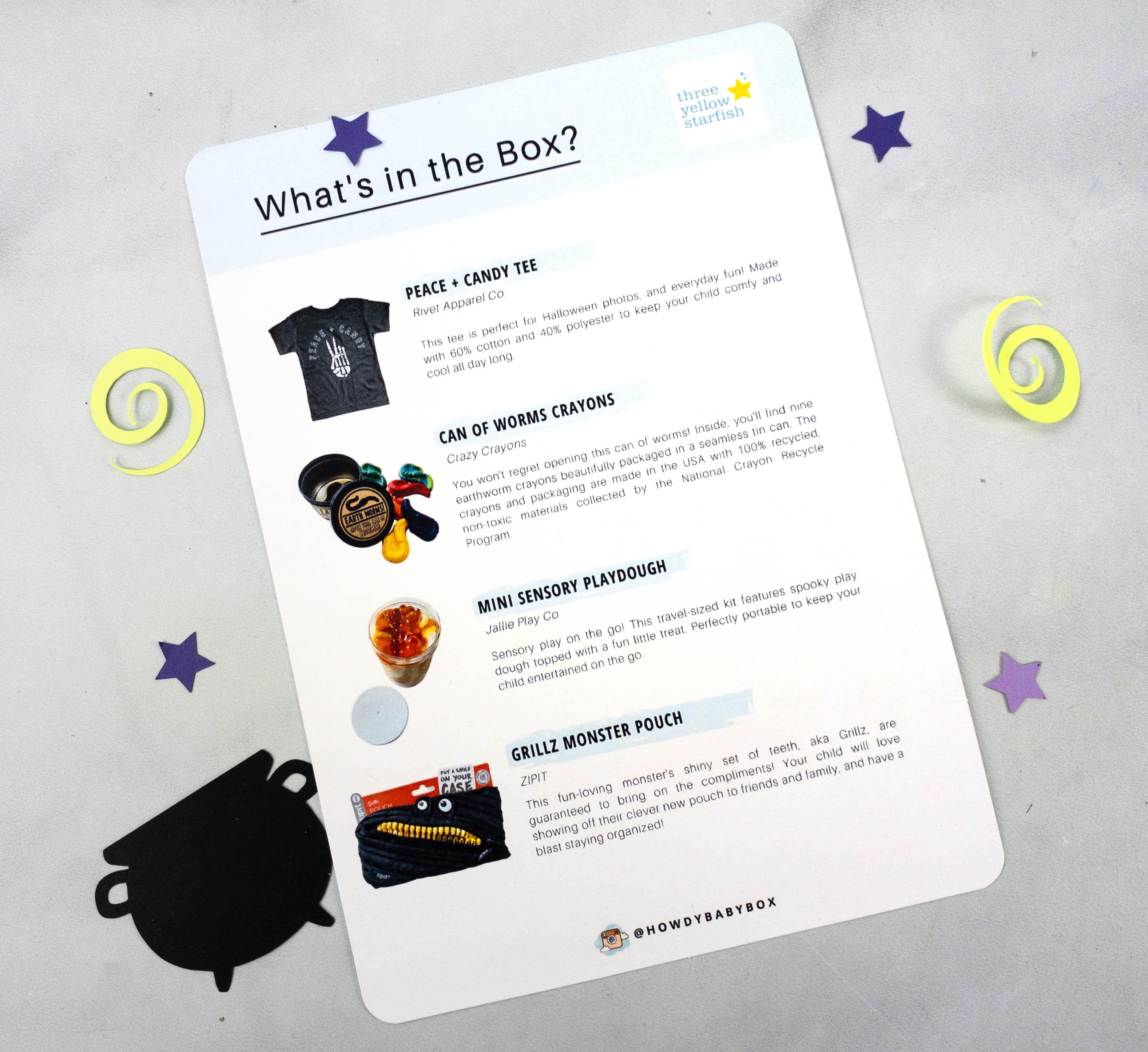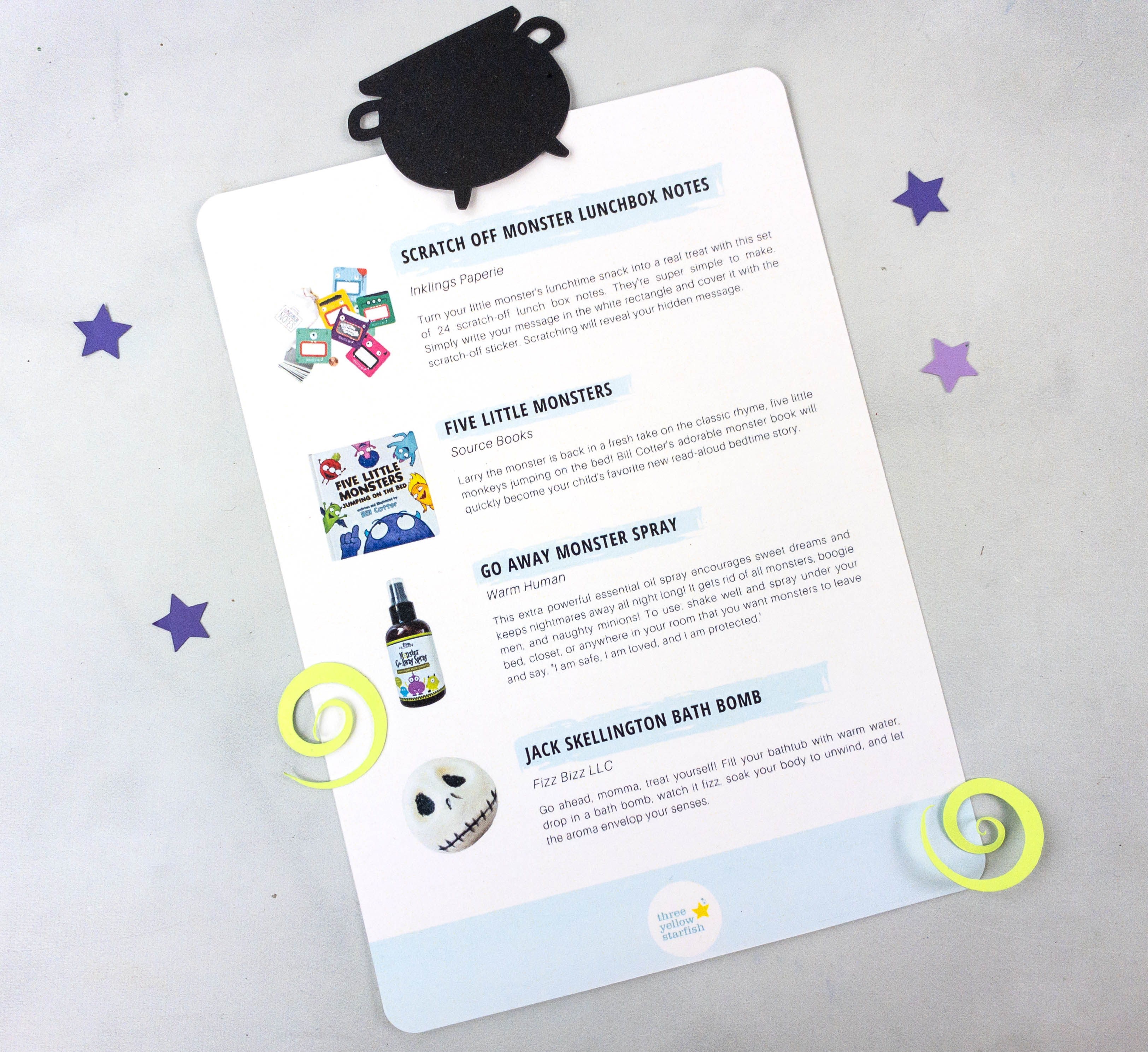 Each box includes information cards with a list of all the items included in the box. It also comes with individual photos and a brief description for each item.
Everything in my box!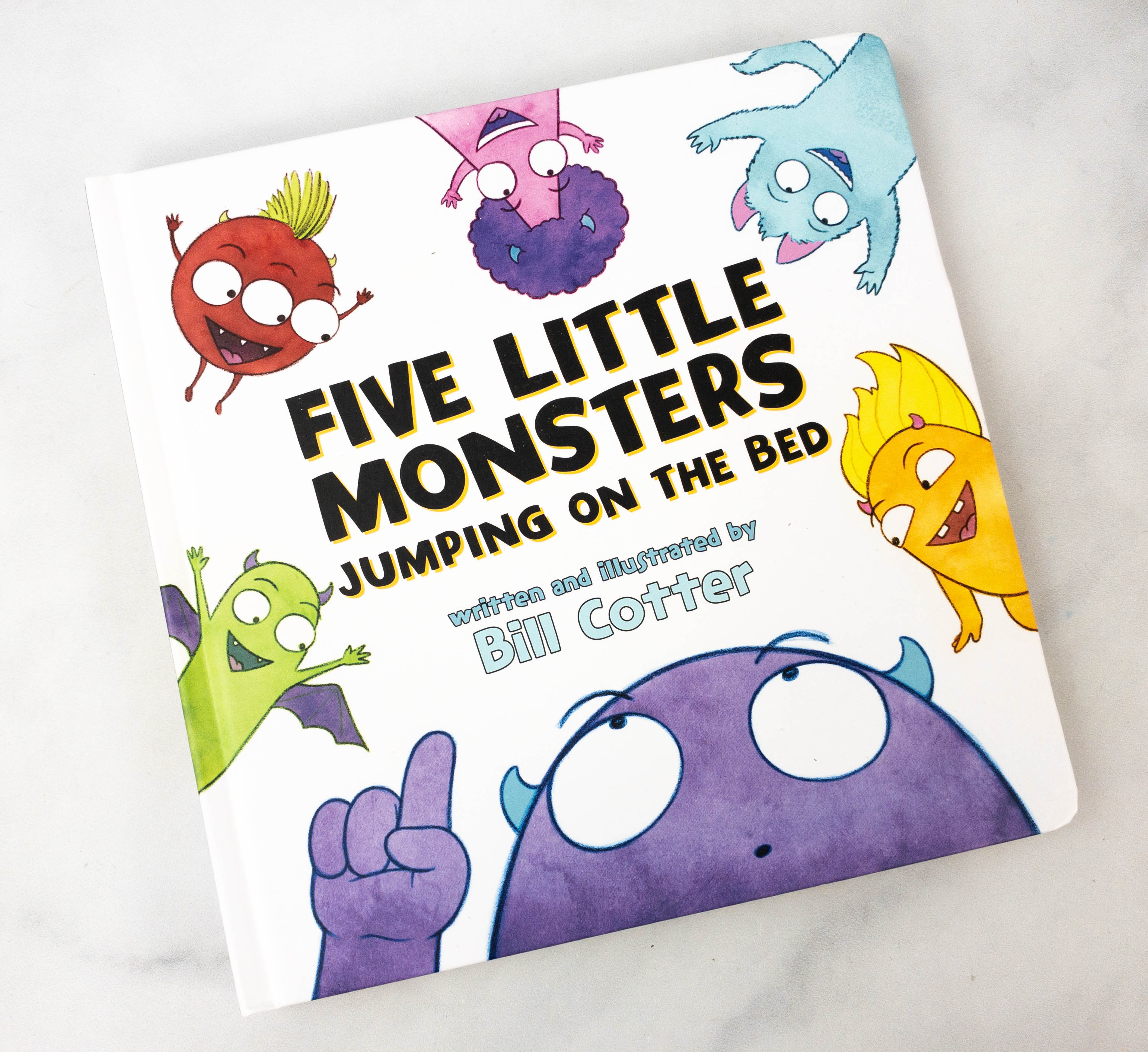 Five Little Monsters Jumping on the Bed by Bill Cotter ($6.99)
A new take on the classic rhyme, five little monkeys jumping on the bed! Larry the monster is back in this perfect read-aloud from Bill Cotter, creator of the USA Today bestseller Don't Push the Button book.

Larry is back! And this time he has enlisted his monster friends to cause monster mayhem! Prompts to "pet,"; "press,"; and "tickle"; the monsters make this a fun, interactive story that little ones will enjoy.

Five little monsters jumping on the bed.
One fell off and bumped his head.
Mama called the doctor and the doctor said,
"No more monsters jumping on the bed."

This is the perfect children's monster book or book for 1-3 year olds to gift at birthdays, holidays, and more!
It's based from the classic children's rhyme Five Little Monkeys Jumping on the Bed.
This book was filled with fun and colorful illustrations!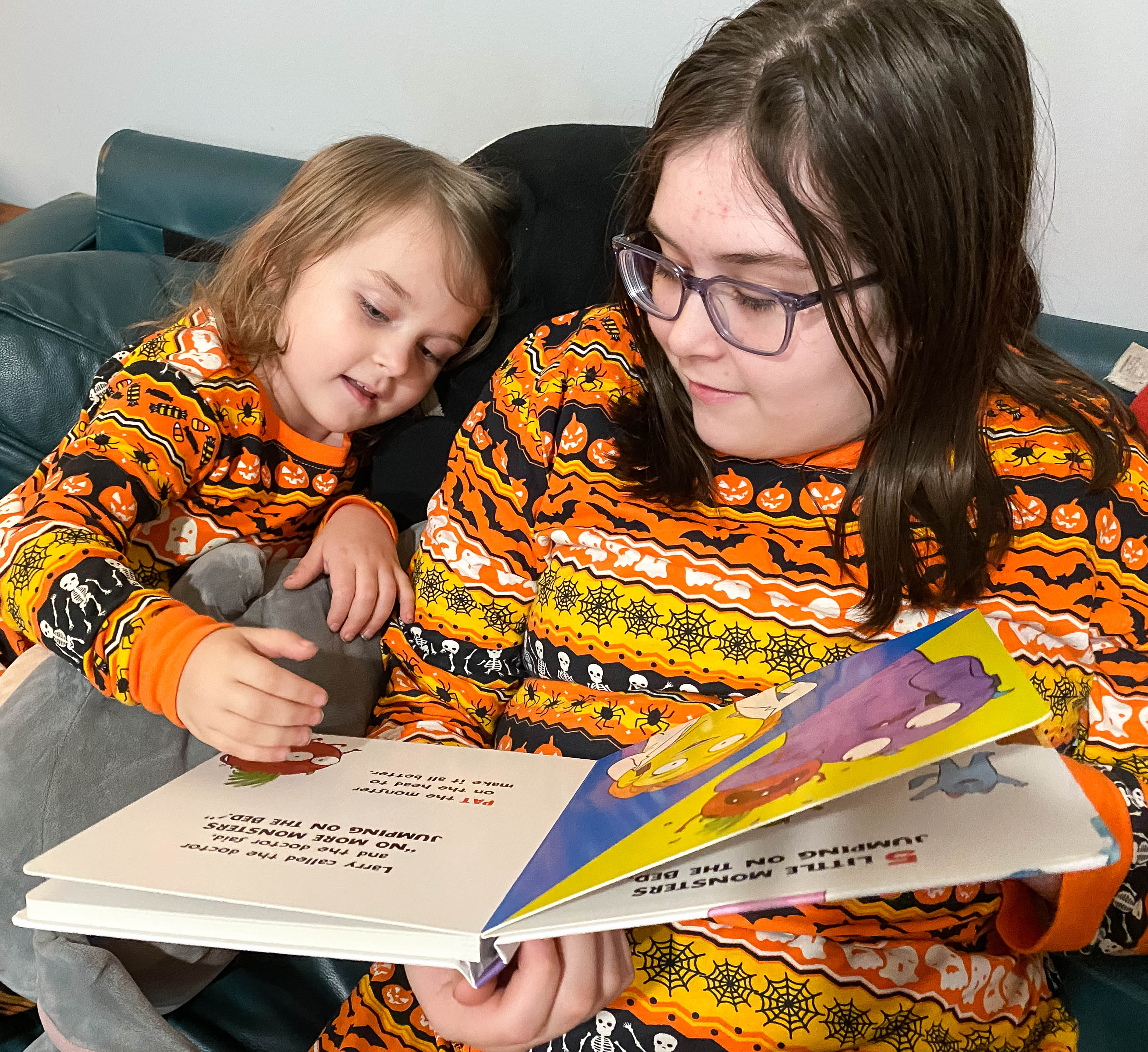 My eldest read the book to her sister and both of them loved it!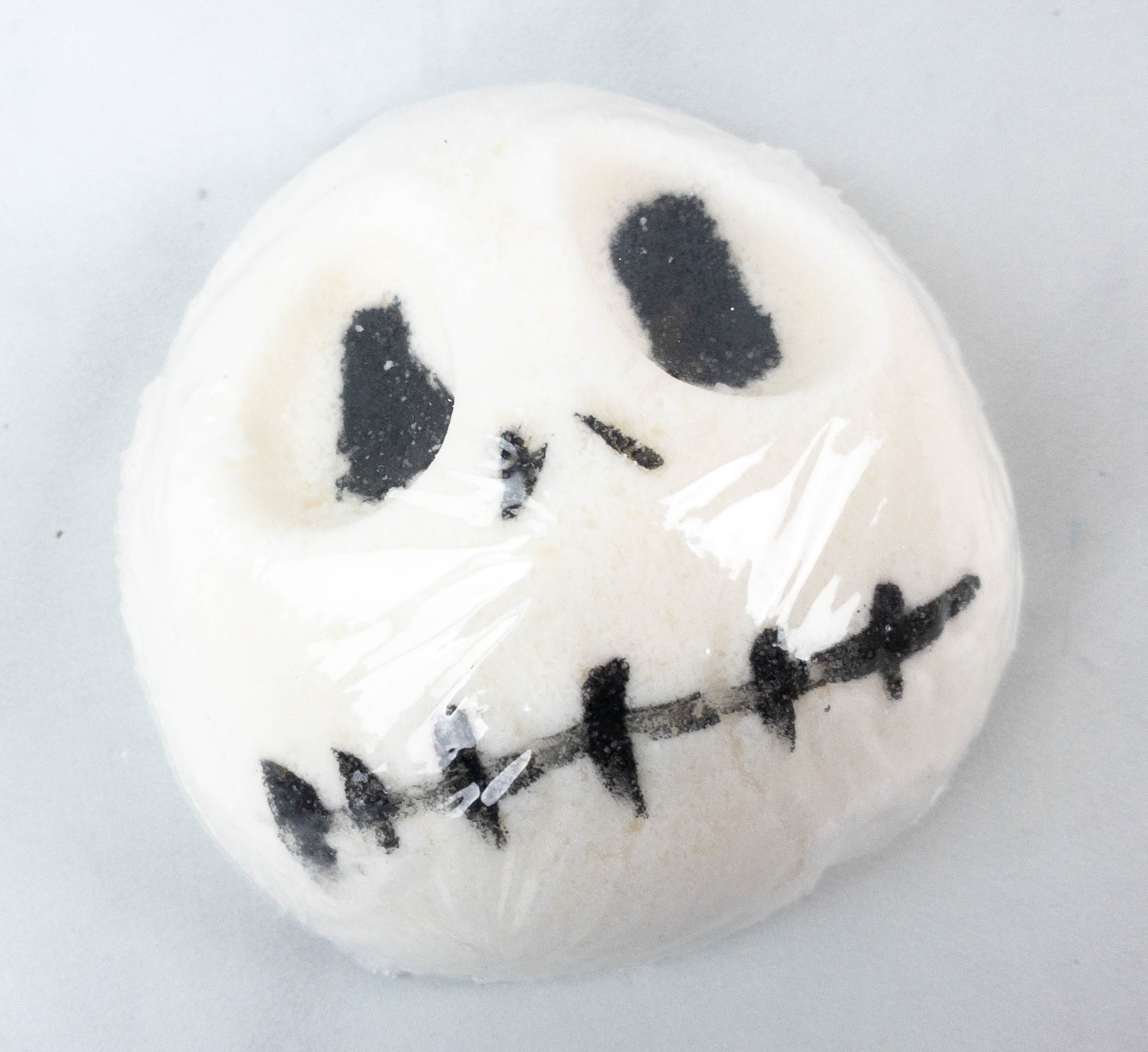 Jack Skellington Bath Bomb. This bath bomb is inspired by the movie The Nightmare Before Christmas, showcasing Jack Skellington's head. It made bath time more fun for my daughter with all the fizz that it makes when put in the water. Oh, and it smells really good too!
Grillz Monster Pouch. Still in line with the theme, here's a cute monster pouch where you can keep pens, pencils, or crayons. It comes with monster eyes and a bigger gold zipper for the monster's teeth! It's a really fun take on the usual pouch so I can see why my kids are obsessed with it.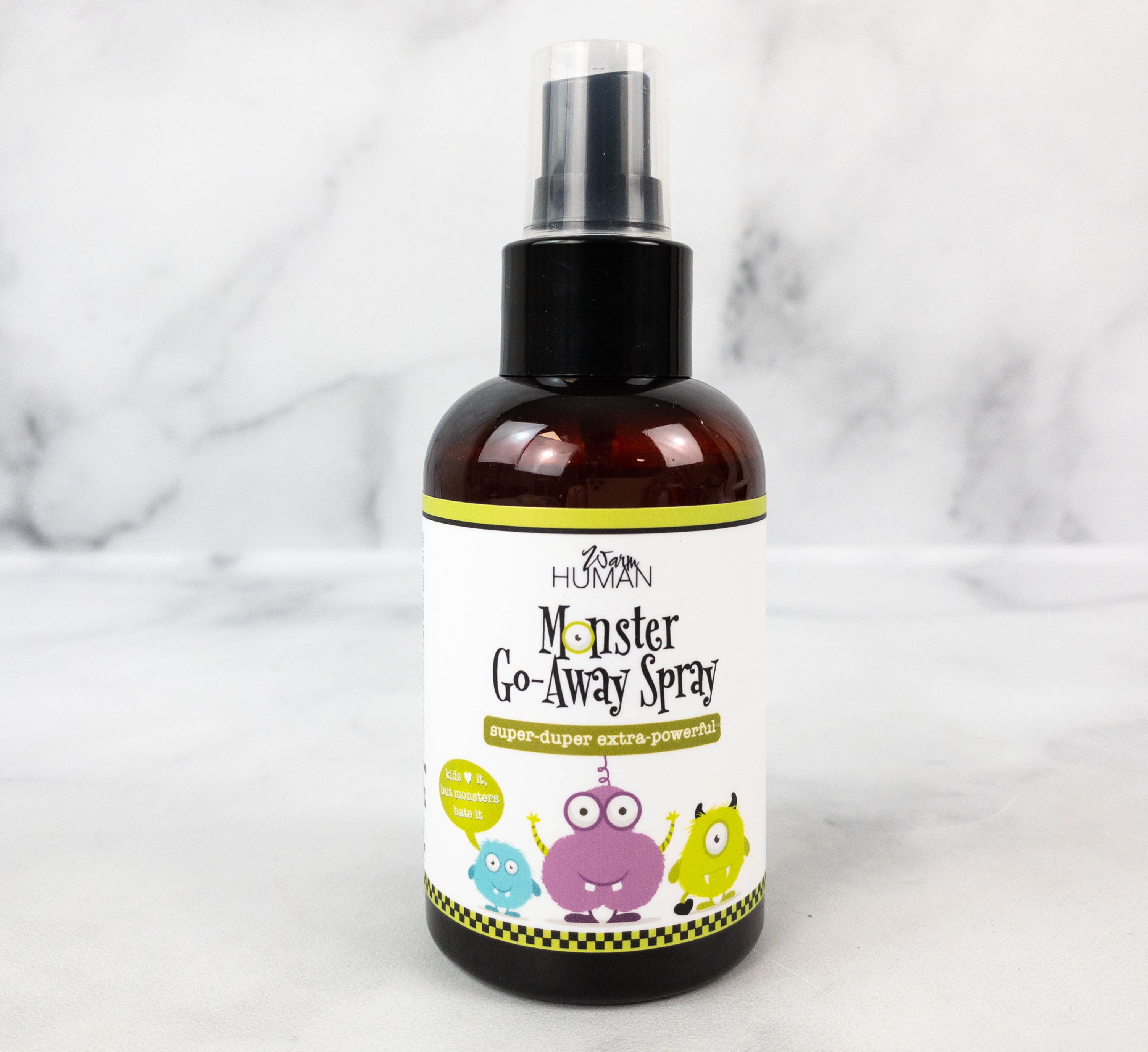 Go Away Monster Spray. It's called an anti-monster spray, but it's actually an aromatherapy spray infused with essential oils!
It's scented with lavender, lime, and orange essential oils, for a calming and soothing effect. This is perfect to use in the bedroom to help kids relax during bedtime! The formula is cruelty-free and vegan as well.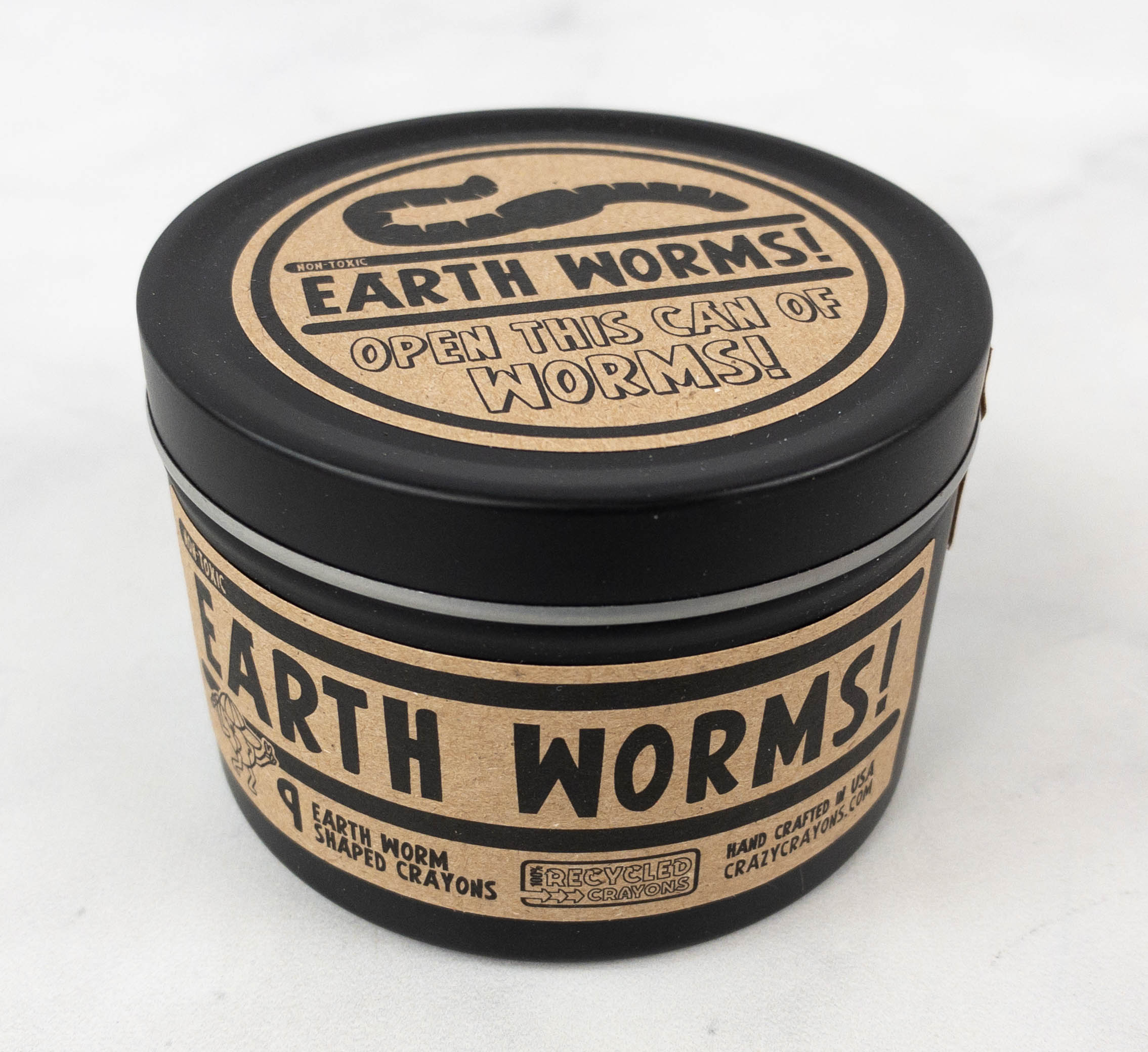 Can of Worms Crayons. Next up is this tub of crayons shaped like earthworms! According to the note, they are made with crayons collected by the National Crayon Recycle Program.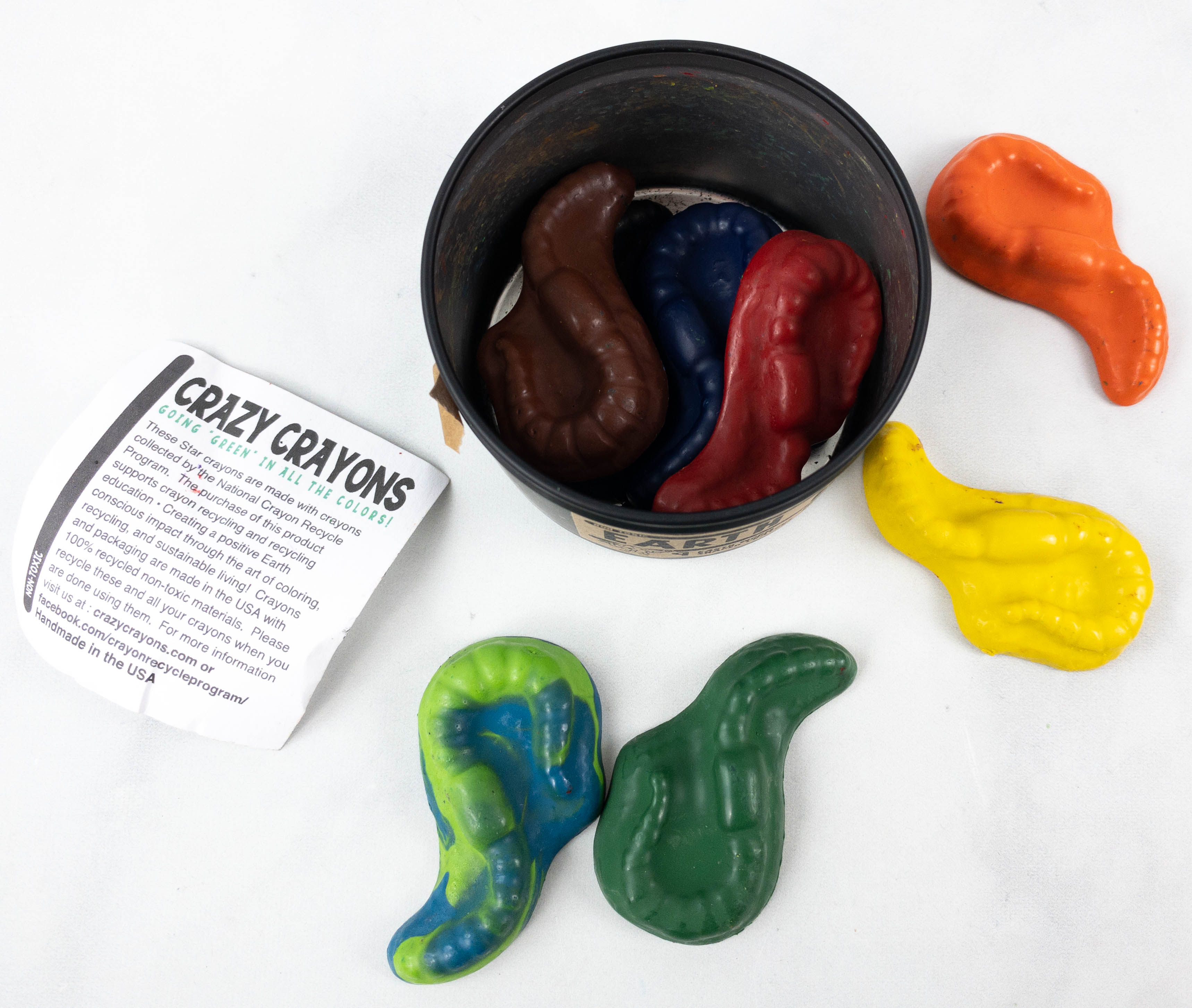 The unique shape of these crayons gets kids more curious! This can also help improve their fine motor skills as they get to practice their grip!
Scratch Off Monster Lunchbox Notes. Parents can use these cute monster-themed cards to add fun messages to kids' lunchboxes!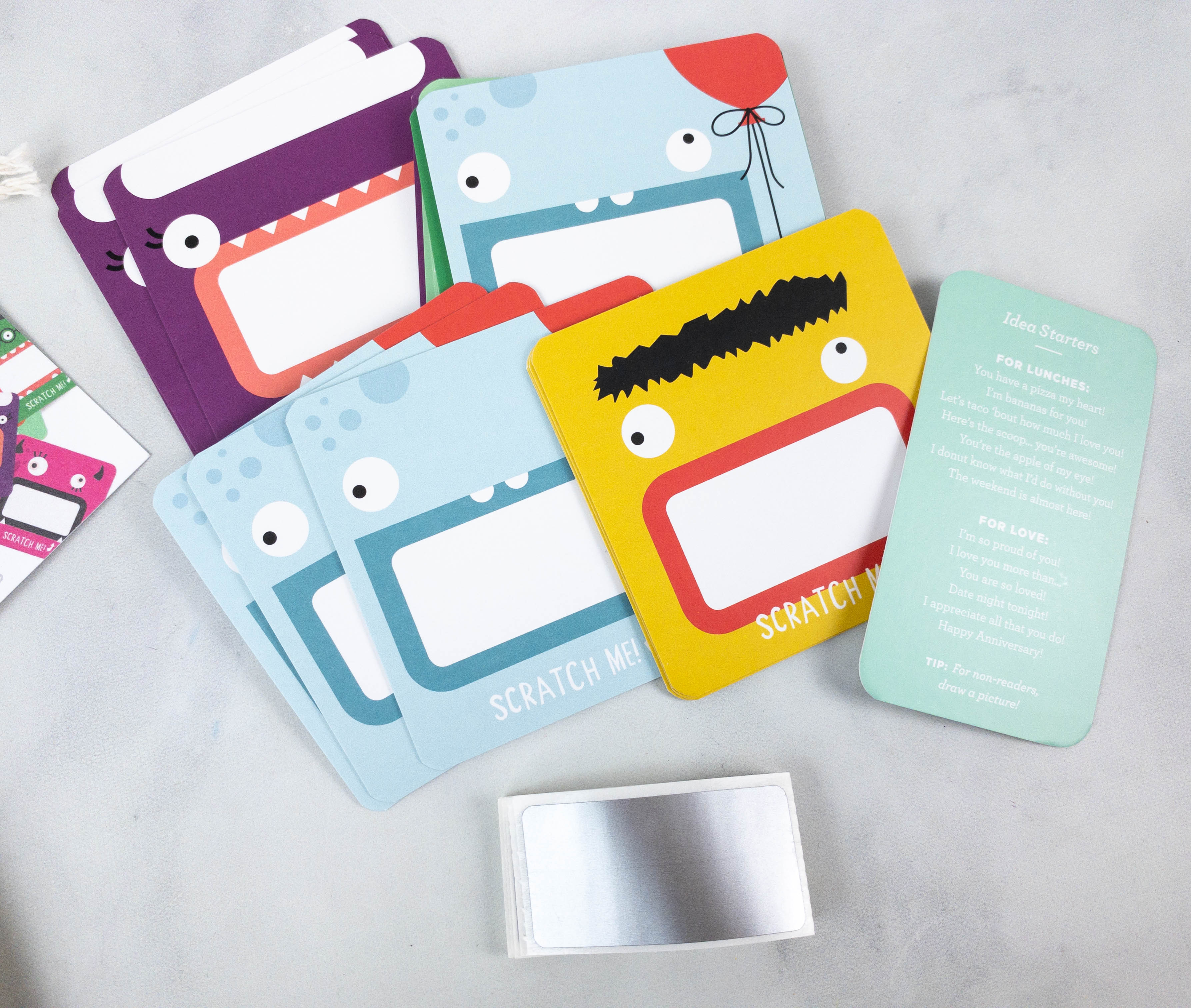 Everything was packed in a drawstring pouch! There are cards featuring monsters with open mouths, plus a silver sticker that you can put over your message (which the kids can scratch later). They even included a card with some starter ideas about what you can write on the cards!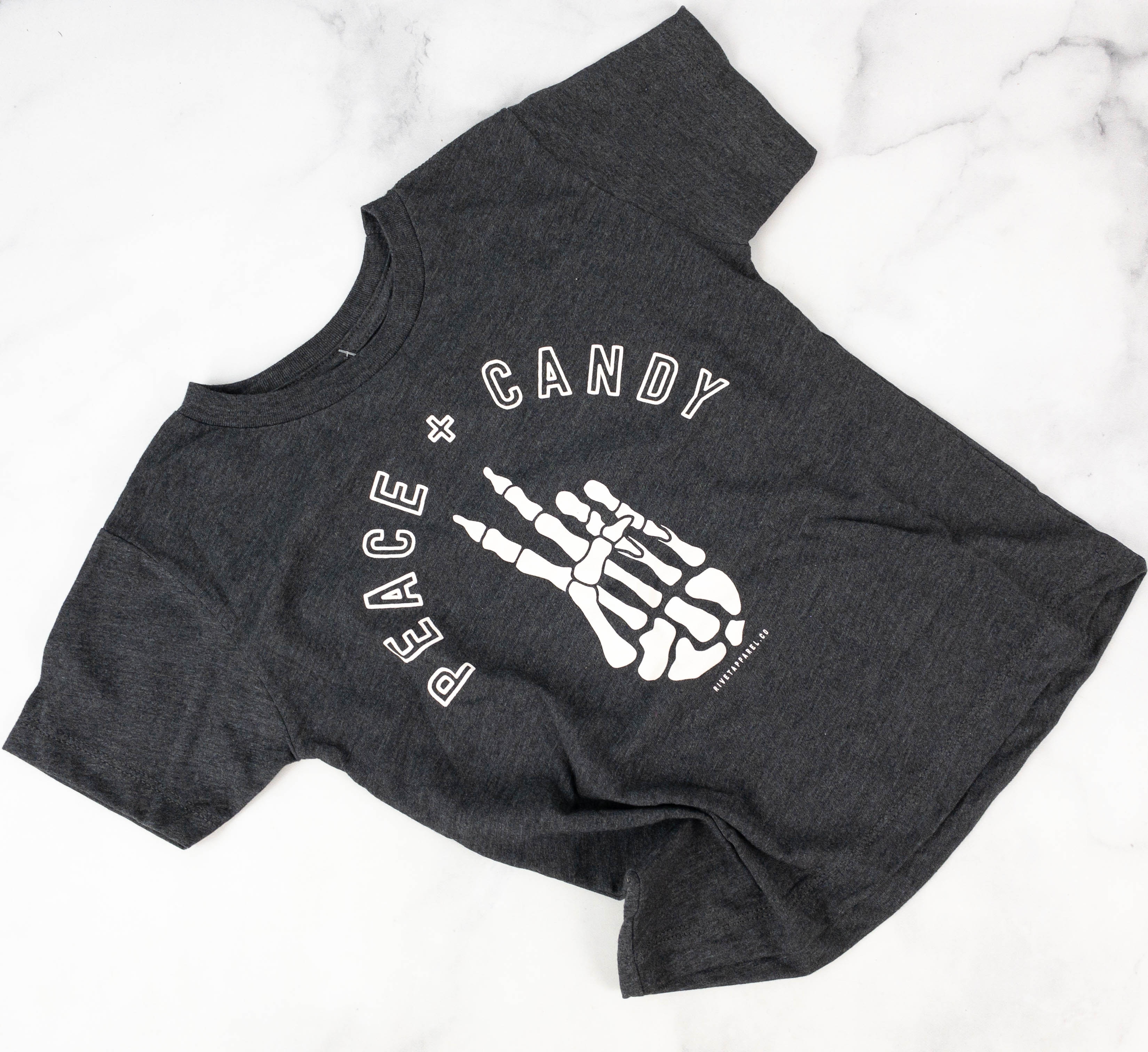 Peace + Candy Tee. This tee is made with a lightweight material that makes it comfortable to wear. The design is Halloween themed, as it features the words "PEACE + CANDY" along with bones making a peace sign!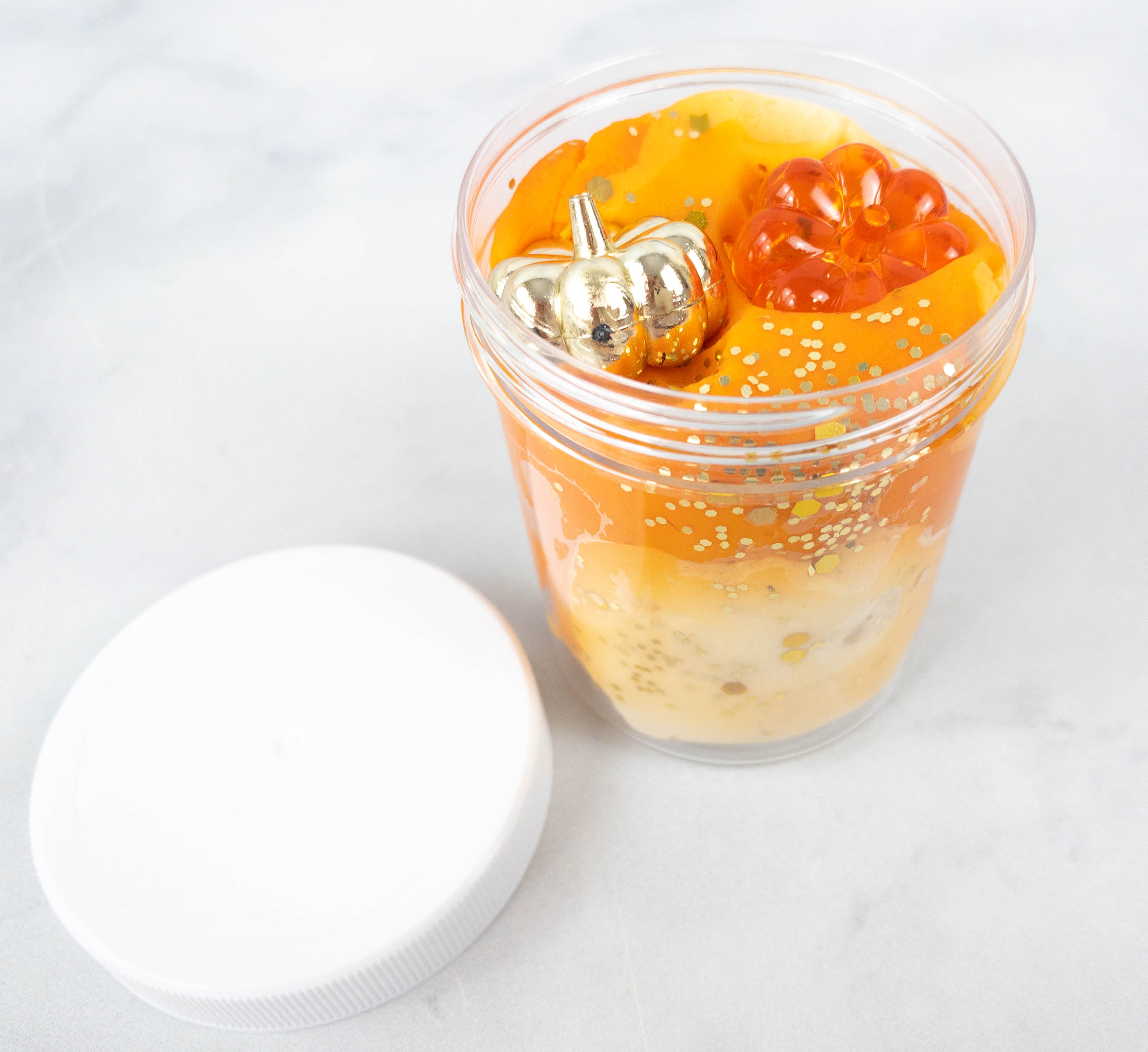 Mini Sensory Playdough. Here's another fun item that kids can play with, a sensory playdough that came in a see-through tub!
The play dough has little charms on it which makes for a great sensory play.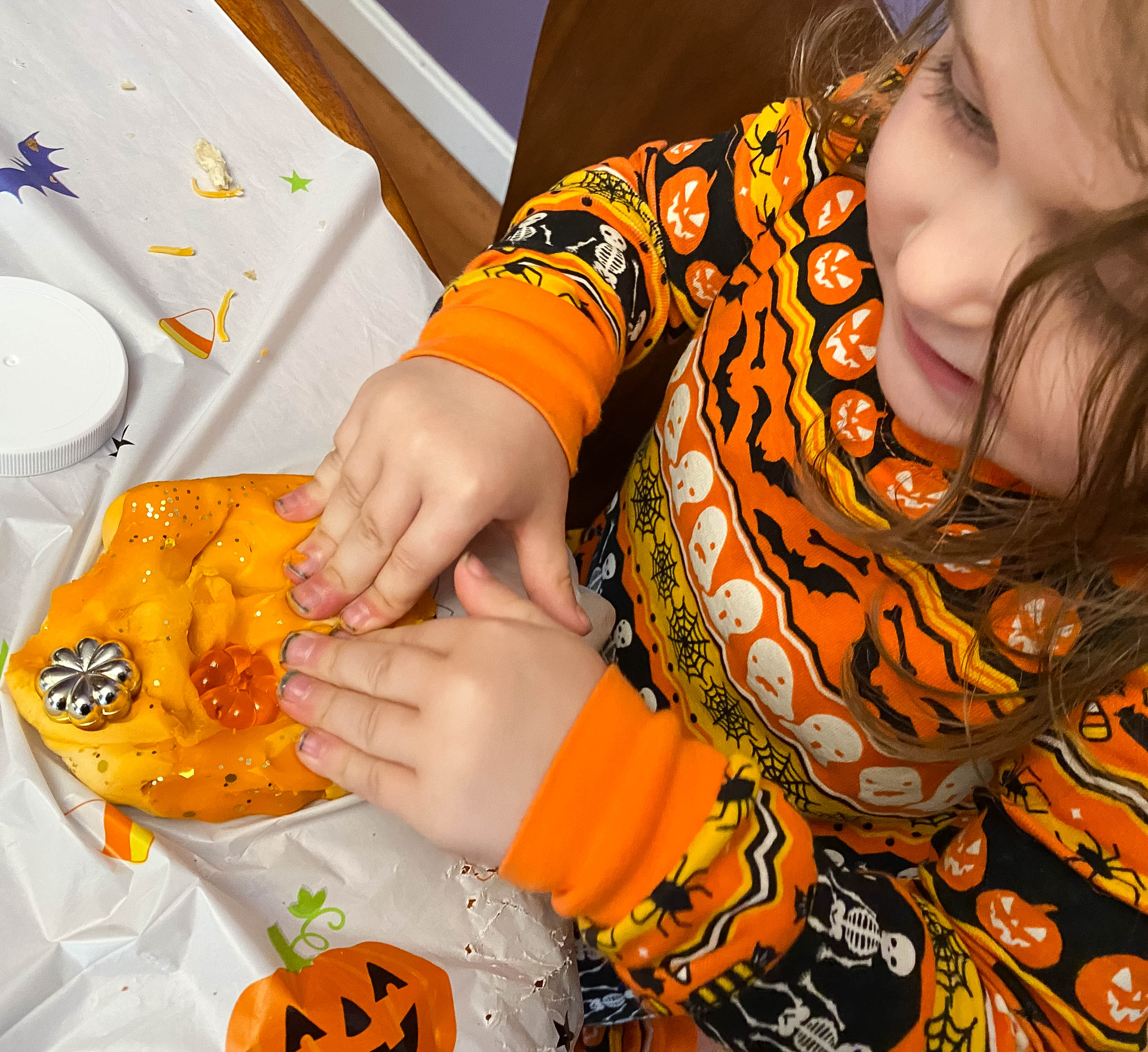 My daughter had a great time playing with it and molding it into different shapes! Sensory Play is important as it helps little kids develop cognitive growth, fine and gross motor skills, and even problem solving skills.
The last two items from the box are up next! These are bonus items!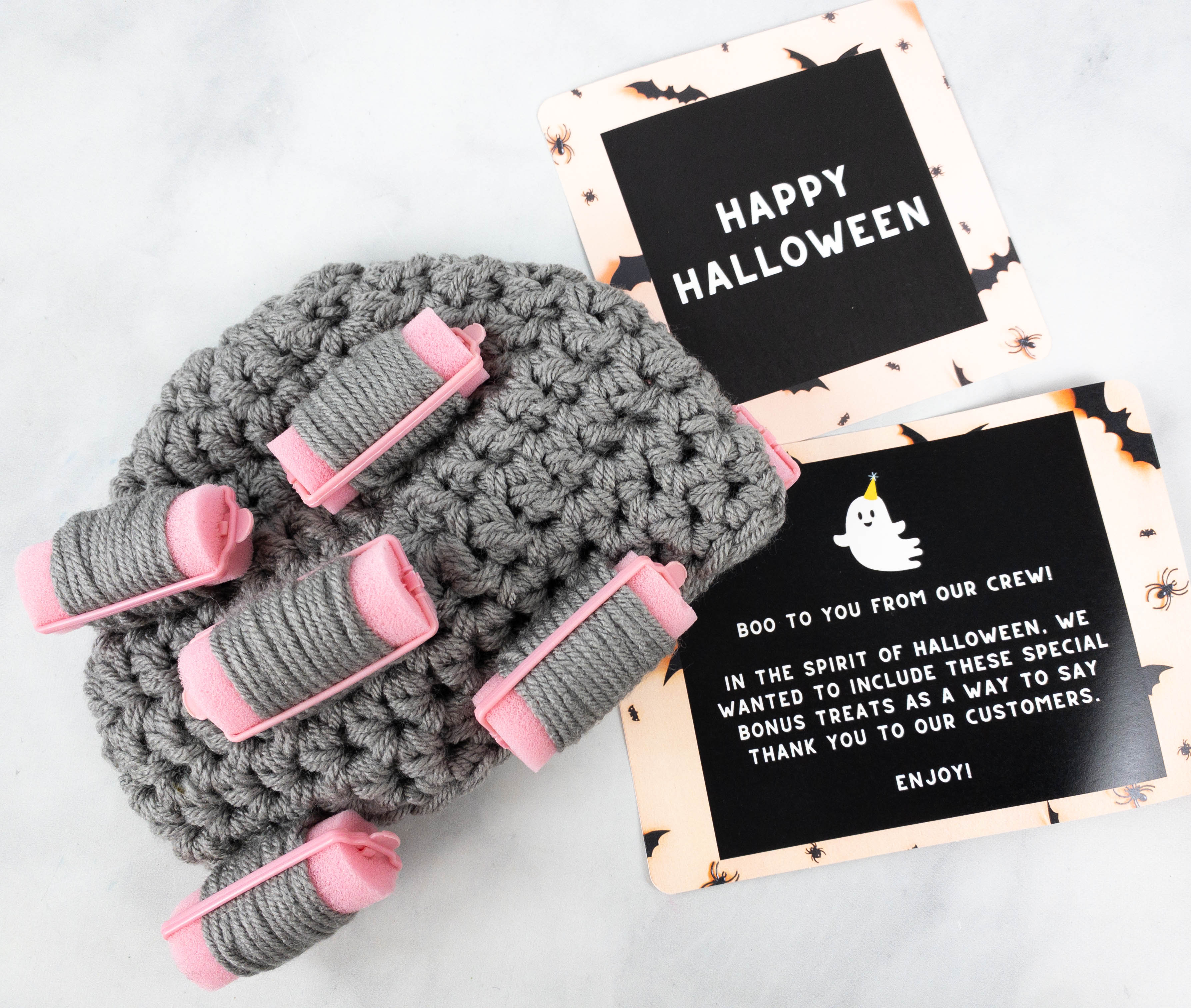 Old Lady Beanie Hat. This old lady beanie hat makes such a fun and easy Halloween costume. They used a gray yarn to mimic the silver hair of an old lady and they even added curlers on it!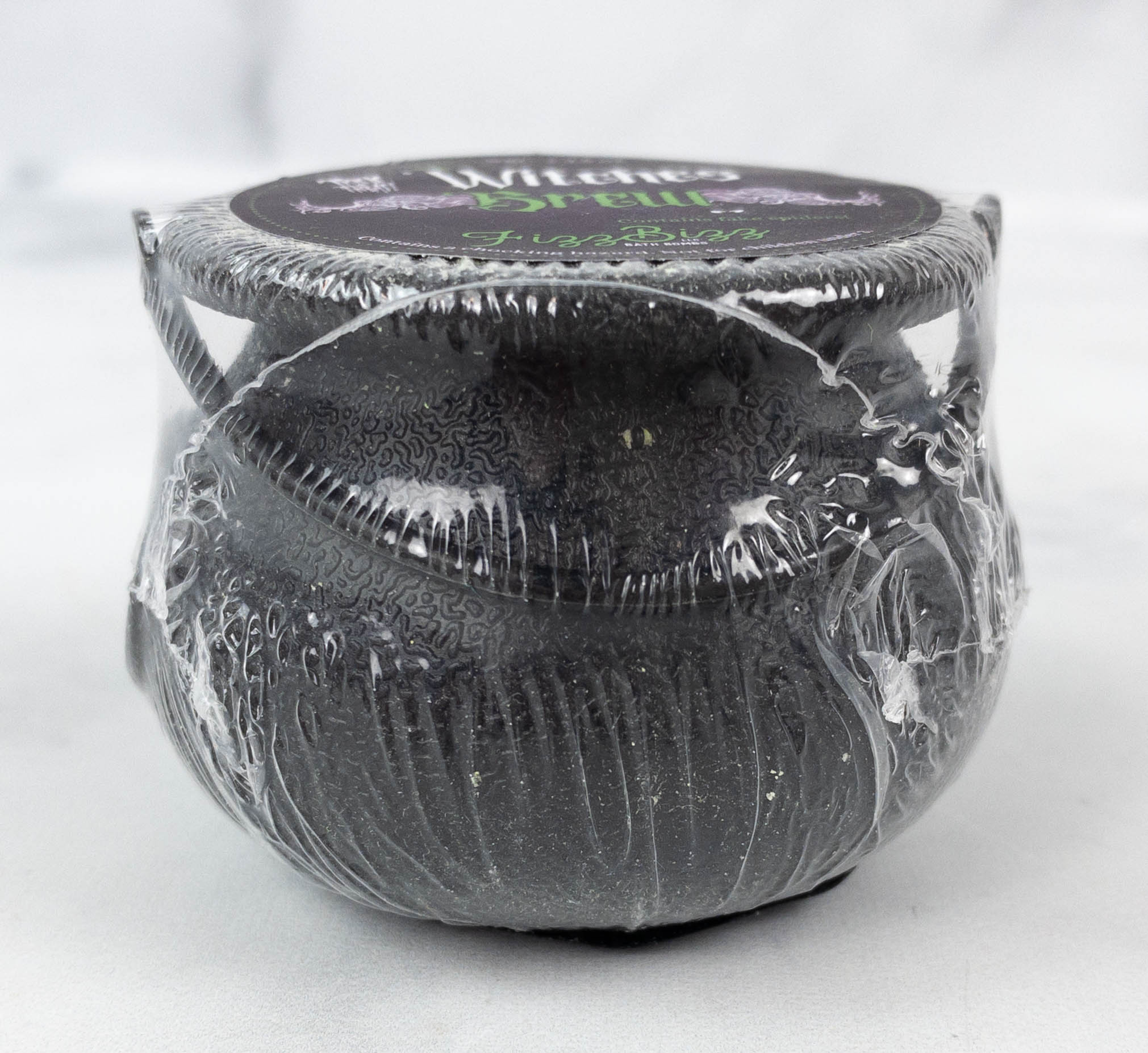 Witches Brew Bath Bomb. The other bonus item is a bath bomb and it's shaped like a witch's cauldron. The inside is green and it even includes a small spider that kids can wait to appear while the bath bomb fizzes in the tub!
It's another fun box filled with great items for kids, from books and toys to wearables and everything in between! I'm so in love with getting this box – it's so much fun and everything is from small businesses. This month was  monster-themed, but the goodies were really cute and my daughter loved them. Her favorite is the book about monsters but she also enjoyed the developmental toys in the box. There are even bonus items: the beanie and the bath bomb! So far, they have lived up to the promise of sending only age appropriate items in each box. This is a great way to ensure that everything in the box will be useful to kids and nothing will go to waste. The well-curated box also makes a thoughtful gift!
What do you think of this month's box?