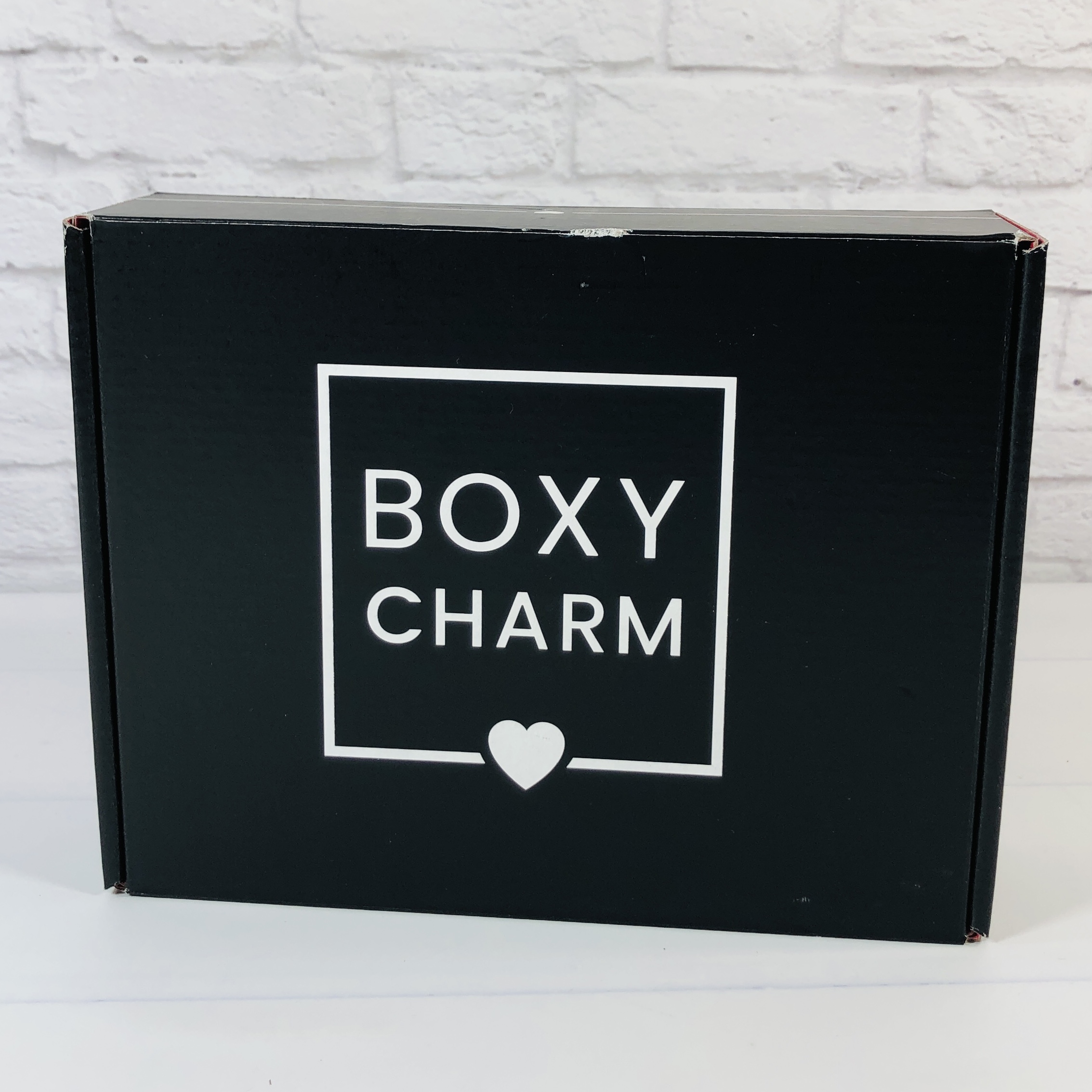 BOXYCHARM is a makeup and beauty subscription box that sends out 5 full-size items every month. Products include makeup, skincare, and beauty tools and each box has an average value of around $175. BOXYCHARM is $25 a month with discounts for those who prepay for longer terms.
Charmers will receive specially curated products from well-known, popular, chic and up-and-coming brands. Our beauty experts carefully select each item based on current and emerging trends, so you're always in the know about the latest shades and styles. With BoxyCharm and BoxyCharm Premium, we like to focus on beauty! That means makeup, skincare, haircare, and much more. To add lifestyle items to the mix, we offer the dreamy BoxyLuxe upgrade. Being a Charmer is where it's at!
DEAL: Not a charmer? Subscribe now and get a free gift: Complex Culture Sonic-T Bar Facial Massager OR Ciate I Am Woman Palette OR OPV Beauty Spotlight Palette Palette PLUS $10 credit to November Mega Drop Shop!
Use this link and enter coupon code MASSAGEME to get a FREE Complex Culture Sonic-T Bar Facial Massager  OR IAMWOMAN to get a FREE Ciate I Am Woman Palette OR OPVFORME to get a free OPV Beauty Spotlight Palette Palette AND get your exclusive $10 Add-Ons code via email within 24 hours of subscribing.
The presentation is very simple and the items were cushioned with packing paper.
All items came in their own boxes.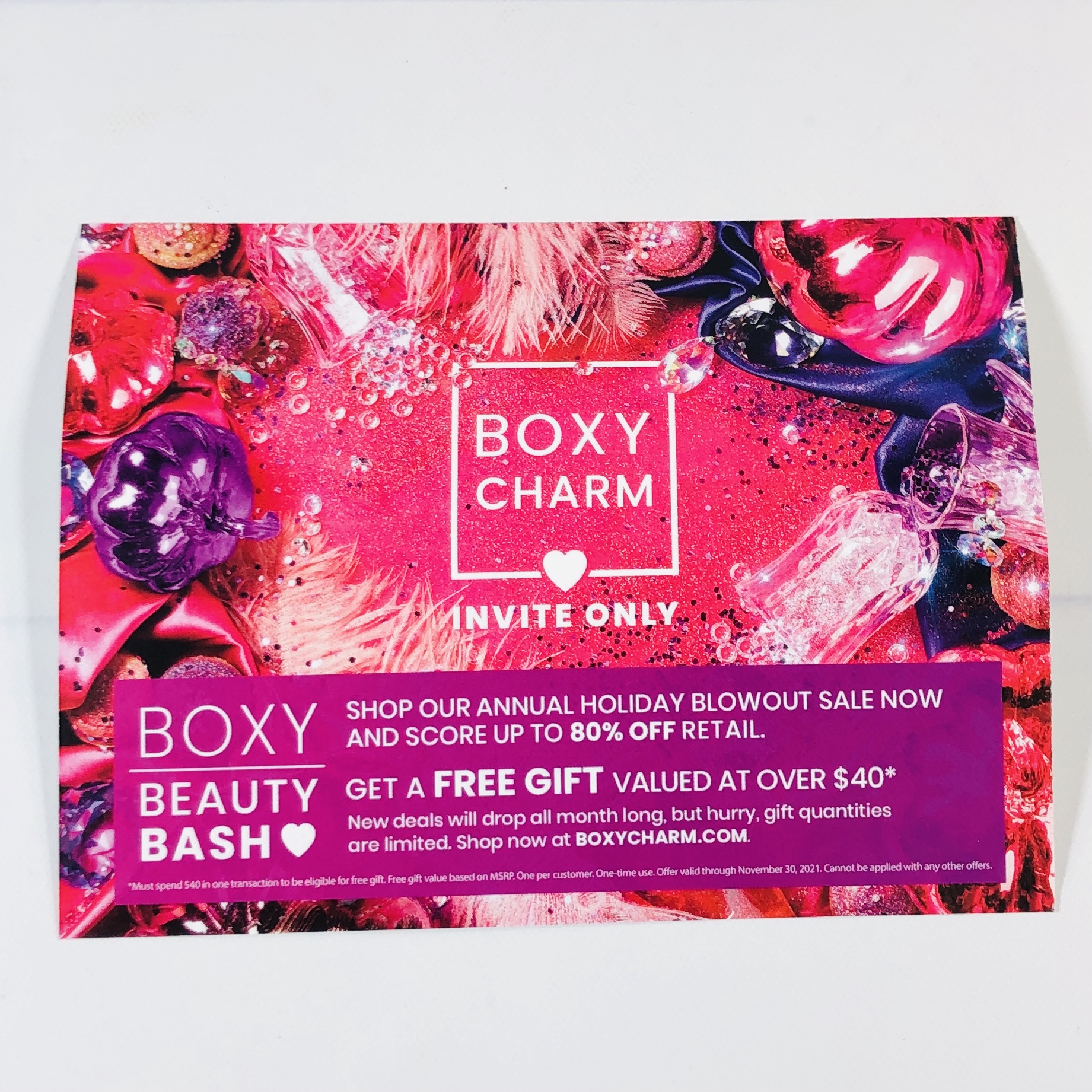 I received a card with the theme — INVITE ONLY!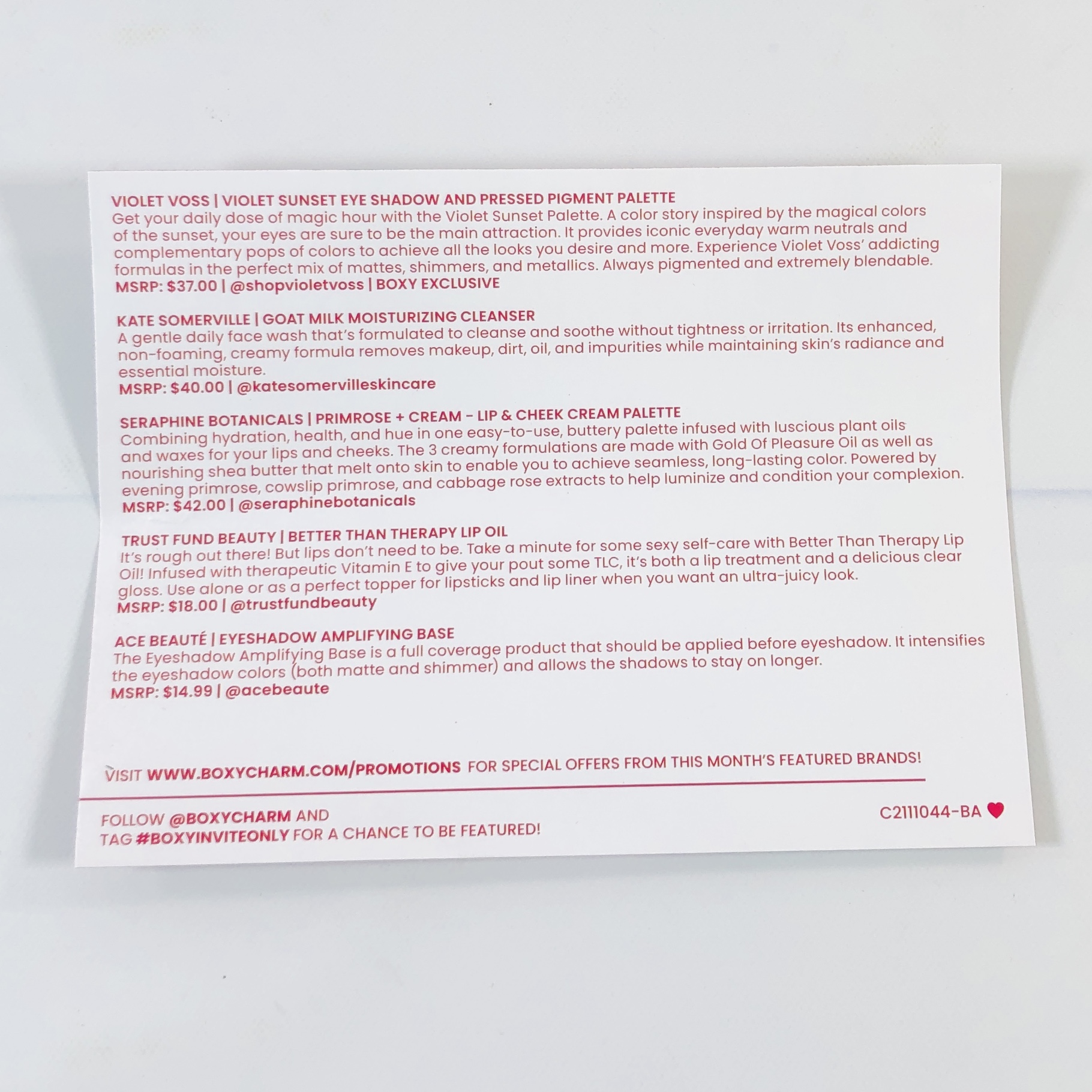 The back of the card listed the items and MSRP's plus a brief description.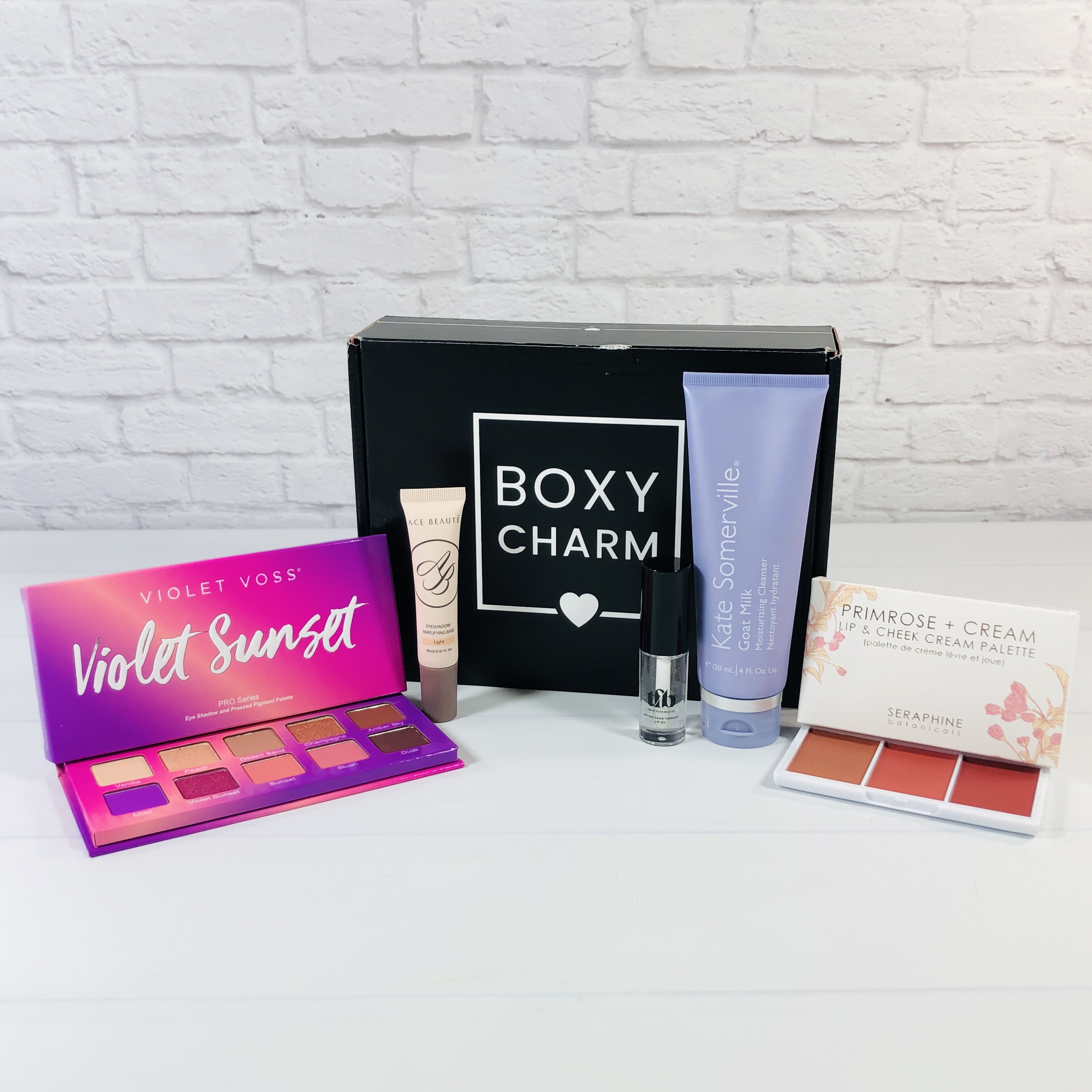 Everything in my November 2021 BOXYCHARM! Keep in mind that BOXYCHARM sends many box combos so your box items and value may be different than mine. There are variations in the box – see them here.
Kate Somerville Goat Milk Moisturizing Cleanser ($40) is a gentle cleanser that can remove face makeup and that smells really nice.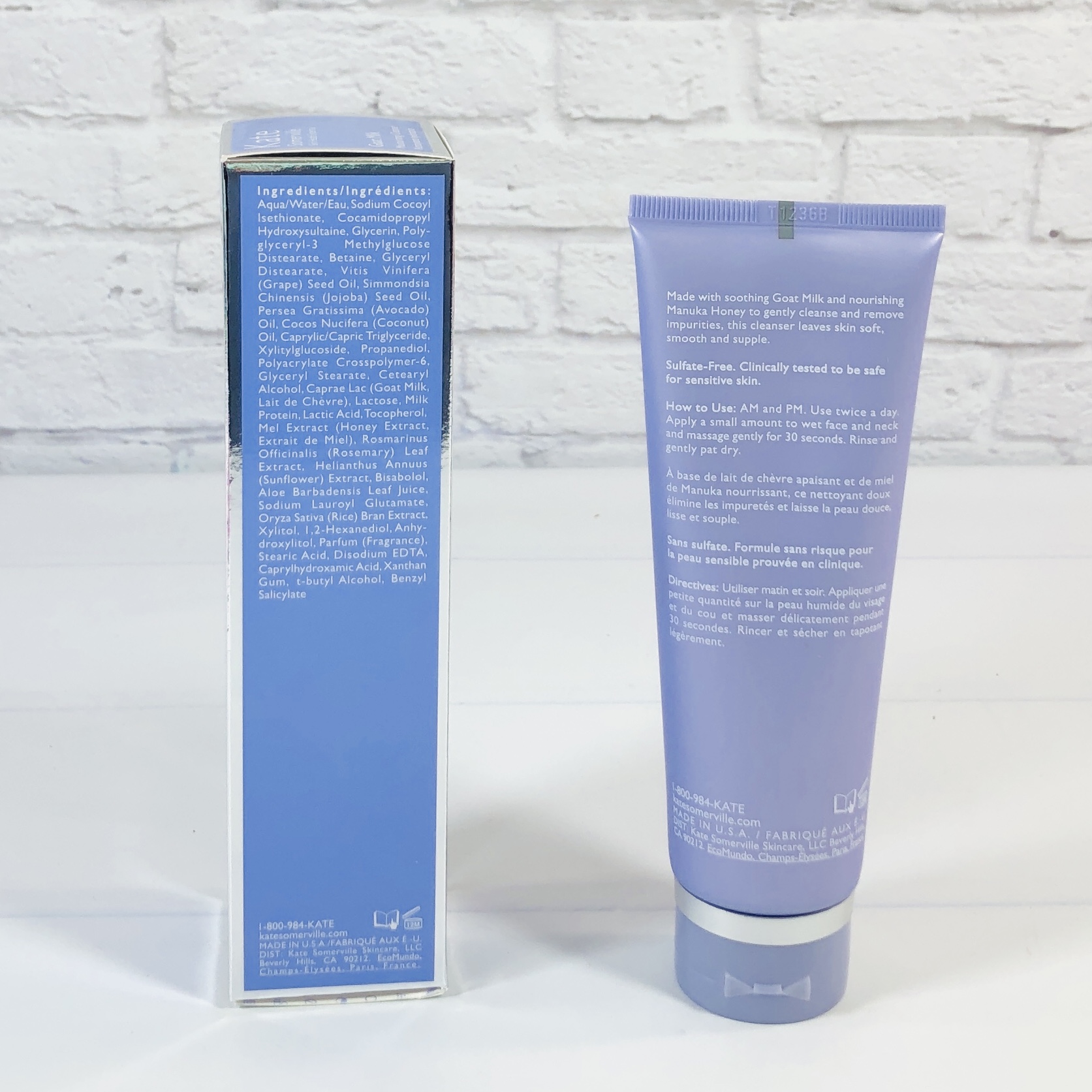 Here are the ingredients and they want you to know that it contains goat milk, manuka honey, and jojoba, coconut, and avocado oils. It's supposed to relieve dry skin over time. It has parfum, so it smells exactly like every other goat's milk containing perfumed product I've ever tried, such as bar soaps and lotions. It was creamy, it had a milky lather rather than a bubbly lather, and it removed all of my makeup according to the toner-soaked cotton pad I followed up with afterwards.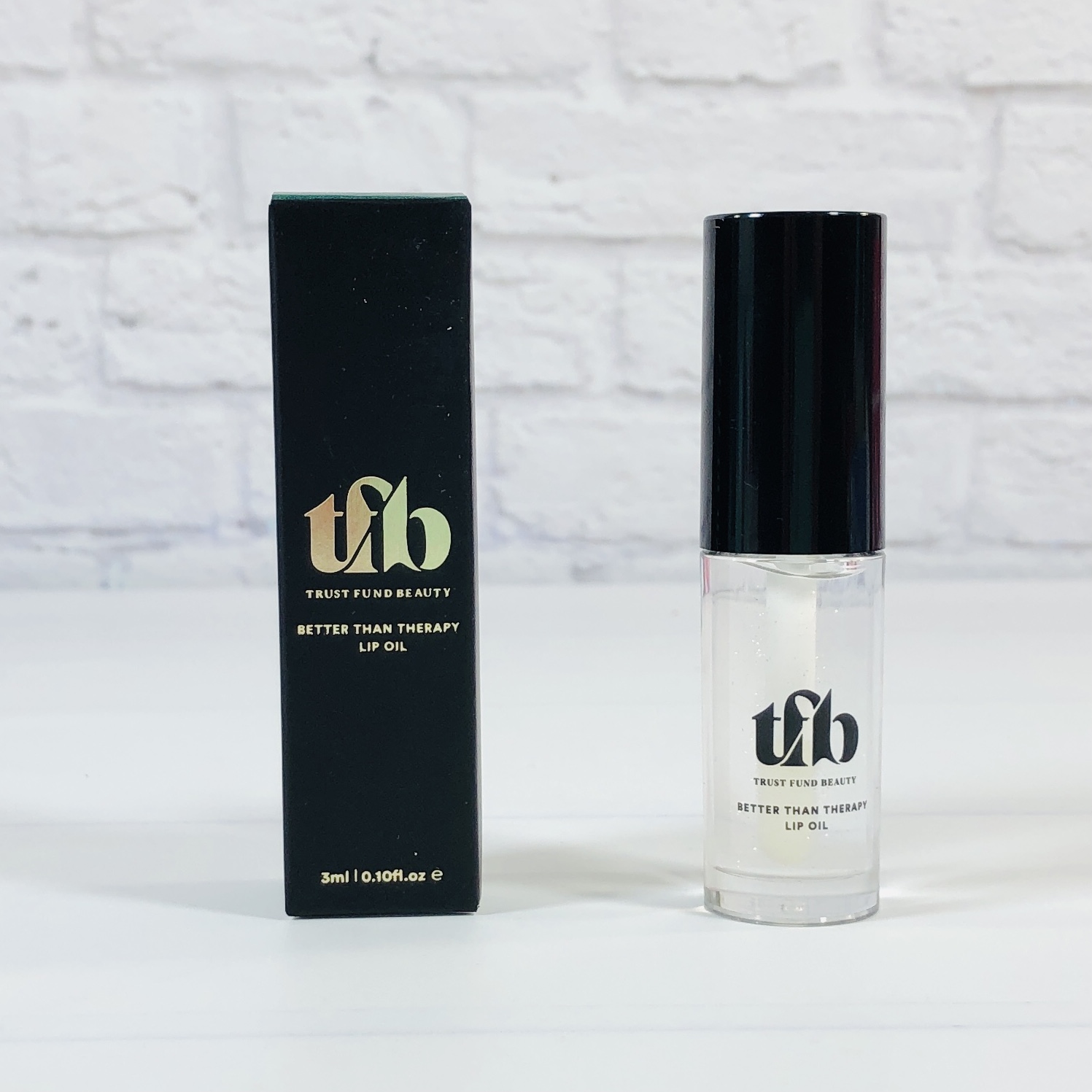 Trust Fund Beauty Better Than Therapy Lip Oil ($18) is a non-sticky lip gloss with a hint of shimmer that pretty much just makes the lips shiny.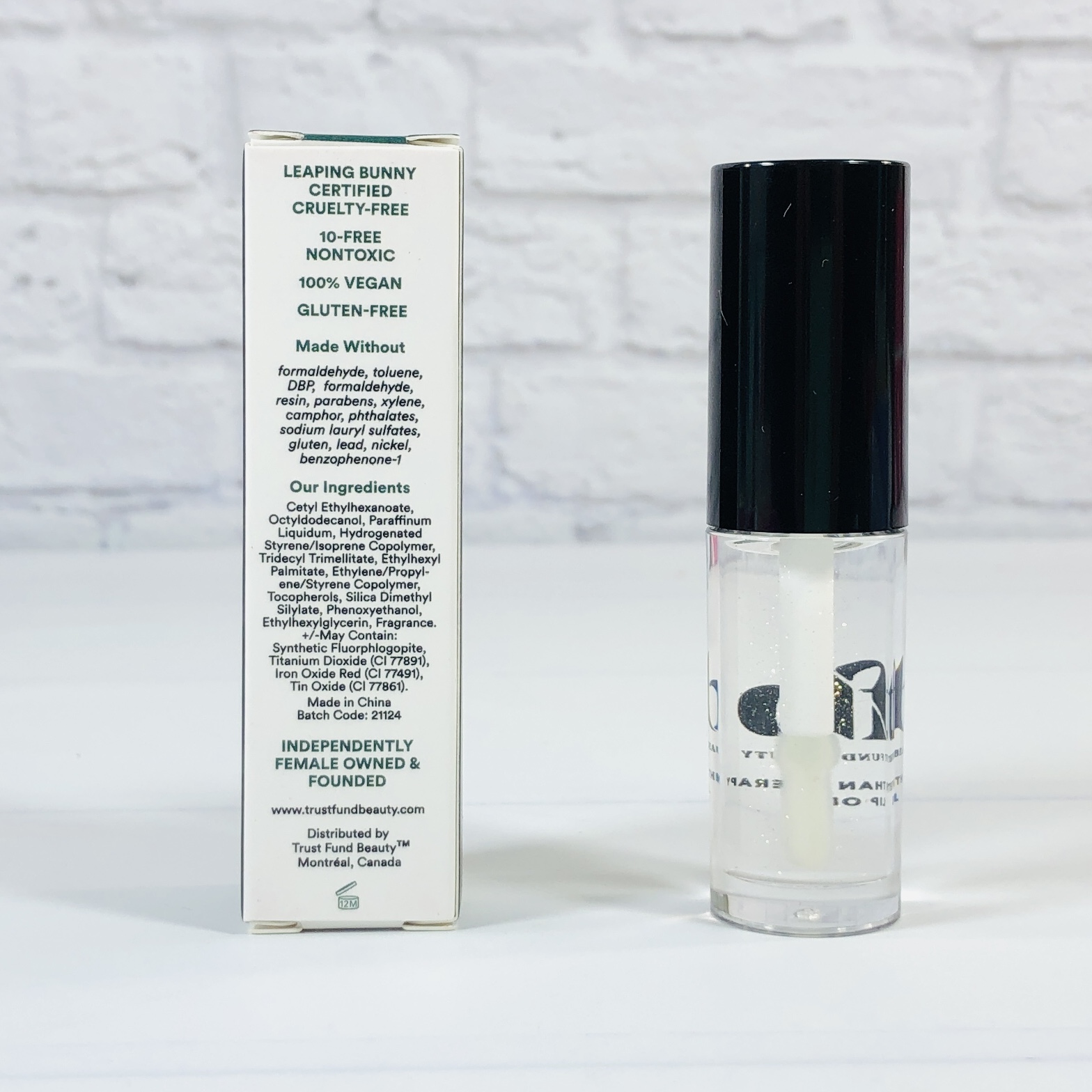 Here's the ingredients and they include mineral oil and things to make the gloss glide easily over the lips. I'm not sure why it says this is 10-free, that usually applies to nail polish, but then this company is known for their nail polish!
It has a hint of vanilla scent but I can't taste it once it's on. Again, I experienced glossy lips and the product didn't feel sticky. It can be worn alone or over lipstick or liner.
Can you see the golden specks? They don't show up on the lips that I can tell, but leave a shiny finish.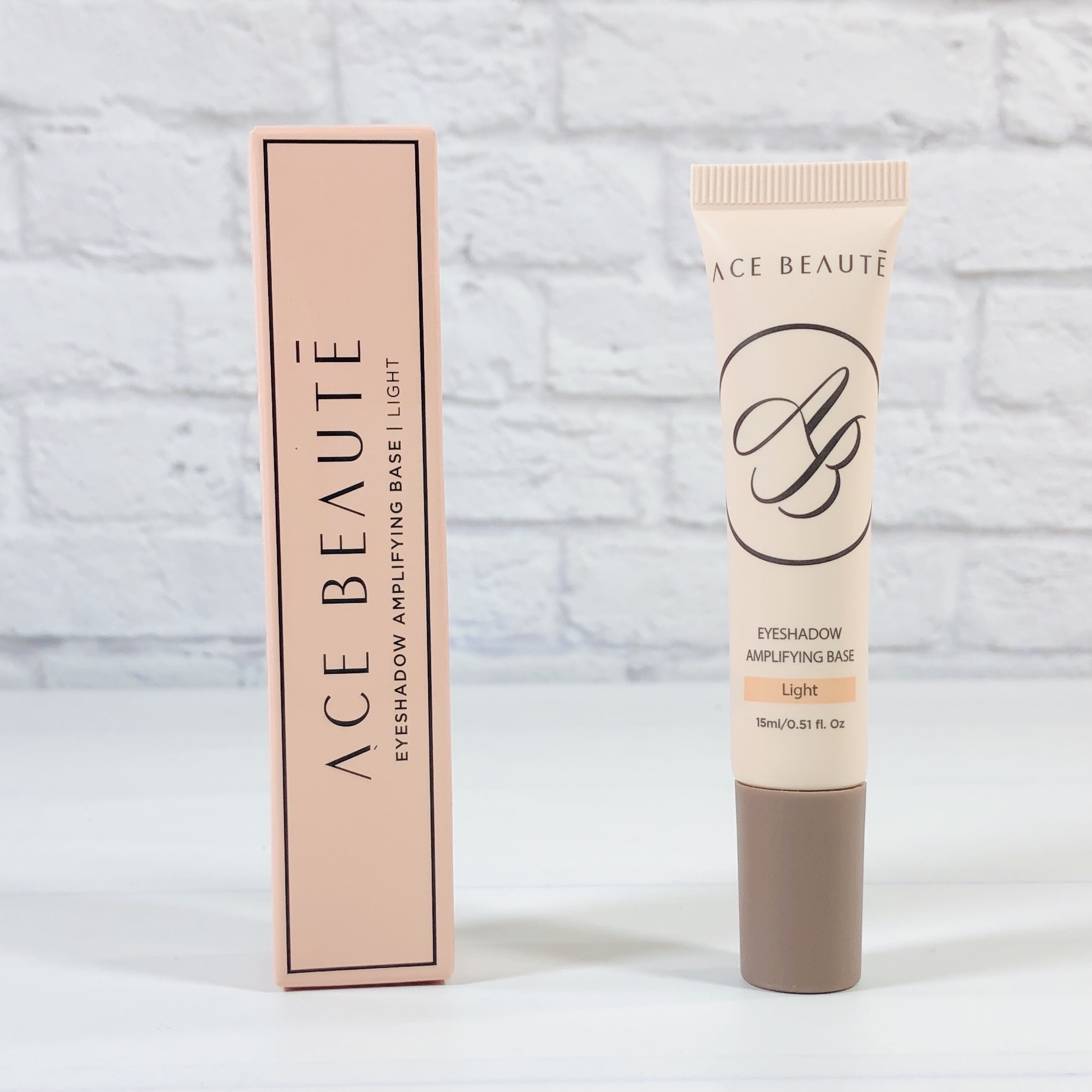 Ace Beautē Eyeshadow Amplifying Base ($14.99) I think of eyeshadow primers as concealer for my lids, as it looks and feels similar to what I might use to cover undereye circles or a blemish. I received the shade Light.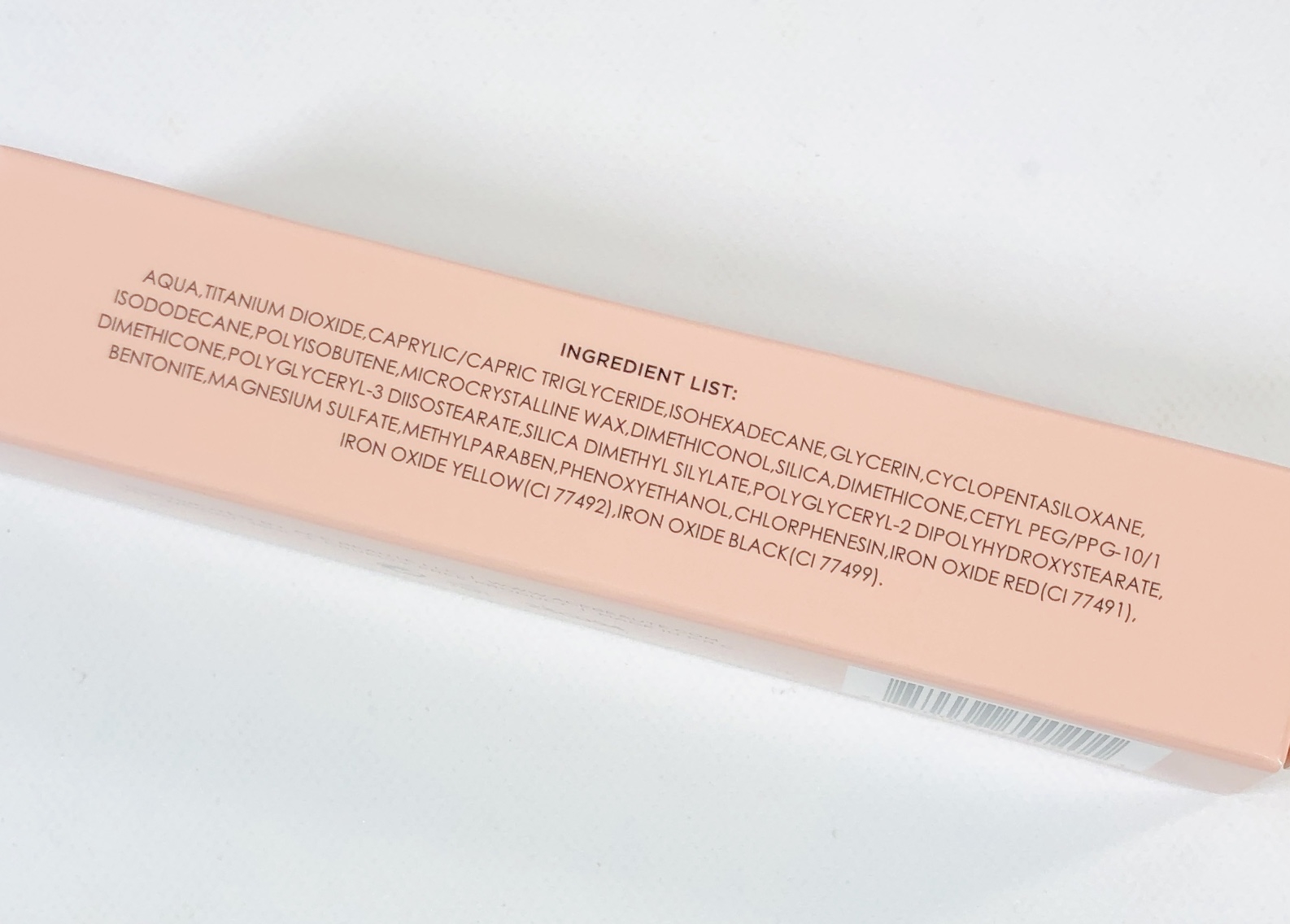 Here's the ingredients. The instructions say to apply with a finger or concealer brush and to spread evenly. It only takes a tiny bit. I thought it worked well, it's not as creamy as the primer I usually use but my shadow was still looking good by the end of the day. It's supposed to intensify the look of the shadows but maybe I applied too little, I didn't see much difference. Swatched below.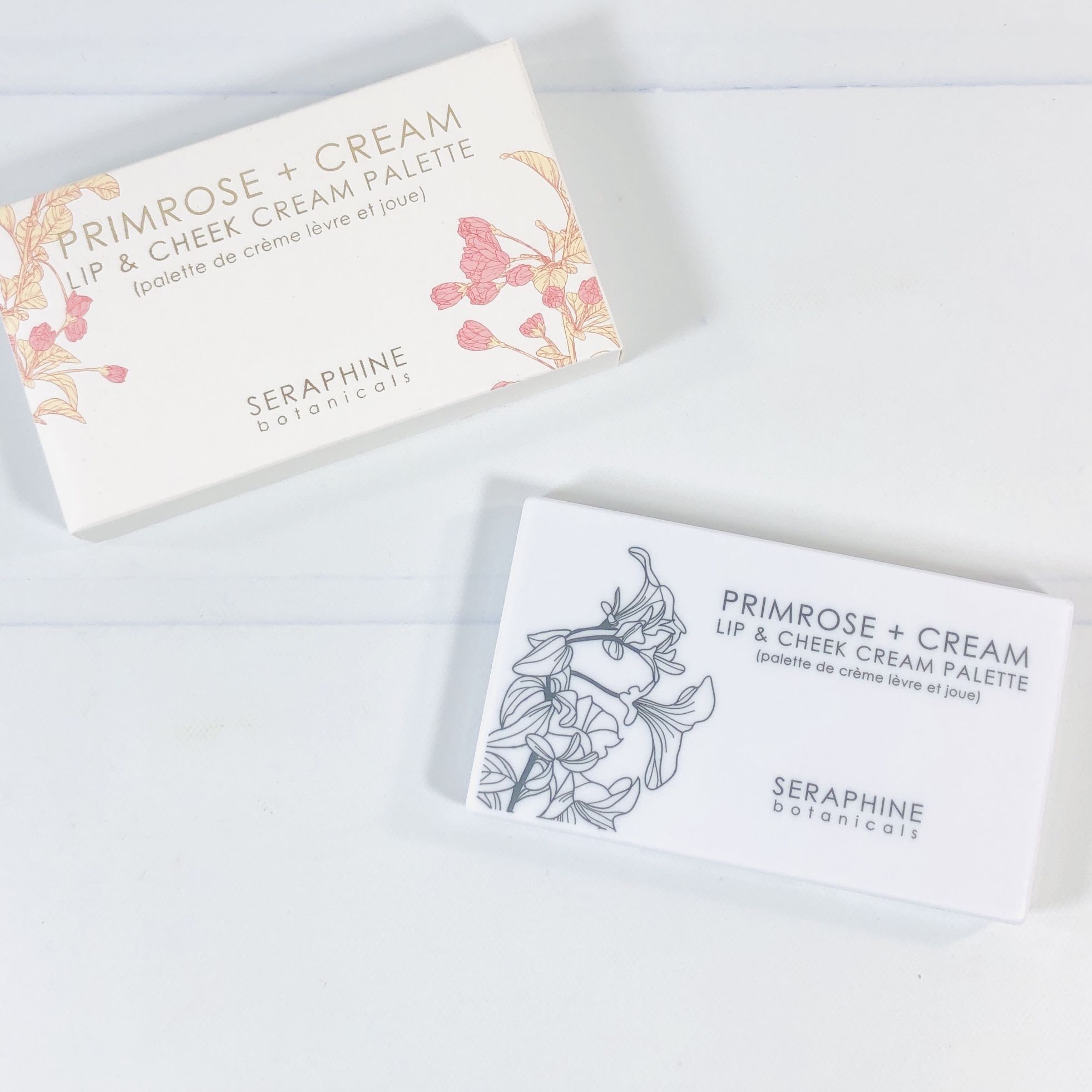 Seraphine Botanicals Primrose + Cream – Lip & Cheek Cream Palette ($42) Wow, that's a little pricey for a cream blush palette but I'm happy to have received it, I like the colors.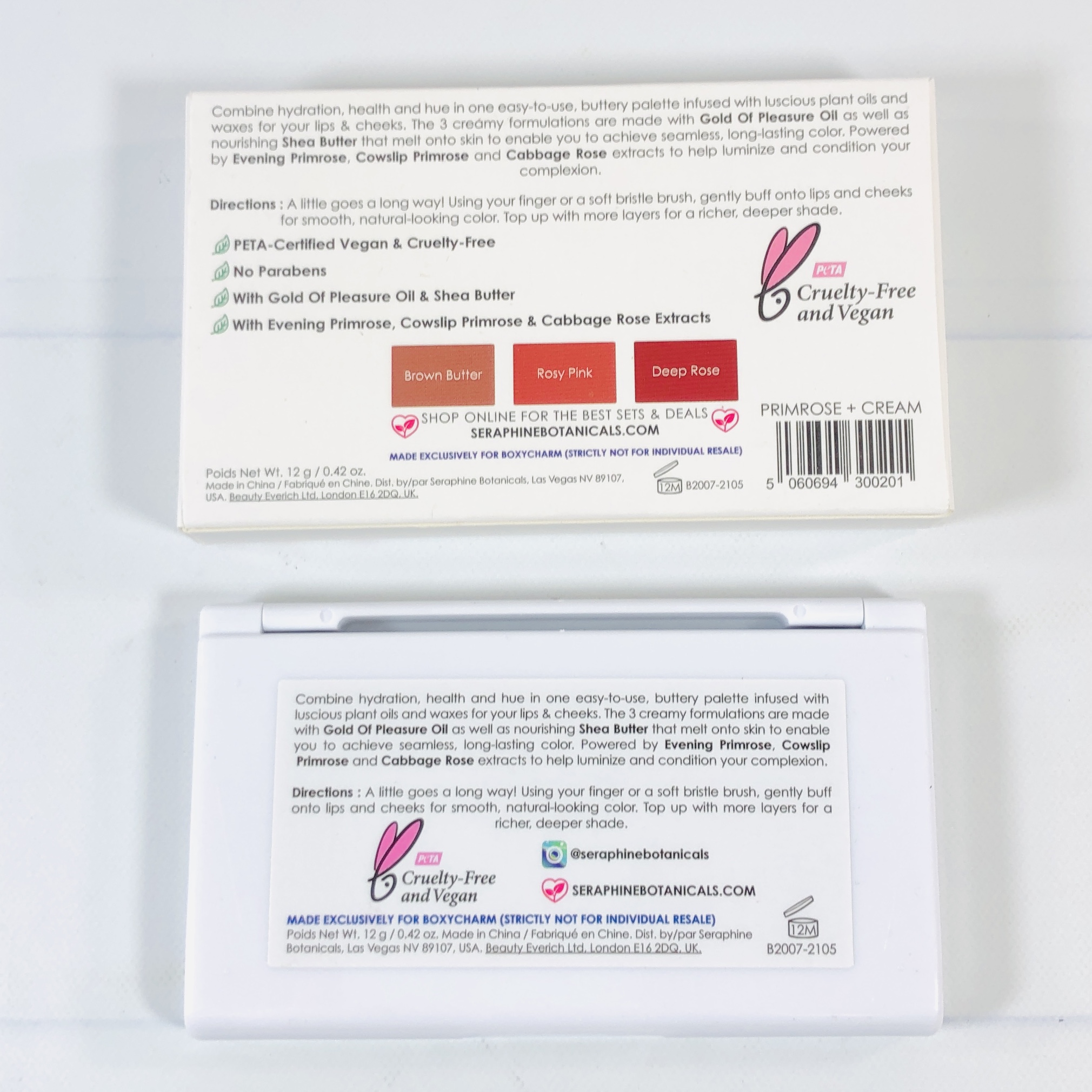 Here's the shades and the instructions — just spread on with a finger or brush.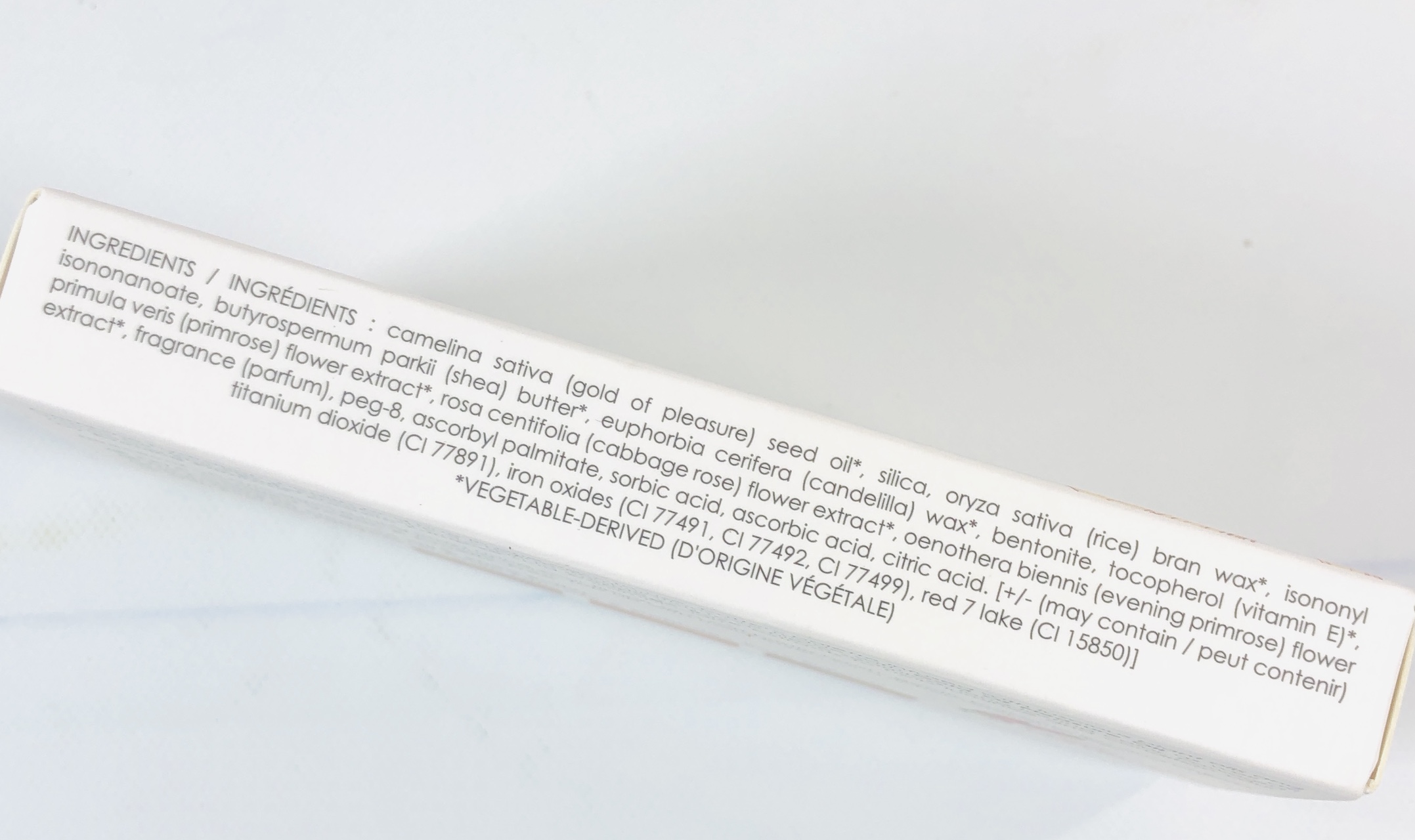 Here's the ingredients list, and it contains something called Gold of Pleasure seed oil, a relative of mustard and cabbage.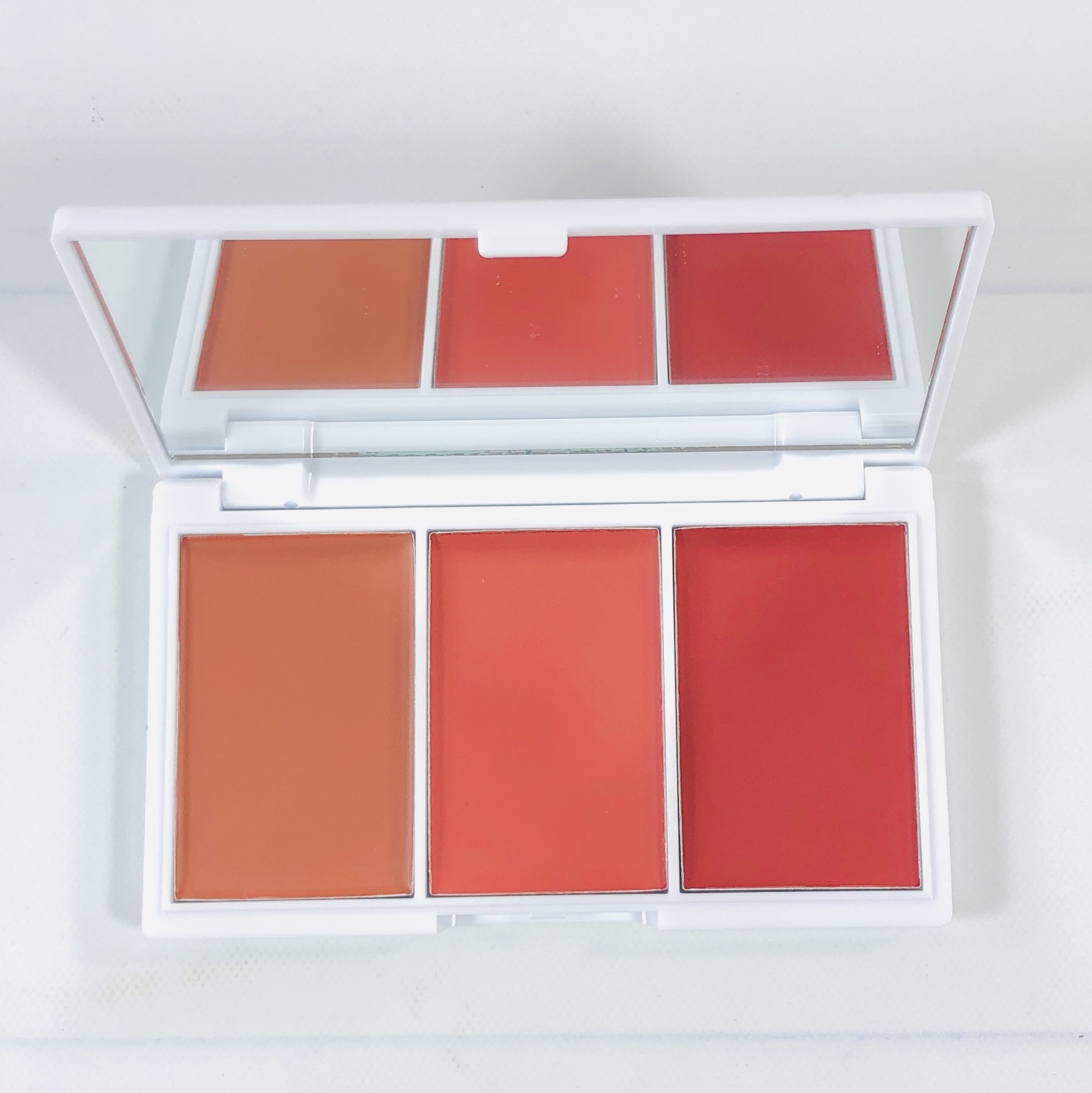 I haven't used the brown shade but I have tried the other two.
They spread easily enough and I thought the color payoff was really good. I had to apply a lot of the color to my lips to get it to feel moist, and I think I prefer using this strictly as blush.
Swatched on top is the eyeshadow primer (I tried to sheer it out on top) followed by the blushes.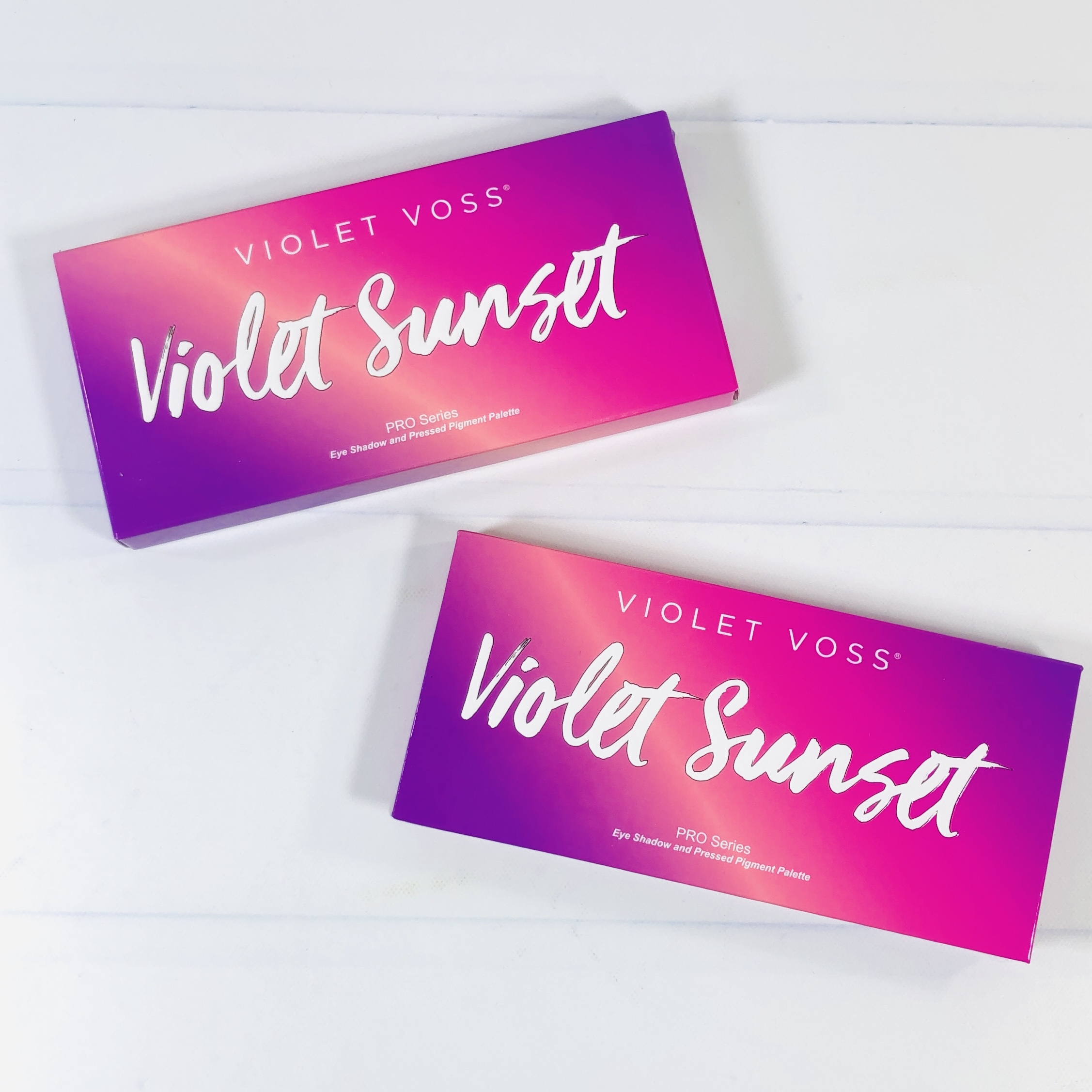 Violet Voss Violet Sunset Eyeshadow and Pressed Pigment Palette ($36) I thought this palette had some beautiful colors, it's a good mix of neutrals with a few pops of bright shades.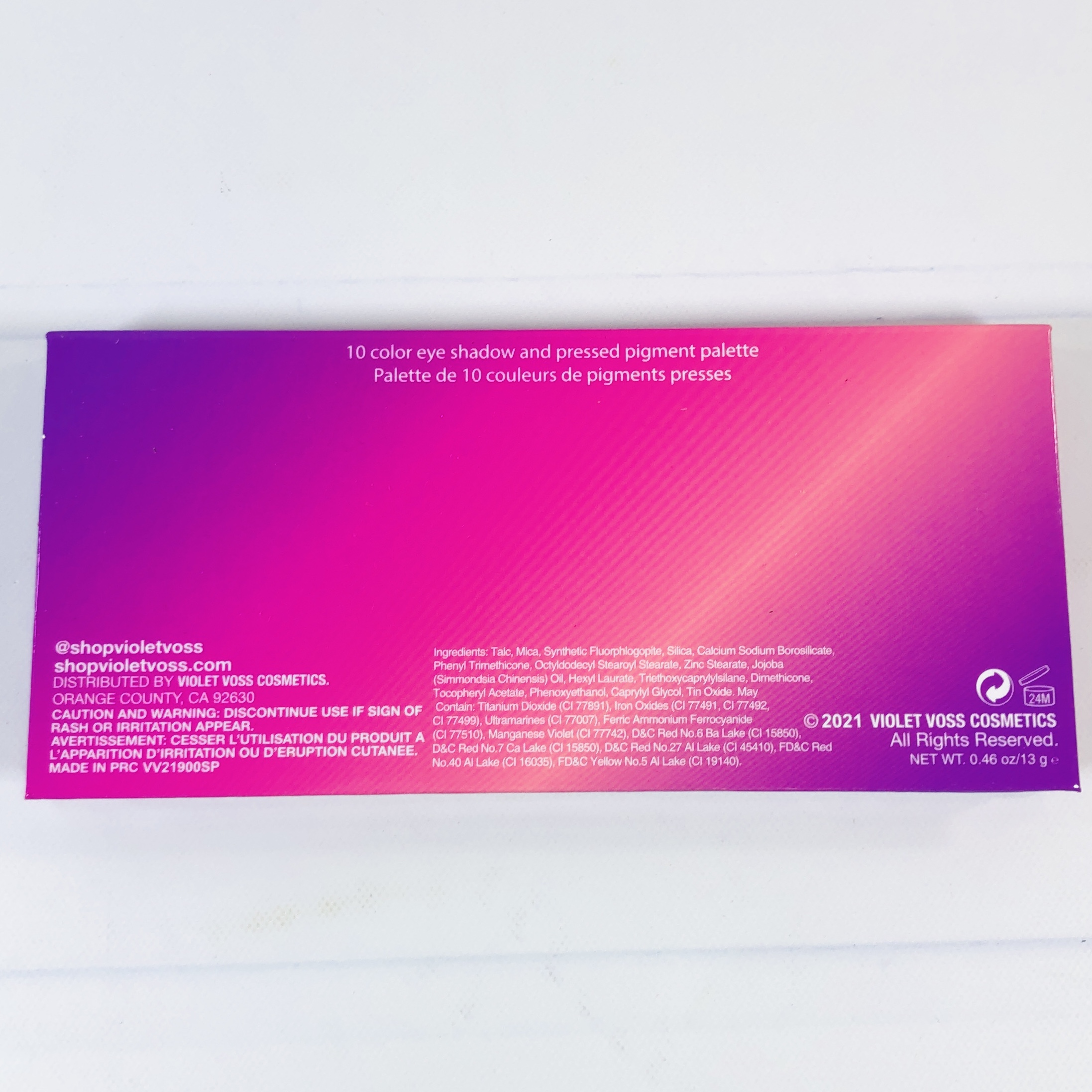 Here's the ingredients and please note that this says it is an eyeshadow and pressed pigment palette. Some of the colors or glitters are not approved for use on the eyes and this is their disclaimer. You can check the FAQs section of the Violet Voss website for their application tips.
The shades are supposed to represent the shades of a sunset and I think they nailed it.
Here's their description of the shades:
Vanilla (Duochrome pink)
Peach (metallic golden peach)
Desert Sand (matte warm brown)
Champagne (foil champagne)
Amber Sky (matte amber)
Lilac (matte lilac)
Violet Sunset (metallic violet)
Sunset (matte pink peach)
Blush (matte blush)
Dusk (matte deep brown)
It is a good assortment of mattes, shimmers, and metallics. I used a primer (see above) before applying these shades and I thought they went on easily and like most shadows I had a little bit of fall out. I thought the shimmers looked better when applied with my finger rather than a brush.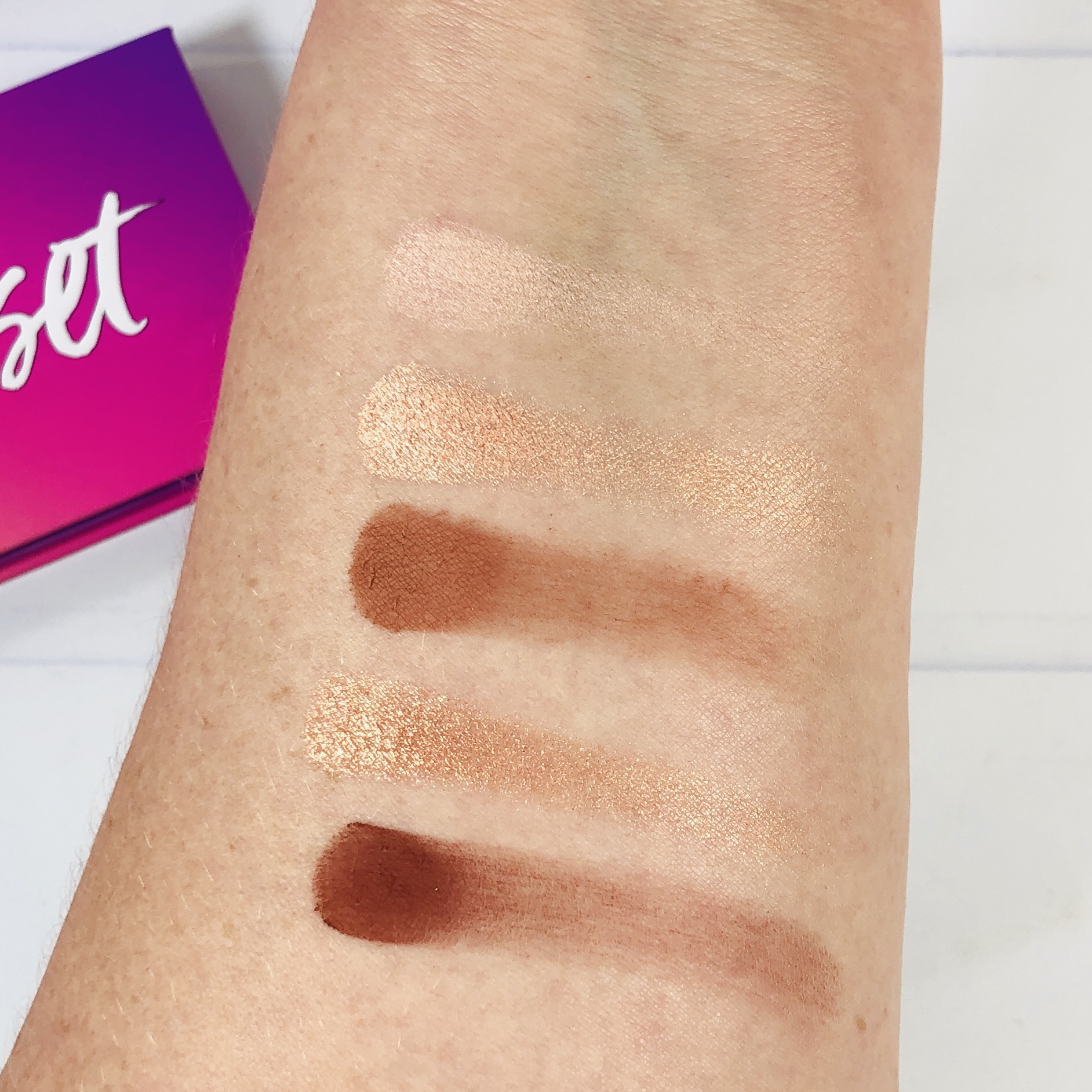 Here's the top row swatched.
Here's the bottom row.
I ended up being very pleased with my November BOXYCHARM products! The makeup colors all worked well for me, and they coordinated well with each other. I like the lip product, it's non-sticky and feels good on my lips and I can't wait to try it over liner. I would prefer that the cleanser not have fragrance but that's a personal preference due to sensitivities. I had a lot of fun playing with the shadow palette, the colors look like they were taken straight from the skies outside my home at this time of year. The value for my box assortment was around $151!
What's your favorite item in this month's BOXYCHARM?