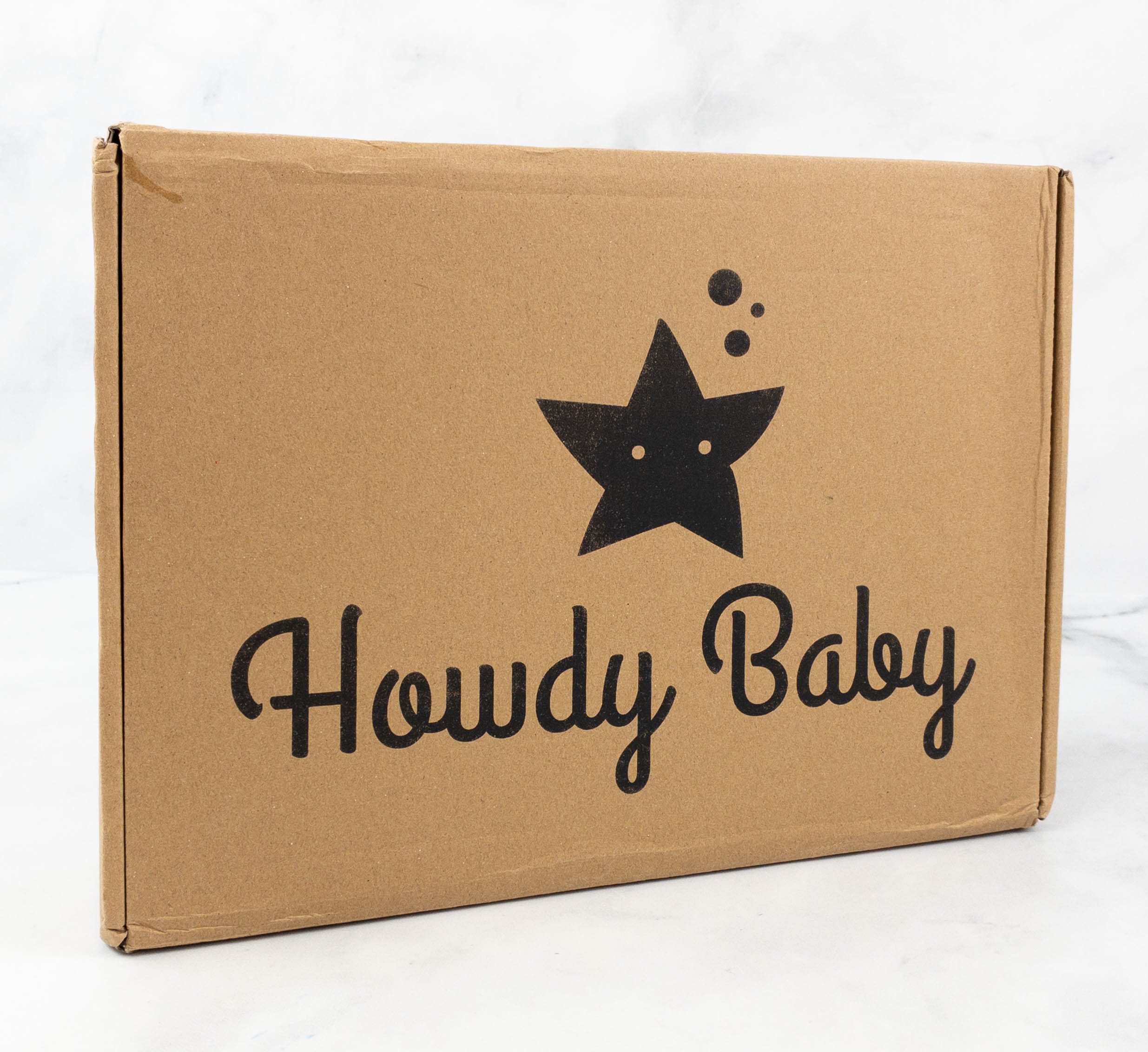 The Howdy Baby Box is a monthly subscription box for babies, toddlers, and big kids that promises to send ethically-made children's products from independent brands & makers in the USA. For $60 per box, you can choose between monthly, bi-monthly, and quarterly subscriptions, and get full-sized premium products for you and your little one to explore together every month. Our boxes feature unique mom-tested products such as clothing, accessories, care products, toys, and activity items specifically tailored to your child's age and developmental stage.
DEAL: Get 10% off your first month! Use coupon code HELLOSUB10.
The box arrived in excellent condition.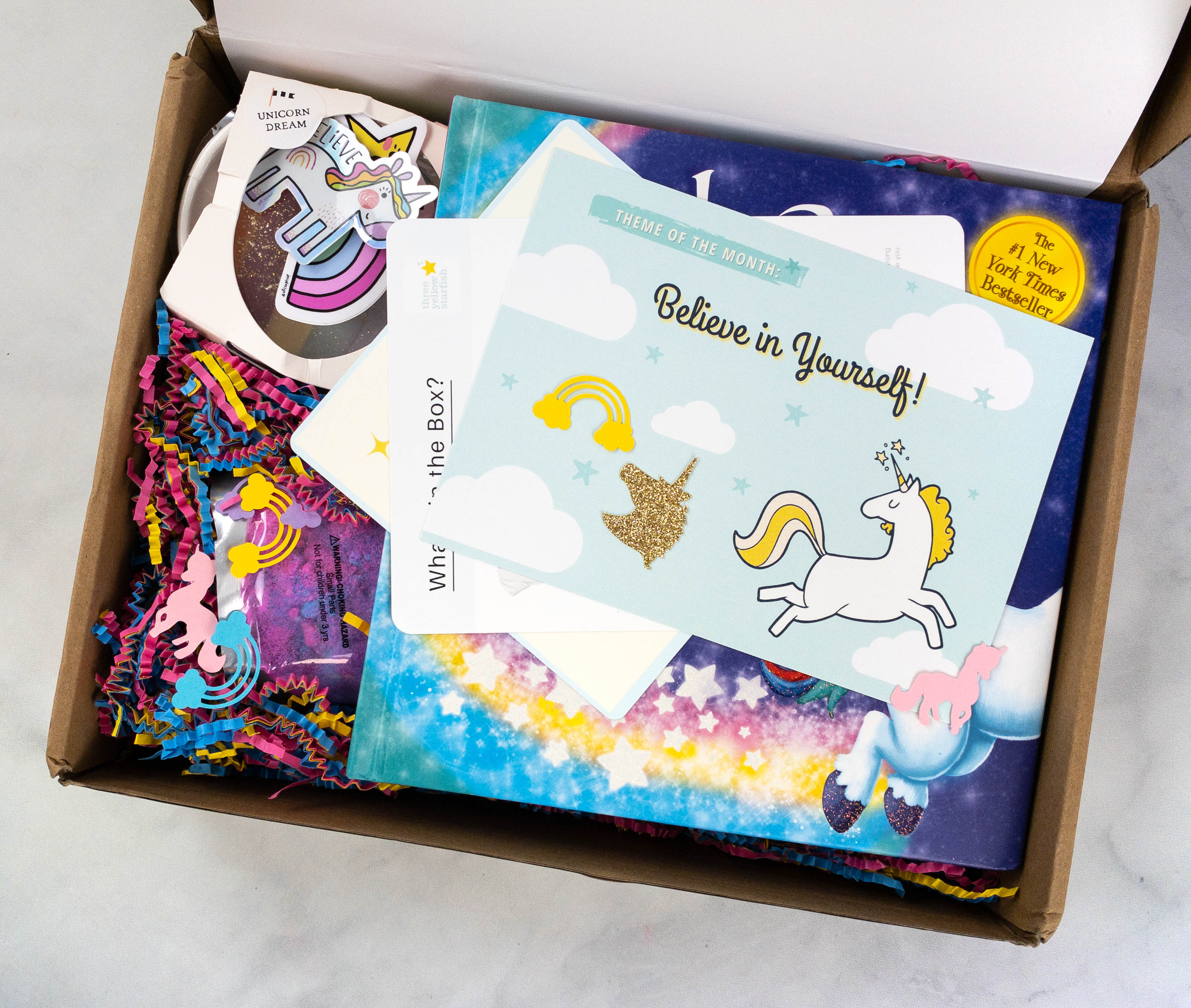 The items were also packed with colorful squiggles!
They included this card with Lessons from a Unicorn.
It's okay to be different.

Anything is possible.

There's magic inside you.

Always believe in you.
There's also a list of all the items included in the box.
It comes with individual photos and where the items are from.
There's also a brief description for each.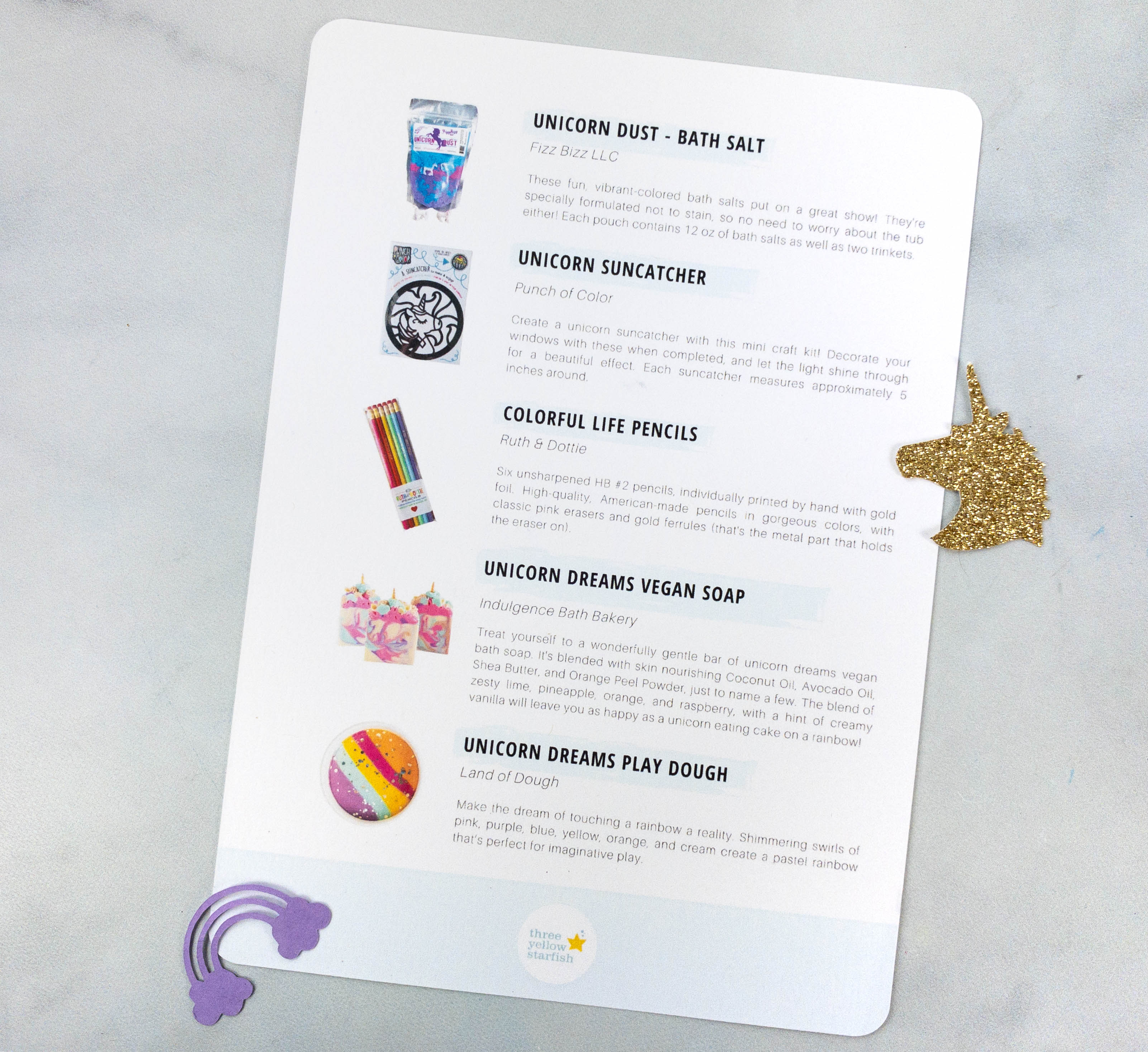 There's a lot of items inside!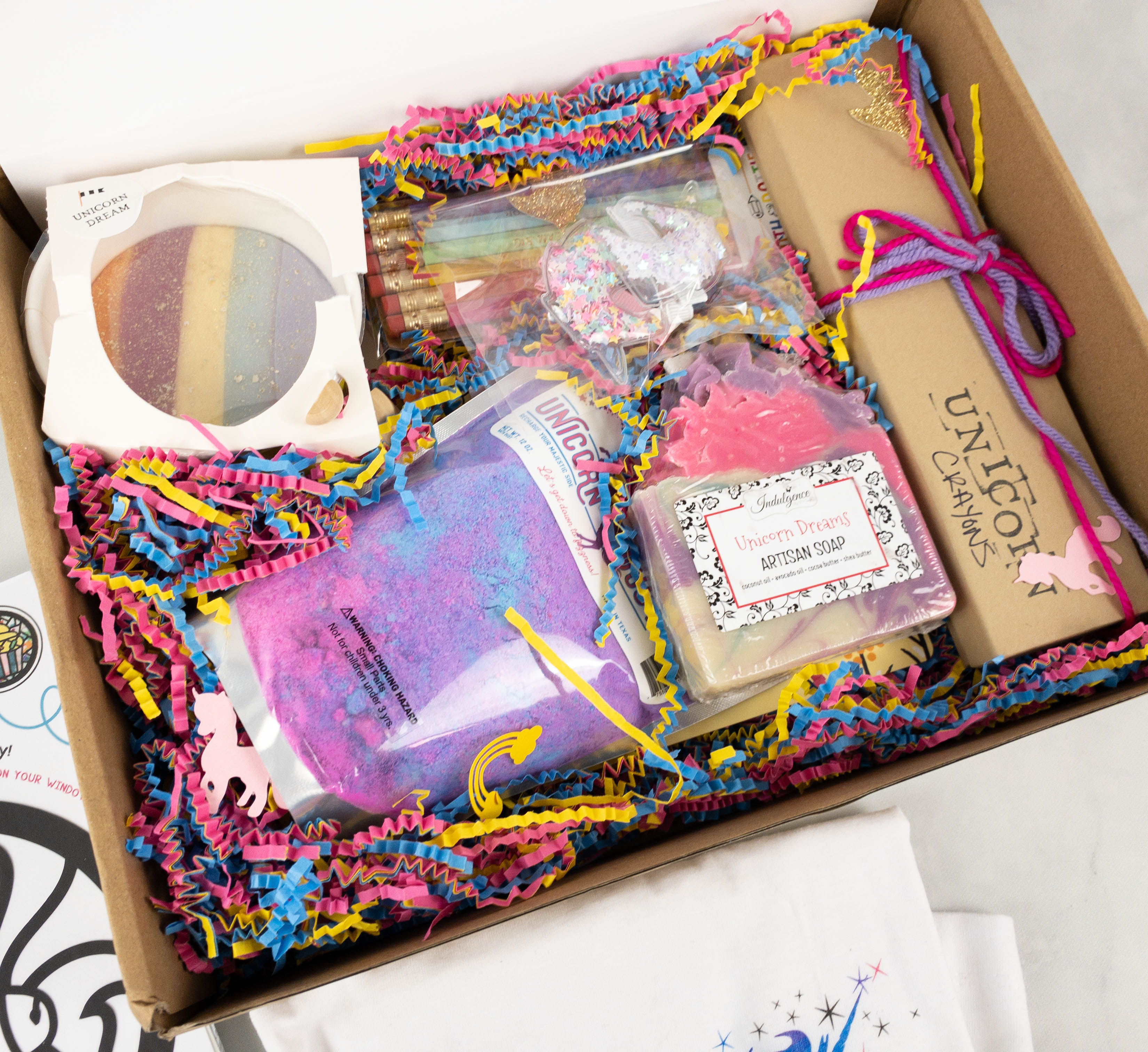 It looks so cute and colorful from here already!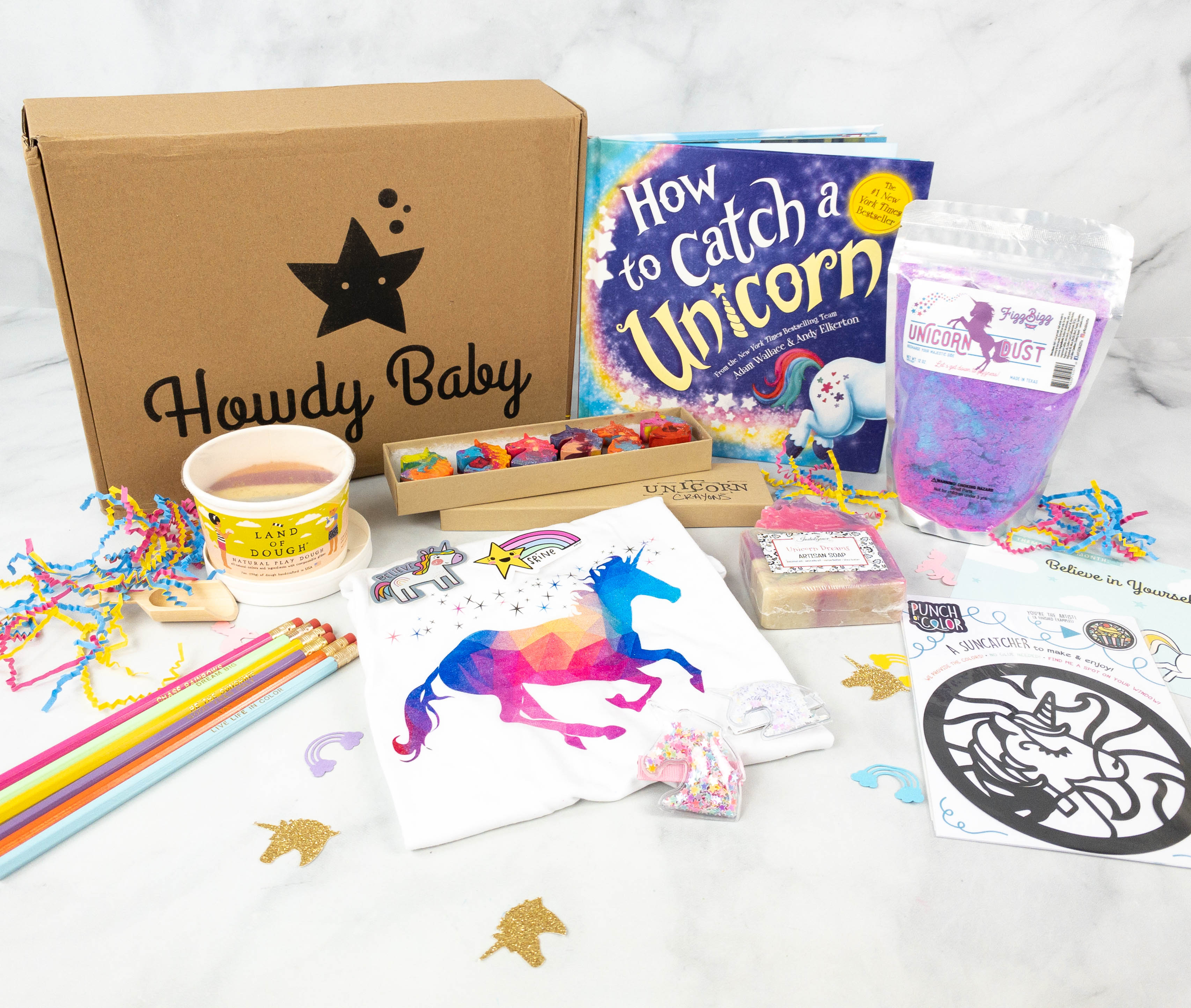 Everything in my box!
Magical Sticker Set. The box includes two cute stickers! One is a unicorn with a holographic background and the word "Believe" printed on it. Another sticker is a star has the word "Shine" and it's followed by a tail of rainbow. So cute!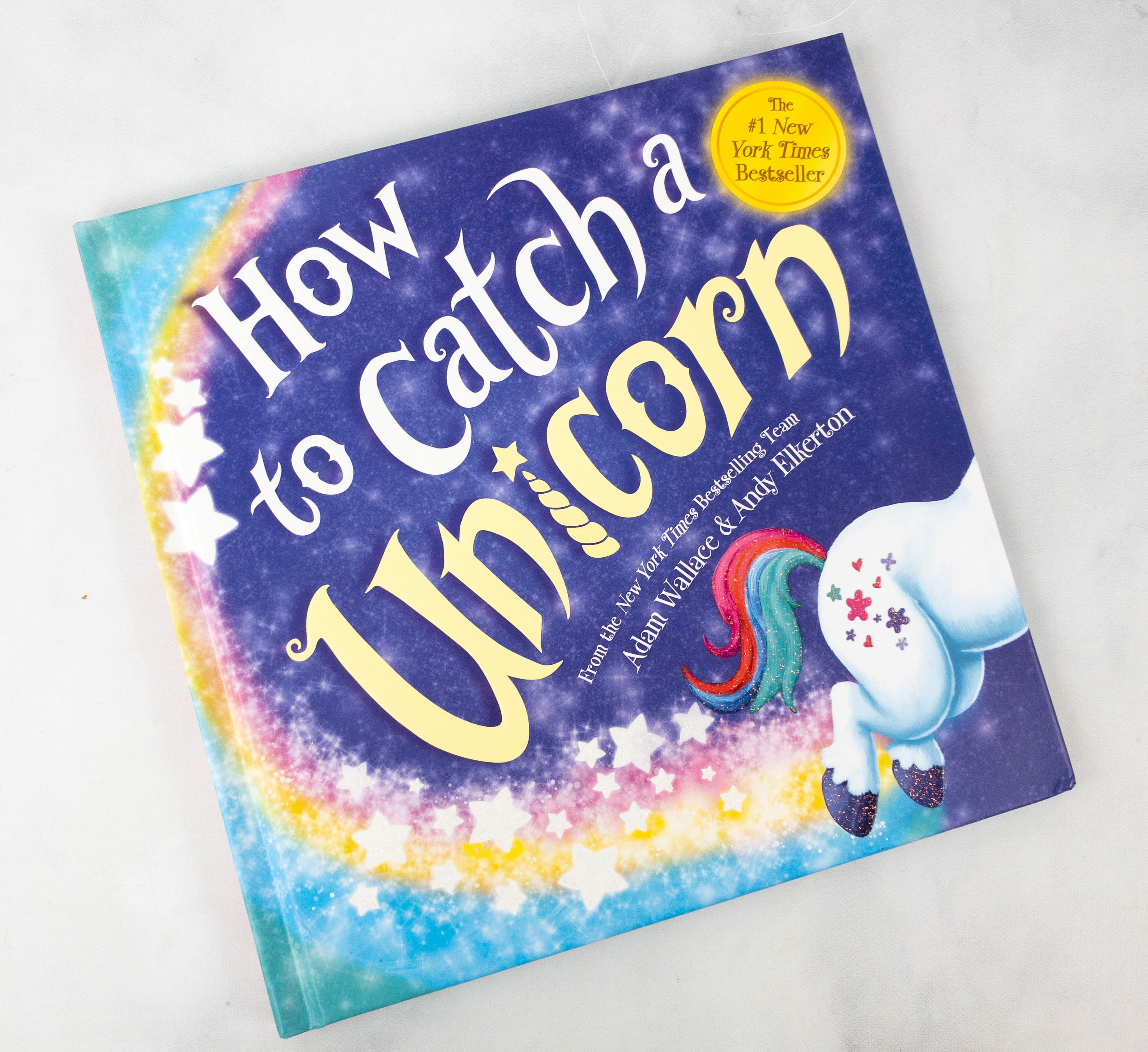 How to Catch a Unicorn by Adam Wallace & Andy Elkerton ($3.99)
Try to catch one of the world's most elusive mythical creatures―the unicorn! Filled with zany traps and lots of rainbow unicorn fun, this is the unicorn book of the year!

Can you catch the unicorn? You'll have to use your brain, So set your traps and prep your team To pet that rainbow mane!
This was an instant hit with my daughter because she loves unicorns!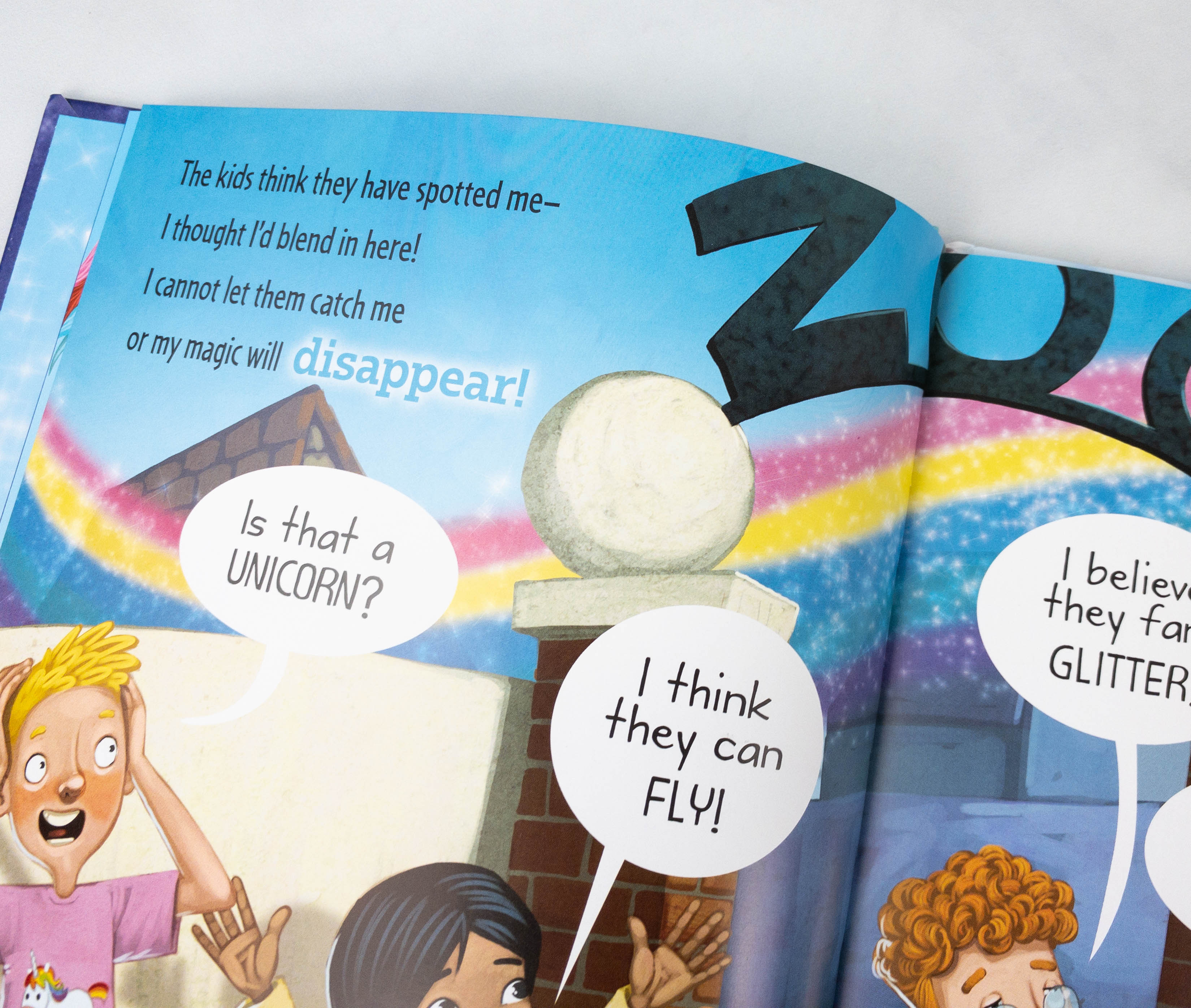 The illustrations are colorful! Some words were also highlighted using different fonts and colors, which is a great way for kids to easily remember them.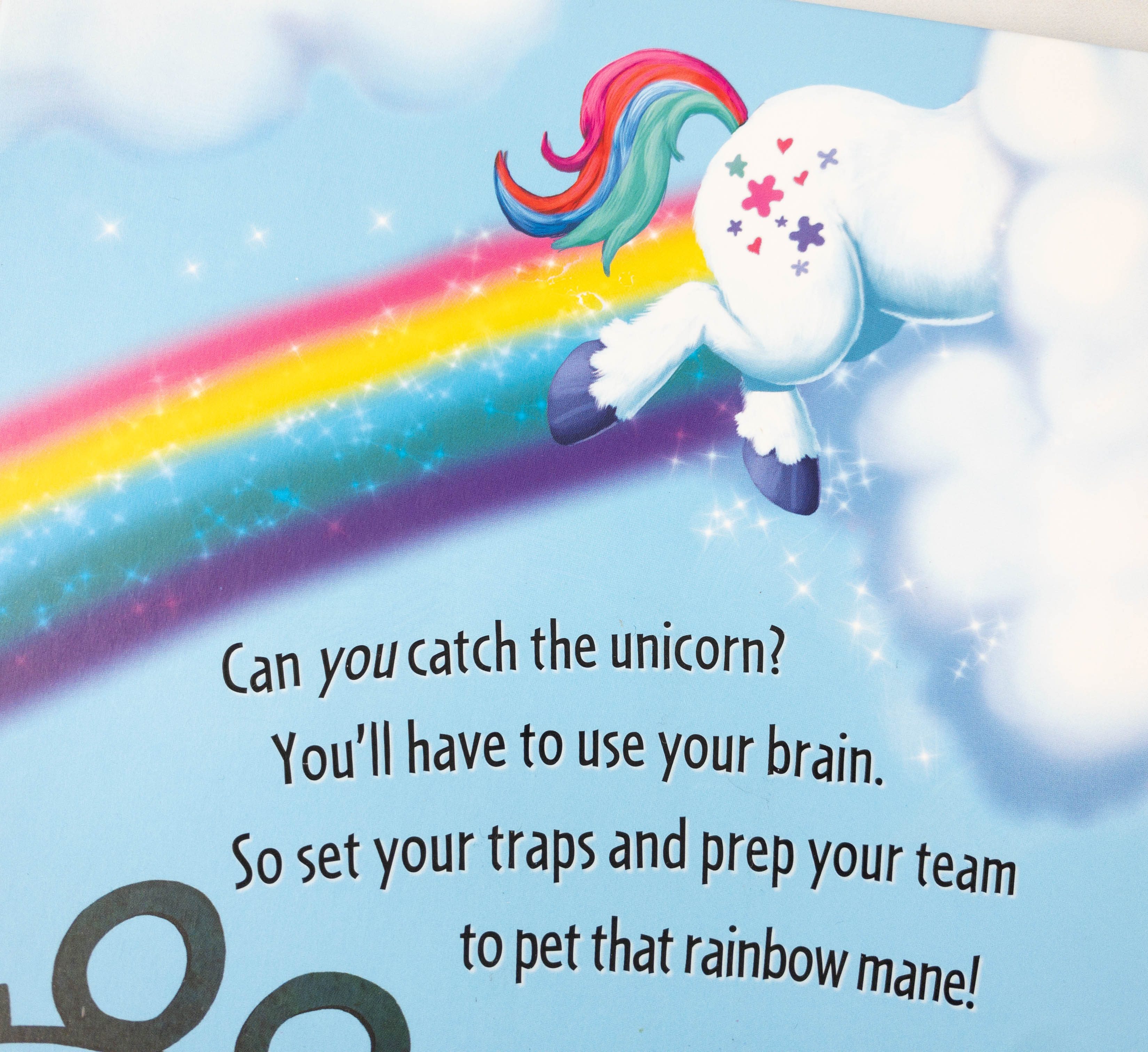 The text features rhyming words and it's also great for reading aloud. This is my daughter's current favorite read before bed!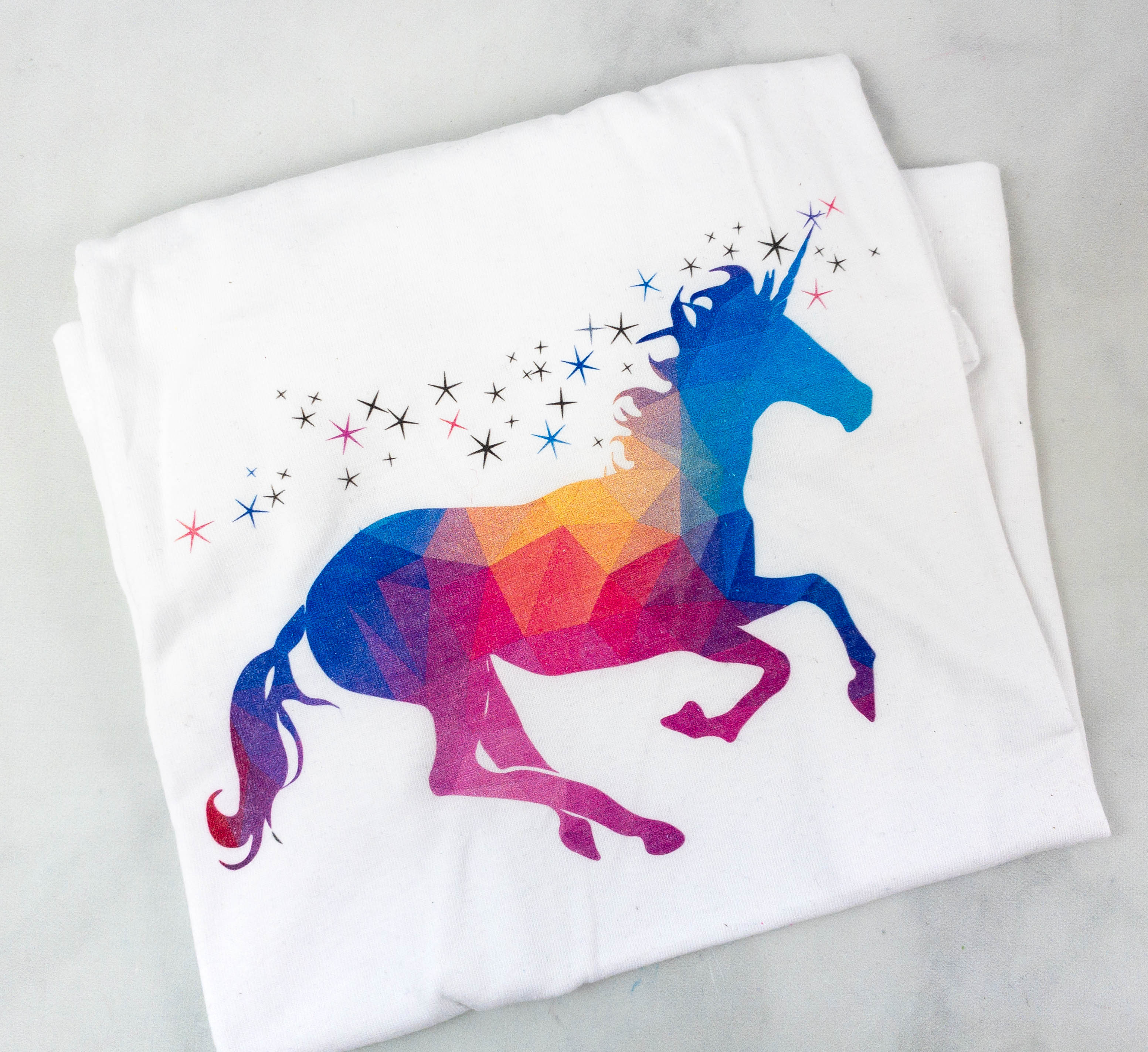 Unicorn Tee. This month's box also includes a wearable, a pretty unicorn t-shirt! It's in white, so the colorful print really stands out.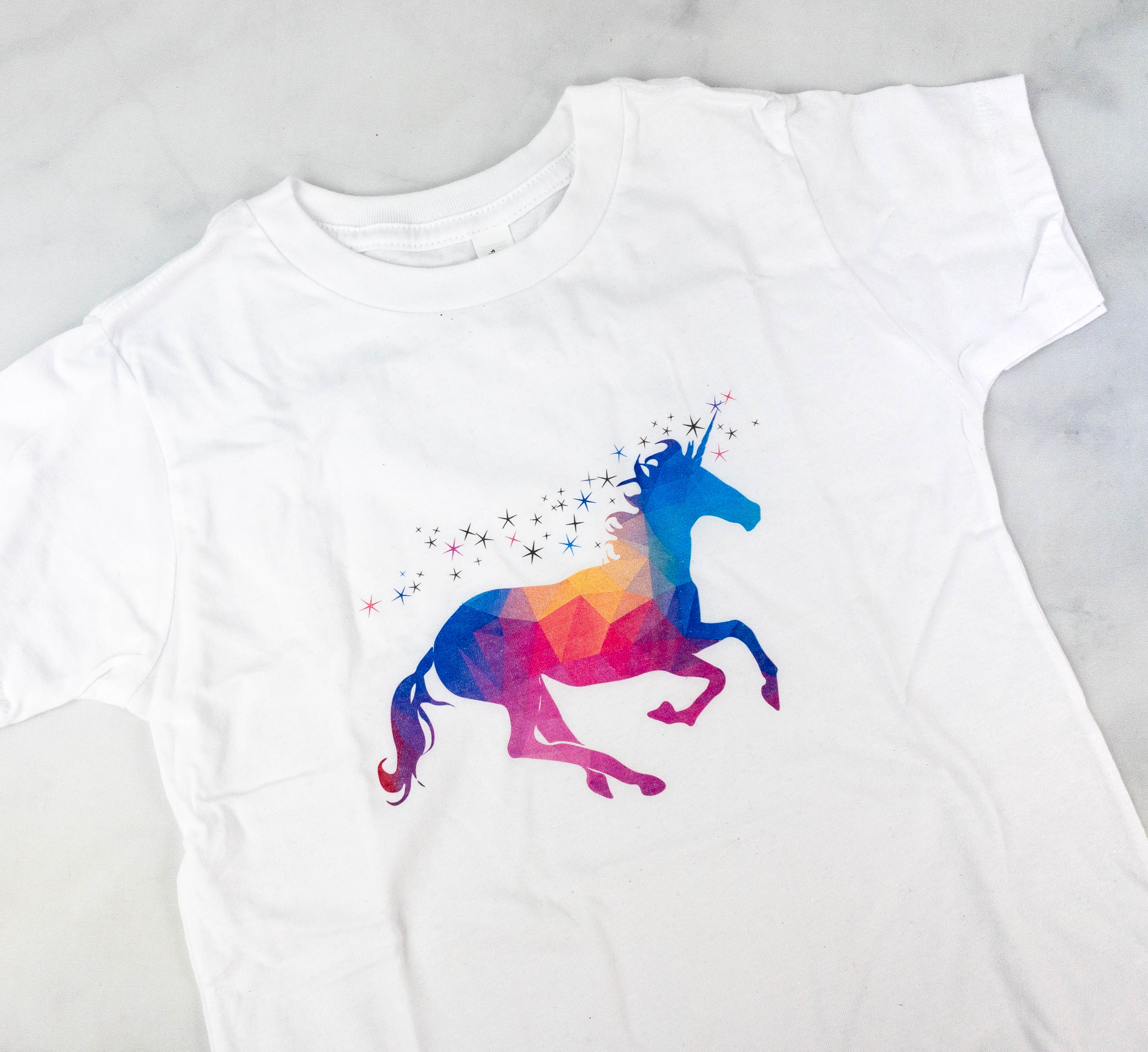 The fabric is soft and lightweight as well. My daughter loves the unicorn print so much!
Here's how it looks like when worn!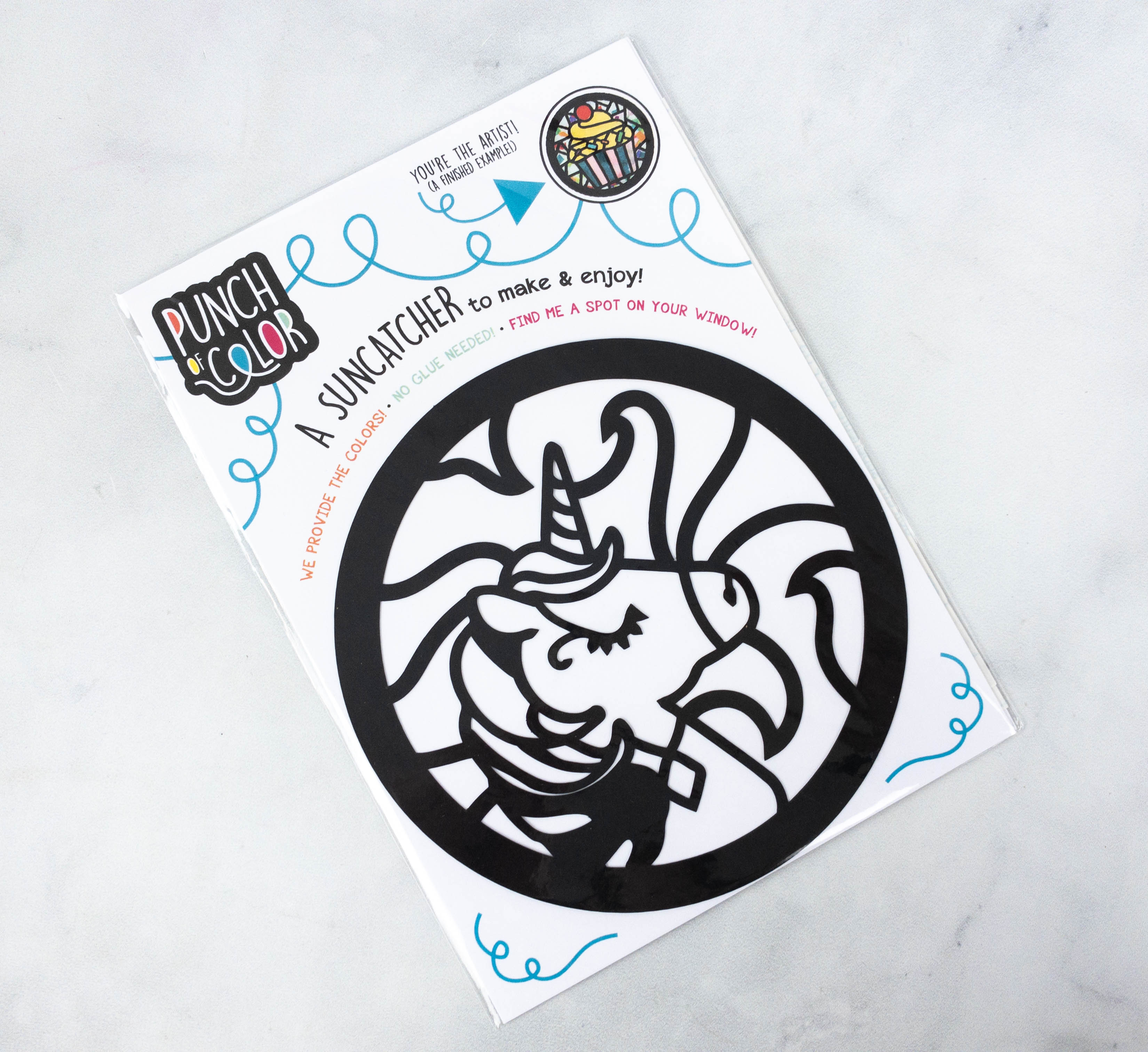 Unicorn Suncatcher. Also included in the box is a DIY suncatcher kit! This is a great activity to do at home and to keep young ones busy while having fun.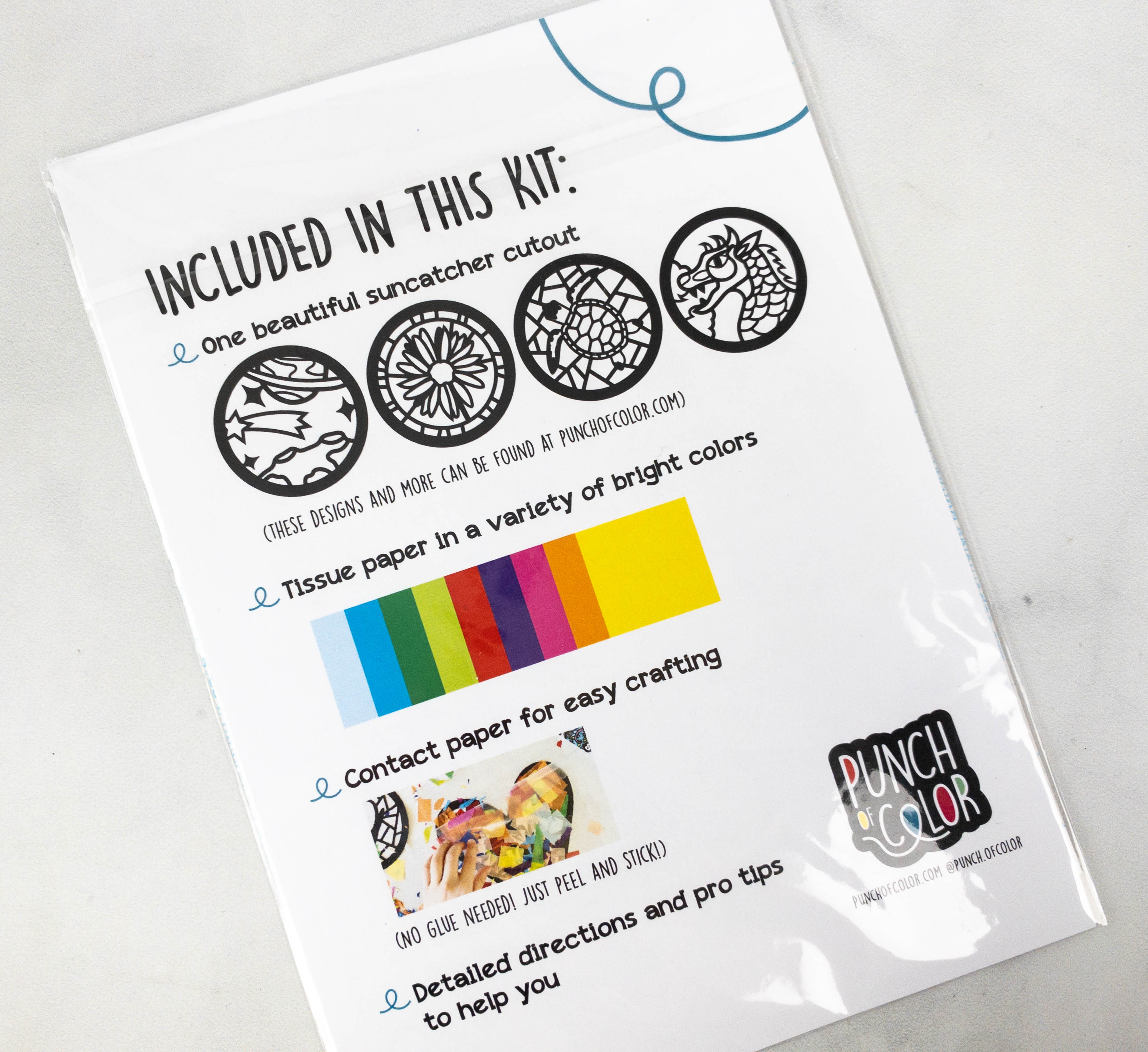 Aside from the suncatcher cutout, the kit includes tissue paper in different colors and contact paper which eliminates the need for glue. Of course, they also provided easy-to-follow instructions!
The pattern we received is none other than a unicorn! This activity was easy to do, with little adult supervision needed. My daughter just had to peel the contact paper and stick the colored tissue paper.
Here's a look at the finished suncatcher. It's so cute and colorful!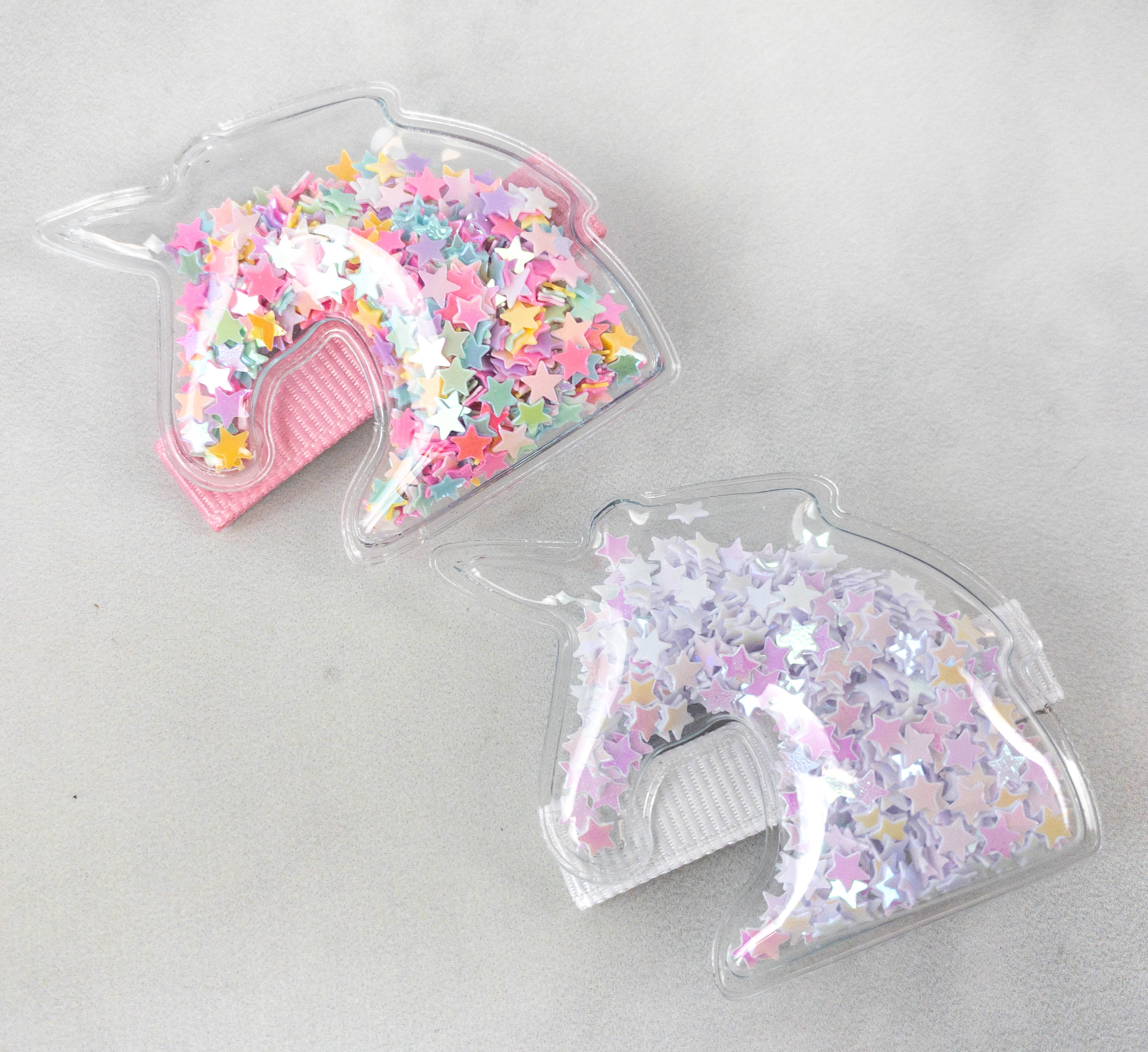 Unicorn Shaker Hair Clips. Here are more unicorn themed items, a pair of adorable hair clips! They're shaped like the head of a unicorn and what makes them even more special is that they contain chunks of holographic star confetti so they go all around inside when you shake them. The hair clip itself is lined with fabric, making it gentler on the hair.
Unicorn Dreams Vegan Soap. It's an artisan soap, with purple and pink colors inspired by a unicorn. It even has a unicorn horn on it!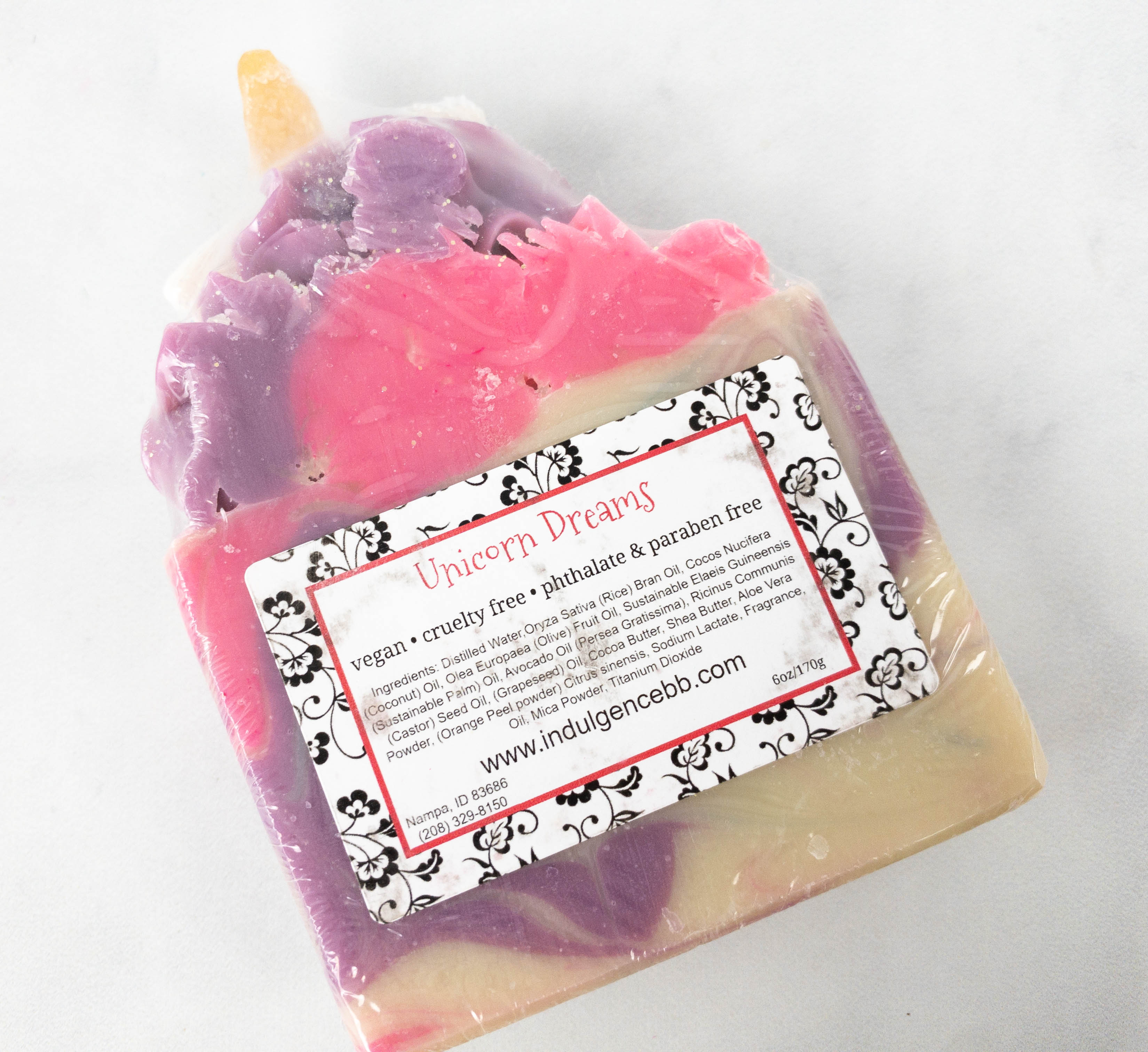 This smells amazing! It contains coconut oil, shea butter, avocado oil, and cocoa butter, which all help in keeping the skin well-hydrated. According to the label, this soap is also vegan, cruelty-free, phthalate-free, and paraben-free.
Colorful Life Pencils. Here's a set of adorable rainbow colored pencils! They're regular pencils but since the exterior is bright and colorful, they make for a lovely desk display.
Each pencil also has a gold-foiled engraving, with fun and inspiring words like "Be The Sunshine" and "Dream Big"! My favorite is the purple one which says "Good Vibes Only"!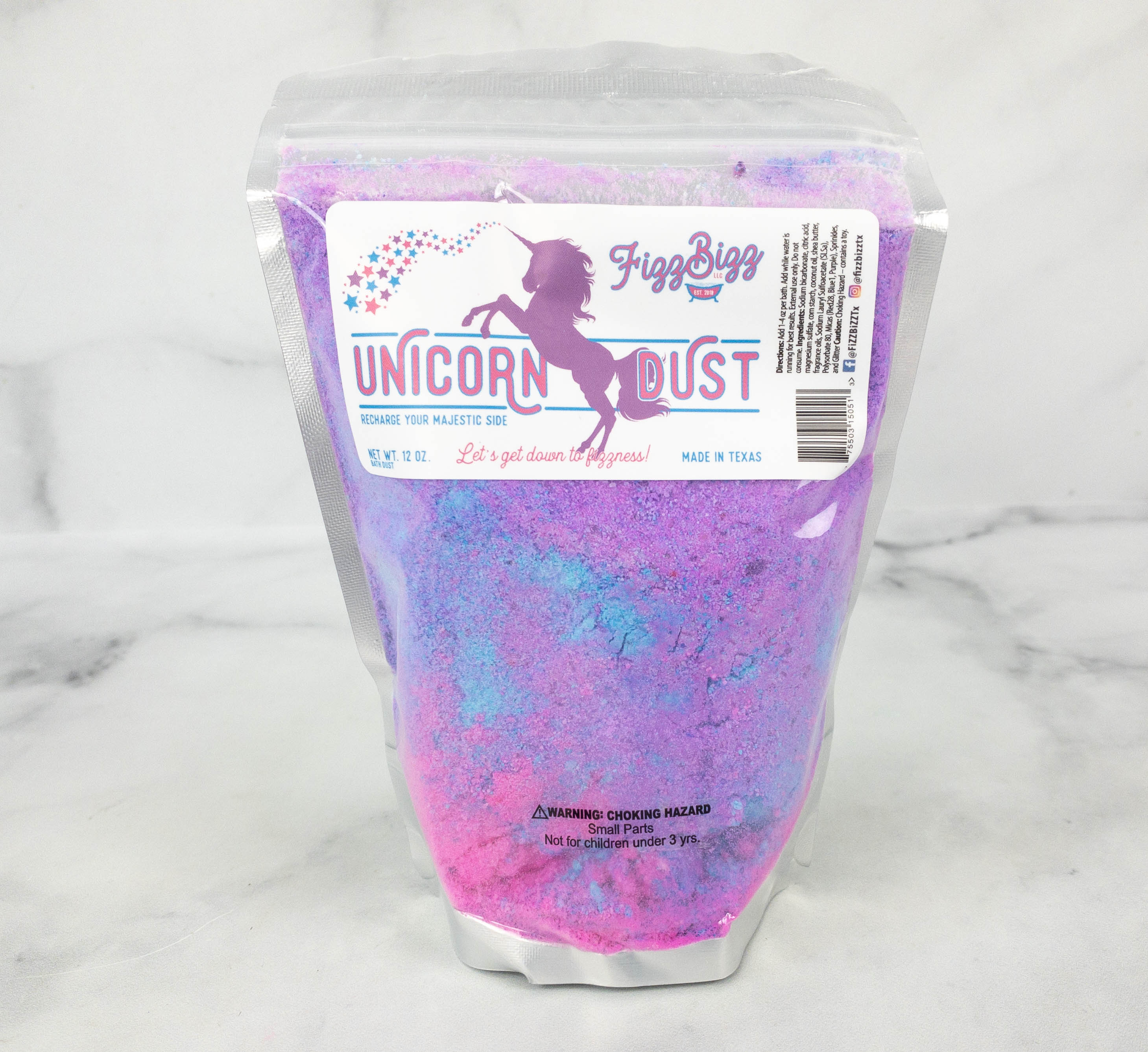 Unicorn Dust Bath Salt. Here's another fun bath product, called unicorn dust! It's a pack of bath salts in pink, blue, and purple, and it fizzes in the bath while leaving a nice color. There's a toy inside it, which will be revealed when you pour the product in your bath. It definitely makes bath time exciting for kids!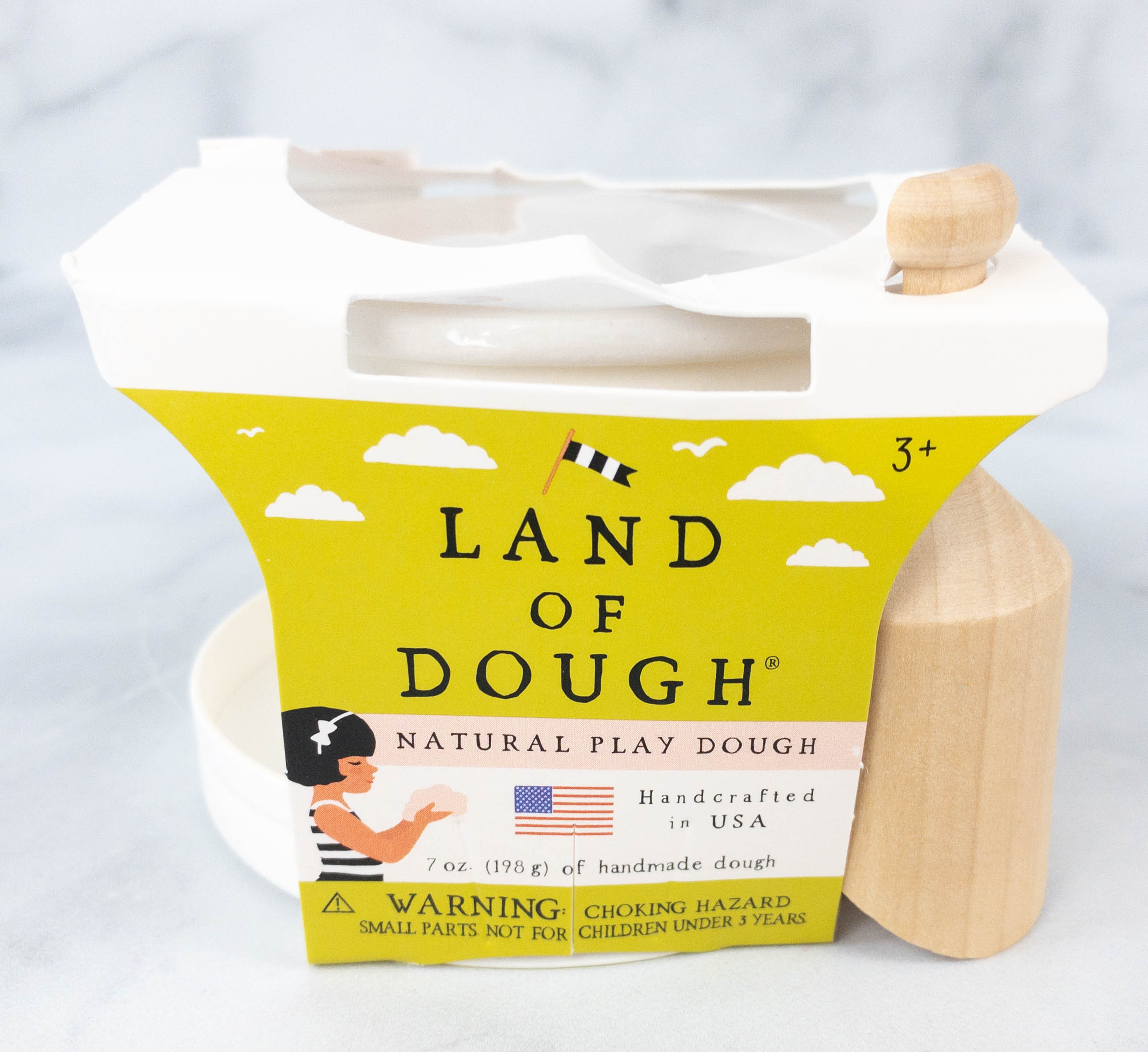 Unicorn Dreams Play Dough. It's a handmade play dough and my kids love it because it's really easy to mold. This is also a great way to practice kids' fine motor skills!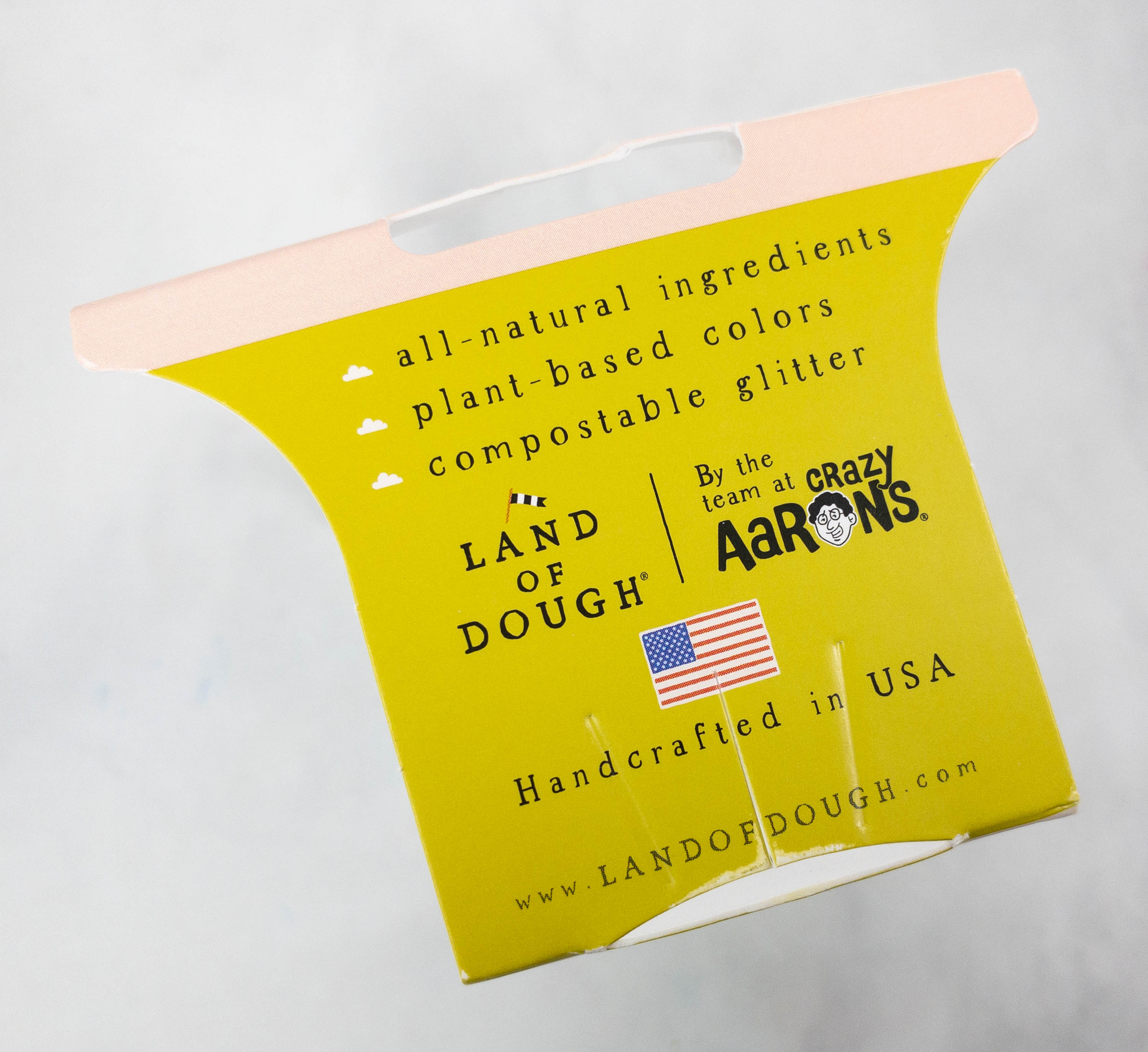 This is made with all natural ingredients so it's better for the environment and is more sustainable.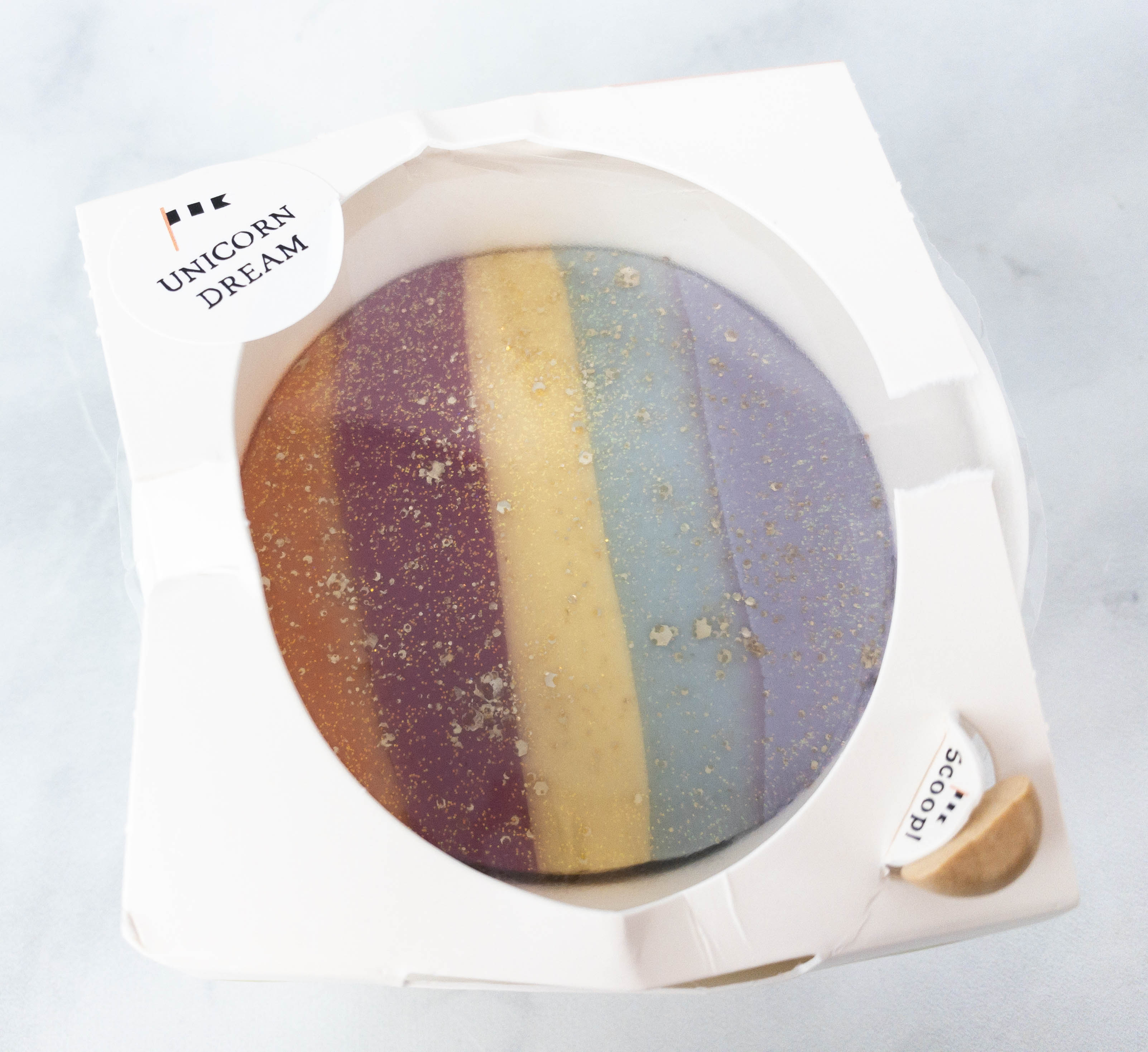 The play dough is so colorful. It even came with its own scooper!
The colors they put are plant-based so it's safe for the kids.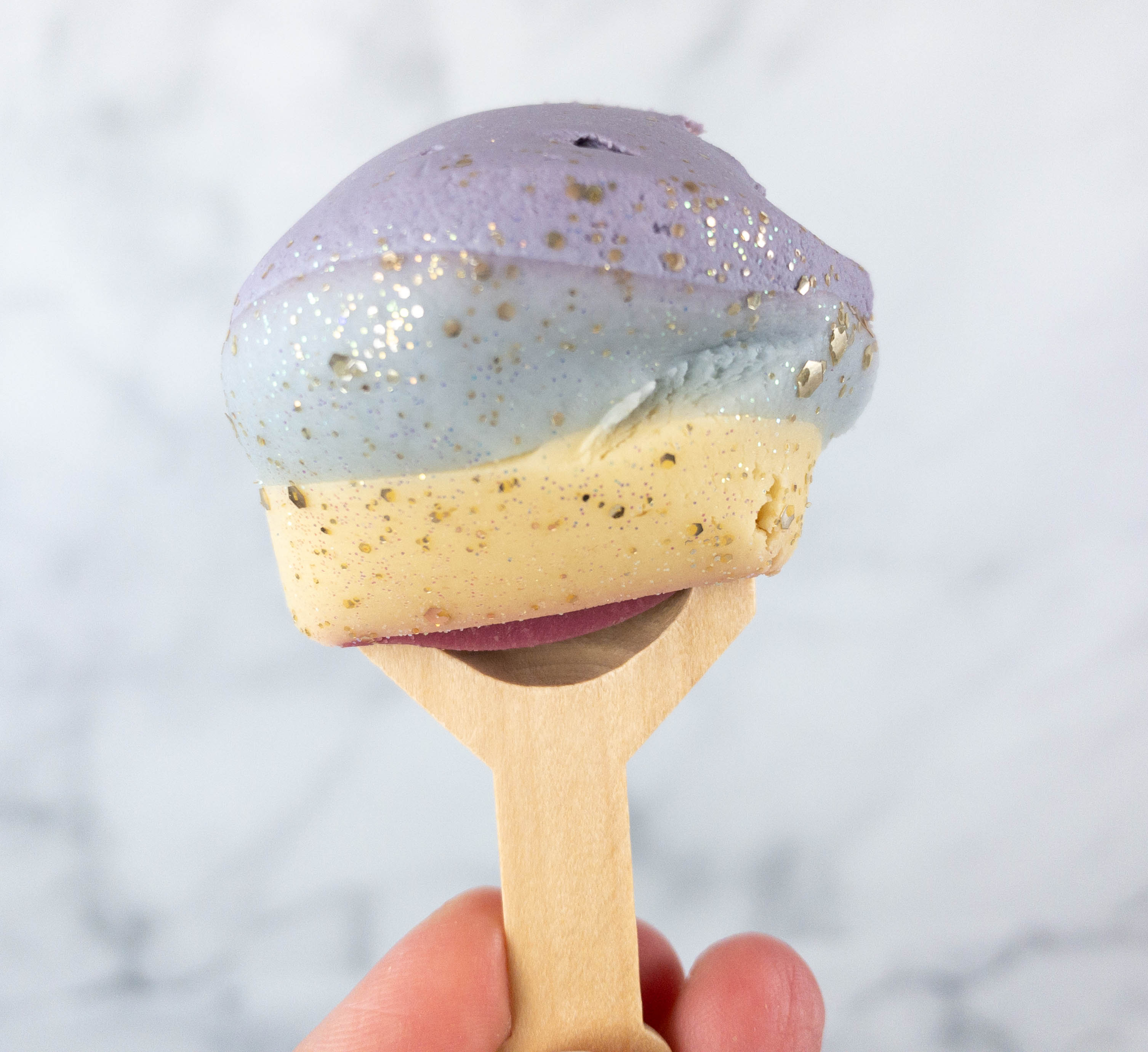 Look at those beautiful glitters! Even the glitters are compostable so it's really a great alternative to regular clay.
My daughter formed different shapes and creatures using the play dough. It was definitely fun!
Glitter Unicorn Crayon Set. Lastly, here's a crayon set which came in a box packaging, sealed by colorful yarn!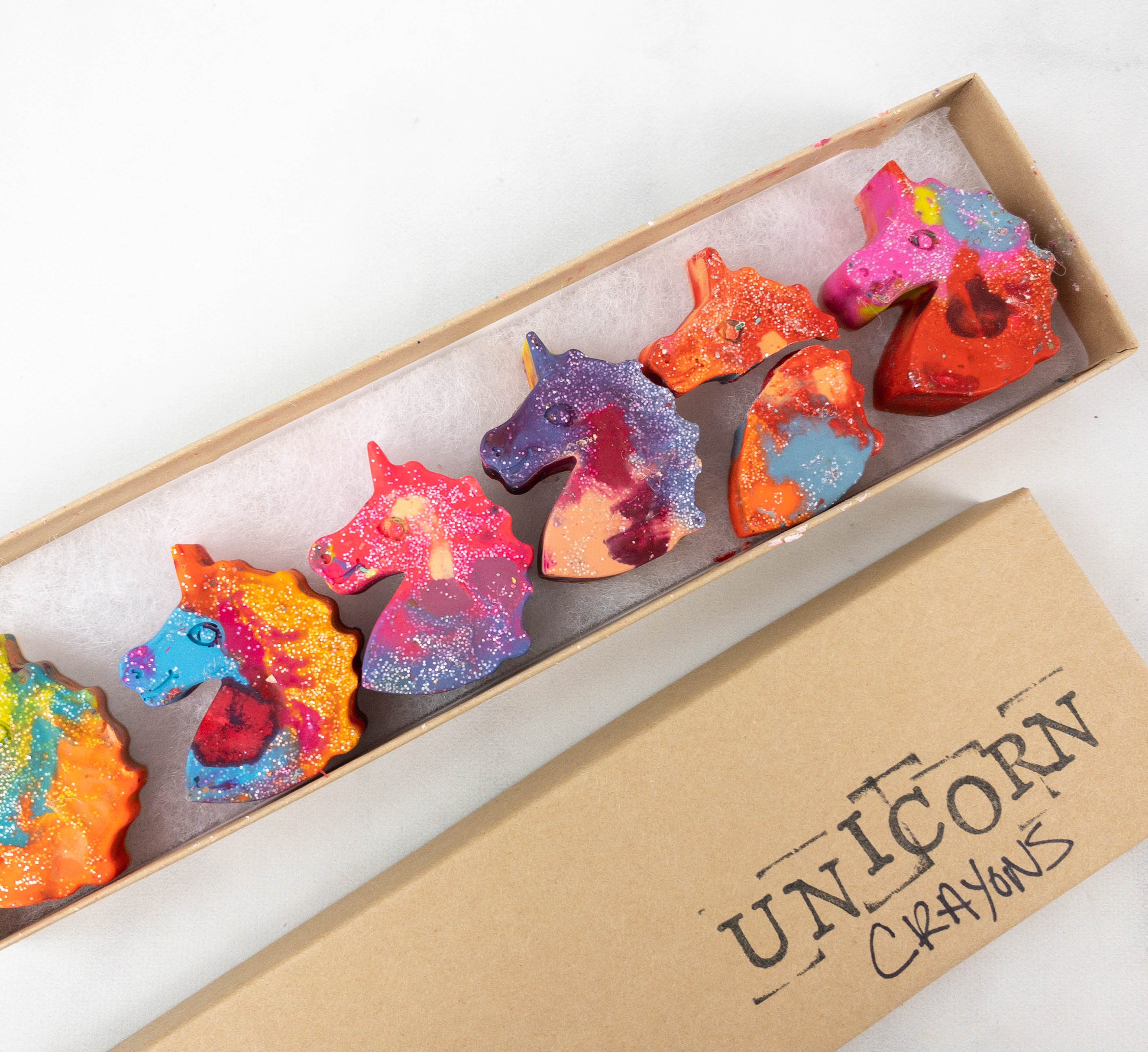 The crayons are bright and vibrant, plus they're shaped like little unicorn heads! There was one piece that was broken but everything else were in good condition. My kids loved these because each part of the unicorn produces a different color and they can use one piece multiple ways!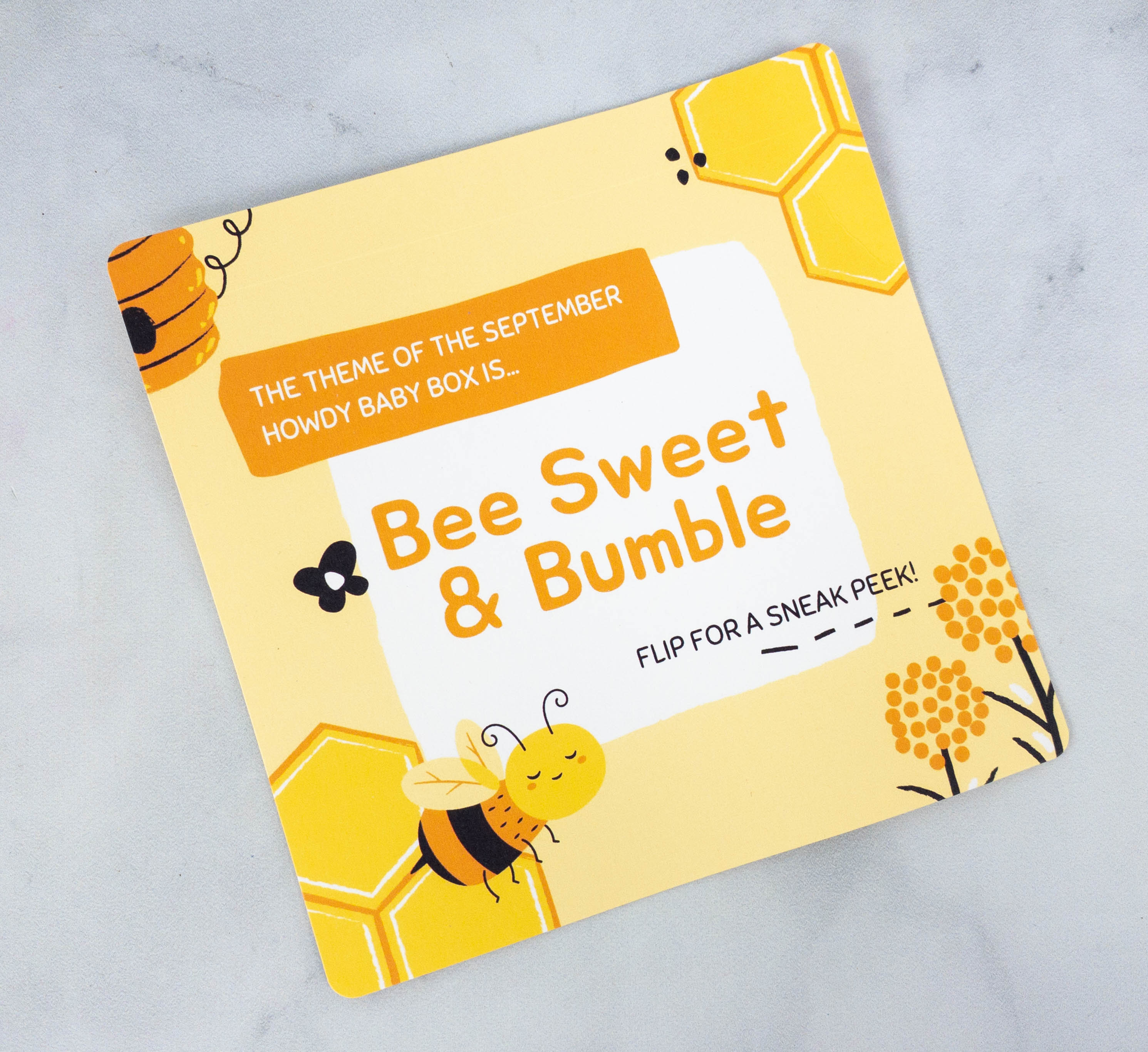 They also included this card with a sneak peek for the next box!
It looks like the September box is going to be Bee or Honey themed!
Our first Howdy Baby Box is overflowing with cuteness and just a stunningly awesome curation! It includes unicorn-themed items, from bath products like the soap and bath salts to colorful pencils and crayons. There's even a unicorn tee, as well as an all-natural play dough. My daughter's favorite among everything in the box is the book about unicorns. She loves the colorful illustrations! As a parent, I appreciate that each item in this box sparks a different area of interest for the kids. Also, everything in the box is ethically made and sourced from independent brands. If you're looking for a fun assortment of items for kids as a gift, this subscription is for you! Their curations are tailored to a child's age and developmental stage!
What do you think of this month's box?