Cleancult has launched a new product line – the Foaming Hand Soap! This hand soap line is available in 2 scents:  Eucalyptus Tea Tree Foaming Hand Soap and Lavender Foaming Hand Soap – $9.99 each for refill subscription OR get the bundle for $39.99 each.
We're excited to introduce our new Foaming Hand Soap in two fresh scents: Eucalyptus Tea Tree and Lavender.

Grounded in our coconut-powered formula, infused with natural scents, and packaged and shipped responsibly, for a clean that feels and smells good. Discover these new scents today!
DEAL: Get a FREE Tote, Laundry, or Grocery Bag with any orders over $20 – choose your free gift on claim offer screen! No coupon needed, just use this link to shop! Cleancult has free economy shipping on all first time orders and free 2-4 day shipping on orders over $70.
About the new Foaming Hand Soap bundles: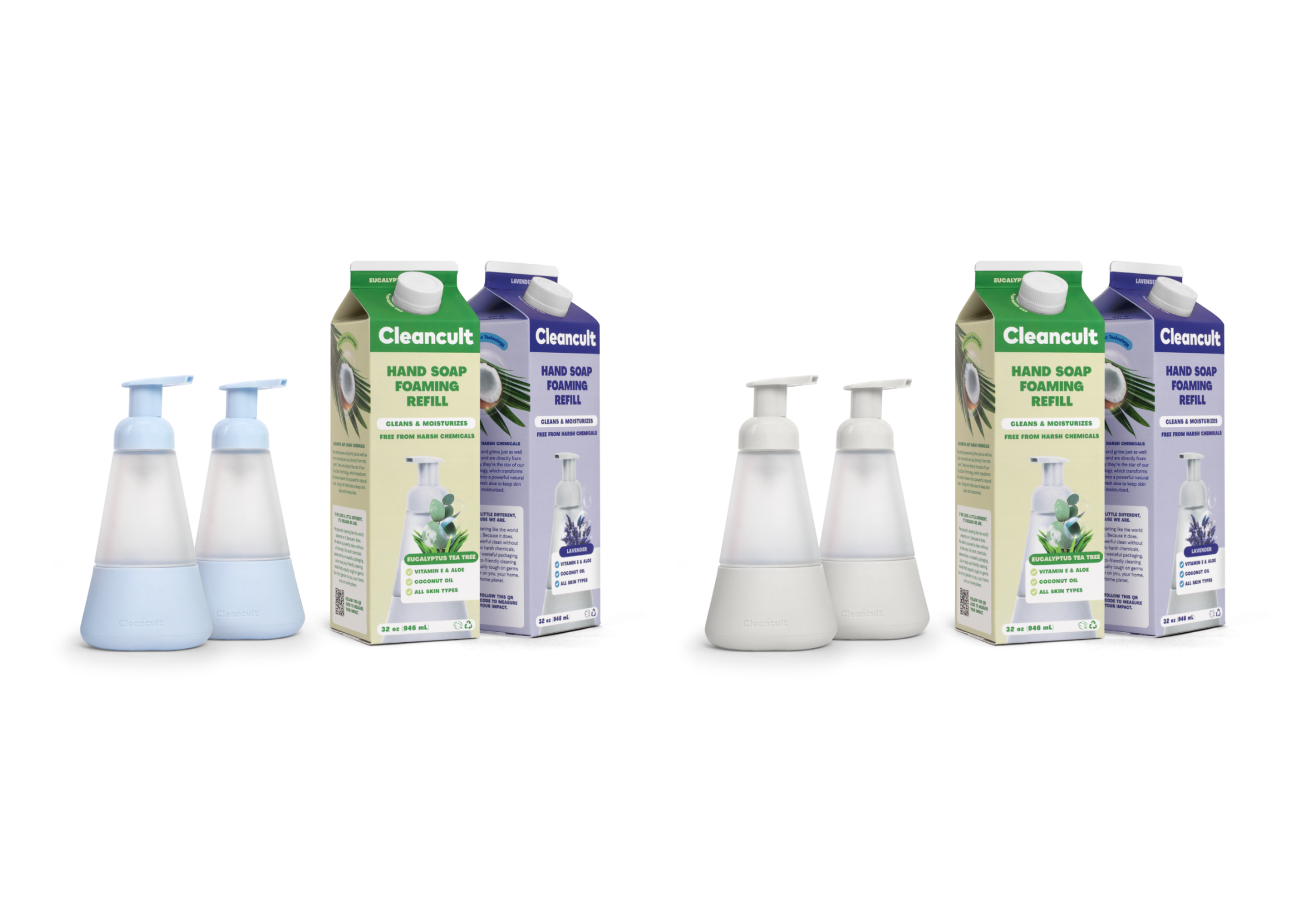 Foaming Hand Soap Bundle in Off-White or Periwinkle $39.99
With all the hand washing we are doing these days, why not give your family a healthy defense from the start with our new foaming hand soap bundle. The rich foam and lather helps rinse your hands clean of dirt and impurities without drying out your skin. This bundle offers two garden-inspired fragrances, Lavender and our new Eucalyptus Tea Tree. Our Eucalyptus Tea Tree foaming hand soap also provides a spectrum of antimicrobial benefits to promote healthy hands.

This Foaming Hand Soap Bundle includes two 32 oz Hand Refills in both scents, two shatter resistant glass refill bottles in periwinkle or off-white, and a free wash your hands tote bag to help us promote healthy hands for all.
How it works:
Easy, Zero-Waste Refills Pick your refills, tell us how often you need them, and we'll deliver them in our recyclable milk cartons that reduce waste and plastic!
Refillable Glass Bottles Refill our stylish, shatter-resistant bottles with our formulas whenever you're cleaning, and show them off in your home whenever you're not.
Naturally Powerful Formulas The science behind our CocoClean Technology looks to nature, not toxic chemicals, to deliver a pure and powerful clean.