Who Gives A Crap bamboo toilet paper and paper towel has a great coupon for new subscribers! Who Gives A Crap delivers premium bamboo TPs without any inks, dyes or scents. They also help build toilets for people who need them, and has now raised $10 AUD to date.
Our premium 100% bamboo toilet paper is luxuriously soft and ultra strong, with the added bonus of being made without trees. As with our recycled TP, we don't use any inks, dyes, or scents. We did a lot of sourcing work and experimenting before settling on the bamboo fibres we use in our premium toilet paper. Using bamboo has helped us create a toilet paper that's as strong and soft as anything you'd find in the supermarket. Well, at least as strong as anything outside of yesterday's bread – those rolls are like rocks!
Get $10 off your first month toilet paper subscription! Use this link and use the coupon code TP4EVA at checkout.
Get $10 off at Who Gives A Crap!
Who Gives A Crap offers bamboo TP subscription for $52 every other month, as well as other products like Facial Tissues (12 boxes for $16), Paper Towels (6 rolls for $16), and Dream Cloths, or reusable towels, (3 cloths for $12). Shipping is FREE for any orders over $25.
About Who Gives A Crap:
Our toilet paper might feel a bit different since, well, it is a bit different. Unlike most blanket-like mainstream TP, these rolls aren't made with trees. They're soft and strong like supermarket brands, but feel much better on your conscience.

Beyond the bottom line.

We want to ensure everyone has access to a toilet and basic sanitation. That's why 50% of profits from all of our products go directly to our charity partners who work in water, hygiene and sanitation. You're helping millions of people gain access to clean water just by using the loo. Nice!
Why Bamboo?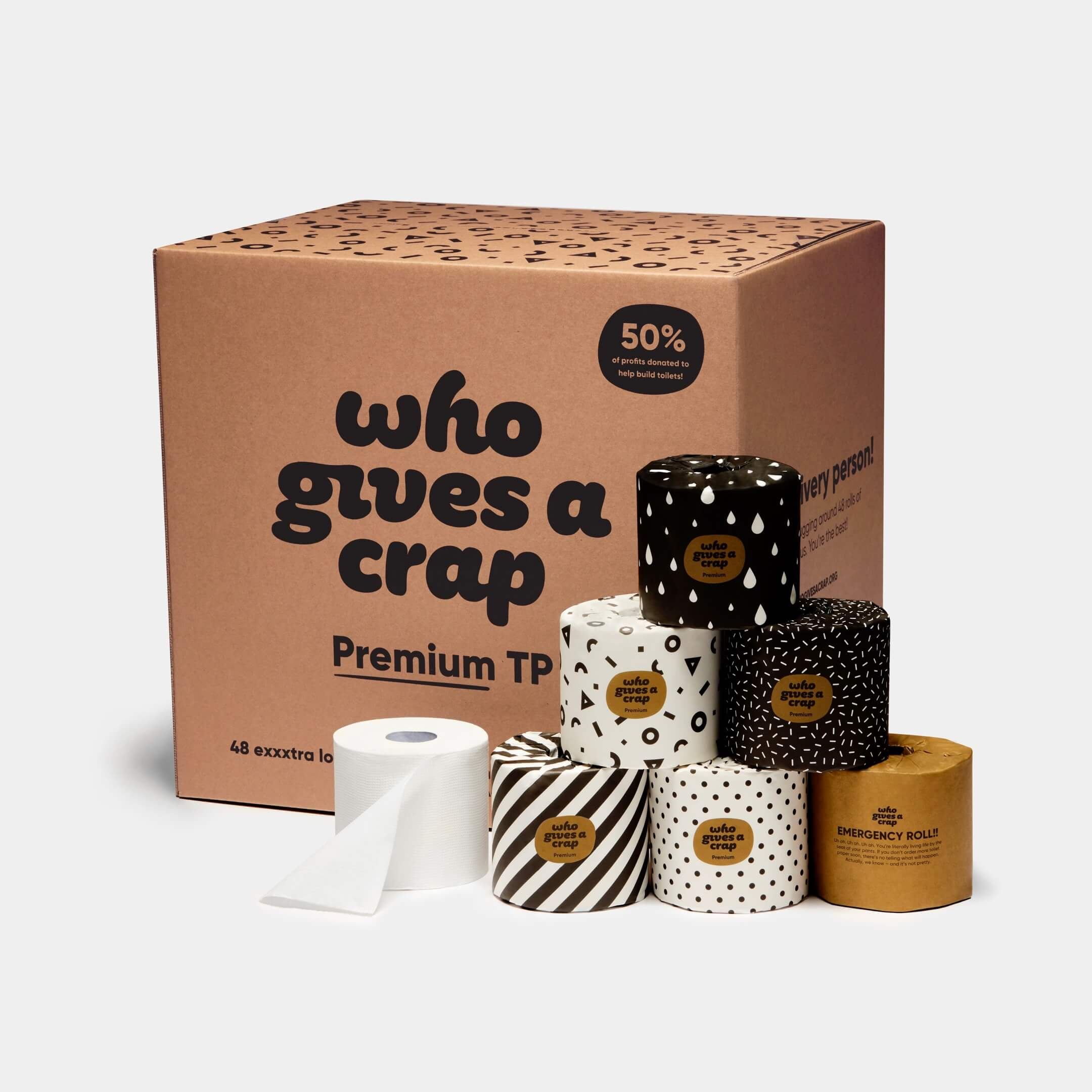 Every day, 27,000 trees are cut down just to make regular toilet paper. We're not so keen on killing trees just to make TP, which is why these rolls are made with 100% bamboo fibers.

A lot of people don't realize that bamboo is a grass, not a tree. It grows incredibly quickly, making it a sustainable source for loo rolls. You can wipe easy knowing that you're helping to reduce deforestation one flush at a time.
What do you think of Who Gives A Crap? Would you try a toilet paper subscription box?