The Office Subscription Box by Culturefly is a quarterly subscription that gives fans exclusive Dunder Mifflin merch! Each box costs $35.99. Each box contains 7-10 exclusives that include apparel, accessories, household items, and collectibles for every fan of the series. And, our readers voted it one of the best pop culture subscription boxes for 2021!
This quarter's box design features the farm and the residence of Dwight and Mose Schrute, Schrute Farms.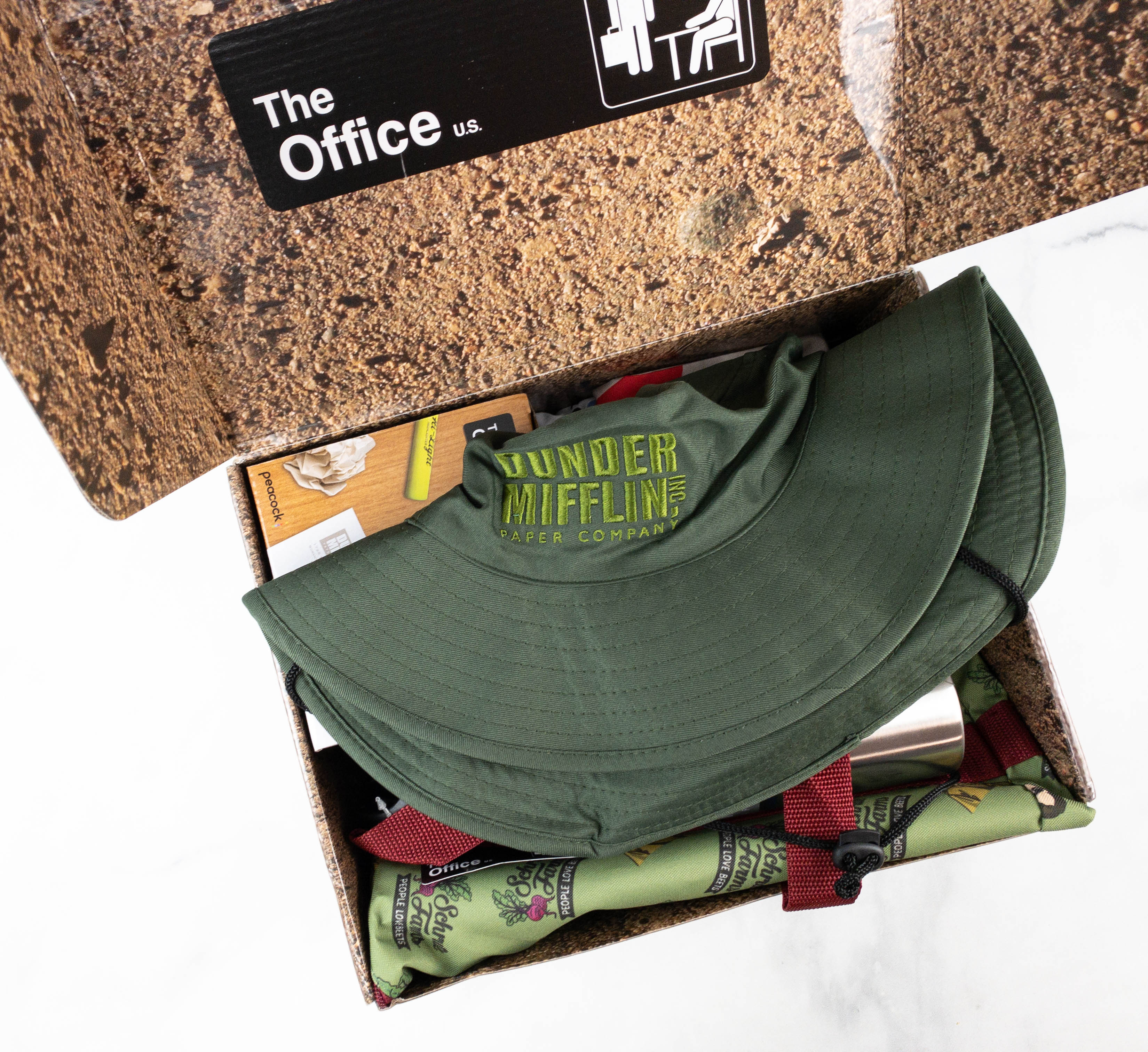 I'm excited about all the box's contents!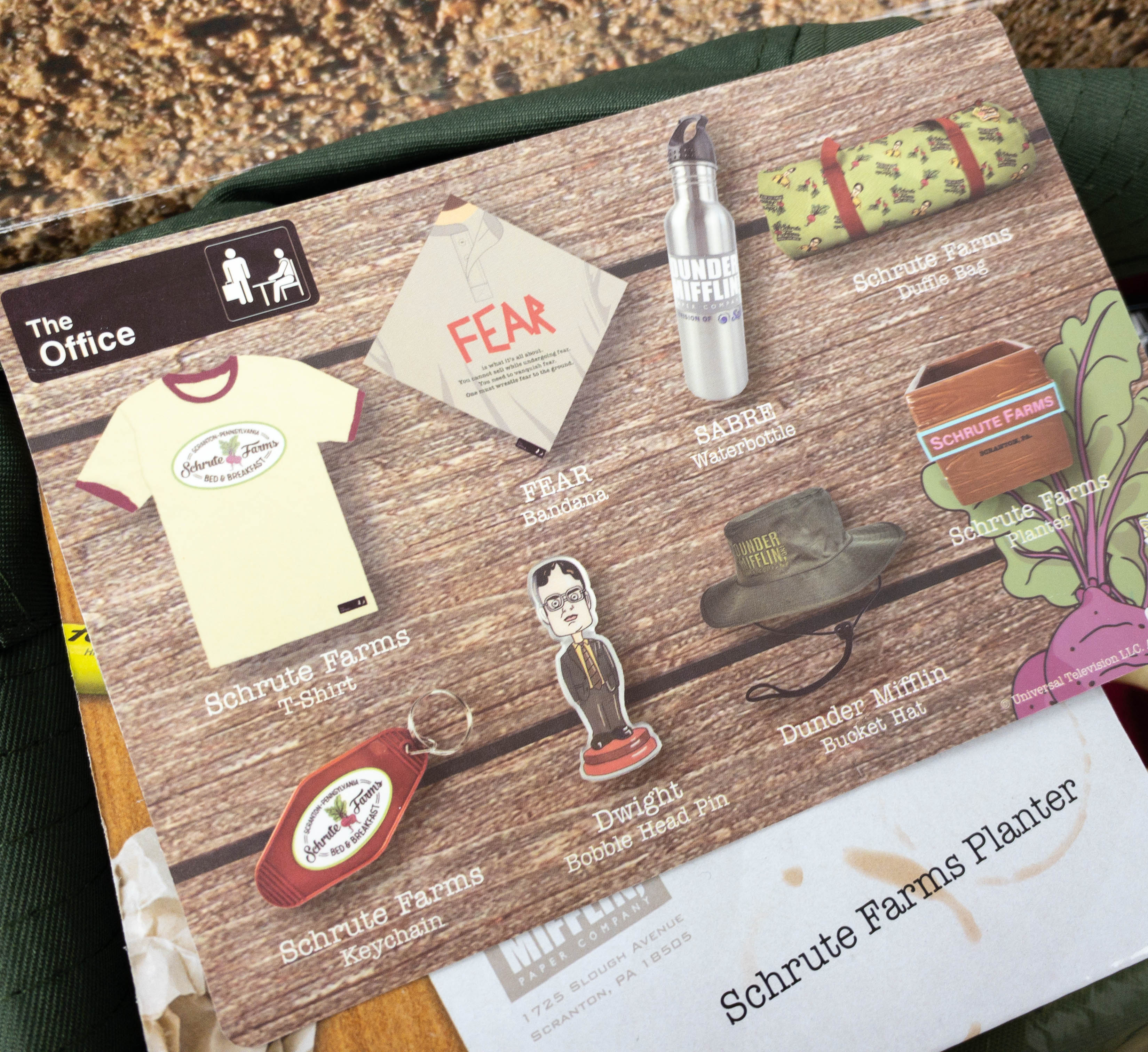 There's a list of all the items, along with individual photos at the back of the information card.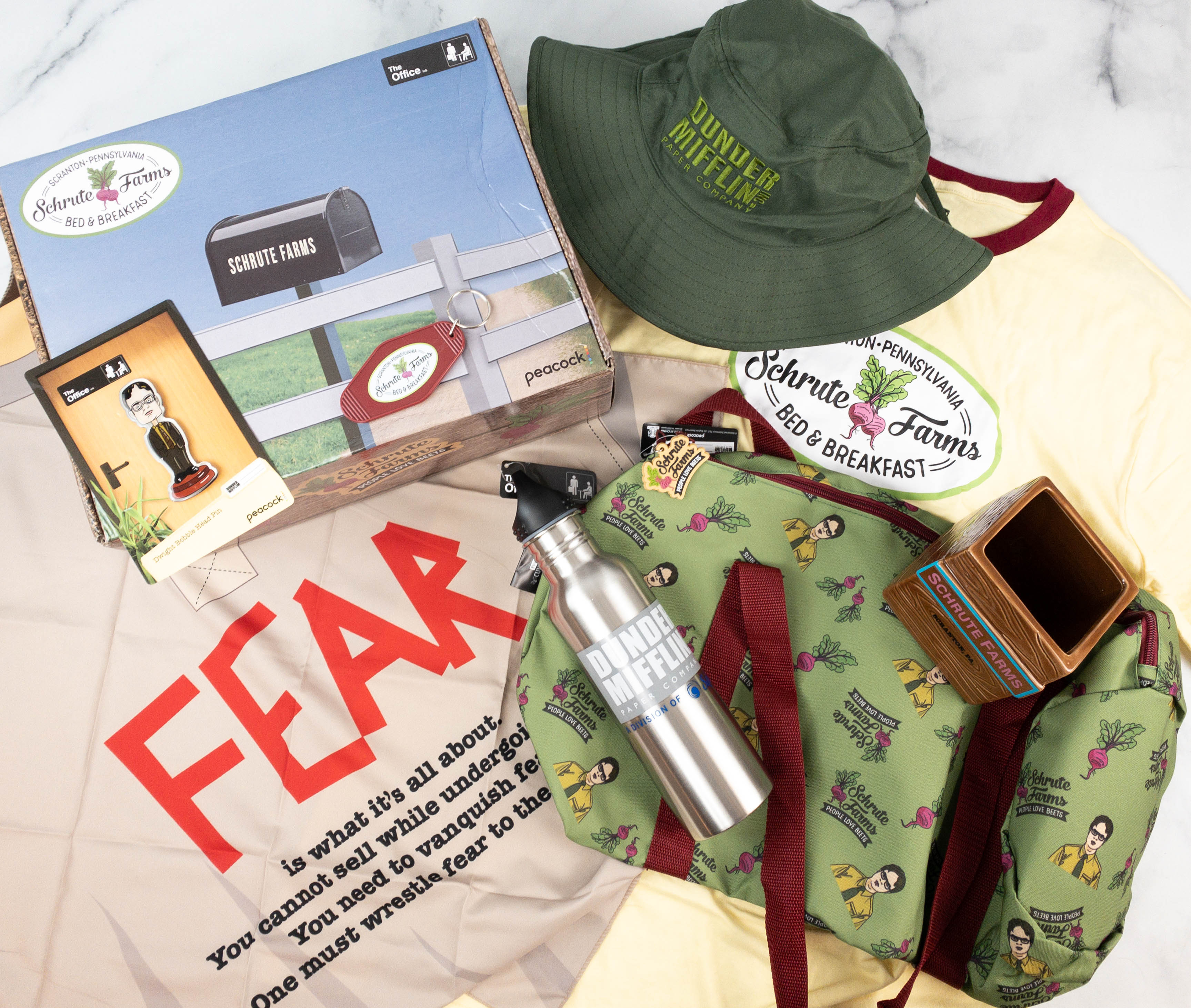 Everything in the box!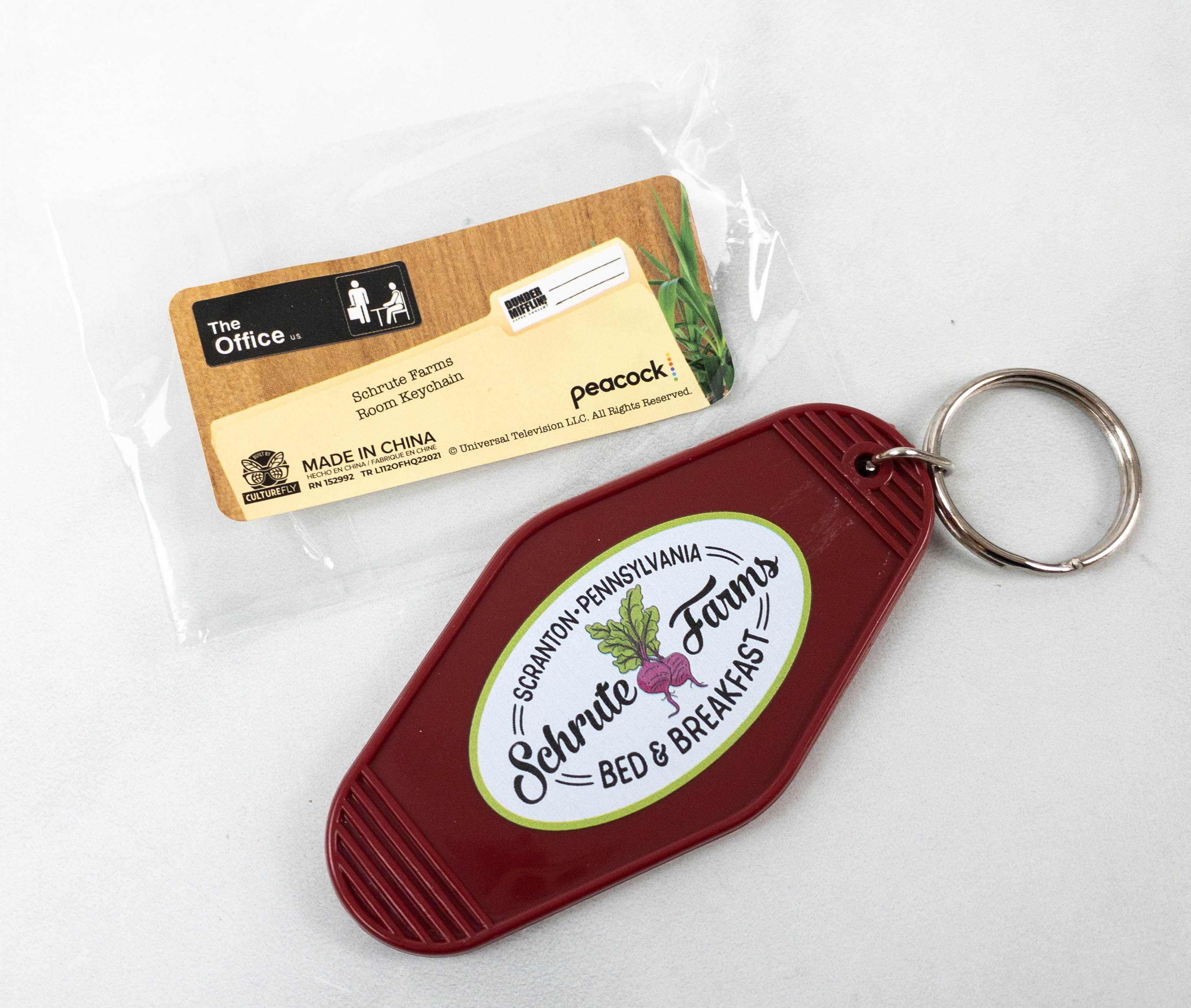 Schrute Farms Keychain. First up is a a keychain that resembles an old-fashioned hotel keytag and of course, it features Schrute Farms Bed & Breakfast!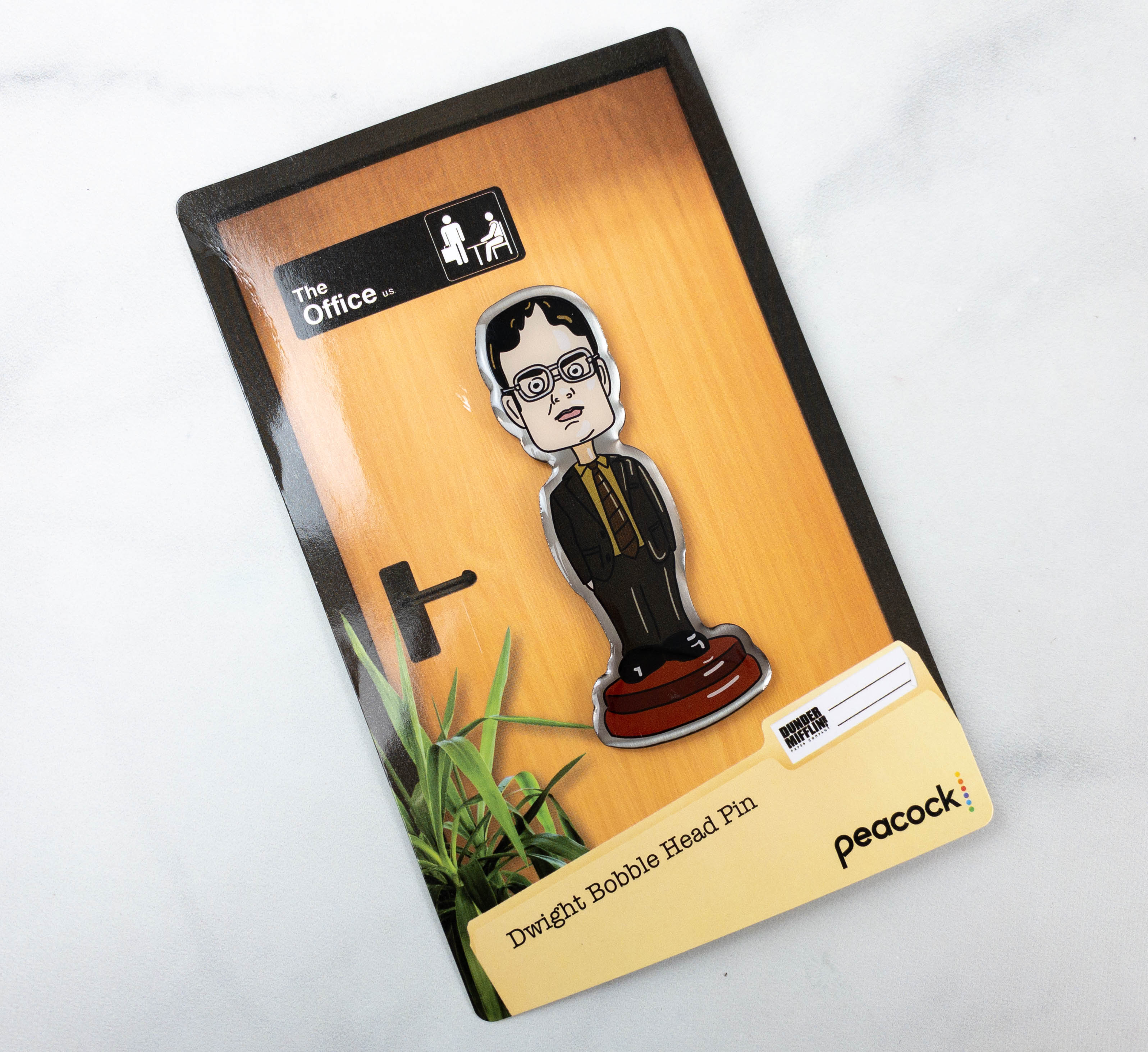 Dwight Bubble Head Pin. It's a bubble head pin of Dwight Kurt Schrute III, who is the owner of Schrute Farms! This is fun to display on a pin banner along with my other The Office pins but it can be attached to a tote bag or backpack as well.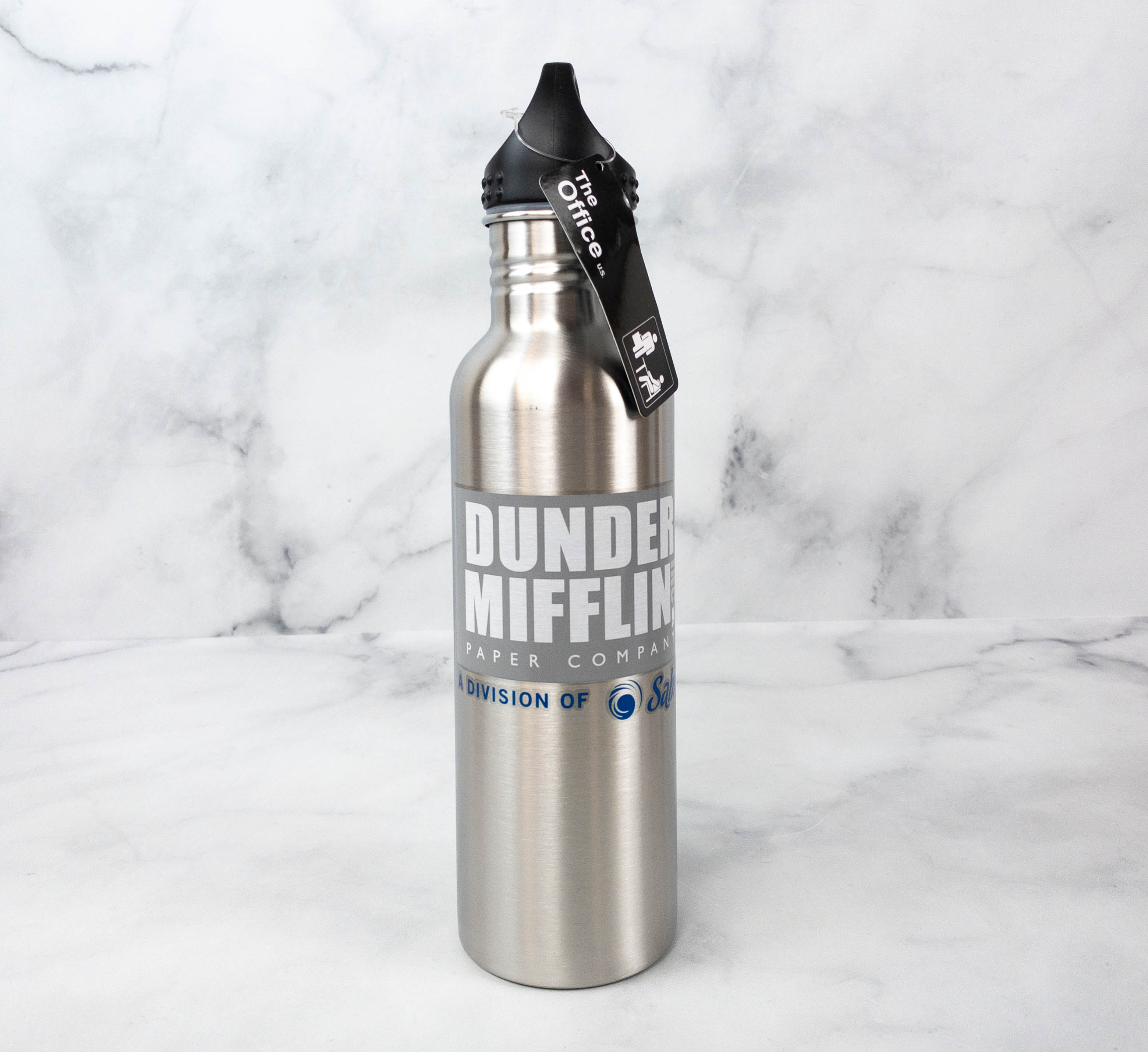 Sabre Water Bottle. This Dunder Mifflin inspired water bottle is a great way to help keep me hydrated this summer! It's sleek as it's made of stainless steel, and it can hold up to 20 oz. of liquid. It also has a flip top straw . This item reminds me of the Dunder Mifflin Is A Part Of Sabre song!
Fear Bandana. This bandana's design is inspired by Mose's most popular Halloween costume, Fear!
FEAR is what it's all about. You cannot sell while undergoing fear. One must wrestle fear to the ground.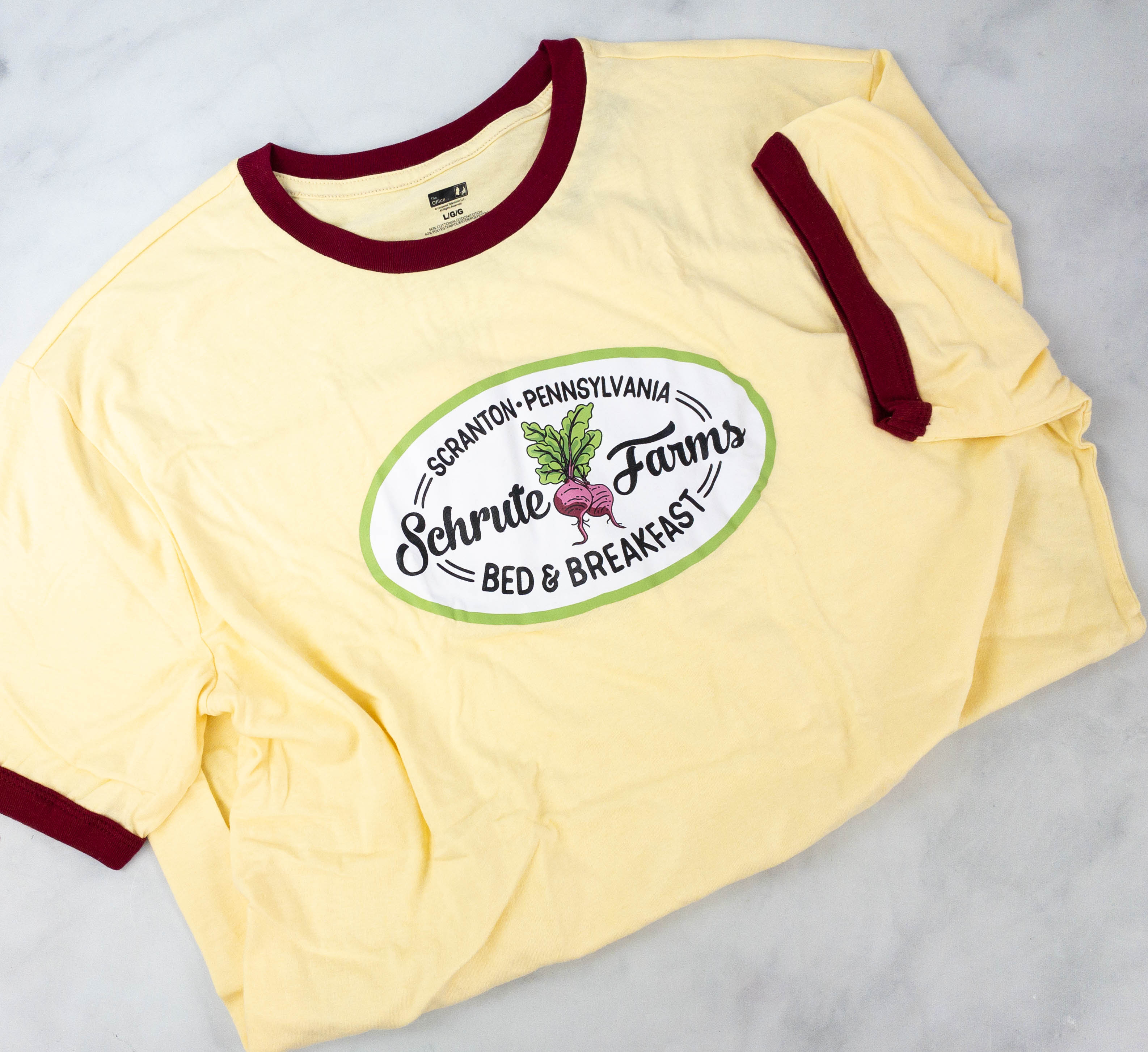 Schrute Farms T-Shirt. The Summer box also includes a wearable! It's light yellow t-shirt featuring the Schrute Farms logo in front which fellow The Office fans would easily recognize. I also like the fabric used for this tee. It's lightweight and soft, and it doesn't cling on the skin so it's comfortable to wear.
There's a The Office brand tag located at the bottom part of the tee, ensuring that it's a licensed item.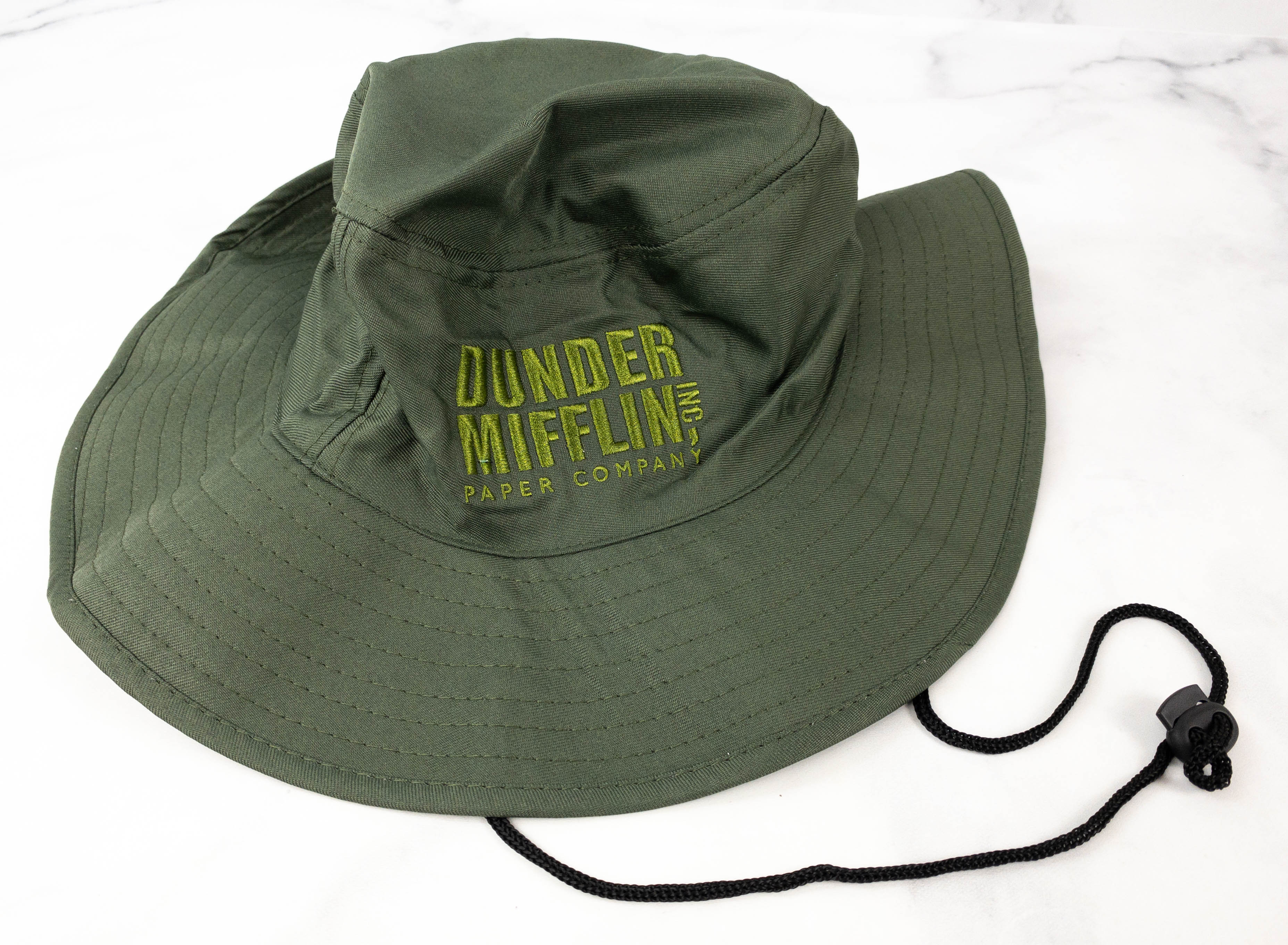 Fishing/Bucket Hat. This bucket hat protects you from the heat of the sun when you're outdoors. The hat is in gray color and it also has Dunder Mifflin's logo embroidered on its side band. It comes with an adjustable string to secure the hat on your head comfortably.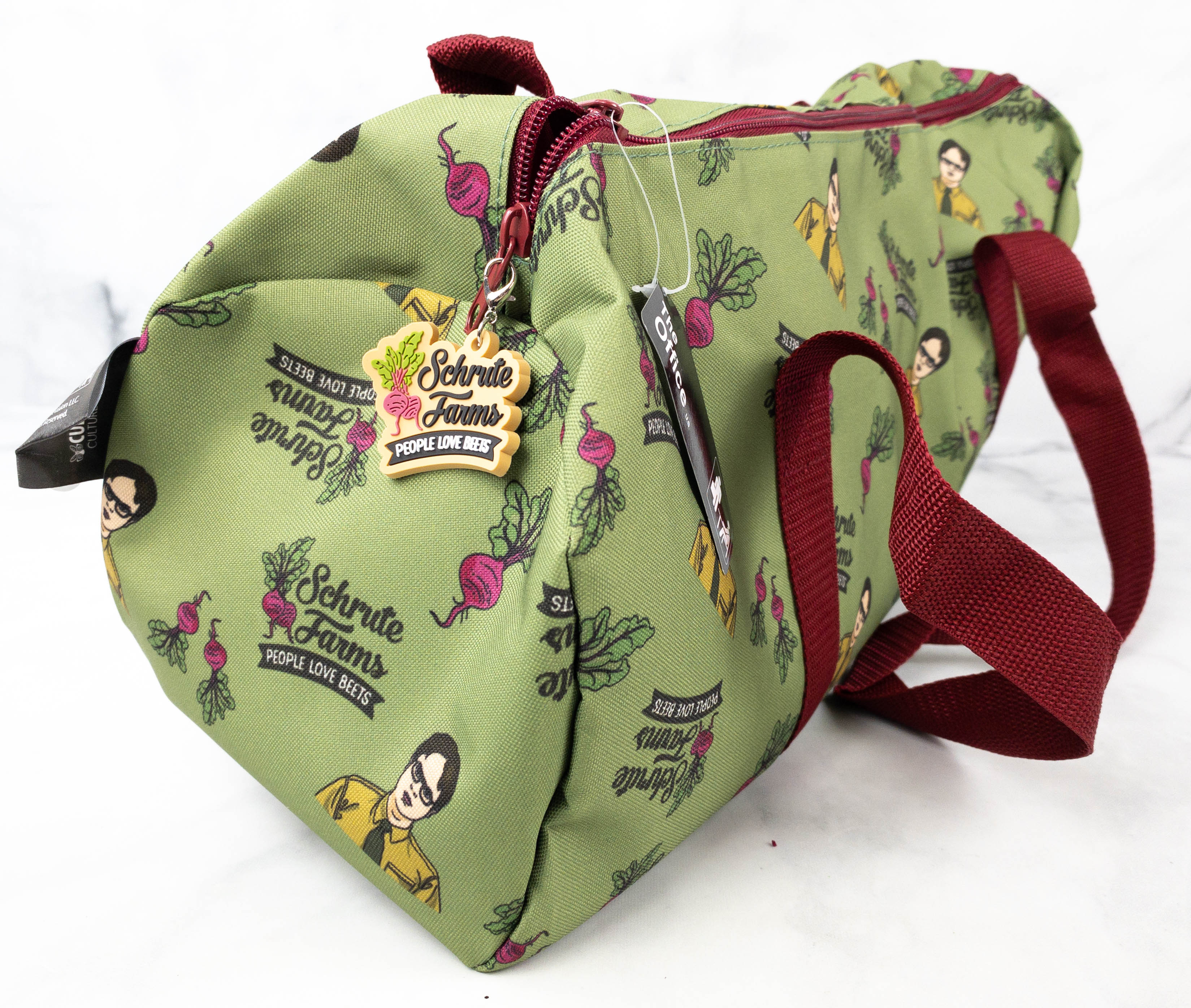 Schrute Farms Duffel Bag. To get ready for a weekend getaway, they also included a duffel bag. It has the Schrute Farms logo all over, as well as images of Dwight himself. It also has its own Schrute Farms keychain, and deep red straps that make it easy to carry around.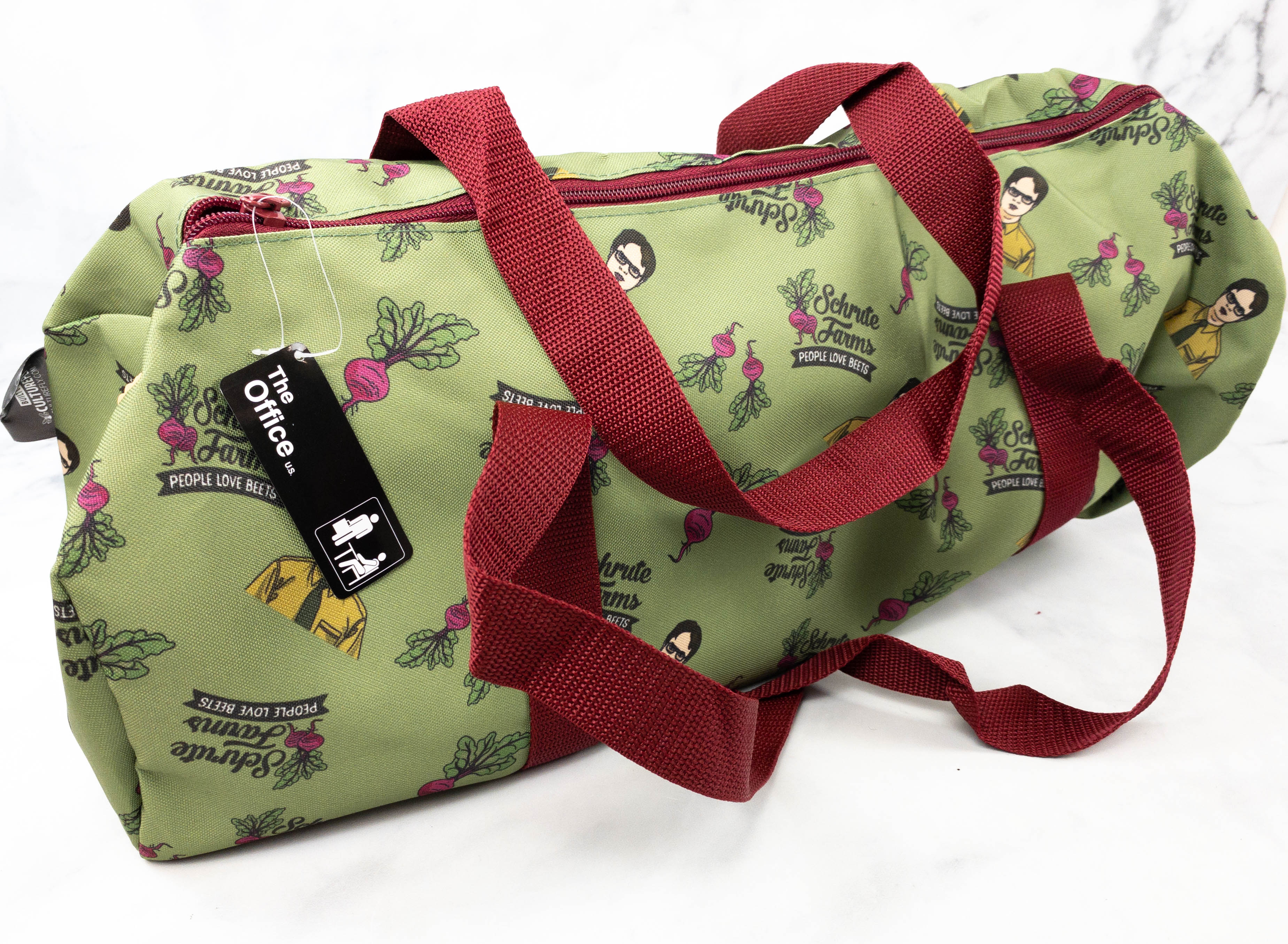 This is spacious enough for a few clothing items and essentials!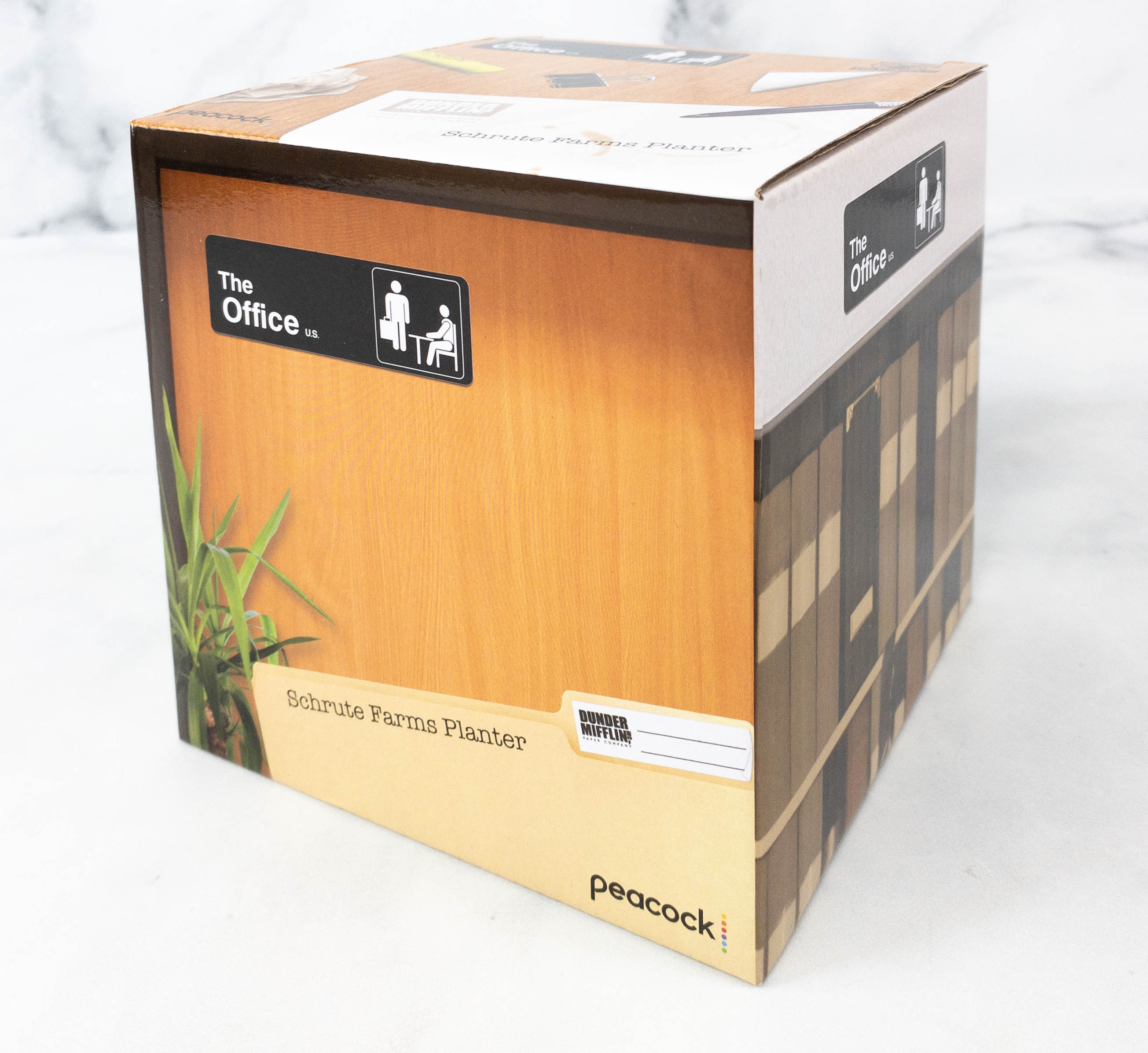 Schrute Farms Planter. Whether for the home or the office, this planter is perfect for displaying your favorite plant on your desk or somewhere you can easily see it!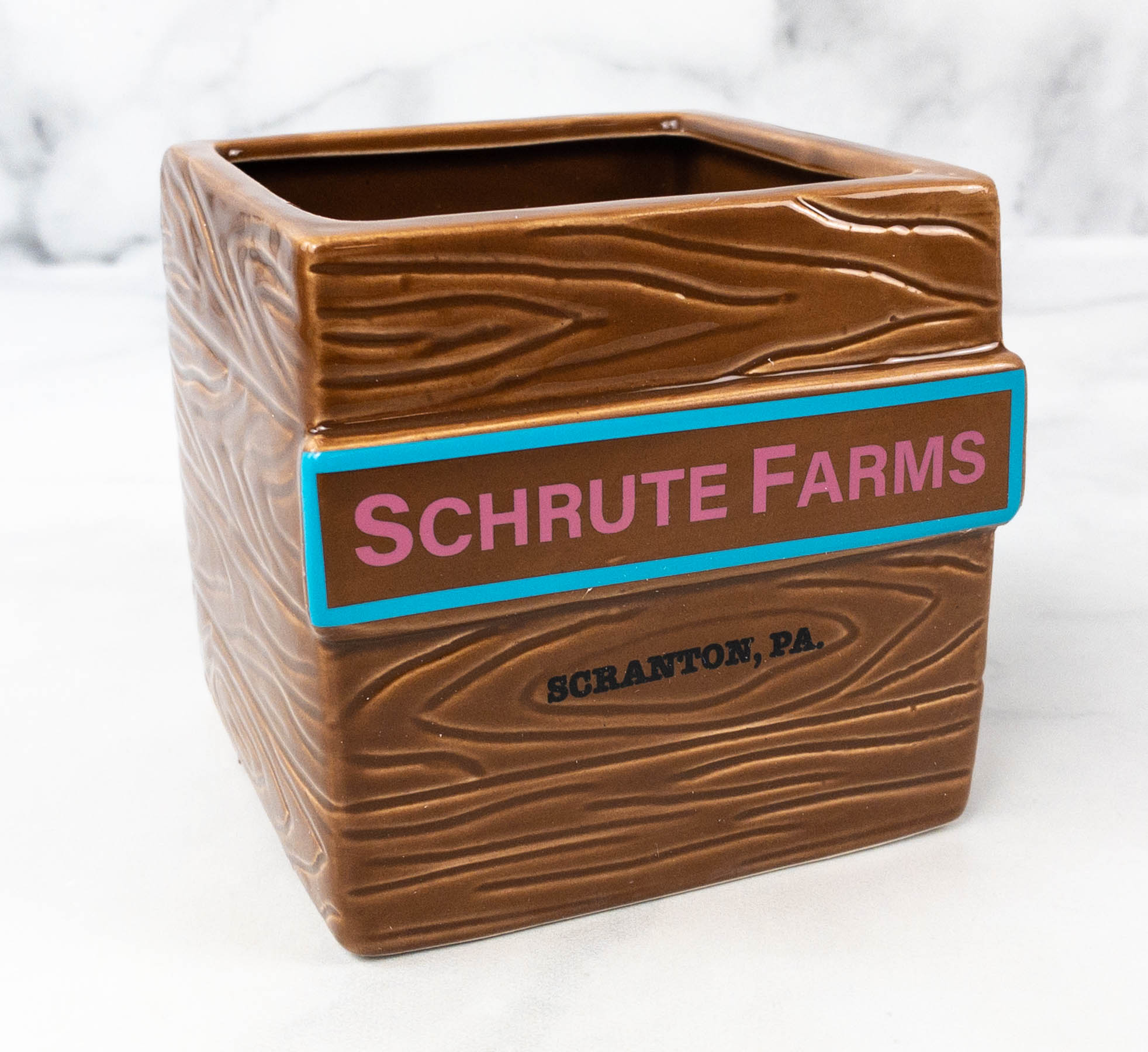 It has a wood like texture and color. Of course, it has the Schrute Farms name printed on it too.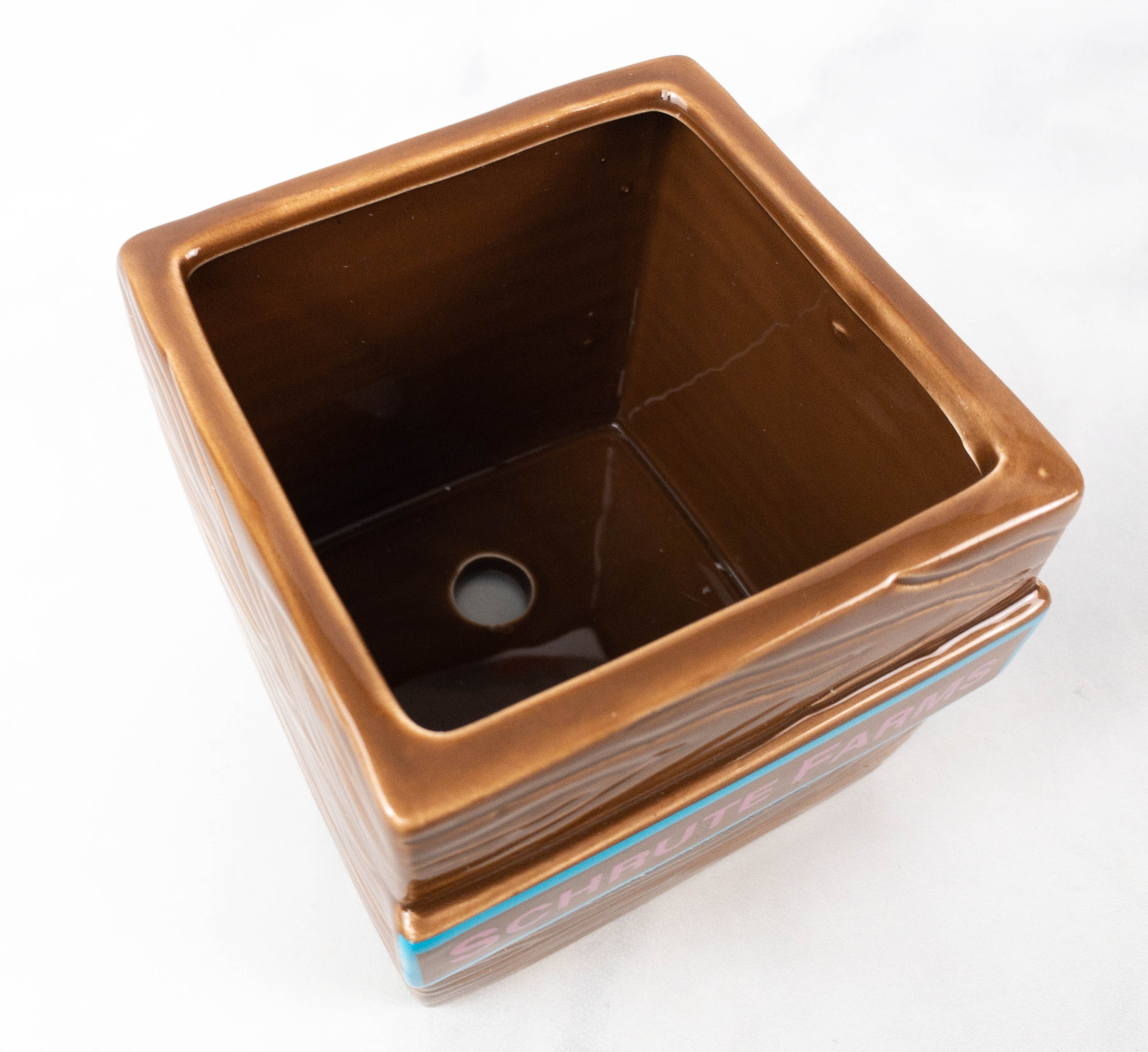 The space is enough to accommodate one of my small indoor plants!
This quarter's The Office box includes fun merchandise I can bring to my summer travels, and the best thing is that they are all Schrute Farms themed! My favorites are the bucket hat and the duffel bag, but the rest of the items are also high-quality. There's also a sleek bottle for keeping me hydrated all the time and a cute tee I can wear comfortably despite the summer heat. Another fun item is the keychain resembling an old fashioned room keytag used in hotels or bed and breakfasts! I really enjoyed The Office references in this quarter's box because they were on point and they reminded me of some funny moments from the show as well. Overall, this is such a great box for The Office fans, especially those who love to collect licensed merch!
What do you think of this quarter's box?
Visit The Office Subscription Box to subscribe or find out more!