HER-MINE Self-Care Box is an aromatherapy, beauty, wellness, and lifestyle subscription box that sends items that are from women-owned companies. Her-Mine is a box for those who like to relax with pampering products, and who knows that self-care is important. The Deluxe Box is $49.95+ FREE US Shipping and comes with 5-8 products. Products will be both full and deluxe sample sized.
HER-MINE Box is a monthly self-care subscription focused on pampering and empowering women. Each box incorporates 5-8 wellness products sourced primarily from female vendor partners that produce natural, organic, or feel-good products ranging from aromatherapy, clean beauty/skincare, and unique lifestyle goodies. Themes and items change each month so it's always a delightful surprise!
DEAL: Get 10% off on any order! Use coupon code HERTEN.
My items were wrapped in red tissue paper that was sealed with a sticker. My box was packed by Pam, one half of the team behind HER-MINE (the other is Trudy, her daughter!).
The items were snuggled in shredded paper squiggles. I think the presentation is lovely and I can't wait to see what's in the box!
A lovely pamphlet was included. The theme for July was the Anniversary Box!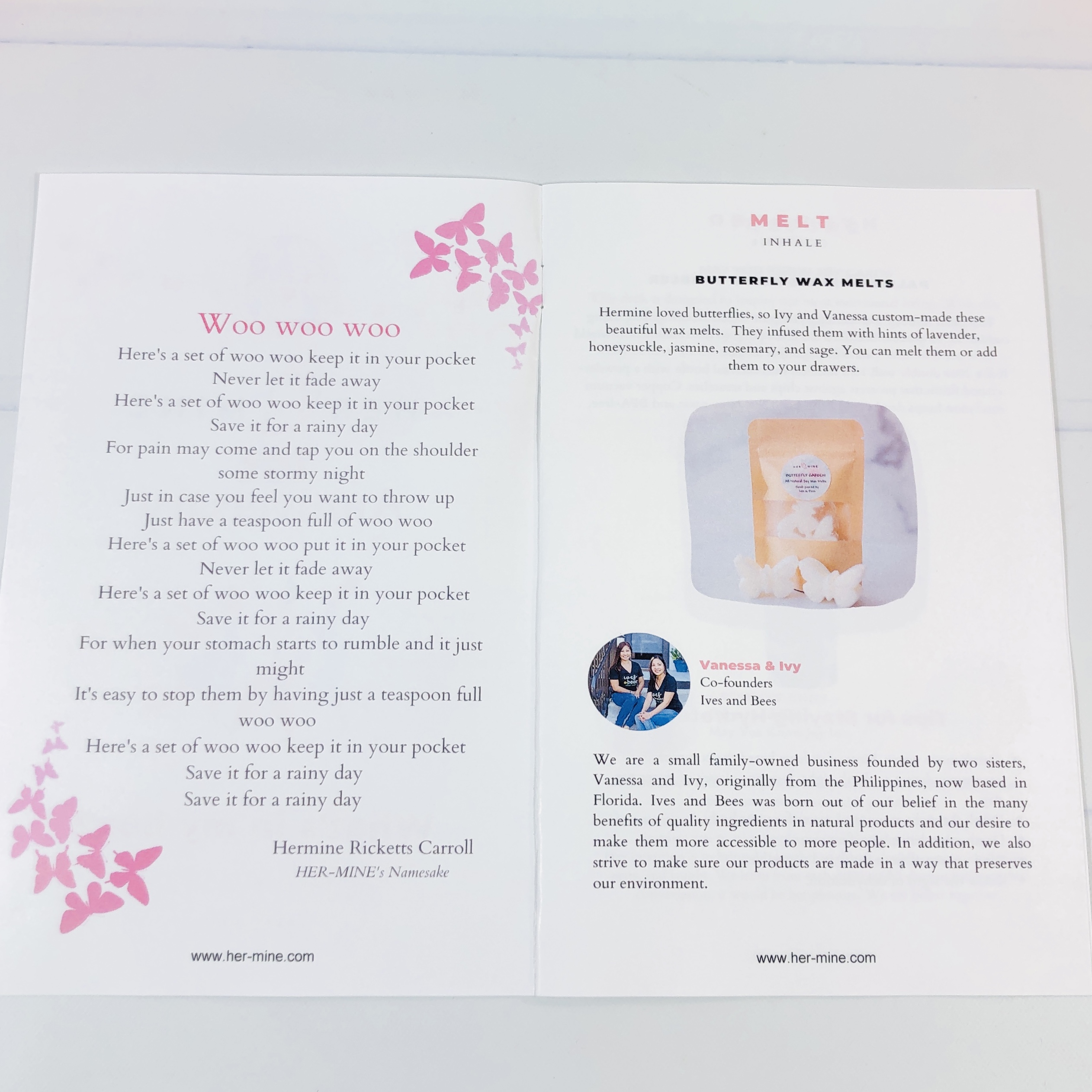 Each product in the box was shown along with its creator. This is the one year anniversary of HER-MINE and there were special touches throughout the box to honor the box's namesake, Hermine, who was Pam's beloved sister who passed away too soon. They made sure to include butterflies and natural elements this month.
It looks like a great curation, as always!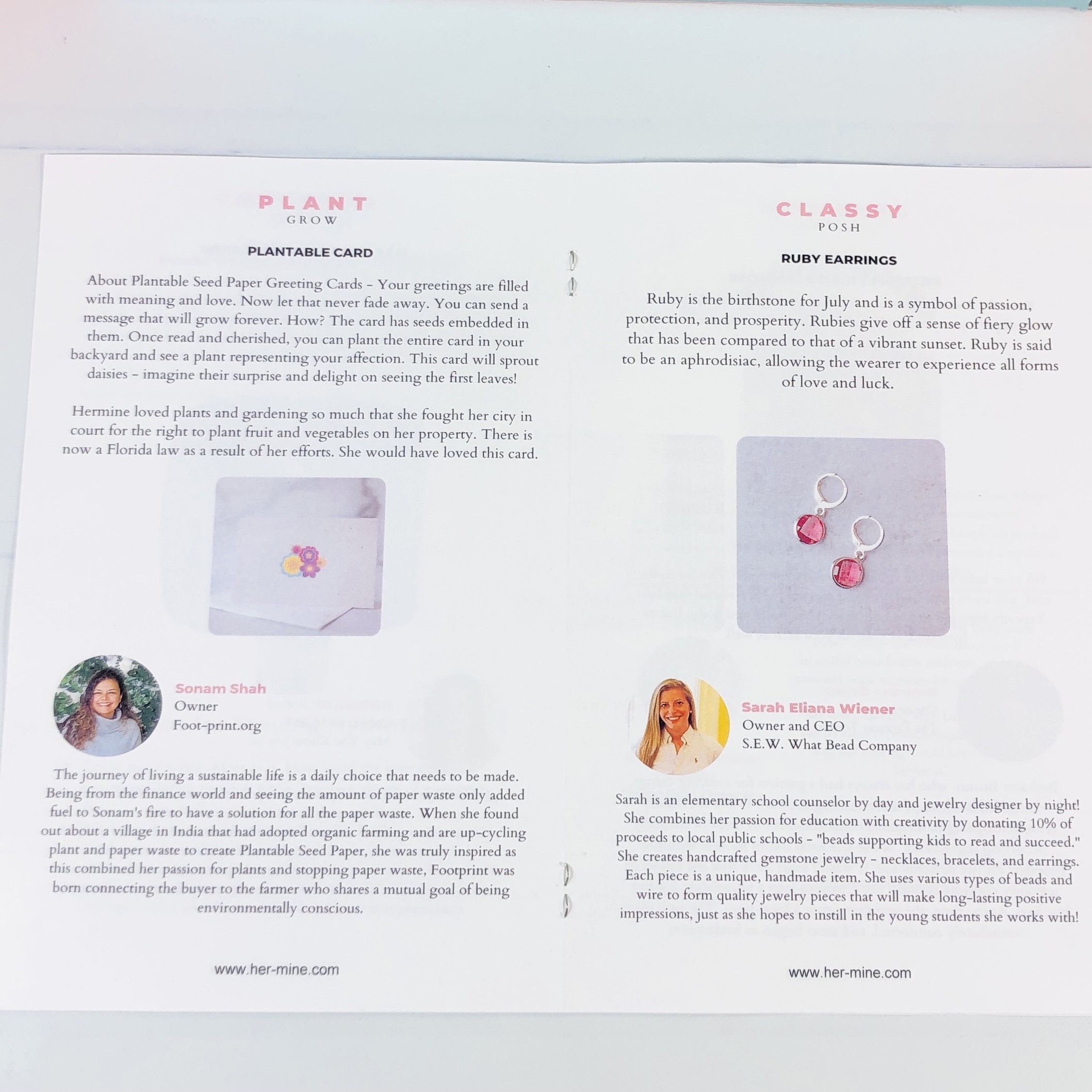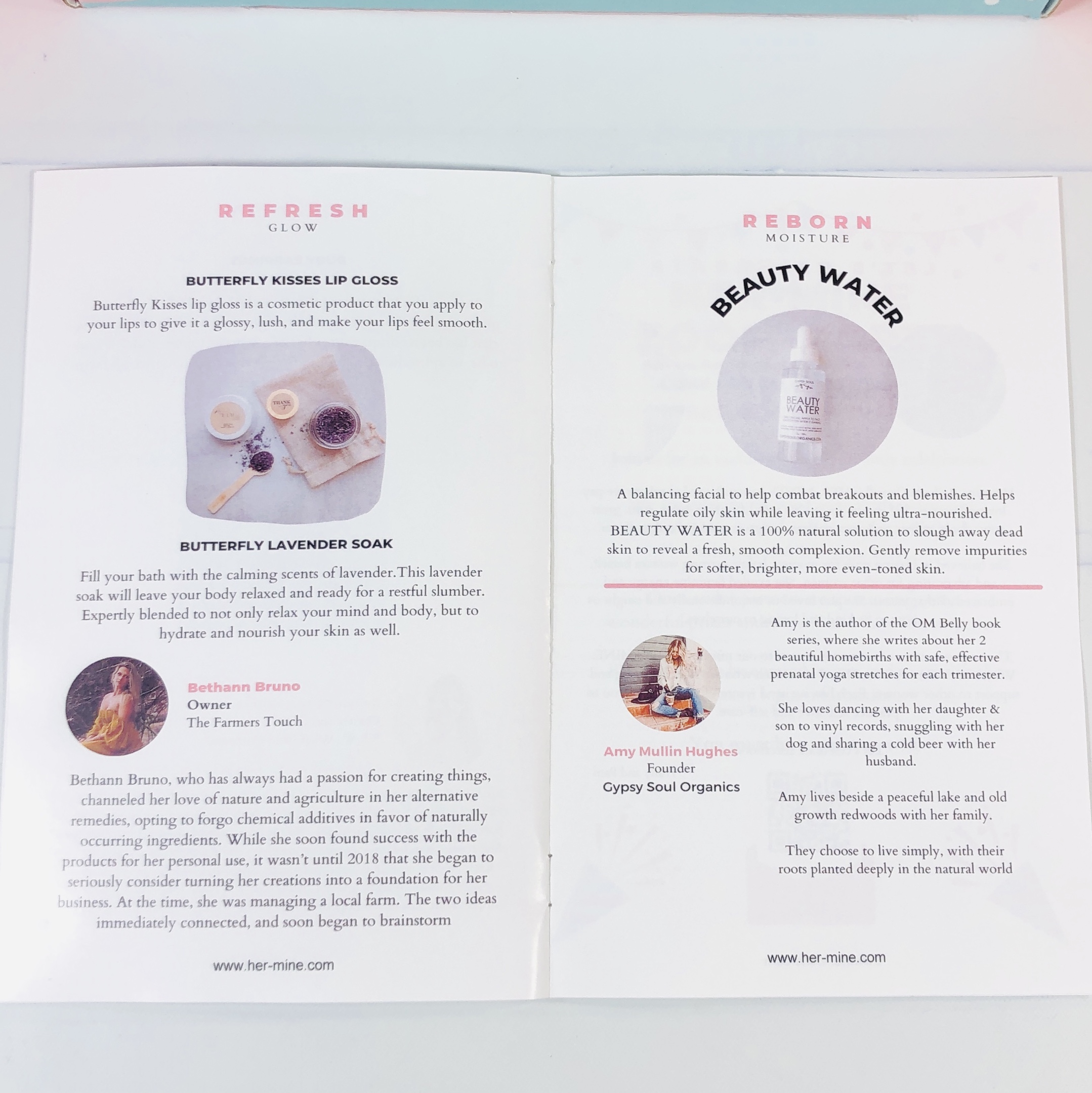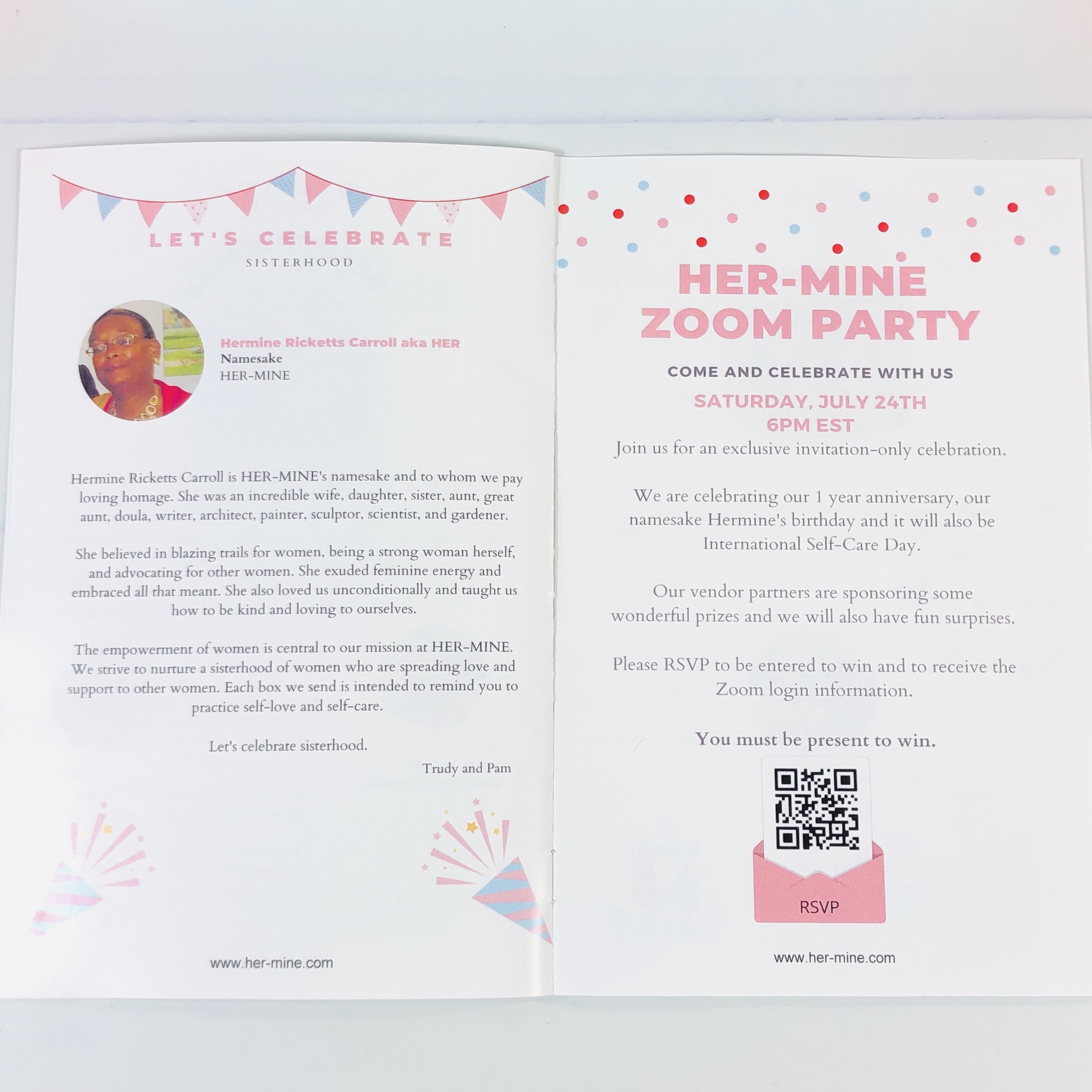 More info on Hermine as well as info on a special Zoom party were included. I'm sorry I didn't get to attend and tell you all about it but I was on a plane at the time.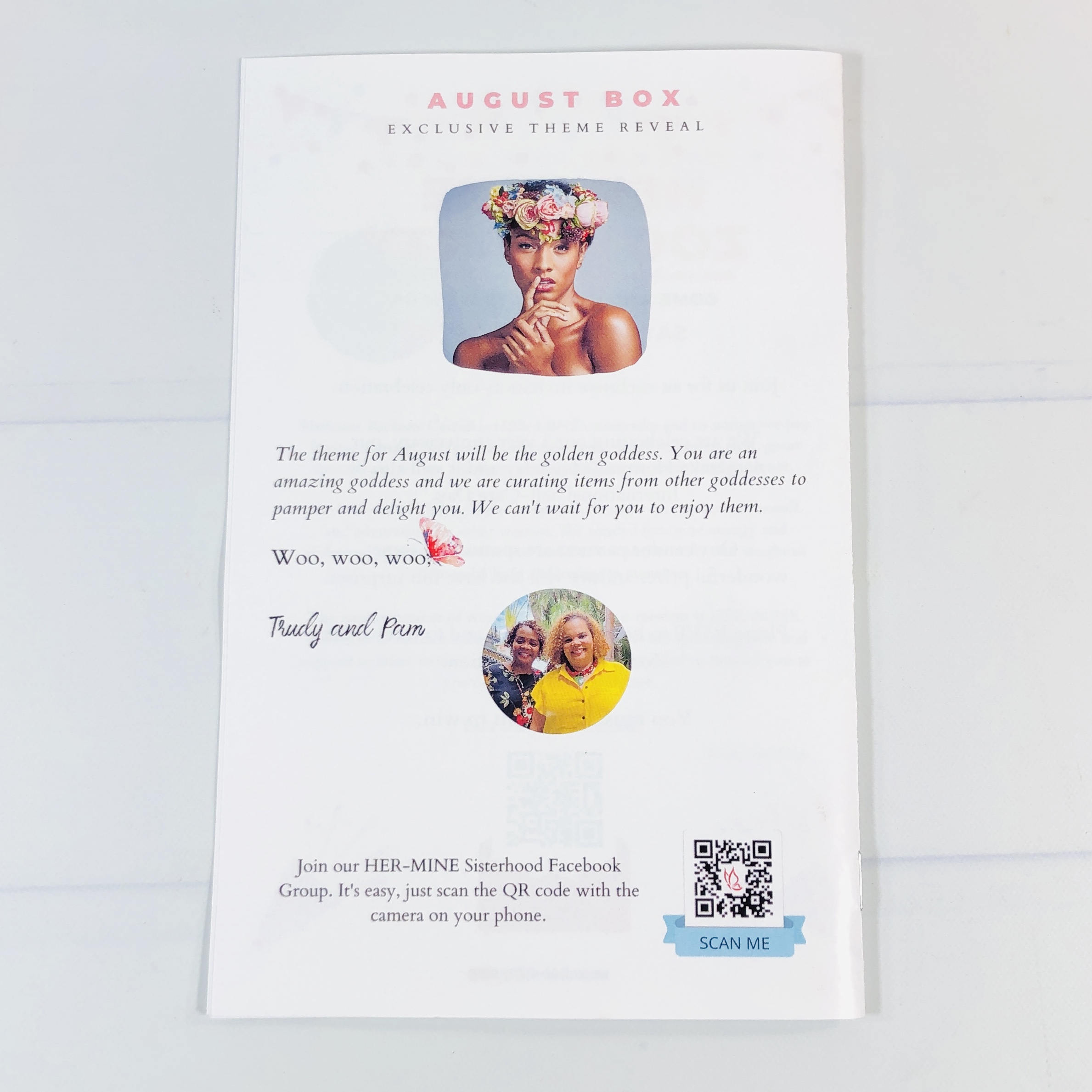 The back of the pamphlet gave us a peek at the August theme. Sounds golden!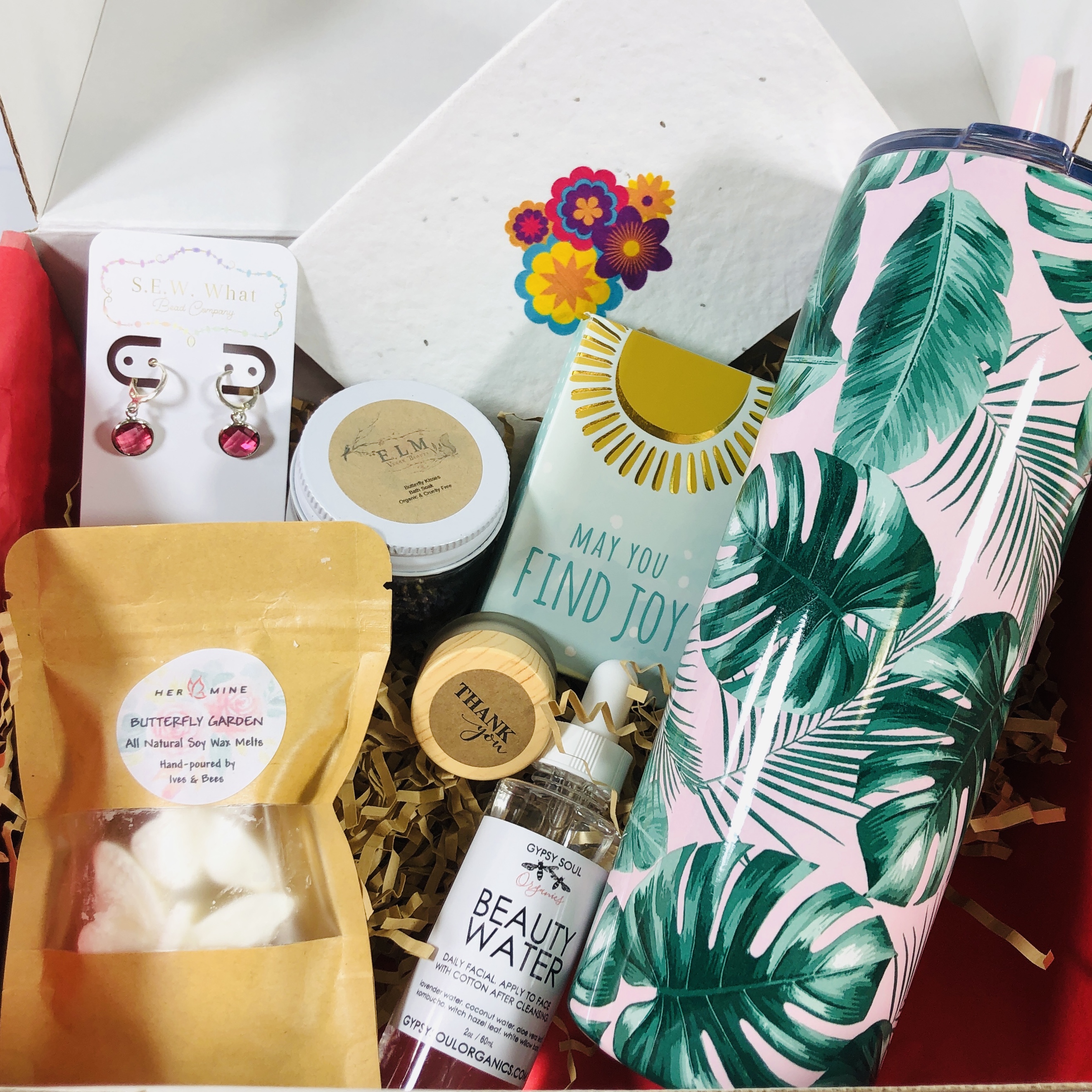 Everything in my box!
We received two items from this brand and it came with two different cards.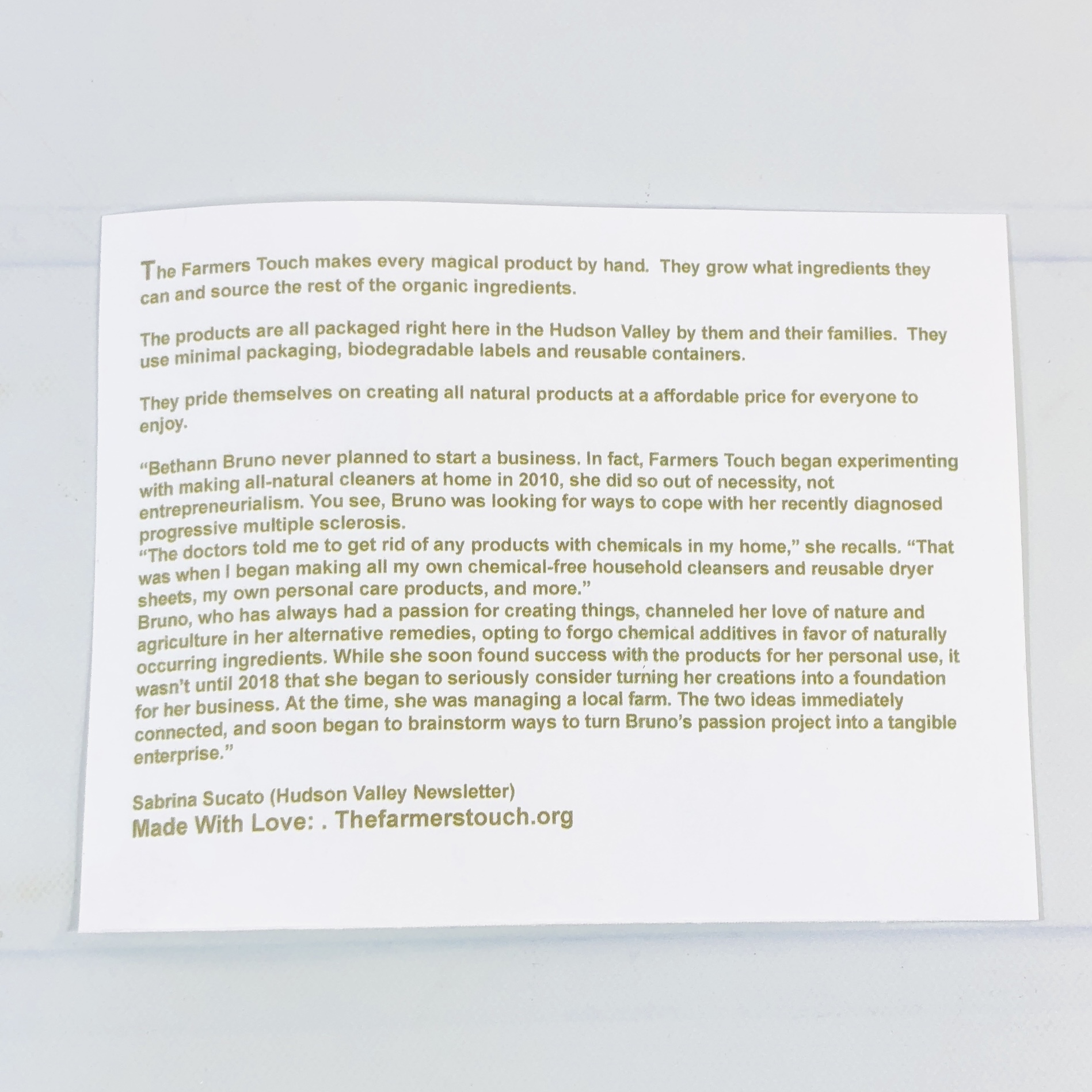 One card had some background info on the brand.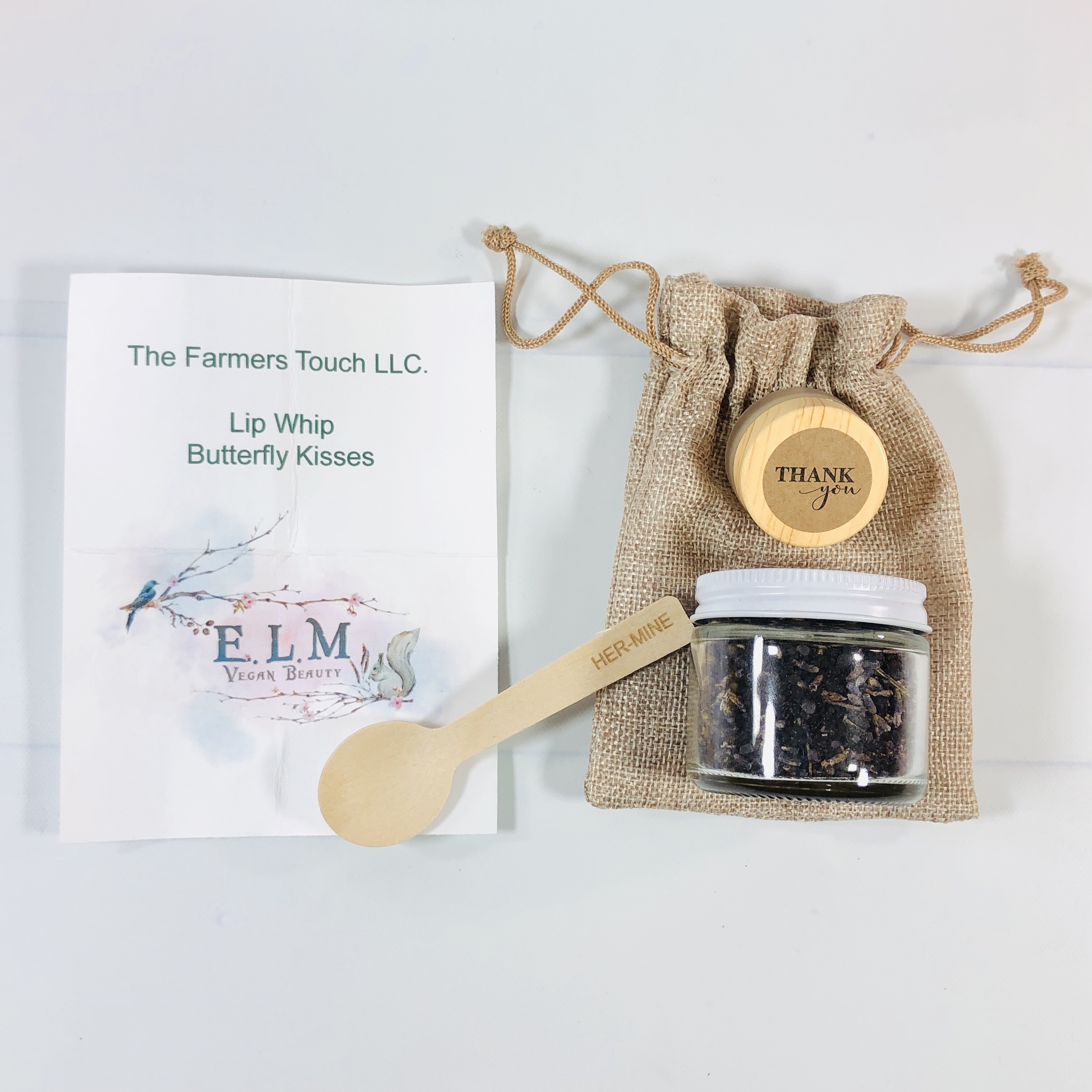 The second card listed the ingredients for one of the items shown below.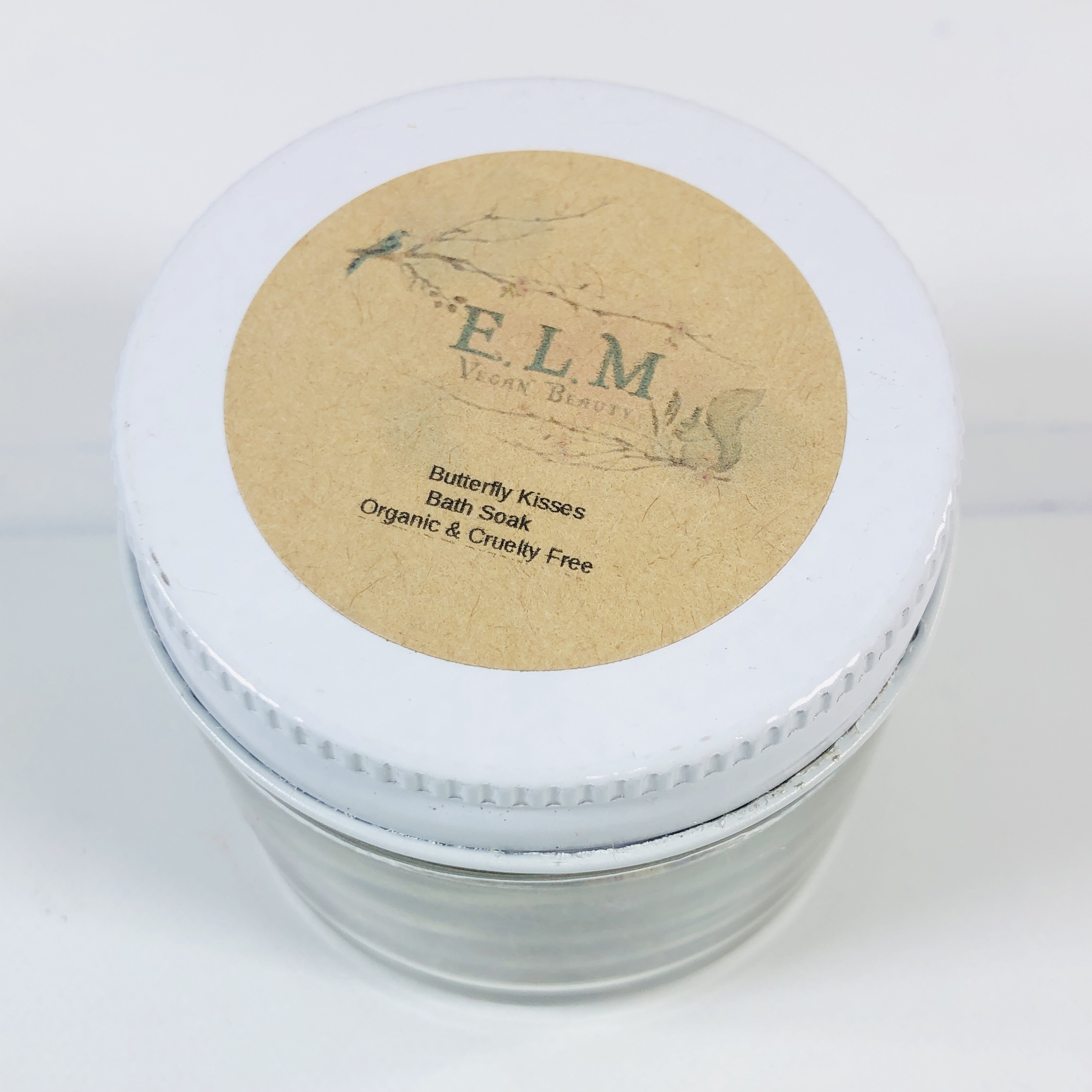 The Farmers Touch Butterfly Lavender Soak I didn't see this one the brand's website so I'm unsure where you might find more.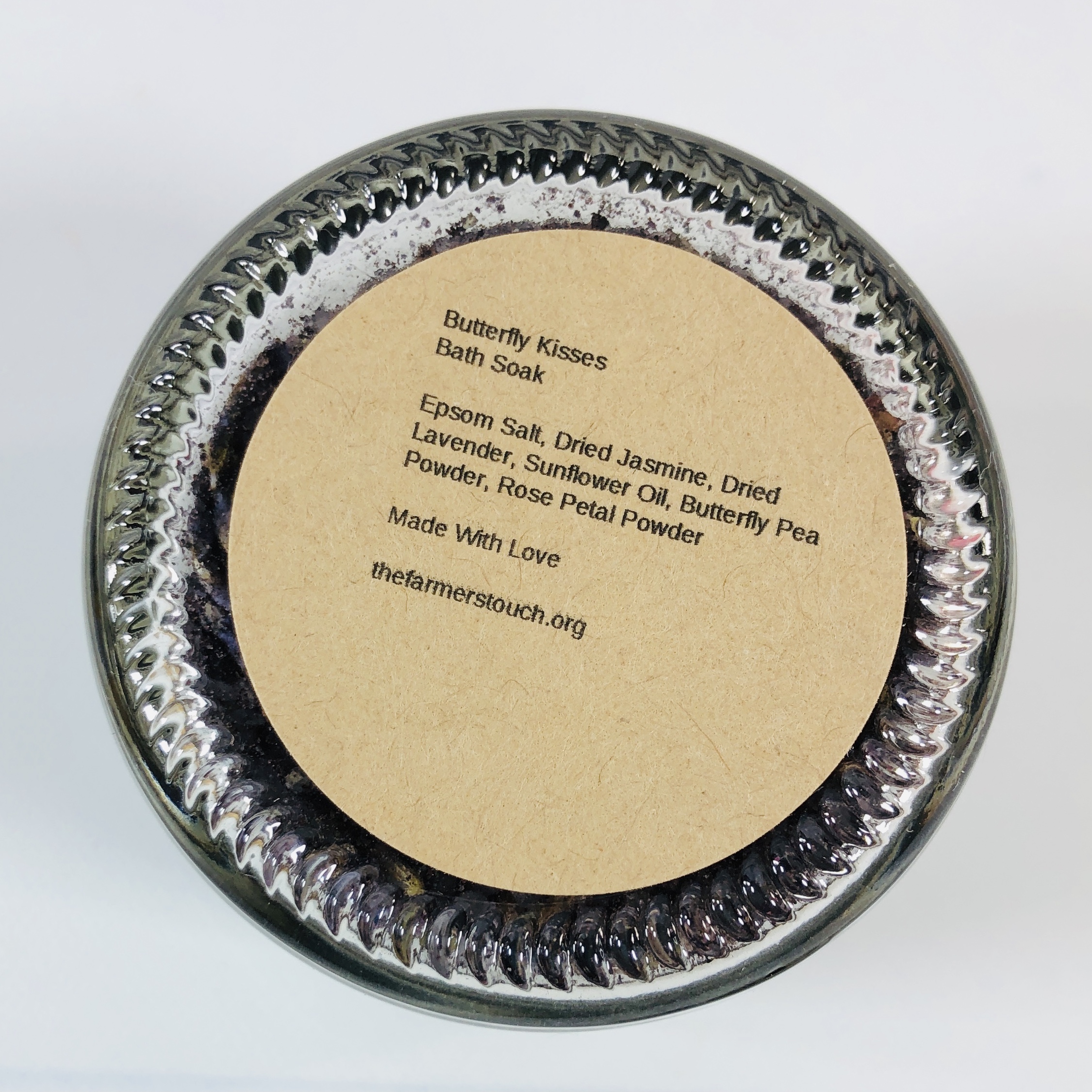 It's a bath soak that is made with all-natural ingredients such as dried flowers and Epsom salts.
I couldn't find any instructions but I'm pretty sure you can just pour some into a bath and then get in and soak up the goodness. I would suggest placing it in a disposable tea bag first to keep from clogging your pipes. The butterfly pea flowers turn the water a beautiful shade of blue, without the use of dyes, and the scent is light and also natural, thanks to the lavender.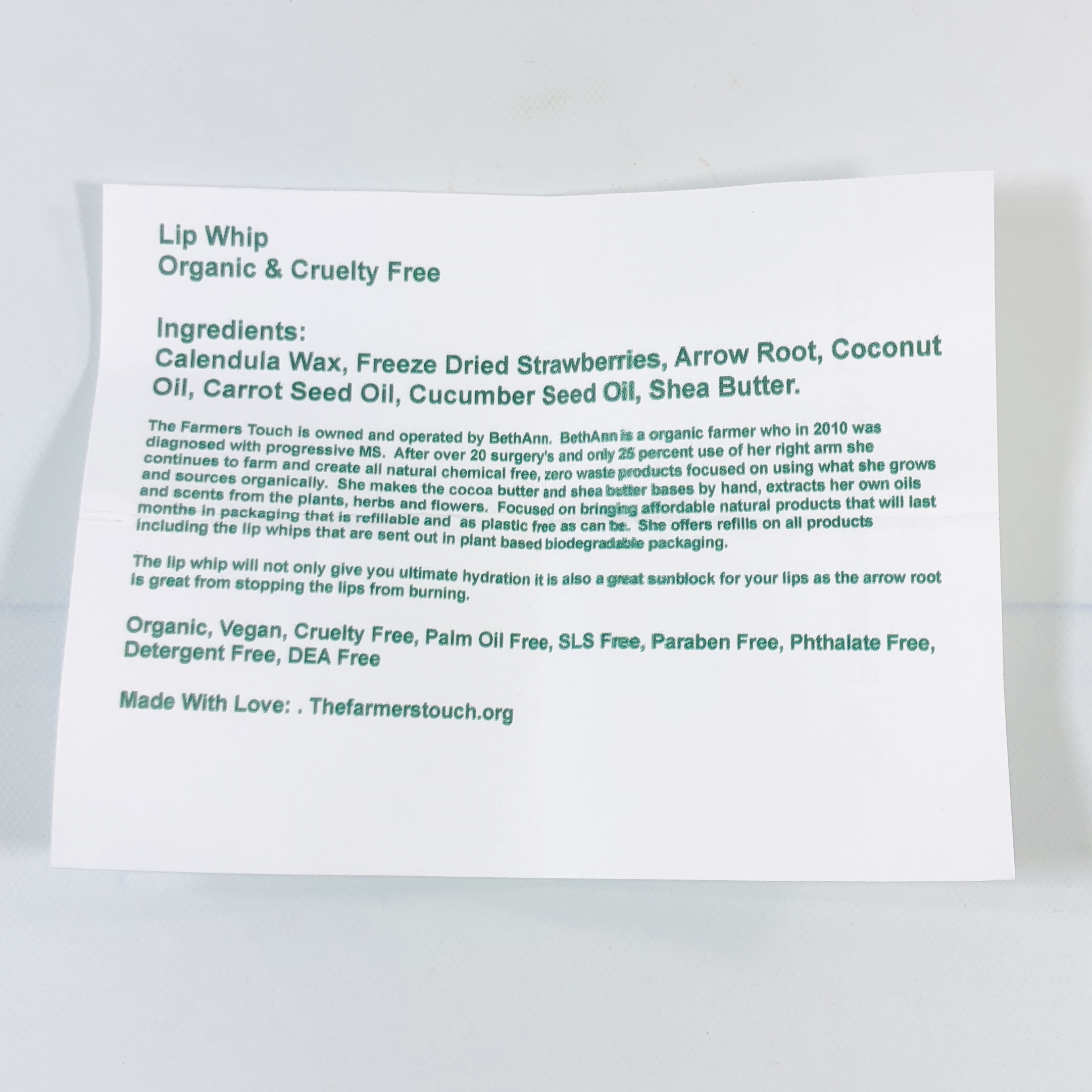 Here are the ingredients for the next item.
Butterfly Kisses Lip Gloss It's in a cute frosted glass bottle.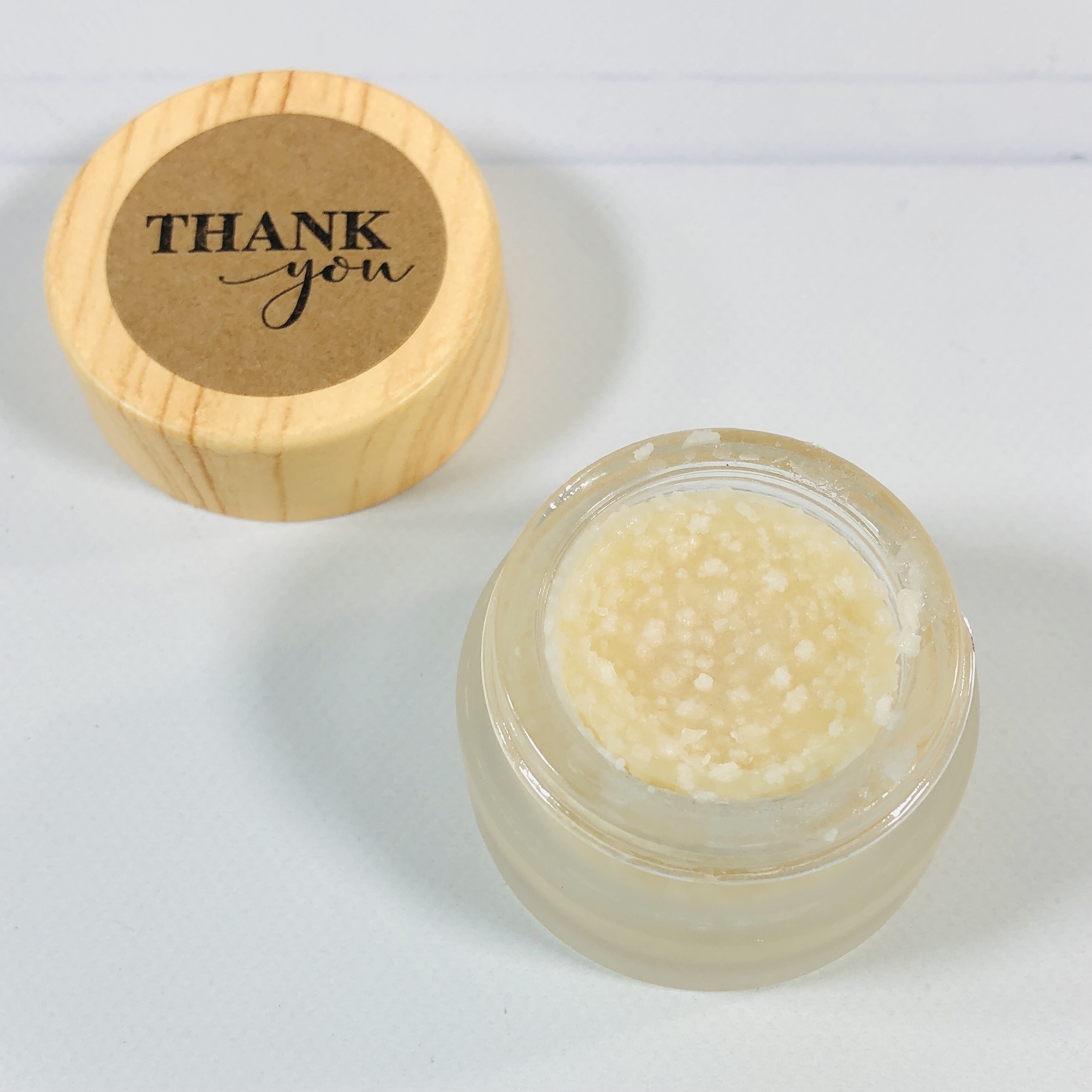 It looks kind of clumpy, which sometimes happens to products made with shea butter. It was fine once I swiped it on my lips. I can't taste any of the ingredients such as strawberries, carrot seed oil, or cucumber seed oil, but it does have a flavor like coconut and cocoa butter and I really like it. Plus, it left my lips soft and glossy. It could also be used on the cuticles and dry spots like elbows.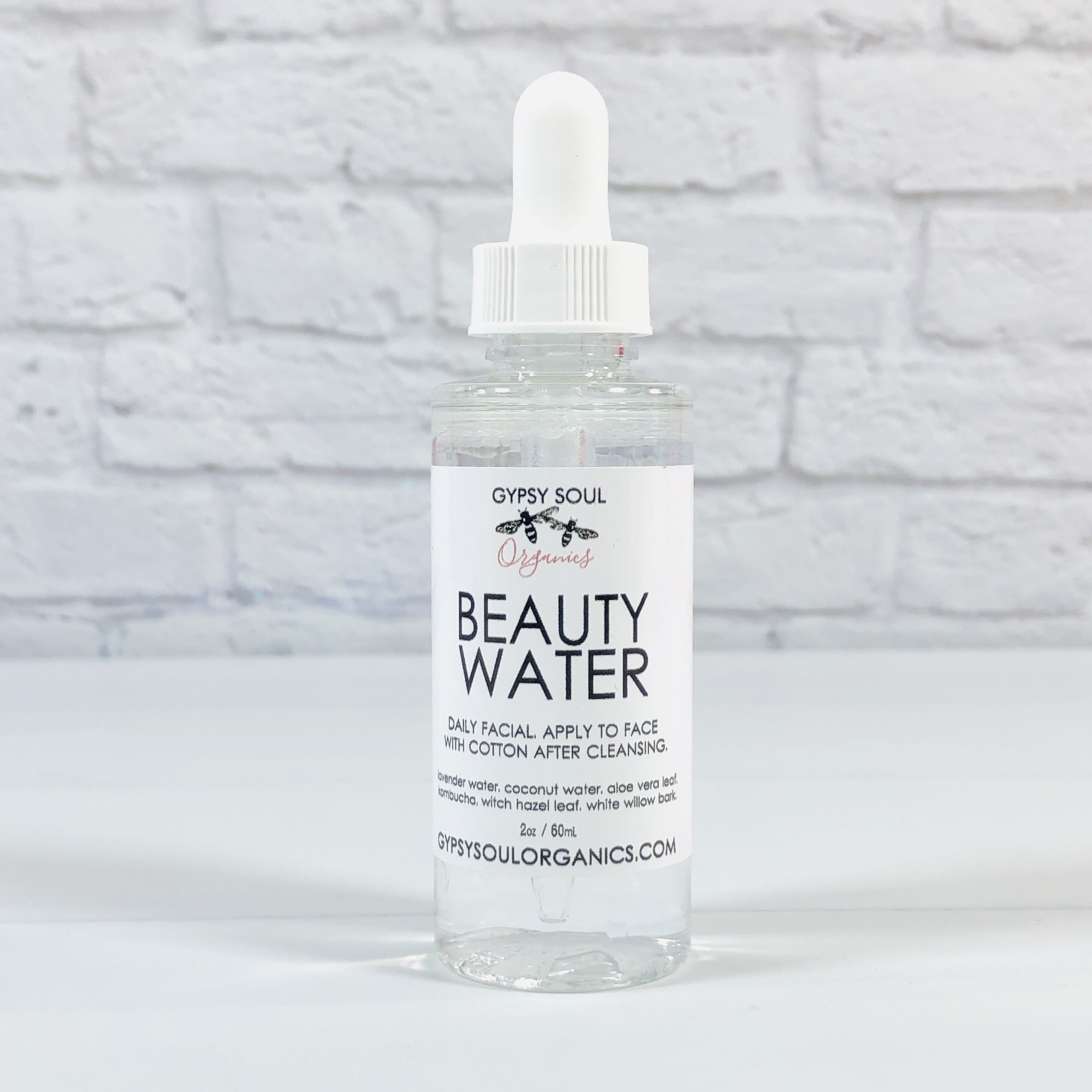 Gypsy Soul Organics Beauty Water ($30) is a spritz/toner made for all skin types — it is supposed to tighten pores, fight blemishes, and provide a glowy look.
The product is dual-phase so make sure to shake it up before using to mix the ingredients, which are lavender water, coconut water, aloe, kombucha, witch hazel, and white willow bark. The instructions say to saturate a cotton pad and then wipe the face with this, but for whatever reason the dropper seems unnecessary, this could have had a regular or flip-up lid. The product didn't irritate my skin and it smells strongly of lavender and witch hazel.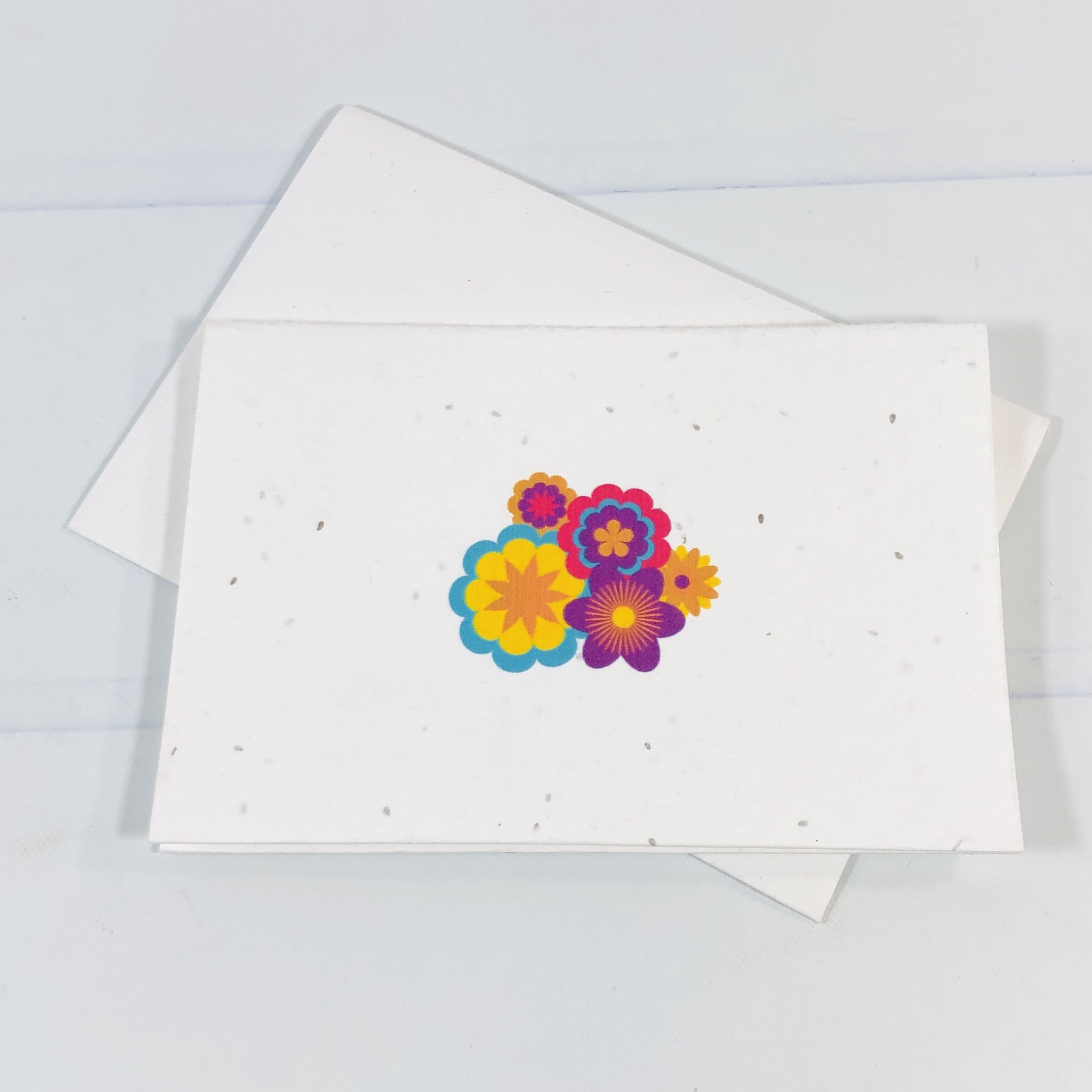 Foot-Print Retro Flowers Plantable Card ($6) The brightness of these flowers is just stunning and reminds me of all of the colorful flowers that are around during summertime.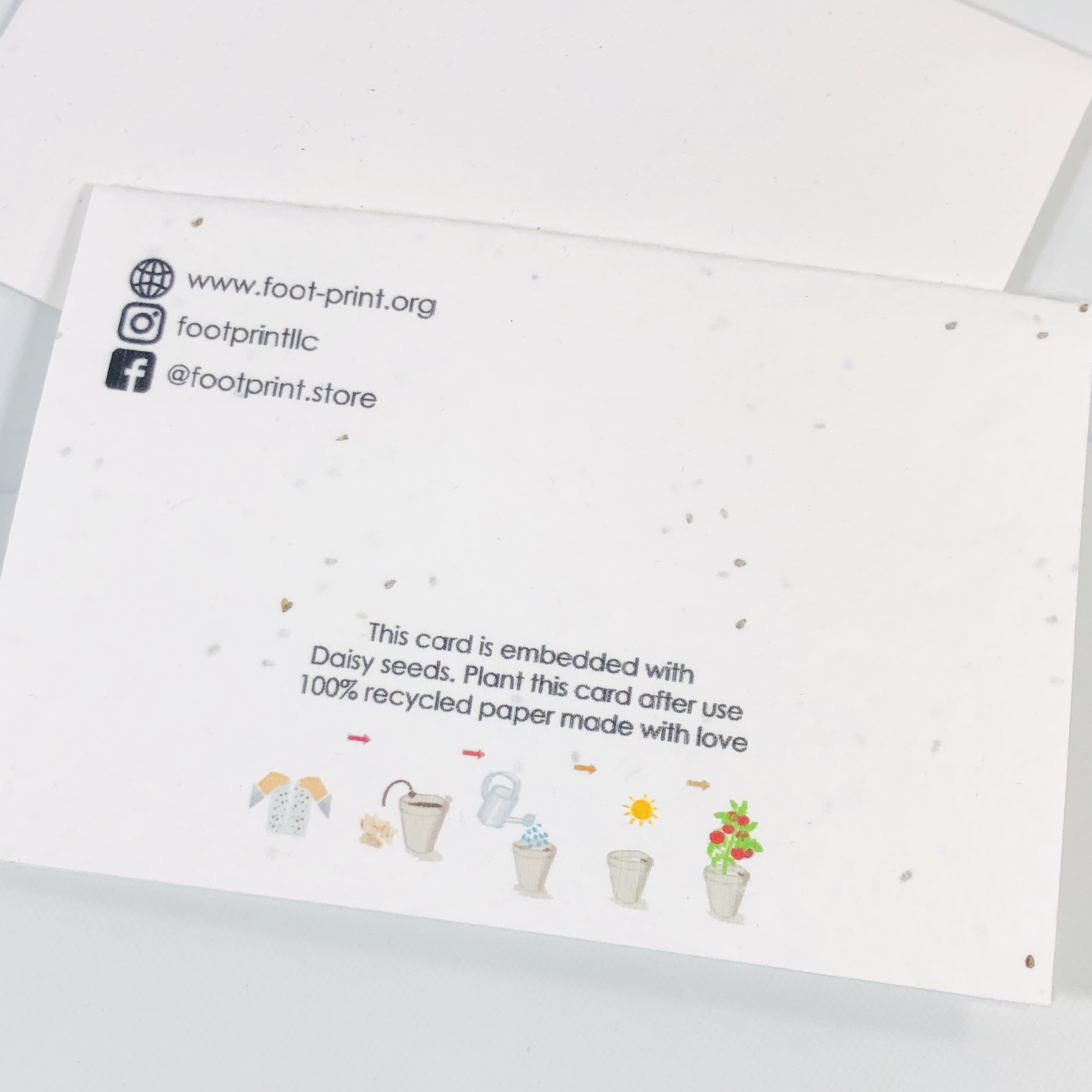 But wait — there's more! The card is embedded with daisy seeds so that the recipient can plant the card in their garden or yard if they like. The inside is blank so it can be sent for any occasion and it came with an envelope.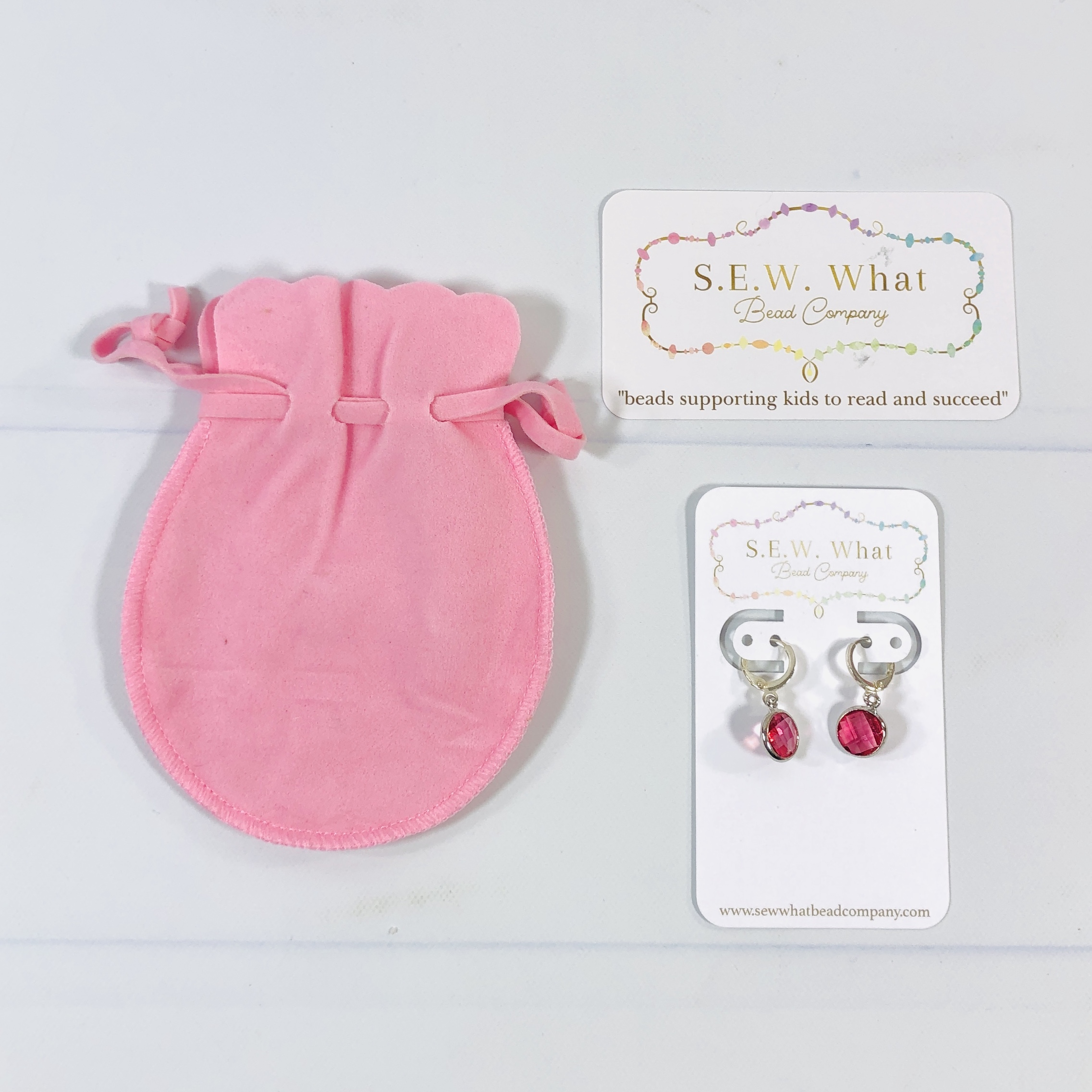 S.E.W. What Bead Company Ruby Colored Earrings ($25) These ruby-colored glass earrings were chosen for the box since ruby is the birthstone for July. They are plated in silver and have an interesting lever-back base. I don't have pierced ears anymore (the holes closed up long ago) so I'm not familiar with this style but they look so cool.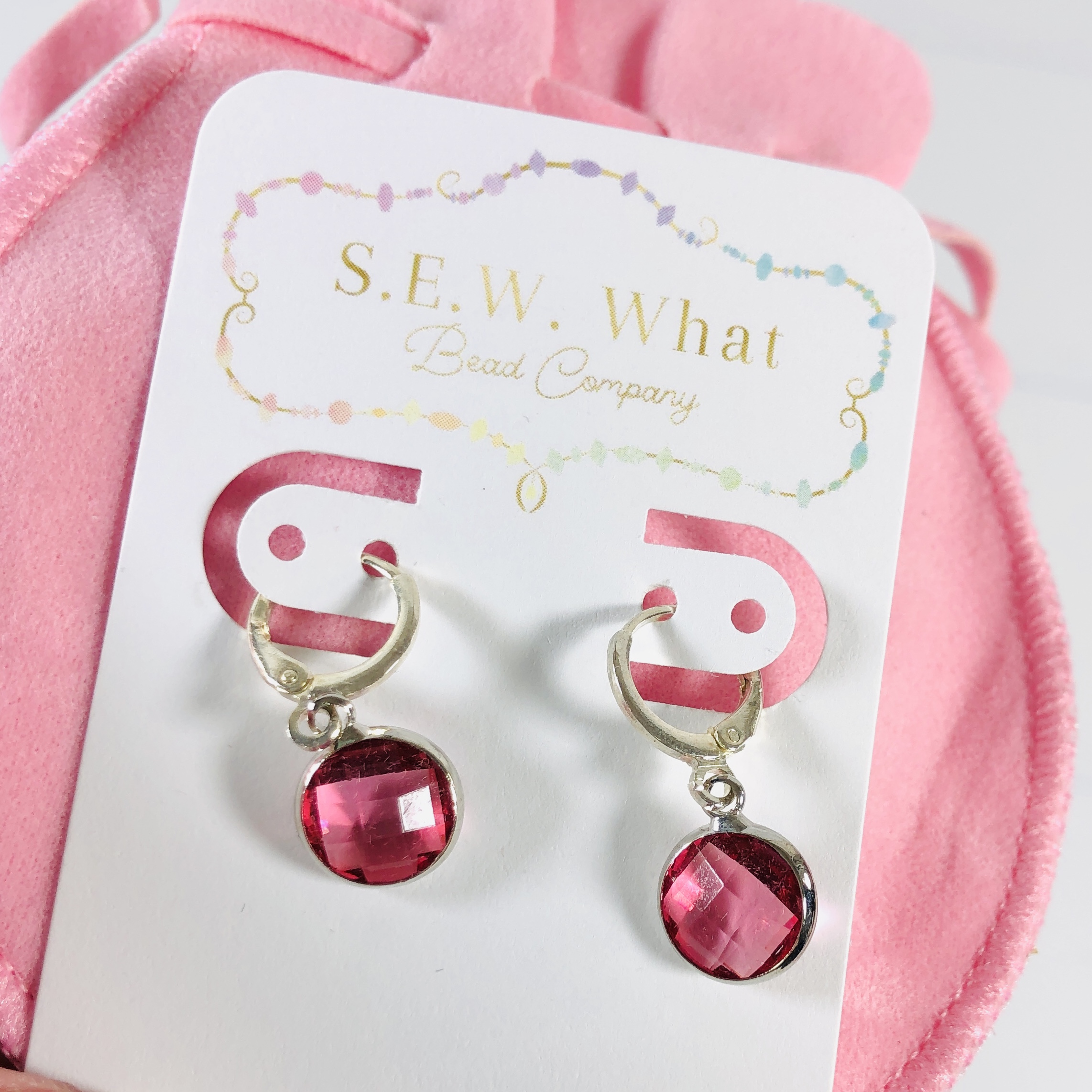 Here's a closer look. The earrings came in a soft pouch and this Etsy shop donates 10% of proceeds to their local public schools.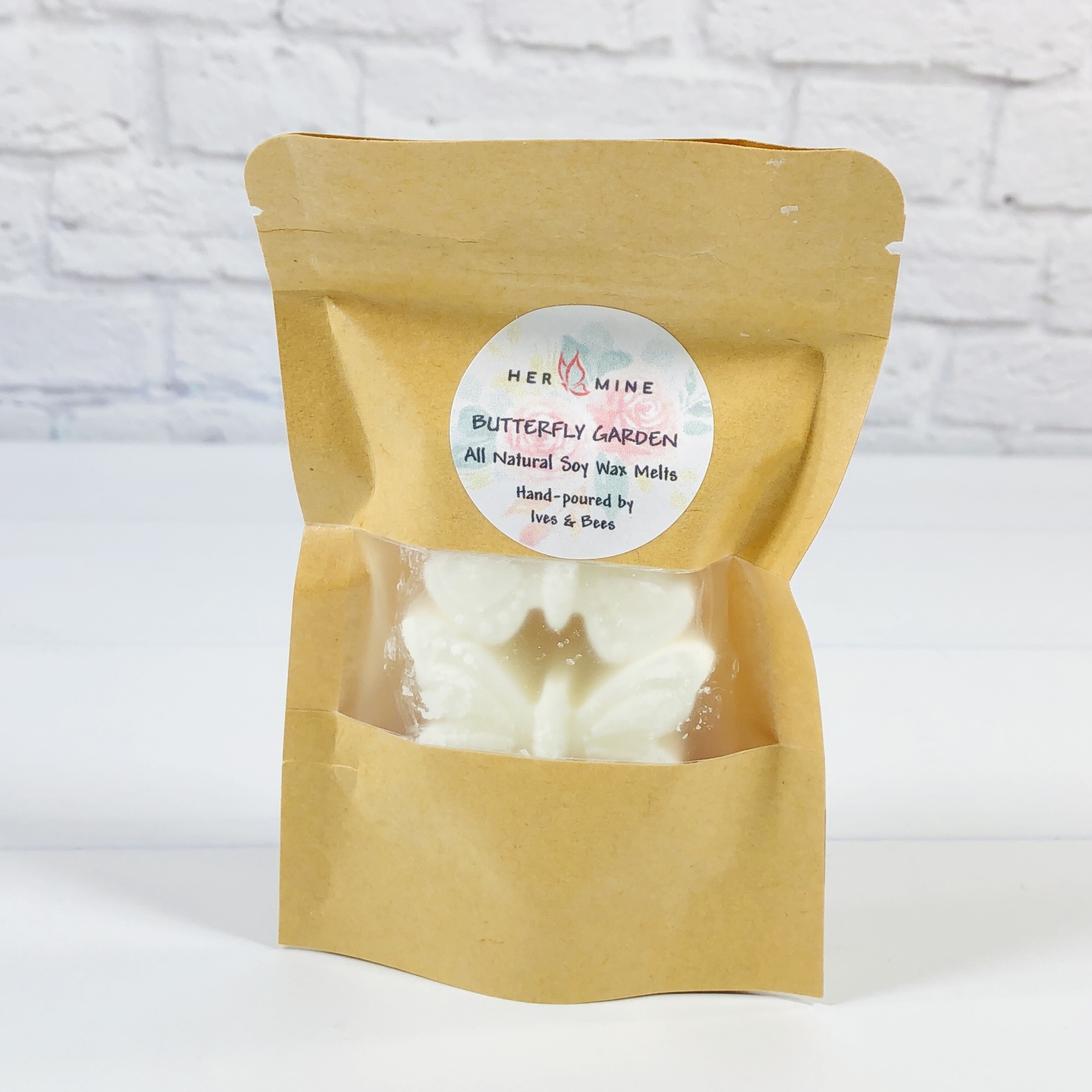 Ives & Bees Butterfly Wax Melts I am going to search for my wax warmer so I can melt these butterflies and have my living room smell like summer with this scent, which has notes of honeysuckle, jasmine, and rosemary.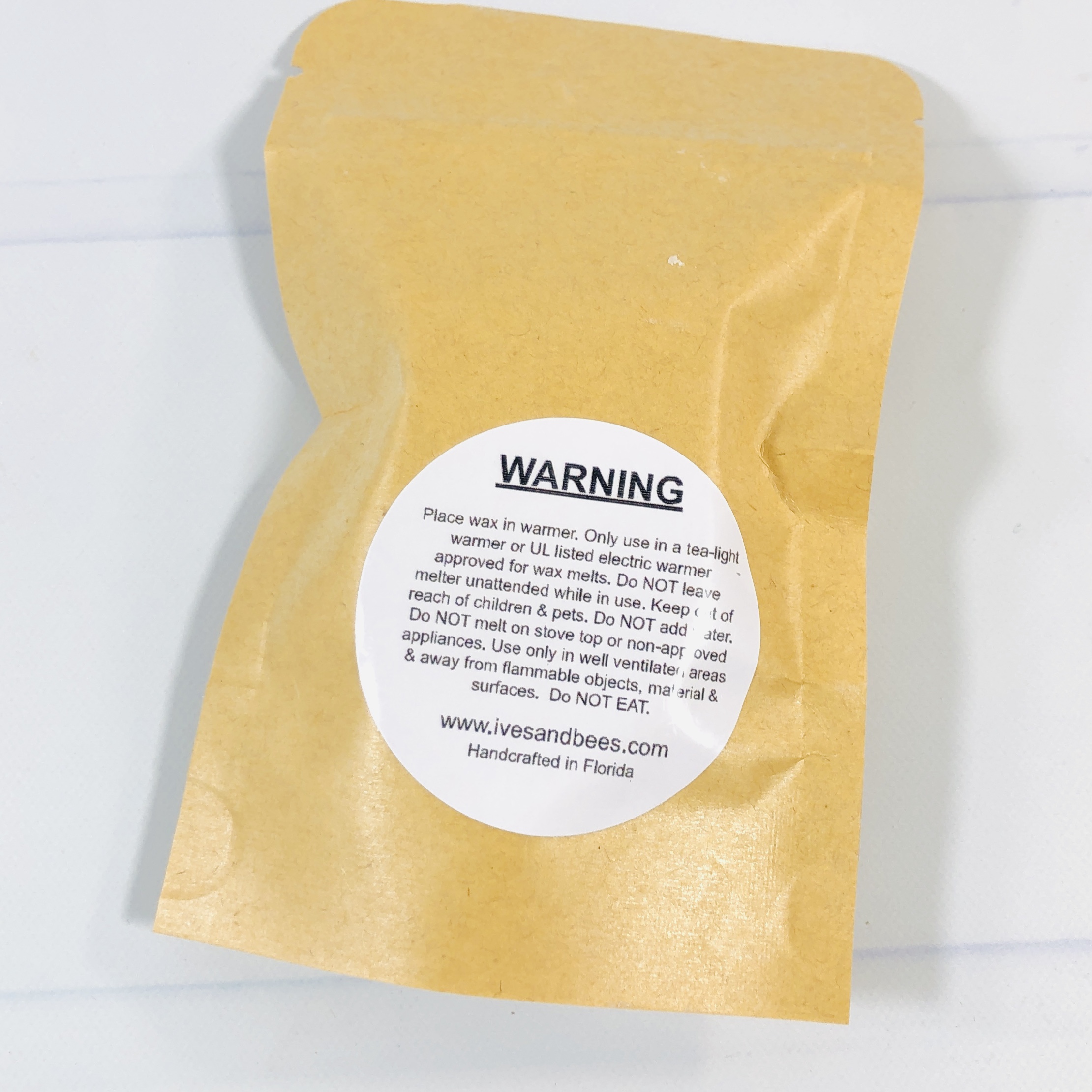 Here are the instructions.
I couldn't find this on the brand's website because they were made especially for this box, but I sure love butterflies. This one smells like it would probably leave my room with a clean, floral, and green fragrance.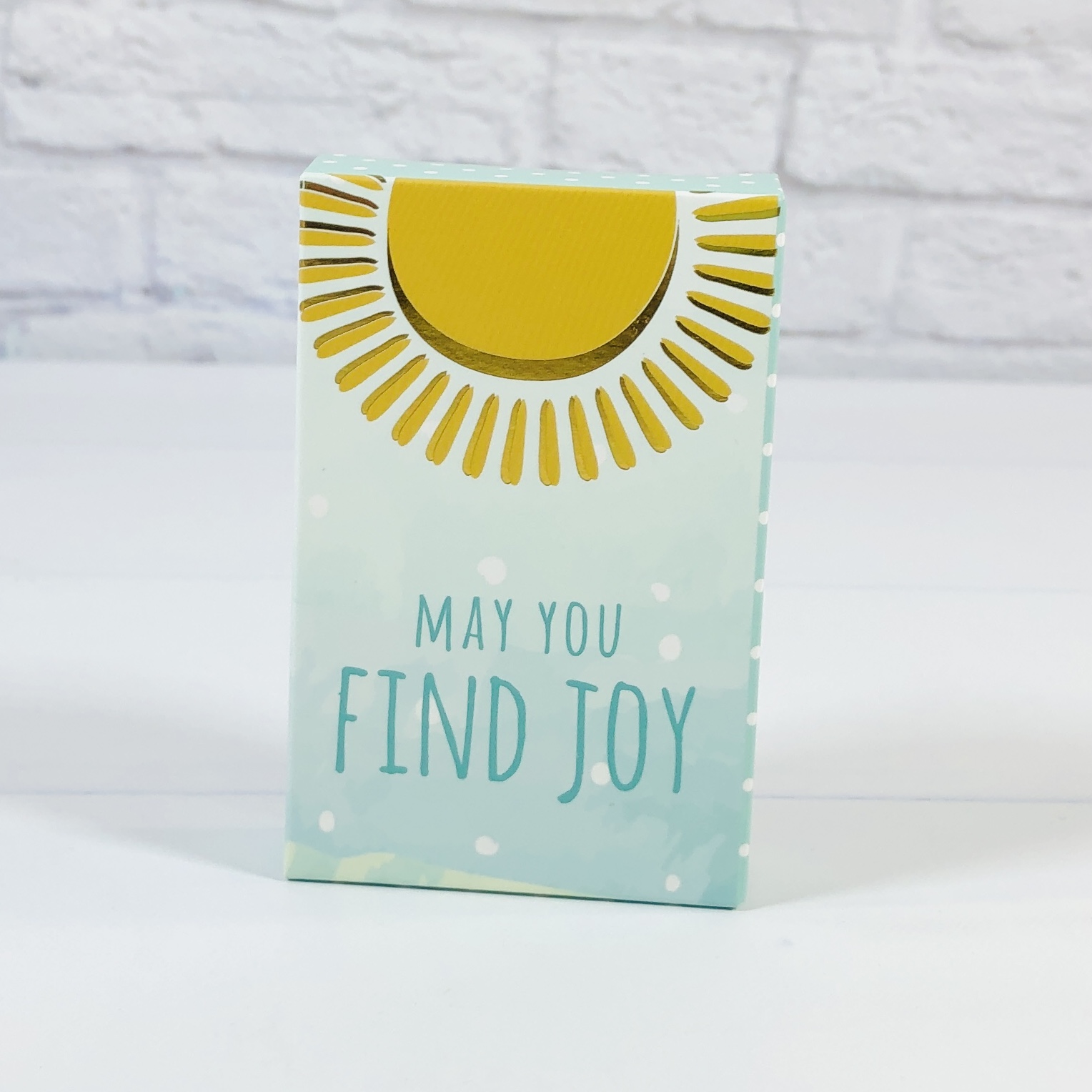 May You Know Joy Inc. May You Find Joy Cards ($17.99 CAD, around $14.42 USD) is a deck of inspirational cards to help you look for joy in the everyday.
There are 42 cards in the deck and here are a few of them for an example of what you may find. You can draw one a day or one a week and keep it somewhere where you can remember to look at it throughout the day and use it to remind you to look for those joyful moments.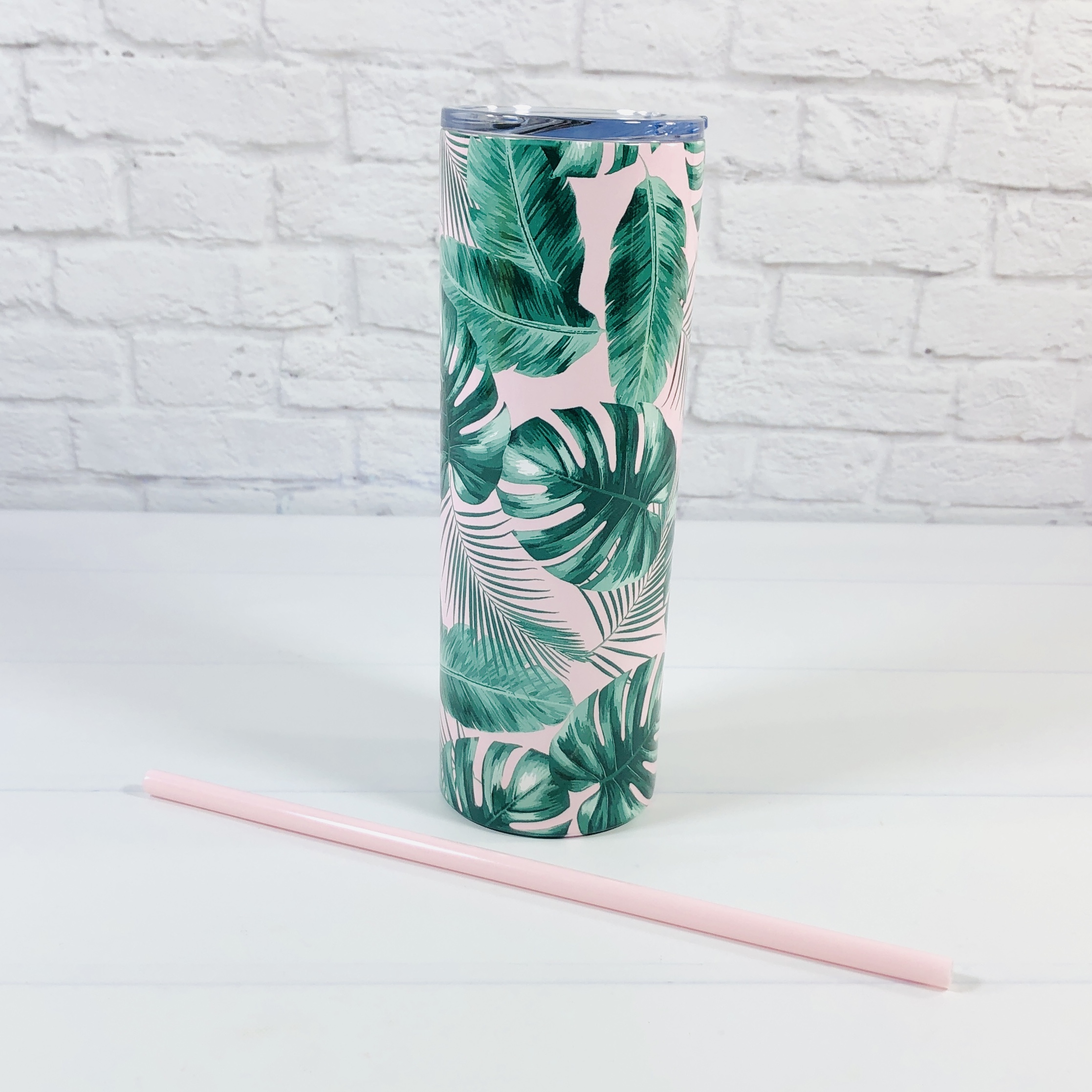 Maars Palm Stainless Steel Tumbler (Find similar item here for $9.50 plus shipping) I was thrilled to receive this beautiful stainless steel tumbler and I LOVE the tropical pattern!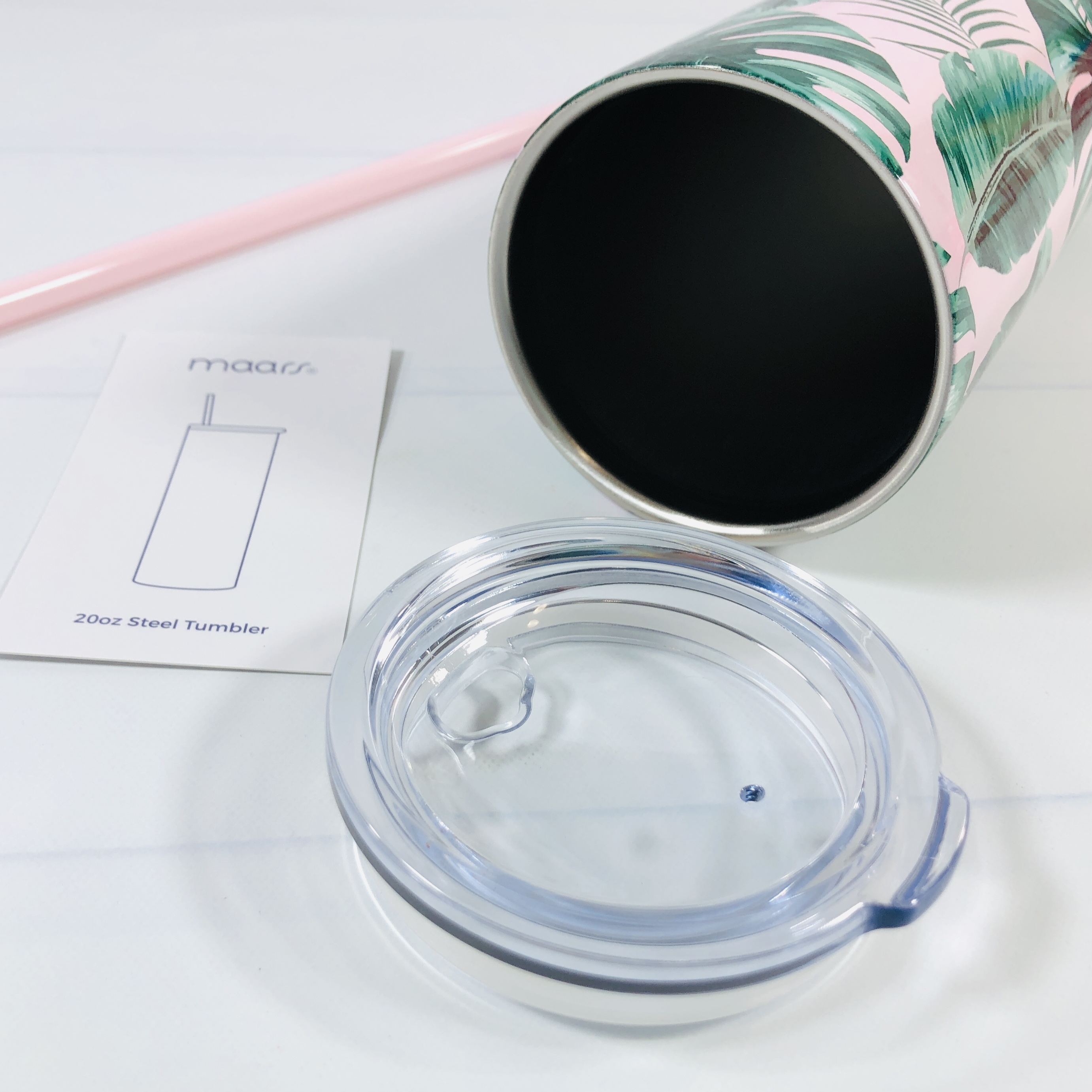 The cup is made by maars and comes with a lid and plastic straw.
Here are the instructions for use.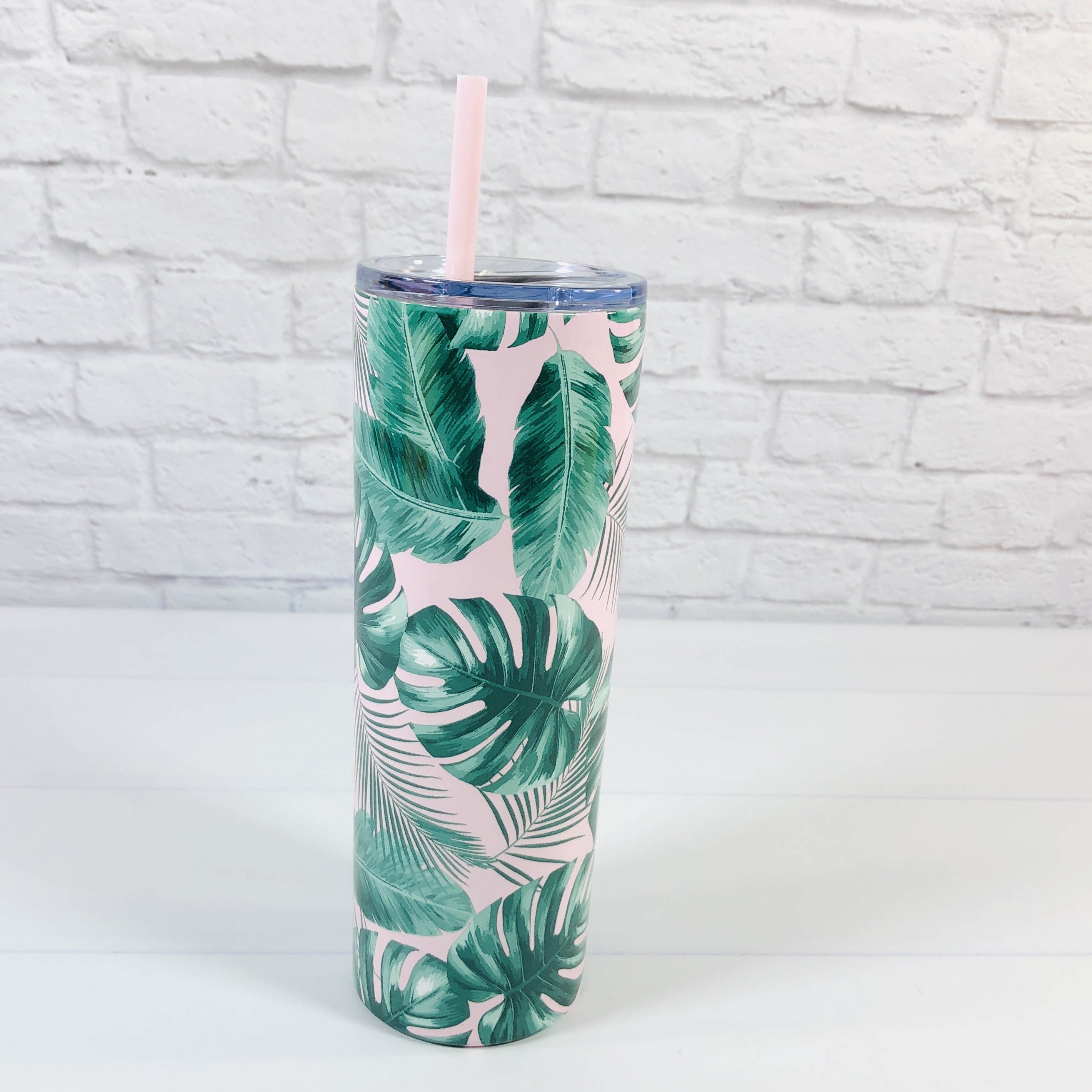 The background is pink and the pattern is all over and I'm just thrilled to have this cup!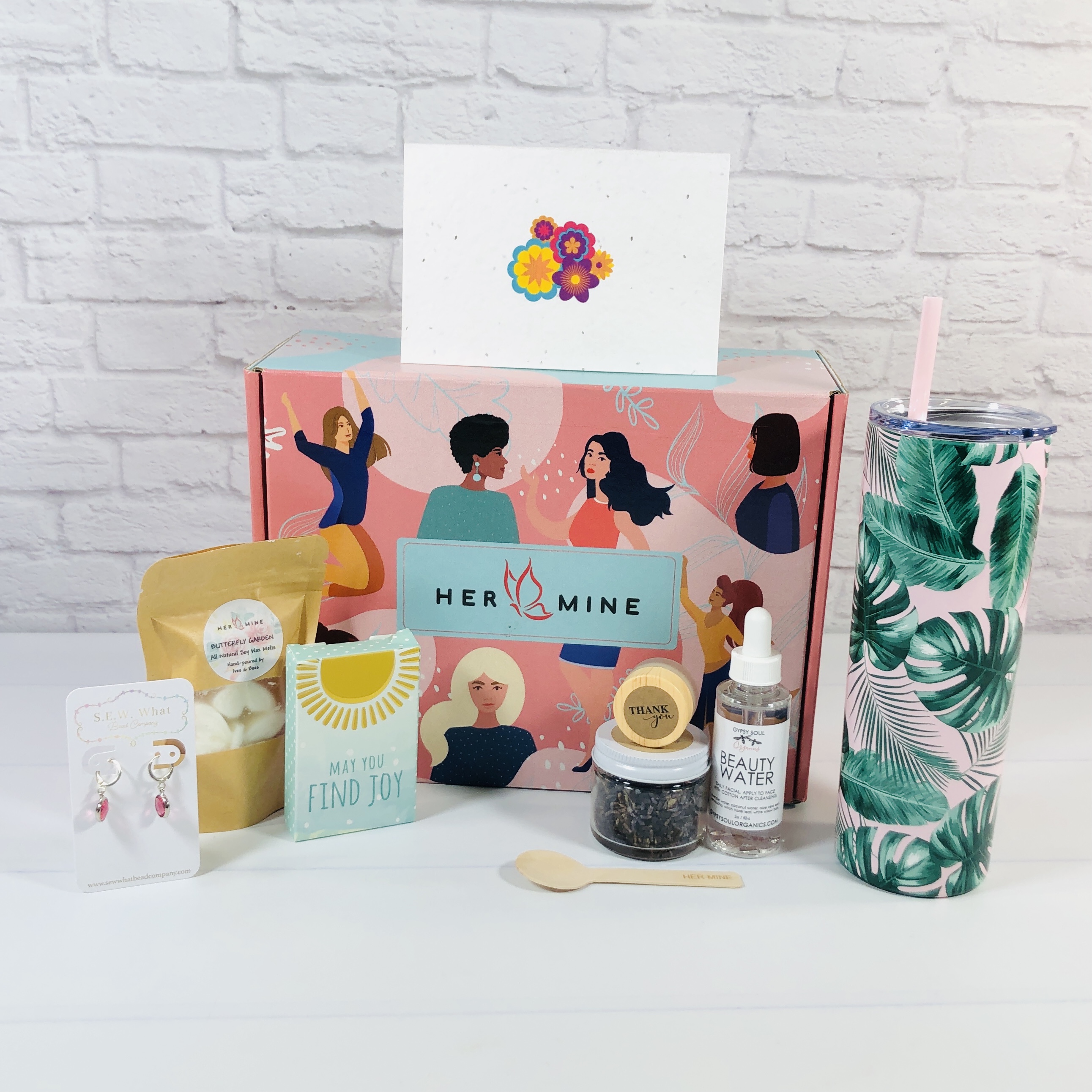 The July HER-MINE box was absolutely beautiful, what an amazing tribute from Trudy and Pam to someone who they loved so very much, and in turn they curated some wonderful products in Hermine's honor. I can't even pick a favorite item, although I am going to smile each time I sip water from my new water bottle! The beauty items are just how I like them, natural, and the earrings will make a great gift for one of my daughters. I can't wait to send the card off to brighten someone's day and the deck of cards will inspire me to look for joy in my own life. The butterfly wax melts will make my room smell like a summer's day, I just need to get out my warmer. Don't forget, next month's box theme is Golden Goddess!
What do you think of this box?