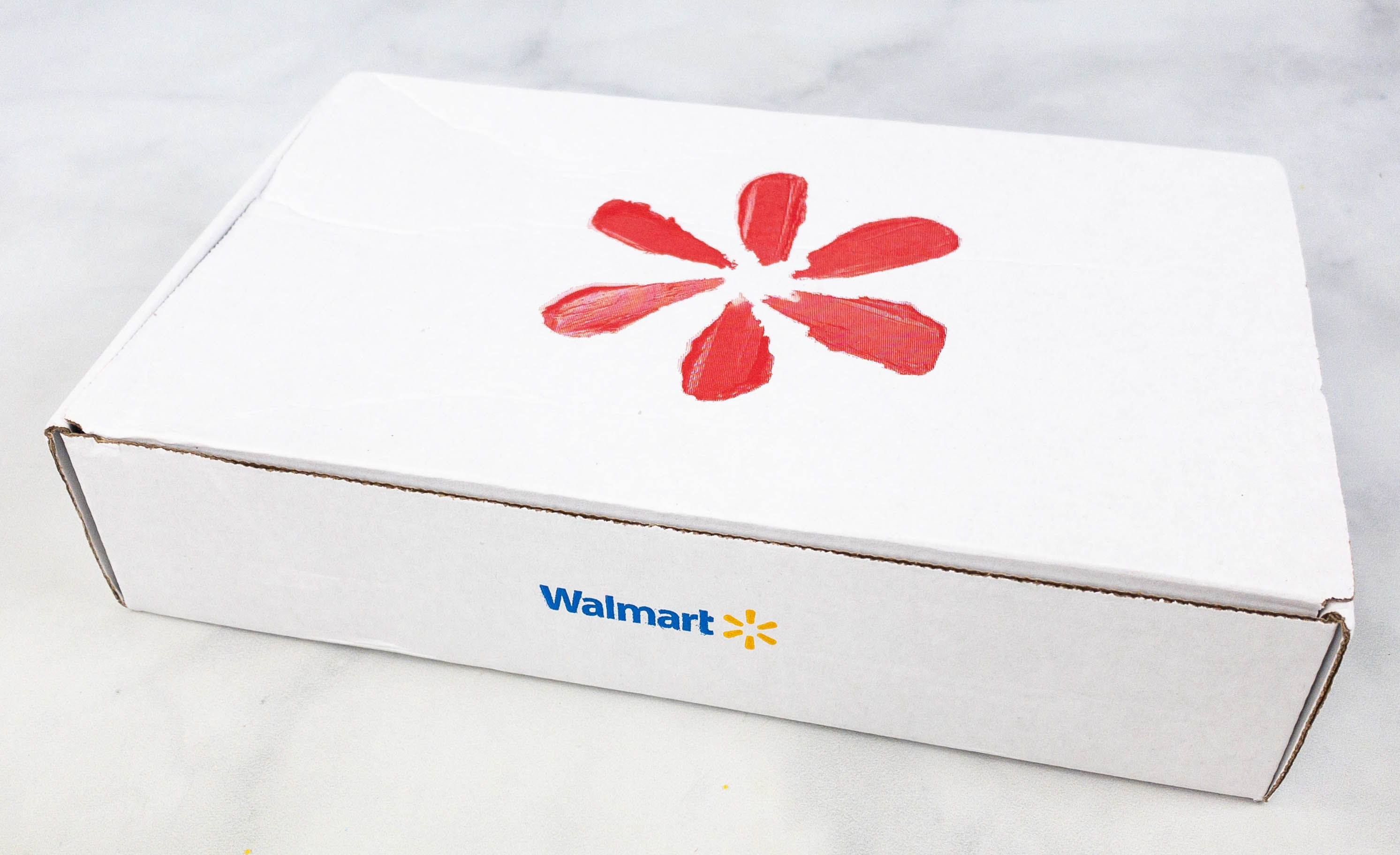 Walmart Beauty Box is a quarterly beauty and body sample box – just $6.98 per box. If you want a sampling experience for items you can buy at Walmart, this is your box!
This is a review of the Summer 2021 Walmart TRENDSETTER Beauty Box!
The box arrived in good condition. See the full spoilers for the Summer 2021 box here.
There was no protective packaging inside the box, but all the items still arrived in good condition.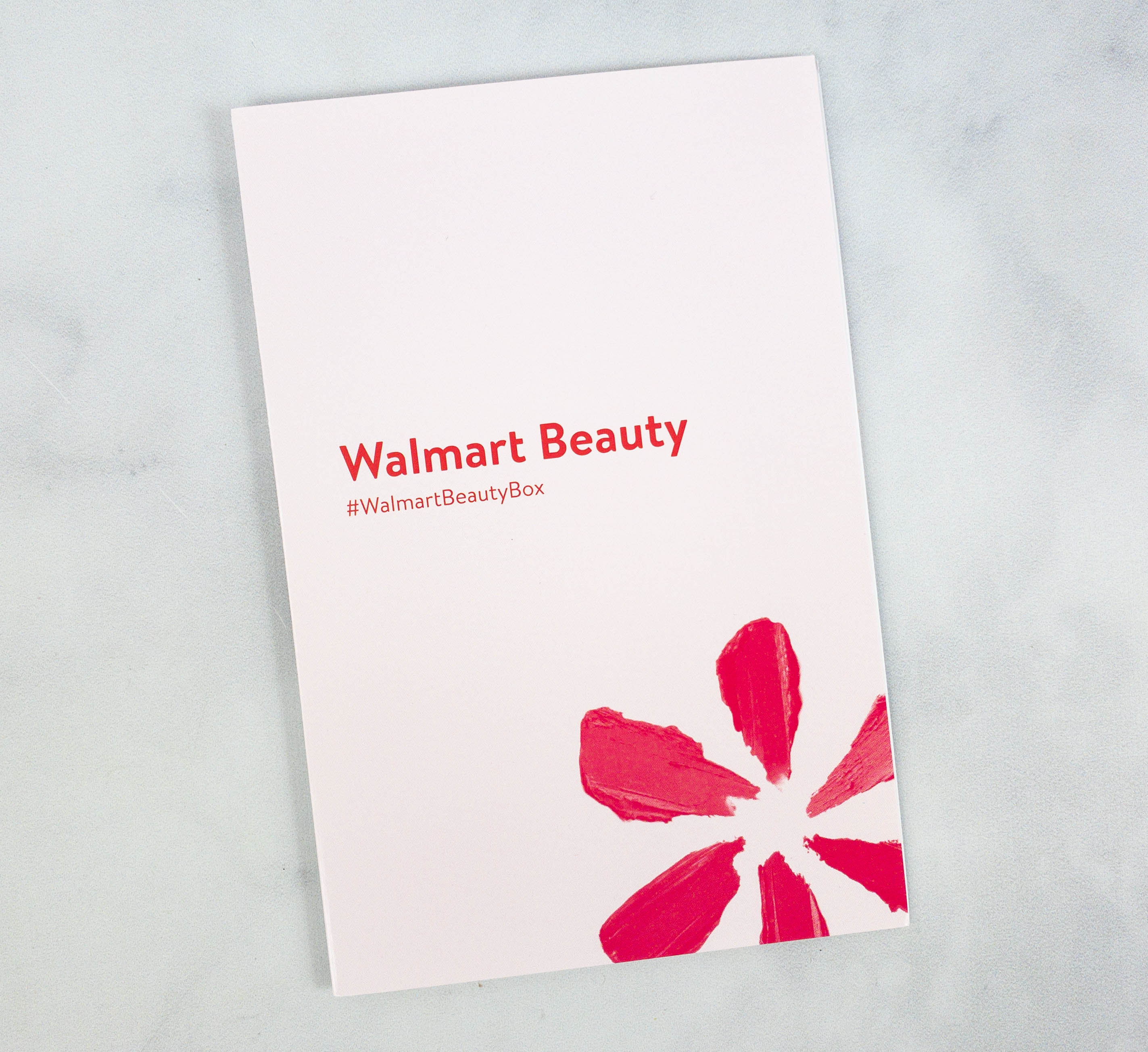 The promotional card features the Walmart logo.
When you open the card, there is a list of all the items as well as a short description for each.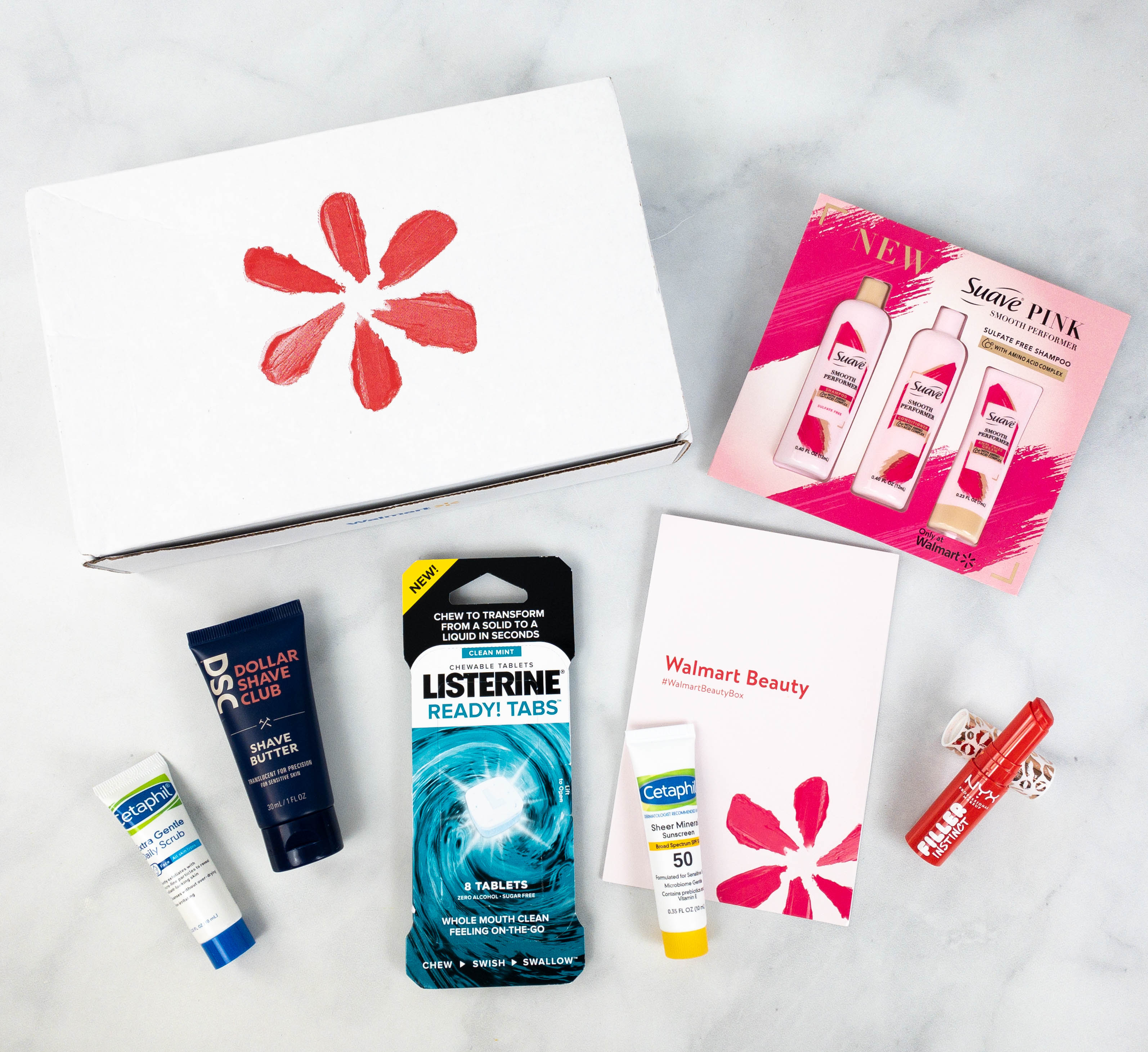 Here are all the items in the Walmart Beauty Box Summer 2021, Trendsetter Edition. Items may (and probably will) vary!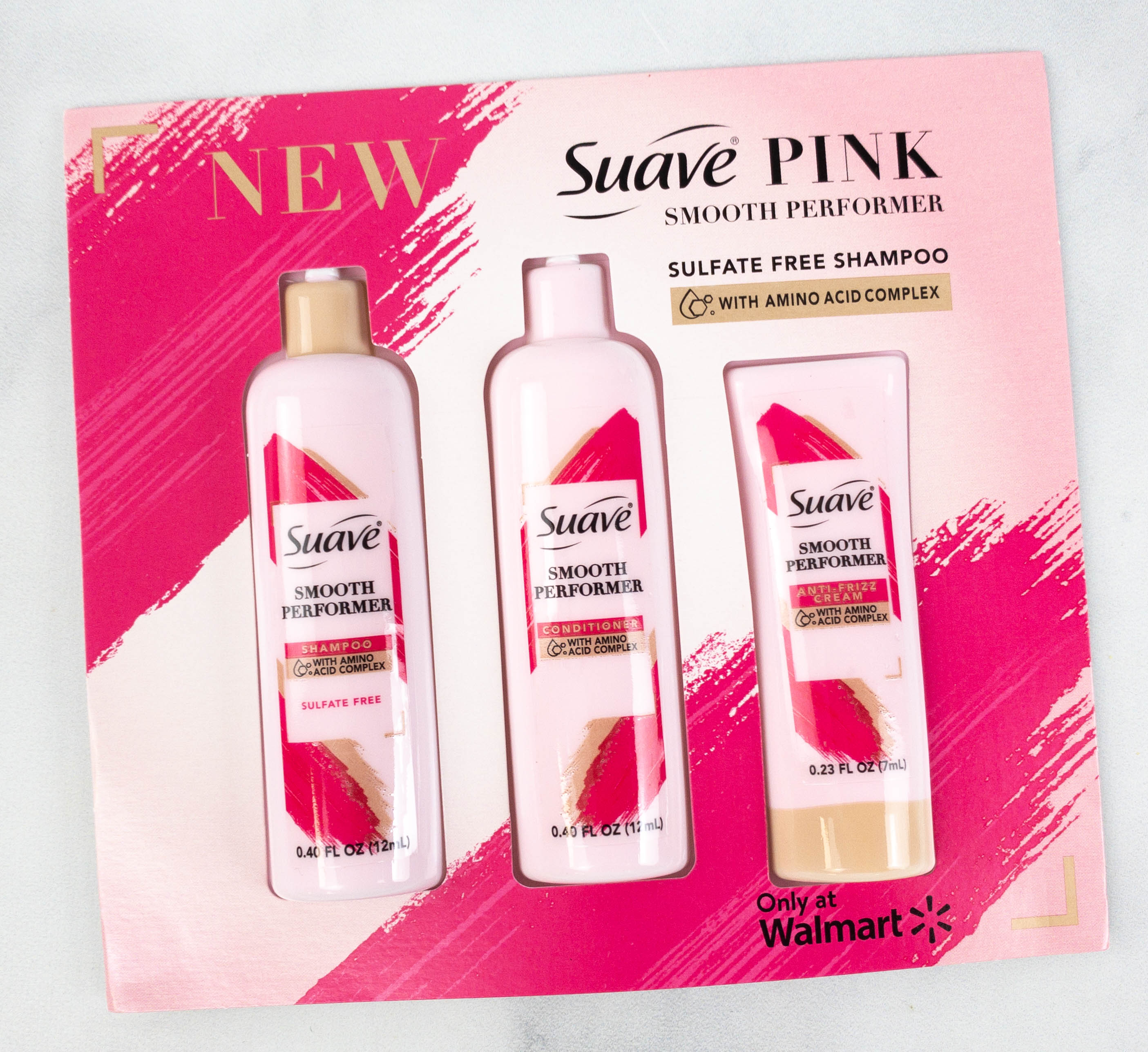 Suave Pink Smooth Performer Sulfate Free Shampoo ($0.12) I received a haircare set! The first item is a shampoo, infused with Amino Acid Complex which cleanses the hair and also gets rid of the frizz.
Suave Pink Conditioner ($0.12) Just like the shampoo, the conditioner also contains Amino Acid Complex. It helps detangle my hair, and it also makes the strands smooth and silky.
Suave Pink Anti-Frizz Cream ($0.29) To cap off the trio, they also included this anti-frizz cream so my hair stays manageable the whole day! I like it because it also helps my hair stay in place when I style it.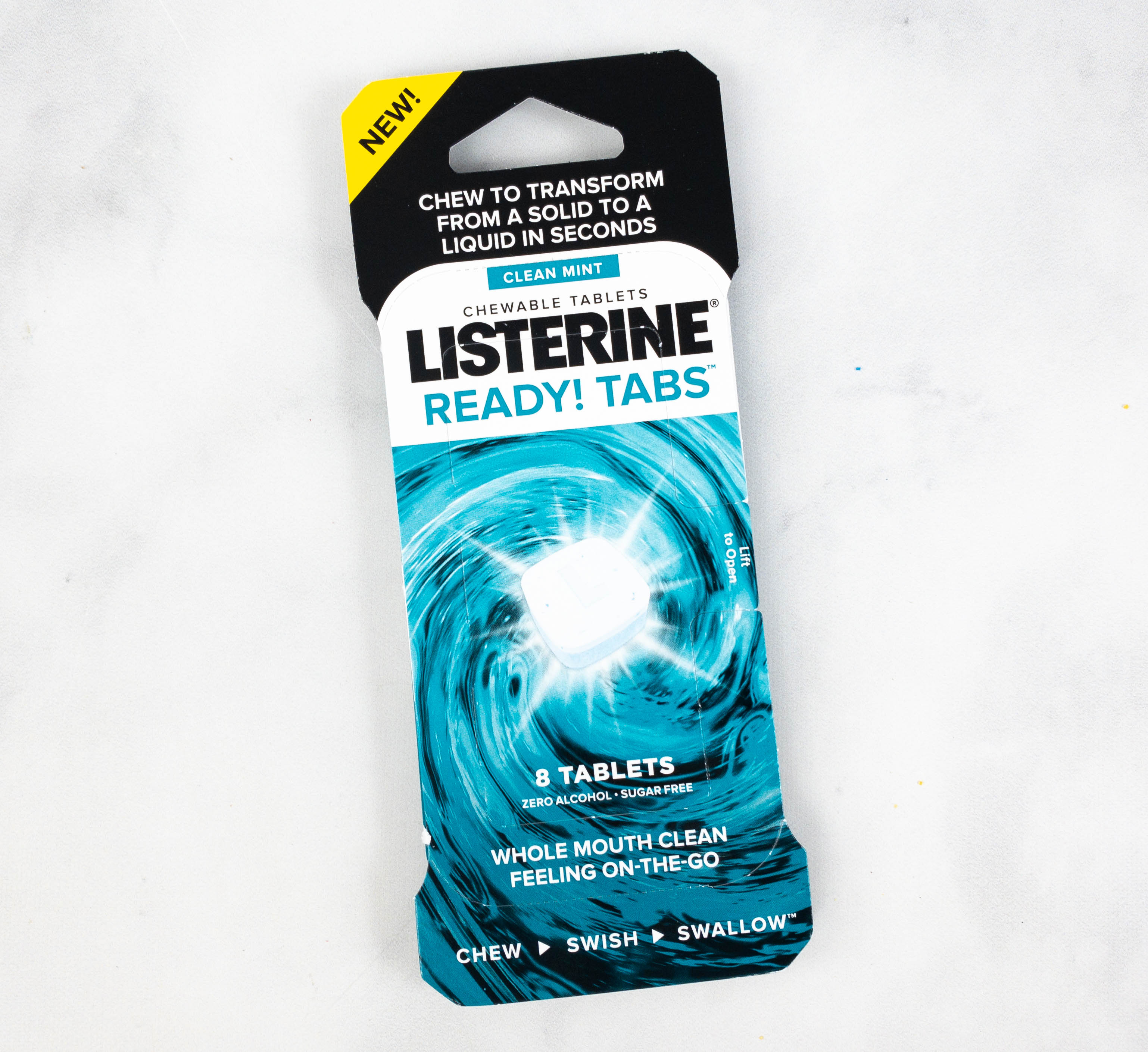 Listerine Ready! Tabs ($1.99) These chewable tablets in mint flavor help freshen up my breath in an instant. They are made without alcohol or sugar. They are also easy to slip in a bag and bring anywhere!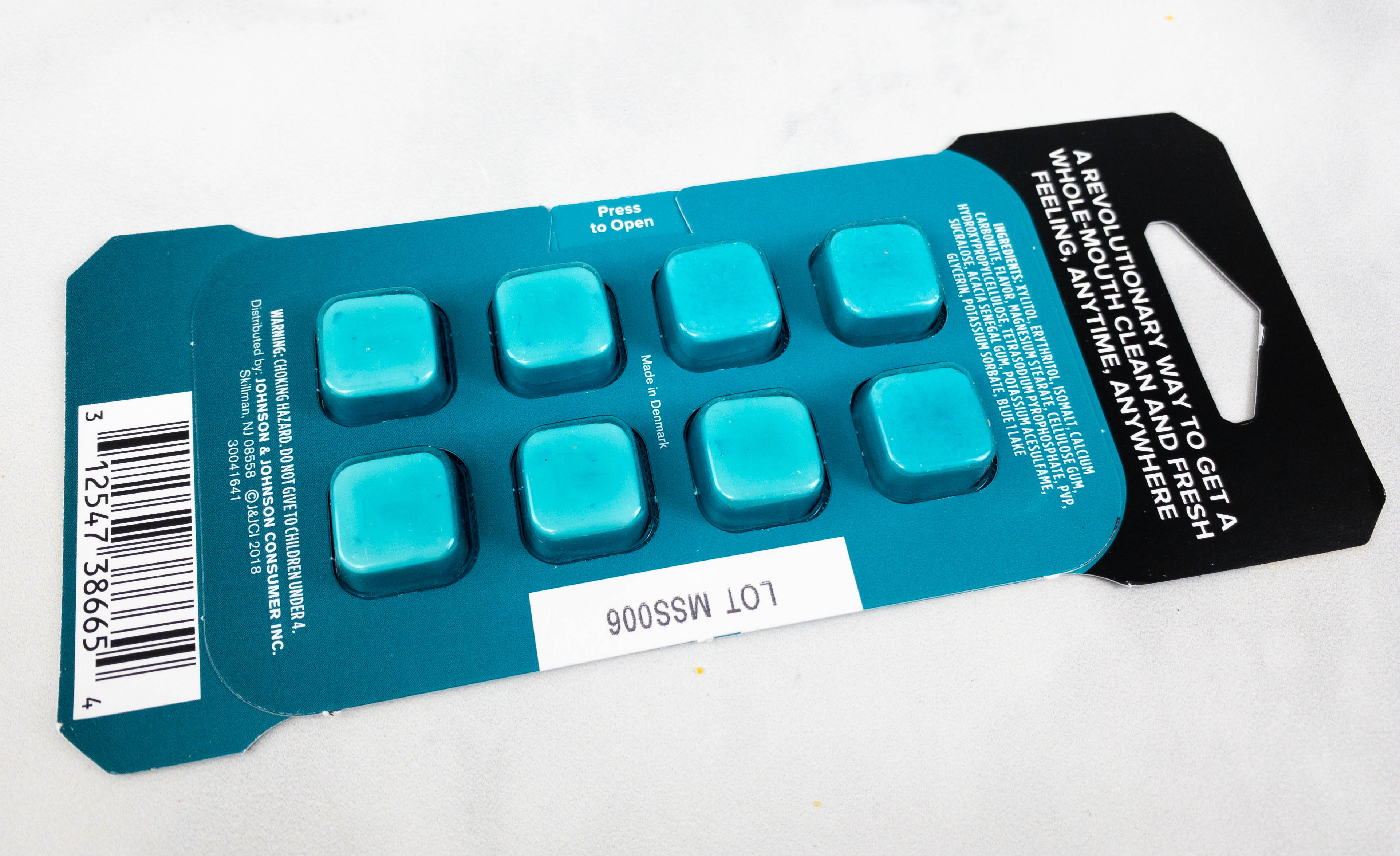 It contains 8 tablets and I like that they came in separate tabs so you can use one and keep the others fresh until you need them.
Dollar Shave Club Shave Butter ($1.16) Here's a shave butter that helps keep the skin soft and smooth during shaving. I like this because it also helps with the glide of the blade so I get a nice shave each and every time. It contains grape seed oil that revitalizes and protects the skin so it stays nice even after shaving!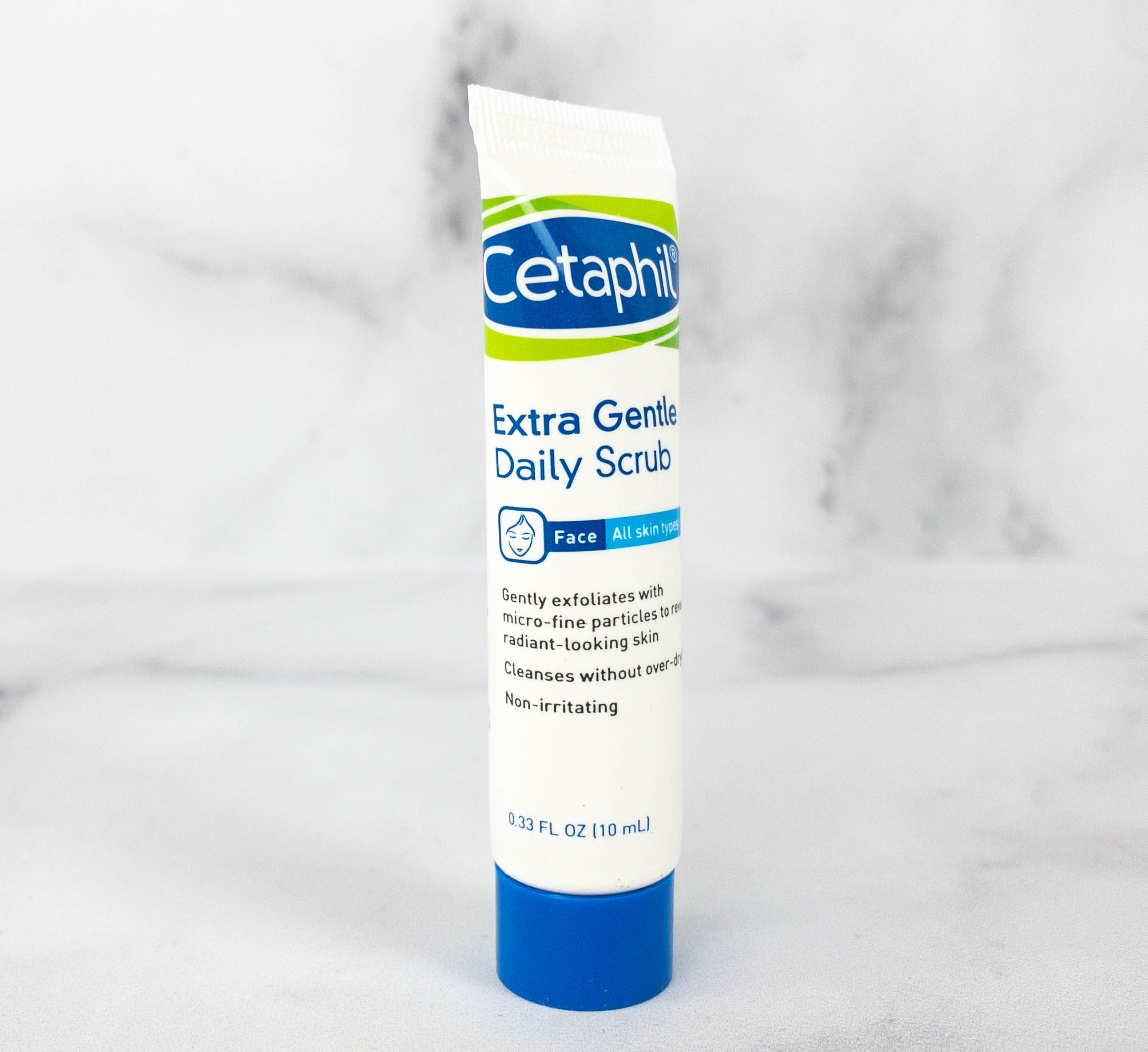 Cetaphil Extra Gentle Daily Scrub ($0.40) I also received this gentle facial scrub! It does a great job of removing dead and dry skin cells, making my skin feel softer and smoother after use. The formula is also moisturizing and I like that the exfoliation doesn't leave my skin feeling too tight or dry after.
Cetaphil Sheer Mineral Face Liquid Sunscreen ($3.36) This sunscreen came from the same brand as the facial scrub. It's a liquid sunscreen with broad spectrum SPF 50, which keeps the skin protected from the harmful rays of the sun. The formula even includes vitamin E which is known to help fight signs of aging. Another thing I like about it is that it's non-comedogenic, so it won't clog my pores and cause breakouts! Plus, it goes on sheer as promised! The best part is that it's not a chemical sunscreen (which I absolutely cannot use on my face).
NYX Professional Makeup Filler Instinct Plumping Lip Color in Besos ($6.93) Lastly, here's a plumping lipstick! With a couple of swipes, it helps make my lips look fuller. I received it in Besos, a bright red shade, and it also has a glossy finish. It's even infused with ginger and hyaluronic acid, making it hydrating. This is nice to use when you're in the mood for a pop of color!
I received great samples from this quarter's Walmart Beauty Box! It's a nice mix of skincare and beauty, including everyday items such as a facial scrub, a sunscreen, and a haircare set with a shampoo and conditioner. I like the lipstick as well. The shade is perfect for summer, and it's designed make my lips look fuller. Overall, getting all these samples for $6.98 is a good deal. If you want to try sample sizes before getting the full size from Walmart, this is for you!
What did you think of the Trendsetter Walmart Beauty Box this quarter?