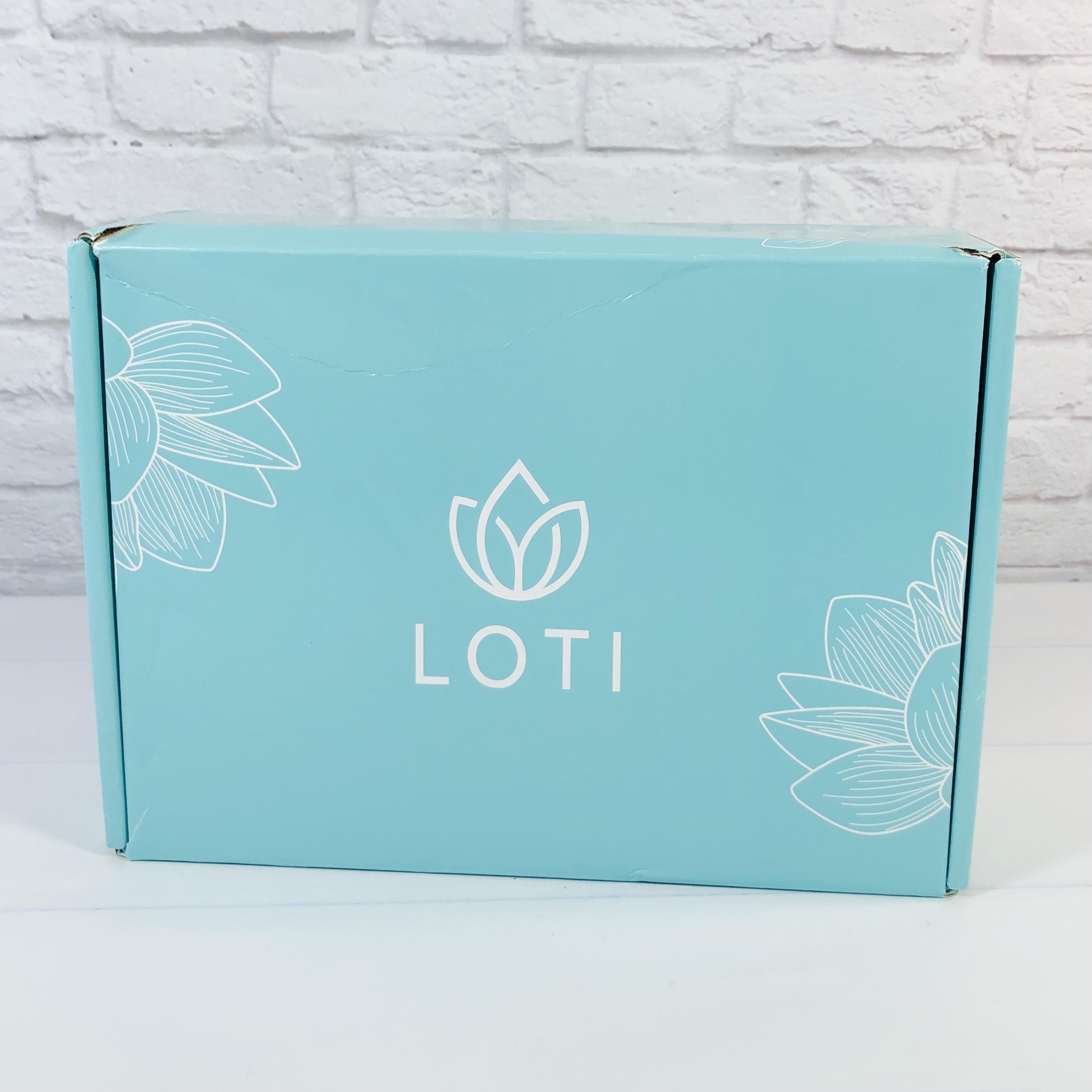 Loti Wellness is a subscription box with a focus on self-care. The box has a monthly theme curated by therapists to focus on items and rituals to promote positivity and improving one's self. Loti Wellness works with local brands and small businesses whenever they can, and choose cruelty-free and natural products. The box will have 5-8 products for self-care and wellness. The box is $49.95 CAD with lower prices on annual subscriptions – $41.62 USD. Shipping is $5.99 CAD to Canada and $7.99 CAD to the US (about $6 USD). A portion of proceeds go to CanadaHelps COVID-19 Fund.
A lotus is a flower that blooms from the mud. It symbolizes overcoming adversity and achieving your greatest potential. The Loti Wellness Box offers practical skills and products to reduce stress and anxiety, and improve your overall wellbeing.

Each Loti Wellness Box delivers the tools and strategies you need to cope with life's challenges, using research based in psychology and psychotherapy. The monthly themes focus on topics like reducing anxiety, setting goals, and even boosting positive mindsets to help you discover self-care and self-love.
DEAL: Save 10% on your first box! Just use this link and coupon code SUBSCRIBE10.
My items arrived in a lovely blue box and were wrapped in white tissue paper that was sealed with a sticker. I enjoy seeing the pretty lotus flowers all over the box! The items were snuggled into white paper squiggles.
Loti sends the best stuff to help me relax and unwind.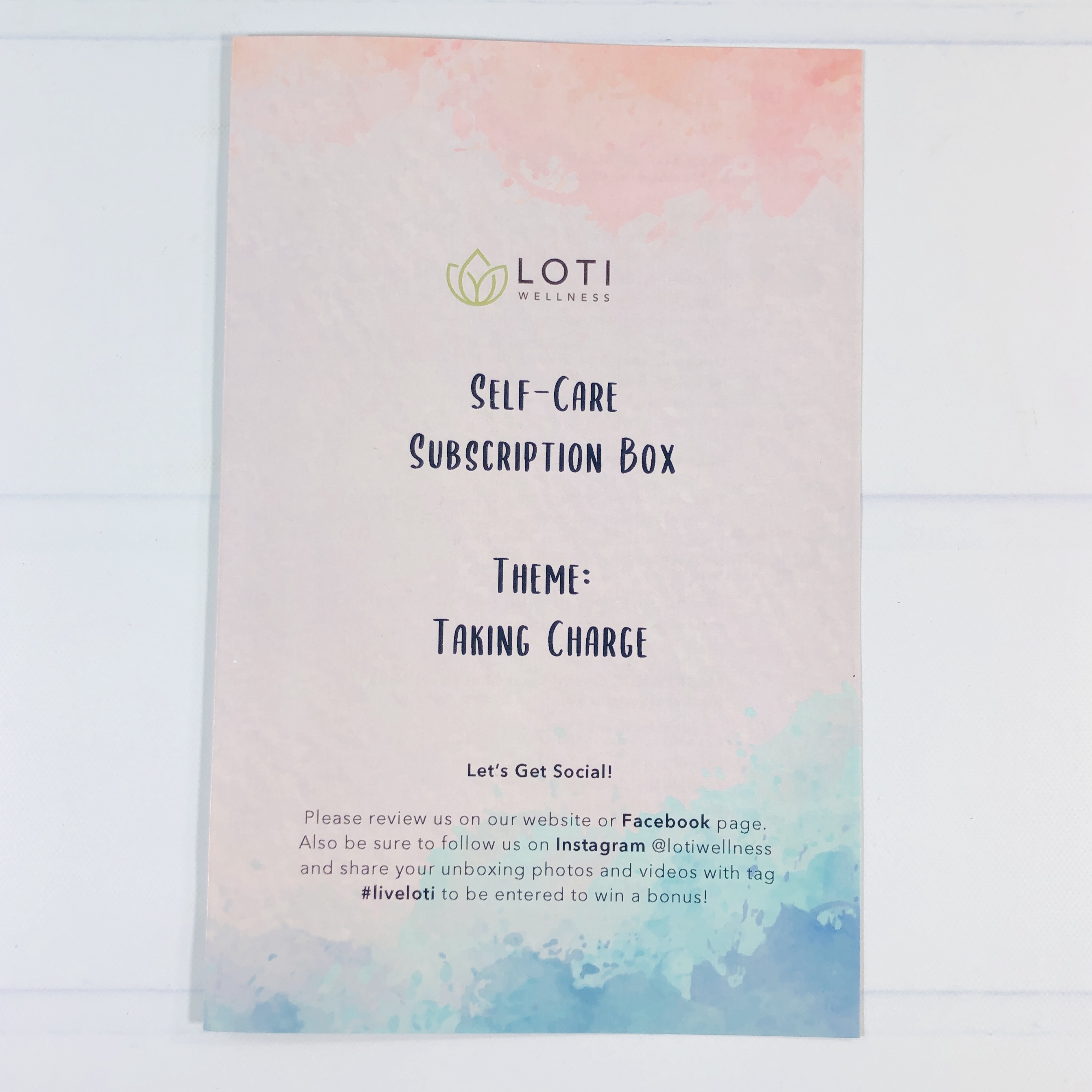 I received a brochure with the theme for June: TAKING CHARGE !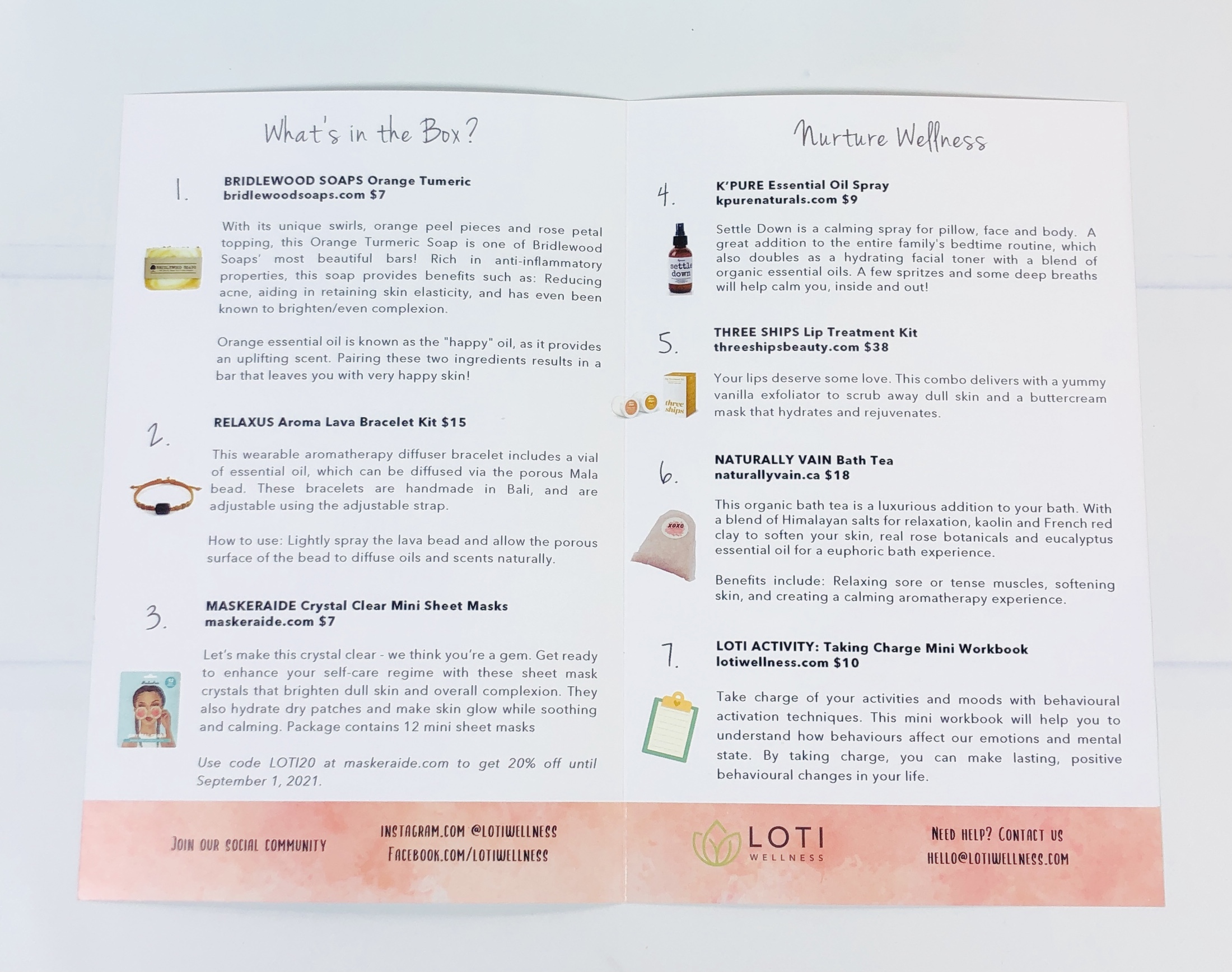 The inside of the brochure listed each item, MSRP, and website so you can stock up on more wonderful items from these brands.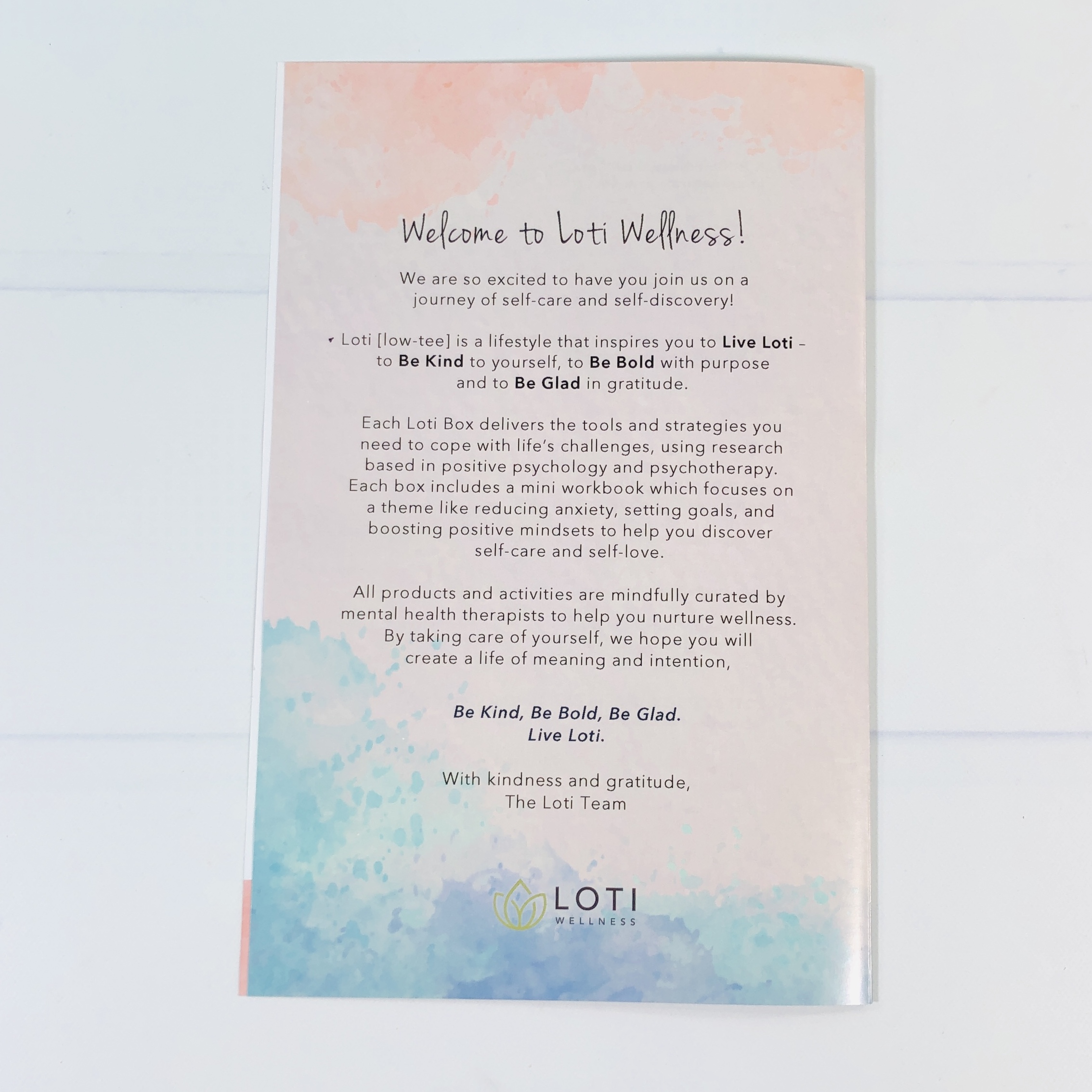 The back of the brochure discussed some of the intentions of Loti.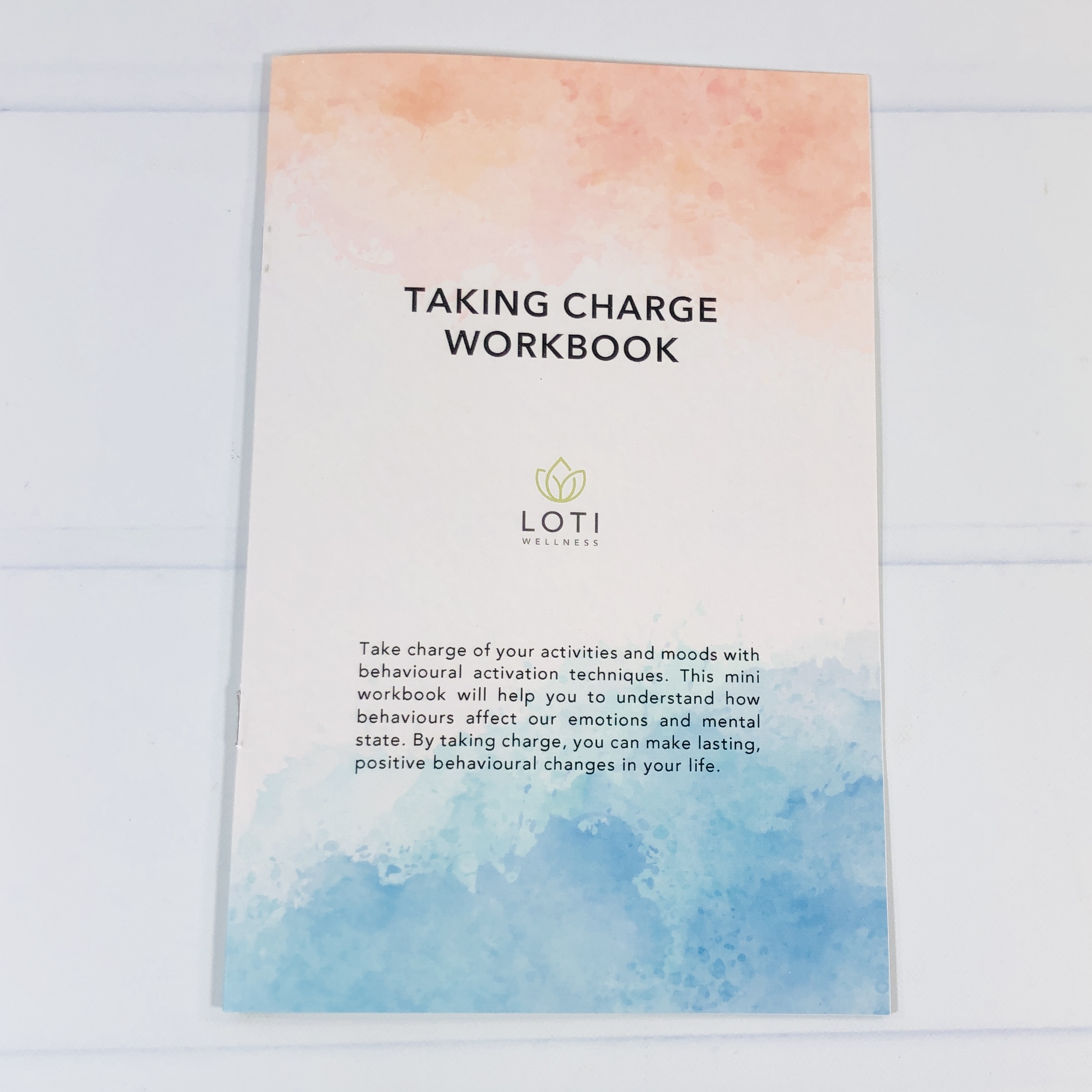 Next up was a TAKING CHARGE Workbook.
This month's focus was on how to improve my mood by choosing activities that can positively influence my outlook, and to identify those that bring me down so I can try to avoid them in future.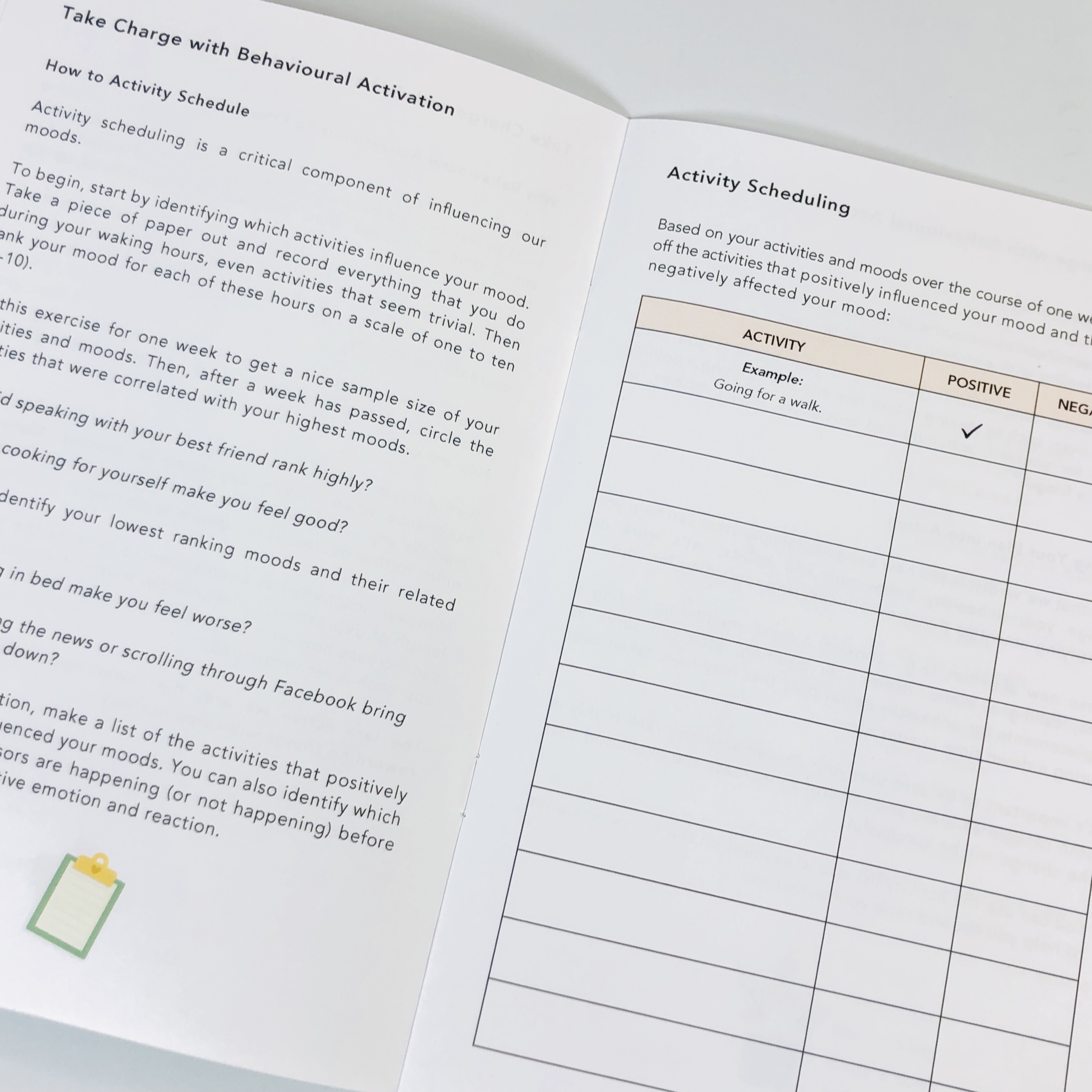 There were lots of boxes to check and fill in.
I like this page, it's where I can jot down a schedule of happy activities. There were 10 pages total in this booklet.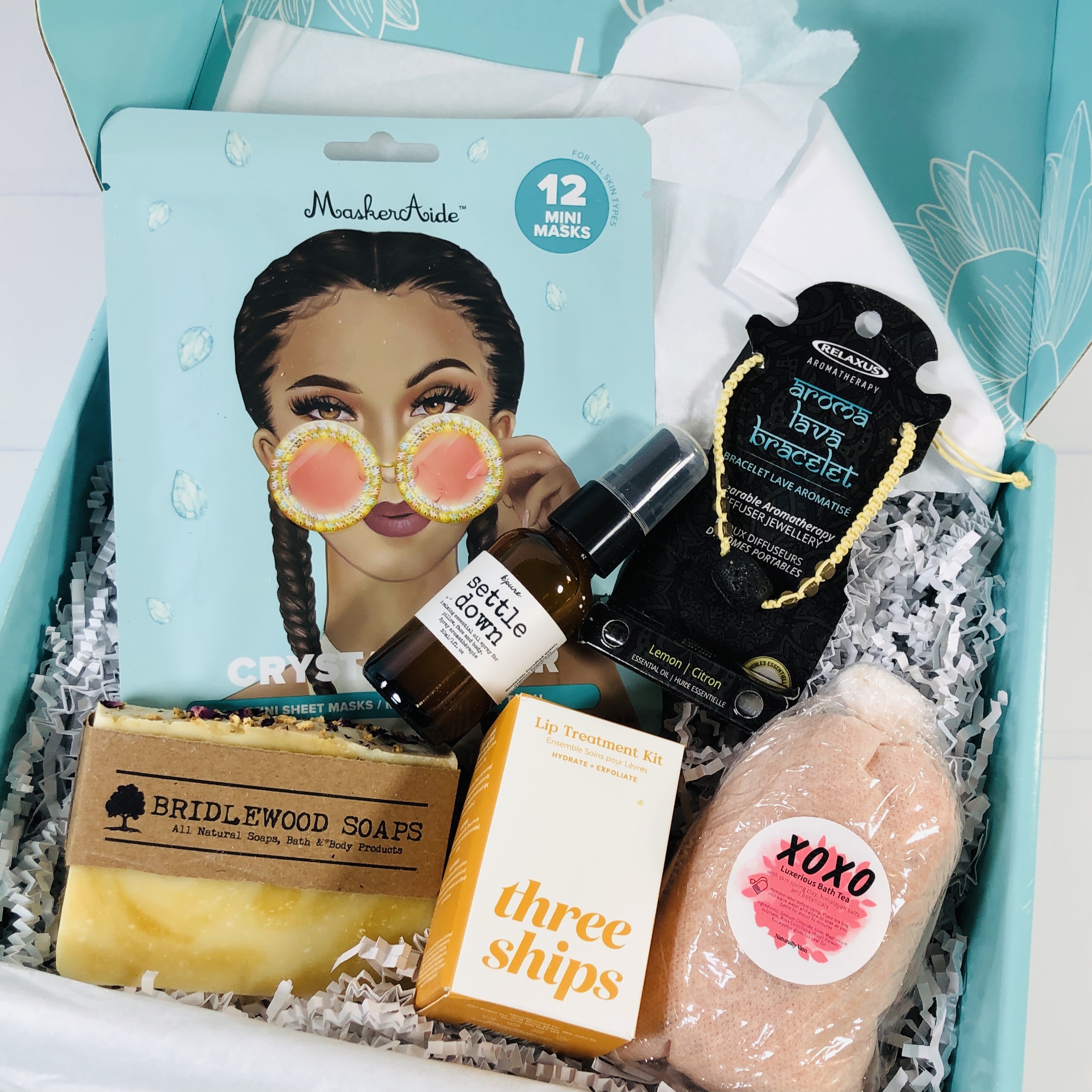 Some of the items came in their own boxes.
Everything in my box!
Relaxus Aroma Lava Bracelet Kit ($9.99 USD) I liked the bracelet itself. It's a braided rope bracelet with a porous lava stone and some brown beads. You can drop essential oil on the lava bead and it will gently diffuse while you wear the bracelet! It is made in Indonesia.
Here's a closer look at the stone. This is an adjustable bracelet and I had no problem fitting it on my large wrist.
The bracelet came with a mini spray bottle of lemon essential oil to get started using the jewelry. I received an email stating that some subscribers had a leaking bottle and that if this has happened to you, please contact them to let them know and they will have a resolution. My bottle didn't leak in transport, it must have leaked long ago, all that was left was a stinky, smelly resin. Luckily I have a lot of essential oils and blends on hand so this isn't a problem for me, the bracelet is perfectly fine and the bottle was about the size of a perfume sample.
Bridlewood Soaps Orange Turmeric ($7 CAD, about $5.76 USD) I love natural bar soaps, they always smell good but not strongly, so I keep them next to my kitchen sink!
Vegetable and nut oils form the base and the scent is provided by orange oil. The color comes from turmeric and paprika and there is a sprinkling of rose petals and orange peel on top.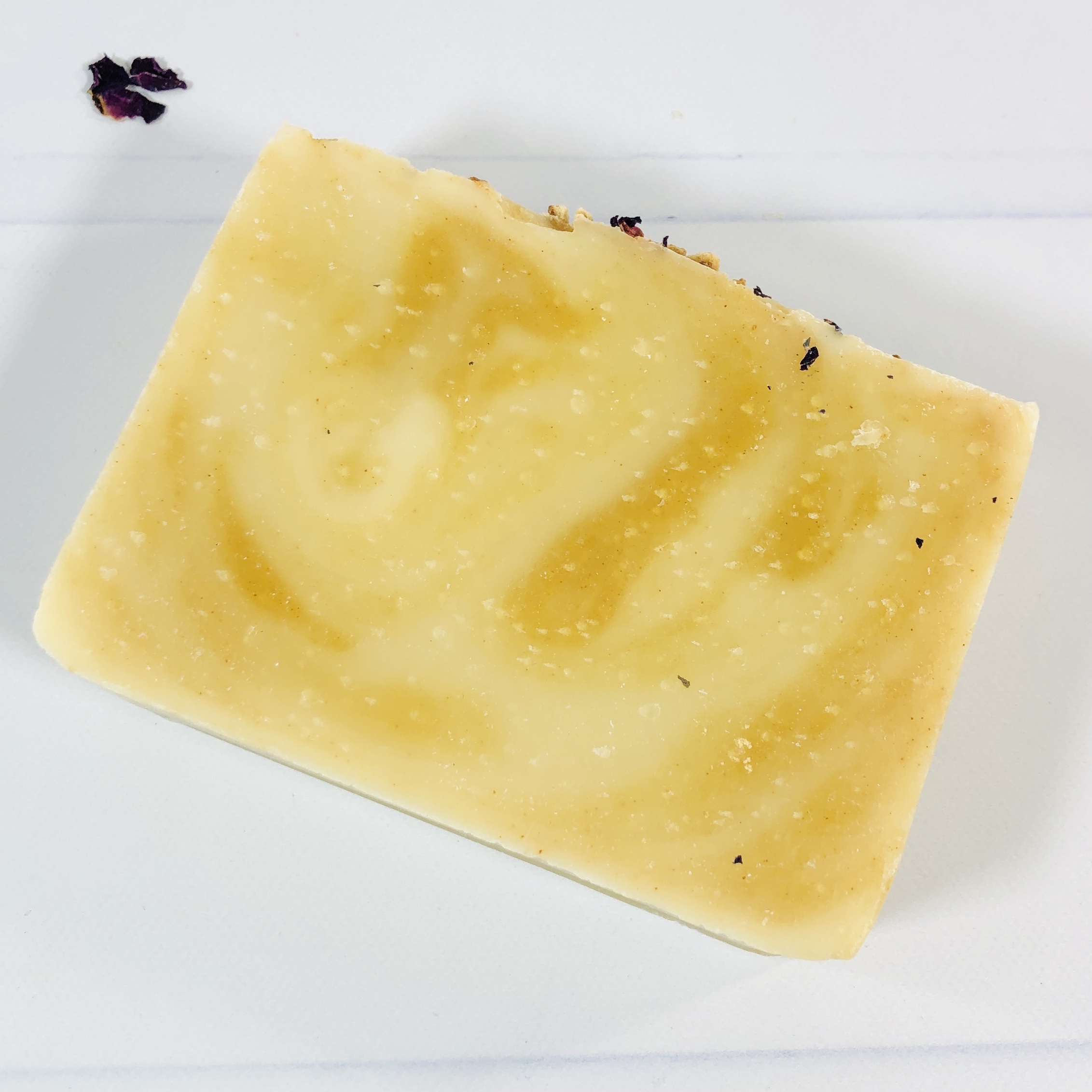 This is a thick, generously sized bar of soap. I would suggest letting it completely dry between uses to help it last longer, but the scent here is amazing and uplifting but not overwhelming, I love it!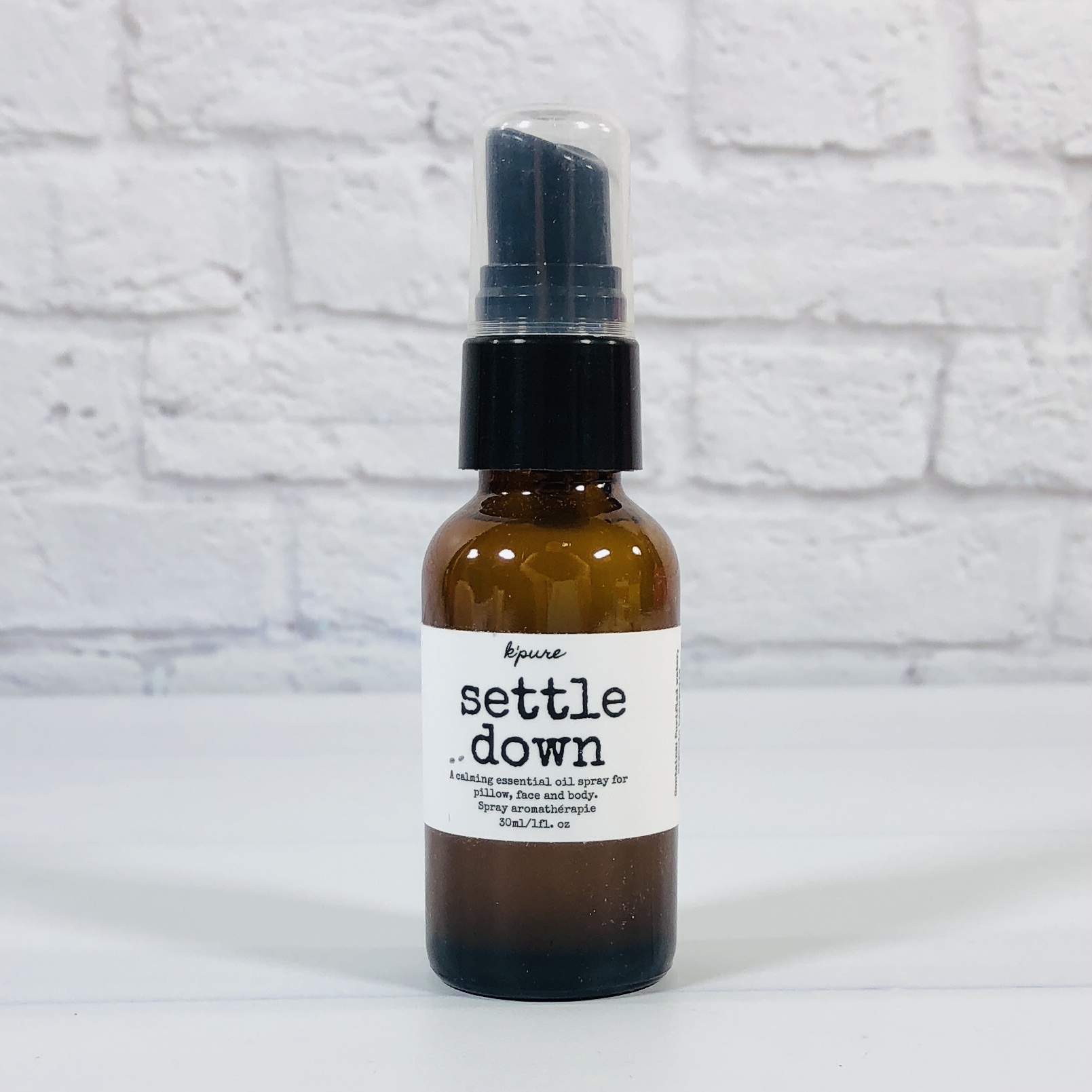 K'Pure Essential Oil Spray ($9) is a spray that is supposed to promote relaxation thanks to the scent of lavender, which is known to be calming. It can be used on the face, body, or a pillow.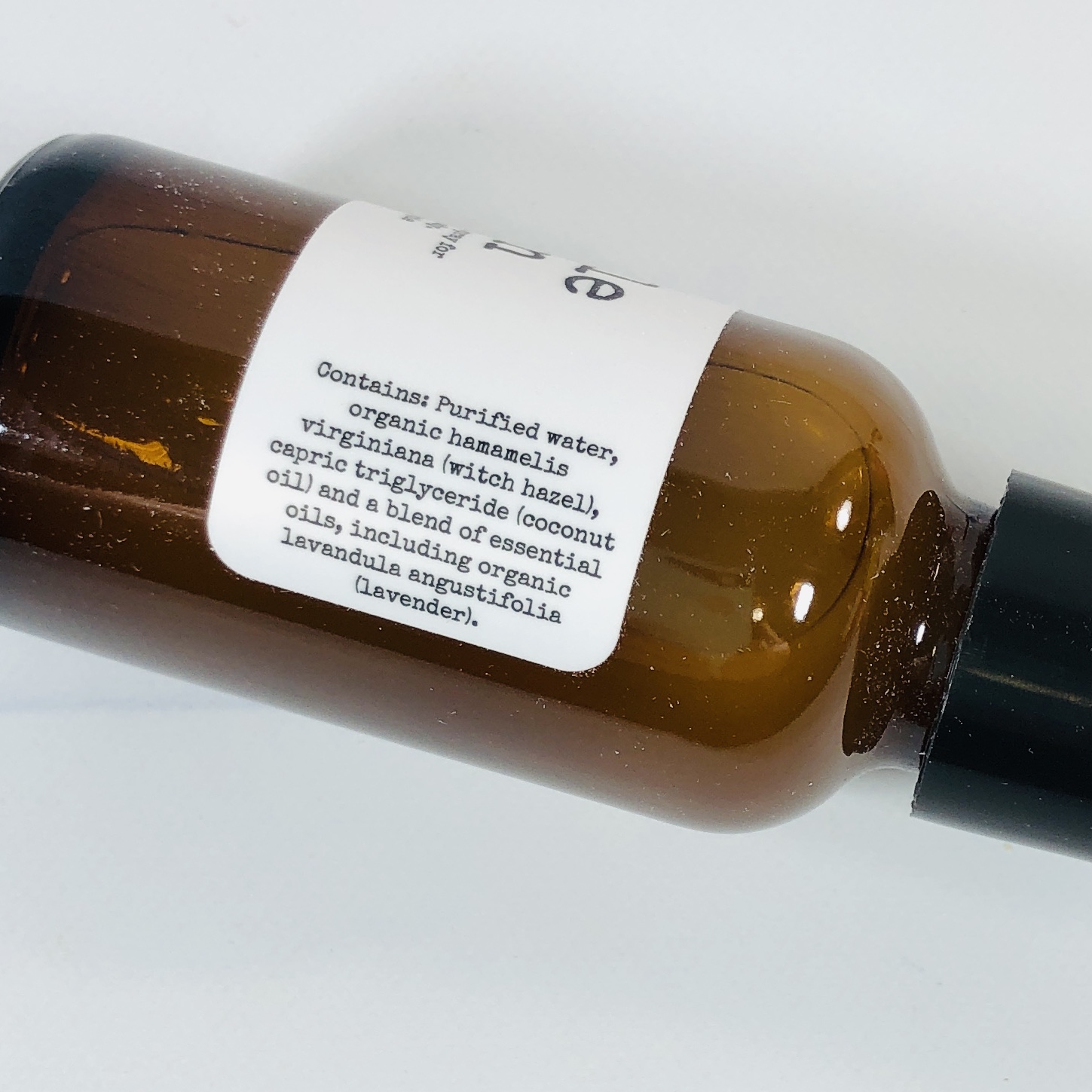 The ingredients are water, witch hazel, a bit of coconut oil, and an undisclosed blend of essential oils that includes lavender. Give it a good shake before spritzing to mix everything up. Like most natural beauty products, the scent will fade quickly so take a deep breath and say ahhhh!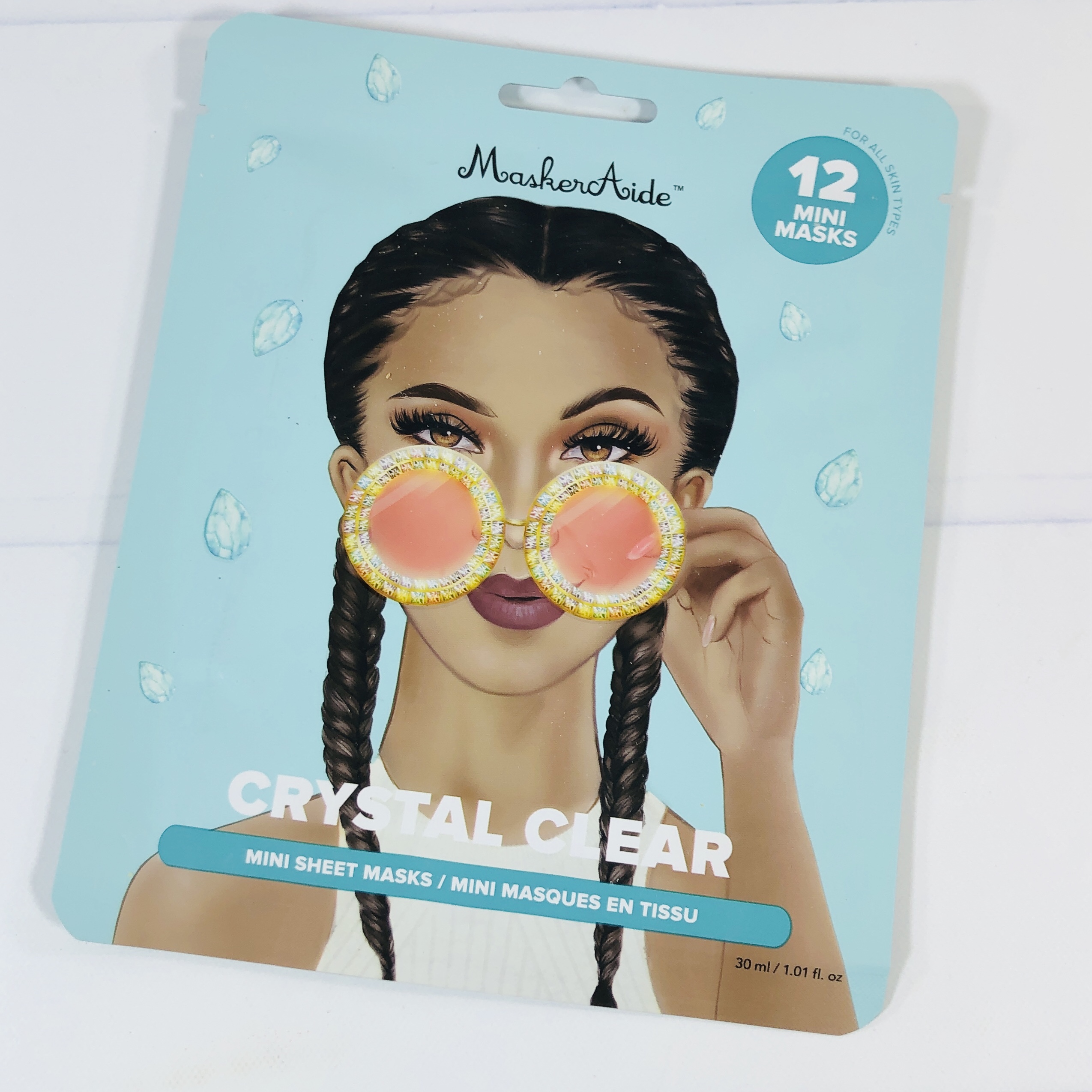 Maskeraide Crystal Clear Mini Sheet Masks ($7 CAD, about $5.76 USD) I understand acne patches, you can plop them on a pimple and you're good to go. I don't quite understand individual mini sheet masks as much — once you open the bag, you pretty much have to use them all up in one go.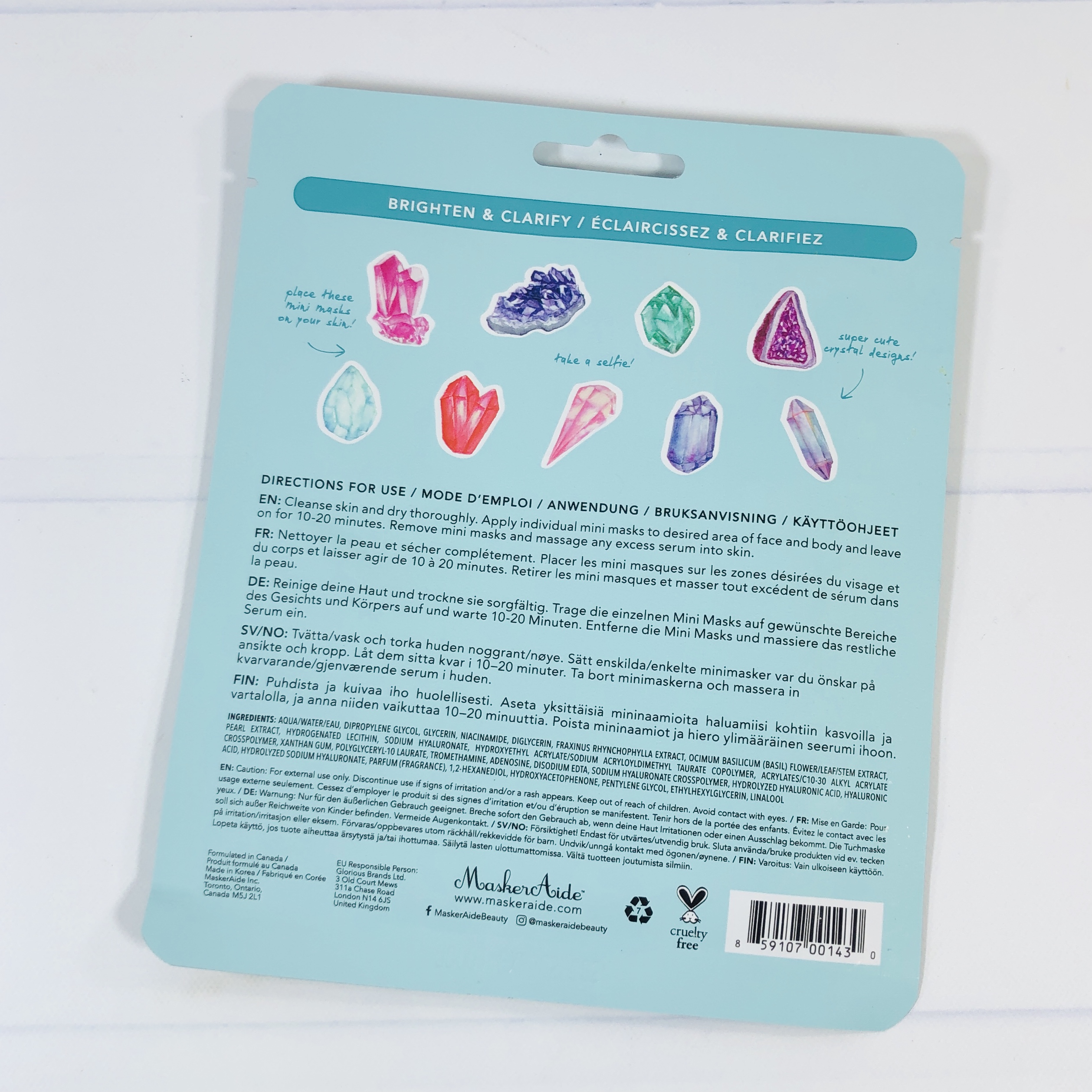 There are 12 mini masks in this pack and they are supposed to brighten skin, soften dry patches, and fix dark spots wherever they are placed. Glycerin and niacinamide are a couple of the ingredients and there's basil and pearl extracts, sodium hyaluronate (in fact several different types/weights of hyaluronic acid) and parfum. I will pass these to my daughter, I think she will get a kick out of them, and maybe I can stick a couple on my elbows.
Naturally Vain Bath Tea ($18 CAD, $14.81 USD) A soak in the bathtub is a great way to end a stressful day. This bath tea is made of salt, magnesium sulfate, roses, geranium, and parfum. The description on the brand's website mentions clay too.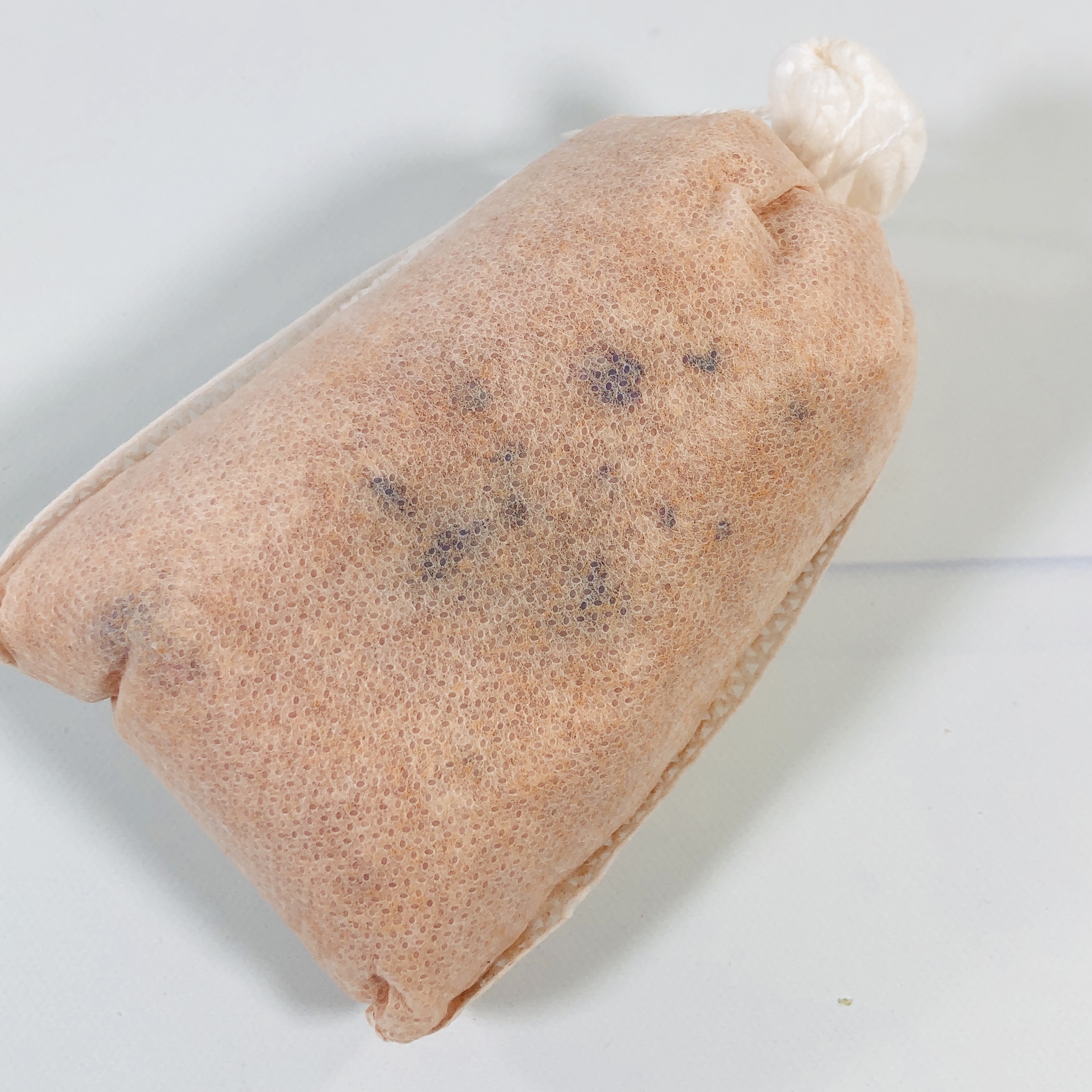 The smell is warm, a little herbal. Place in a tub full of water and soak for about 30 minutes. I like the tea bag, it makes it a lot easier to clean up afterwards and I don't have rose petals clogging my drains.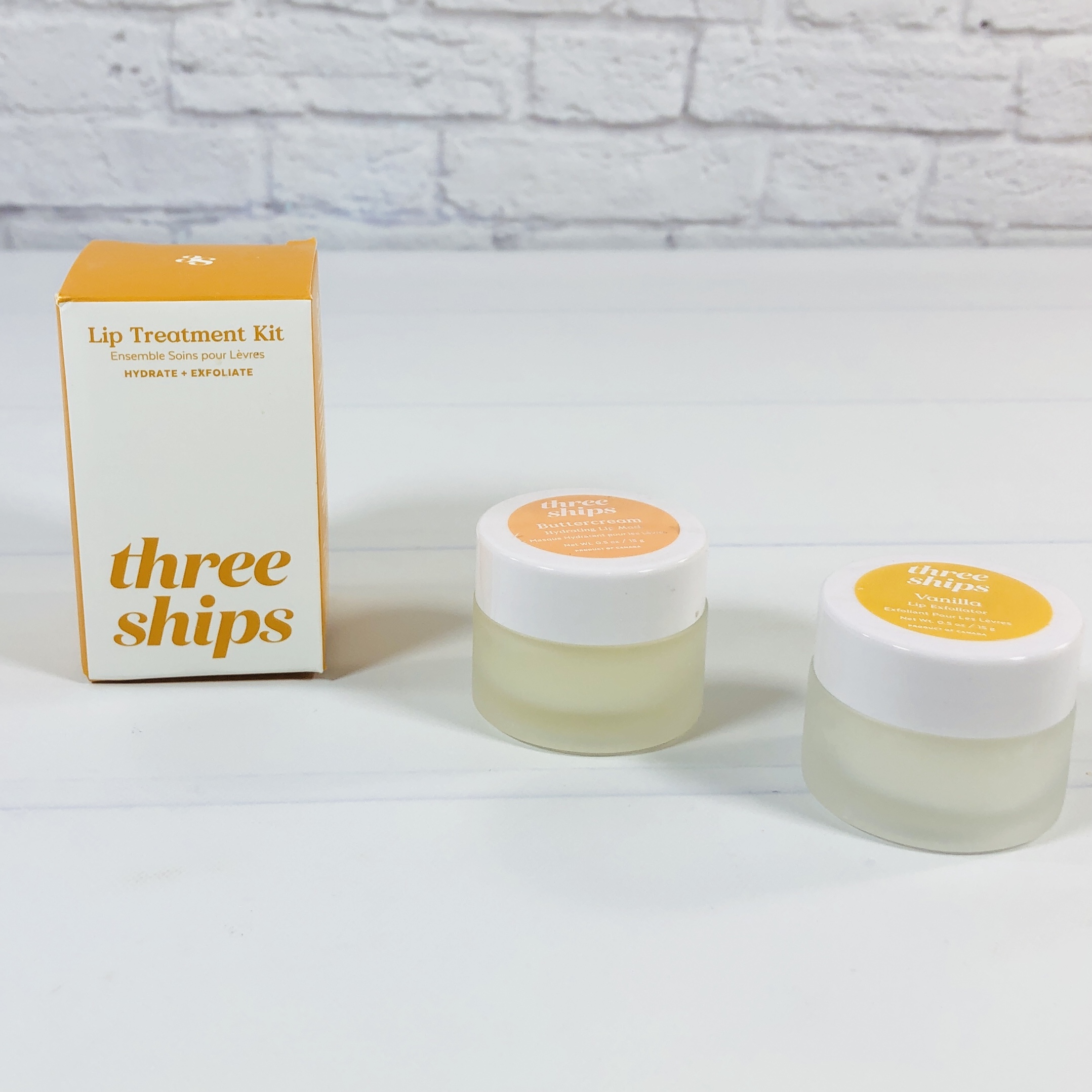 Three Ships Lip Treatment Kit ($28 USD) is a kit that includes a lip exfoliator and a lip balm to help lips feel soft and smooth.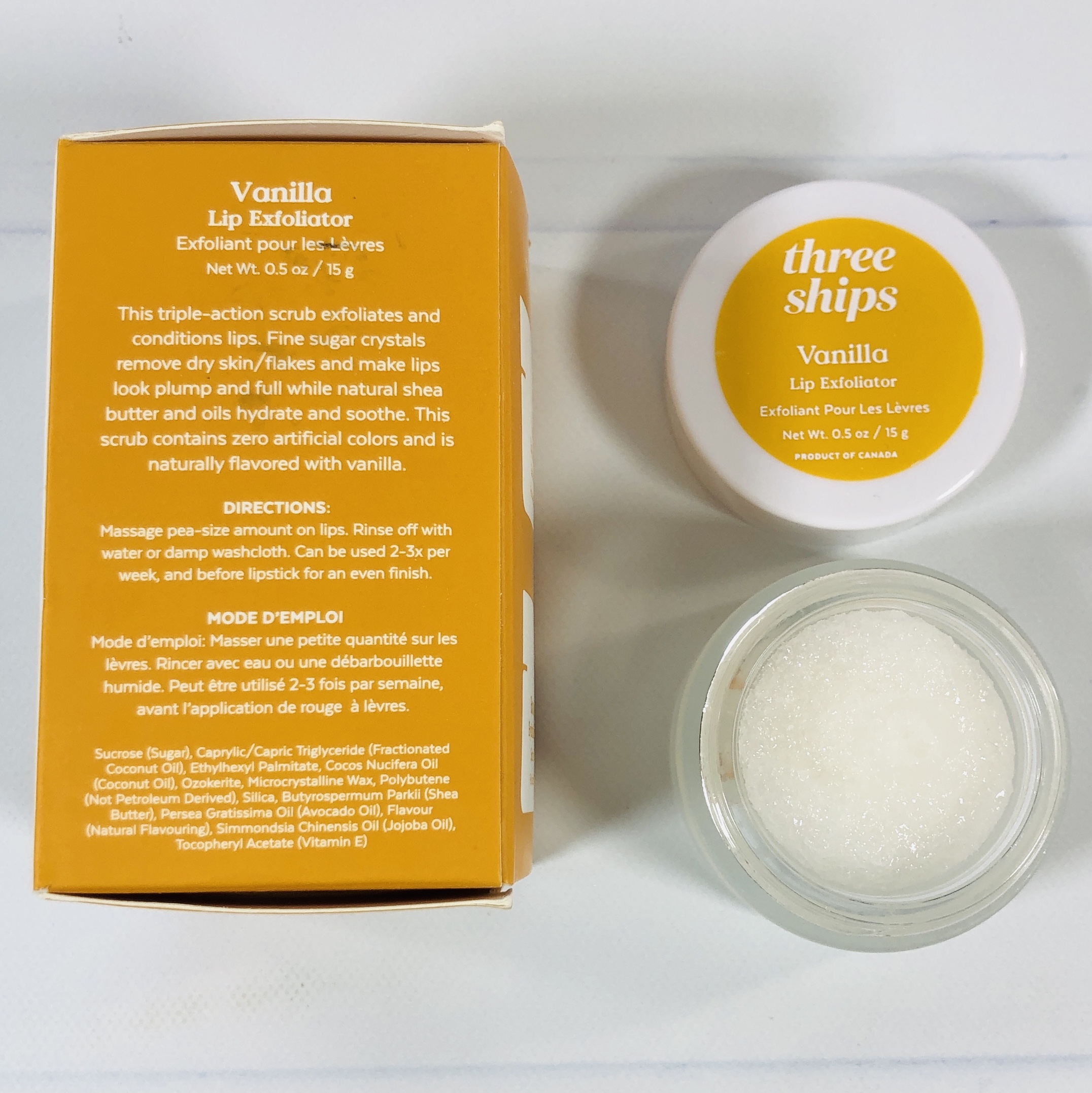 I used the exfoliator first and it was lightly gritty, nothing too scratchy. It smells like vanilla frosting and is made with coconut oil, silica, shea butter, and sugar. I applied a little to my lips, scrubbed with my finger (although a toothbrush reserved for this job would work too), and then wiped it off with a tissue before following with a final rinse with a warm, damp washcloth.
After using the lip scrub you can apply a lip balm. This version has several of the same ingredients as the scrub but without the sugar. It can be used before bed or really anytime your lips need a good tasting lip balm, because this one also tastes like vanilla frosting!
I am about to have a very busy summer but I need some downtime in between events so Loti has me covered! I know the theme is Taking Charge and I have several fun, uplifting activities planned but I also need to take time out for self care and that is what the items in this box will help me accomplish. It had two lip items, a relaxing spray, an aromatherapy bracelet, a bath soak, an amazing bar of soap, and some pretty mini face gems. The workbook will help me remember to choose wisely before committing to projects that might sink my mood.
What do you think of this self-care subscription?