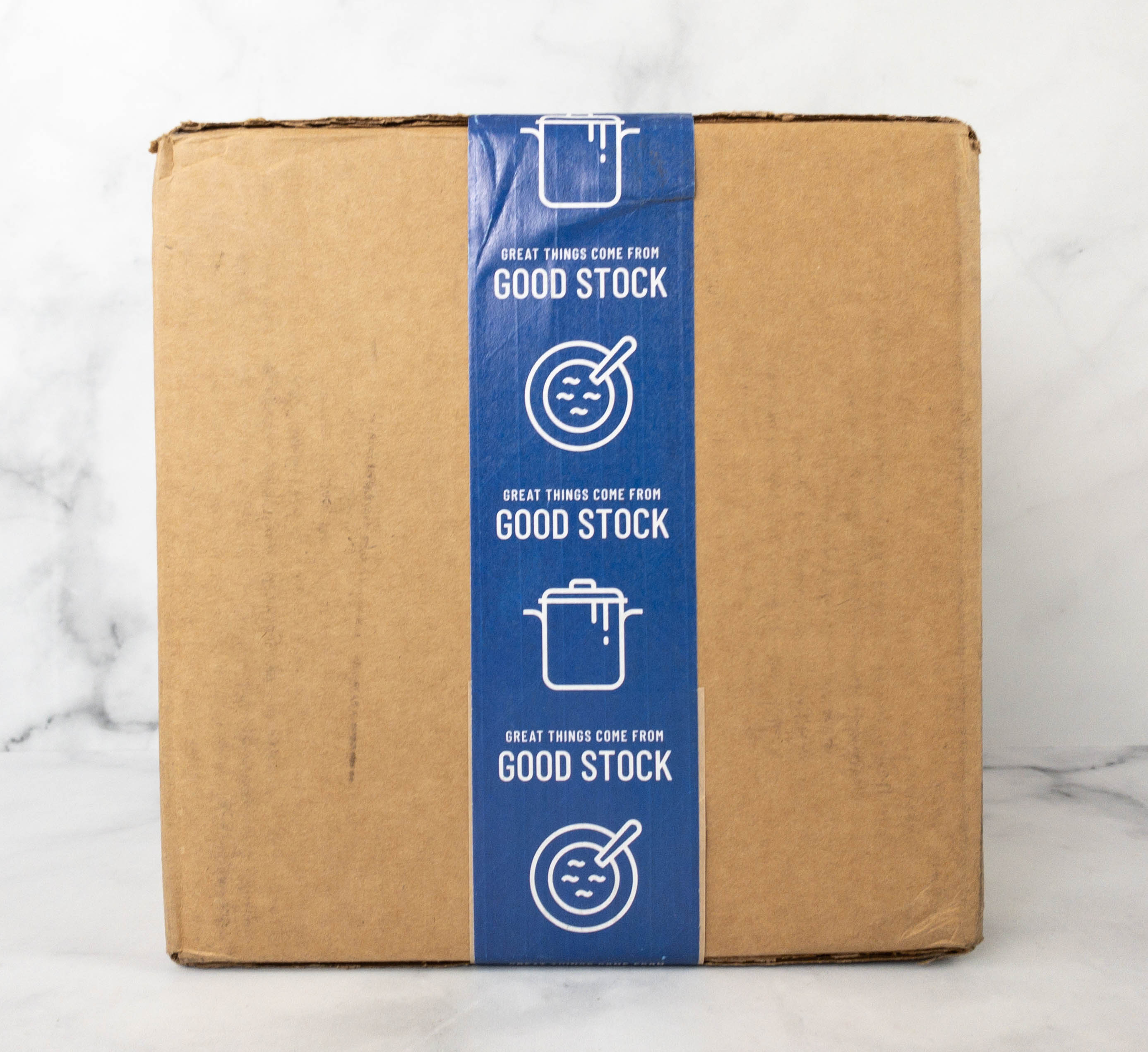 Good Stock offers house-made stocks and soups made with high quality ingredients. They cook soup the old fashioned way, then freeze them before shipping straight to your doorstep. You can build your own box and choose any 6, 9, or 12 of the soups you like from their current selection. A box of 6 soups is $54 (6 soups is the minimum order), while a box of 9 is $81 and a box of 12 is $108. They also offer curated boxes, which include The Best-Sellers ($54), Soup Me Up ($105), The Plant Pack ($54), and The Comfort Pack ($54). As for the interval of the boxes, you can choose to receive it weekly, bi-weekly, or monthly.
If you're a soup lover like me, what's better than fresh, top-quality soup delivered automatically? Nothing!
The freeze the soup right away after cooking and they don't add preservatives to extend its shelf life. The soups contain no artificial ingredients, stabilizers, or additives.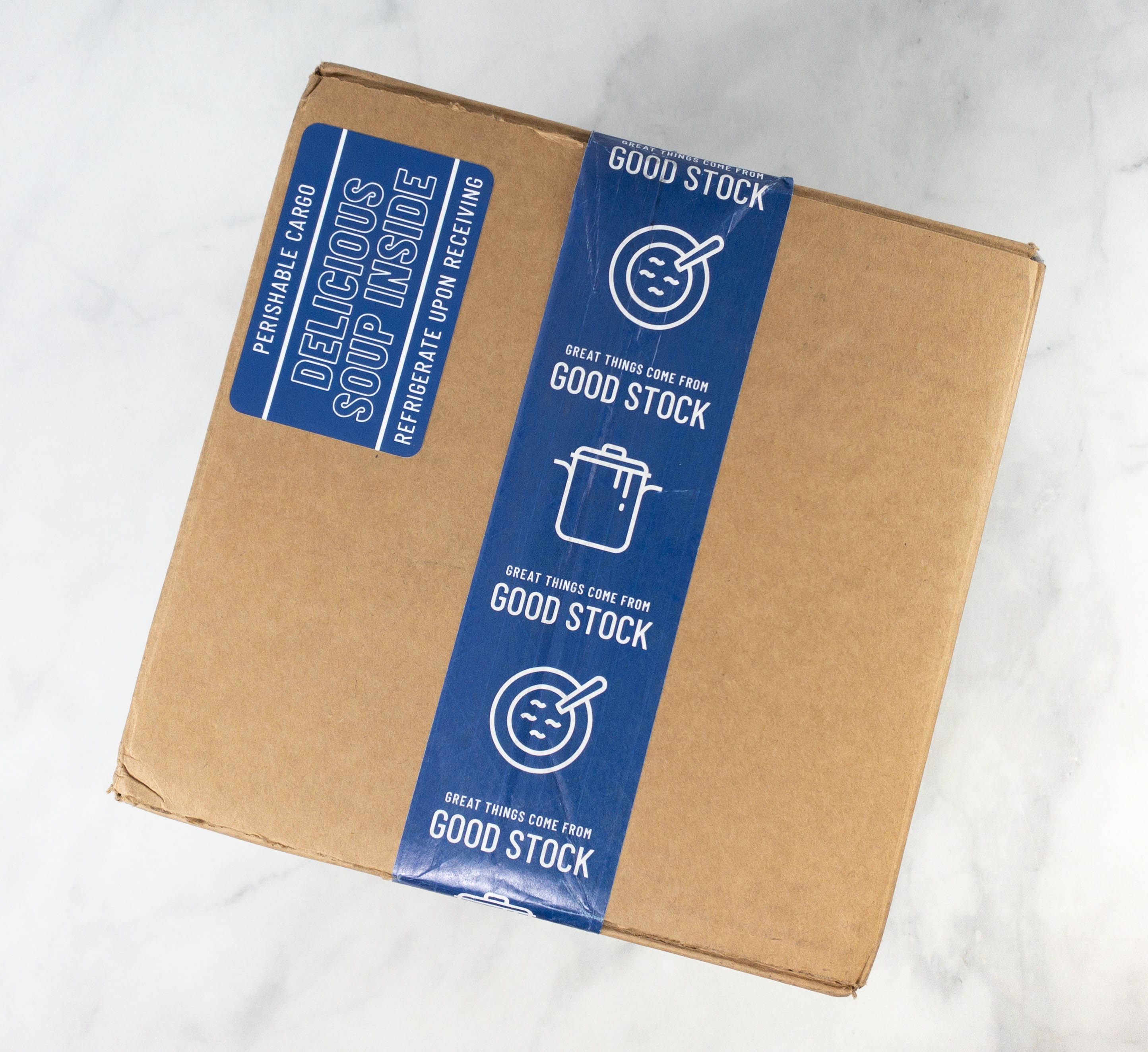 The box arrived in good condition. It's properly sealed and there are also reminders that the items inside are perishable and should be frozen once received. Once refrigerated, the soup's good for 5 days.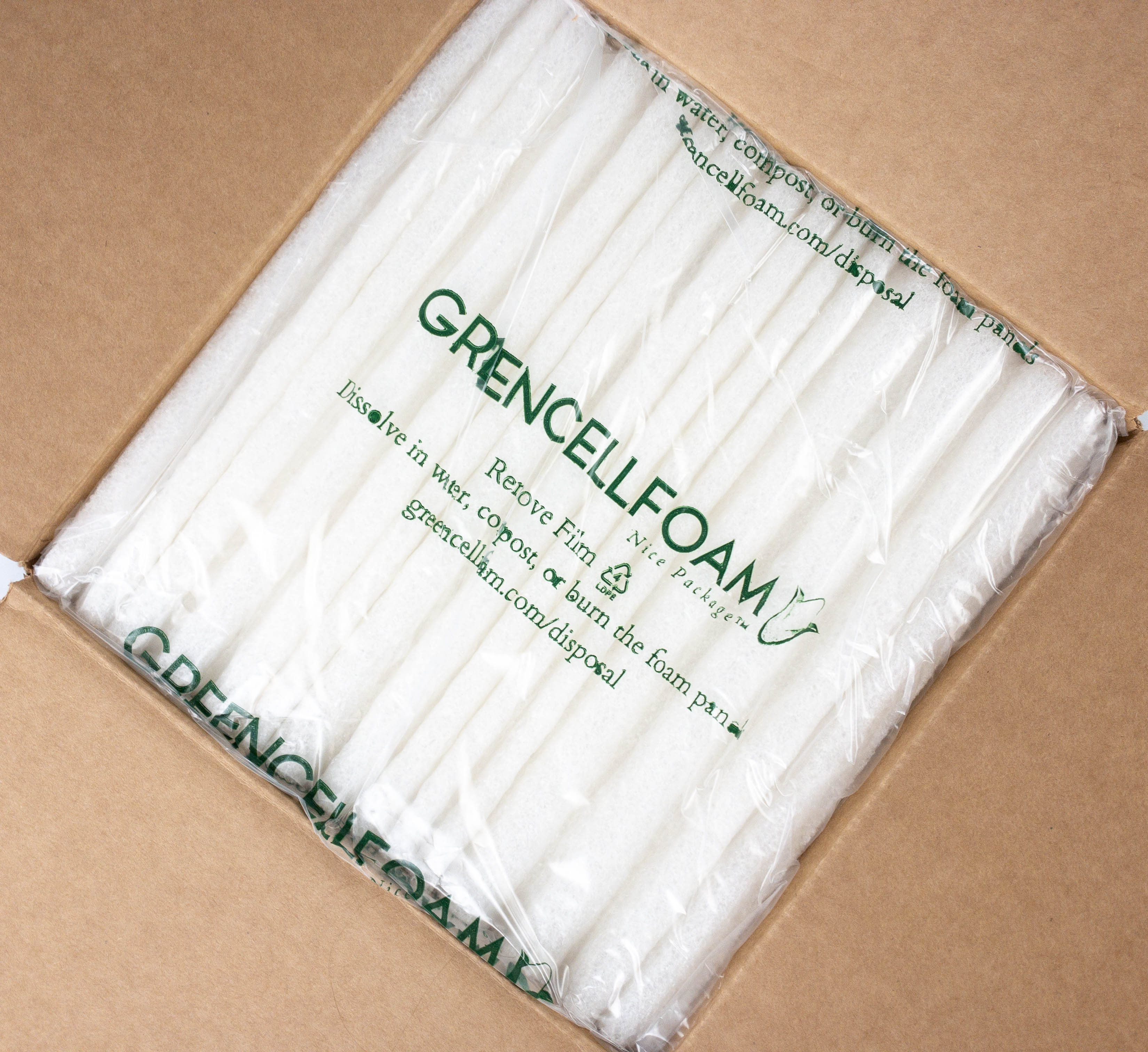 The box is also insulated with a compostable (or clean burnable) insulated liner, making sure that the soups arrive semi-frozen for up to 5 days after it's shipped.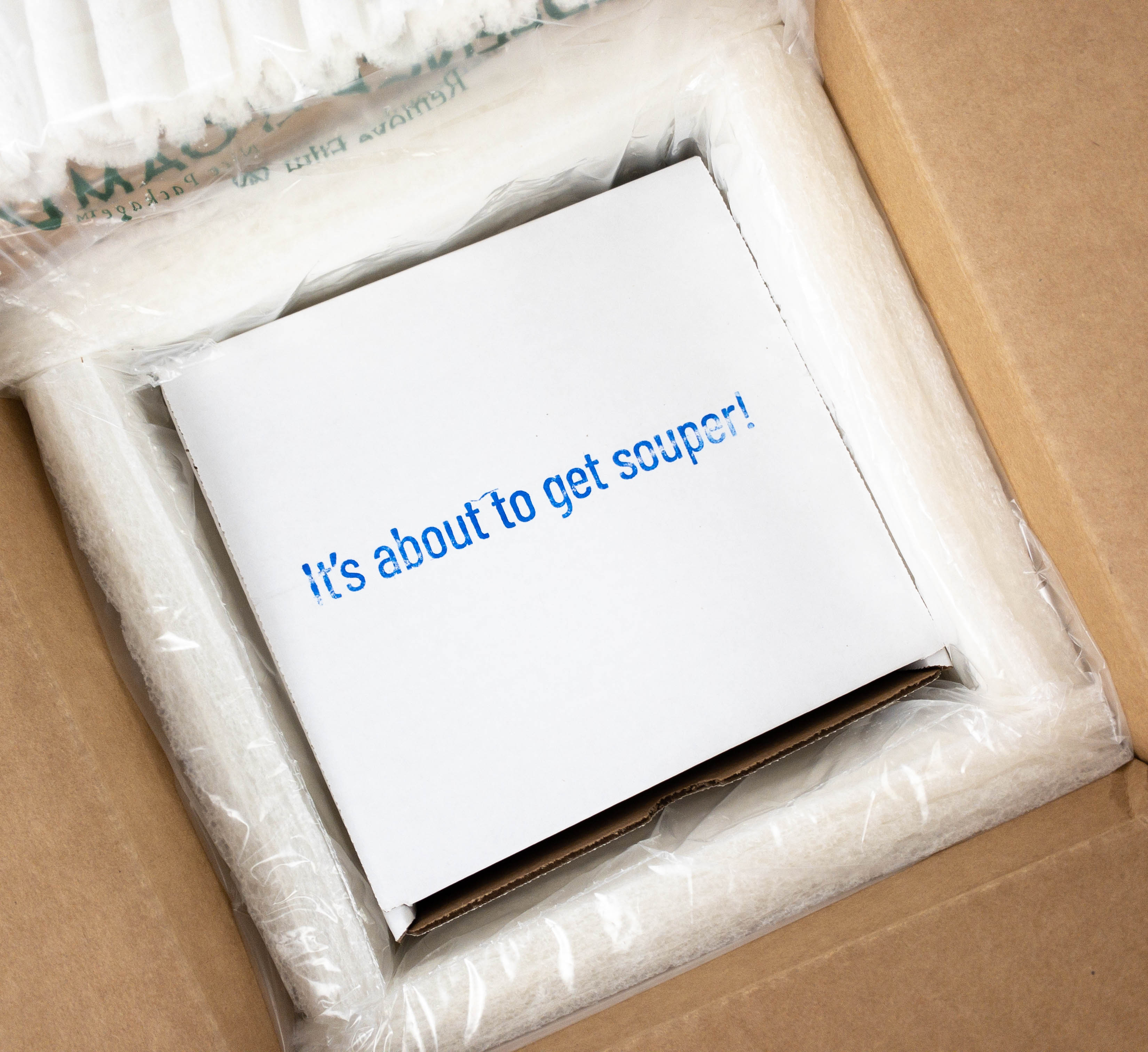 In the case your soup doesn't arrive frozen, Good Stock says it's okay as long as it's still cold. All you have to do is to re-freeze it.
I'm so excited to try everything!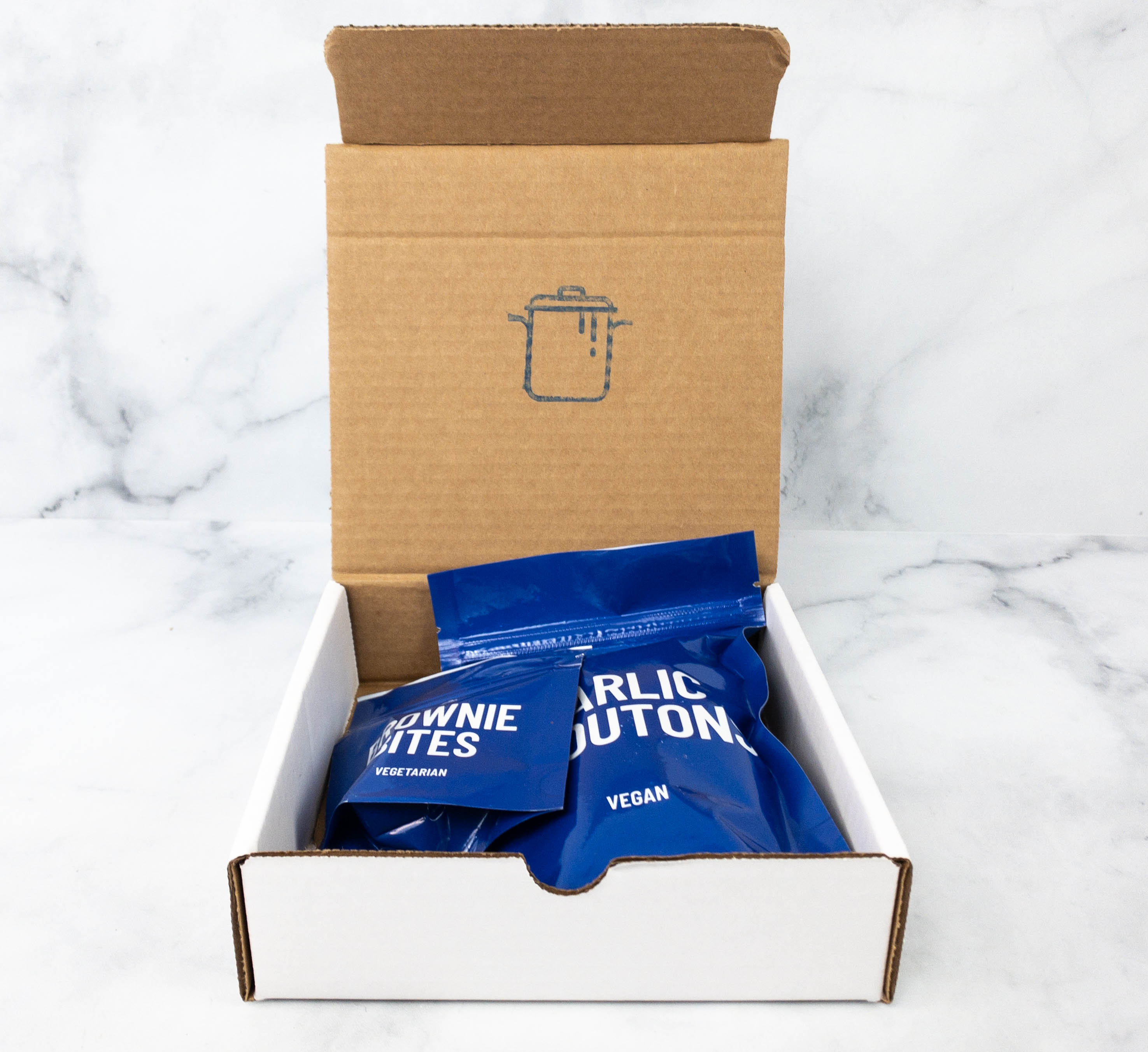 There's a smaller, white inner box. Inside are some brownie bites and garlic croutons!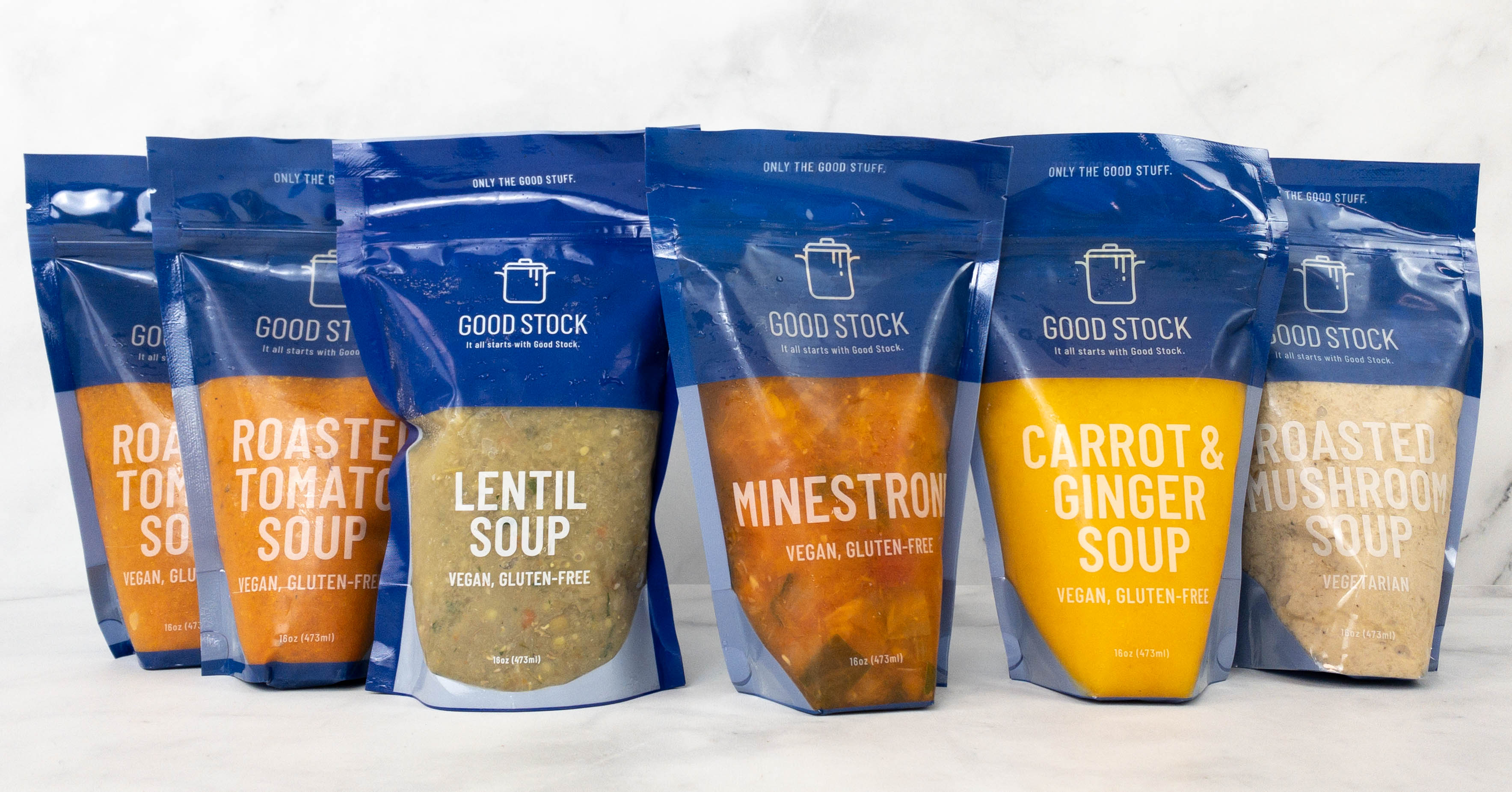 I received a total of 6 pouches containing 5 different kinds of soup.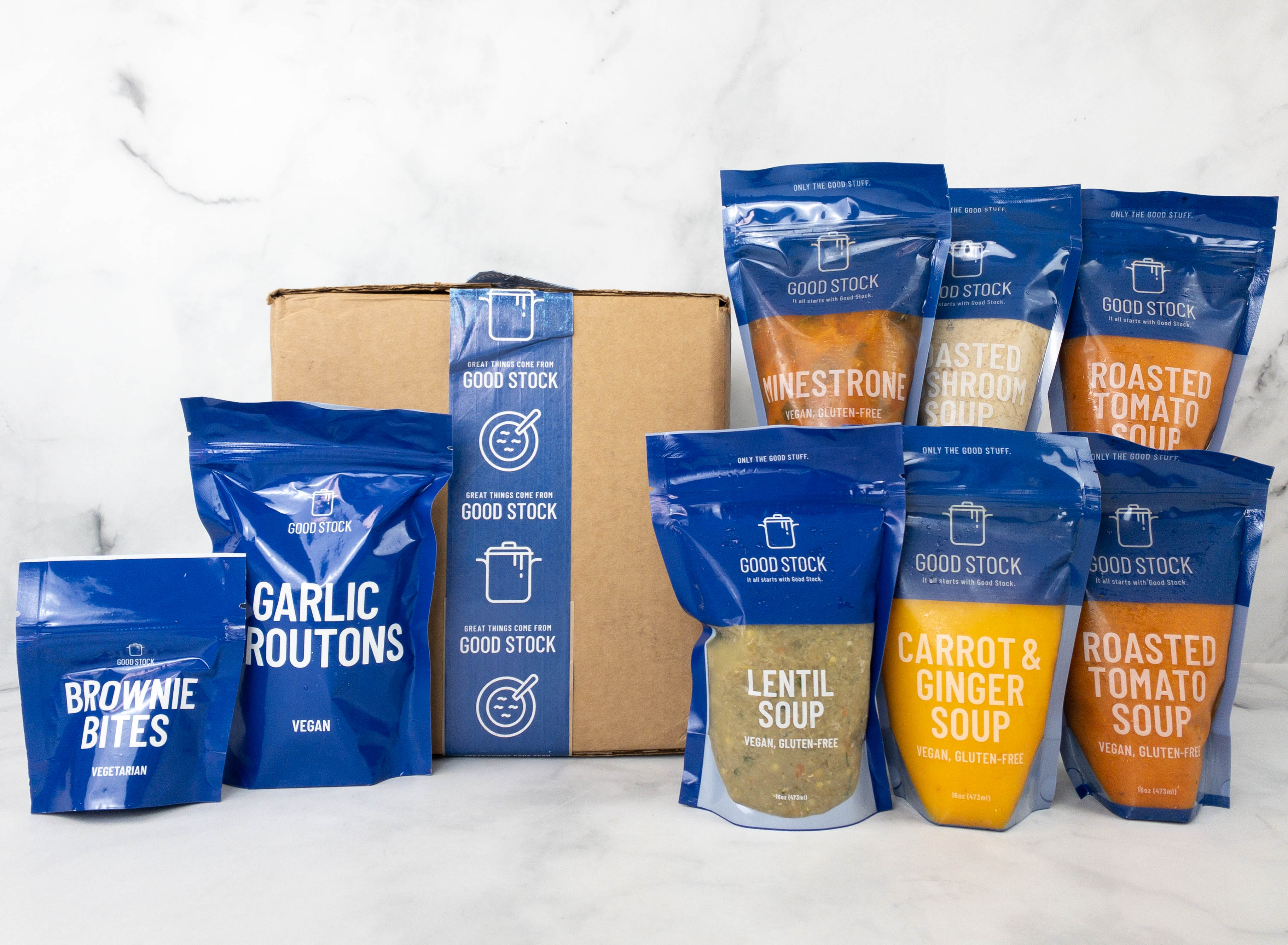 It is indeed about to get souper! Each one of their soups is a huge 16 ounce single serving. If you want to eat the whole bag, great! You can also split it and serve it with a salad or other accompaniment to share a meal for two.
Each of the pouches state very clearly whether it's a vegan or vegetarian option, and whether it's gluten-free.  I really like this clear, consistent labeling. The pouches themselves aren't recyclable, but are made of BPA-free plastic. They are in the process of moving to pouches that are made with up to 40% post-consumer recycled material.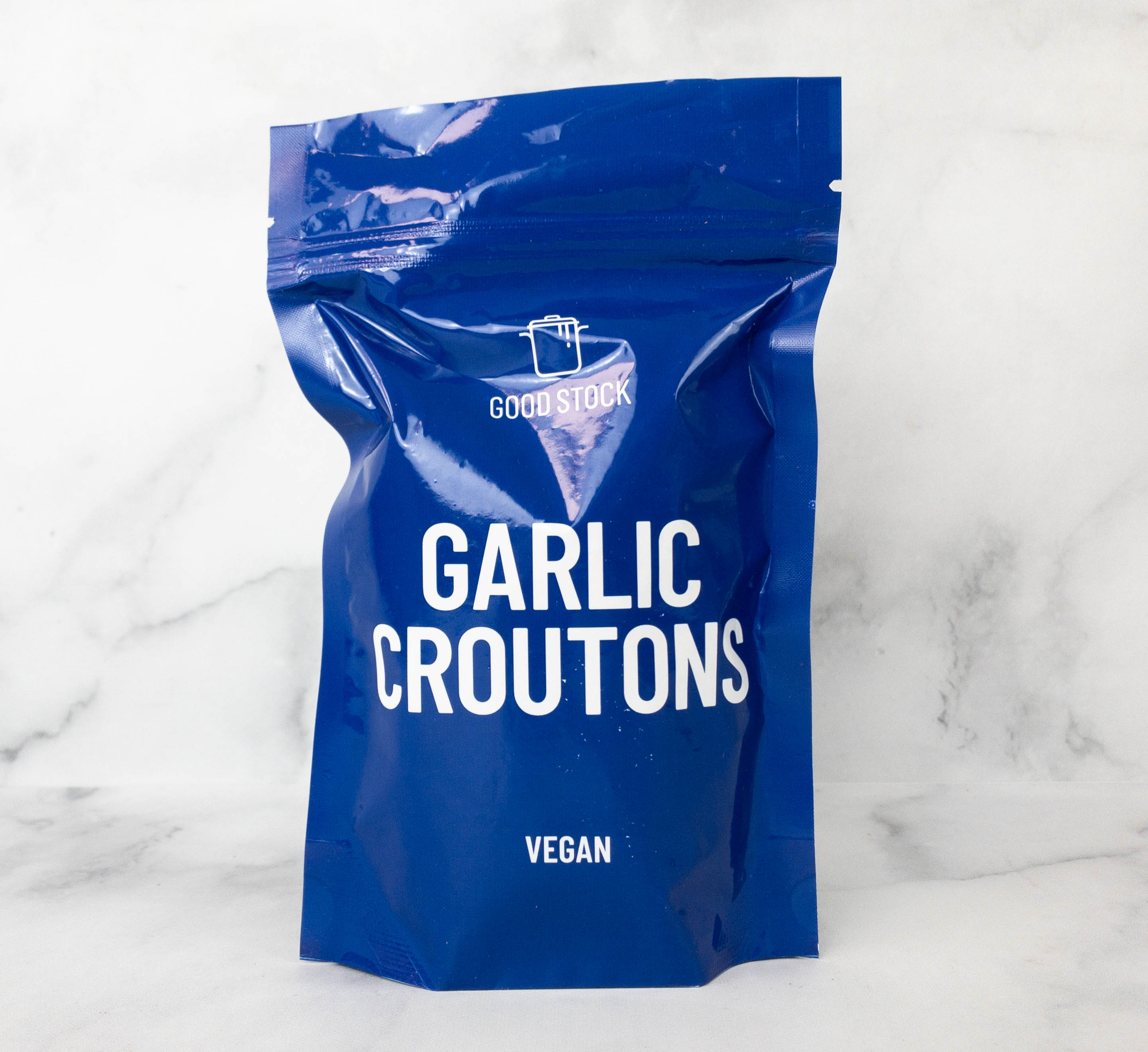 Garlic Croutons Vegan ($4) These vegan garlic croutons are made with whole wheat flour. They can be used as a topper for the soups in this box! This lagniappe (something extra) was included in our box, and it looks like they include them (and the the brownie bites, see the end!) in every box. You can purchase extra of these special touches if this isn't enough!
Other ingredients are wheat flour, rye flour, kosher salt, sesame seeds, rye berries, flax seeds, millet seed, yeast, extra virgin olive oil, and less than 2% of garlic and black pepper.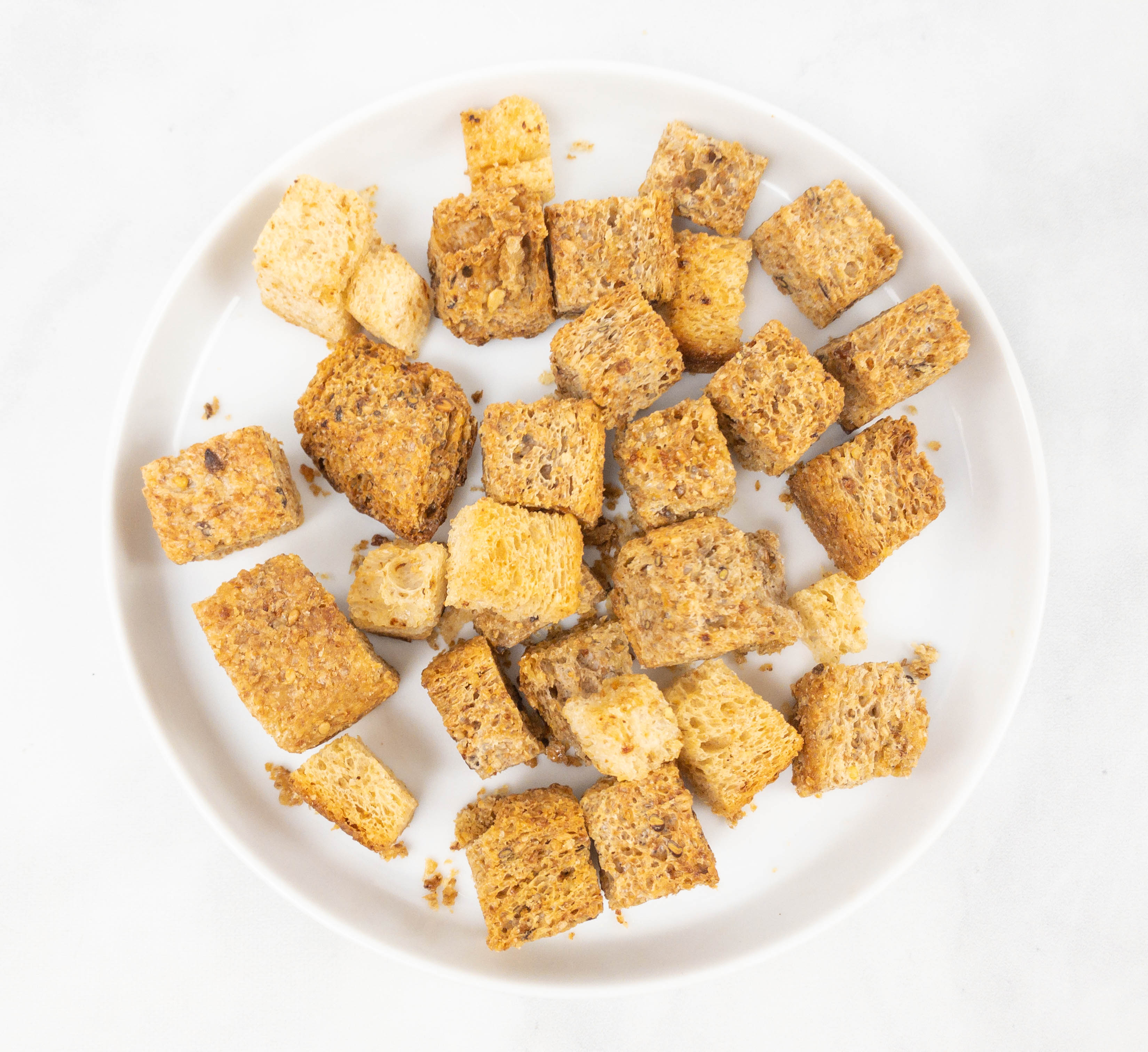 I love this because it adds not just texture but a whole new layer of flavor to every soup. Each bite is bursting with flavor!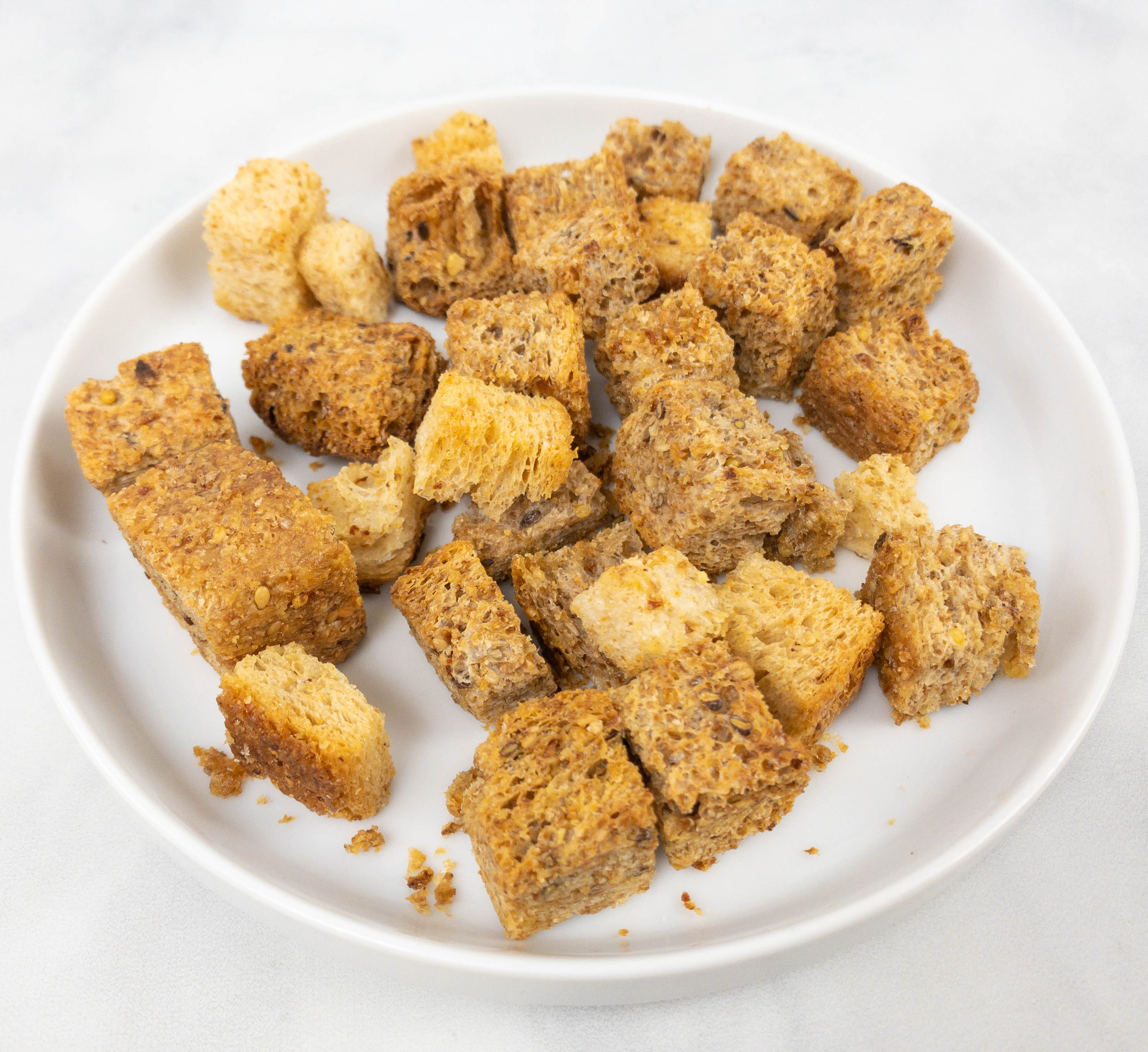 They smell amazing so I can't help but try a piece and I was surprised because it's really good on its own too! We tried the soups with these croutons (obviously) and with our own croutons. These are made for soup – our croutons just sort of melted in the bowl, while these were really sturdy and a great texture.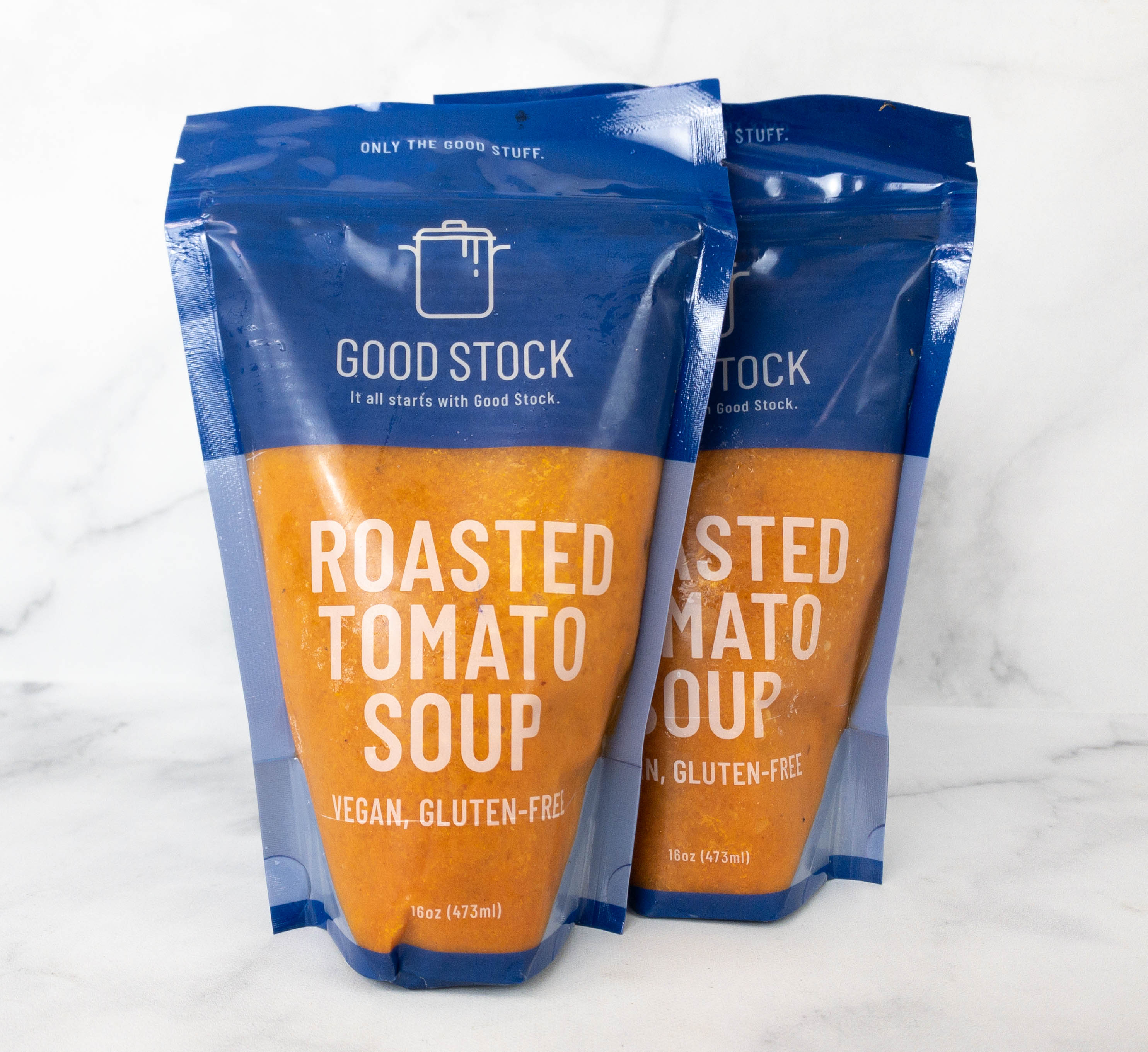 Roasted Tomato Soup ($18) This is a classic tomato soup that tastes really creamy with having any cream in it. It's already great on its own, but Good Stock suggests to add a dollop of goat cheese to make it tastier. Another thing to love about this soup is that it's packed with fiber and vitamin A, and also a good source of iron, calcium, potassium, and vitamin B-6.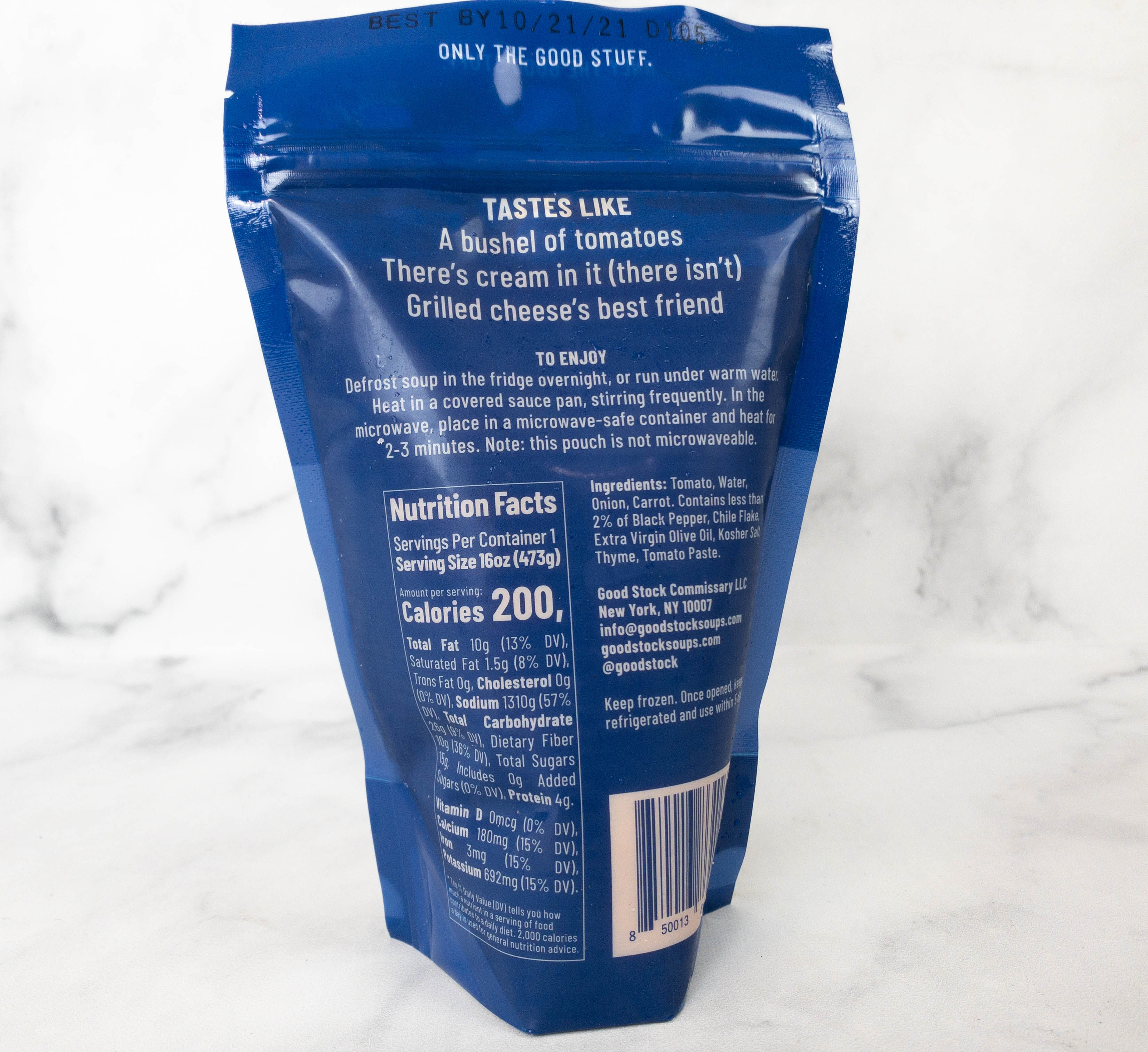 Aside from tomatoes, this soup also contains onions, carrots, black pepper, oregano, garlic, kosher salt, tomato paste, extra virgin olive oil, and red pepper flakes. It's vegan and gluten-free as well.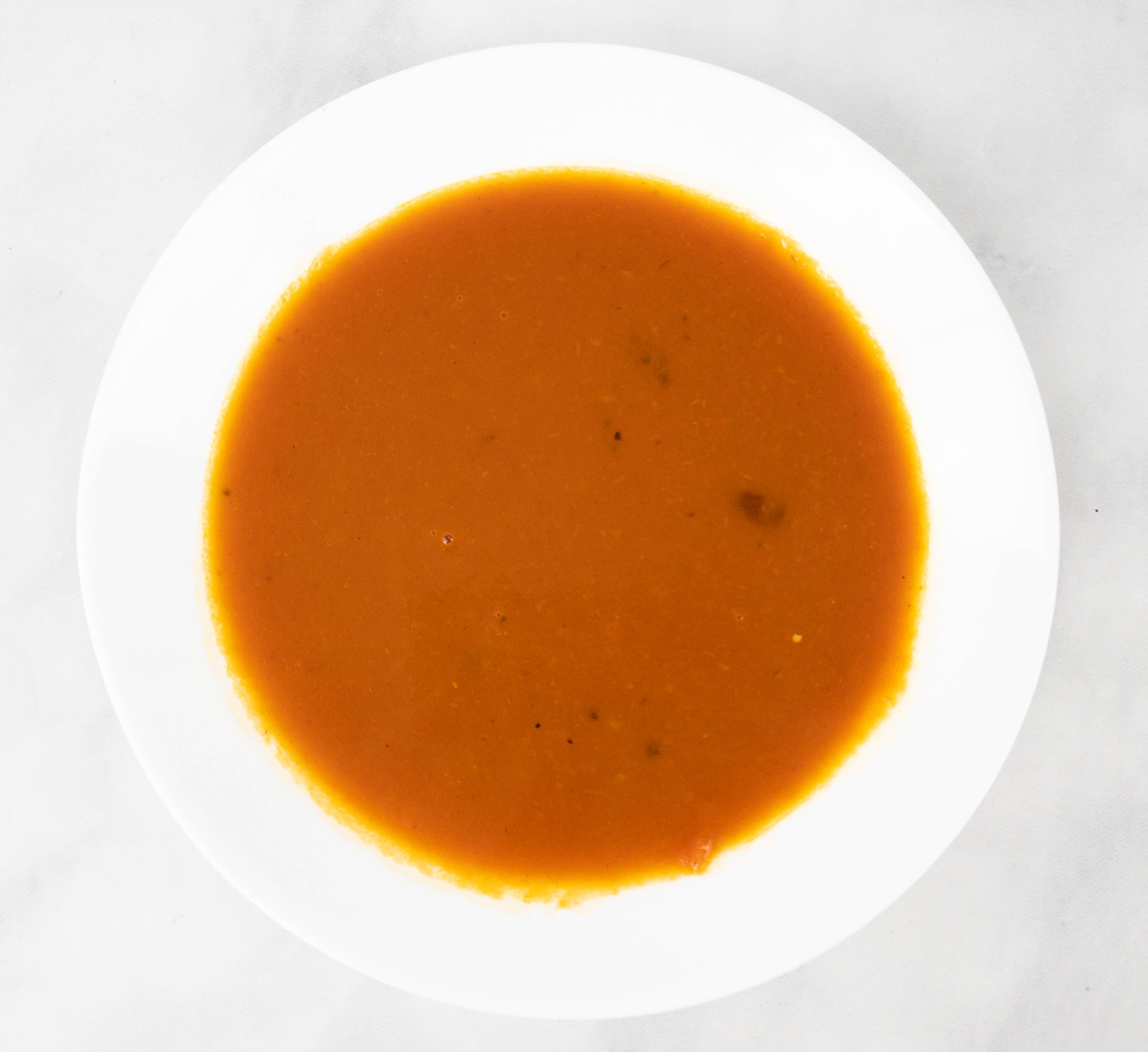 It's easy to prepare. Just defrost overnight or under warm running water before heating it on the stovetop or in the microwave.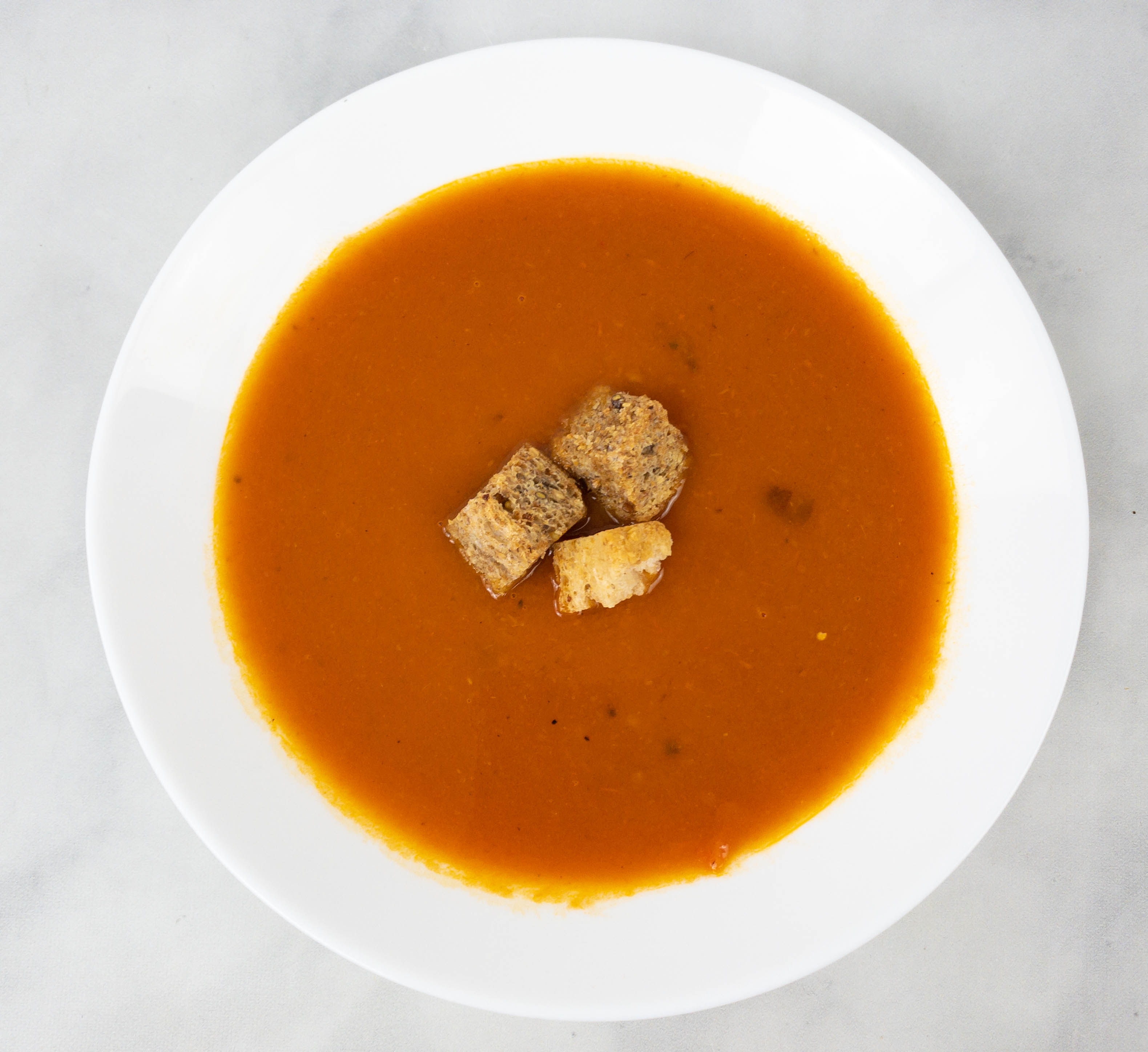 This is a hearty soup with just the right thickness. I added a couple of garlic croutons for an extra bite!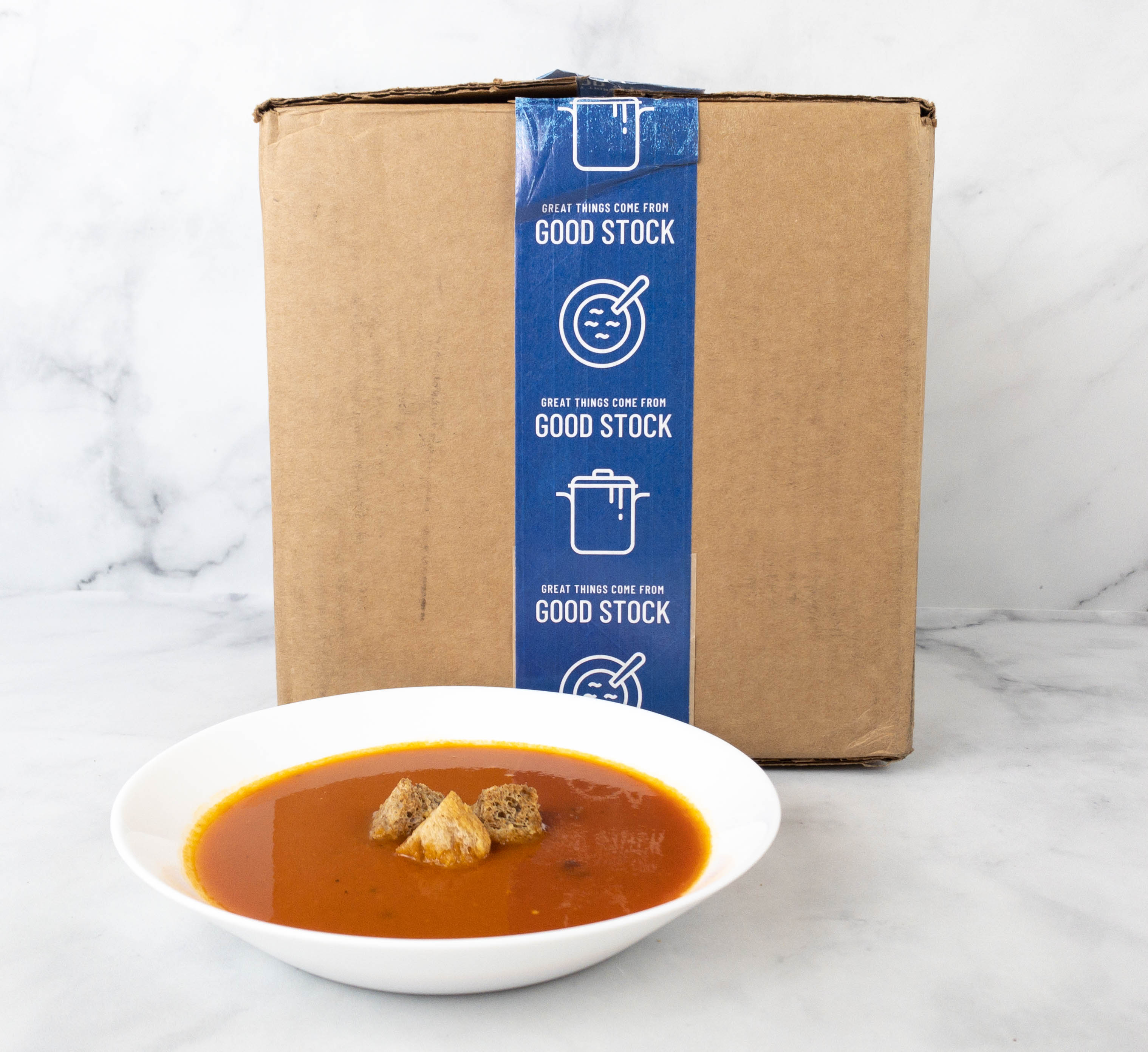 It also has a hint of spice from the red pepper flakes. This soup is quite filling and I bet it would be even better when paired with a grilled cheese sandwich!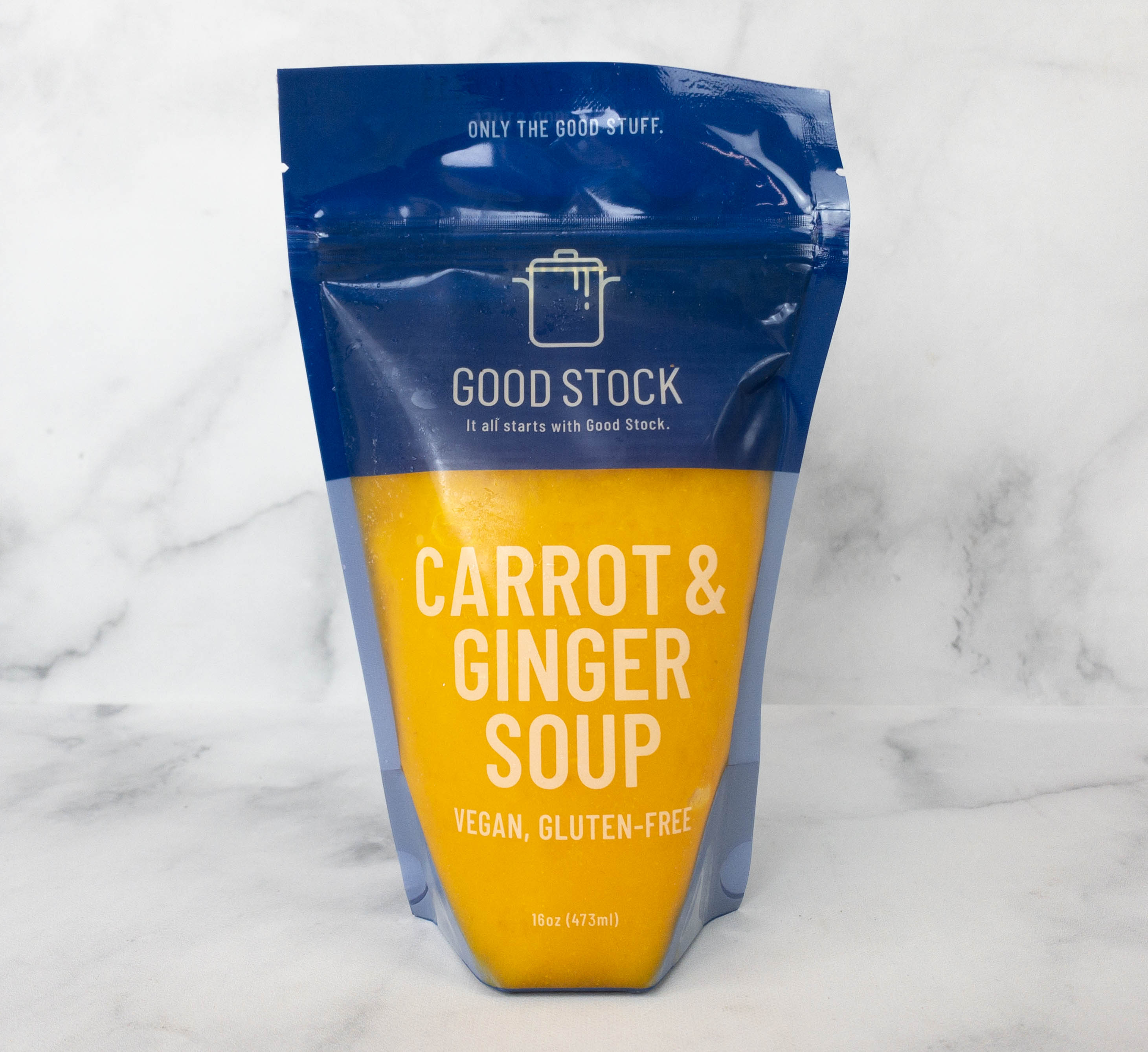 Carrot & Ginger Soup ($9) This soup has the right amount of zing from ginger, balanced by the sweetness of carrots. It's vegan and gluten-free, plus it's high in vitamin A!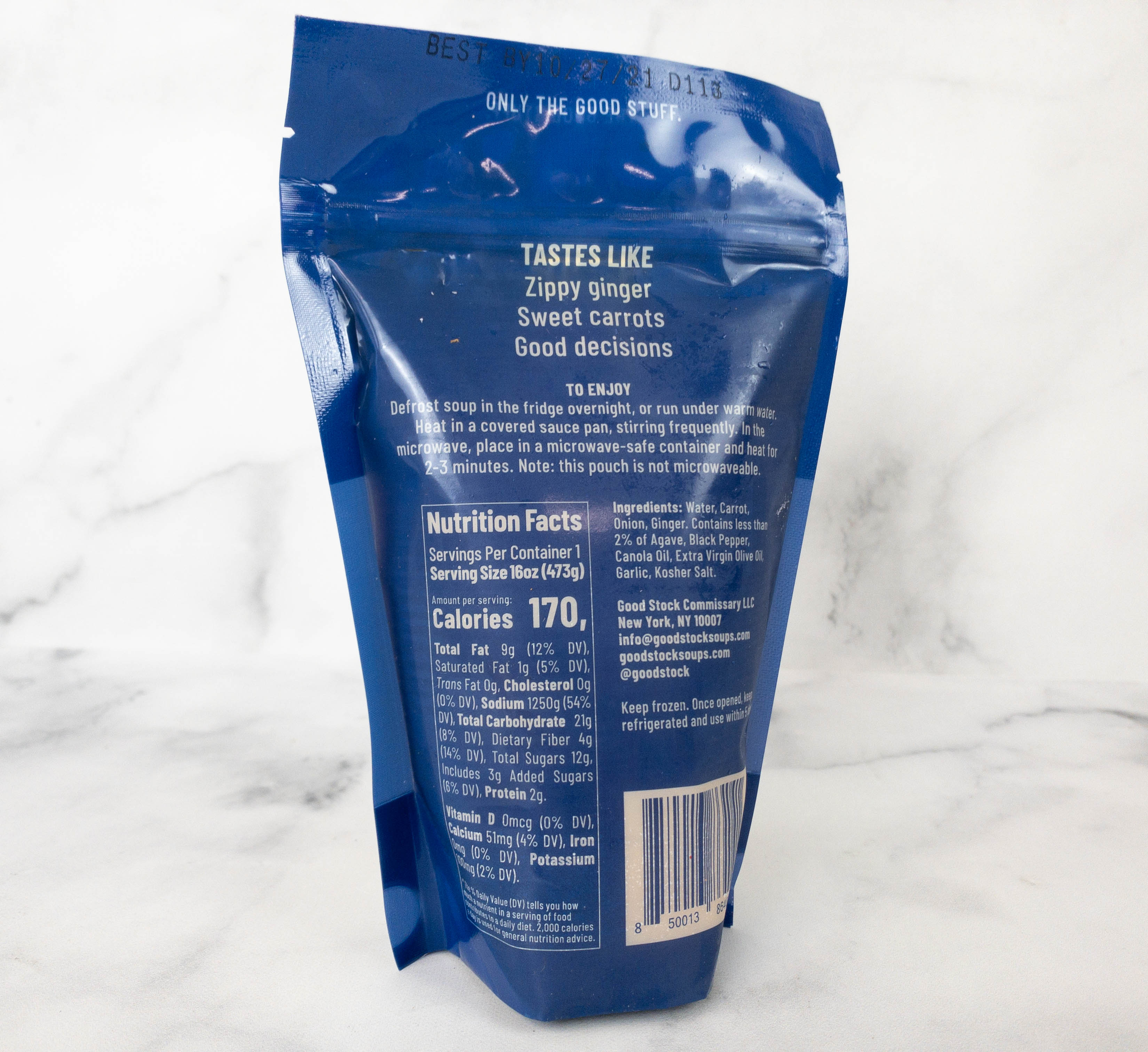 Other ingredients are onions, black pepper, garlic, kosher salt, extra virgin olive oil, and agave syrup.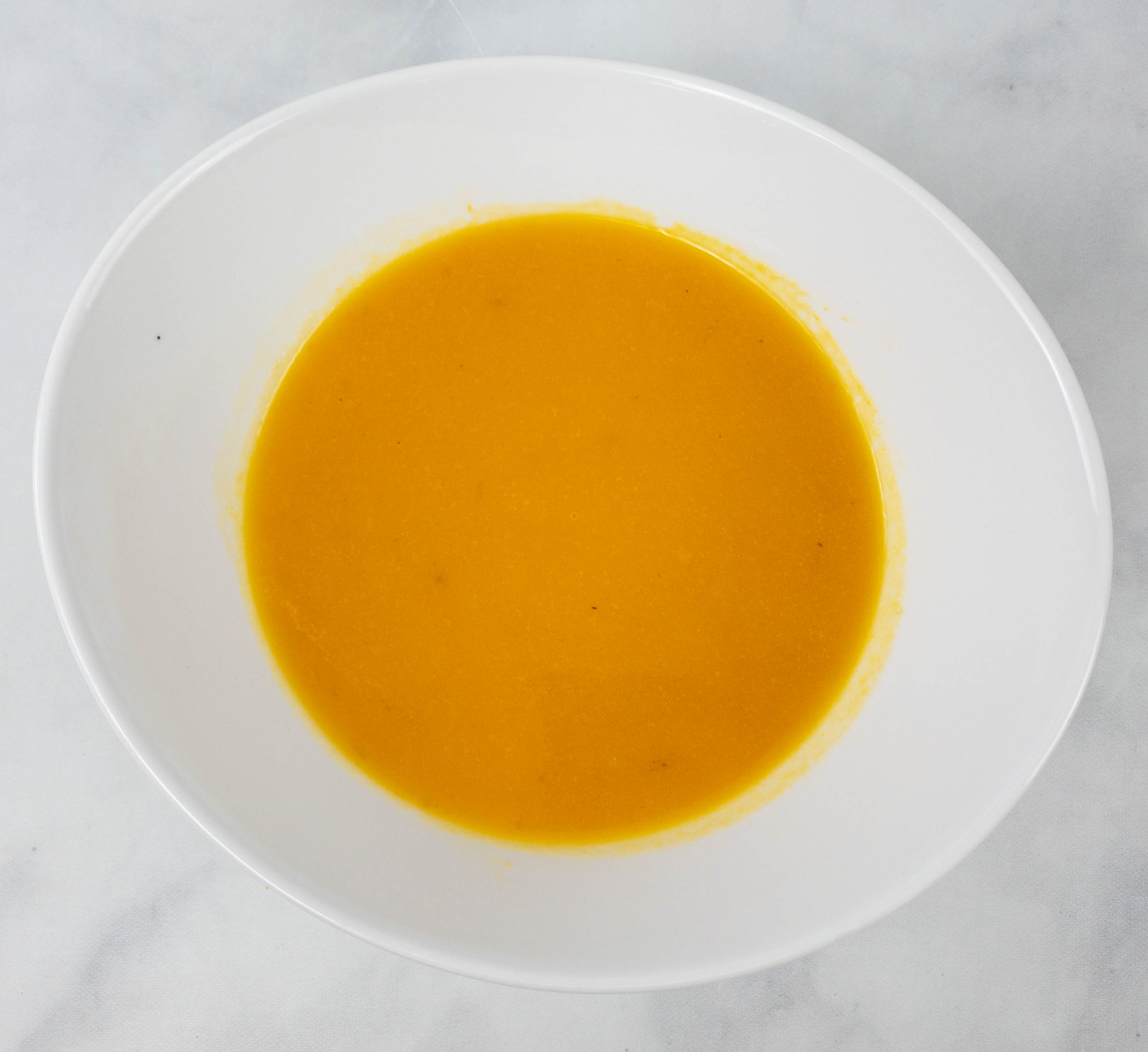 I love how it turned out. Each spoonful of this soup is really comforting. Good Stock recommends to top it with sliced chives or add toasted coconut flakes or coconut yogurt to make it more flavorful. They have suggestions for each of their soups!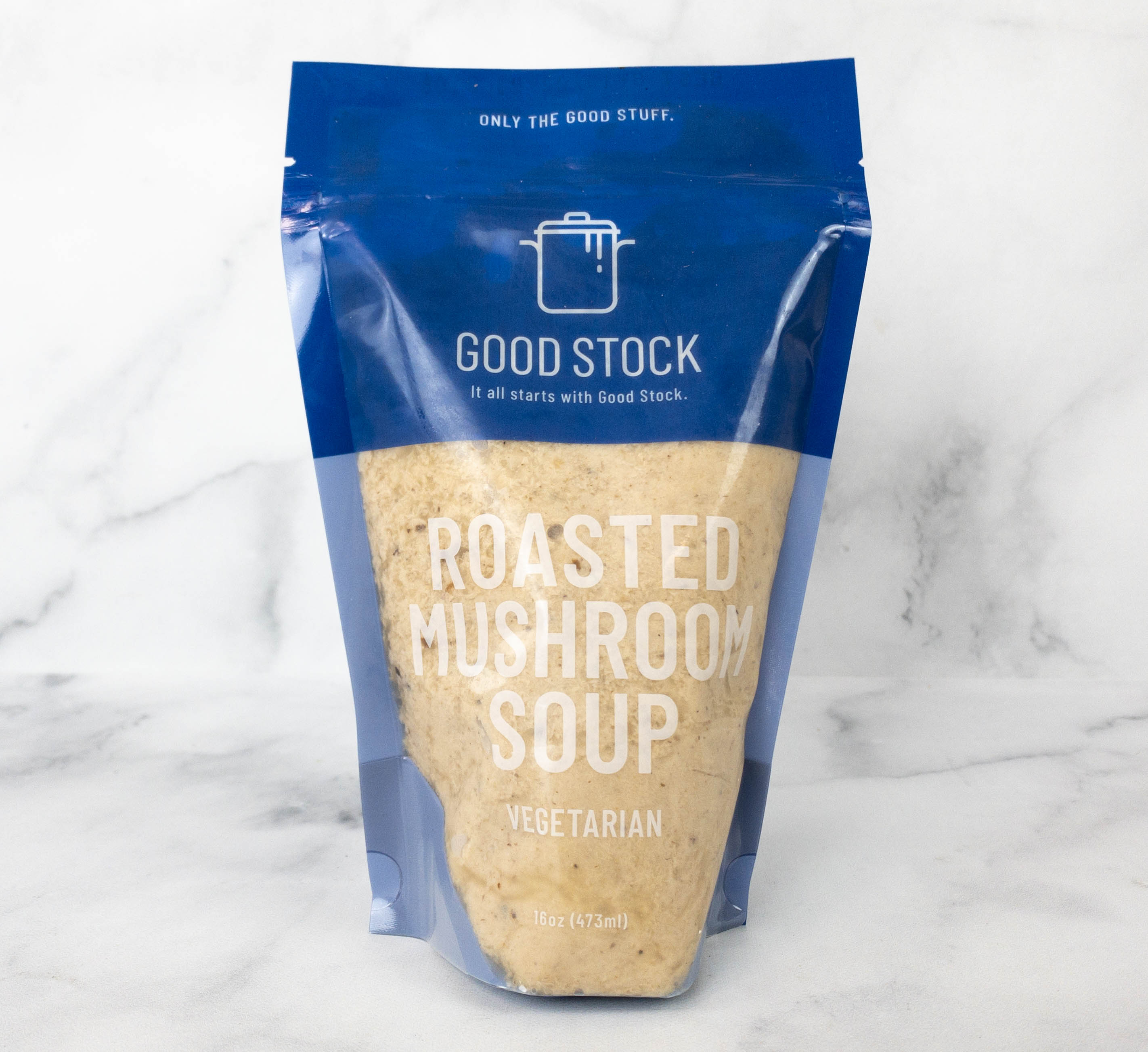 Roasted Mushroom Soup ($9) Here's another classic soup and this time, it's made with button mushrooms, shiitake mushrooms, and porcini mushrooms. It's high in vitamin B2, vitamin B3, vitamin B6, copper, and manganese.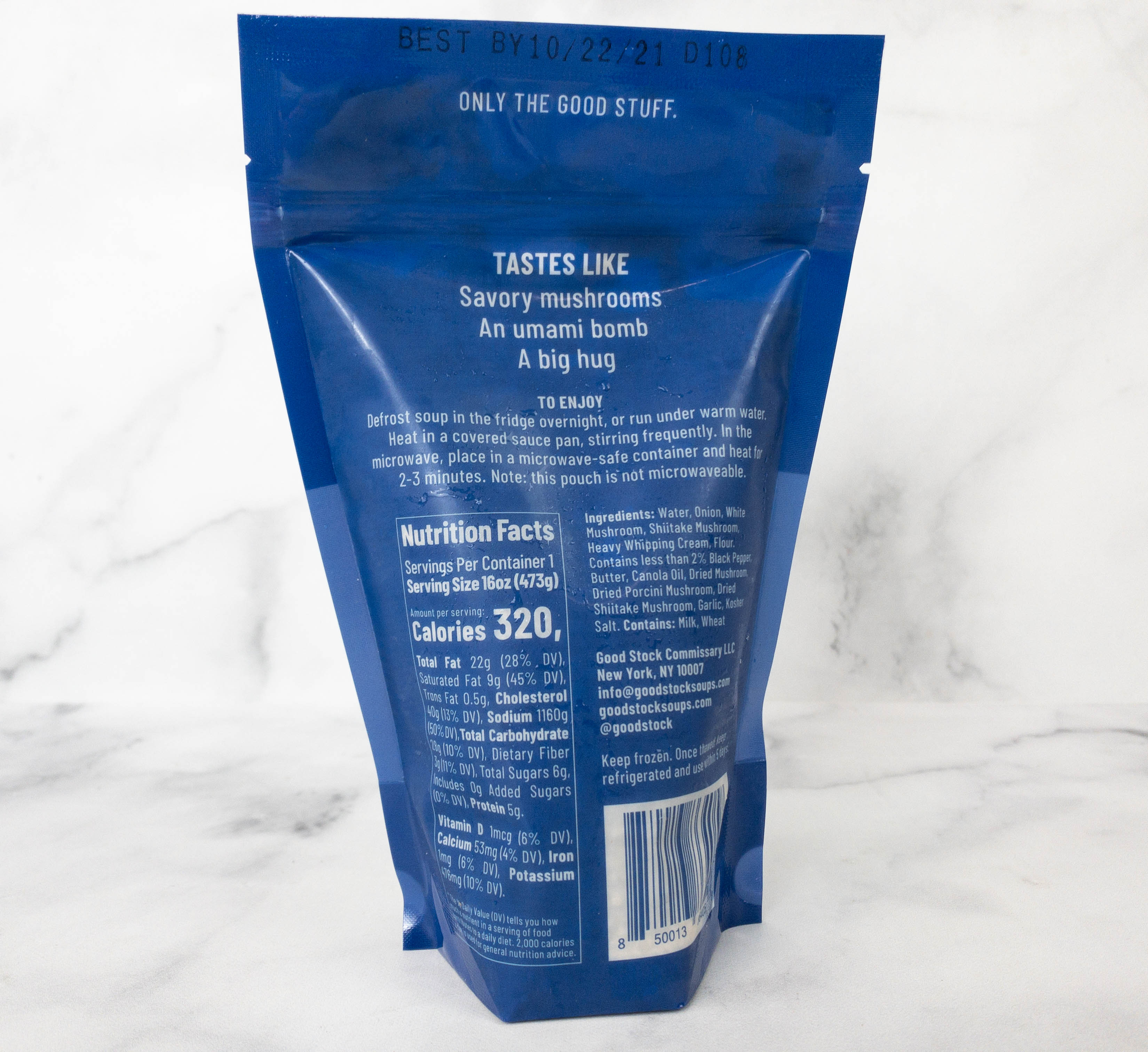 Ingredients also include onions, cream, wheat flour, black pepper, butter, canola oil, garlic, and kosher salt.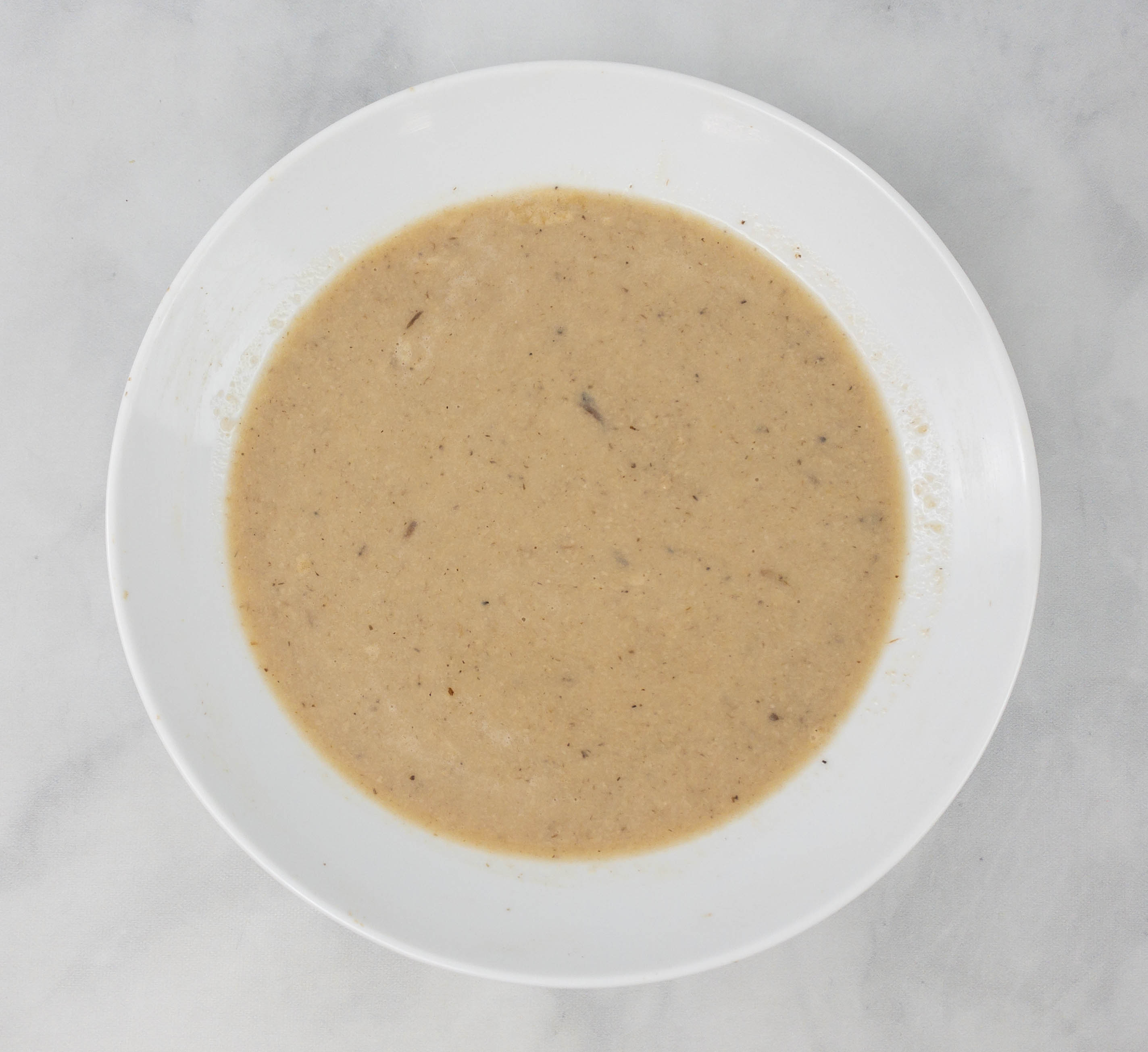 It's bursting with umami flavor! This soup is already perfect as is, but chives and crispy shallots or even garlic croutons would be perfect as toppers.
I like this soup's consistency as well. It's creamy and not watery! Would we know it's frozen? No way!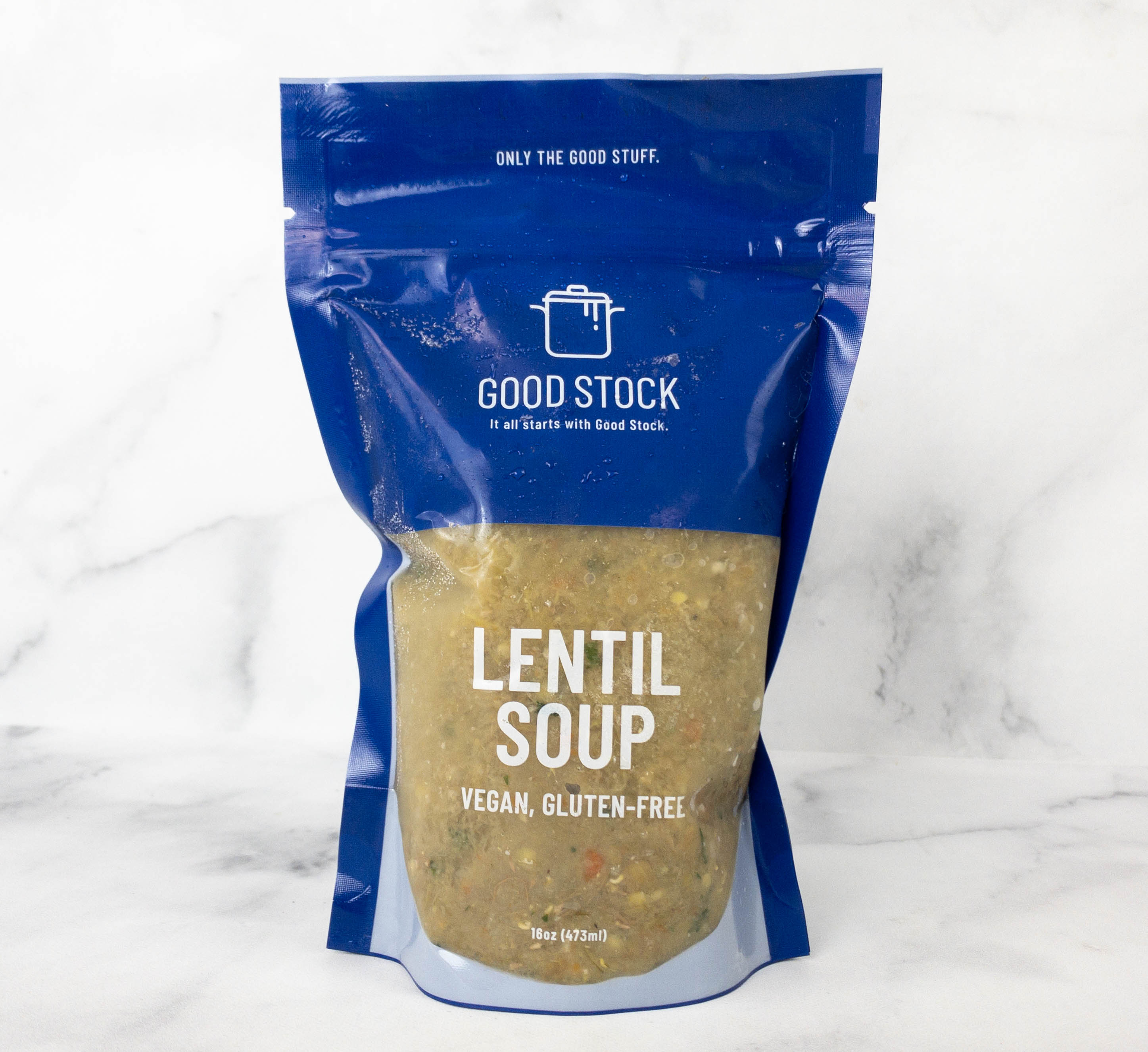 Lentil Soup ($9) Lentils are low in calories, but high in iron and also an excellent source of protein. This is a great ingredient for soups and it's super filling!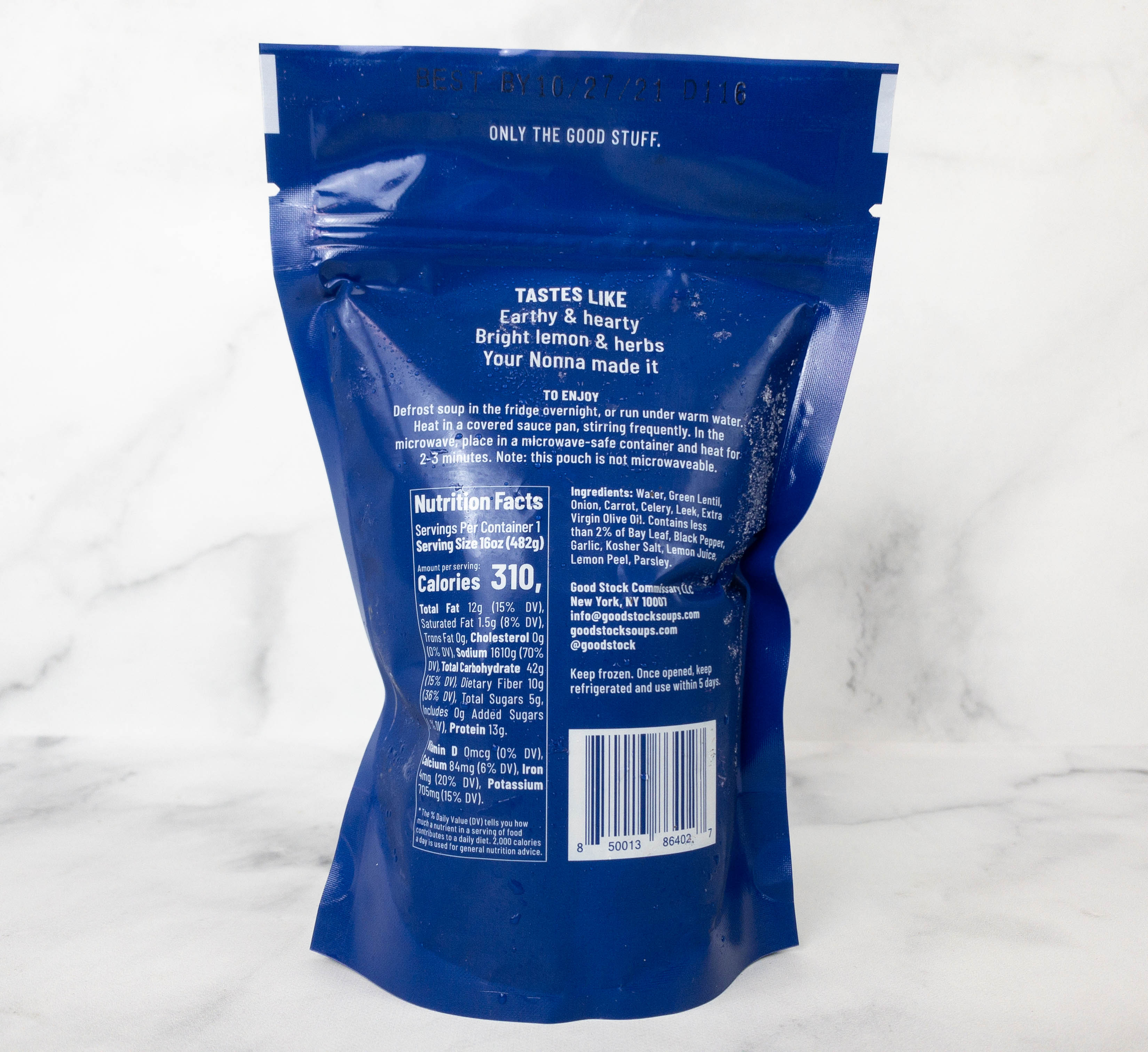 This soup also contains onions, carrots, leeks, extra virgin olive oil, black pepper, garlic, kosher salt, lemon, and parsley. It's vegan, gluten-free, dairy-free, and nut-free as well!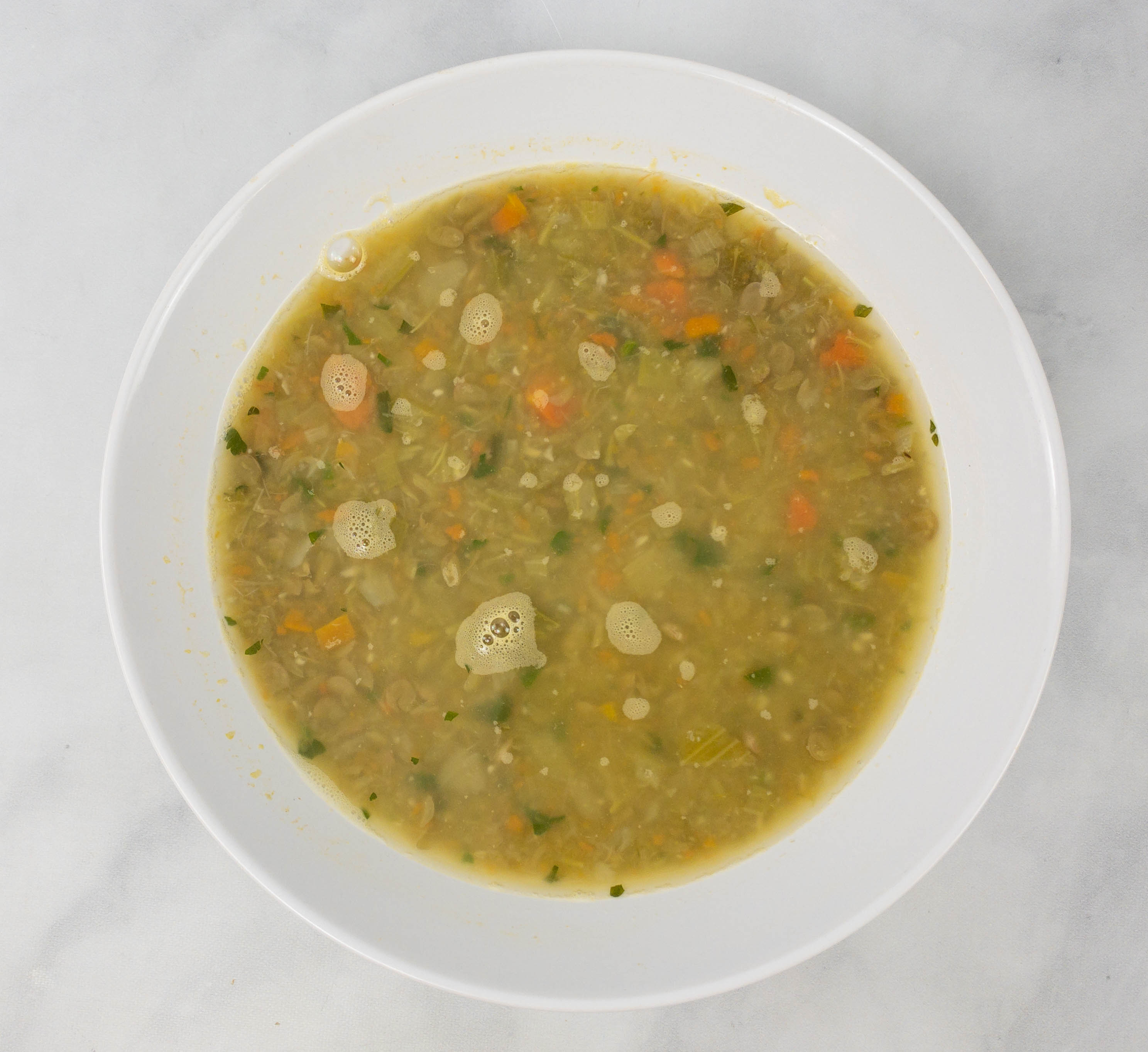 This has a lovely balance of bright and earthy flavors. It's a very comforting soup and the lentils, carrots, and onions actually add a nice texture to it. Suggested toppings are parmesan cheese, gremolata, and Italian sausage. Lentil soup is my go-to when I cannot think of cooking, and I'm totally in love with the idea of stocking my freezer with this and some of the other flavors for my soup fix.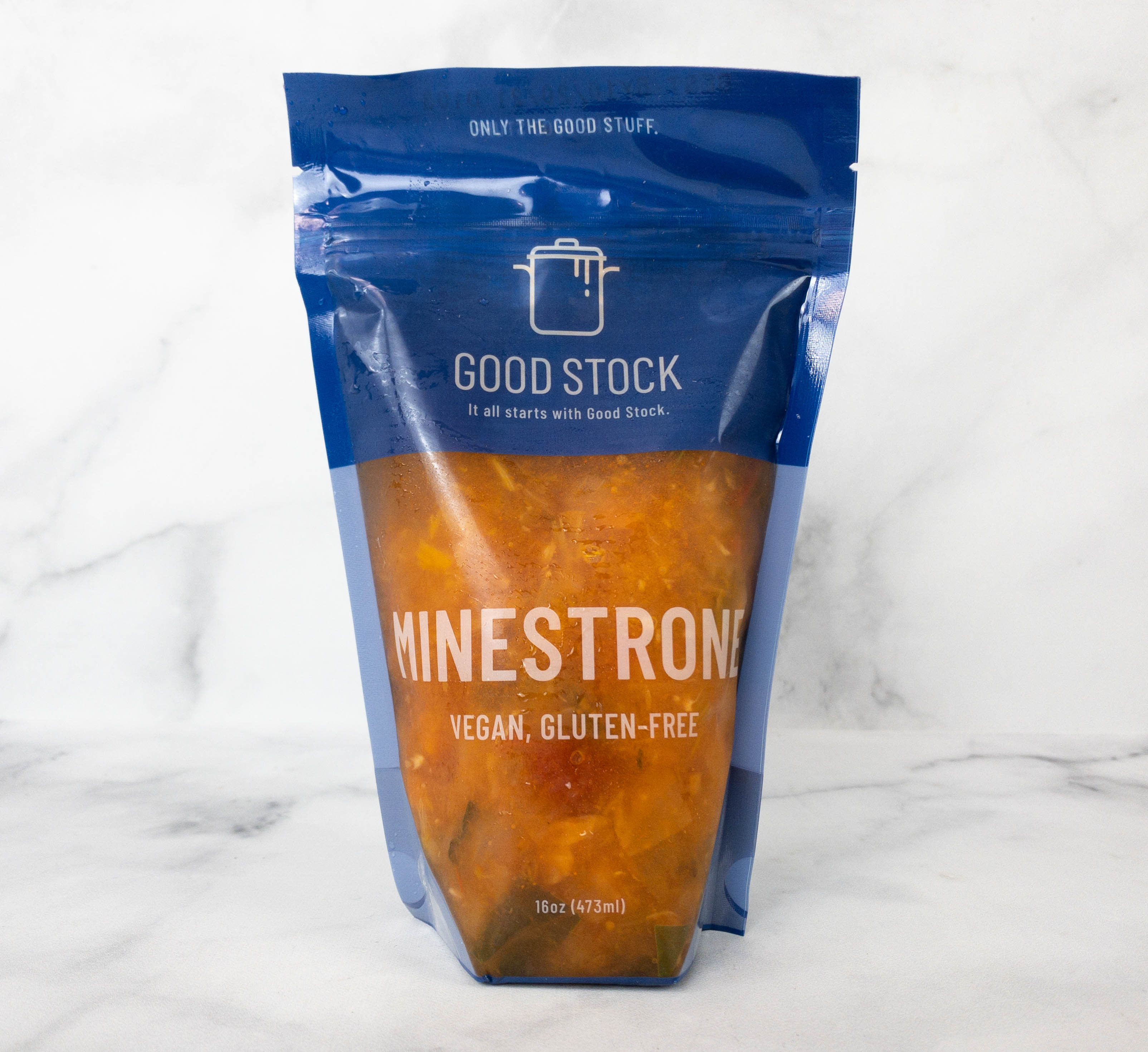 Minestrone ($9) Here's Good Stock's take on the popular Italian soup. This minestrone soup is packed with savory tomatoes and a lot of vegetables!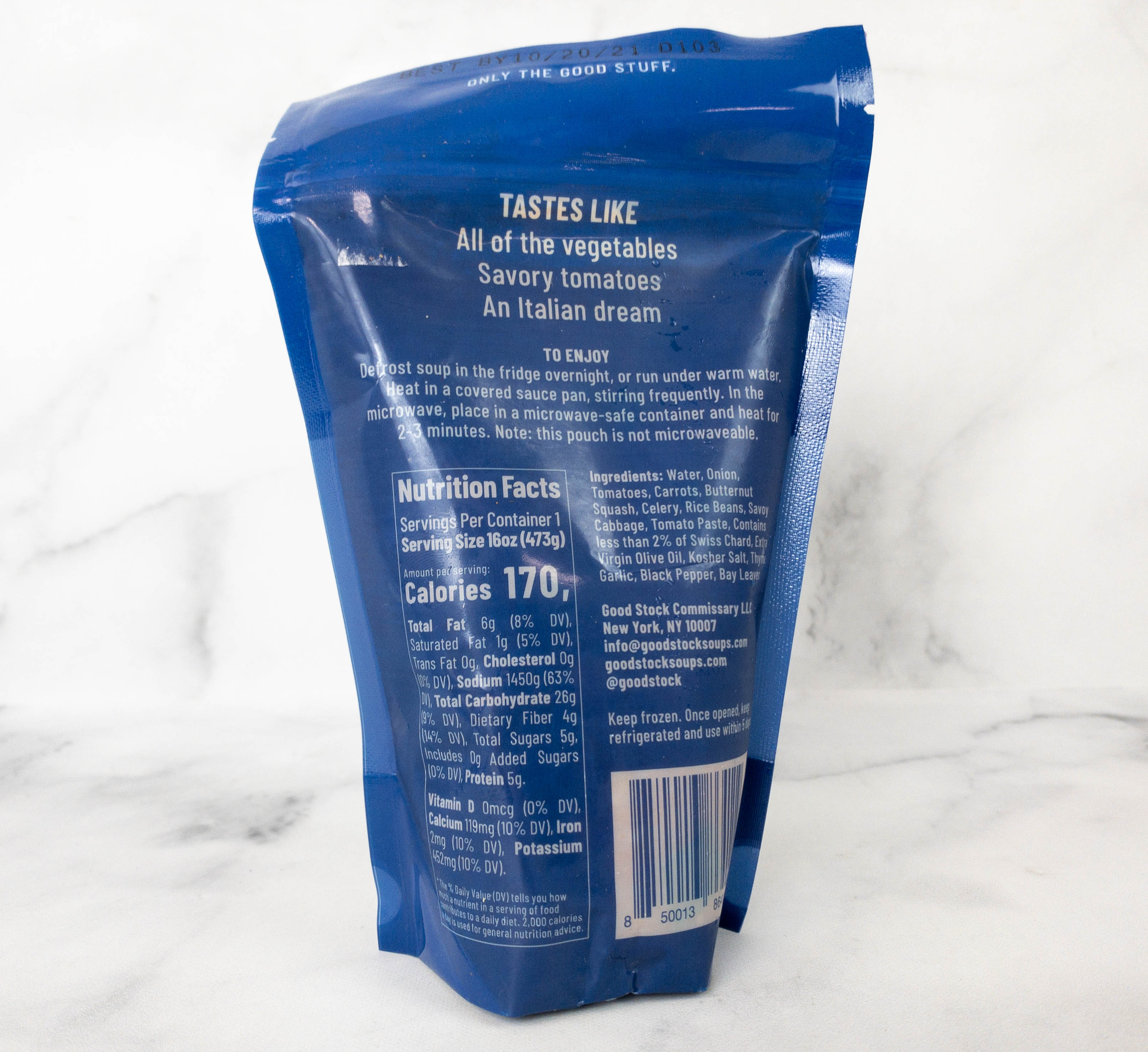 Aside from tomatoes, ingredients include carrots, butternut squash, celery, flageolet beans, savoy cabbage, tomato paste, Swiss chard, extra virgin olive oil, garlic, kosher salt, thyme, black pepper, and bay leaf.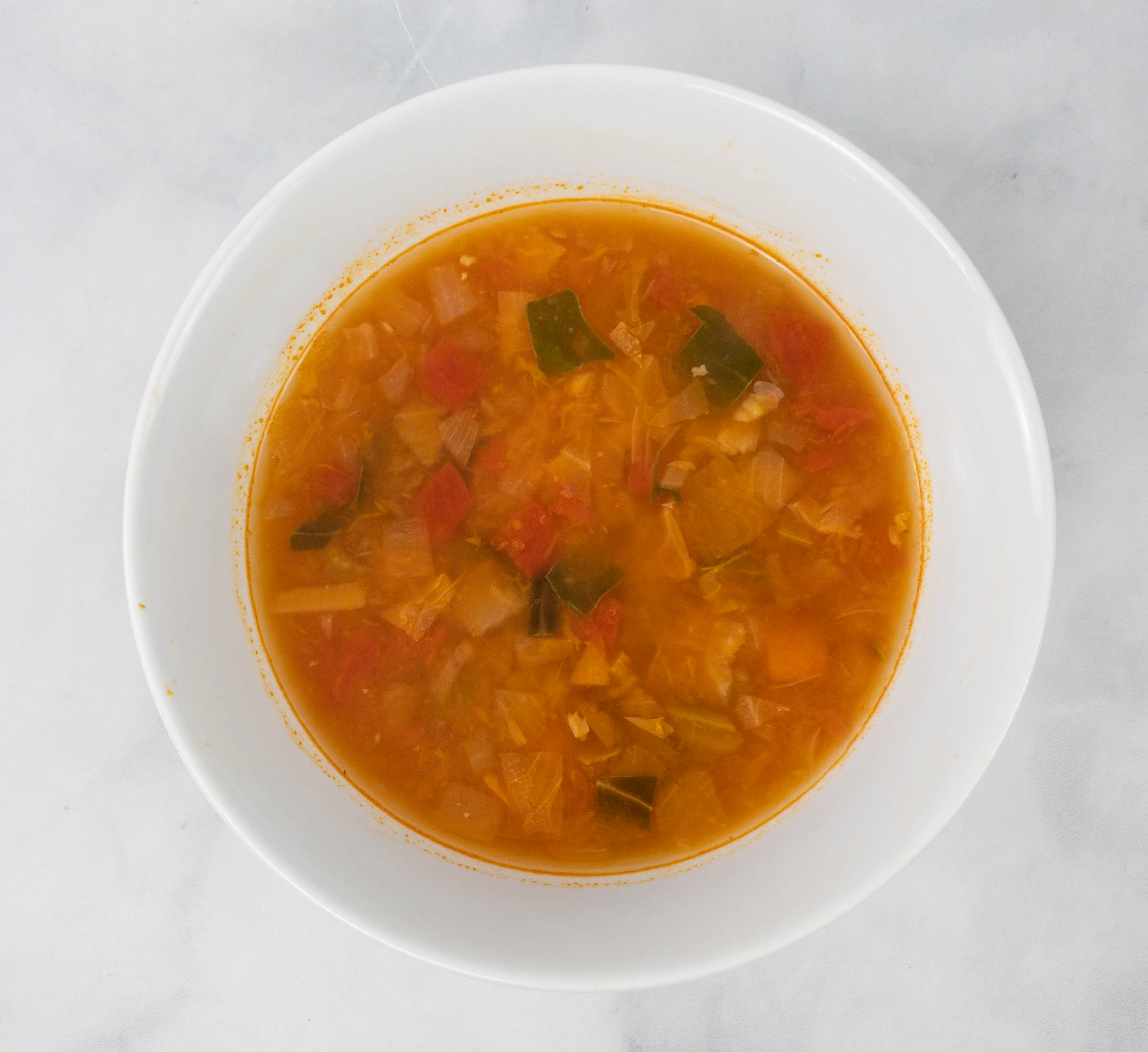 This is such a healthy soup! It's high in fiber and vitamins A, C, and K. Pairing it with garden salad, crusty bread, or bean salad is also a great idea but I love the suggestion to serve this with a pile of parm – maybe on a super toasted garlicky slice of Italian bread!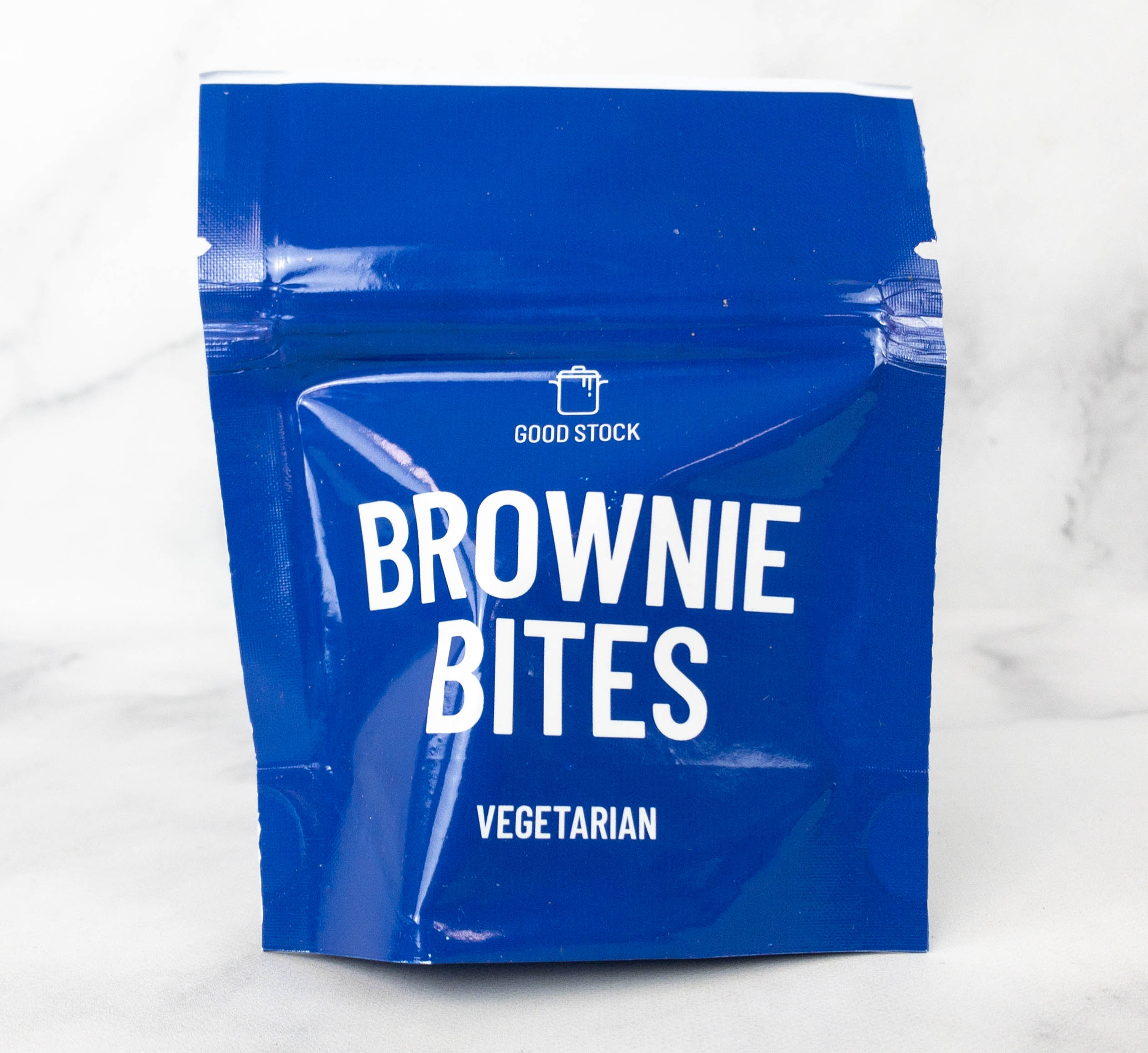 Brownie Bites ($4) These vegetarian brownie bites are a perfect way to cap off a meal. They came neatly packed in this blue resealable pouch.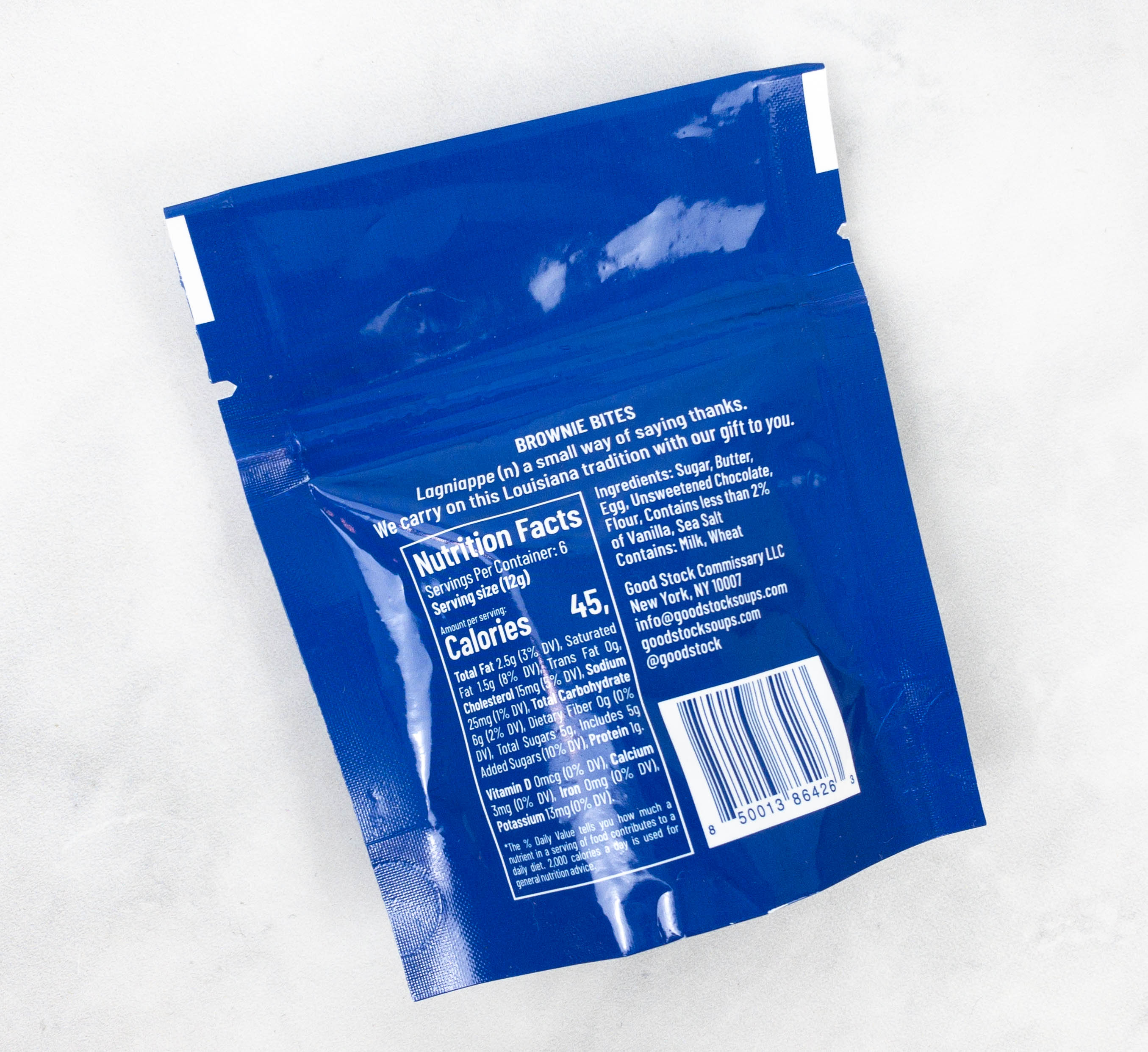 All the necessary information about the product like ingredients and nutrition facts can be found in the back of the packet. Ingredients include sugar, butter, egg, unsweetened chocolate, flour, less than 2% of vanilla, and sea salt.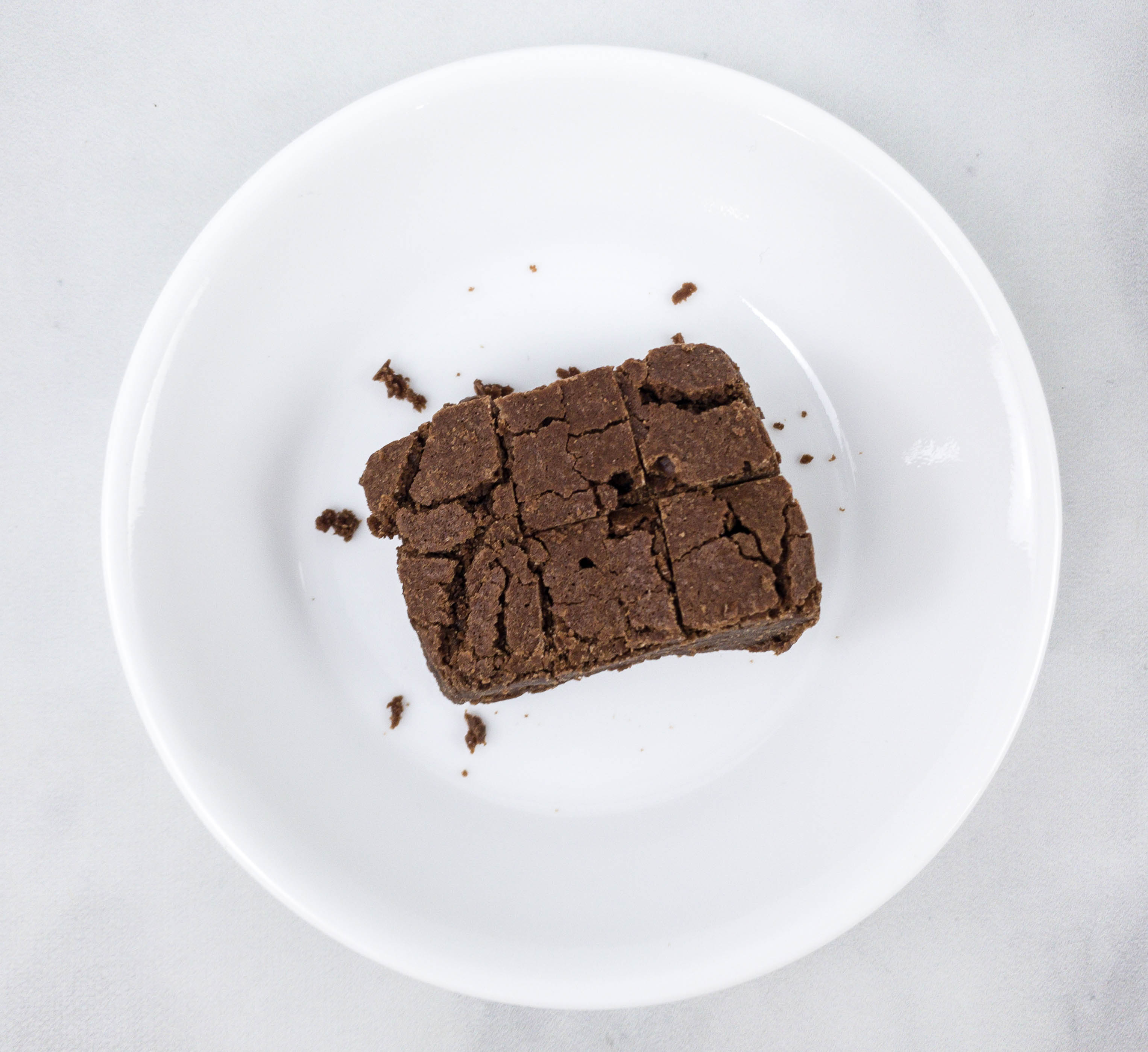 Here's what the brownie looks like. It's a solid bar that was pre-cut into 6 bite-sized pieces.
This vegetarian brownie is pretty good! The chocolate flavor is really nice with a fudgey undertone and that hint of sea salt just balances the sweetness out! It's the perfect way to balance out a soup-endous meal!
Preparing soups is never as easy as it sounds because it takes a lot of time and patience to make sure the broth is rich and flavorful. So if you love soup but don't have time to make it from scratch, this box is a great hack! Now, you can serve hearty and flavorful soups any time without any work. The range of Good Stock's soup flavors is also pretty great. There's mushroom soup, tomato soup, and even minestrone soup, packed with a lot of vegetables. My favorite among the soups in this box is probably the lentil soup. It's one of the tastiest and most filling soups I've tried! I also liked the tomato soup, since it's a very nostalgic flavor that brings back a lot of happy memories. Another thing to love about these soups is that they are easy to prepare. The soups arrive frozen and you just have to defrost them before heating.
Overall, Good Stock has amazing quality soups made with the finest ingredients, making it worth the subscription! As someone who can cook, I've got to say that I've never made a soup and frozen it to come out well. The techniques used for frozen food are different than home cooking, and I'm going to concede the win. Good Stock prides itself on maniacal attention to detail, and it really shows with the flavor of the soups! There's no question that this is a superior soup to anything you'll find at the grocery store or a chain quick service restaurant.
Good Stock also has seasonal flavors like potato leek for spring, and loaded potato for winter – and limited edition drops (currently asparagus!). Although Good Stock doesn't advertise itself as a vegetarian company, I didn't see anything that wasn't vegetarian (and many items are vegan).
What do you think of the Good Stock box?