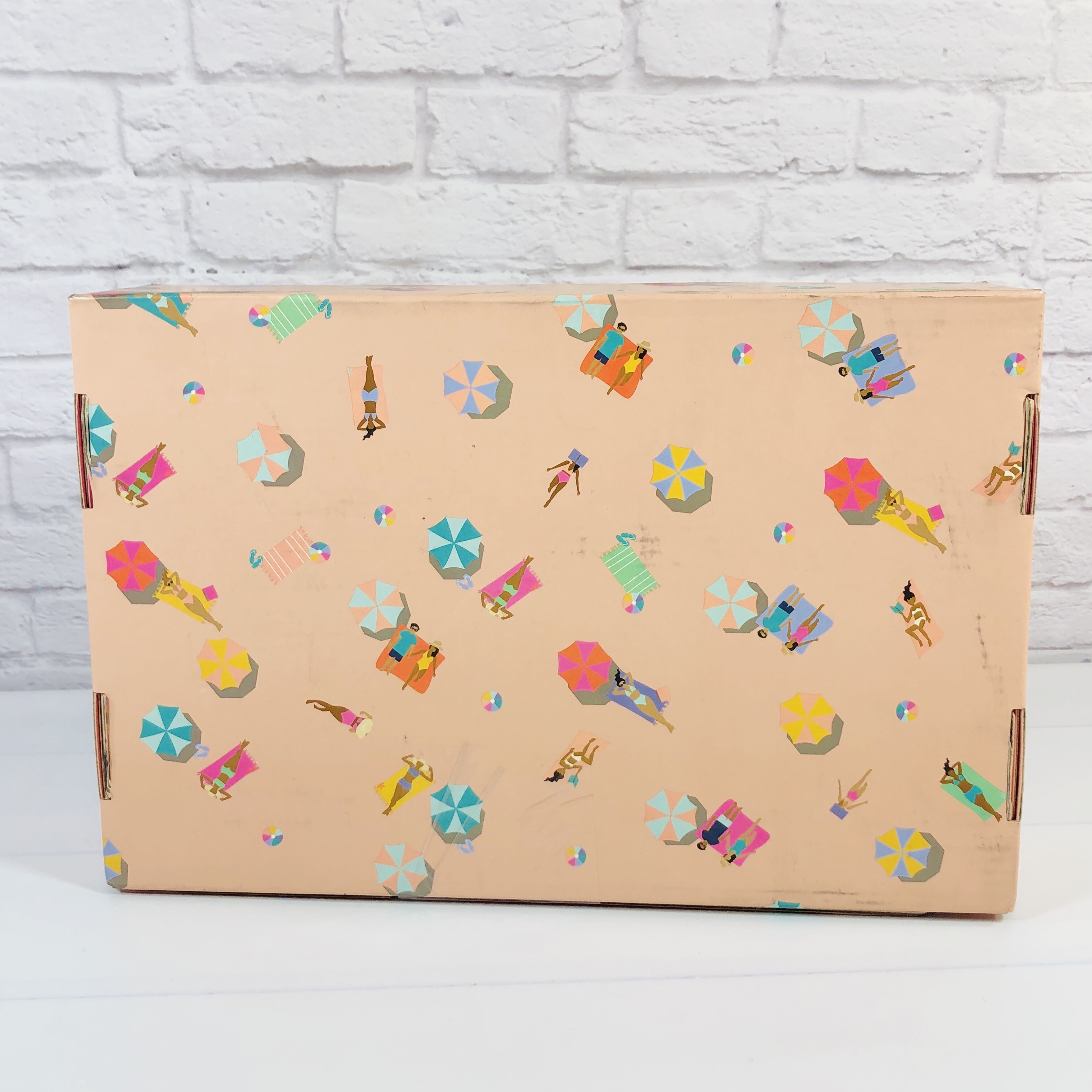 Erin Condren's Seasonal Surprise Box is a quarterly planner accessories and stationery box featuring early access items, popular accessories, and exclusive surprises from Erin Condren. This box isn't available by subscription; you must purchase each box individually. This box usually sells out quickly but click here and tap that blue bell to get notified when the next box becomes available! The box is $40 and includes free shipping to the US.
Our Seasonal Surprise Box is a hand-picked assortment of sneak peeks, exclusives, and best-selling items in a beautiful, reversible, giftable box. This is a special edition, can't-miss collection bursting with wonderful winter surprises!
DEAL: FYI – if you use this referral link to register for the site, you'll get a $10 coupon code emailed to you. It may not work on the box purchase. You can use it on pretty much anything on the site.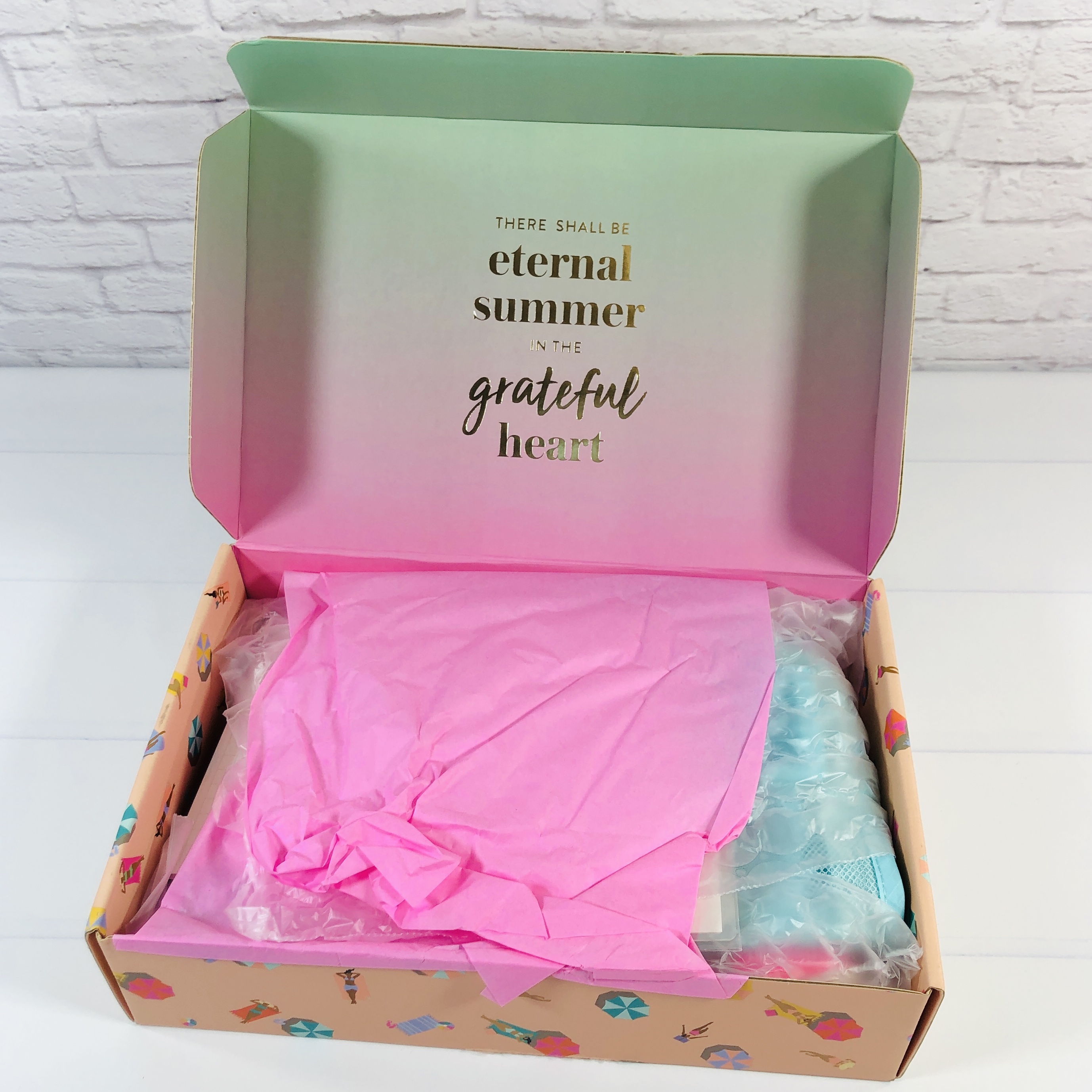 The inside of the box has an inspirational saying printed in metallic. You can turn the box inside out and have the saying on the outside if you would like to use it for storage! The items were wrapped in tissue paper and bubble wrap and arrived in perfect condition.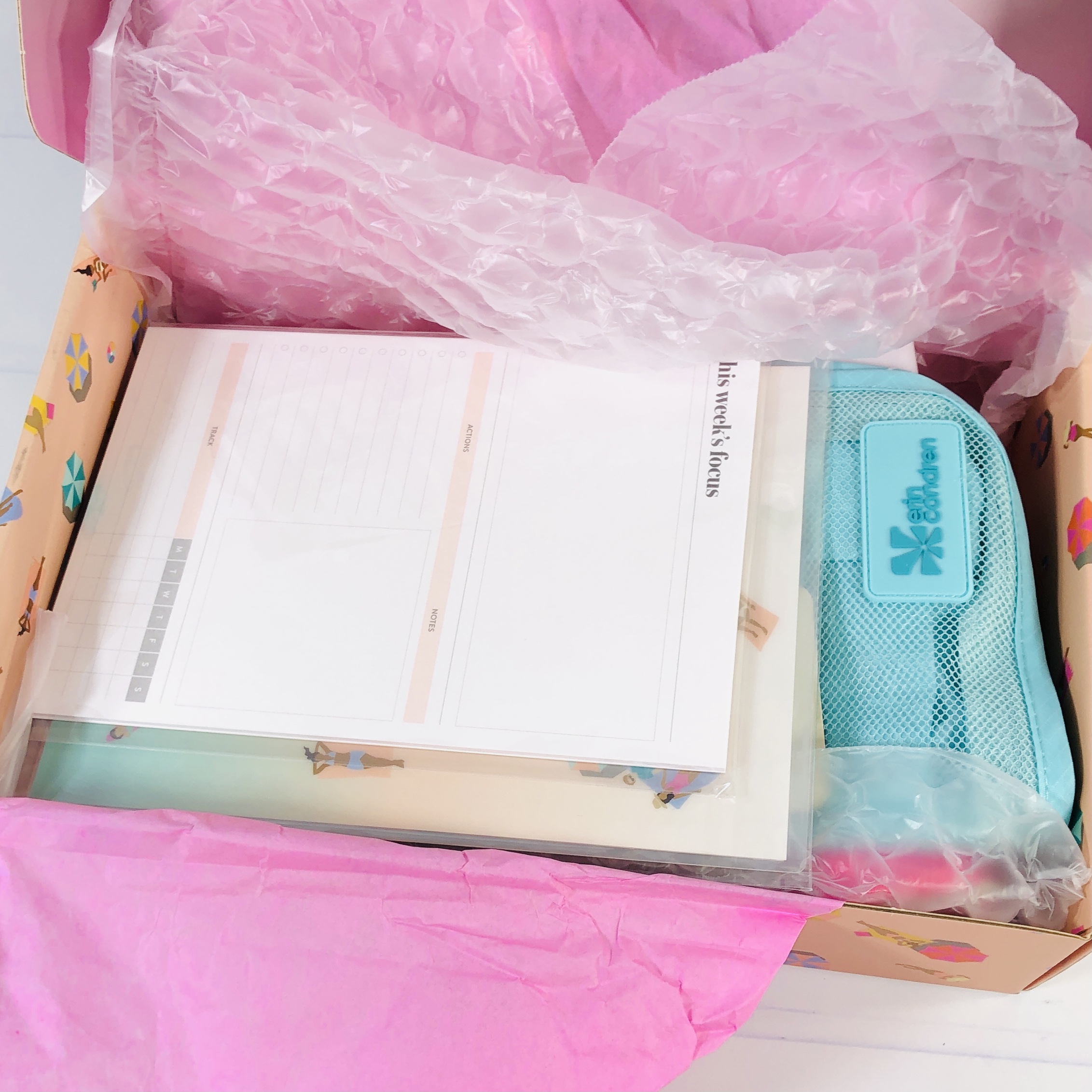 First peek!
The theme for the Summer 2021 Box is SUMMER ADVENTURES!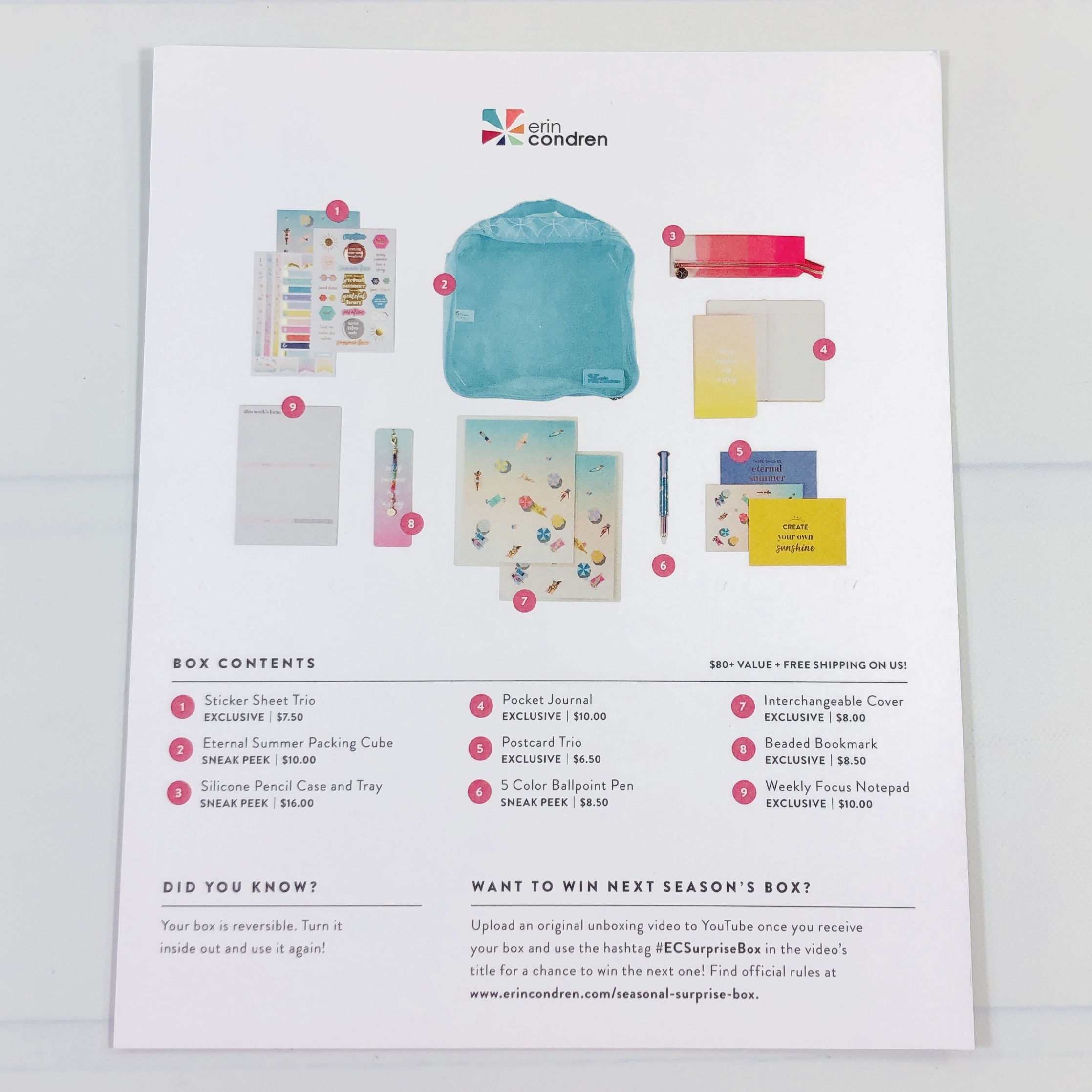 On the other side I found a picture list of all the items included. Some of the items may be available at Erin Condren retail locations, some may be coming soon, and others are exclusive to the box. It also described how you can win a box by posting to social media!
Everything in my box!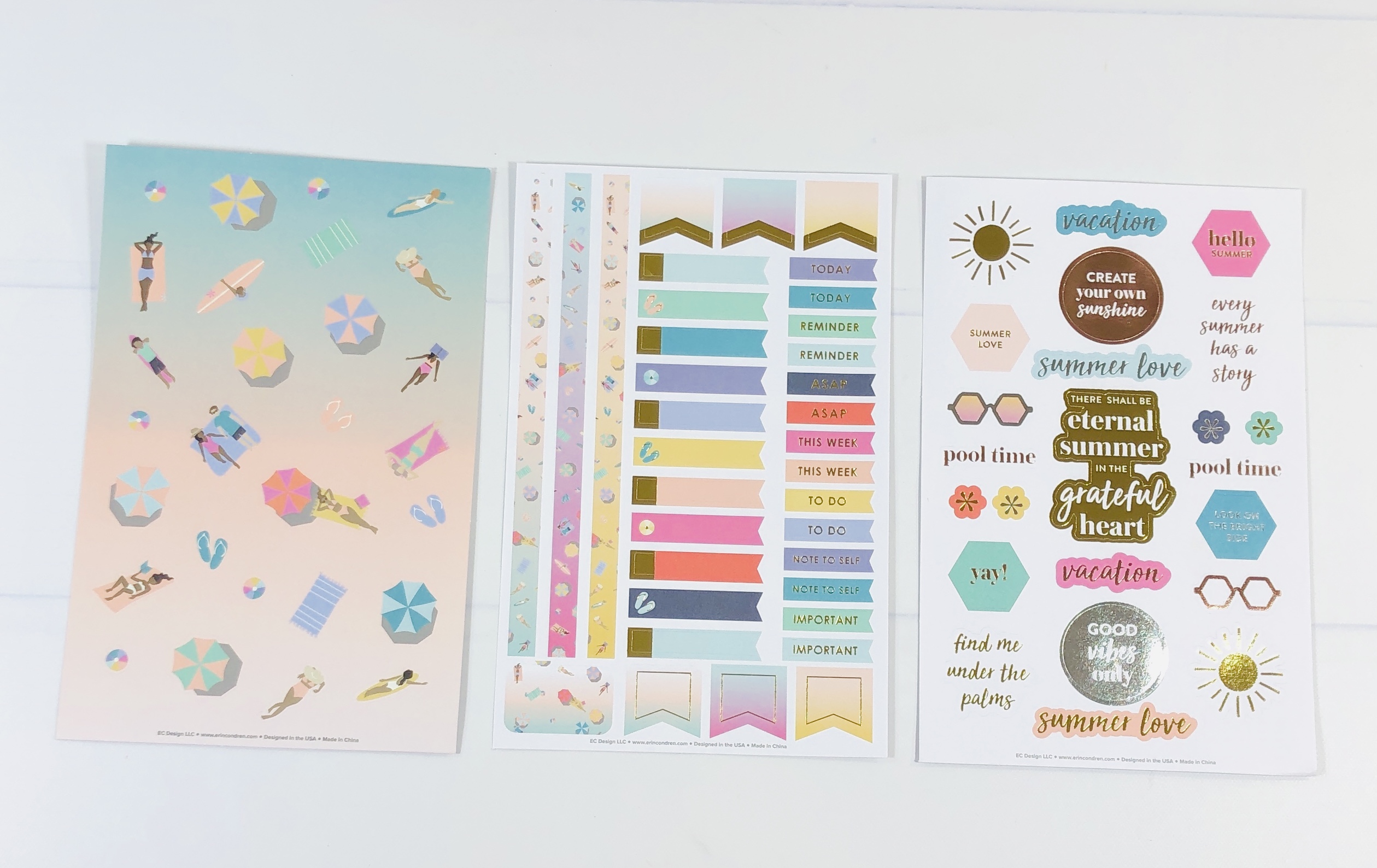 Sticker Sheet Trio ($7.50) This summery set is an exclusive item just for this box!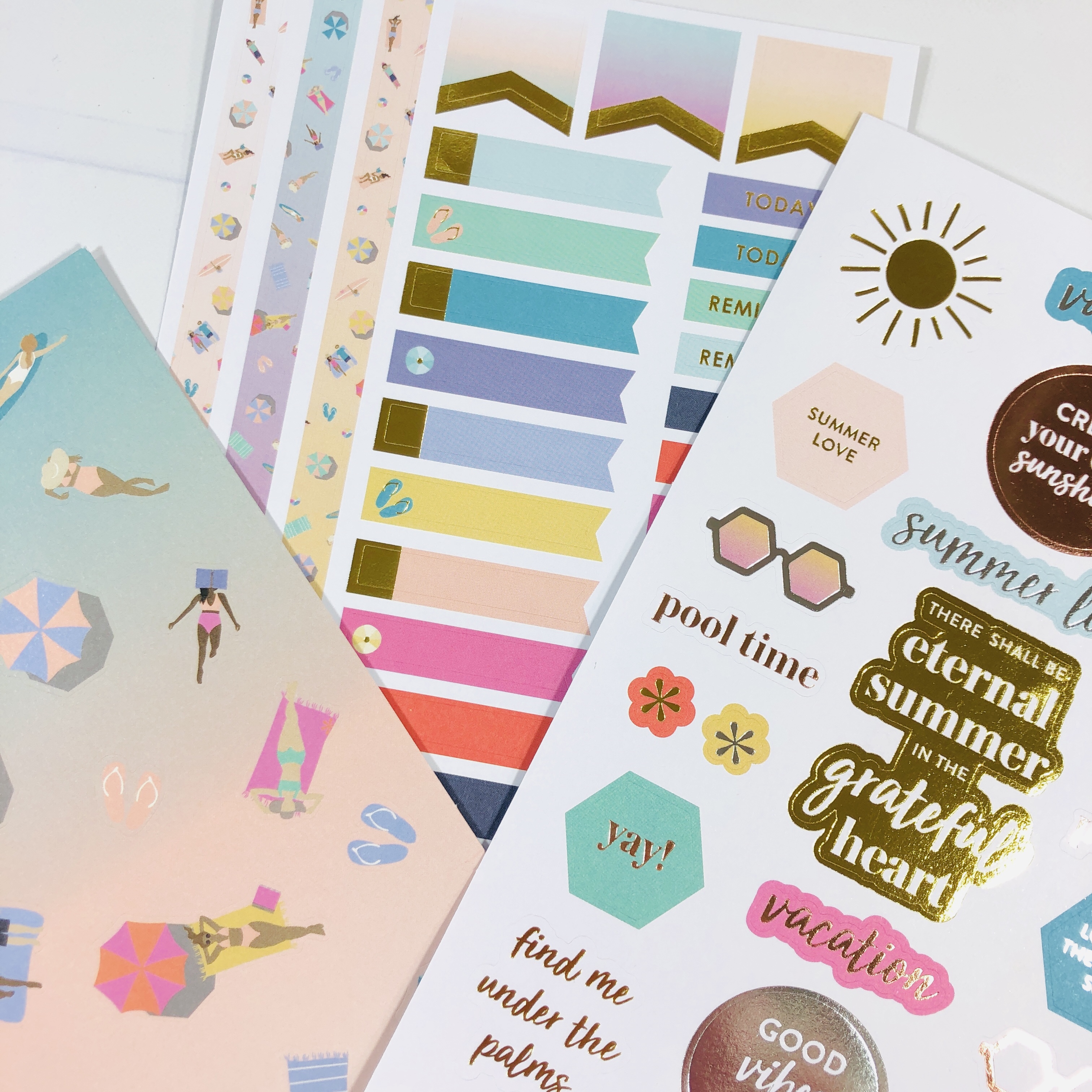 There's a sheet with people and umbrellas at the beach, beachy borders on the productivity sheet, and fun words on the last sheet. Those last two sheets have gold metallic touches.
Eternal Summer Packaging Cube ($10) is a sneak peek item so it should be coming soon!
It has mesh netting on one side, along with an Erin Condren tag on the bottom front. There is a carrying handle and the whole thing seems like it can be hand washed. It reminds me of parachute material, maybe it's called ripstop?
The back has the classic Mid Century Circles design and there are two zipper pulls. It measures about 10″H x 12″L x 5″W and I am happy to have this to keep stuff organized in my suitcase. It would also work well as a wet bathing suit bag.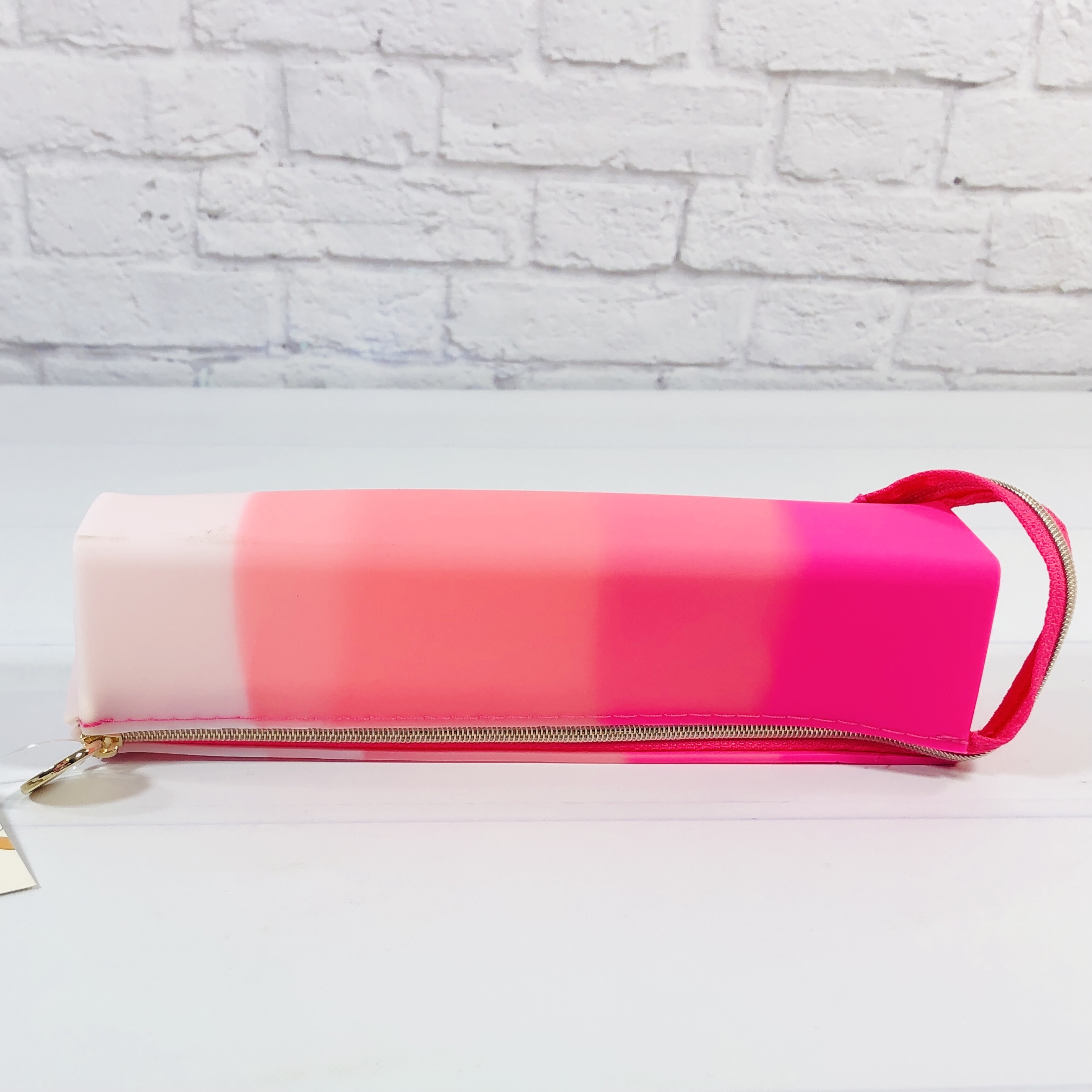 Silicone Pencil Case and Tray ($16) is an other sneak peek item and it feels so cool, it's made of silicone!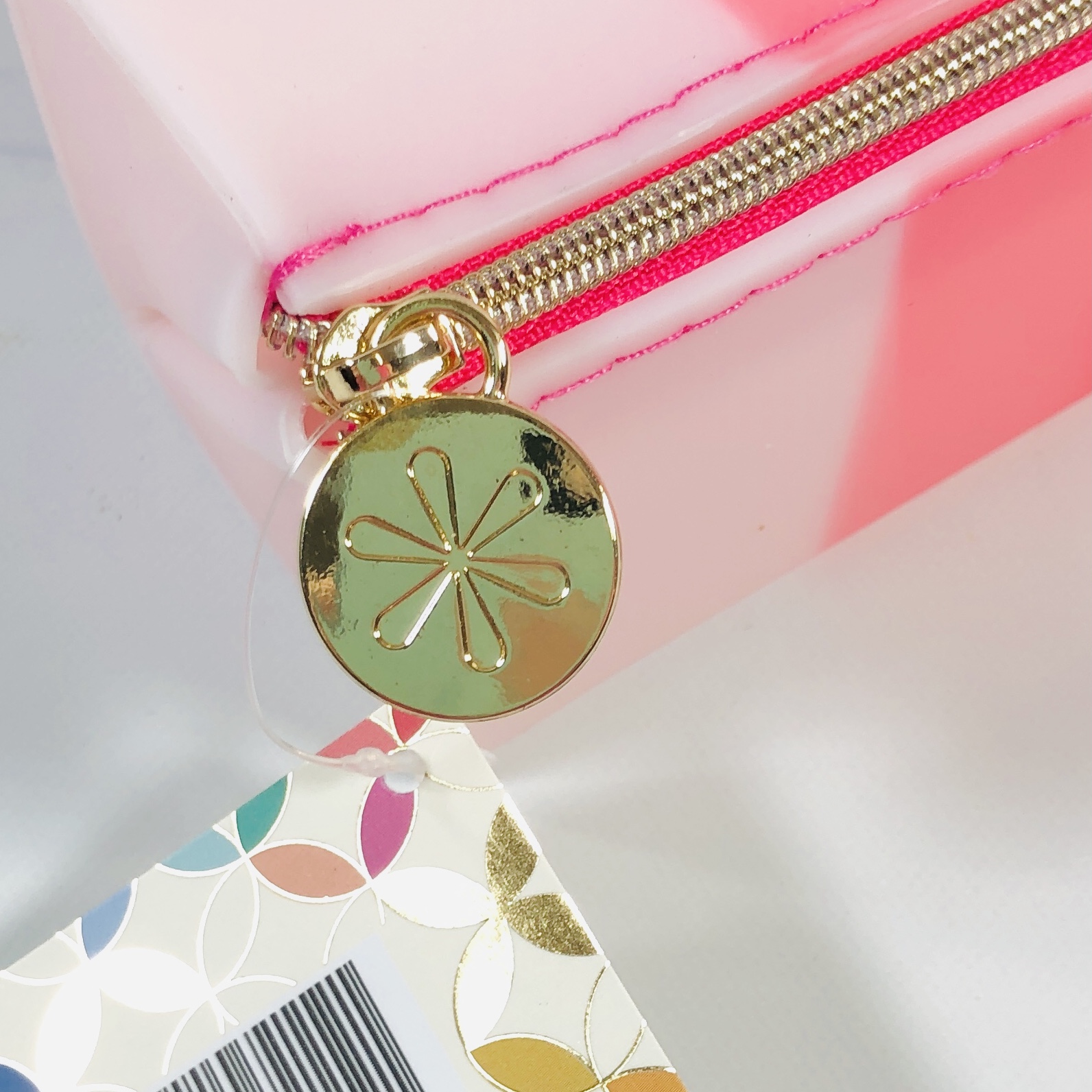 It has a gold zipper pull.
There's a snap that comes undone and when you unzip the bag it opens wide. I like the ombre pink colors and think this will come in handy for carrying more than just pens.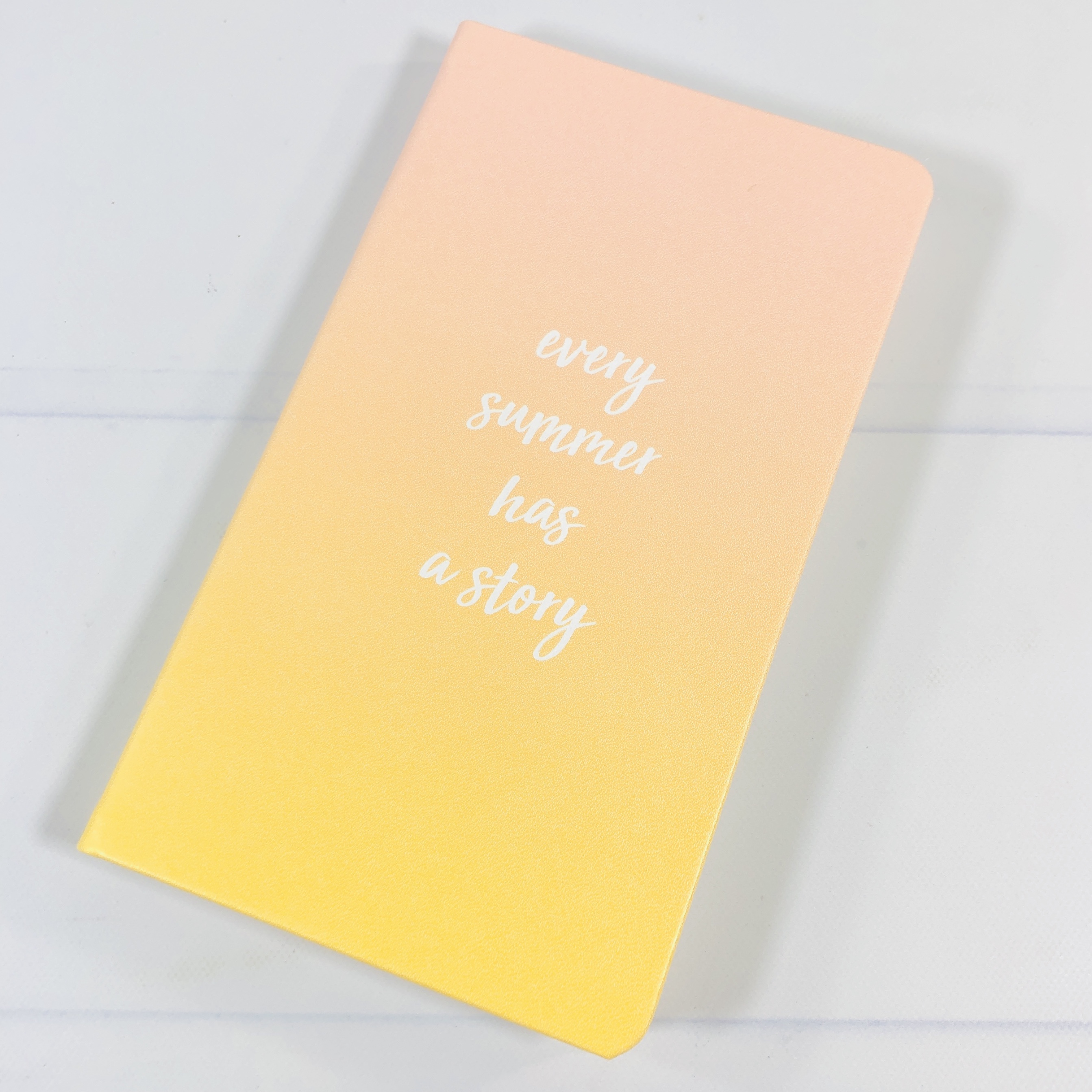 Pocket Journal ($10) is an exclusive item, just for this box!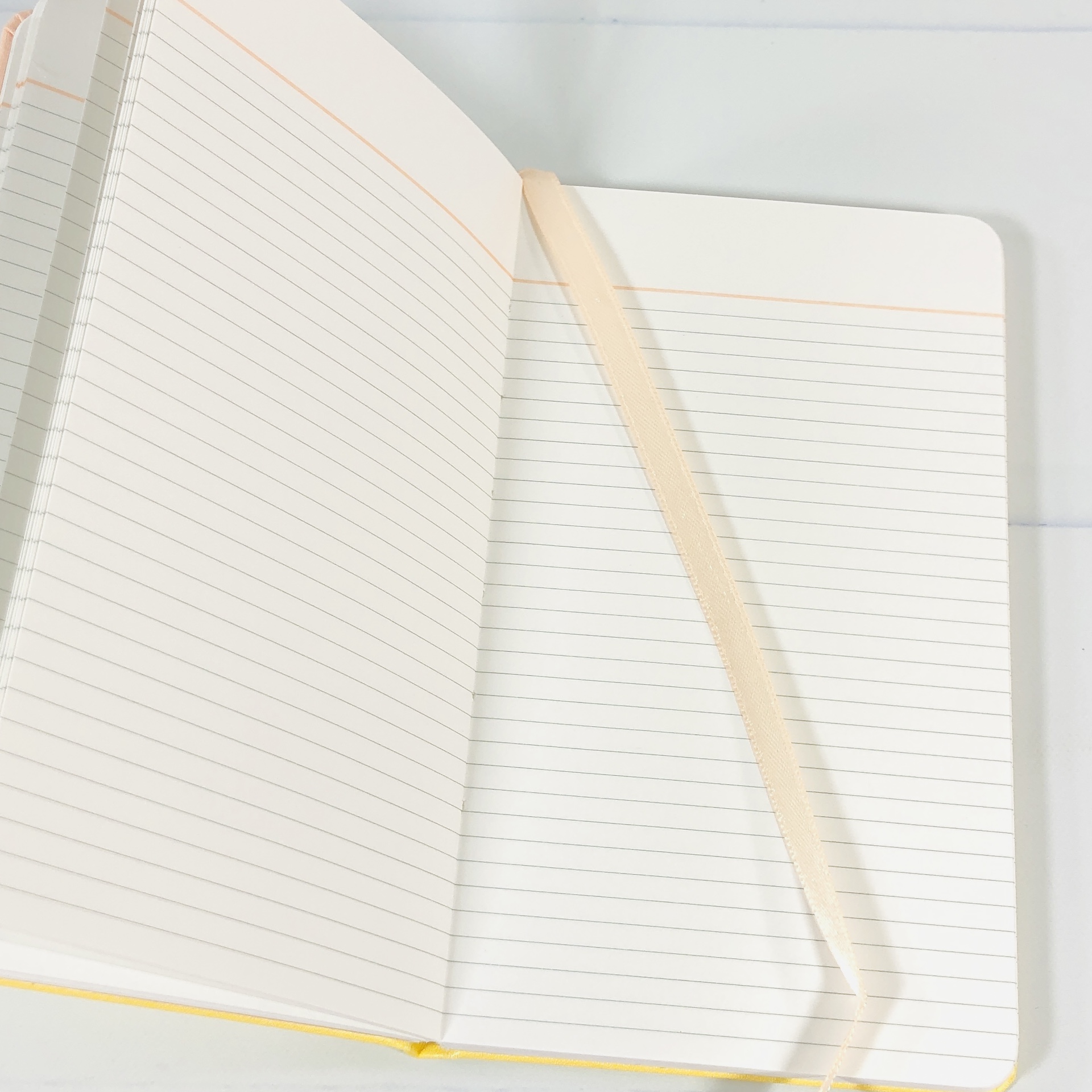 The notebook has 120 lined pages and is 3.5″ x 6.25″. There is a ribbon bookmark attached.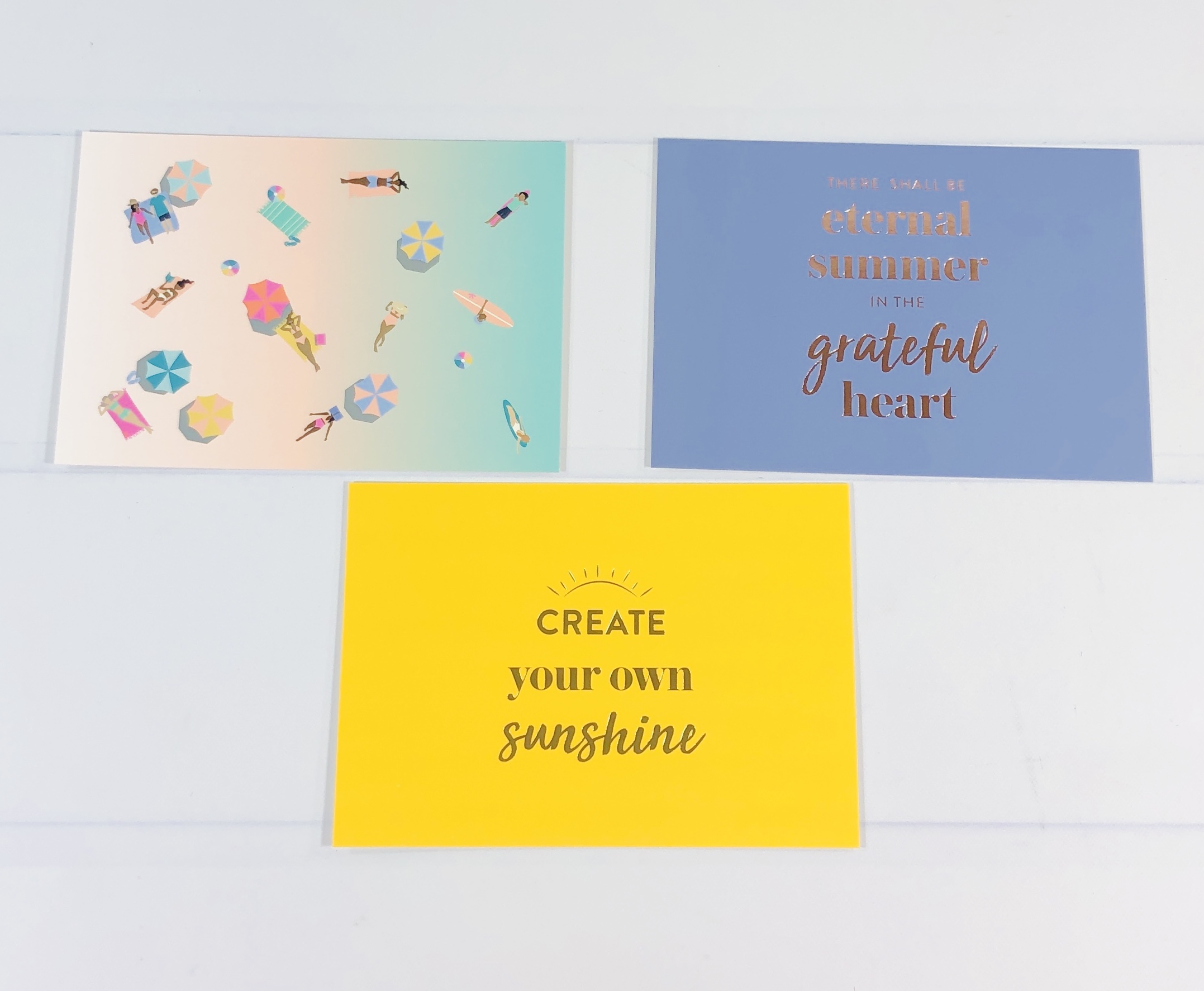 Post Card Trio ($6.50) Next we have another exclusive item, a set of three 6″ x 4.35″ postcards.
The beach scene is matte but the other two cards have metallic letters.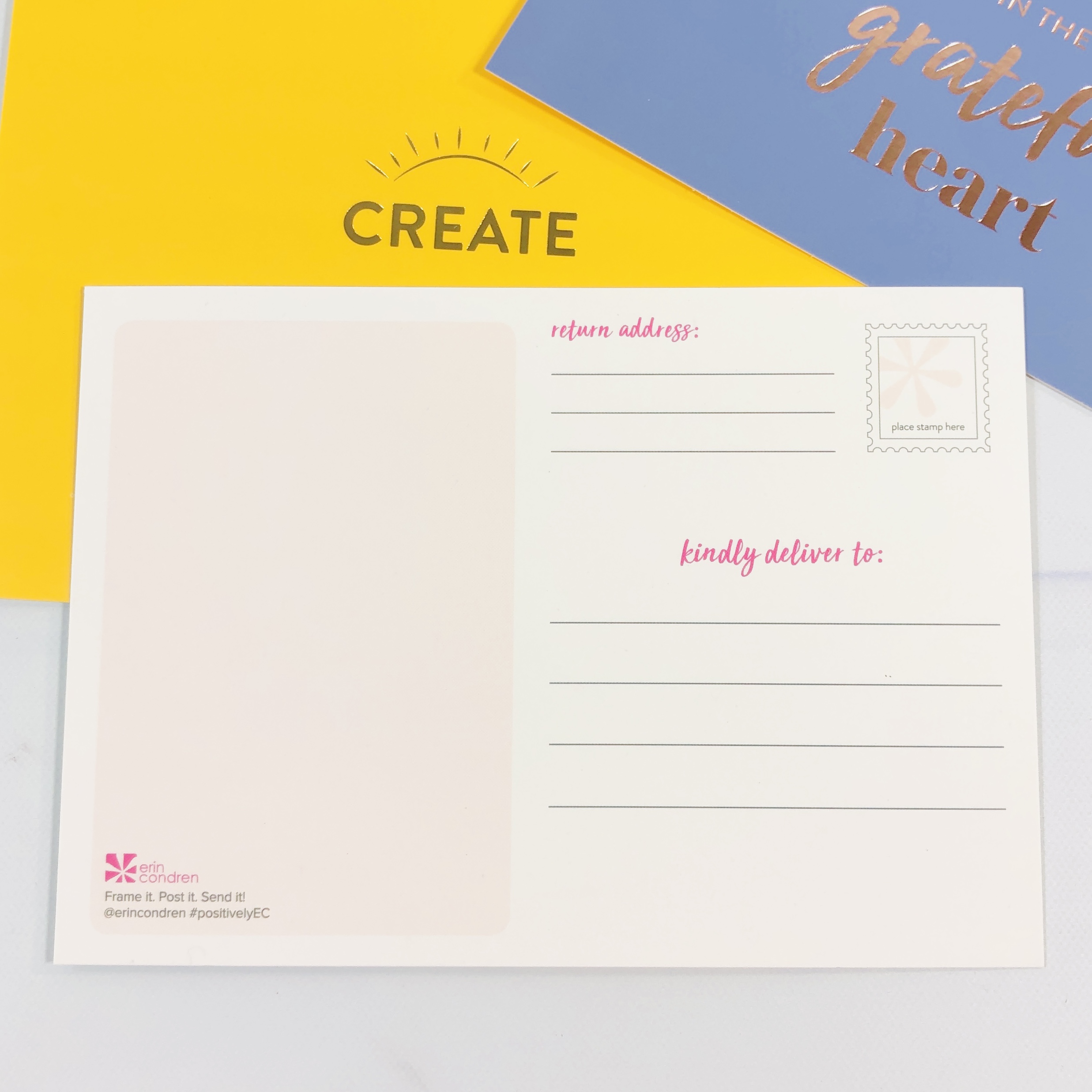 They can be sent to a friend or prop them on a stand for desk art.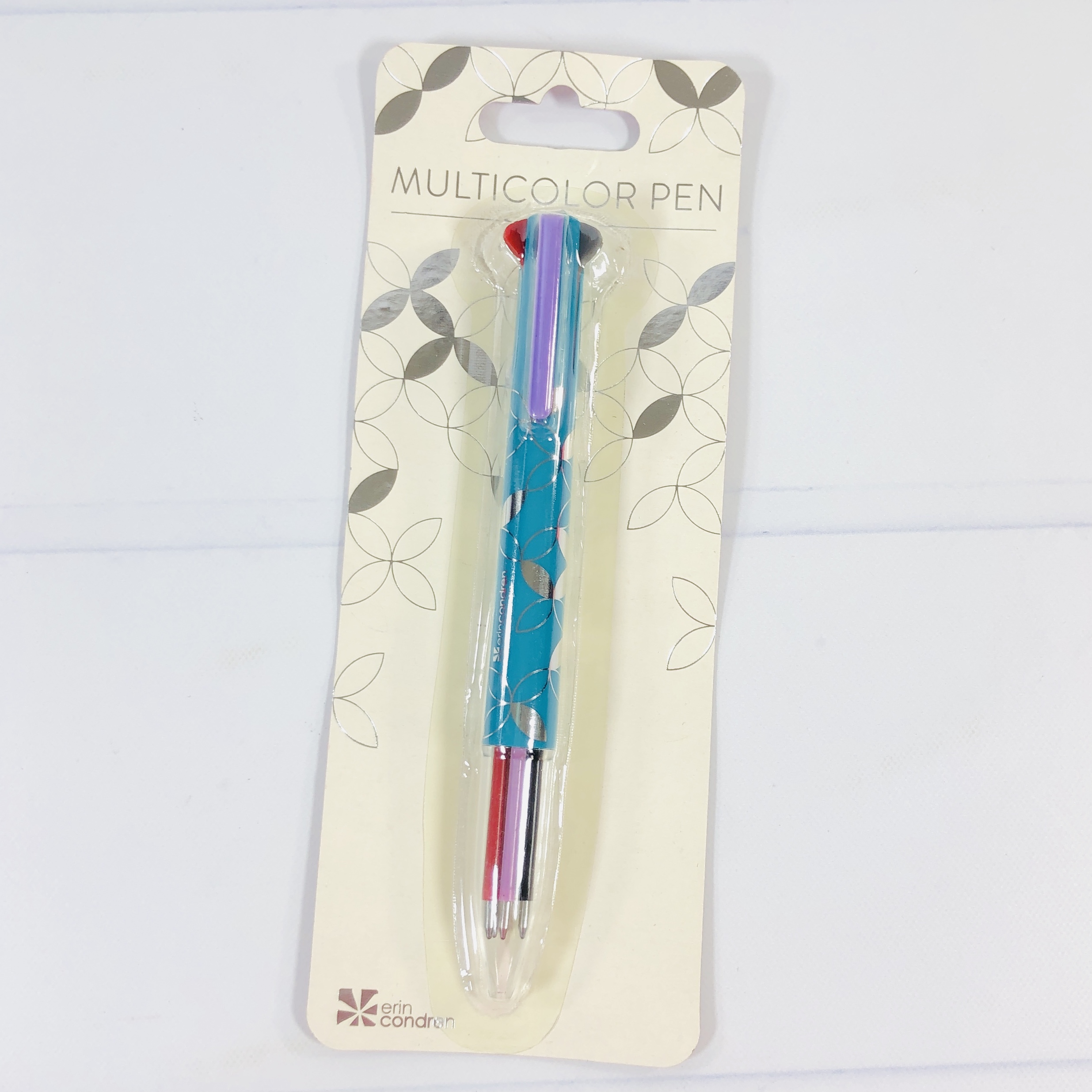 5 Color Ballpoint Pen ($8.50) is coming soon. I always had fun playing with this type of pen when I was a kid.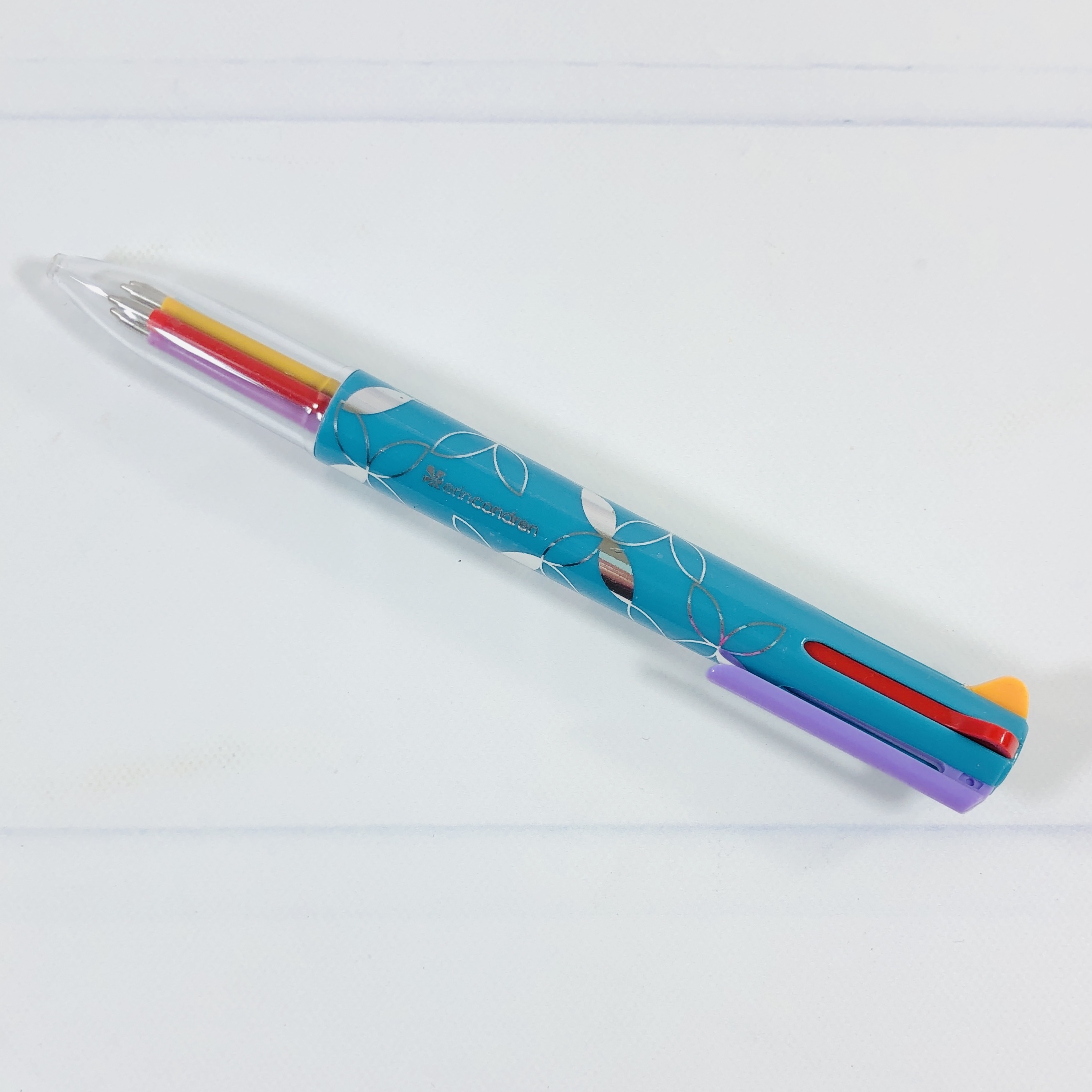 You can pick from 5 different colors!
You can slide the color of whichever barrel you choose and the head will pop out. Just depress the barrel again and the head will retract.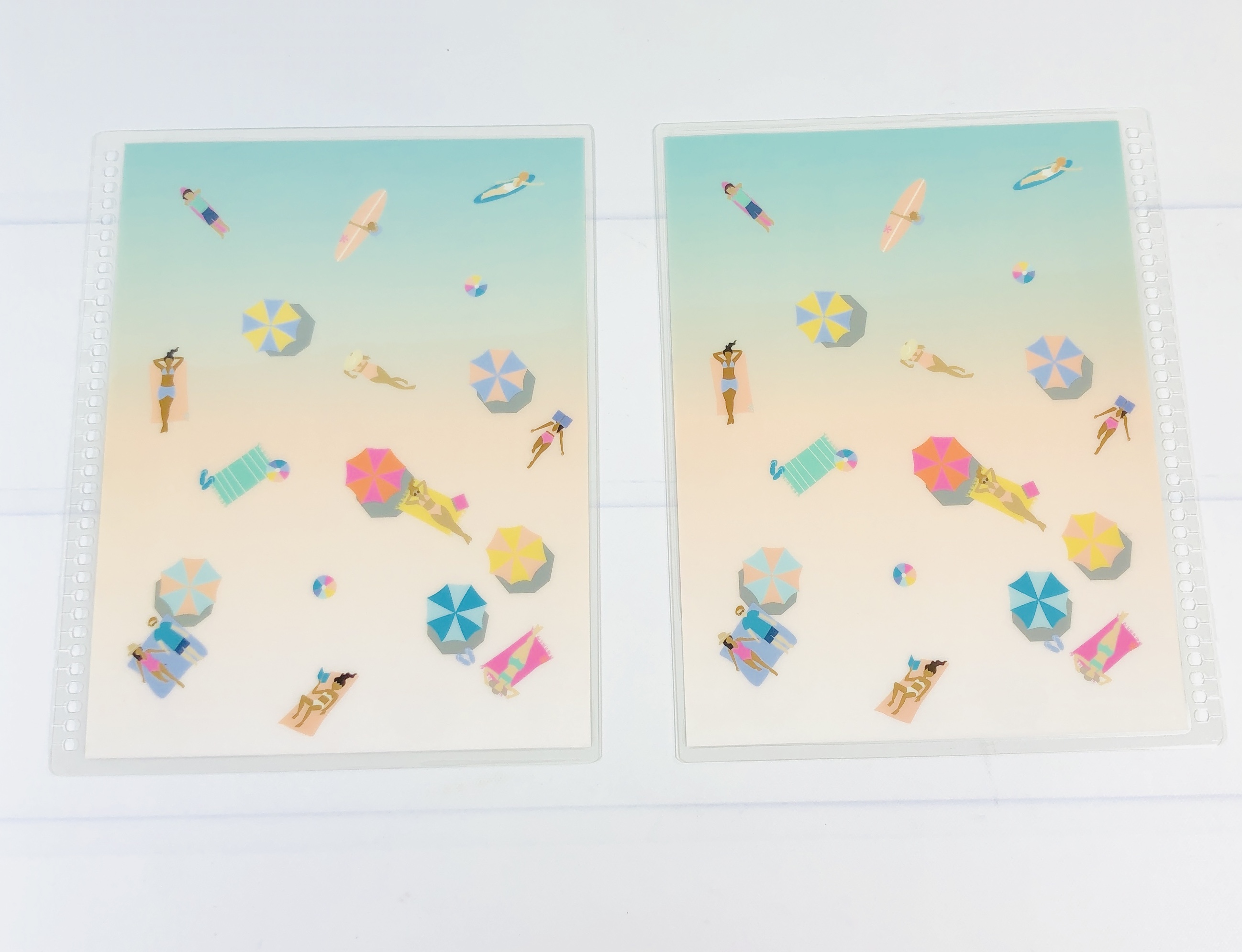 Interchangeable Cover ($8) is an exclusive item and it will make my planner look ready for summer.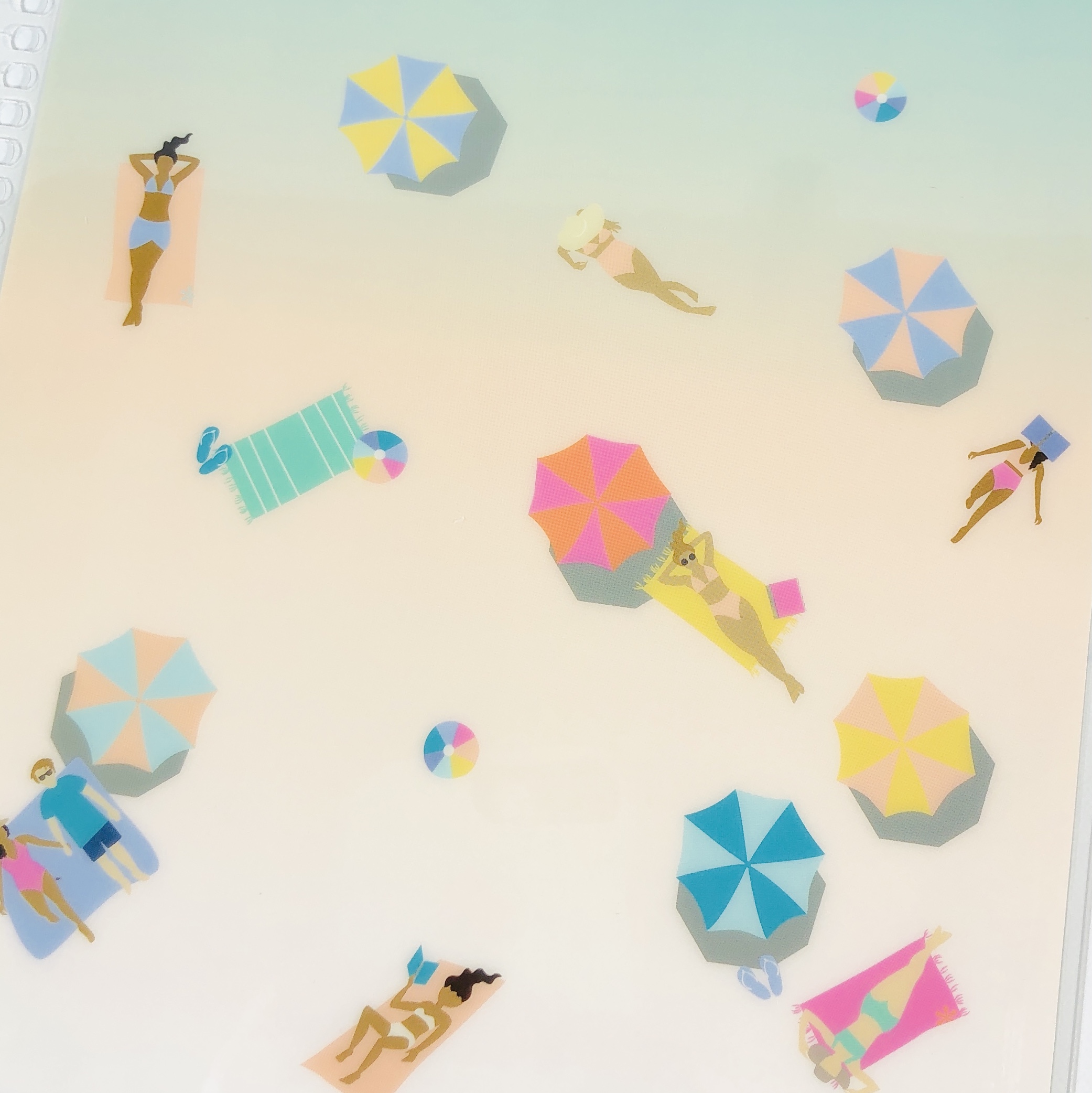 The outside of both covers has this beach scene.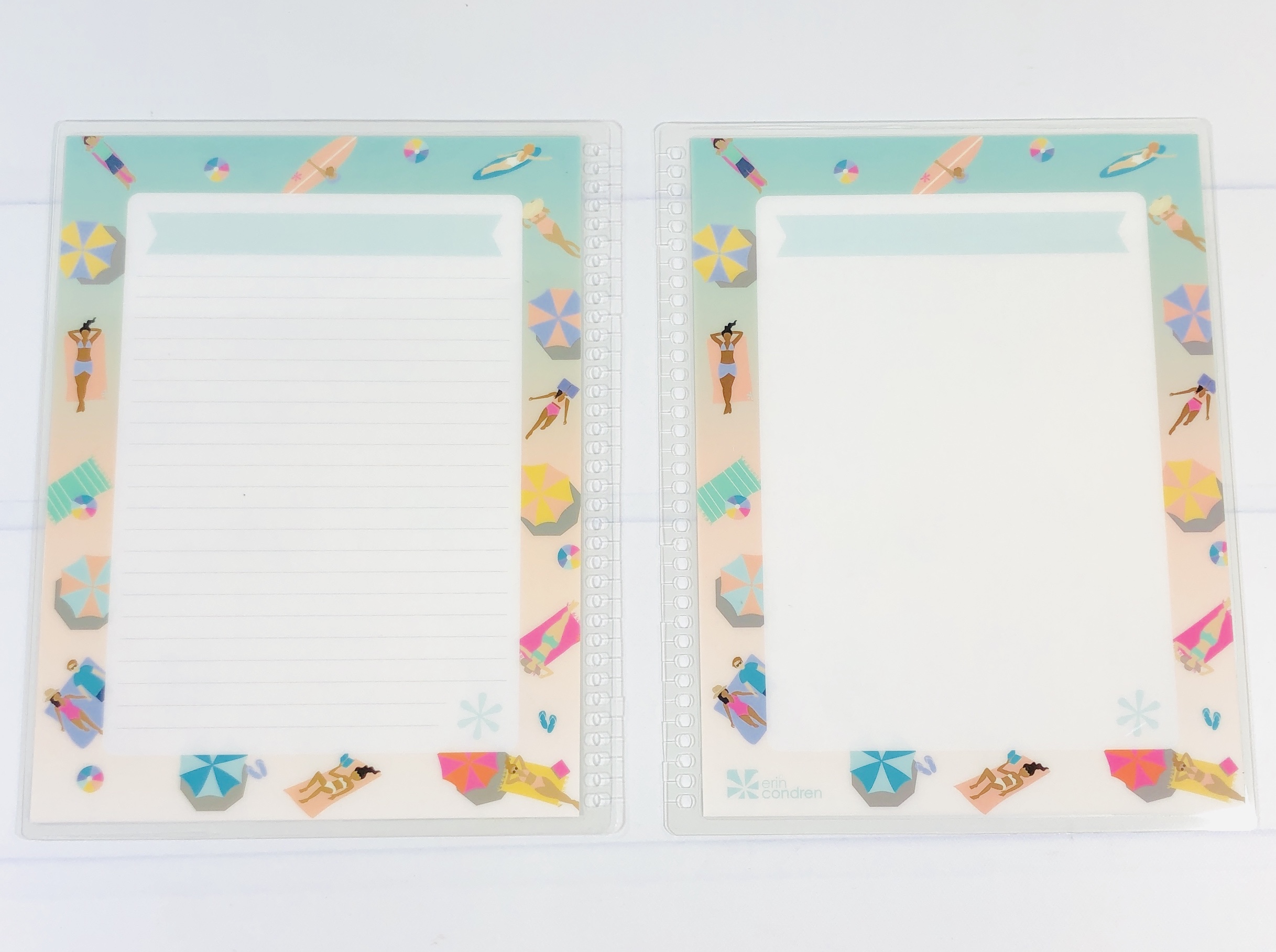 The inside covers are wet erase boards!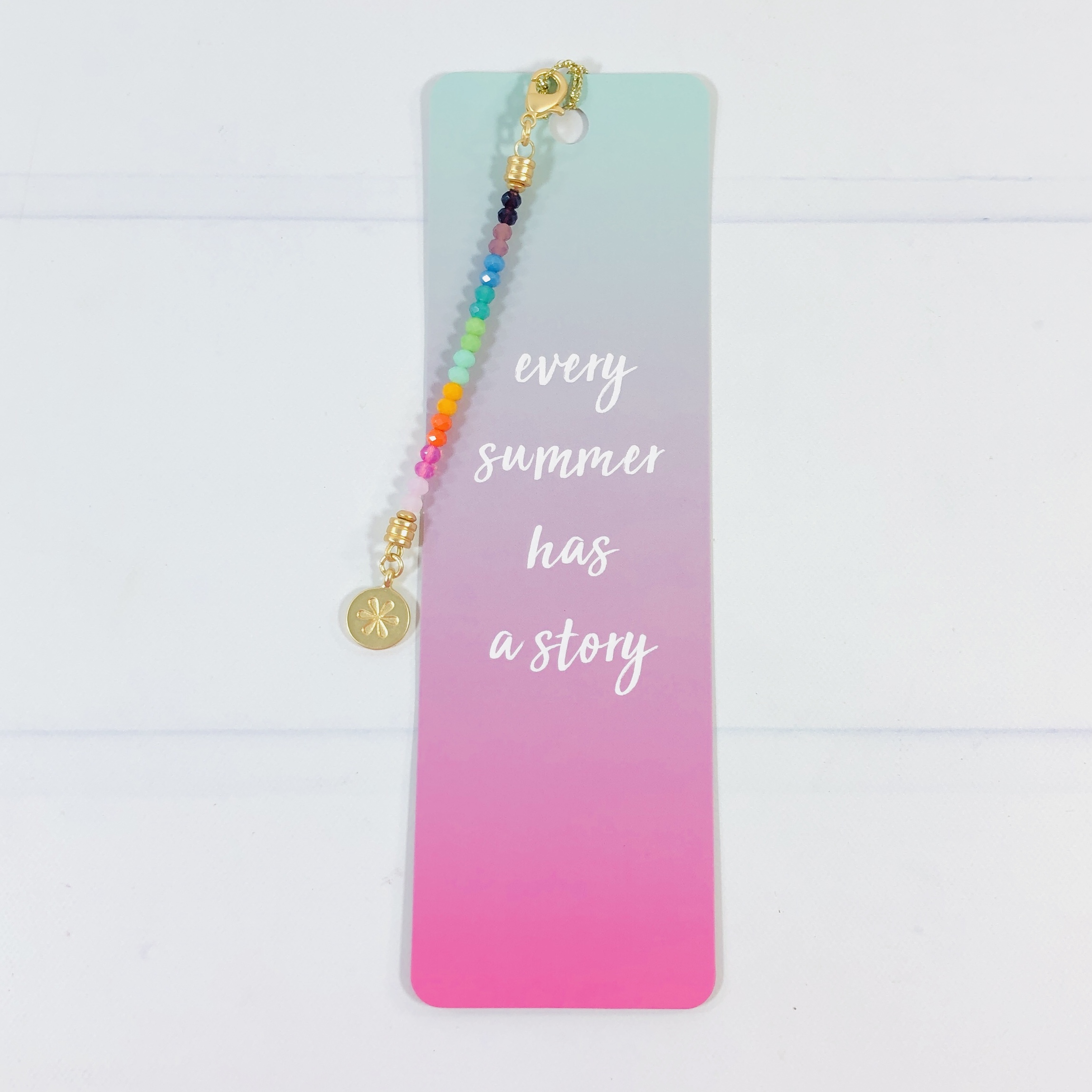 Beaded Bookmark ($8.50) is exclusive to the box and I am excited to use this in my latest read. The back has that repeating beach scene but this time the people are absent.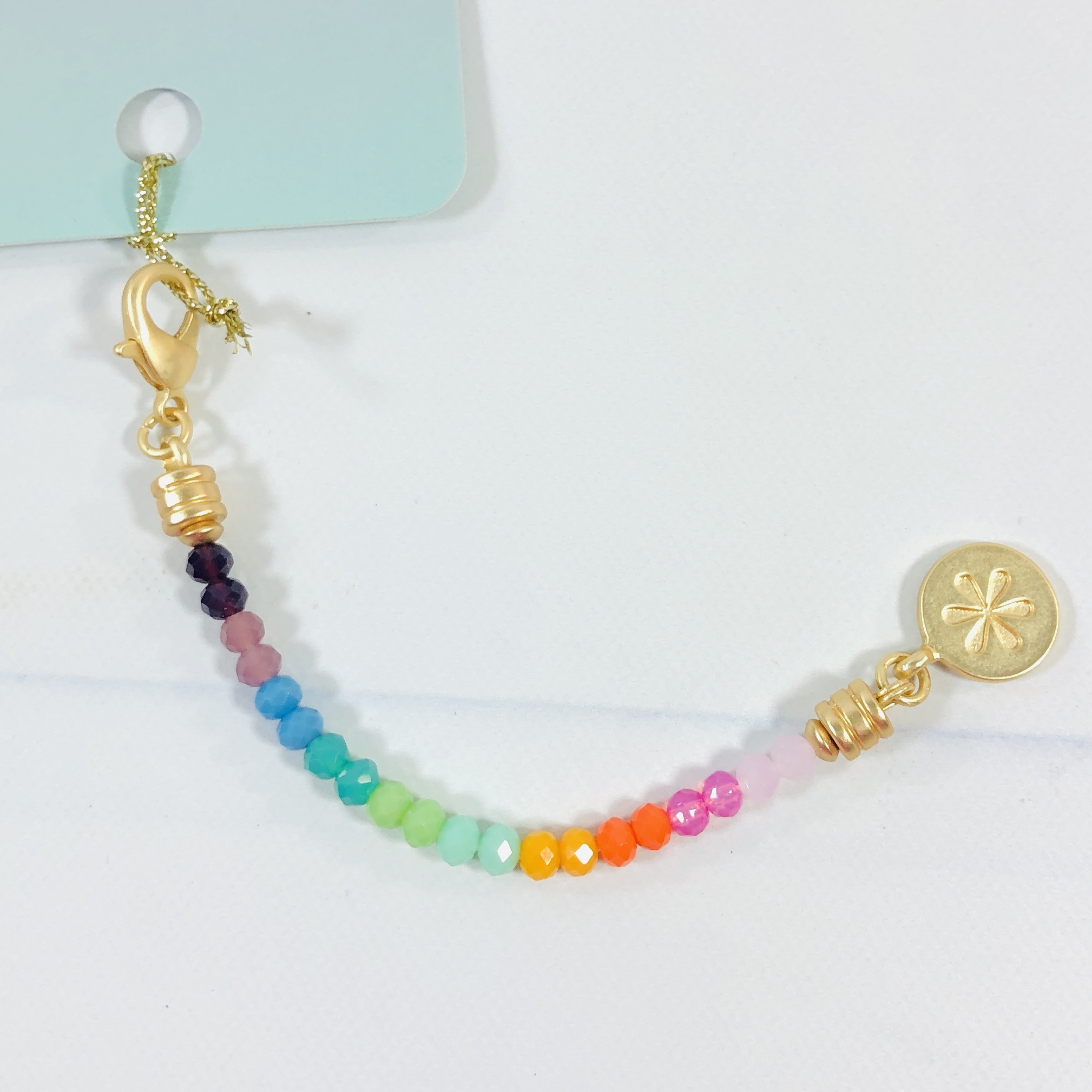 I love the rainbow colored beads, and there's a charm on the end.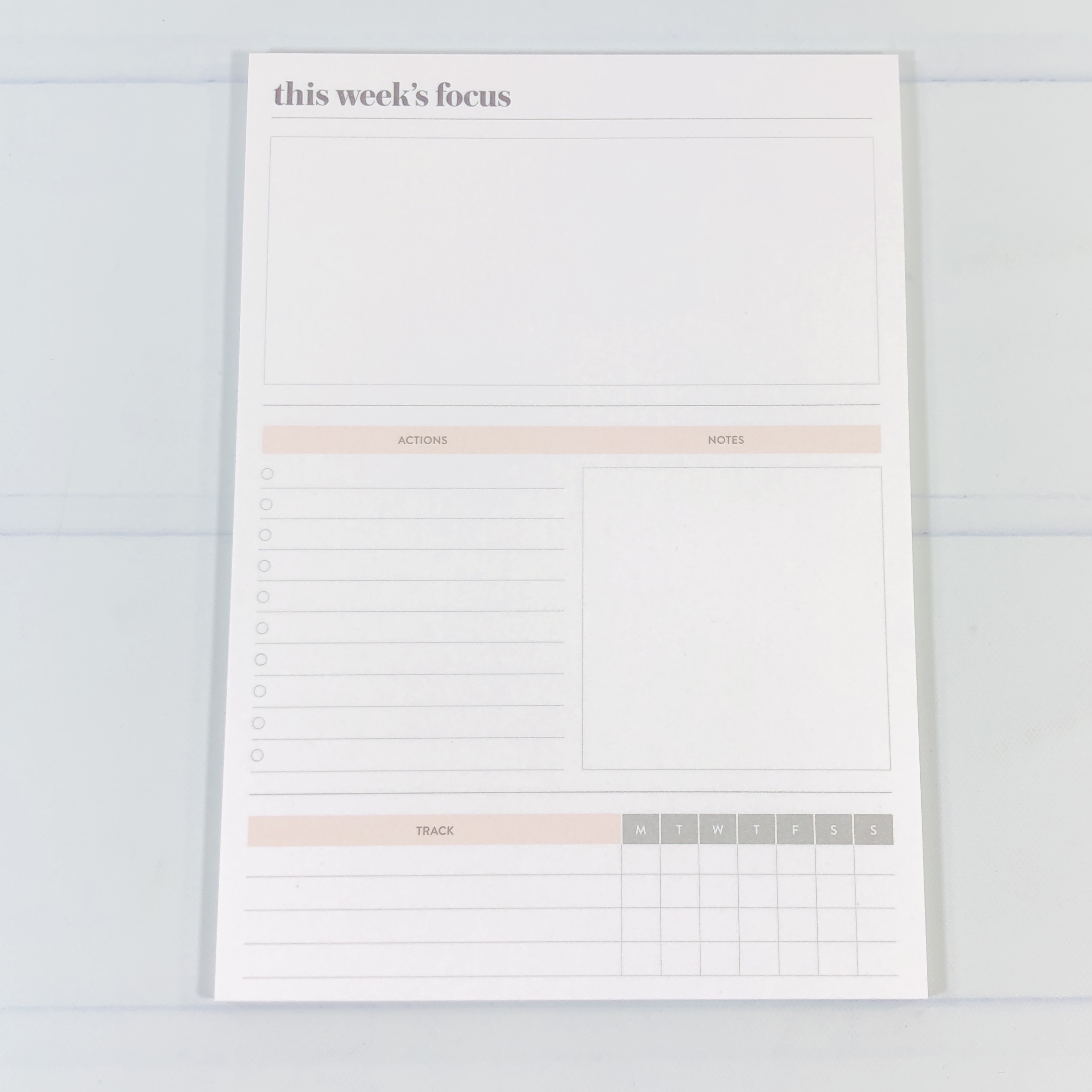 Weekly Focus Notepad ($10) is the final exclusive item and let me tell you, I love the notepads that come from Erin Conden!
Here's a closer loo. There's the blank part at the top, then a checklist on the left, note space on the right. The bottom has space for tracking activities. The pad measures 8.5″ x 6″.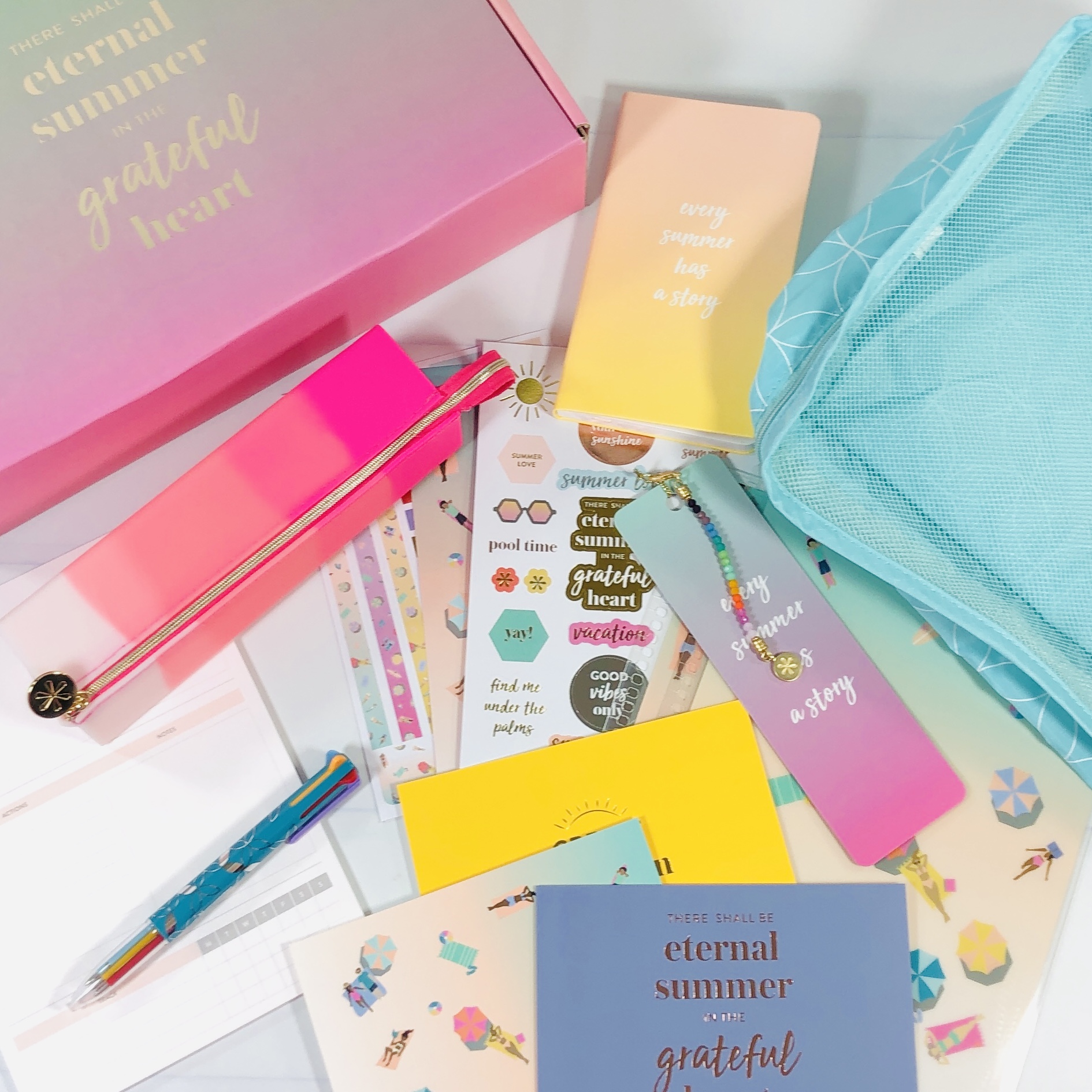 I love the summery color scheme for the summer version of the Seasonal Surprise box from Erin Condren! I love using my LifePlanner and this set provided some pretty stickers and a timely cover for my planner. The stationery items, like the pen and postcards, are cute and the notebook and notepad are helpful. The packing cube and pencil case are adorable and the bookmark is going straight into a summery novel! The box itself (shown turned inside out here) is perfect for storing my new products, but also works well for holding all of my pens, or sticker collection, or stationery. I like that some of the items are exclusive to the box, I think it adds to the value.
What did you think of the box?
Visit Erin Condren Seasonal Surprise Box to subscribe or find out more!