We have the FULL spoilers for the Alltrue Summer 2021 Welcome Box – available to preorder now! The regular Summer box has sold out. FYI, Alltrue was formerly known as CAUSEBOX.
DEAL: Save 20% ($10.99) on your first box when you use this link and coupon code SU20!
If you sign up for an Annual Membership, you will be able to customize your box and save an additional $20 on your membership for the year!
Here's all the variations for everything in the Summer 2021 Alltrue Box: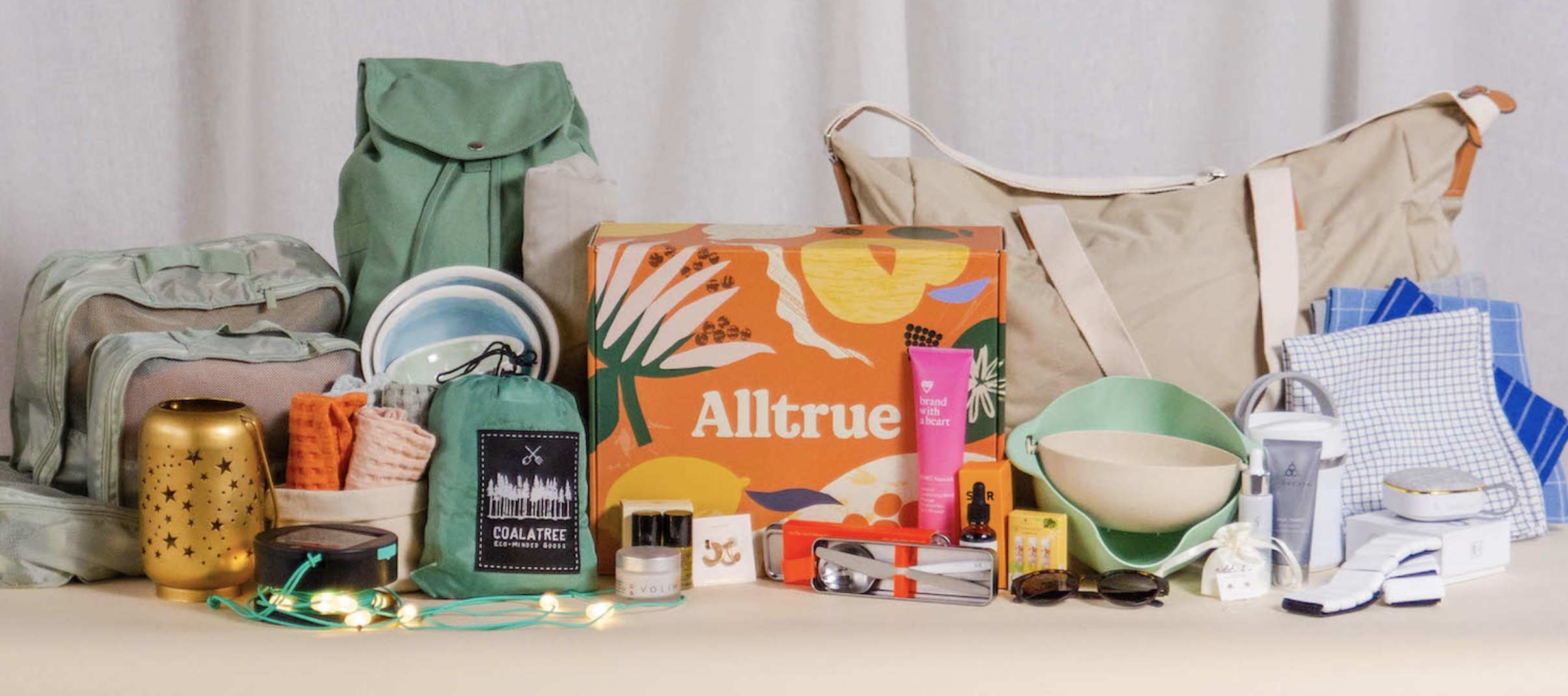 Celebrate the little joys, revel in new beginnings, savor the sunshine, and make the world a better place. Yep, the summer curation helps you do all that and more. Up to $250+ value for just $50.
There are over 3,000+ ways you can customize your box, the most choices they have EVER had in a box!
Choice #1:
– Luci Solar String Lights by MPOWERD ($44.95 value)
– Canvas Backpack (Sage) by Palm + Perkins ($48 value)
– 1/2 LB. Weighted Bangles (in Bone, Marble, or Charcoal) by Bala ($40 value)
– Wanderlust Travel Speaker by LSTN ($99.99 value)
– Travel Weekender Bag (Pebble) by Boon Supply ($48 value)
– Summer Tassel Wrap by Ashiana London ($58 value)
Choice #2:
– Avala Tortoise Cateye Sunglasses by Eco Eyewear ($135 value)
– Packable Hammock by Coalatree ($64 value)
– Set of 4 Waffle Dishcloths with Canvas Holder by Golden & Pine ($28 value)
– Set of 4 Upcycled Napkins by Palm + Perkins ($38 value)
– To-Go Bowl by Reduce by Reduce ($20 value)
– Set of 3 Packing Cubes by MYTAGALONGS ($42 value)
Choice #3:
– Mini Colander & Bowl by Boon Supply ($16 value)
– Set of 3 Nesting Bowls by Pepper + Vetiver ($36 value)
– Milky Way Lantern by Artisan Direct ($40 value)
– Plant-Based Retinol Alternative Serum by COSMEDIX ($80 value)
Choice #4:
– Thick Gold Hoops by Sanctuary Project ($38 value)
– Traveling Cutlery Set by Small:Hours ($25 value)
– Moisturizing Hyaluronic Acid Cream by COSMEDIX ($60 value)
Choice #5:
– Brightening Face Serum by Way of Will ($37.50 value)
– Love Scrub by Volim ($56 value)
– OMG Leave-In Conditioner Blend by Brand with a Heart ($18 value)
– Solo Stone Bracelet by Ettika ($35 value)
Choice #6:
– Power Couple Nail Care Duo by Adesse New York ($36 value)
– Hawaiian SPF 15 Lip Trio by Hanalei Company ($20 value)
You can upgrade your subscription box to include Alltrue's editorial print magazine All Good Things for $7.95/quarter. You can also upgrade to a carbon-neutral shipping option for $1/quarter. Annual members can make customizations on variation items and add on additional choices from the box.
Take a closer look:
ITEM 1: Annual subscribers may choose between one of the following items – seasonal subscribers will get one:
MPOWERED Luci Solar String Lights
These solar-powered string lights illuminate any warm evening, from camp cooking to backyard BBQs. Charge on the go and enjoy up to 20 hours of light. A $45 value.
PALM + PERKINS Canvas Backpack
A must have for those music festivals making their return. Take just the essentials with this cute and sporty canvas mini-backpack — perfect for bike rides, brunch dates, or whenever when you want to be hands free. A $48.00 value.
BALA 1/2 lb Bala Bangles
Add just a little extra punch to any workout routine with these ½ pound bangles. Wear on your wrist or ankles for your next yoga class, power walk, or even laundry day. A $40 value.
BOON SUPPLY Weekender Bag
OOO and out of town. The Boon Supply Weekender Bag is just the right size for all your essentials, in a sleek pebble color with vegan leather details. A $48 value.
LSTN Bluetooth Speaker
Take the sounds of summer with you wherever you go. The LSTN Bluetooth speaker is perfect for any outdoor adventure. Connect via Bluetooth and play your favorite playlist or go old school and listen to the radio. A $99.99 value.
ASHIANA LONDON Summer Tassel Wrap
A breezy summertime wrap made with nearly sheer cotton for the slightest bit of warmth. Did we mention it has tassels? Throw on this wrap and add a lightweight, flowy accent to any outfit. A $58 value.
---
ITEM 2: Annual subscribers may choose between one of the following items – seasonal subscribers will get one:
MODO AVALA Tortoise Cateye Sunglasses
With a rounded Cateye shape and classic tortoise shade, the Avala is soon to be your sunny pick for afternoon drives and trips to the beach alike. The Avala is made from a castor seed oil/plastic blend, a step in the direction of sustainability. A $135 value.
Golden & Pine Waffle Dishcloths ($20 value)
Dress up your daily dining with these 100% cotton waffle dish towels, made with non-toxic, low impact dyes. In coordinated summertime hues with a canvas holder that's perfect for countertop storage, these towels were woven on traditional looms in India by a women-led artisan team.
Reduce To-Go Bowl ($20 value)
This 18 oz. to-go bowl will keep hot food hot for 6 hours and cold food cold for 20, whether you're making your office return or having a picnic in the park. Made with stainless steel, this to-go bowl vacuum seals and won't sweat no matter what you put in it.
MYTAGALONGS Packing Cubes ($20 value)
Made from recycled plastic water bottles, these packing cubes will help keep your things organized when we can safely return to the skies. Not ready to travel anytime soon? Packing cubes are also a great option for at-home dresser and closet storage!
Coalatree Packable Hammock ($20 value)
With a durable material and a simple loop design, the Coalatree Hammock's lightweight, portable construction makes it easy to pack up those summertime feels and bring them along for the ride, wherever it takes you. Whether you swing along with palm trees or redwoods, make sure to take the hammock down at the end of the night to preserve it for years to come.
PALM + PERKINS Set of 4 Upcycled Napkins
Complementary patterns in cool tones. Made from cotton scraps and upcycled plastic water bottles, these Palm + Perkins napkins are perfect for your next picnic or family dinner night. A $38 value.
---
ITEM 3: Annual subscribers may choose between one of the following items – seasonal subscribers will get one:
>BOON SUPPLY Mini Colander & Bowl
Strain, drain, and wash with ease. This mini colander and bowl set from Boon Supply makes that all just a little easier. Made from a wheat straw, starch, and food-grade polypropylene blend, a step towards sustainability. A $16 value.
PEPPER + VETIVER Set of 3 Nesting Bowls
Designed in partnership with LA-based artist Erin Wolf. Add a sense of serenity to your home with the blended blue-green hues and textured, undulating shapes of these nesting bowls. A $36 value.
ARTISAN DIRECT Milky Way Lantern
It's written in the stars. This lantern was ethically made by our artisan team in India. Insert a tea candle and light up the night, perfect for summer evening dinners on the patio. A $40 value.
COSMEDIX Bakuchiol Complete Plant-Based Retinol Alternative Serum
Retinol is the queen bee of every skincare cabinet. Known for its wrinkle-reducing rejuvenation, your favorite beauty blog and just about every dermatologist around sing its praises. This plant-based retinol serum is formulated to get you results without any harsh ingredients.
---
ITEM 4: Annual subscribers may choose between one of the following items – seasonal subscribers will get one:
Traveling Cutlery Set by Small Hours
We've all been there: the drive-thru lane. We take our takeout with a side of plastic cutlery because we're on the go and totally forget to pack our own. Here's a simple solution: stash this stainless steel cutlery set in your glove box so you can just say no to single-use.
Sanctuary Project Thick Gold Hoops
Spruce up your Zoom call look. Sanctuary Project is a non-profit social enterprise providing employment to survivors of trafficking, violence, and addiction. A $38 value.
COSMEDIX Skin Thirst Moisturizing Hyaluronic Acid Cream
Keep skin hydrated and reduce shine with the COSMEDIX Mattifying Moisturizer. Made with hyaluronic acid, this moisturizer fights off free radicals and helps your skin hold onto moisture for that in-demand dewy glow.
---
ITEM 5: Annual subscribers may choose between one of the following items – seasonal subscribers will get one:
 Solo Stone Bracelet by Ettika
An ethical swap for the classic sparkly staple, cubic zirconia is a conflict-free choice that, unless you're trained to spot the difference, is all but indistinguishable from the real deal. This simple yet sophisticated piece is perfect for daily wear. A portion of profits from this bracelet support the Loveland Foundation, an organization that helps communities of color, specifically Black women and girls, gain access to healing through therapy, residency programs, and more.
VOLIM Love Scrub
For a fresh-faced, glowing look. The Volim Love Scrub not only rejuvenates the skin, but it also helps diminish the appearance of fine lines and wrinkles. Volim is all about making products that embody their three founding principles: quality, fairness, and results. They believe science and nature make the best team, and their dermatologists, estheticians, and formulators use both to create products that'll give you real results. A $56 value.
Brand With a Heart
OMG Leave-in Conditioner Blend
Nature and science team up to tame your mane in this leave-in conditioner. Take your tresses on a tropical vacation without leaving home. Lather it in and let the natural botanicals work their magic — your hair will be silky smooth and frizz free in no time flat. Comb this conditioner onto wet or dry hair and style as usual, then just wait to see the results. A $18 value.
Way Of Will
Brightening Face Serum
When it comes to your skincare routine, Vitamin C is the brightening sunshine-in-a-serum we all could use more of. An antioxidant, Vitamin C helps protect your skin from the sun and other environmental aggressors like free radicals. It also brightens, evens out skin tone, and boosts collagen production (aka reduces wrinkles), giving you a glowing, rejuvenated, dewy look. A $37.50 value.
---
ITEM 6: Annual subscribers may choose between one of the following items – seasonal subscribers will get one:
Hanalei Hawaiian SPF Lip Balm Trio – Tropical Citrus, Island Mint, and Unscented
Say aloha to softer lips! The finishing touch to each Summer Box is this creamy, moisturizing, and nourishing lip balm set — aka, the understated necessity of the season that we're sure you'll thank us for later.
This tropical trio is made with ultra-moisturizing and essential fatty acid rich Hawaiian Kukui Nut Oil, sun-blocking SPF, and an organic, vegan, and cruelty free formula packed with antioxidants to protect, nourish, and restore your lips after a long summer in the sun.
ADESSE NEW YORK Power Couple Nail Care Duo
This custom-for-CAUSEBOX dynamic duo will strengthen dry, brittle nails and keep your cuticles in tip top shape. A $36 value.
Art print:
Art print by Jordan Amy Lee, a London-based illustrator whose work incorporates bold colors, stripped-back compositions, and delicate textures.
This season's box art brings all the delightful summer vibes with a playful, geometric pattern featuring minimal, organic shapes in warm colors.
Currently Alltrue offers a "membership that matters" with a quarterly subscription box curated with full-size socially conscious products for women. In each box, you'll receive 5-8 seasonal lifestyle products that are focused on ethical and sustainable production, donate a percentage of profits to charity, or aim to inspire and empower others. They also offer "seasonal markets, inspiration for intentional living, and a community that cares."