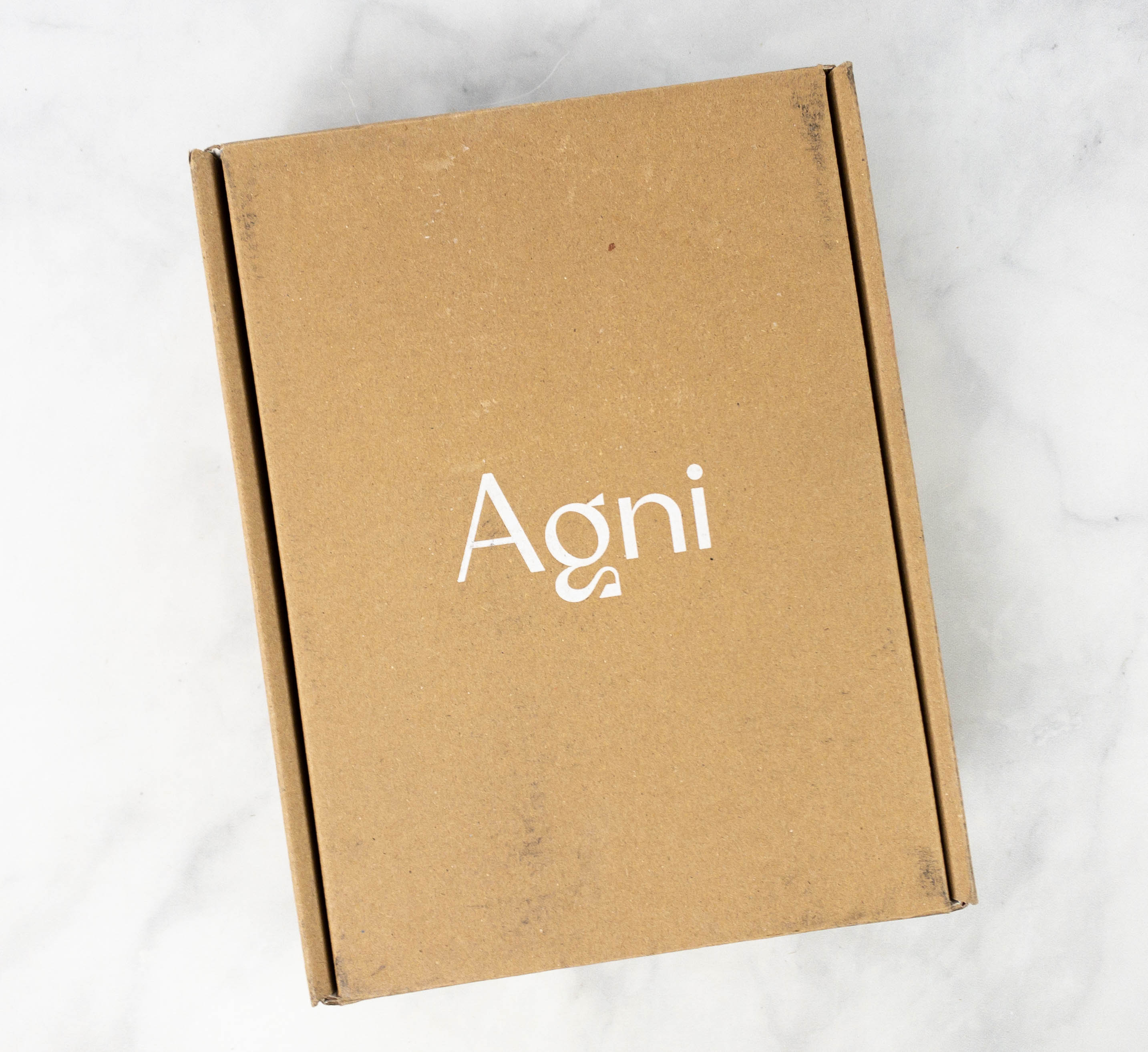 Agni is a brand for women that makes tasty healing food, including cookies, teas, and seasonings to support the body and promote better periods, fertility, postpartum recovery, and even immune and digestive health. Their health support foods are made of 100% whole ingredients and are free of gluten, soy, dairy, and processed ingredients to provide maximum healing and nutritional benefits for your body.
Agni's curated offerings include Fertility Box ($65), Monthly Mama Box ($65), Better Periods Box ($48), Seed Cycling Box ($32), and Complete Women's Health Box ($75). From naturally increasing your fertility to supporting better hormone balance, they've crafted solutions that are tailored to your phase of life.
Individual products include the Oatmeal Chocolate Chip Cookie ($18), Peppermint Chasteberry Tea ($16), Tulsi Cinnamon Tea ($16), Sesame Nori Seasoning ($16), Cinnamon Maca Seasoning ($16), Double Chocolate Chip Cookie ($18).
This is a review of the Monthly Mama Box, which is designed to include healing foods for the postpartum journey. For this one, you can opt for a 1-month, 3-month, or 6-month subscription.
DEAL: Save 10% on your order with this link and coupon code WELCOMEAGNI!
The items arrived in a brown box.
We've got you!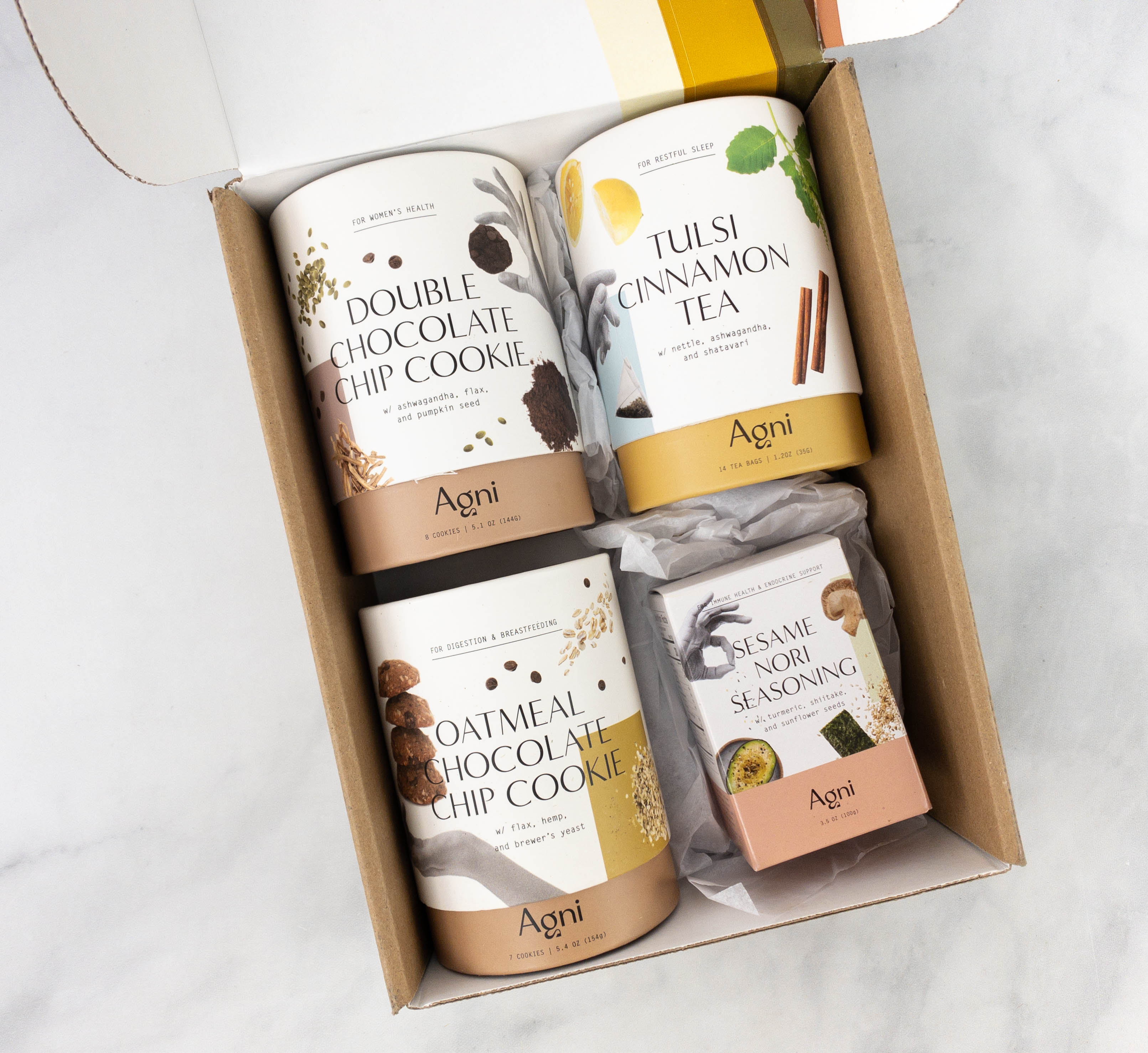 All the items were tucked neatly inside the box.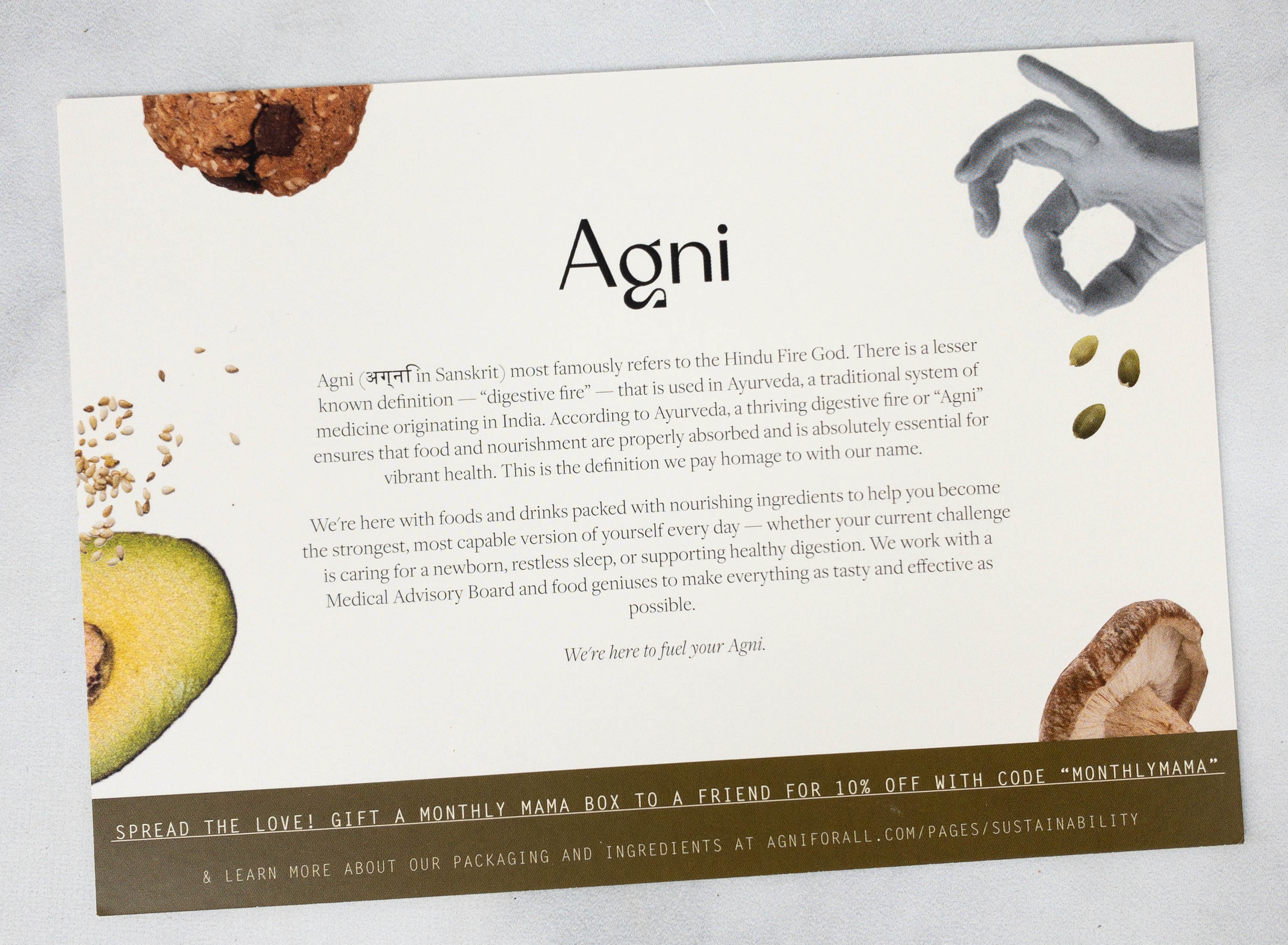 The card tells us more about the meaning of Agni.
Agni most famously refers to the Hindu Fire God. There is a lesser known definition — "digestive fire" — that is used in Ayurveda, a traditional system of medicine originating in India. According to Ayurveda, a thriving digestive fire or "Agni" ensures that food and nourishment are properly absorbed and is absolutely essential for vibrant health. This is the definition we pay homage to with our name.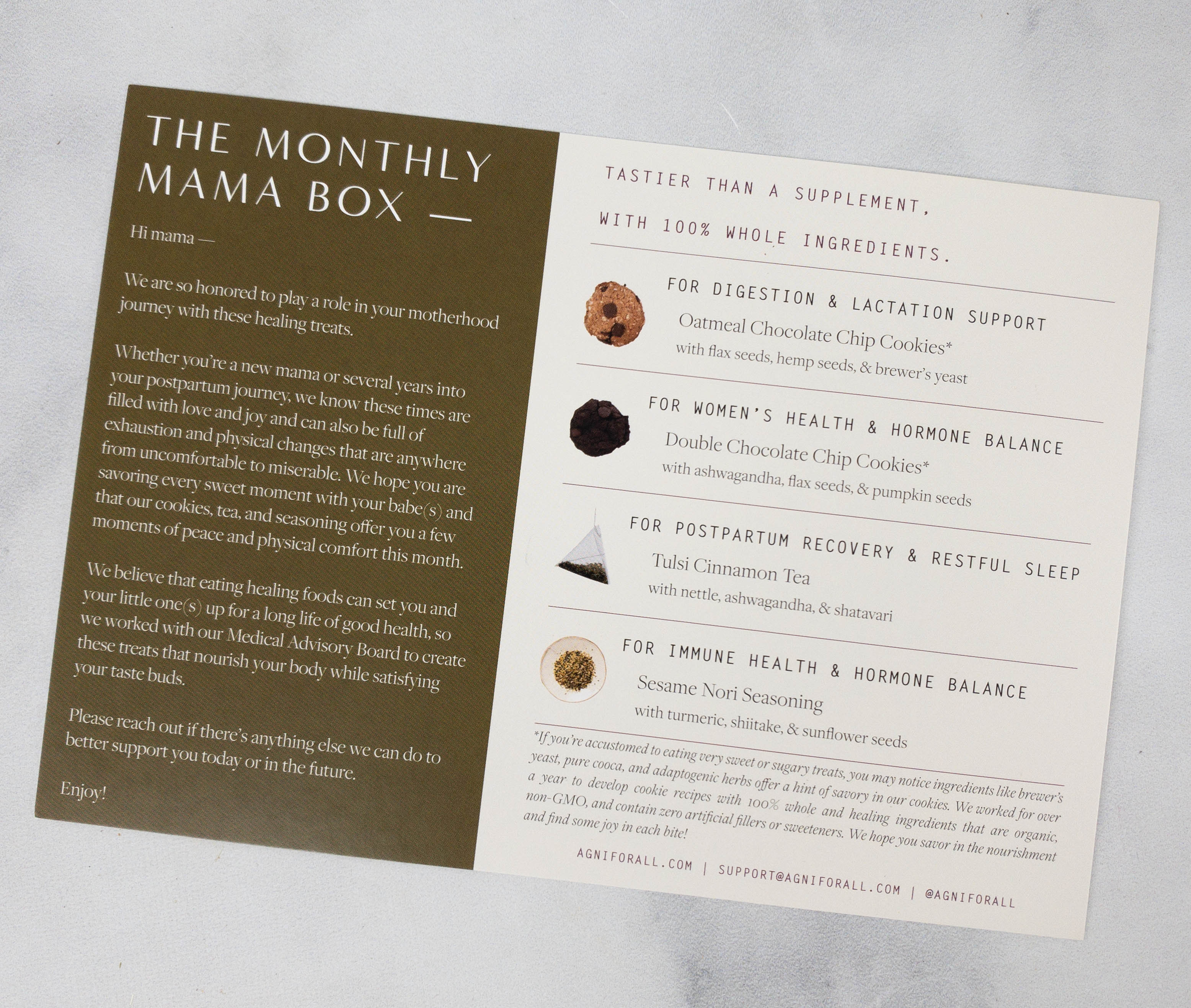 At the back, they also listed all the items included in the Monthly Mama Box as well as their benefits.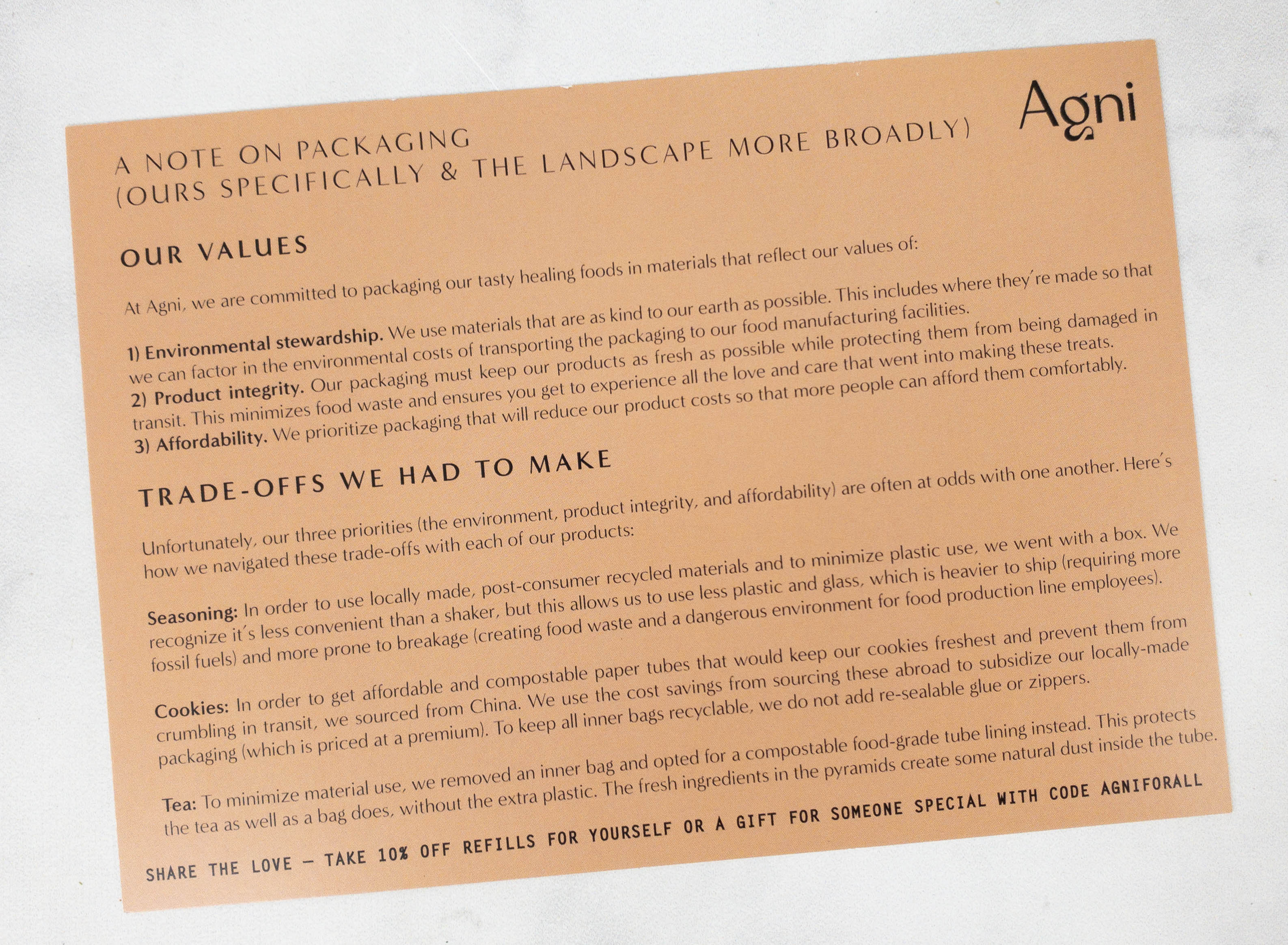 Another card tells us more about the company's values and the product's backgrounds. They value environmental stewardship, product integrity, and affordability. I really like how they explicitly acknowledged the trade-offs they made. I think this is a mindful practice to cultivate.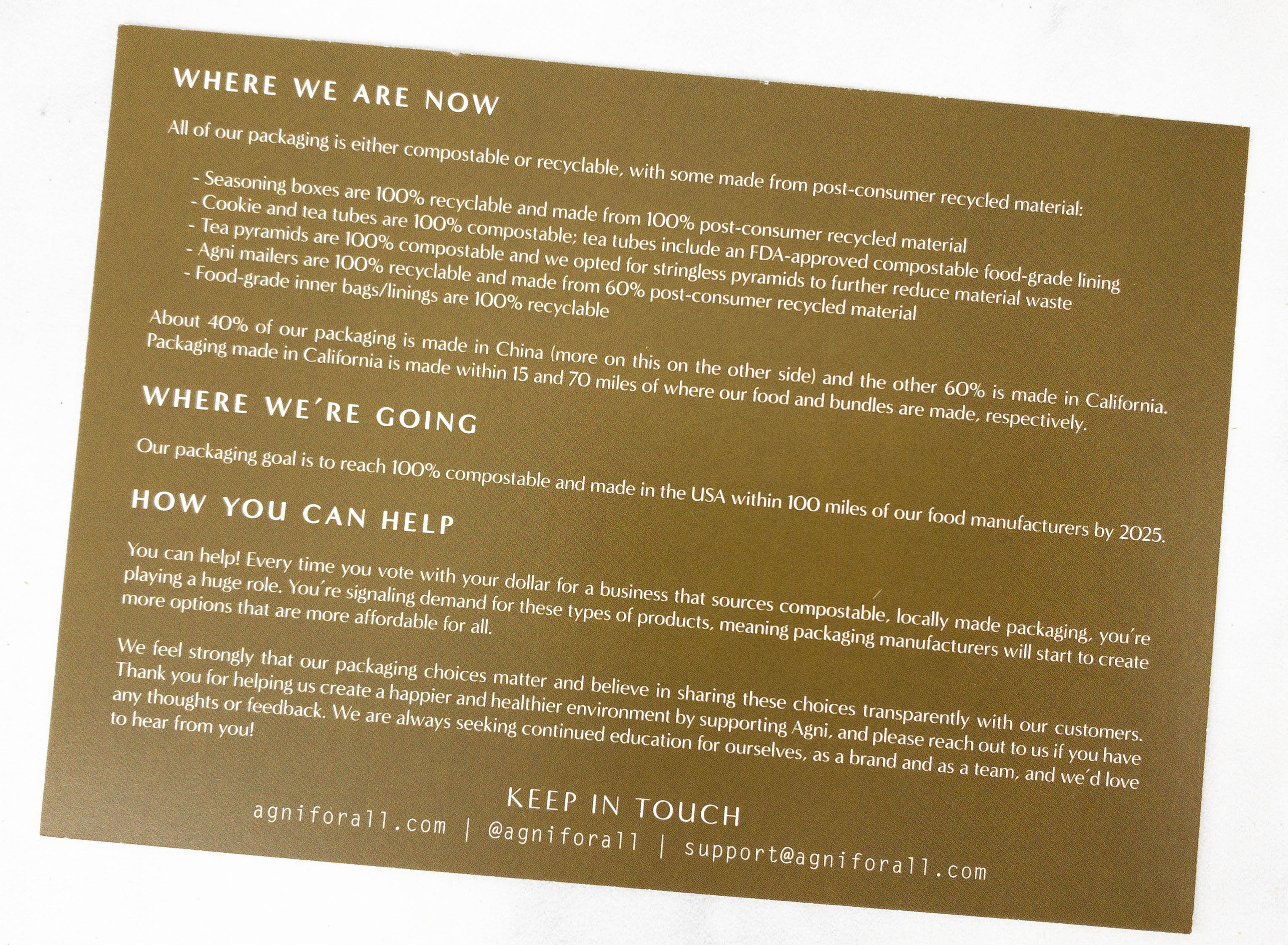 According to this card, the packaging they use is either compostable or recyclable. Some of them are also made from post-consumer recycled material. Packaging choices matter!
Everything in the Agni Monthly Mama Box. This curation is $65 and you can purchase it one time, or in a 3- or 6-month series. It's perfect for your planned postpartum recovery.
Yes, this time is full of love and joy, but it might also be full of exhaustion. That is why it is key that mama also takes care of herself. So we created foods that are both filled with important micronutrients and are also indulgent.
Everything is vegan, non-GMO, with no artificial sweeteners.
Sesame Nori Seasoning ($16) Savory with just the right amount of savory flavor, this nori seasoning is perfect to put on top of rice, eggs, and even vegetables.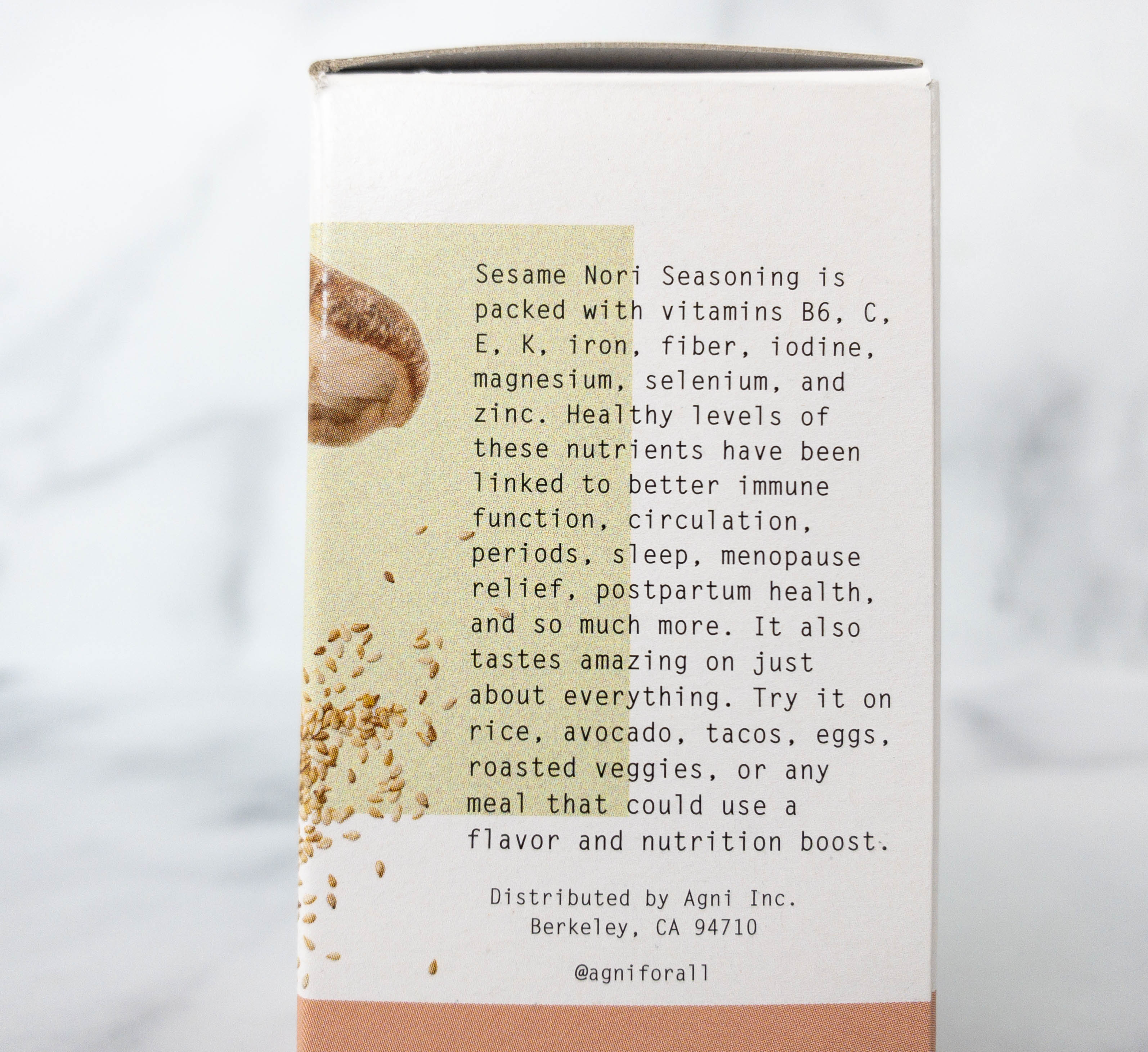 This vegan and organic seasoning can help improve blood circulation and even immunity while elevating the flavor of your meal. It's packed with vitamins B6, C, E, and K, as well as iron, fiber, iodine, magnesium, selenium, and zinc! Of course, it also helps improve periods, sleep, and postpartum health, and provides menopause relief.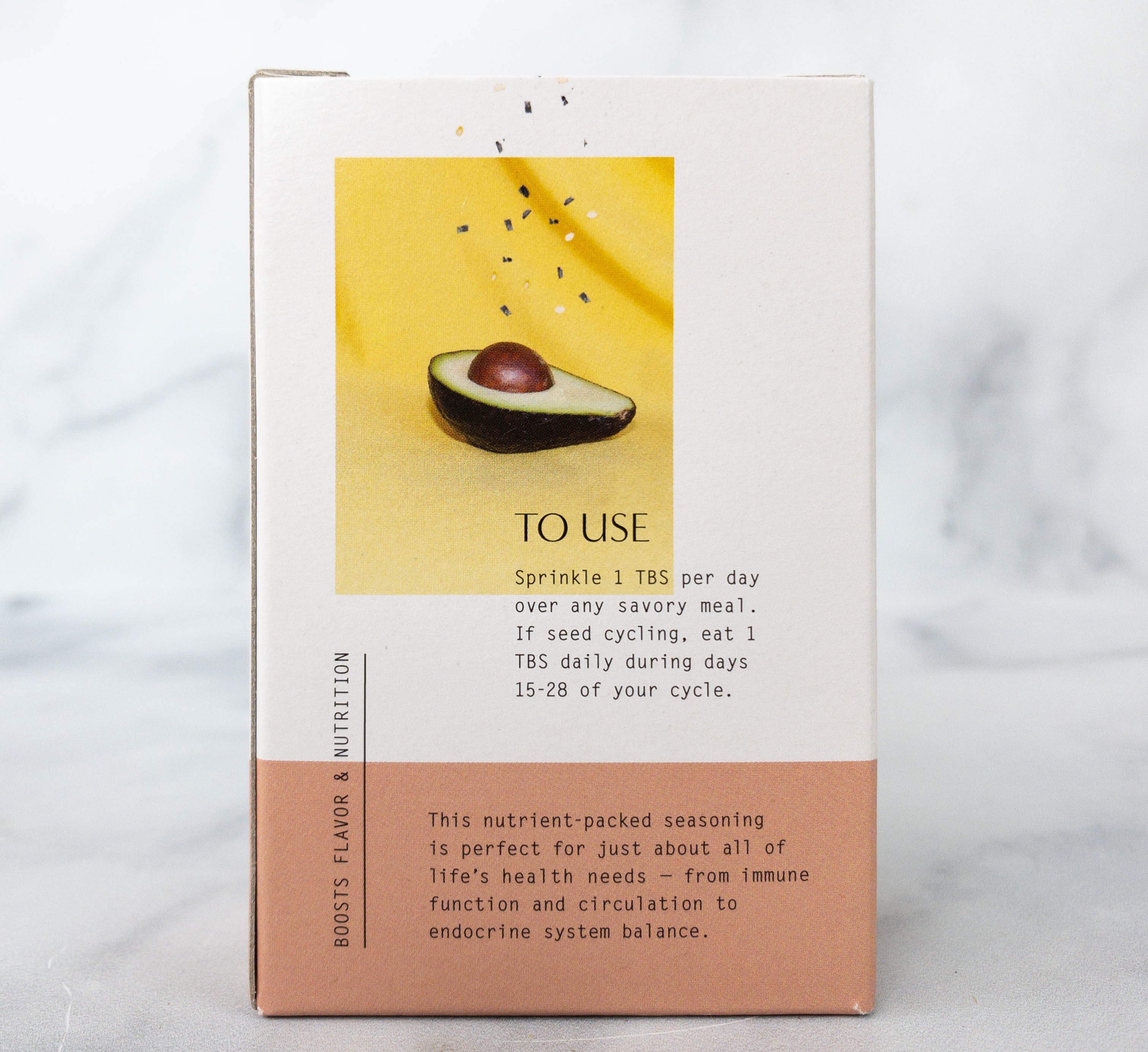 To use, you just have to sprinkle at least 1 tablespoon on your meal. If seed cycling, they recommend eating 1 tablespoon daily during days of 15-28 of your cycle.
INGREDIENTS: Sesame seeds, sunflower seeds, black sesame seeds, coconut flakes, sea salt, nori flakes, sumac, nutritional yeast, garlic powder, turmeric, dried shiitake powder.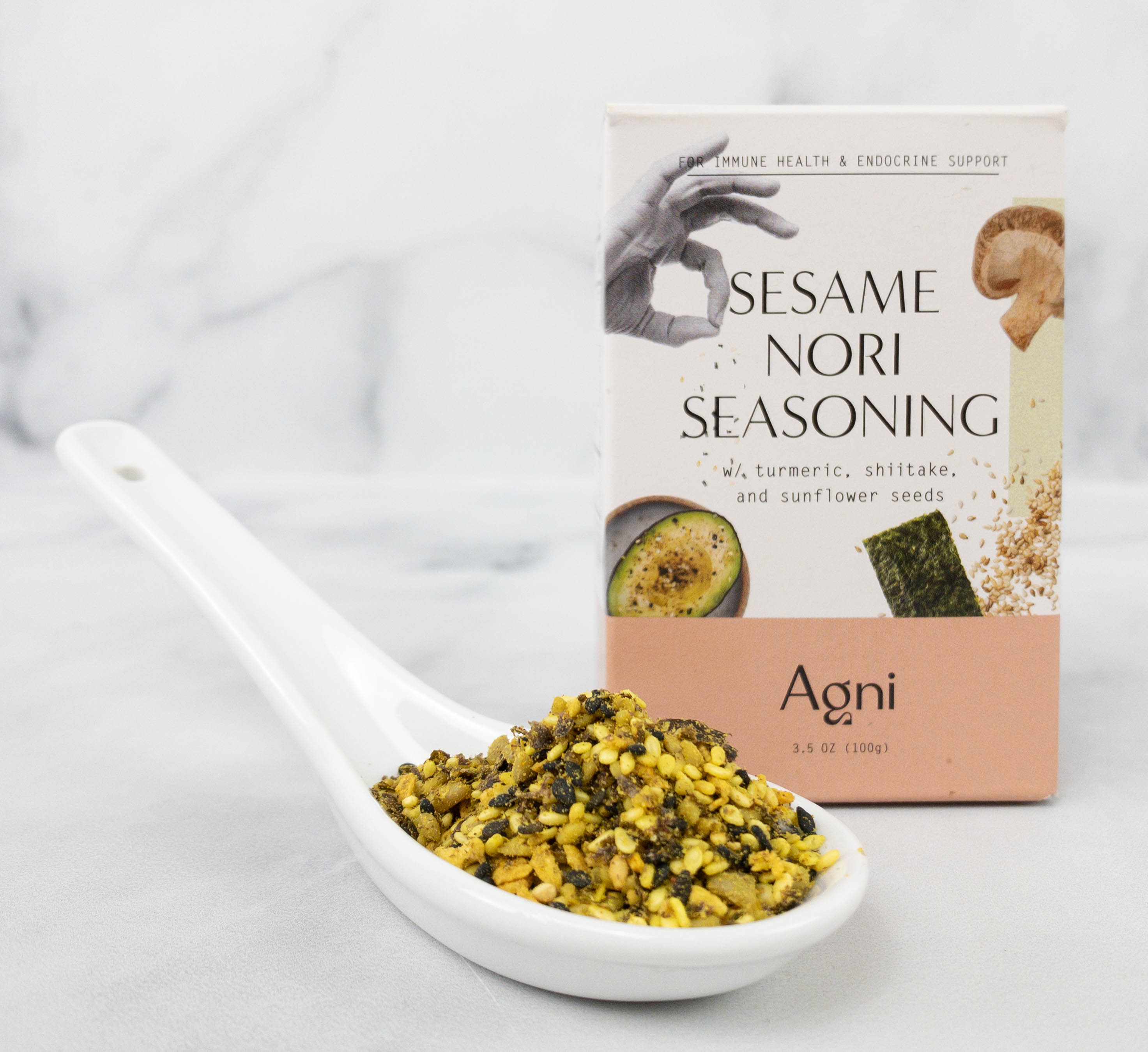 This is a versatile seasoning. It works on salads, bread, and even as a popcorn flavoring! It has a well balanced taste profile. The bright savory flavor is enhanced by nutritional yeast!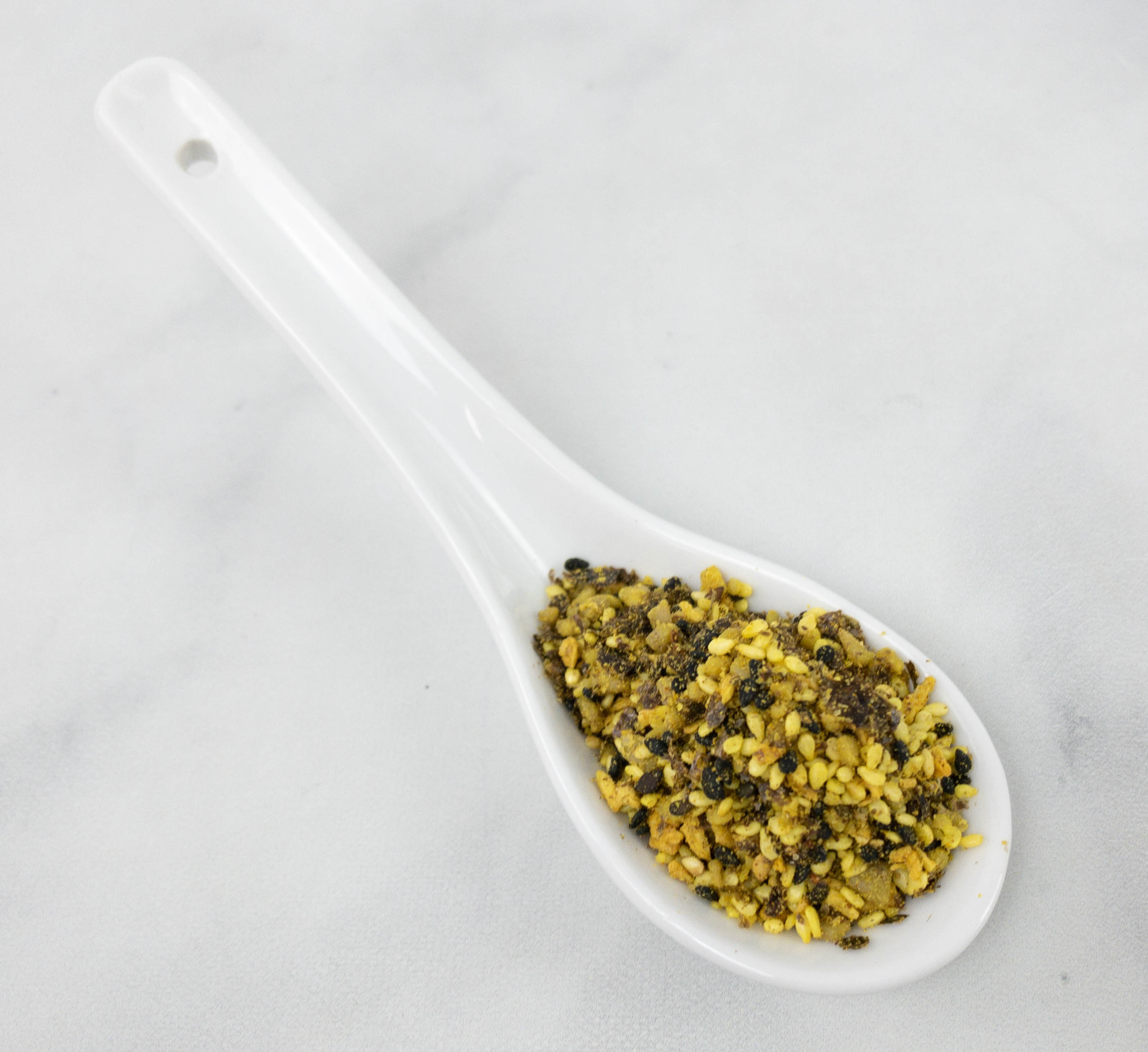 There are lots of sesame seeds and nori flakes in there!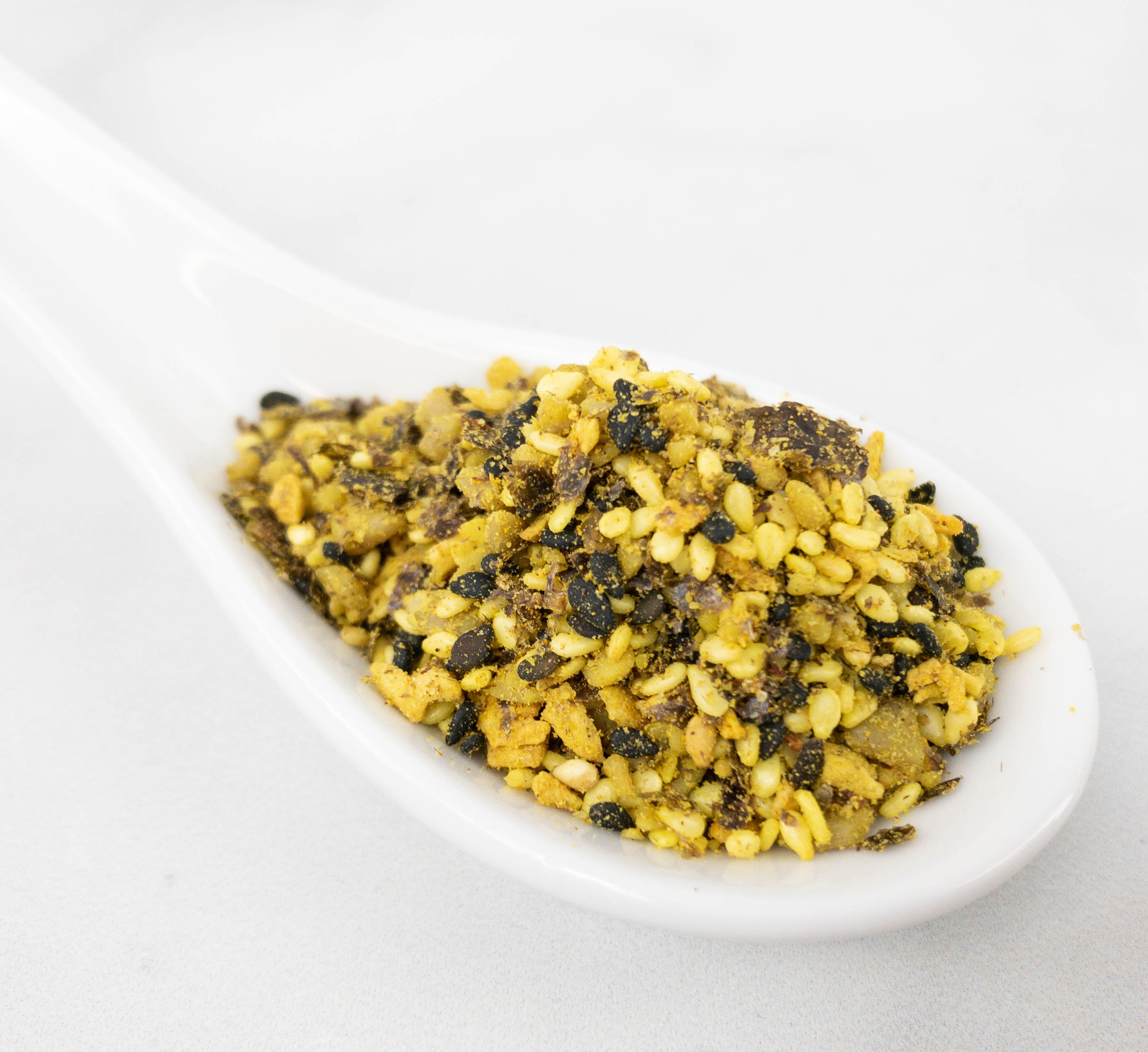 Here's a closer look at the seasoning! It has a yellow hue because of the turmeric.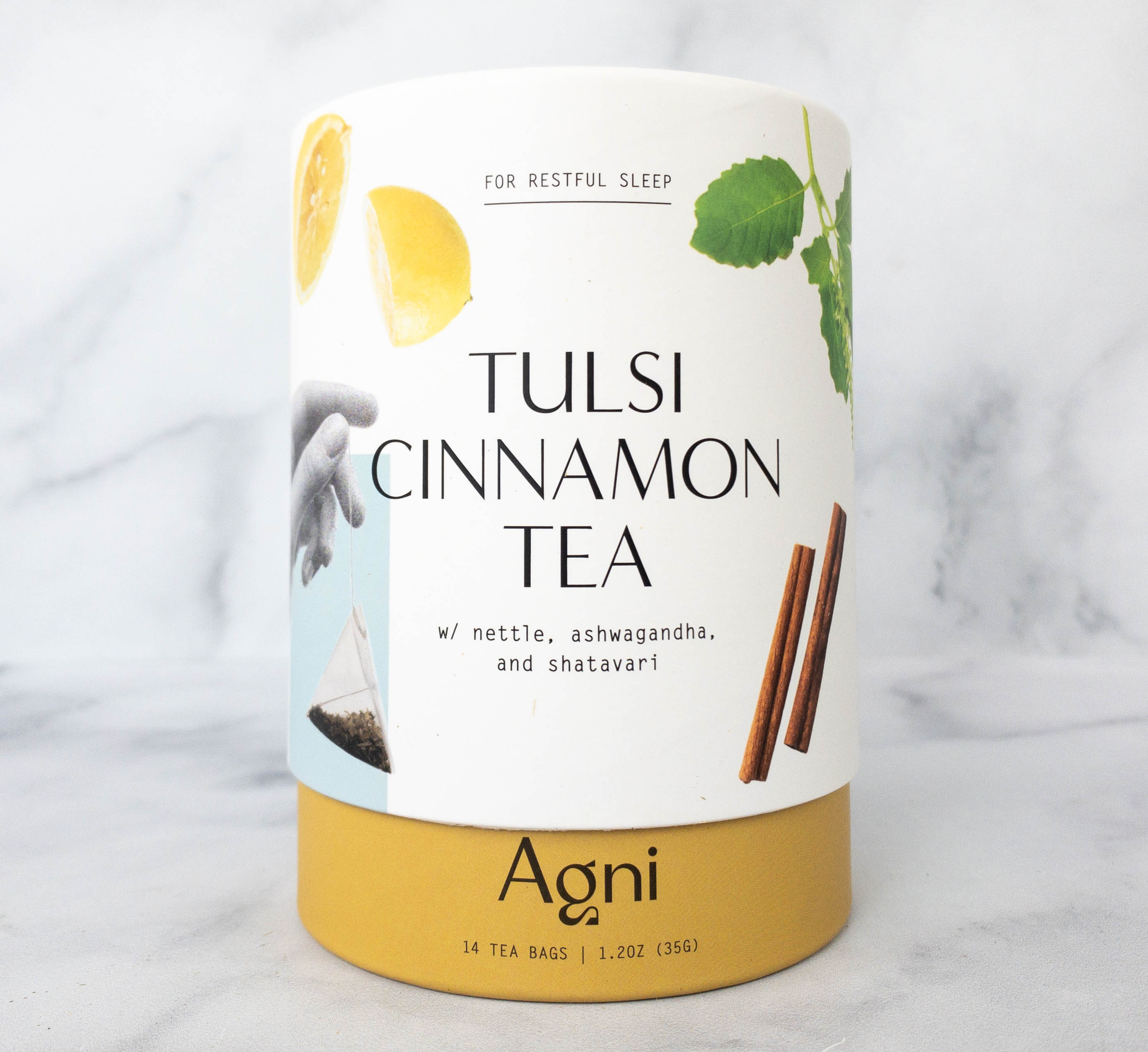 Tulsi Cinnamon Tea ($16) It's tea time! This tea contains herbs like ashwagandha, shatavari, and tulsi which are known to help support the body's natural circadian rhythm.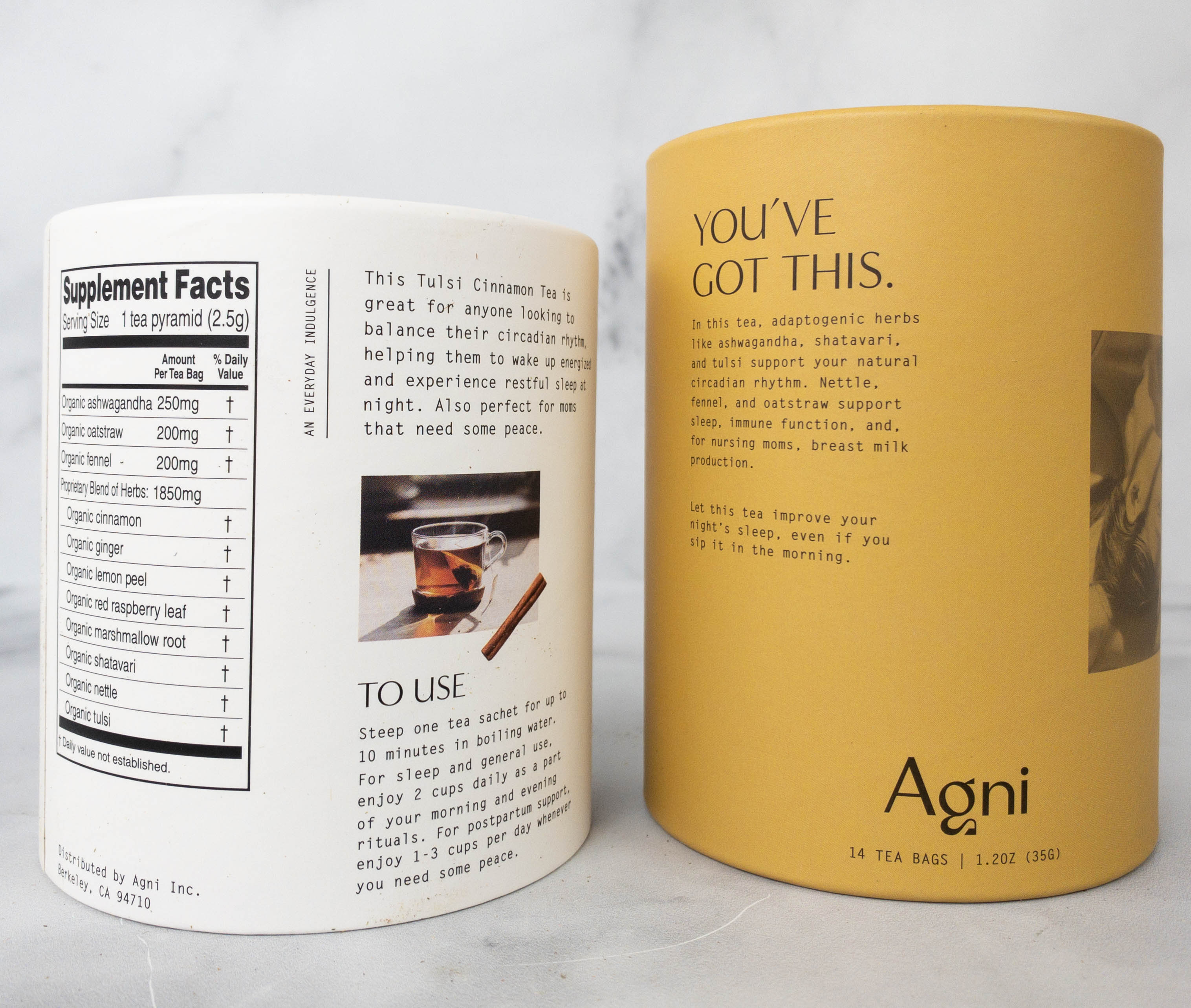 The tea came in a cylindrical container, making it easy to store.
Inside, there are 14 tea bags.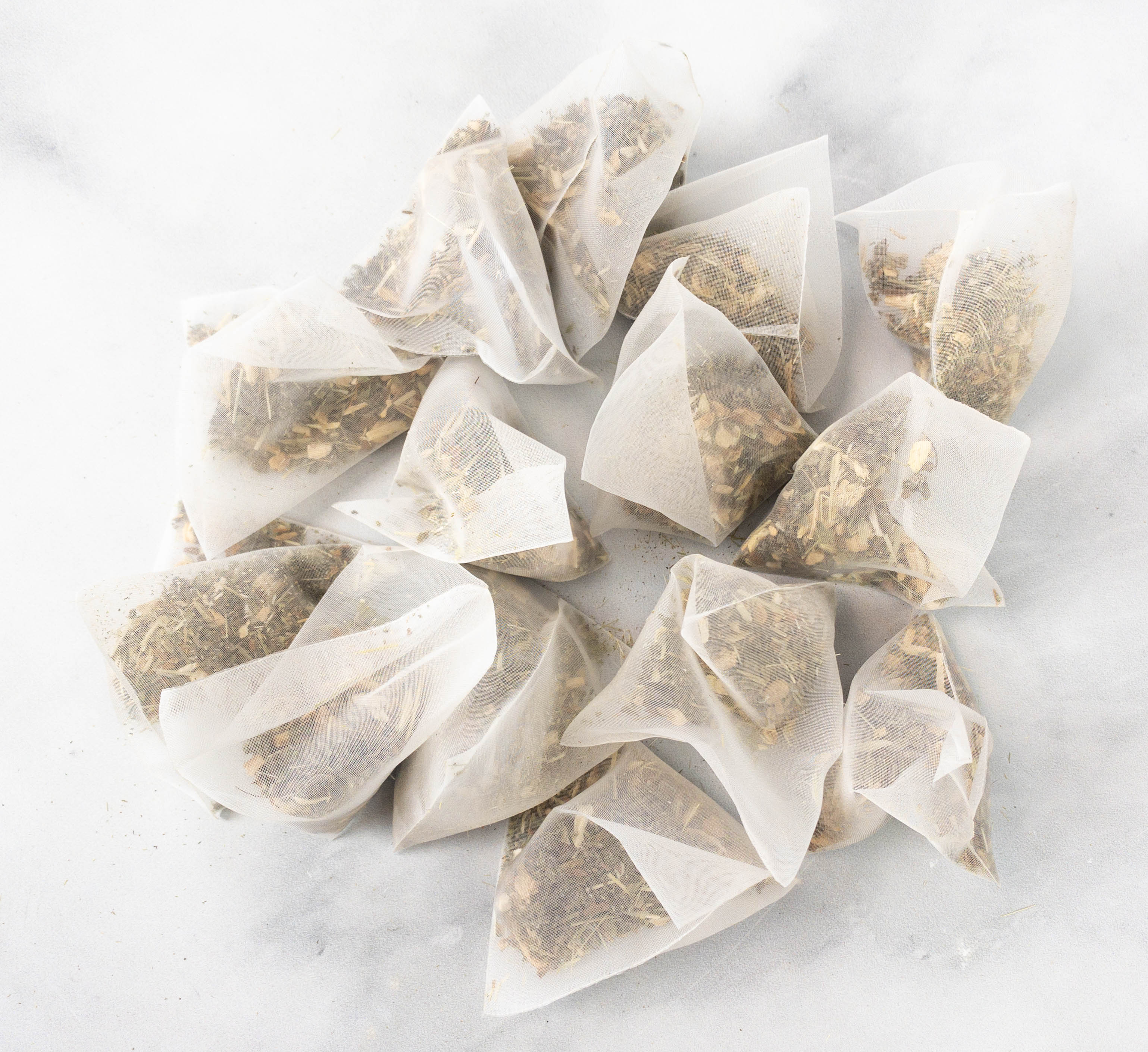 I like that they came in these disposable pouches but unlike the usual tea bags, these don't have a string on them so you will need a teaspoon to scoop it out if you want your tea weak.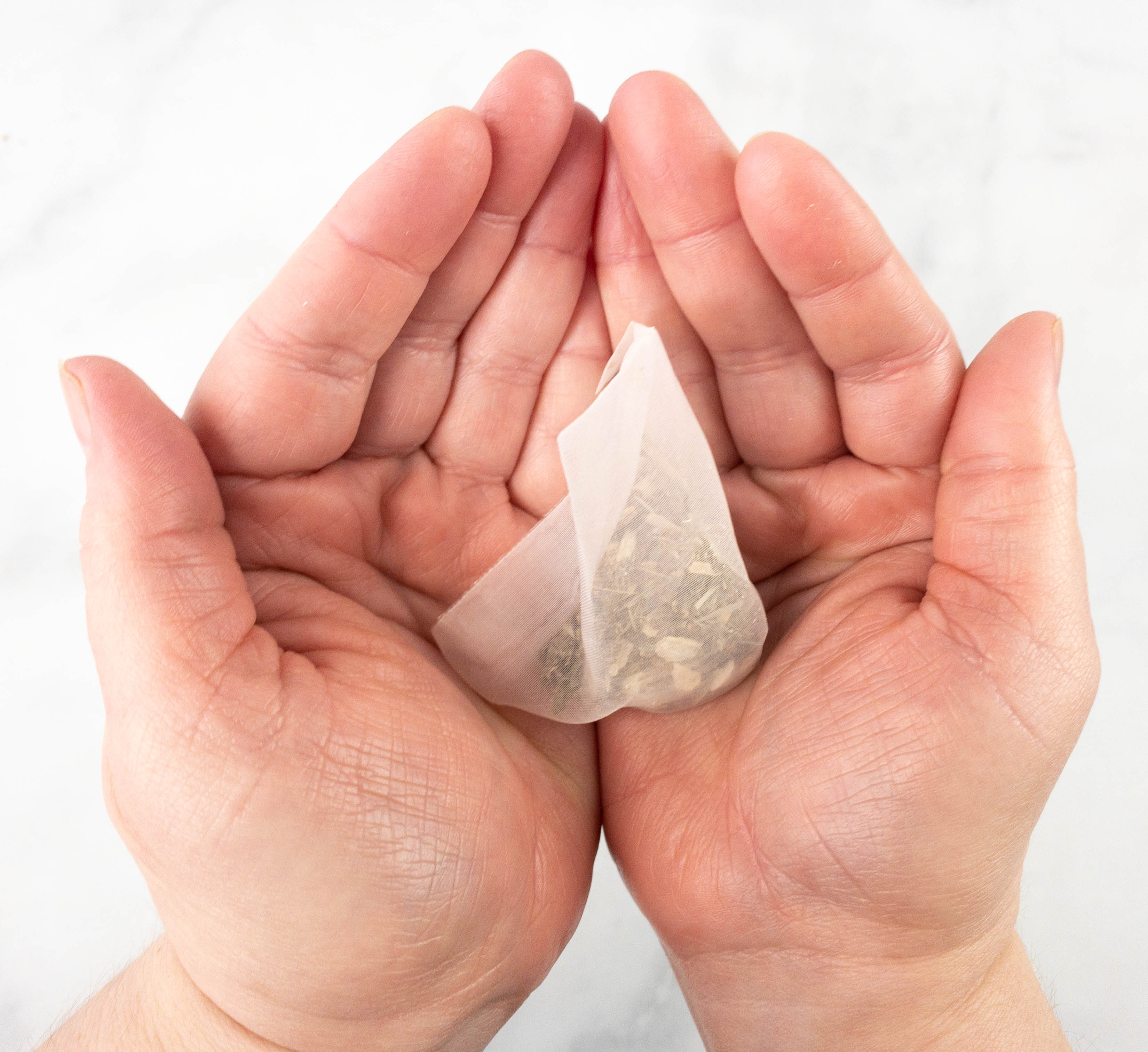 The tea smells lovely, with just a hint of the cinnamon.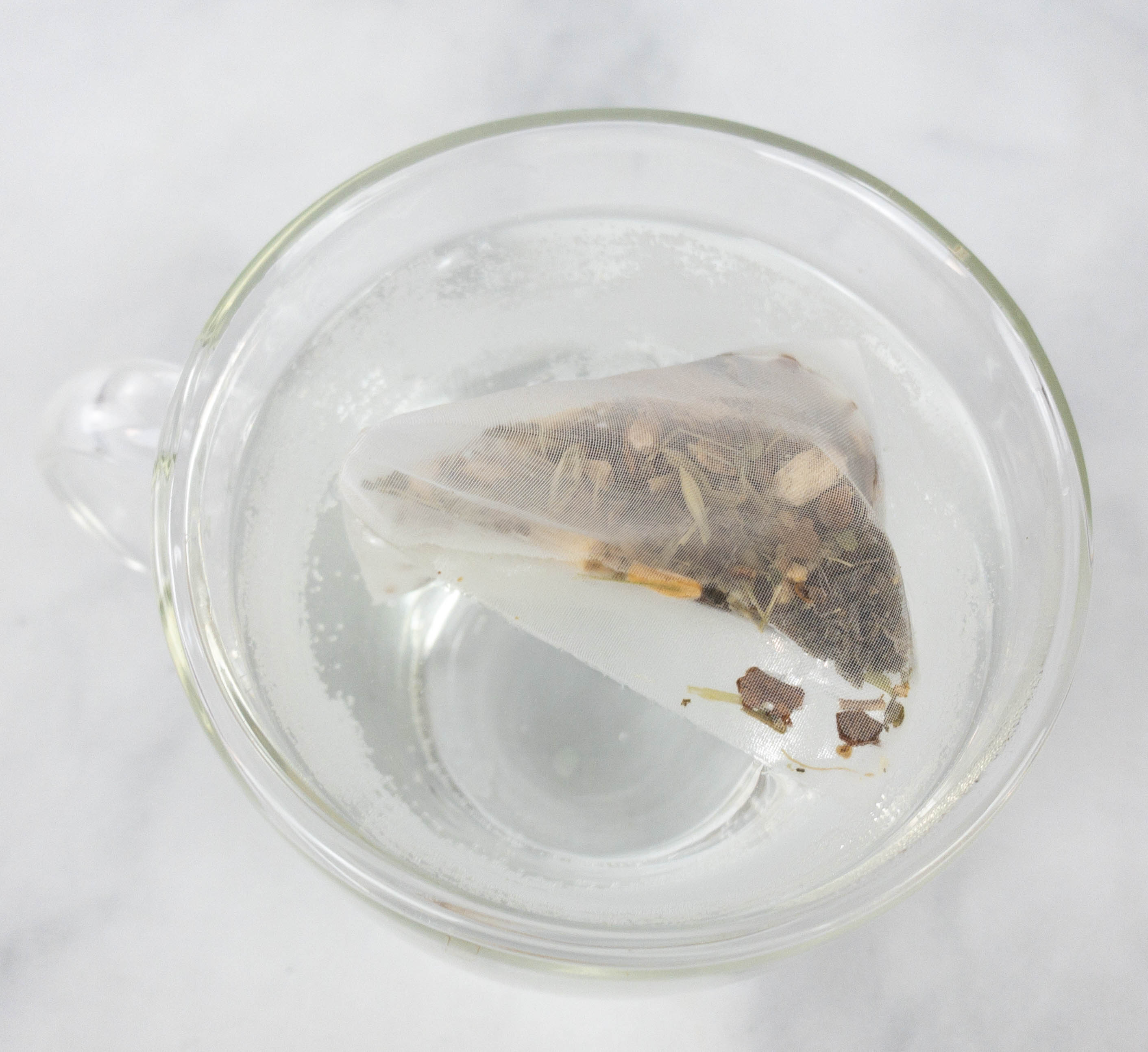 Just place the tea bag in hot water and you will see the dry tea leaves as it infuses the water.
I like to keep my tea bag in for a good couple of minutes, or at least until the water has reached a nicely colored hue but I don't like keeping the tea bag in as the flavors get overwhelming so I take it out once I'm satisfied with the infusion.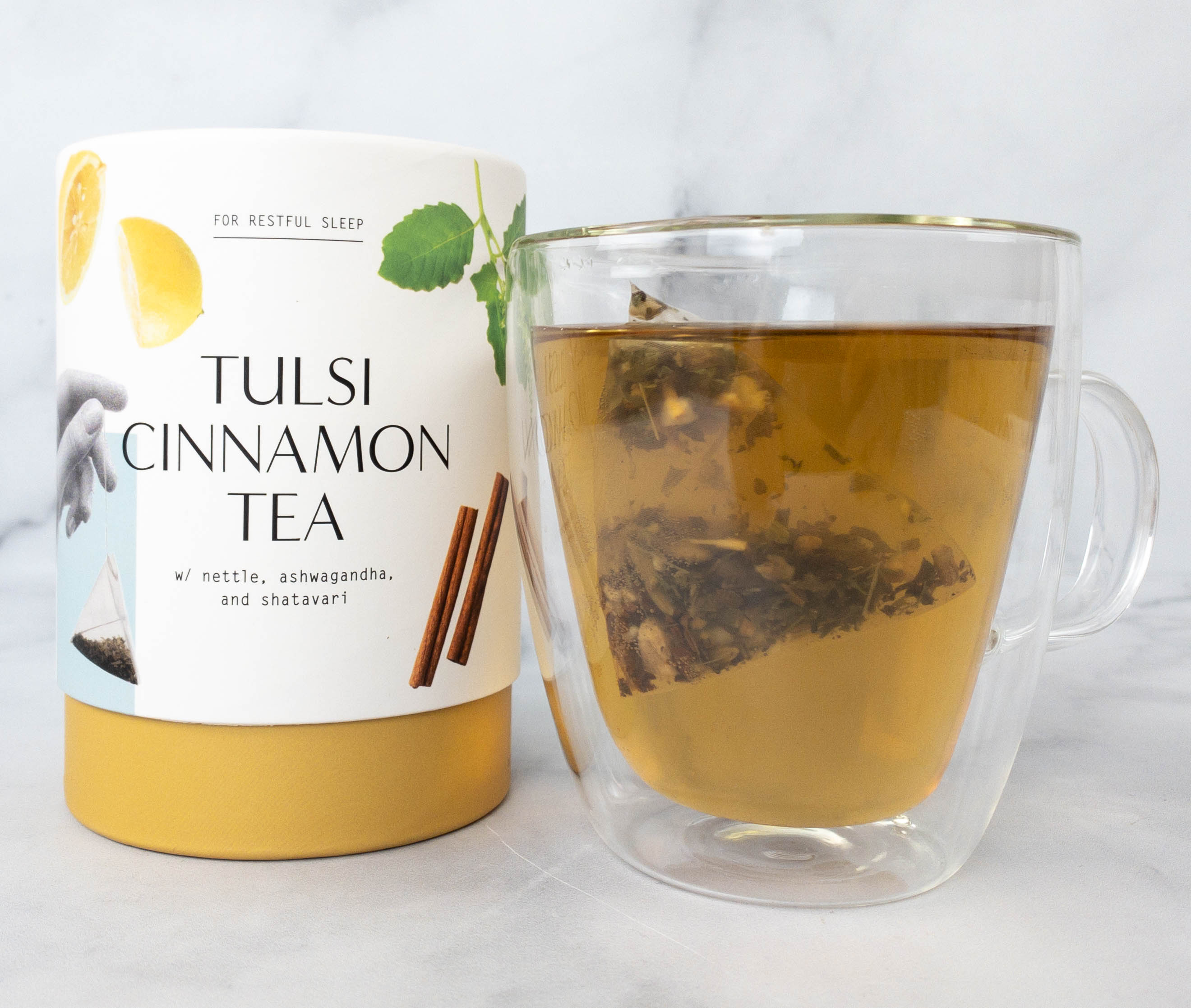 Surprisingly, this has just the right hint of cinnamon. I was expecting it to be overpowering but it's really nice. This makes it a great tea to drink if you're having problems will sleep as it can help improve the quality of your sleep. This is also great for nursing moms as it supports breastmilk production!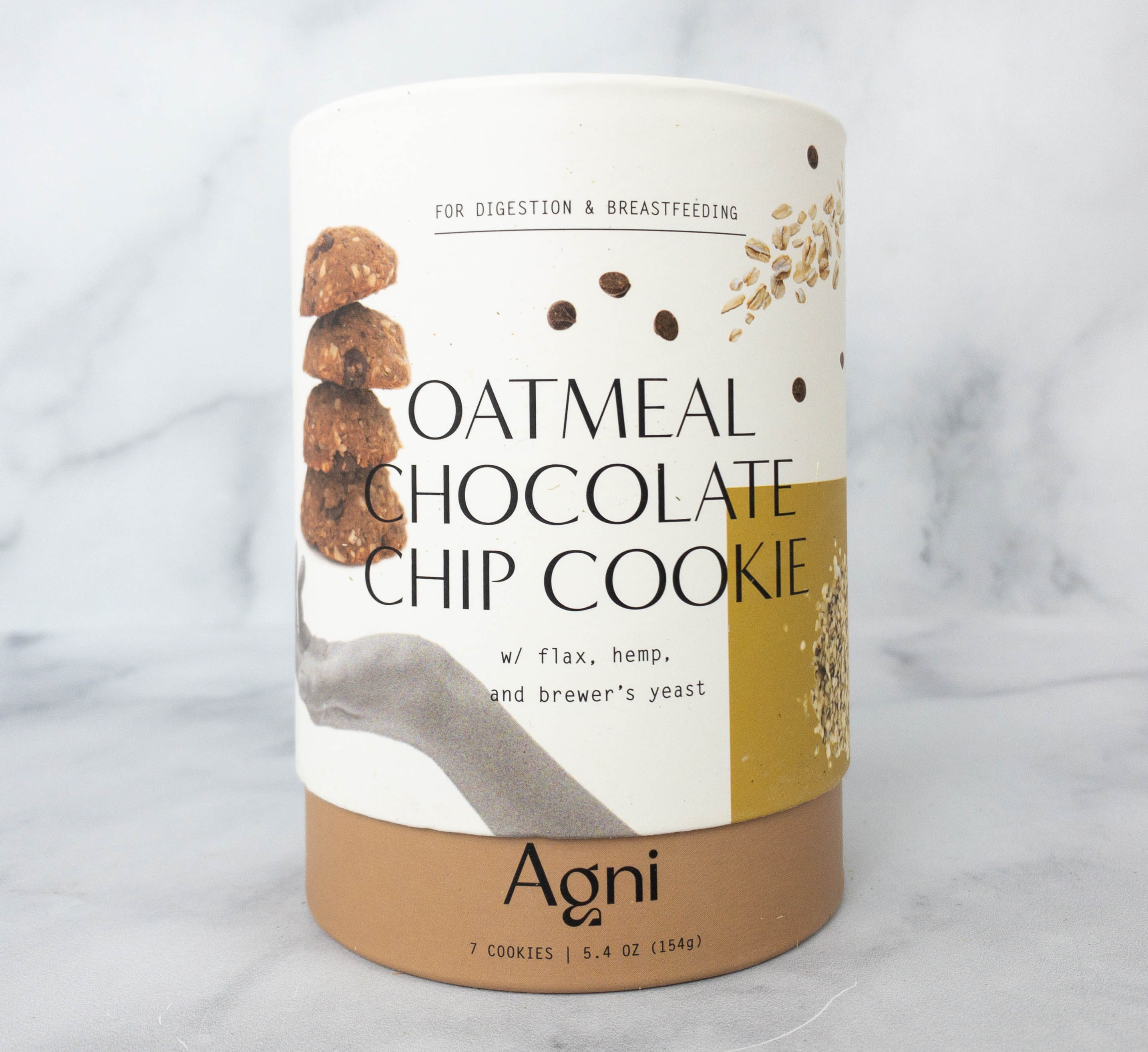 Oatmeal Chocolate Chip Cookie ($18) To pair with the tea or simply to be enjoyed on its own, here are oatmeal cookies with yummy chocolate chips!
Like the tea, it also came in this cylinder packaging with all the details about the product printed on it. It includes 7 cookies!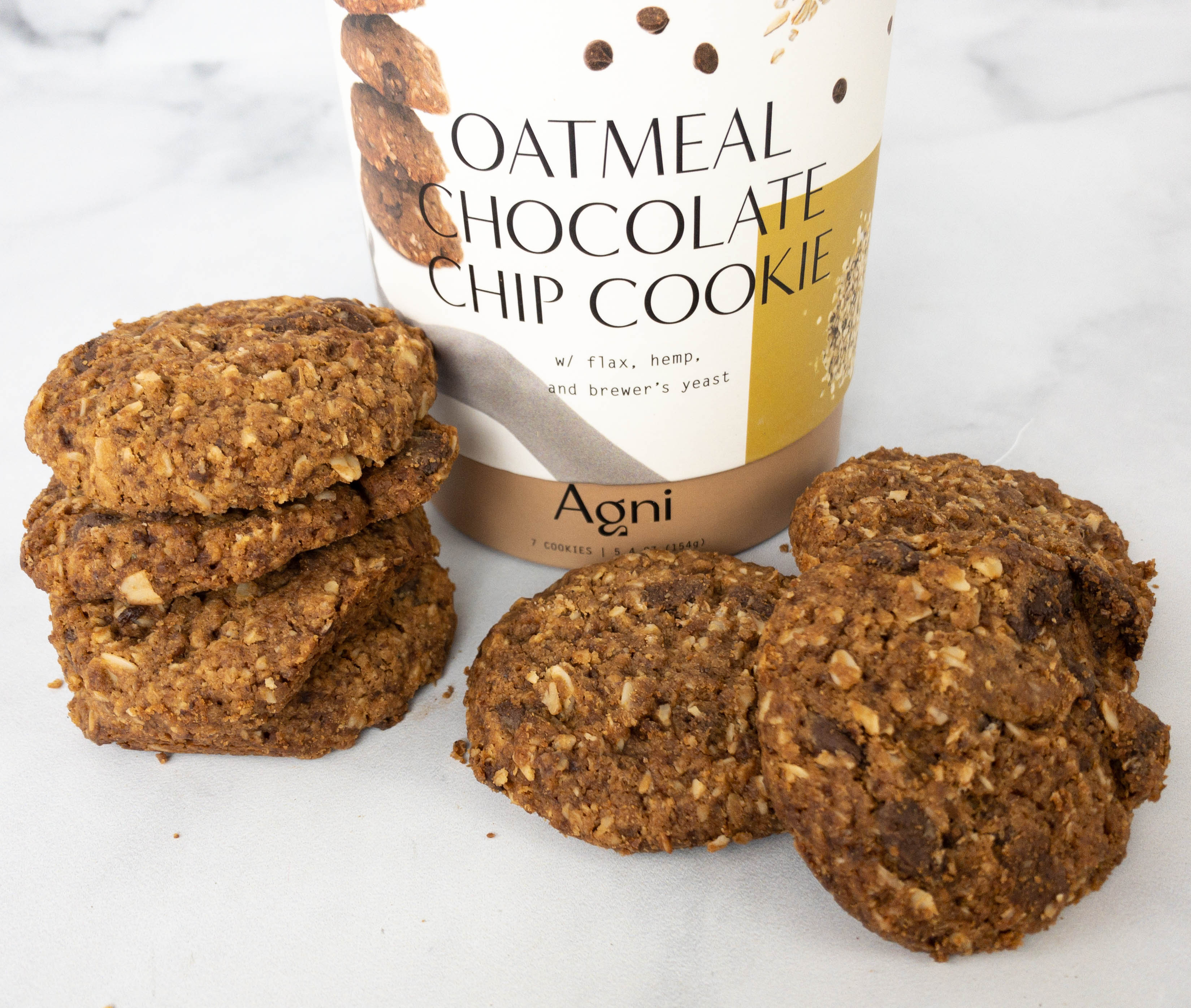 Packed with galactagogues, these cookies are great for nursing moms since it supports breastmilk production. It also contains healthy fats and fiber which helps with digestion!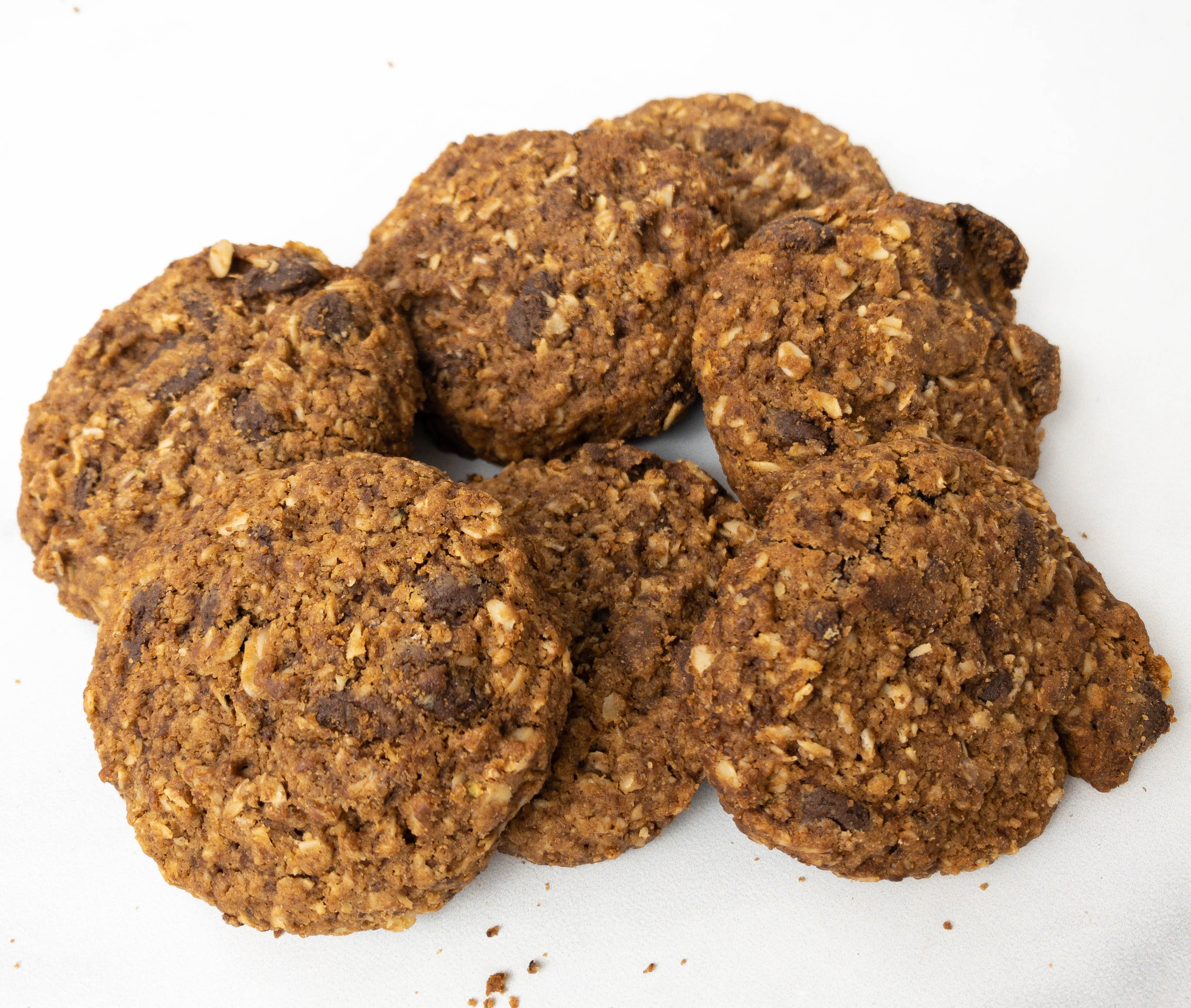 The cookies are a bit dry and crumbly but the flavor is good. The oatmeal really adds a nice texture when chewing. If you're not used to the ingredients, you may find it a bit weird but since I like oatmeal cookies, I don't think they're bad. They're not the best oatmeal cookie I've eaten but it's still pretty decent. My husband liked them too! 🙂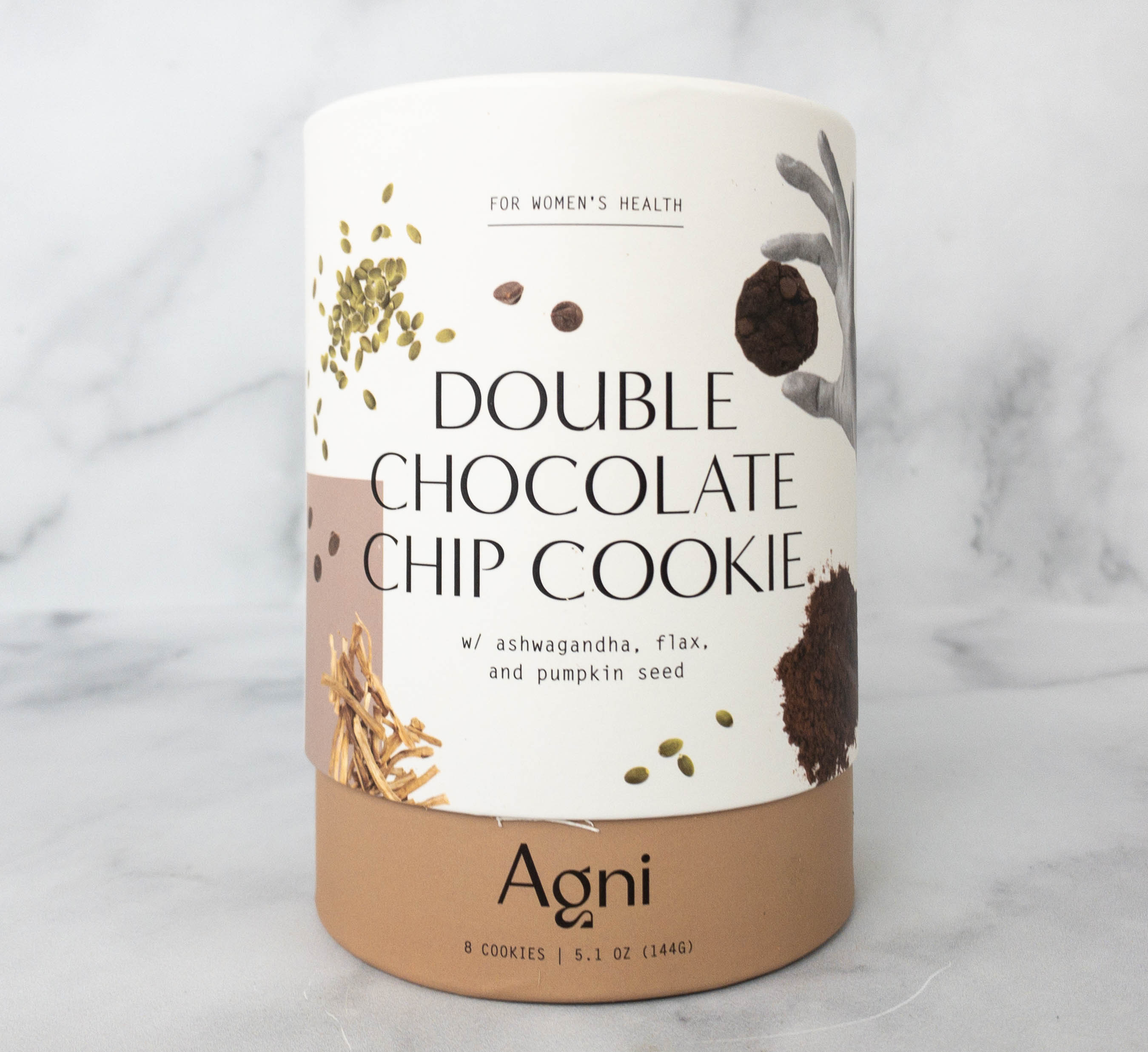 Double Chocolate Chip Cookie ($18) Here's another set of cookies, and this time, they are double chocolate chip flavored!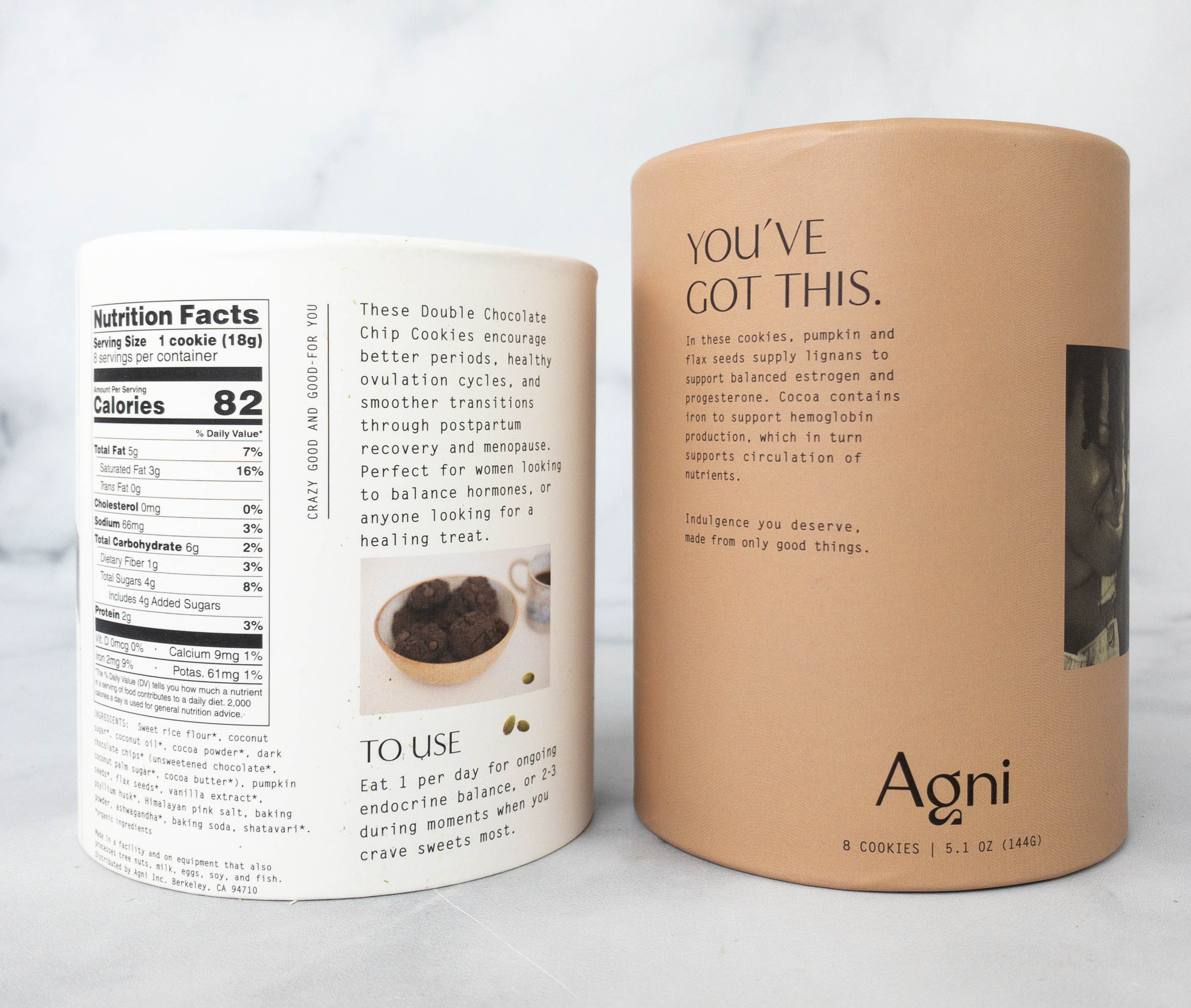 There are 8 cookies in this container!
These double chocolate chip cookies look weird, to be honest. They have a strong chocolate flavor and I like that they're not too sweet but they're a bit too dry for my liking. With vegan food that focuses on nutritional support, sometimes I need to focus on the benefits and then get a little more accustomed to more natural, less sugary flavors.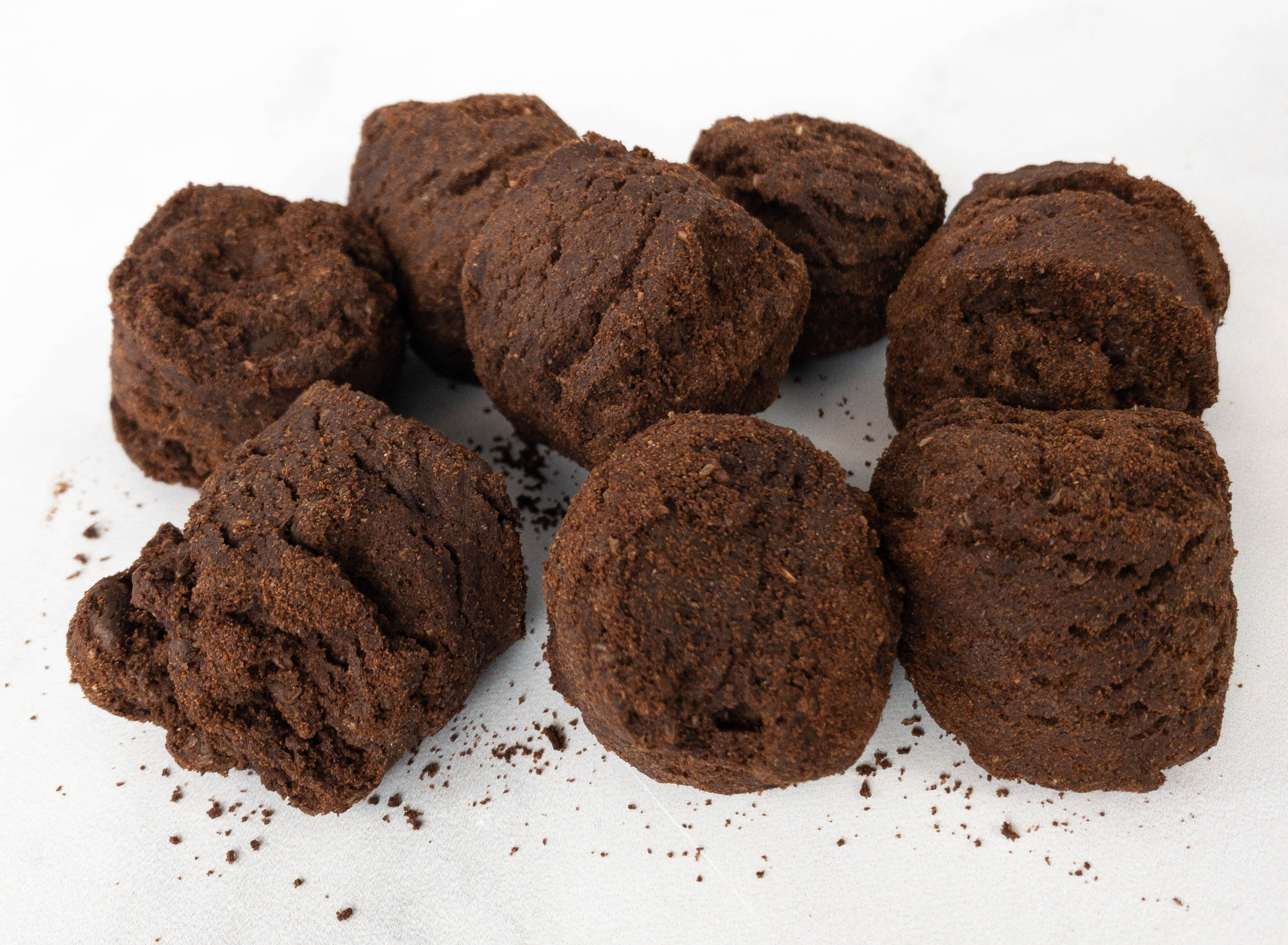 Rich in cocoa, these treats contain iron that helps support the circulation of nutrients, making it a nice mood-enhancer snack. I have low iron with difficulty digesting iron supplements, so I ended up eating every one of these to help support my blood health.
I'm impressed with all the goodies I received from my first Agni box. They all taste good and it's great knowing that they have nutritional benefits as well. The cookies are lacking a bit of moisture but the flavors were on point. I also liked the tea and I find that the cookies pair well with it. My favorite from this box, however, is the Nori Seasoning because it's a versatile ingredient that I can add to practically any dish or snack and it instantly enhances the flavor while providing balancing support. If you're looking for a subscription that can help you jumpstart your postpartum recovery, or to improve your monthly cycles this is a great brand to consider. I'm definitely interested in seeing more from Agni, including their Better Periods Box, which is designed for less painful monthly periods when you're not in recovery.
What do you think of Agni?