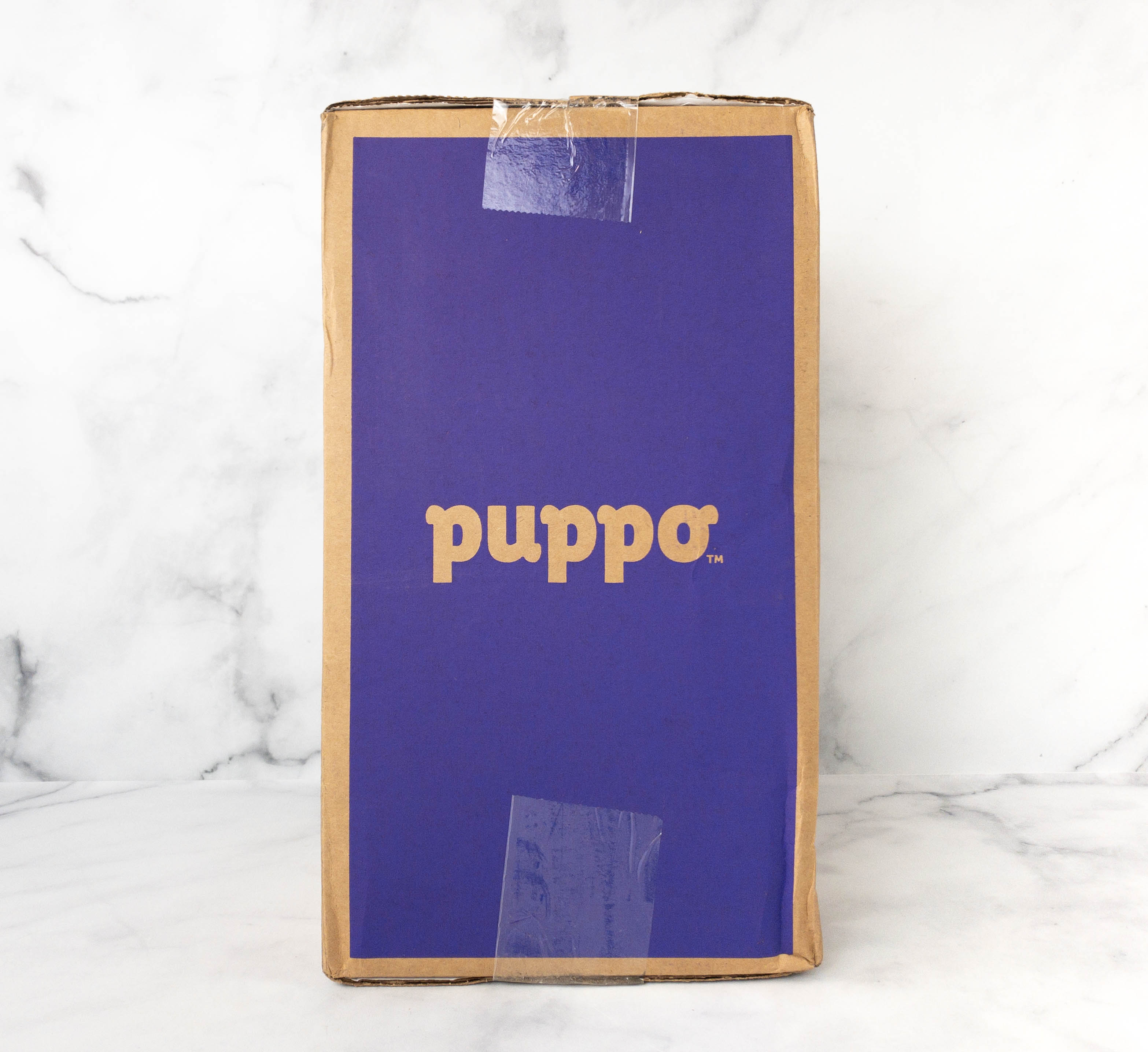 Puppo dog food offers smart, customized nutrition with a personalized approach for dogs in every stage of life. The process starts with a science-backed quiz about your dog to determine specific needs. If you're concerned with any combination of doggy-wellness issues from food sensitivities to puppy nutrition, weight loss, and more, Puppo provides the right ingredients, guidance on portion sizes, and ongoing support to make it simple for dogs to live their healthiest lives. Then, based on your dogs size, activity and needs, Puppo formulates a custom food for them and delivers the perfect amount, right to your door. Price varies depending on your dog's plan. It's typically around $1.35/day for a small dog, and $2.50/day for a larger dog.
DEAL: Get 25% off on your first box! No coupon code needed, just visit and subscribe.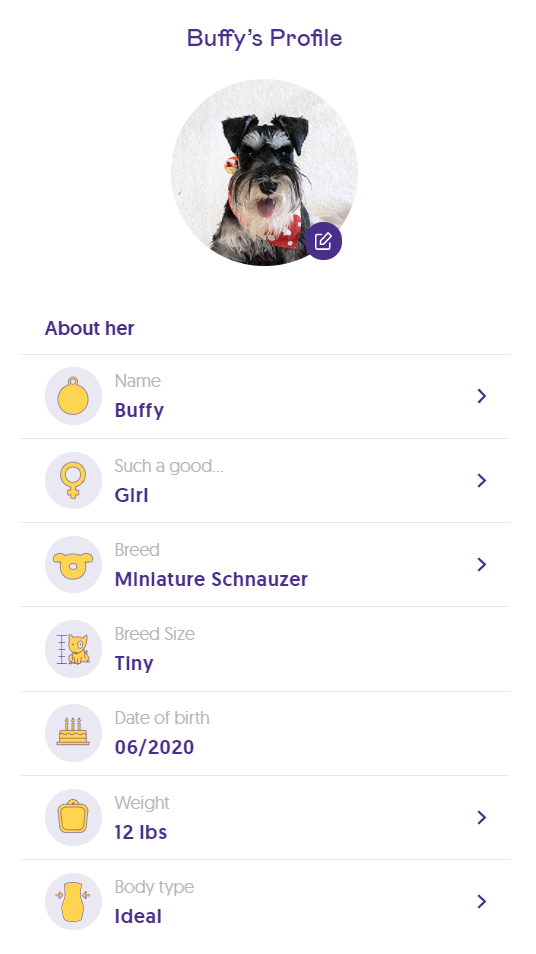 This plan is for Buffy, our miniature schnauzer. She's currently 12 lbs! The quiz was fairly easy, and I had to send in a photo of her when I signed up.
She's a very active dog and she loves biscuits as treats. As for her diet, she needs skin and coat support. She also loves beef, turkey, salmon, lamb, chicken, and duck.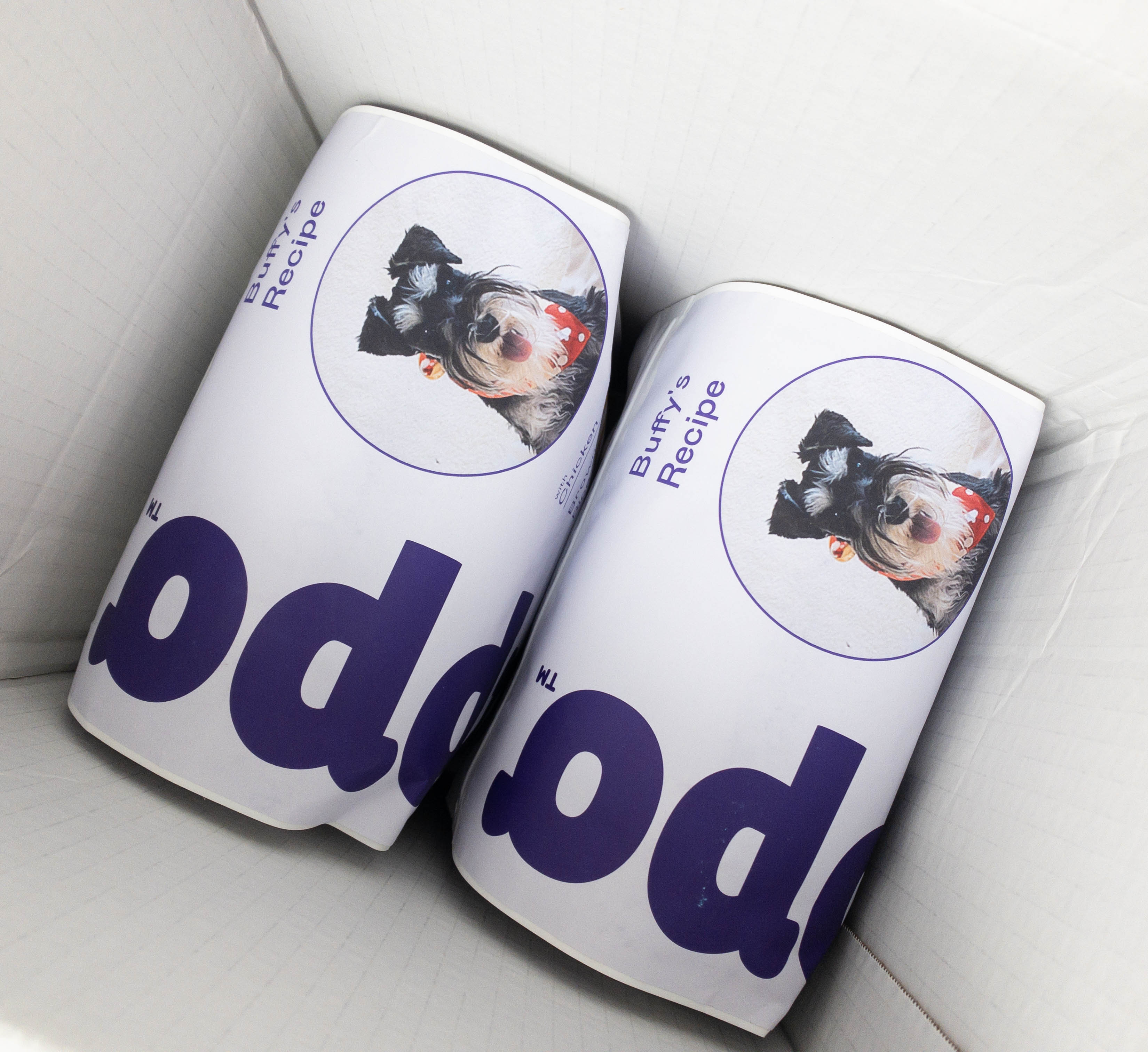 This box includes two bags of dog food for Buffy! I absolutely love it.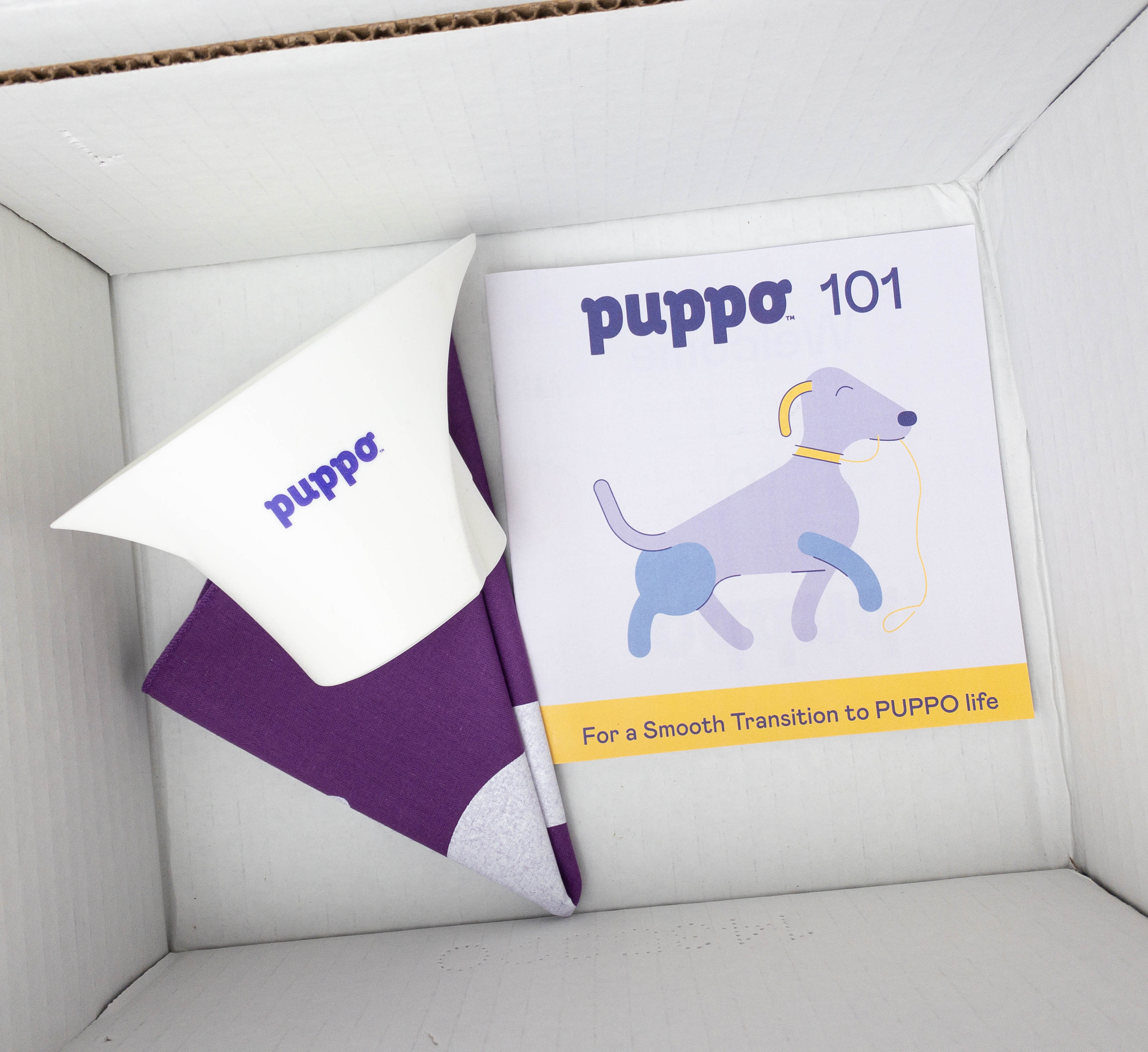 The main box and the informational booklet and cards are recyclable. The bags are not recyclable, but according to Puppo, they are working to change it soon.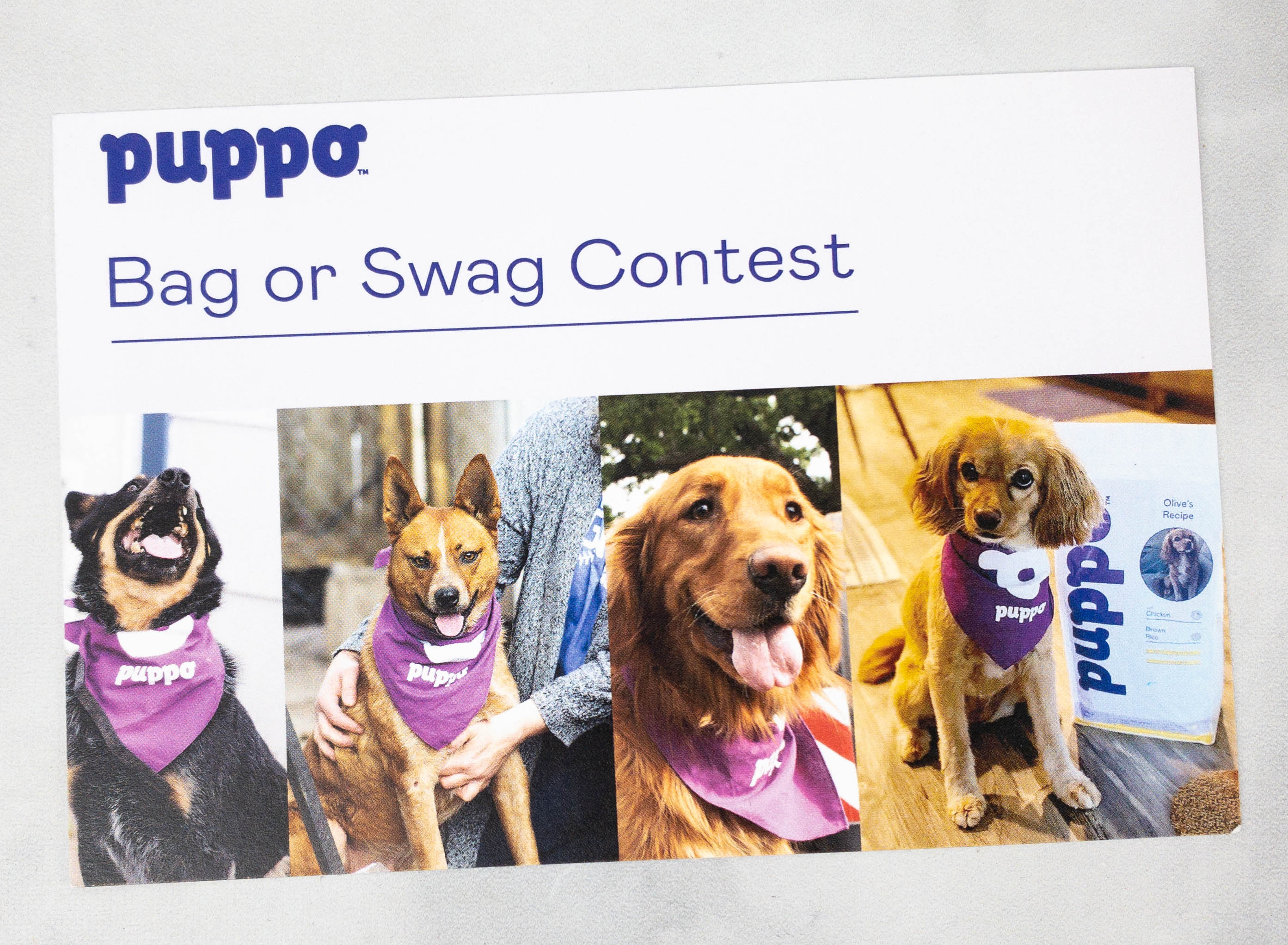 This card contains information about Bag or Swag contest!
There's a list of instructions for the contest at the back of the card.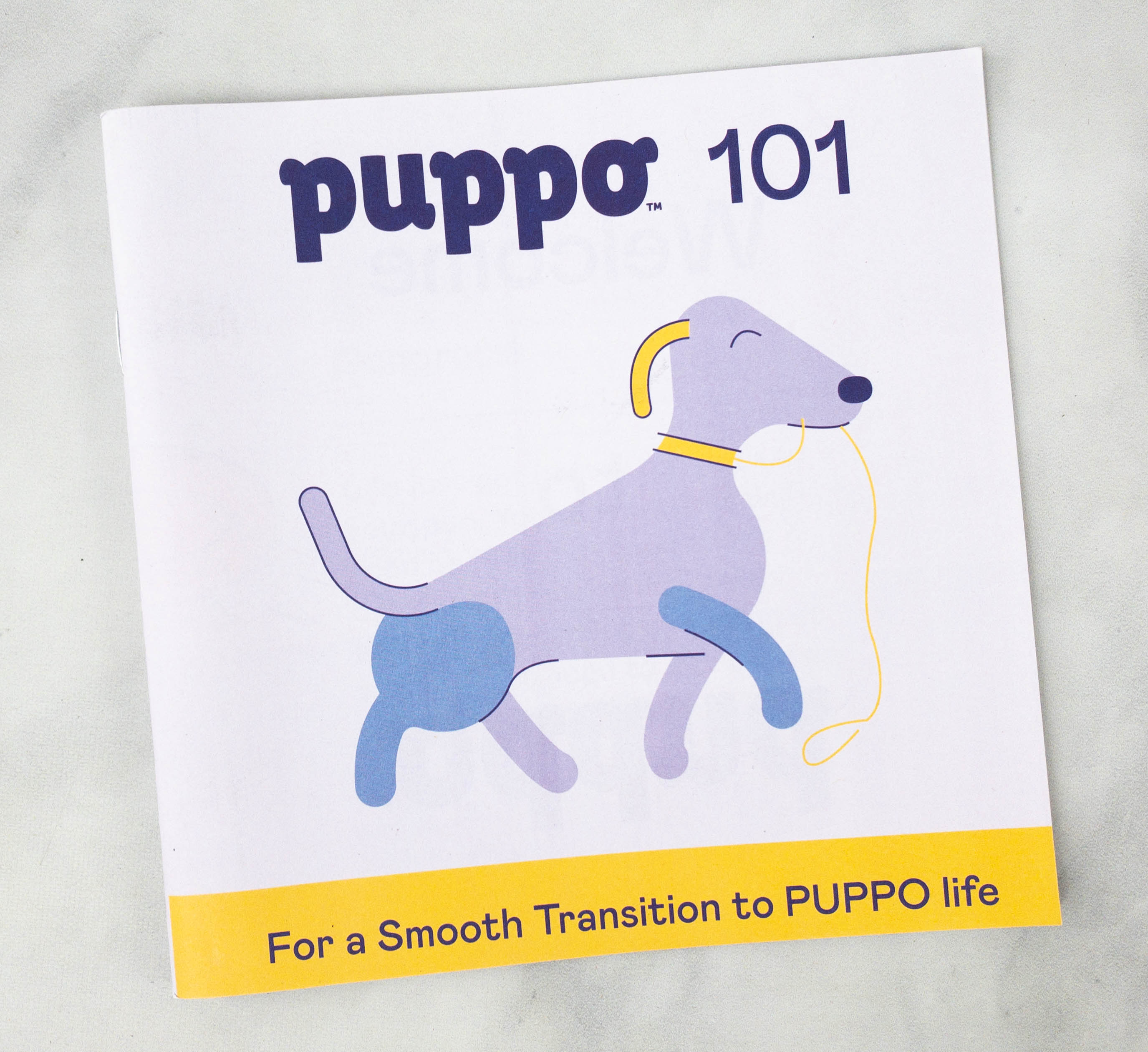 It shows the proper way of introducing Puppo to dogs!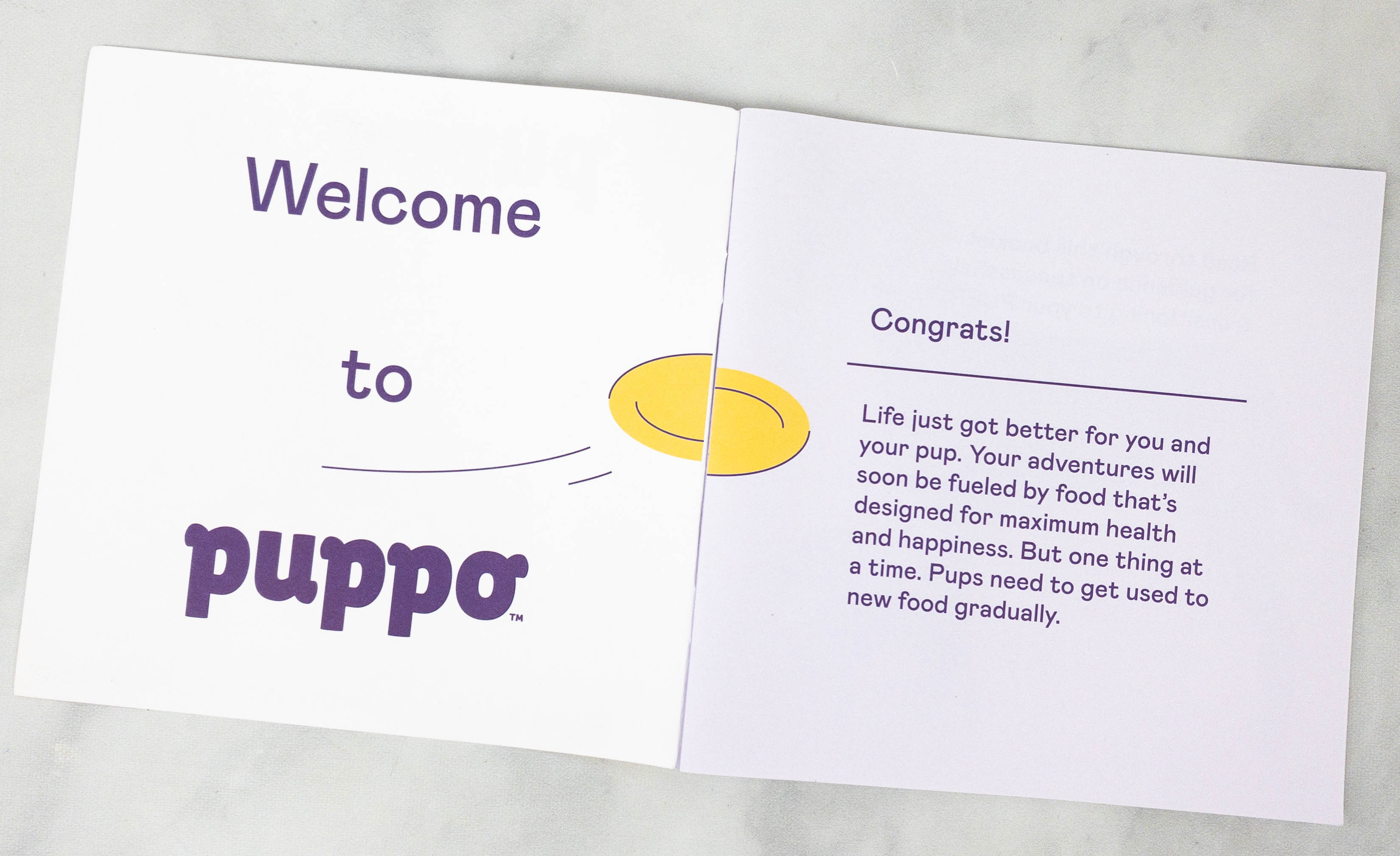 There's also a welcome message from Puppo!
For pet parents who have questions or concerns, they encourage you to send them a message through the Puppo dashboard or by sending them an email.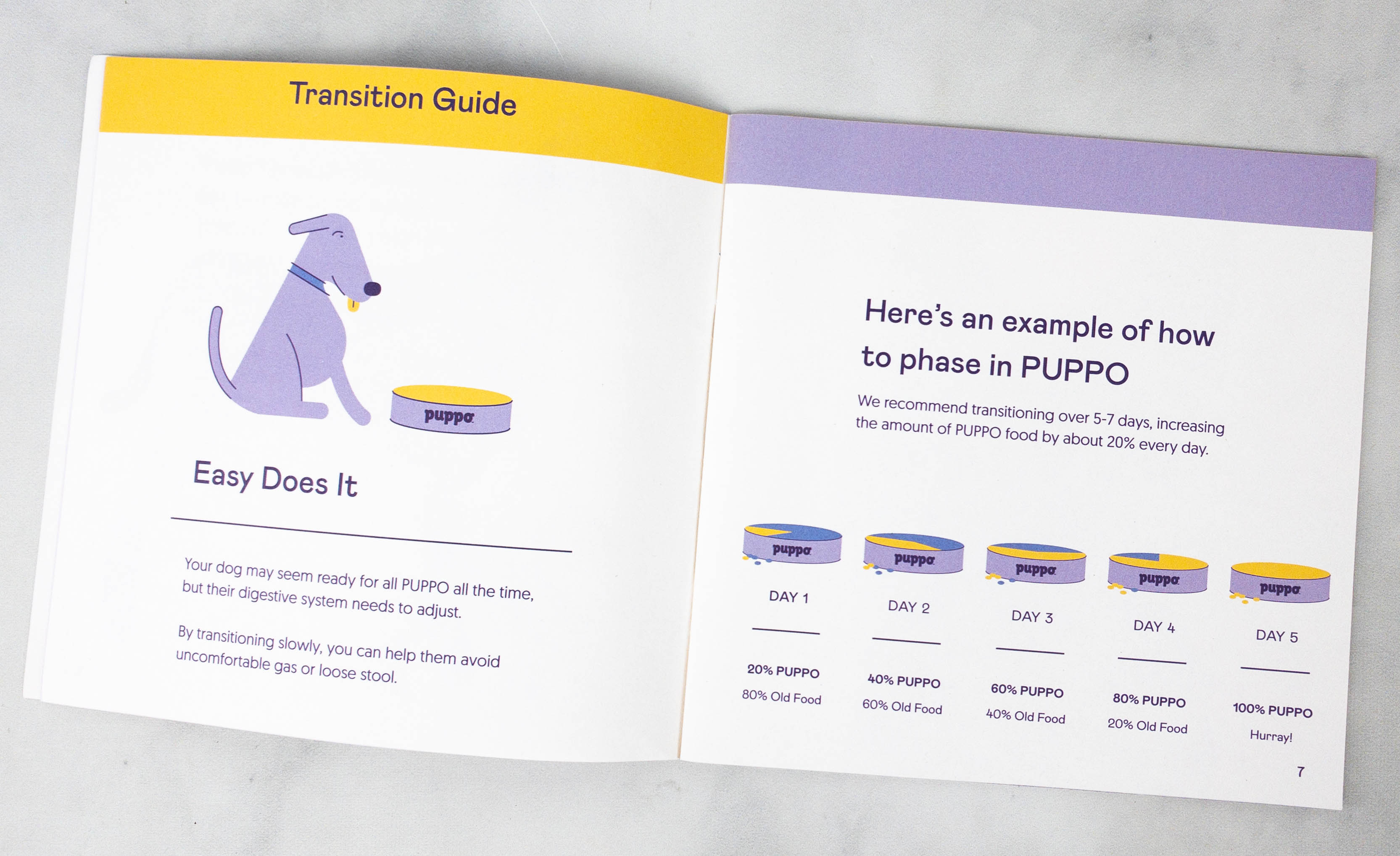 This transition guide is really useful! It shows the proper way of introducing Puppo to dogs. According to them, the recommended transition period is 5-7 days. It's also better if you will increase the amount of Puppo dog food by about 20% every day.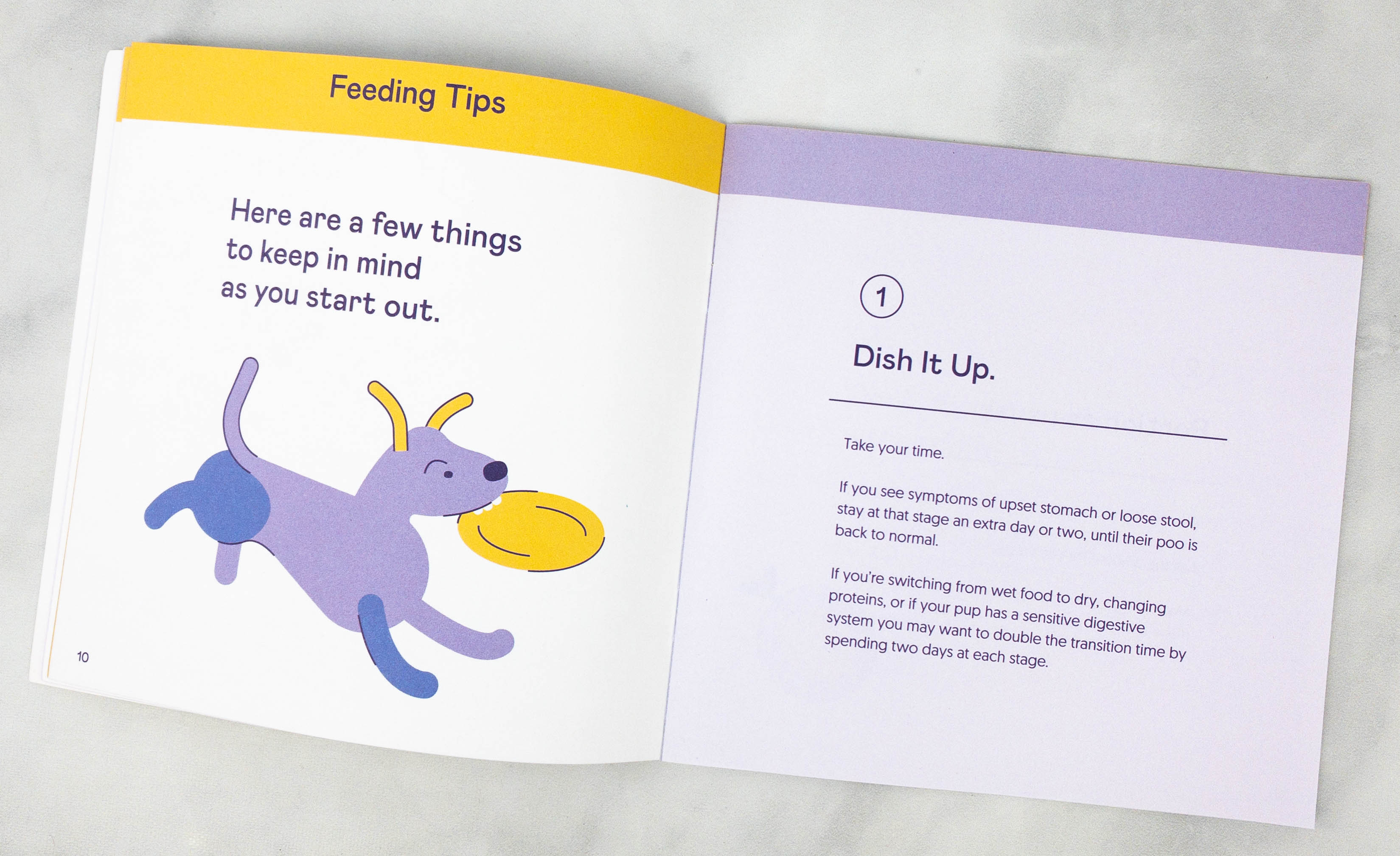 They also included useful feeding tips on the following pages.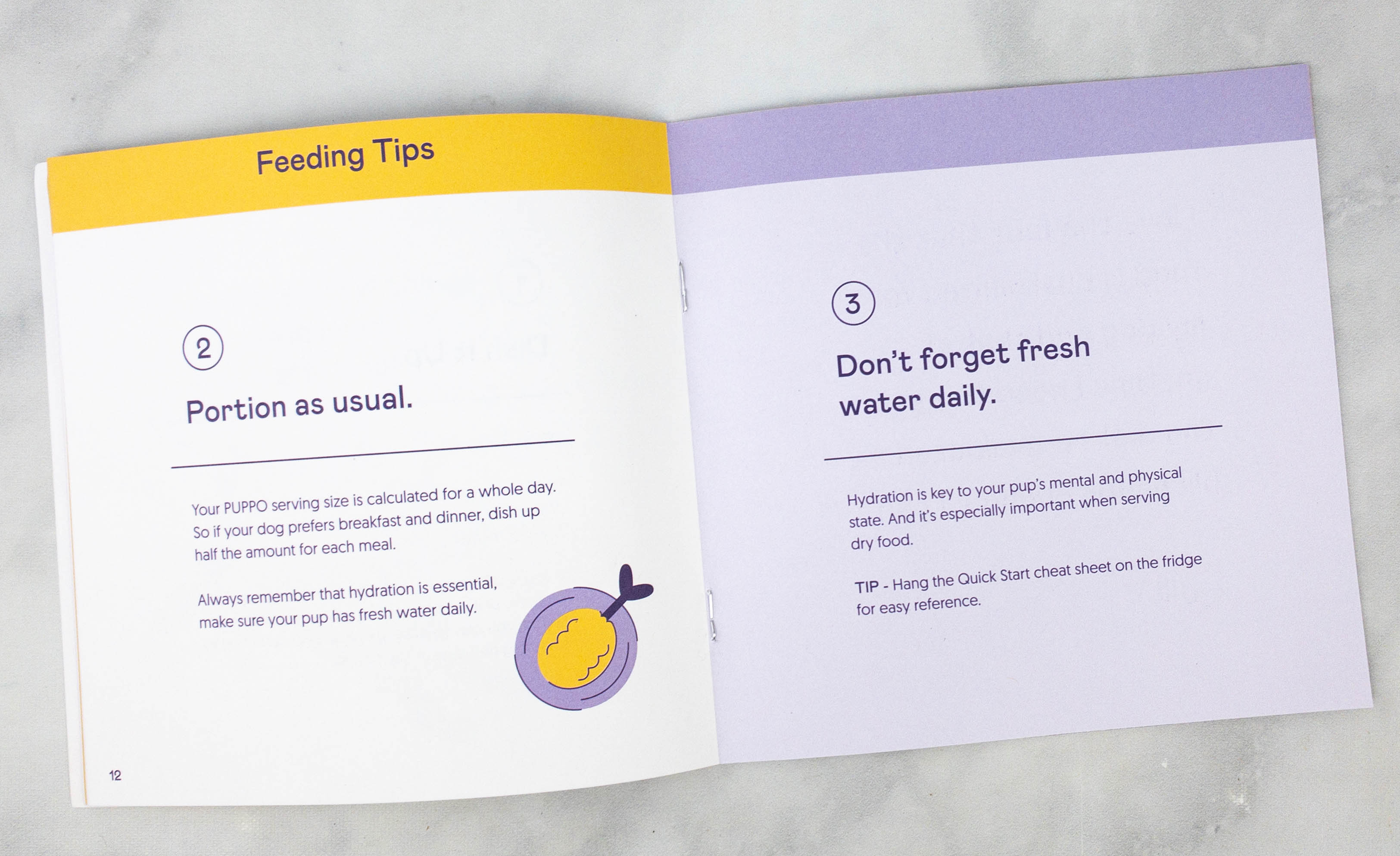 It's always nice to be informed on how to properly portion each serving. They also remind pet parents to give dogs fresh water every now and then.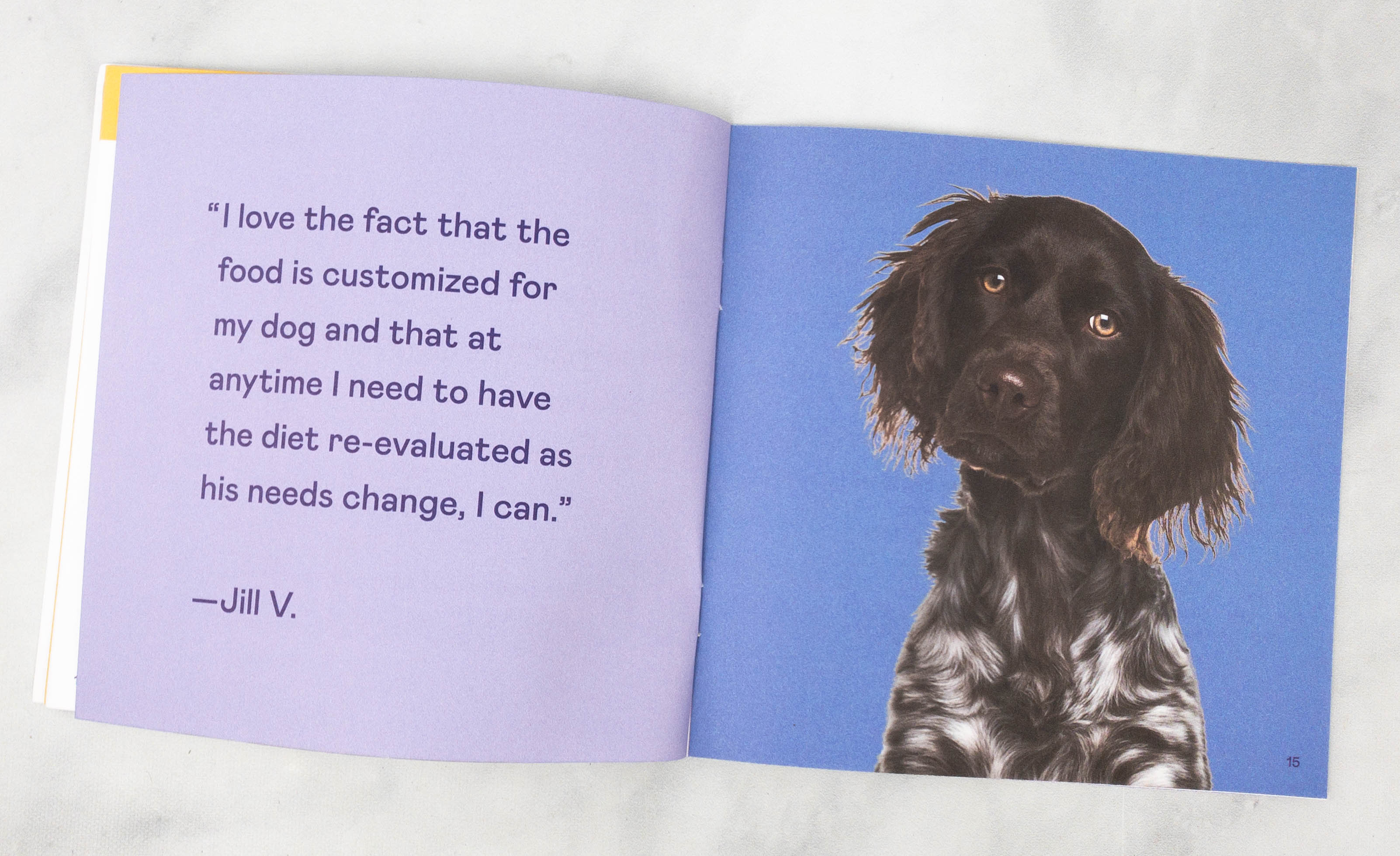 According to this part of the booklet, a pup's poop can tell you about their health. This is something you can monitor and you can also report it to them to help determine what's going on with your pup! Subscribers are also advised to update their pup's weight or health changes, so Puppo can make necessary adjustments in their personalized recipe.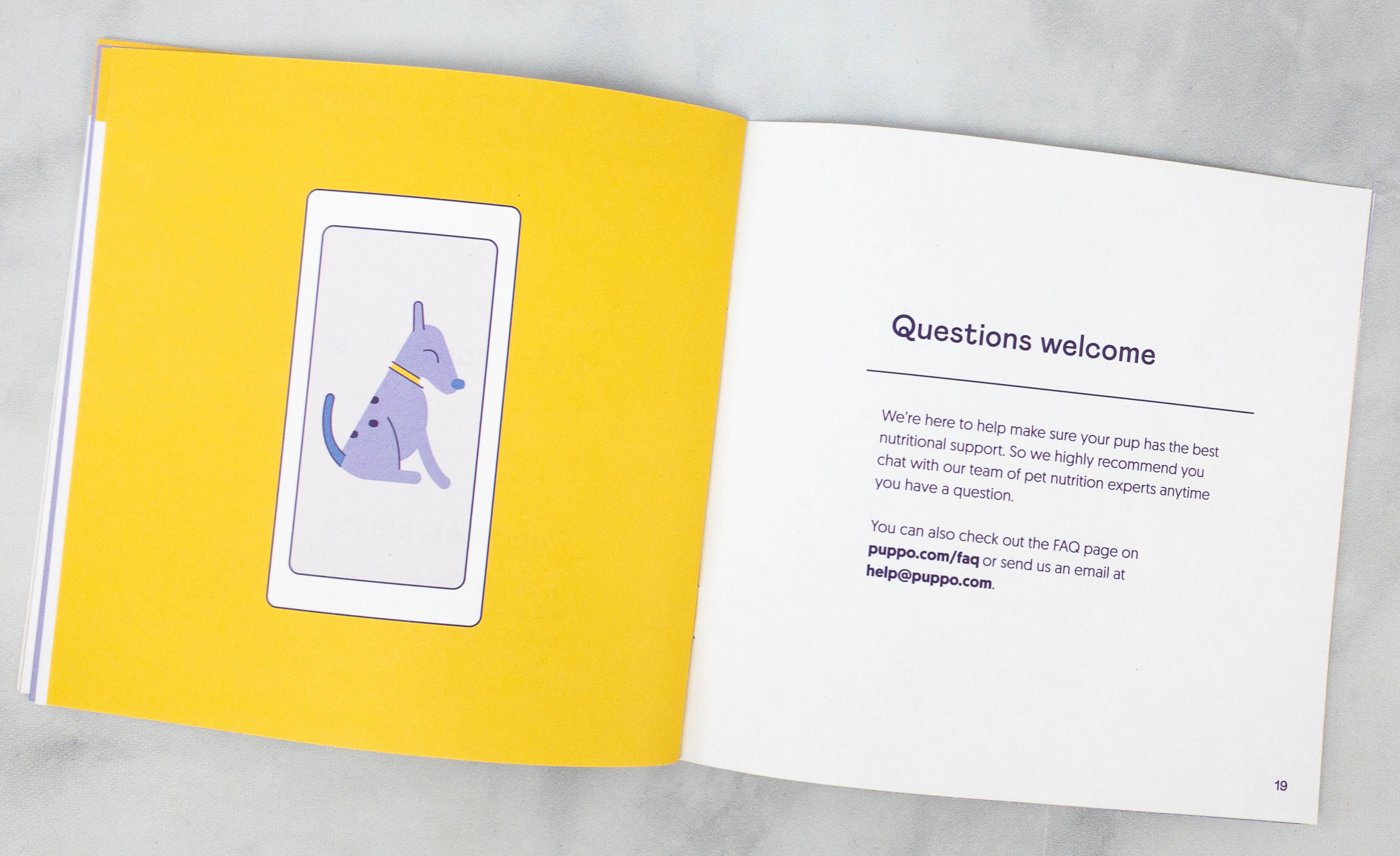 They have a team of pet nutrition experts that can answer your questions!
Everything in my box!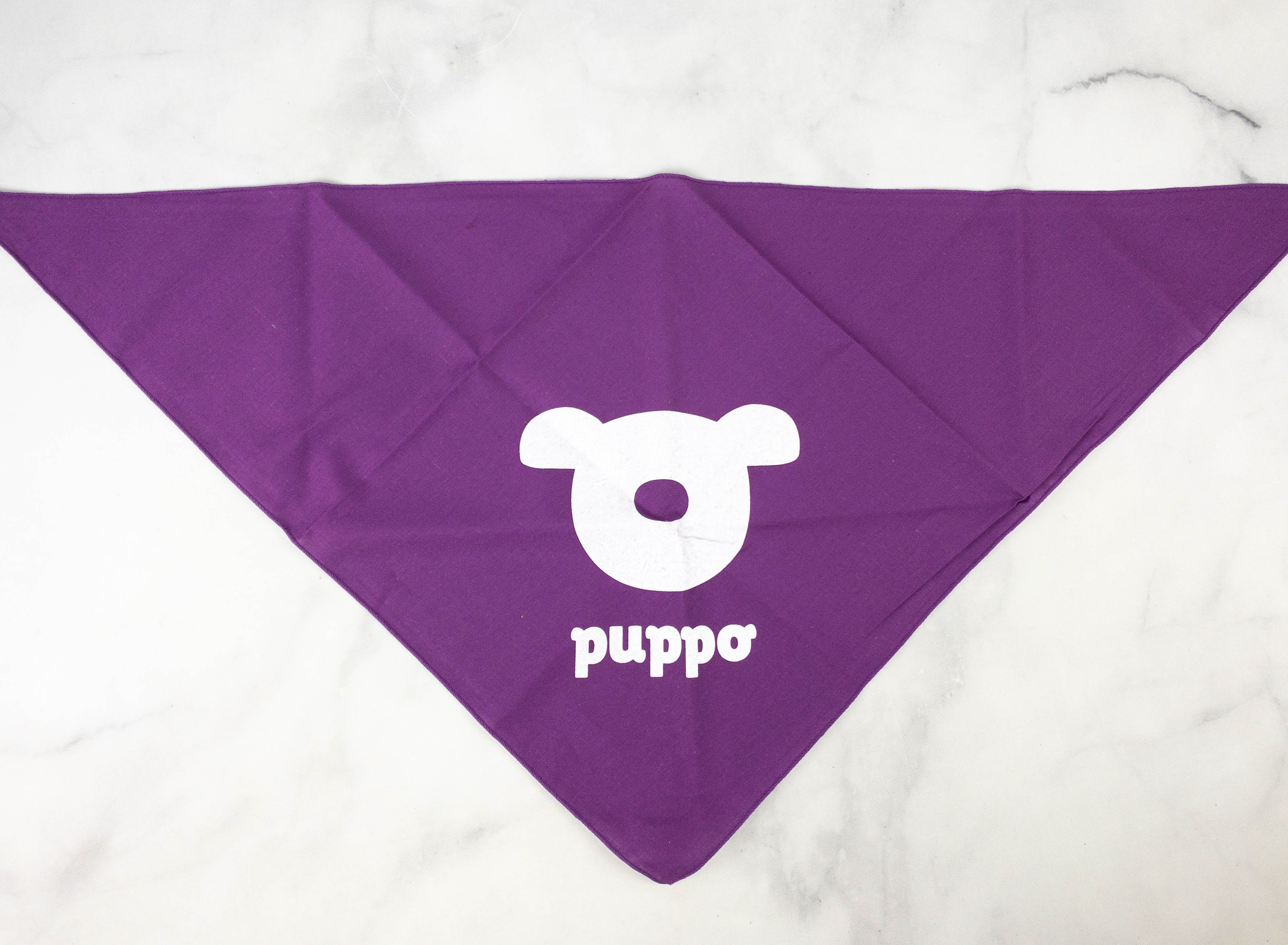 Bandana. My first box included a cute purple bandana with Puppo branding on it.
Scoop. There's also a scoop which can be used to accurately measure the serving of the dog food.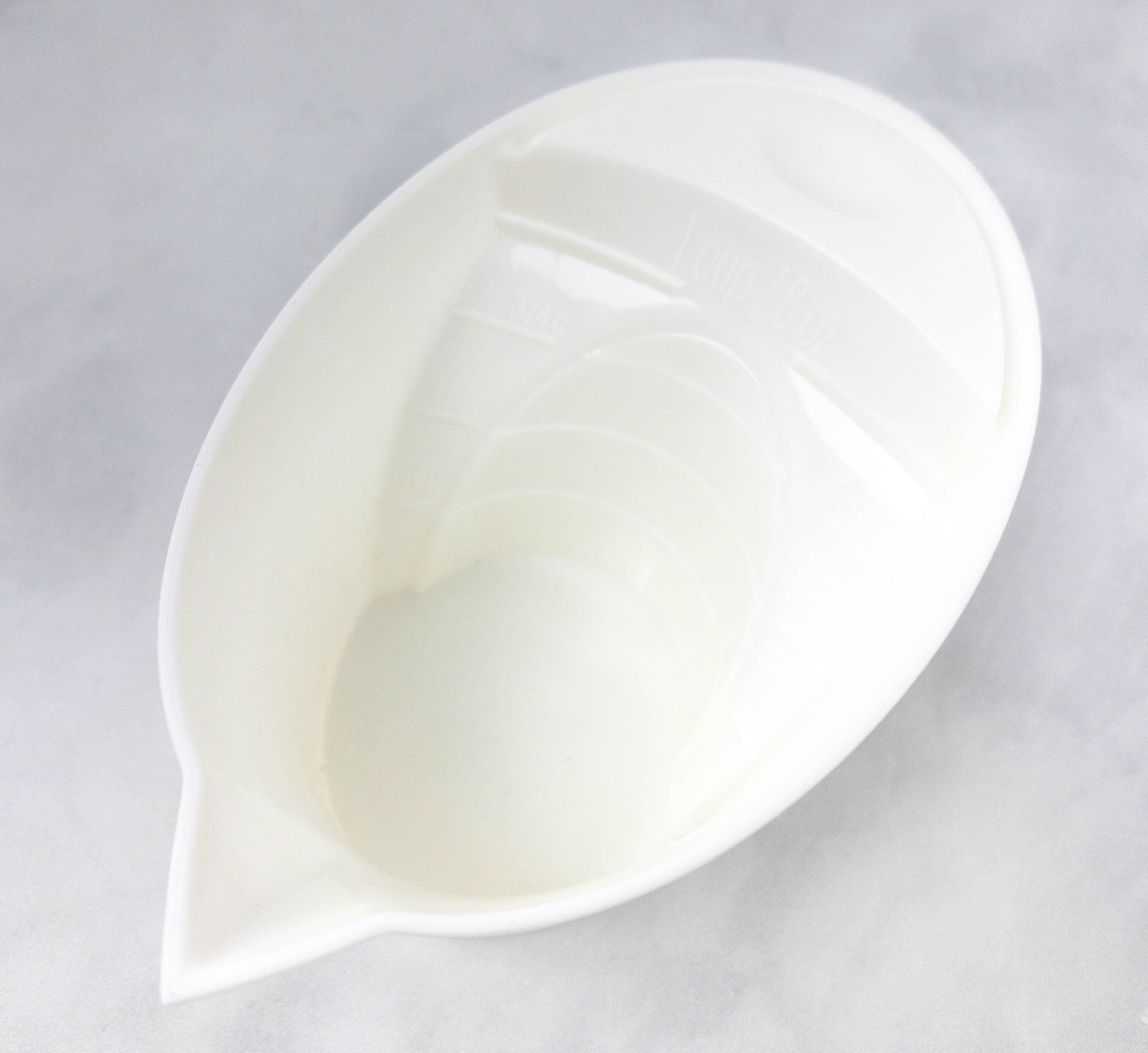 It's equivalent to an 8 oz. measuring cup. There's different levels inside.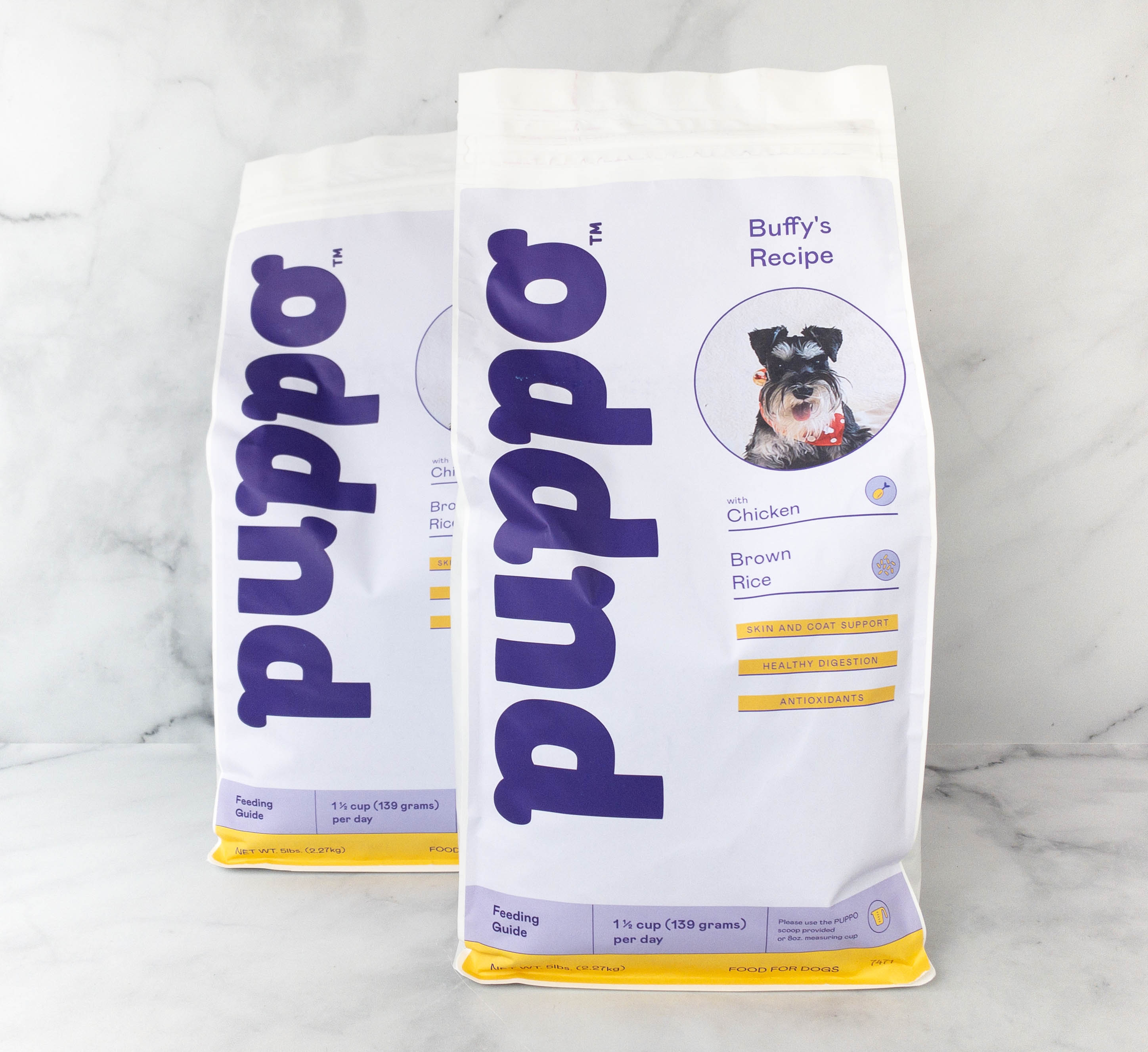 Buffy's Recipe with Chicken Brown Rice. Their recommended recipe for Buffy is Chicken and Brown Rice!
This recipe helps promote skin and coat support and healthy digestion. It's also rich in antioxidants.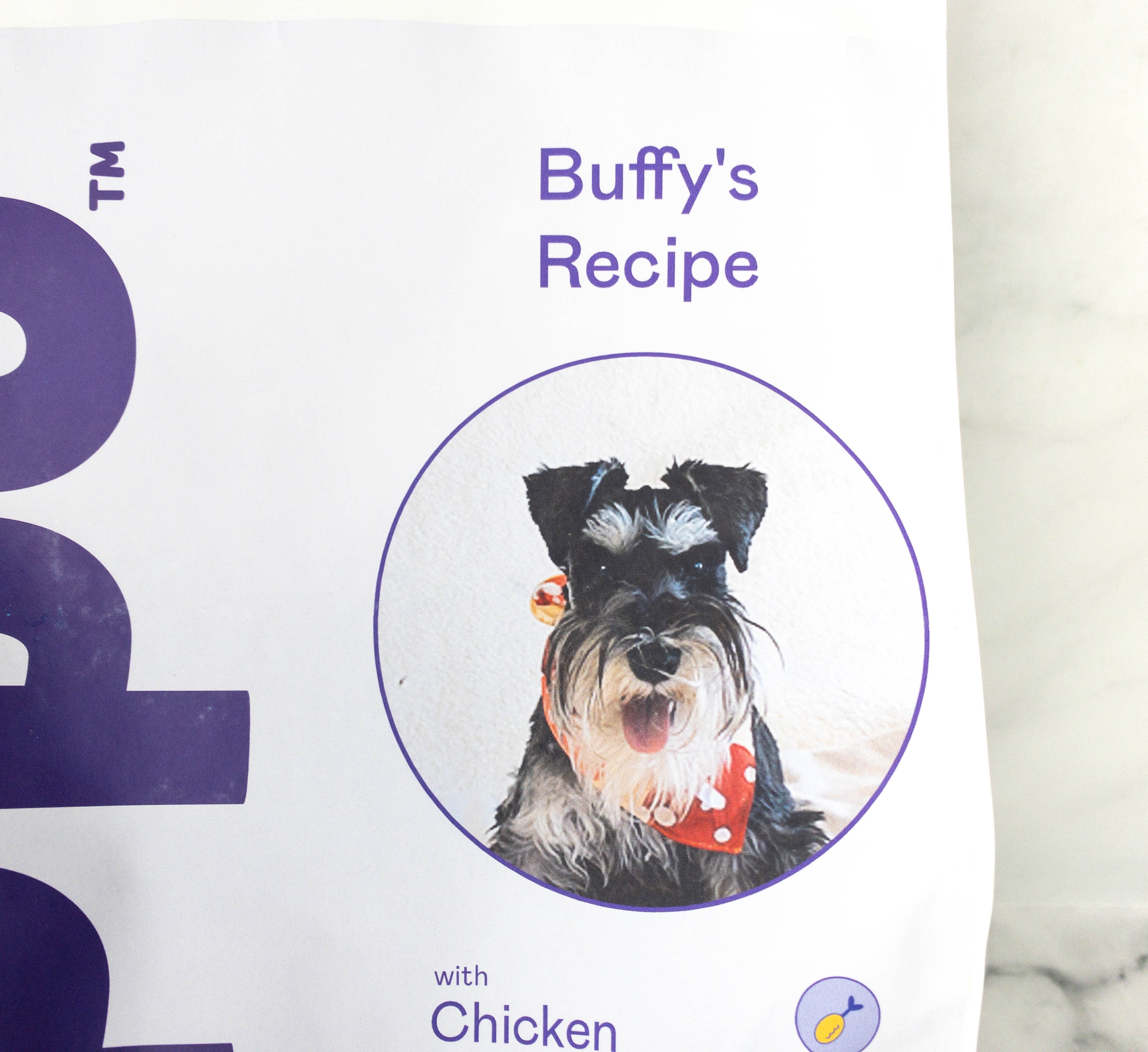 The packaging is so cute because it even has Buffy's photo on it! You can customize your dog's profile photo upon sign-up.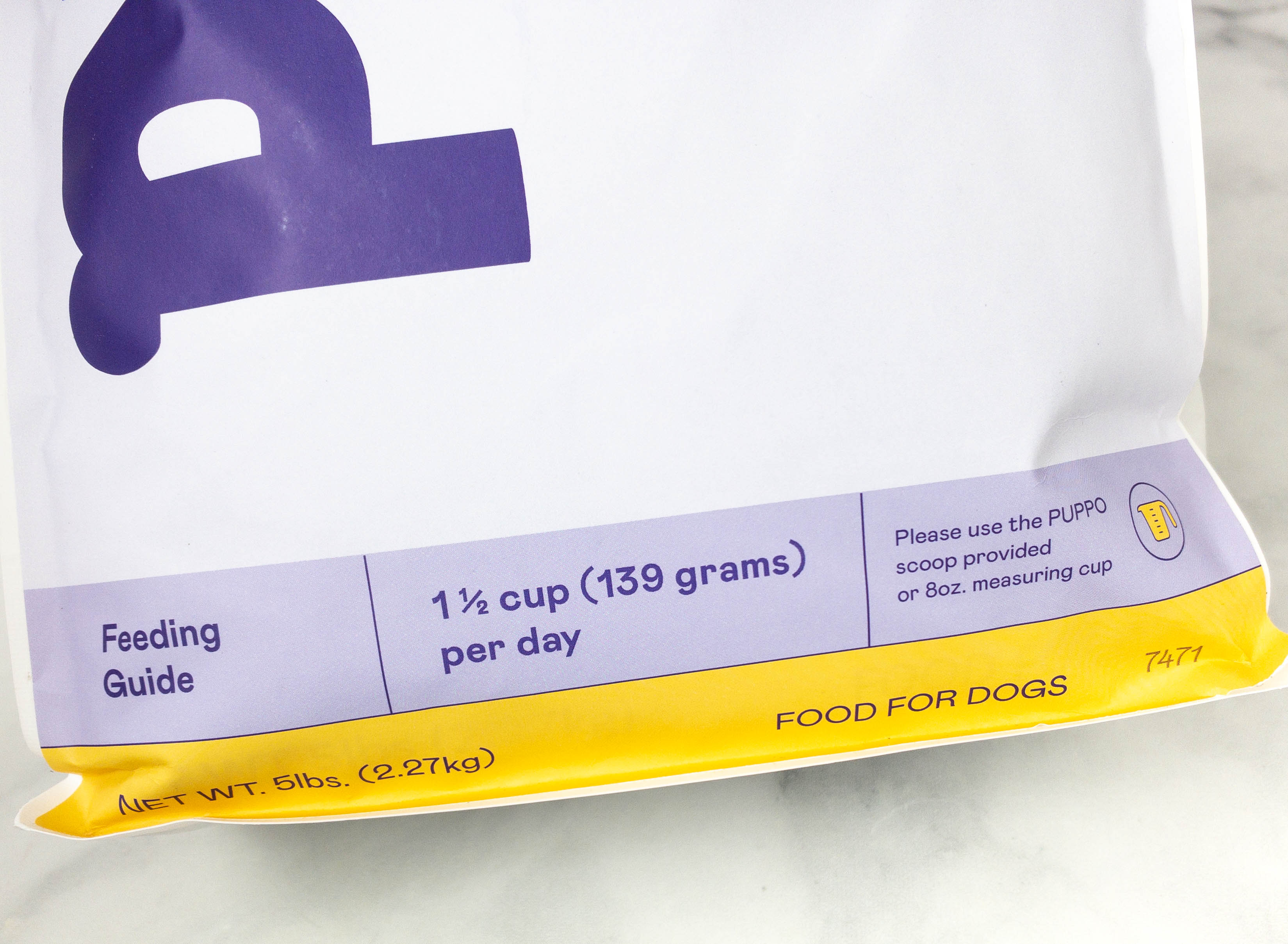 According to the packaging, 1 1/2 cup per day is the suggested feeding quantity.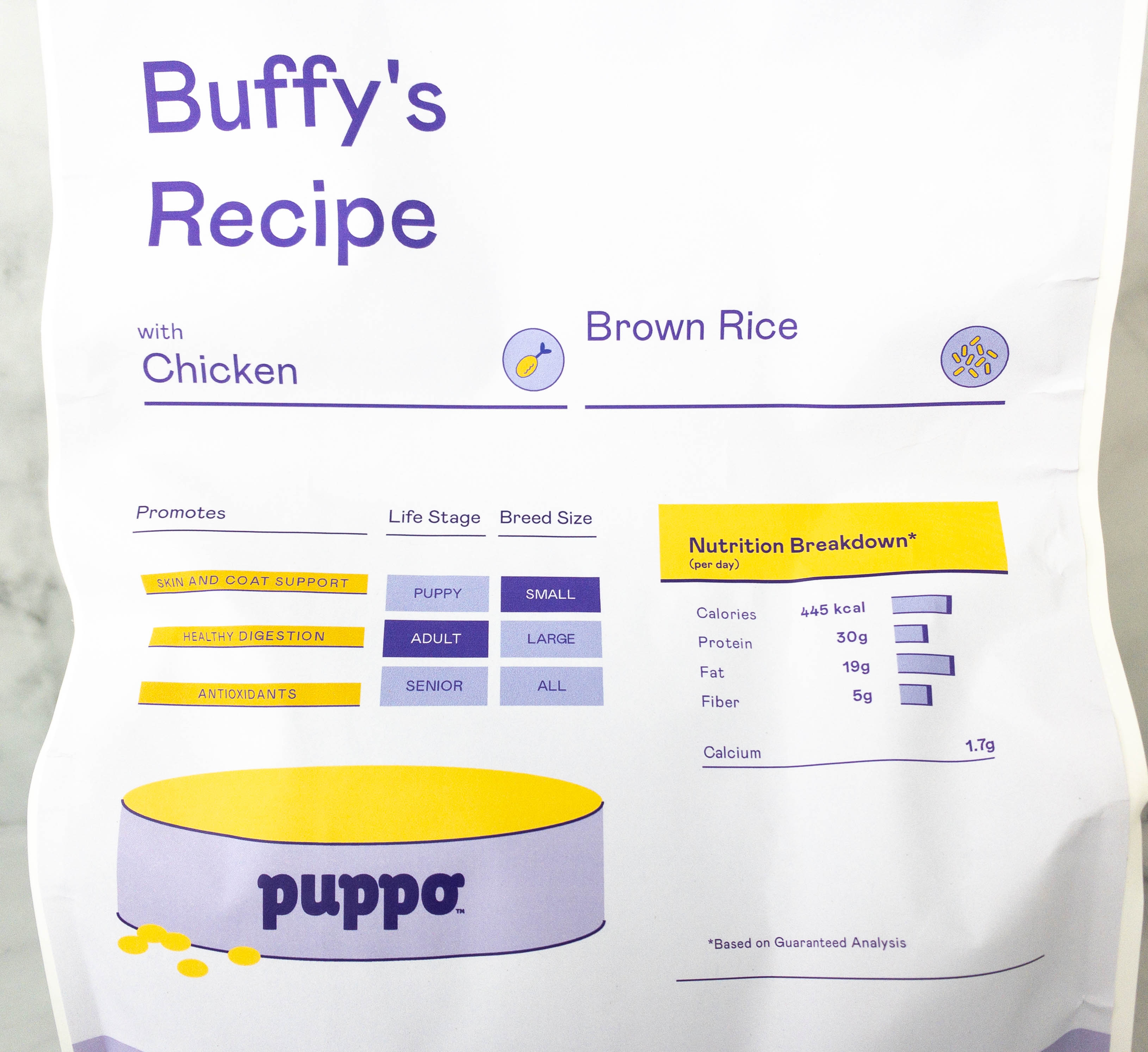 The packaging also included various information like a nutritional breakdown and benefits from the food.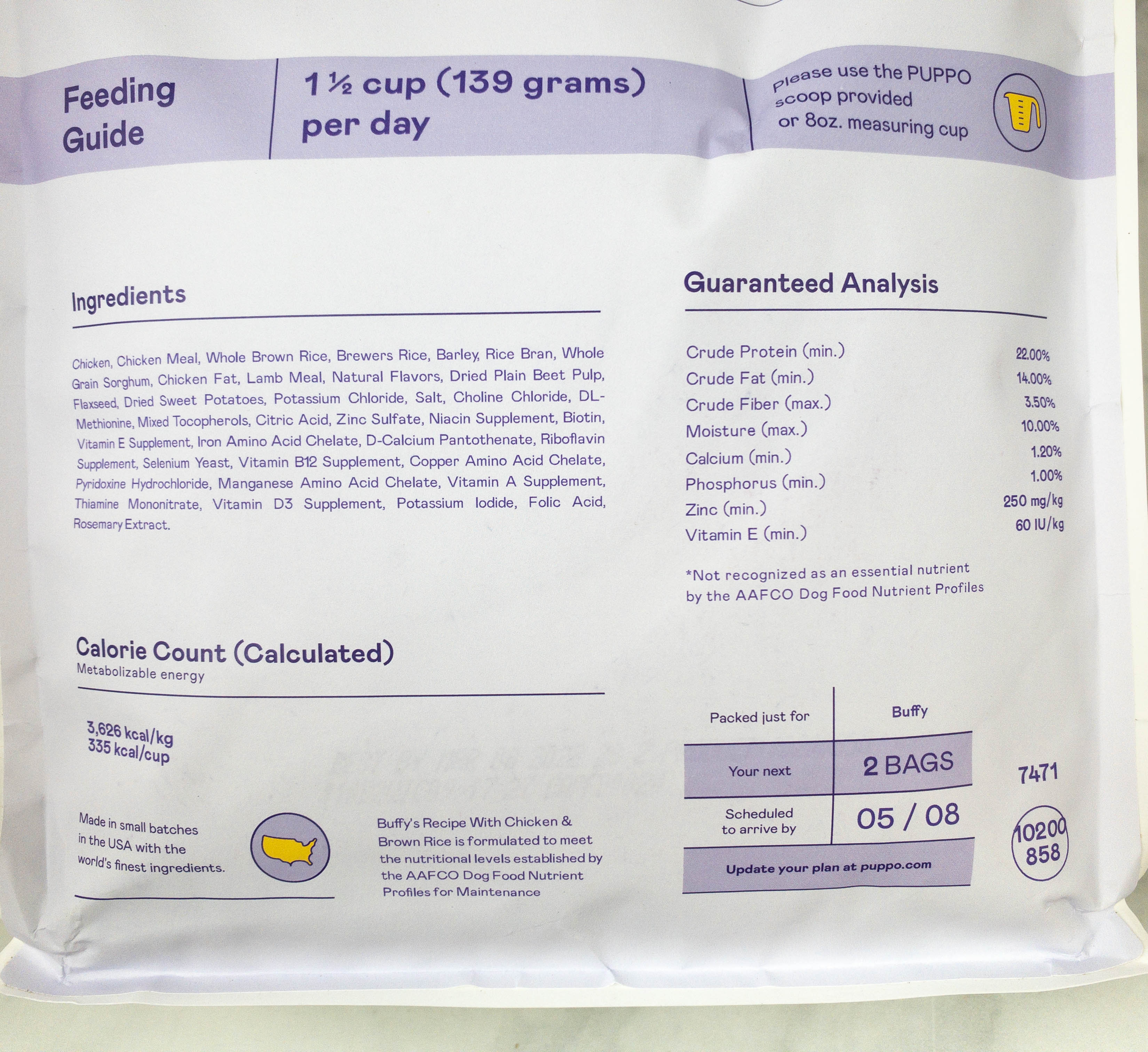 There's also a complete list of ingredients and a guaranteed analysis for the vitamins and minerals that can be obtained with every Puppo serving.
Ingredients

Chicken, Chicken Meal, Whole Brown Rice, Brewers Rice, Barley, Rice Bran, Whole Grain Sorghum, Chicken Fat, Lamb Meal, Natural Flavors, Dried Plan Beet Pulp, Flaxseed, Dried Sweet Potatoes, Potassium Chloride, Salt, Choline Chloride, DL-Methionine, Mixed Tocopherols, Citric Acid, Zinc Sulfate, Niacin Supplement, Biotin, Vitamin E Supplement, Iron Amino Acid Chelate, D-Calcium Pantothenate, Roboflavin Supplement, Selenium Yeast, Vitamin B12 Supplement, Copper Amino Acid Chelate, Pyridoxine Hydrochloride, Manganese Amino Acid Chelate, Vitamin A Supplement, Thiamine Mononitrate, Vitamin D3 Supplement, Potassium Iodide, Folic Acid, Rosemary Extract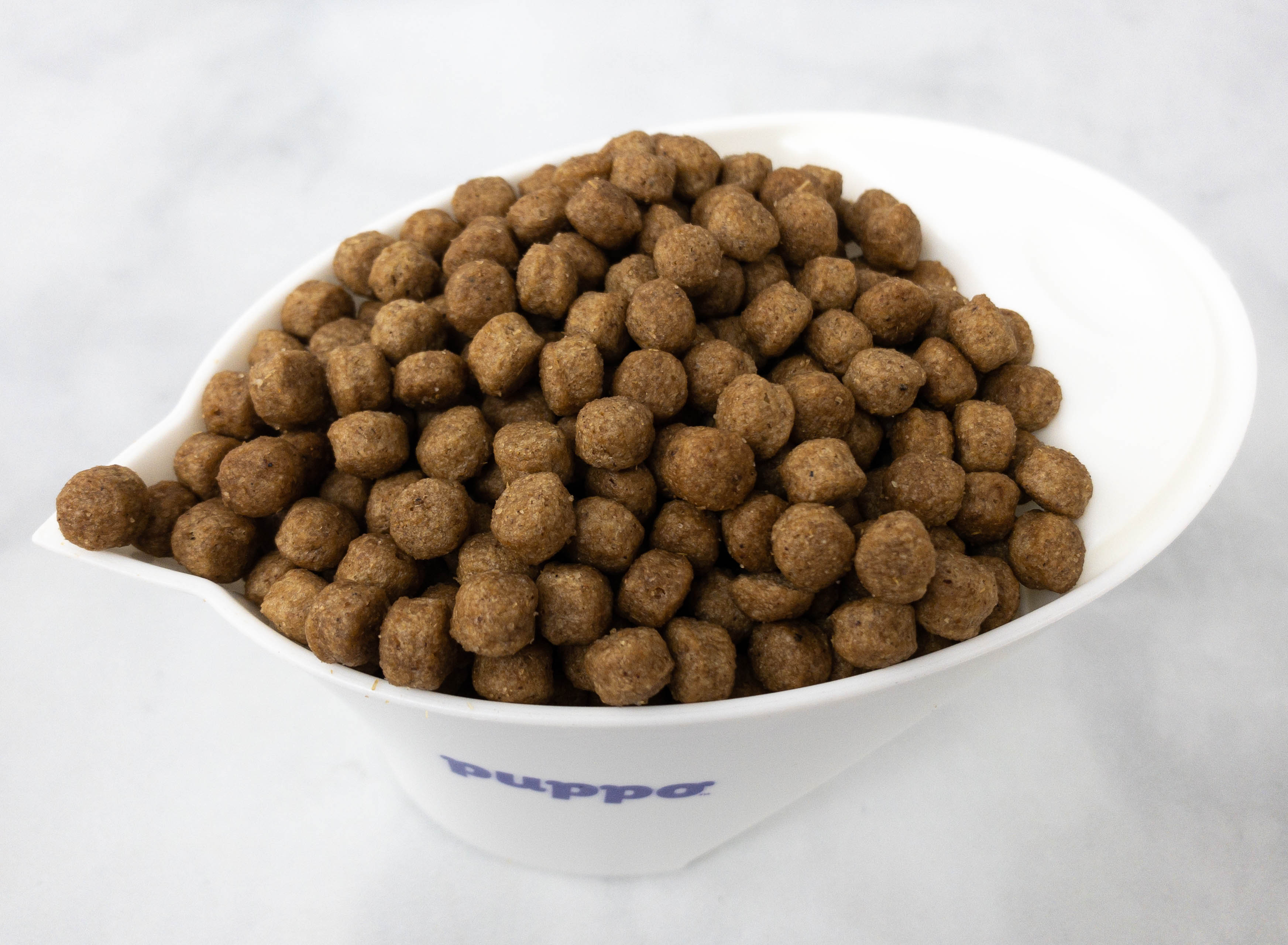 This dog food has a nice texture. They are perfectly crunchy and they're not too dry!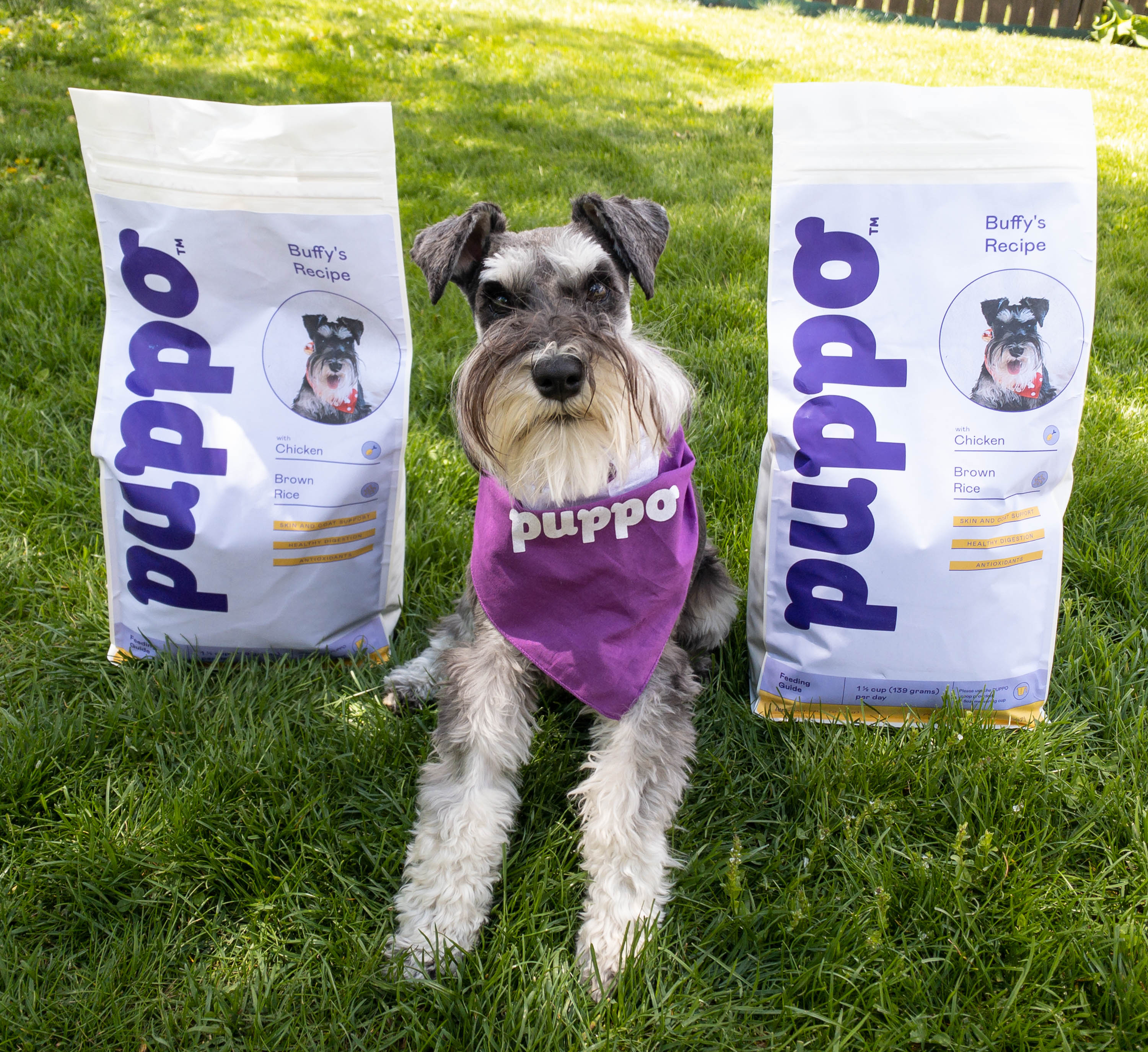 Here's Buffy wearing her new bandana and posing with her personalized Puppo recipe! (She nailed this photo!)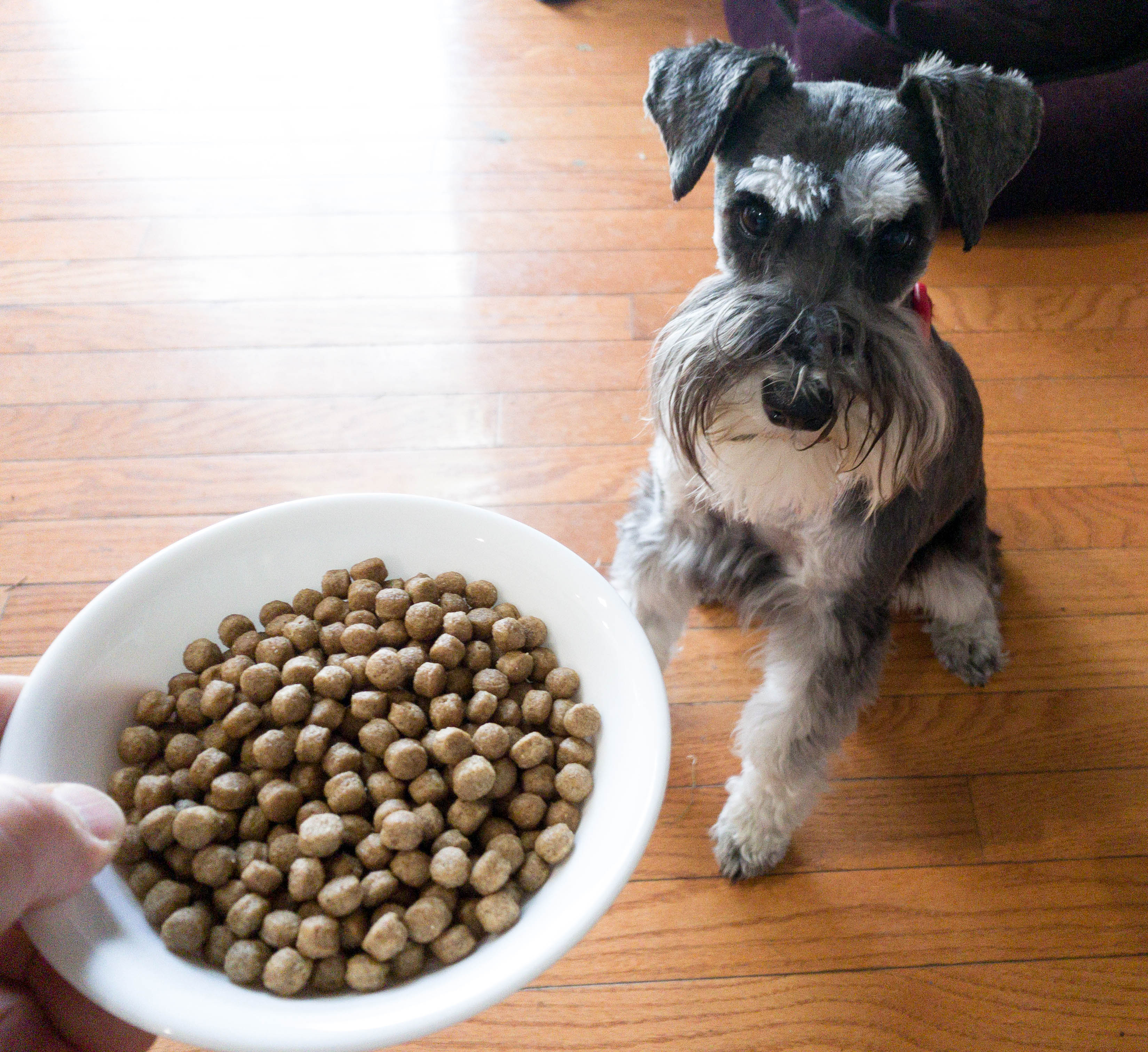 It's meal time! Buffy seemed to be interested in it as soon as a scooped the dog food and transferred it into her bowl.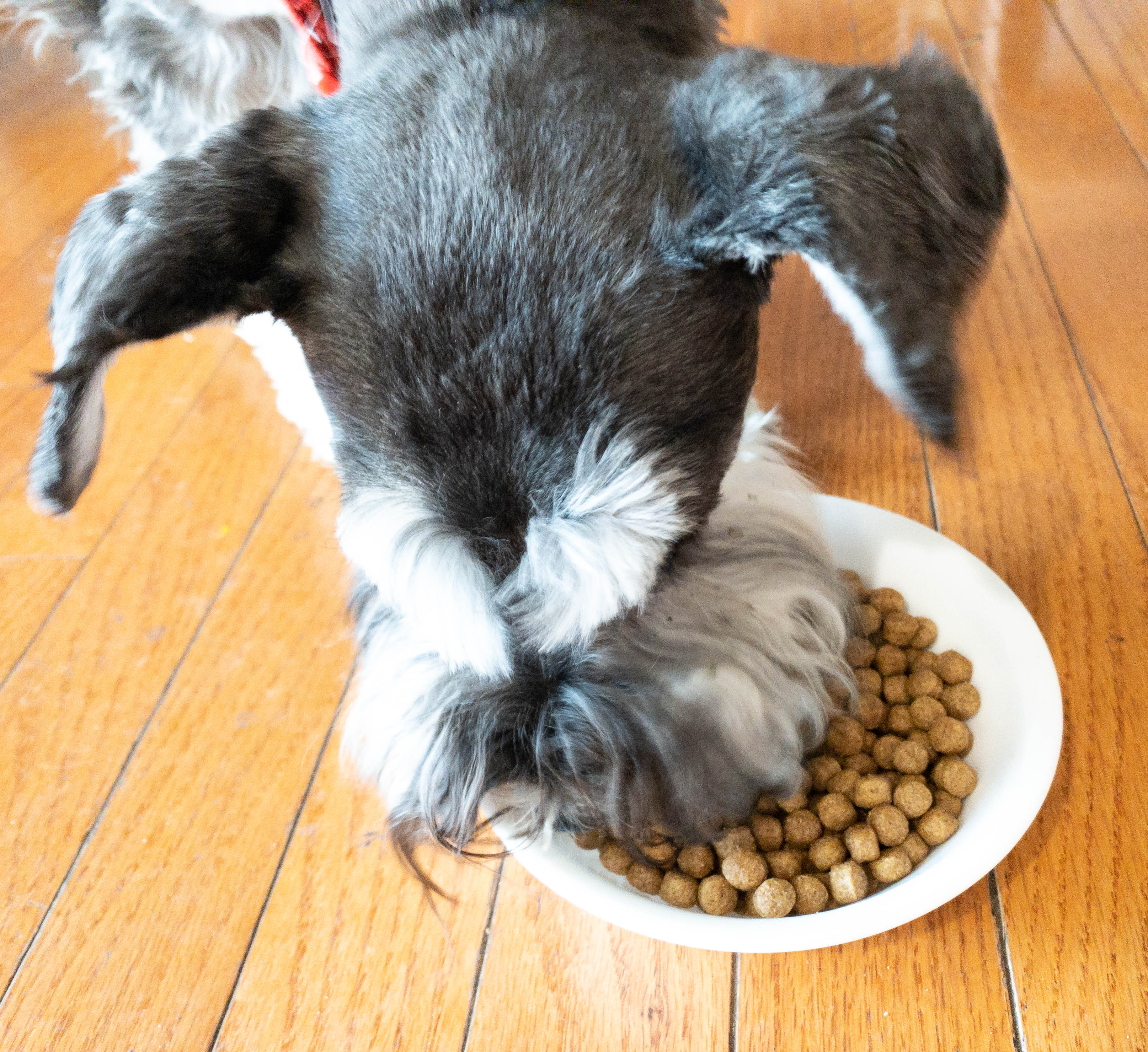 Buffy loves it! So did the other dogs – they went wild! I'm not sure if it's the flavor or the unique kibble shape, but this was really a hit. You'd think with 3 dogs there would be more competition, but they are usually fairly chill about meal times. My picky eater Dean also liked this meal!
For dogs with sensitivities and health concerns, Puppo is a great subscription choice. They send a personalized dog food recipe, made according to your dog's profile which you will fill out upon sign up. Buffy is a small but very active dog and she needs a skin and coat health boost, as well as other nutrients to keep her strong and active. So far, Buffy has no problems with her chicken and brown rice recipe. She can also easily finish her bowl! The booklet was a great help in the transition process and I also appreciate the inclusion of feeding tips. Puppo definitely met my expectations, from the quick and easy sign up process to the quality of the dog food!
What do you think of Puppo?