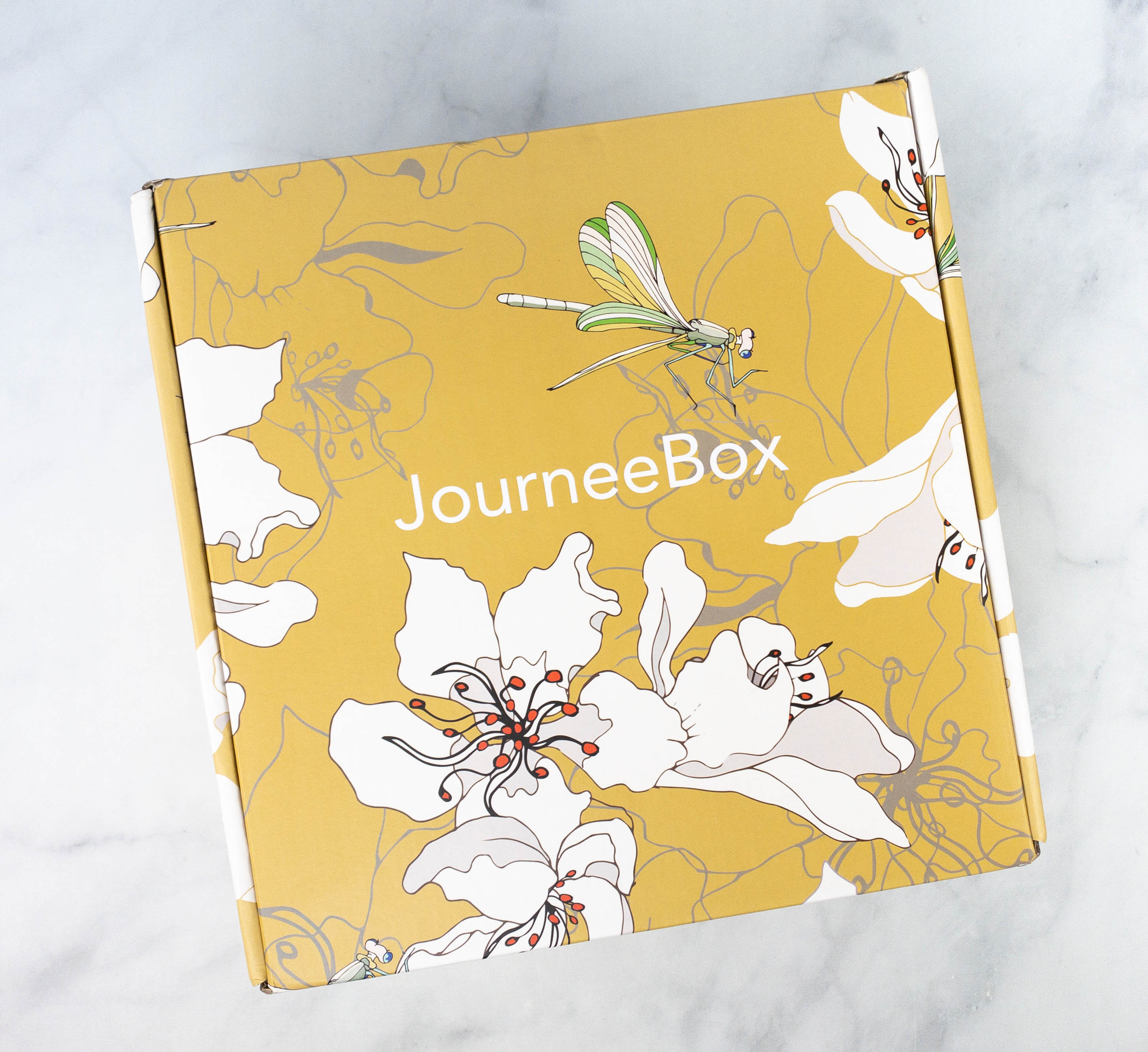 JourneeBox by Kevia is a quarterly subscription box filled with ethically-made and sustainable luxury goods. Expect jewelry, accessories, beauty, and home items in this box! It's $54.99 per quarter, down to $49.99 per quarter on a pre-paid annual subscription.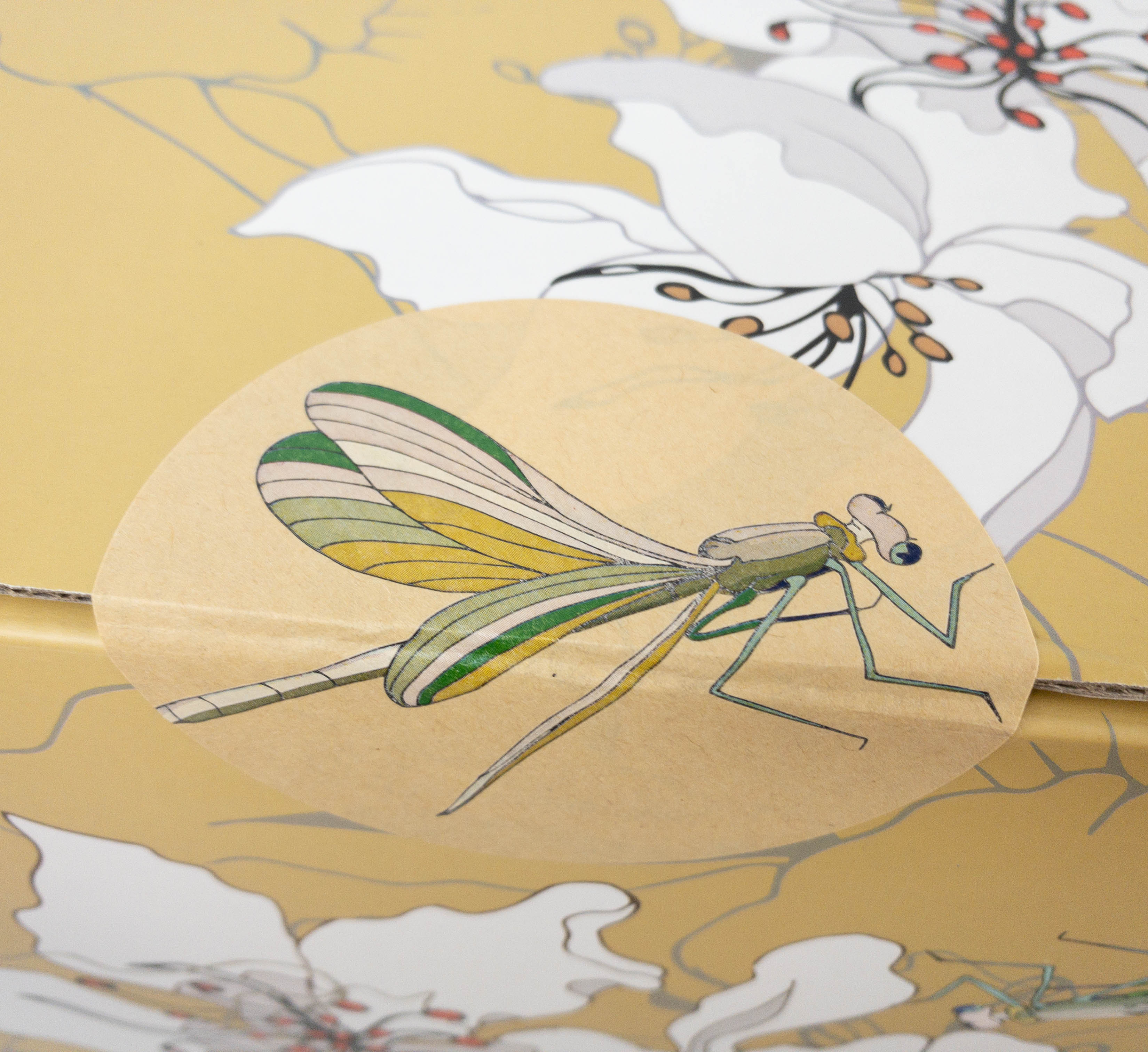 The yellow box features a dragonfly sticker to seal it.
It's well packaged and perfectly giftable!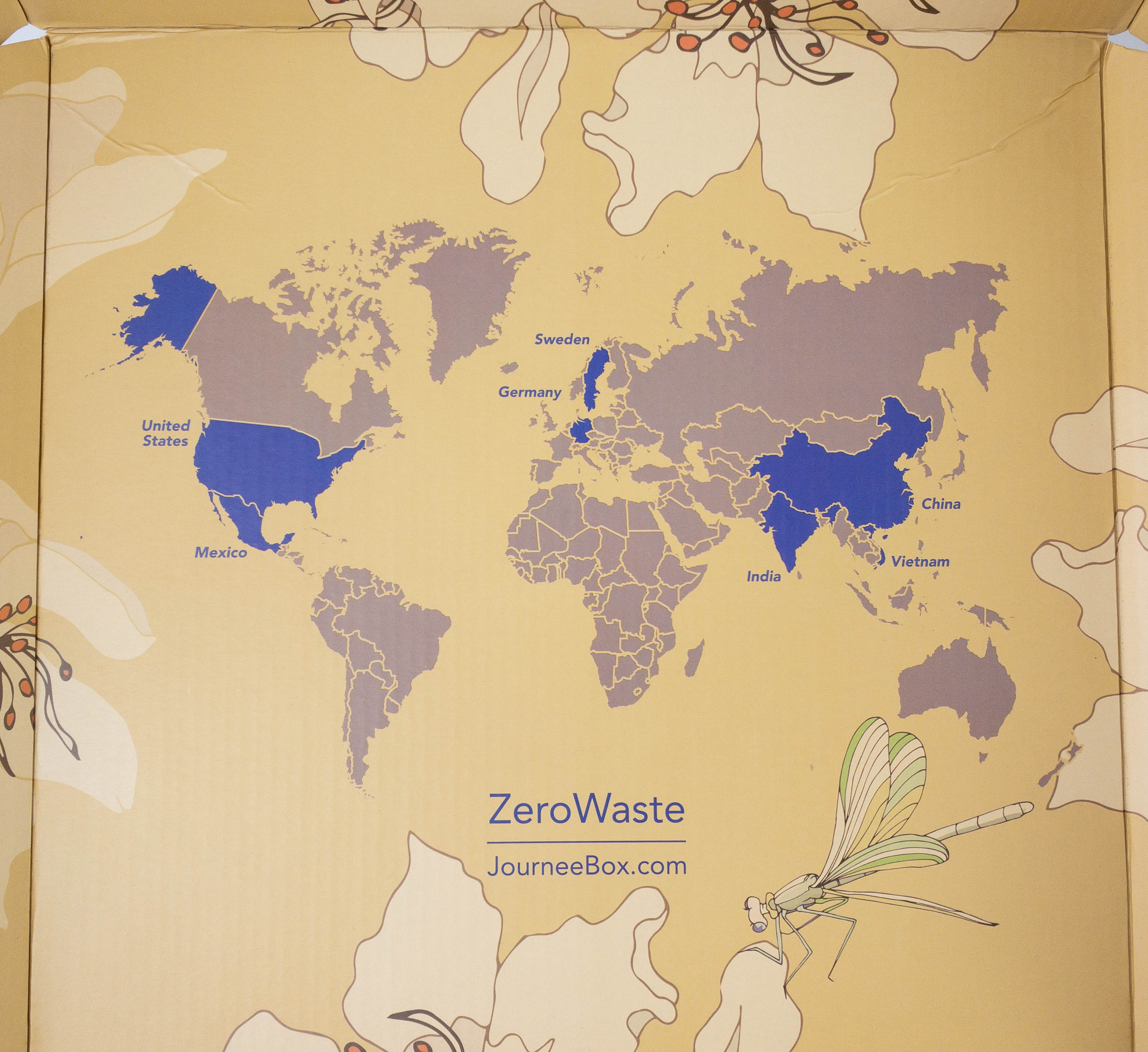 The back of the cover flap shows a map, highlighting certain countries.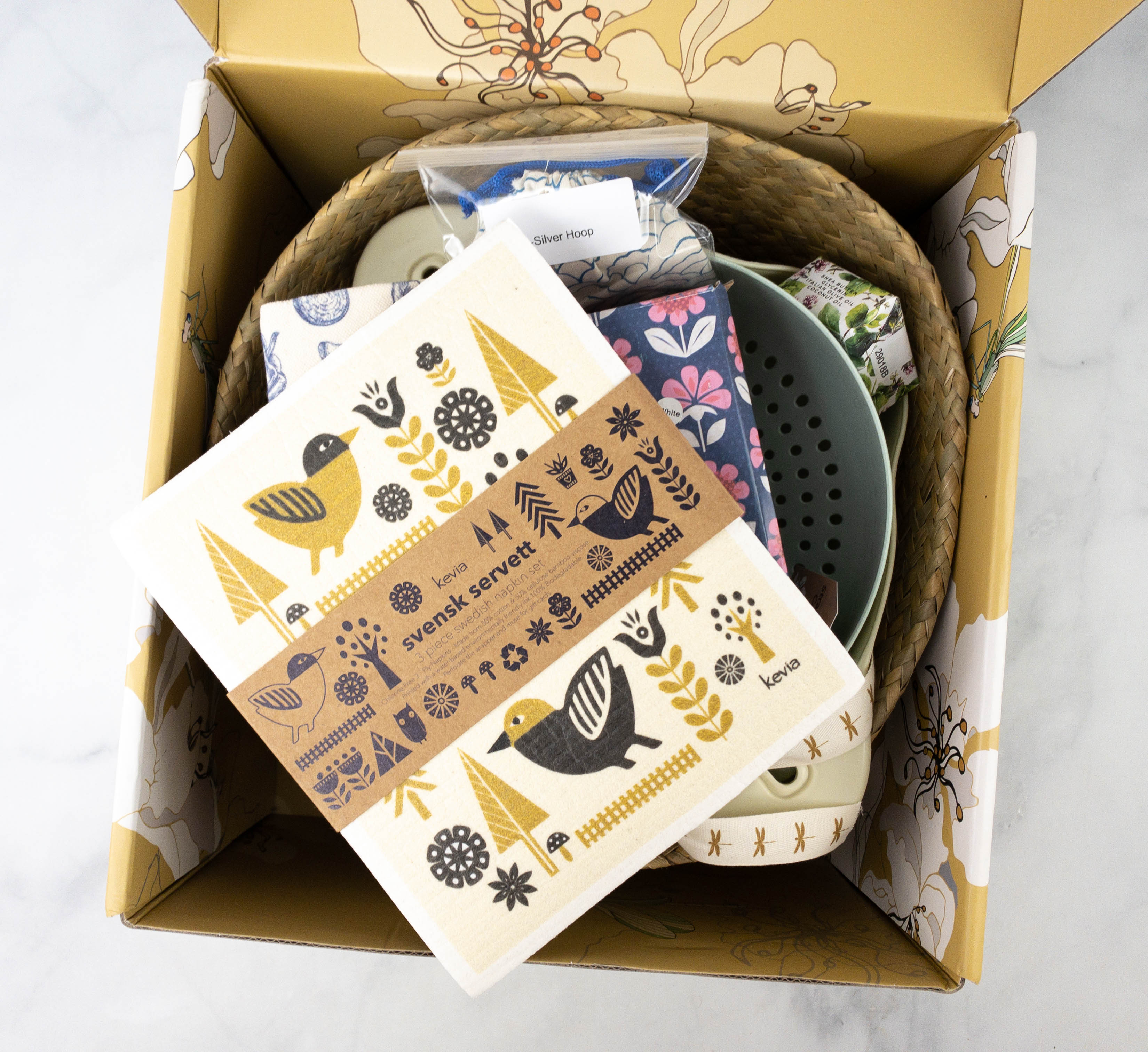 Everything came in good condition!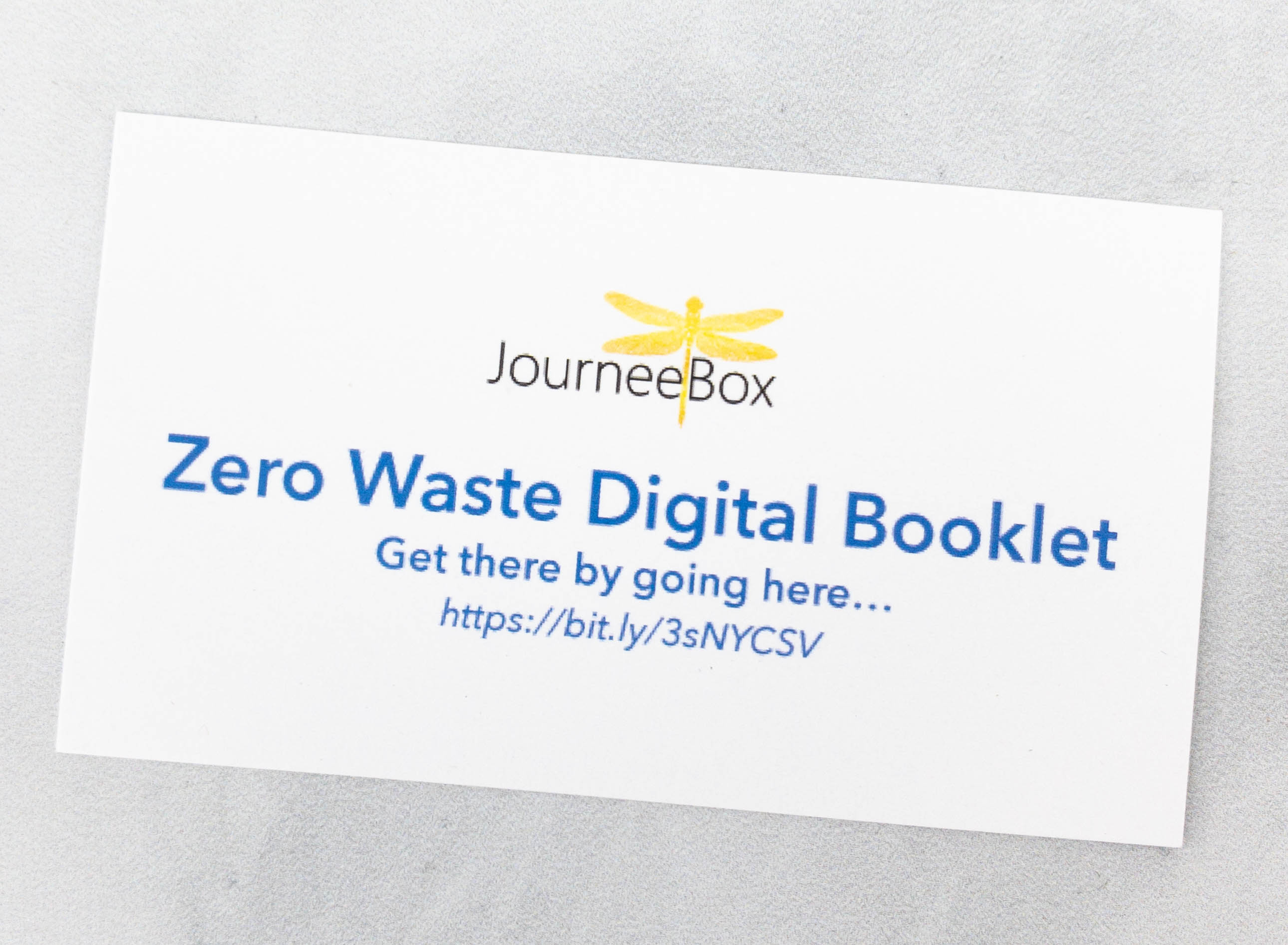 There's a small piece of paper with a note that this quarter's booklet is digital.
You can use either the URL or the QR code provided on the paper to access to booklet.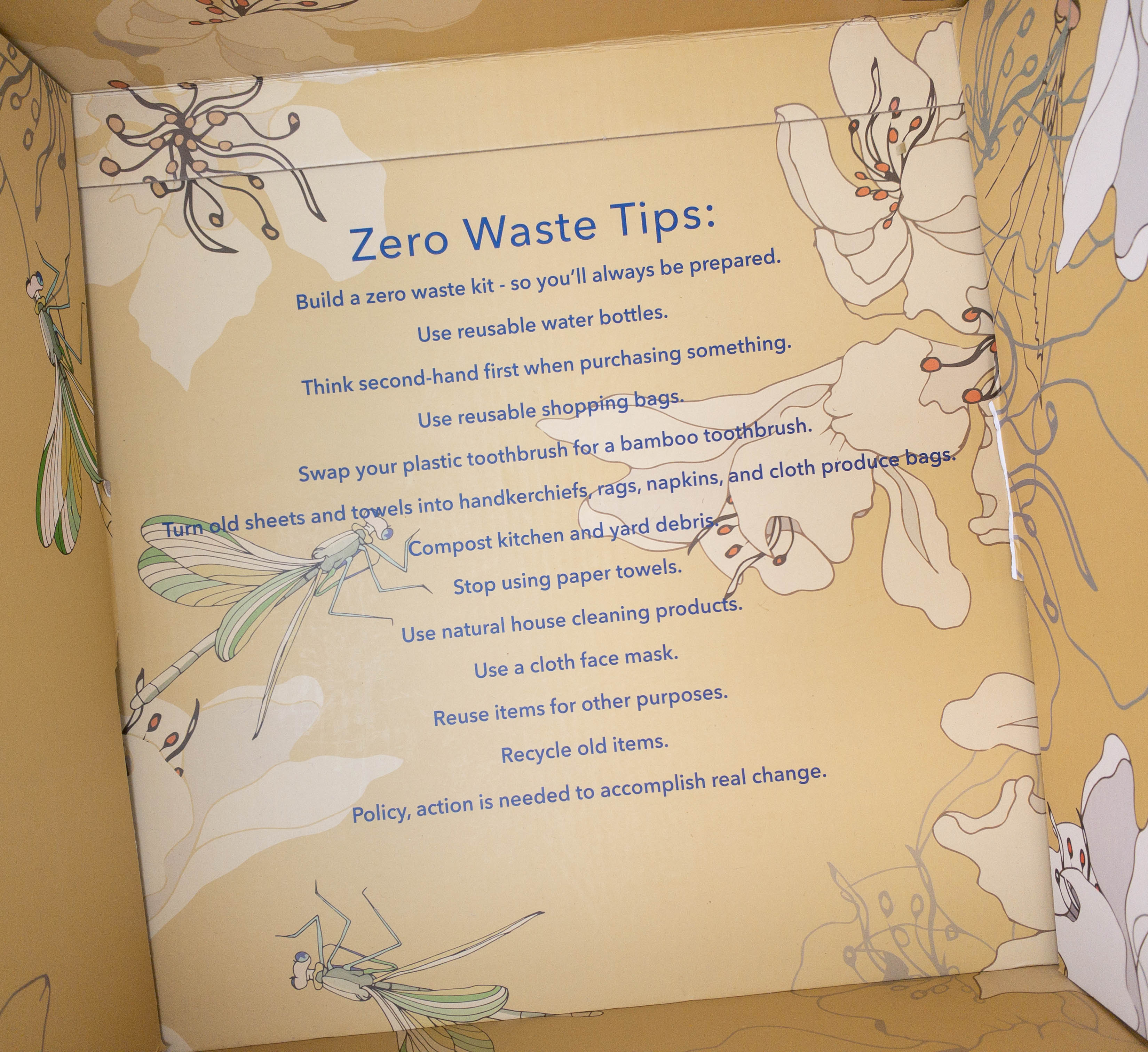 At the bottom of the box, they included some zero-waste tips!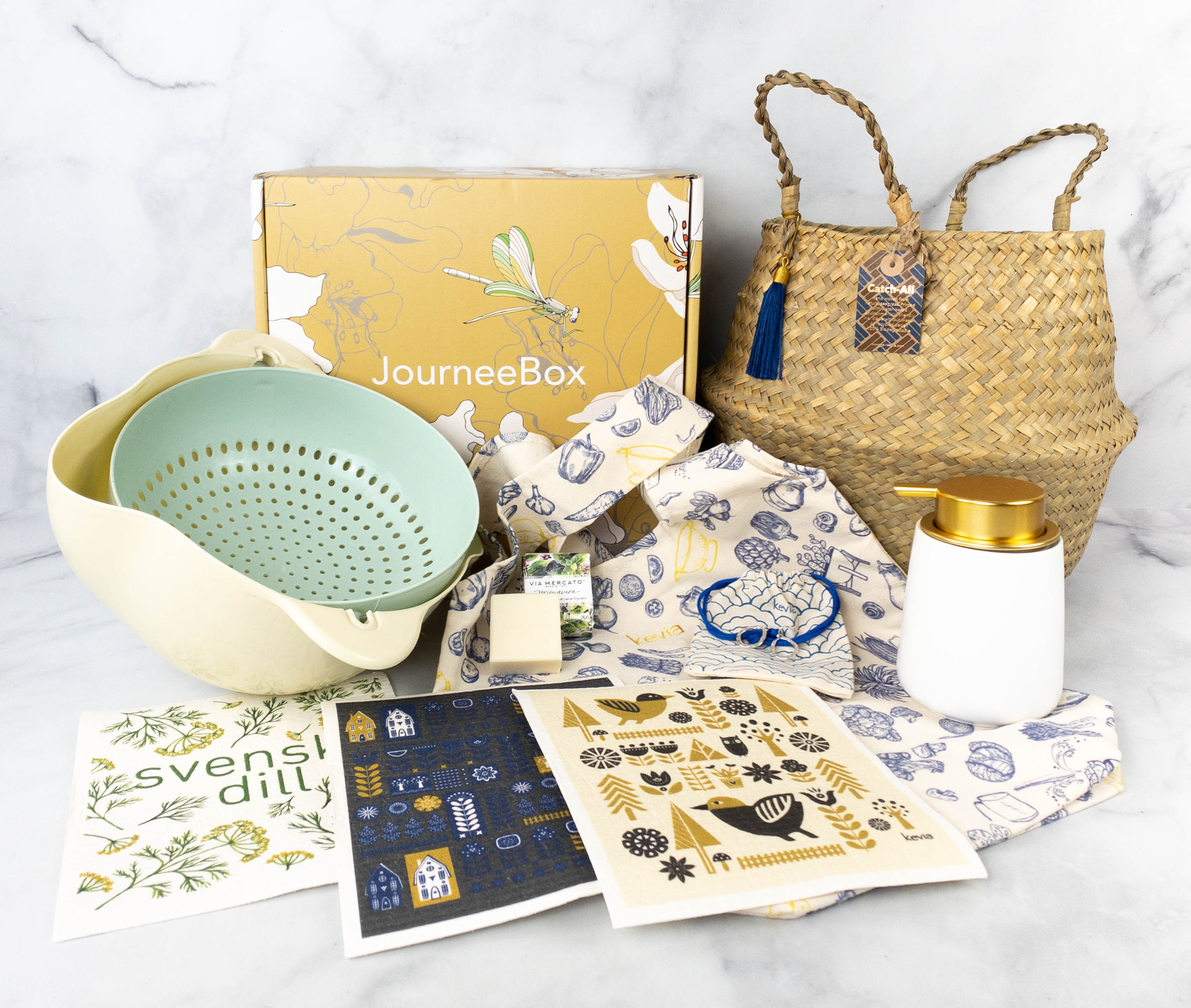 Everything in my box!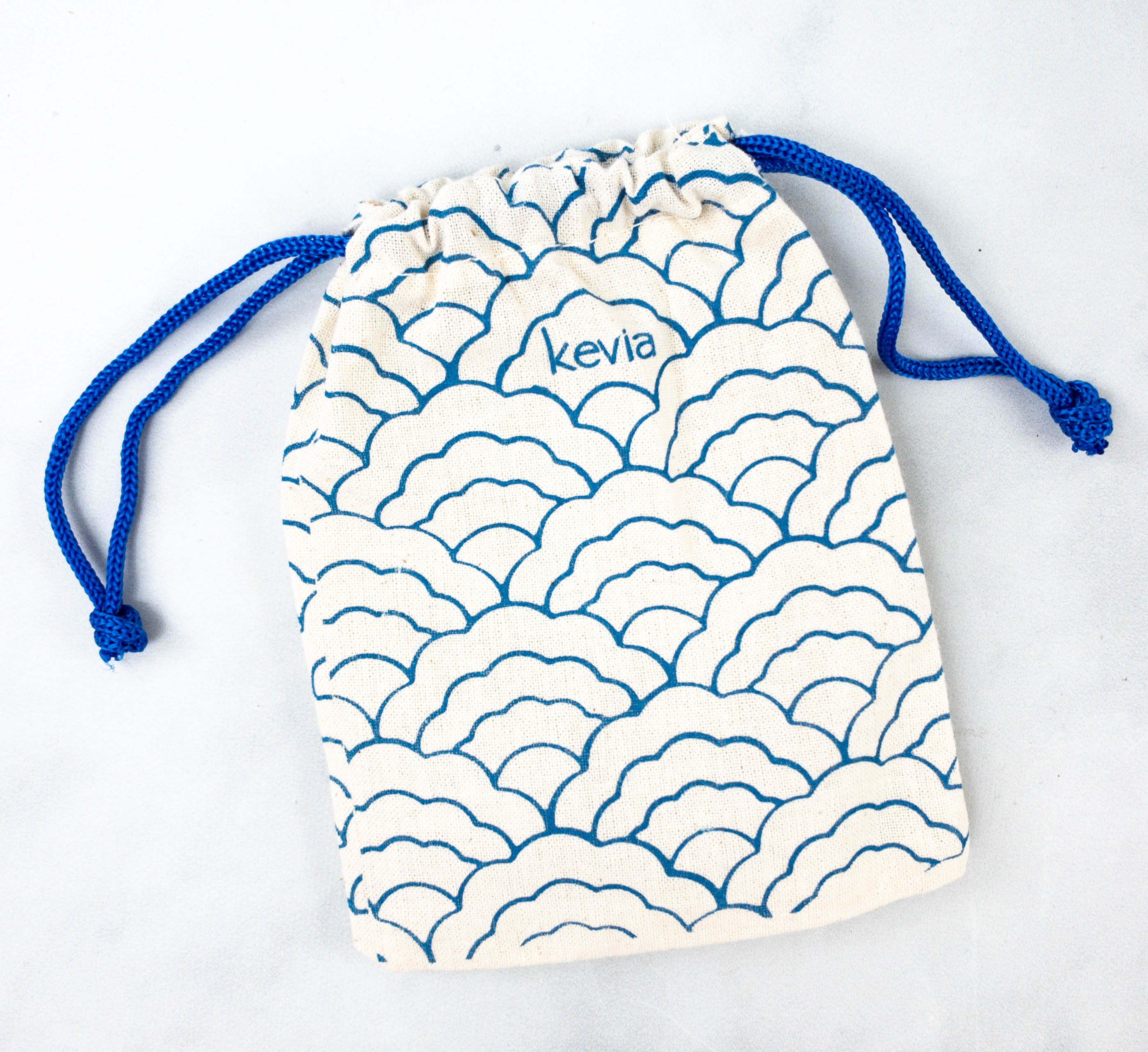 Silver Hammered Hoops Earrings. Subscribers were able to choose among 3 earring styles: Two Tone Pedal Earrings, Silver Hammered Hoops, and Gold Hammered Hoops. I chose the silver hoops, which are made from recycled metals.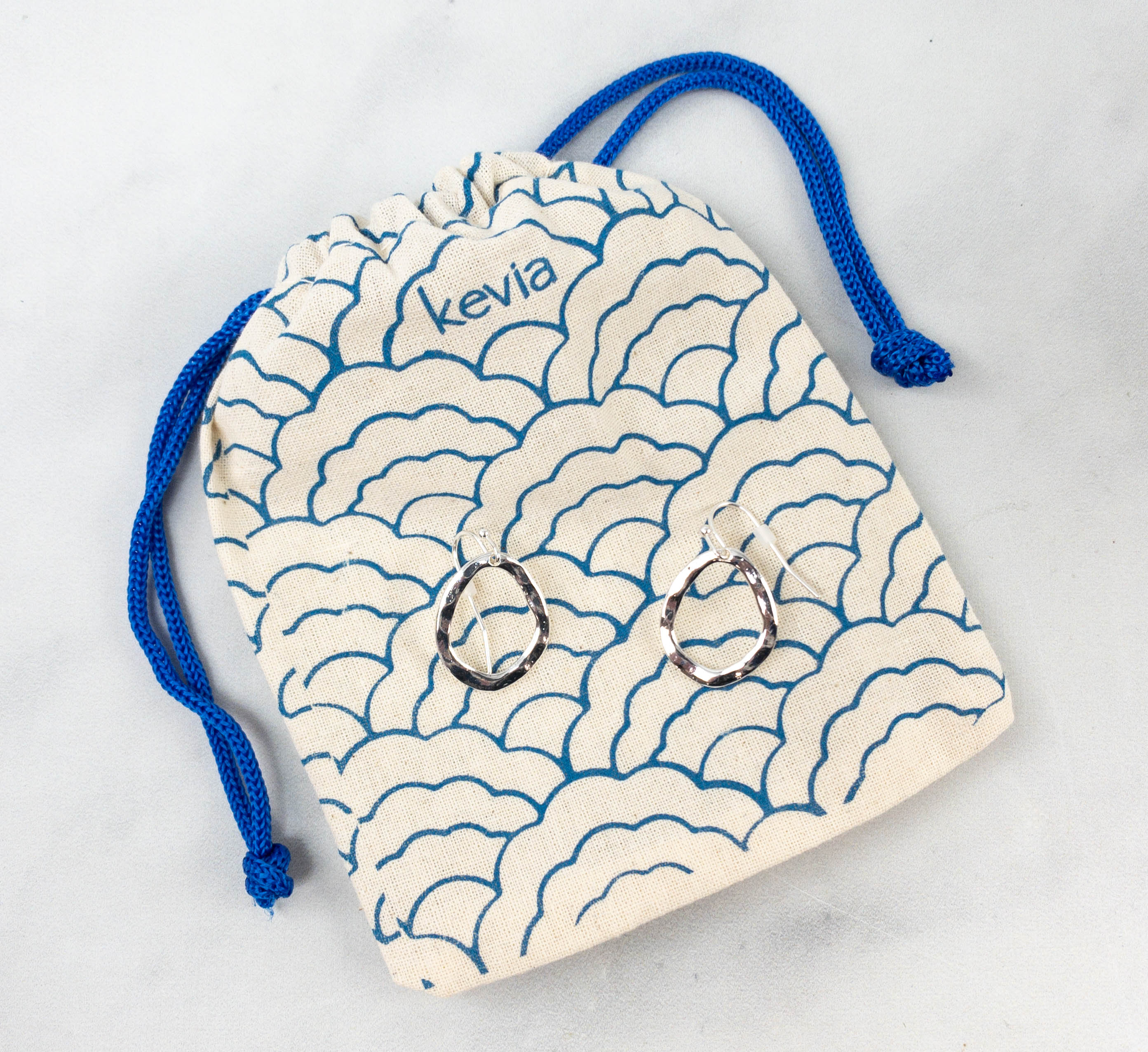 The earrings were packed inside a drawstring pouch. They are hand-made using sustainable practices such as vegan carving wax, conflict free gems, and locally sourced materials.
The earrings feature wavy edges that add character to the piece as it breaks the reflection of the light in different angles. They're eye-catching but not over-the-top, making them ideal to wear whether on online meetings or offline events!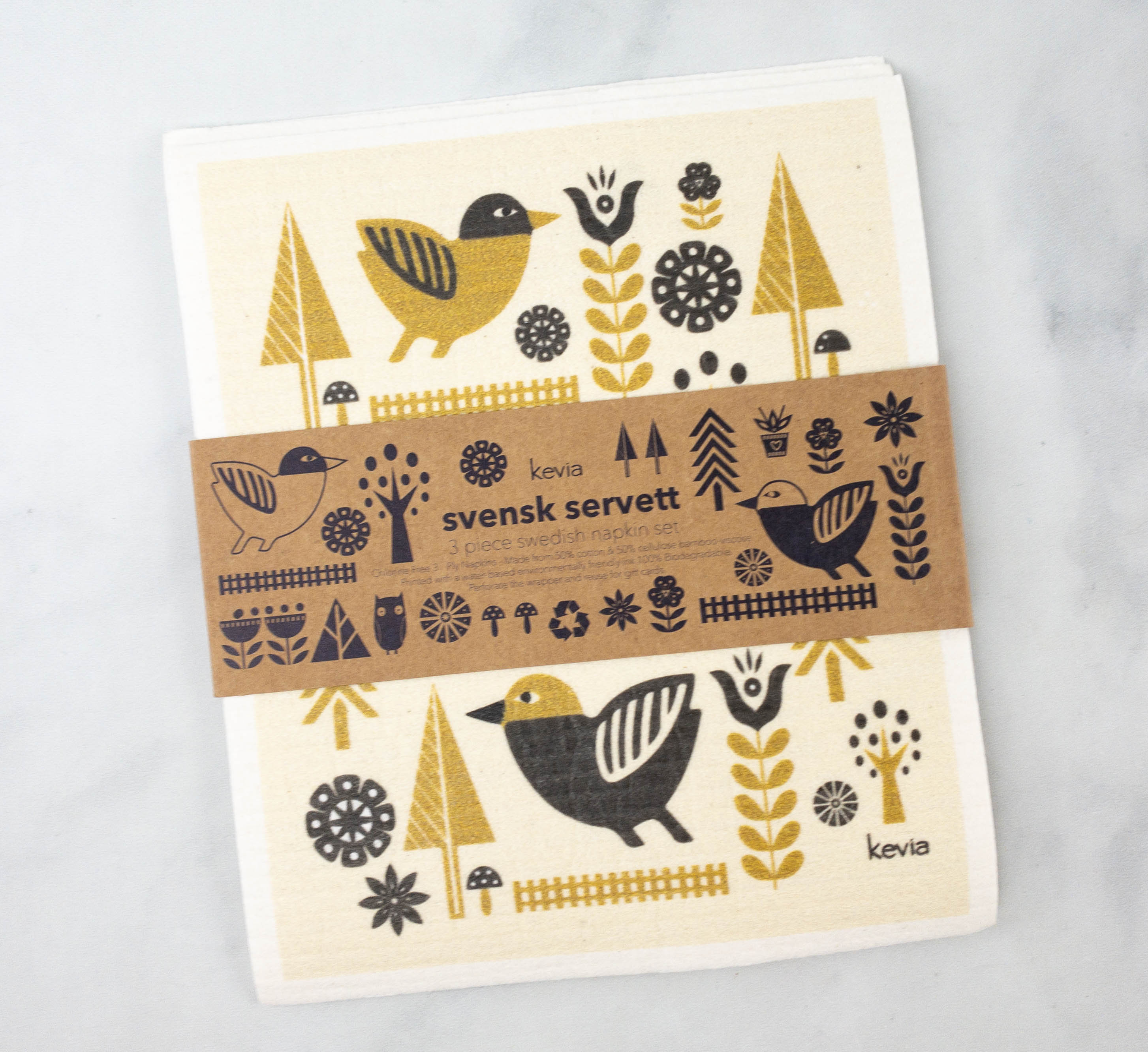 Swedish Wash Cloths. This is a great way to reduce the use of paper towels. Swedish wash cloths are reusable and they last up to a year when taken care of properly!
They absorb up to 20x their weight and they don't crumble or pill when wet. They are versatile too! Plus, they're easy to clean. I like using them to wipe my counter tops. I received 3 pieces from this box and they even came in such cute designs!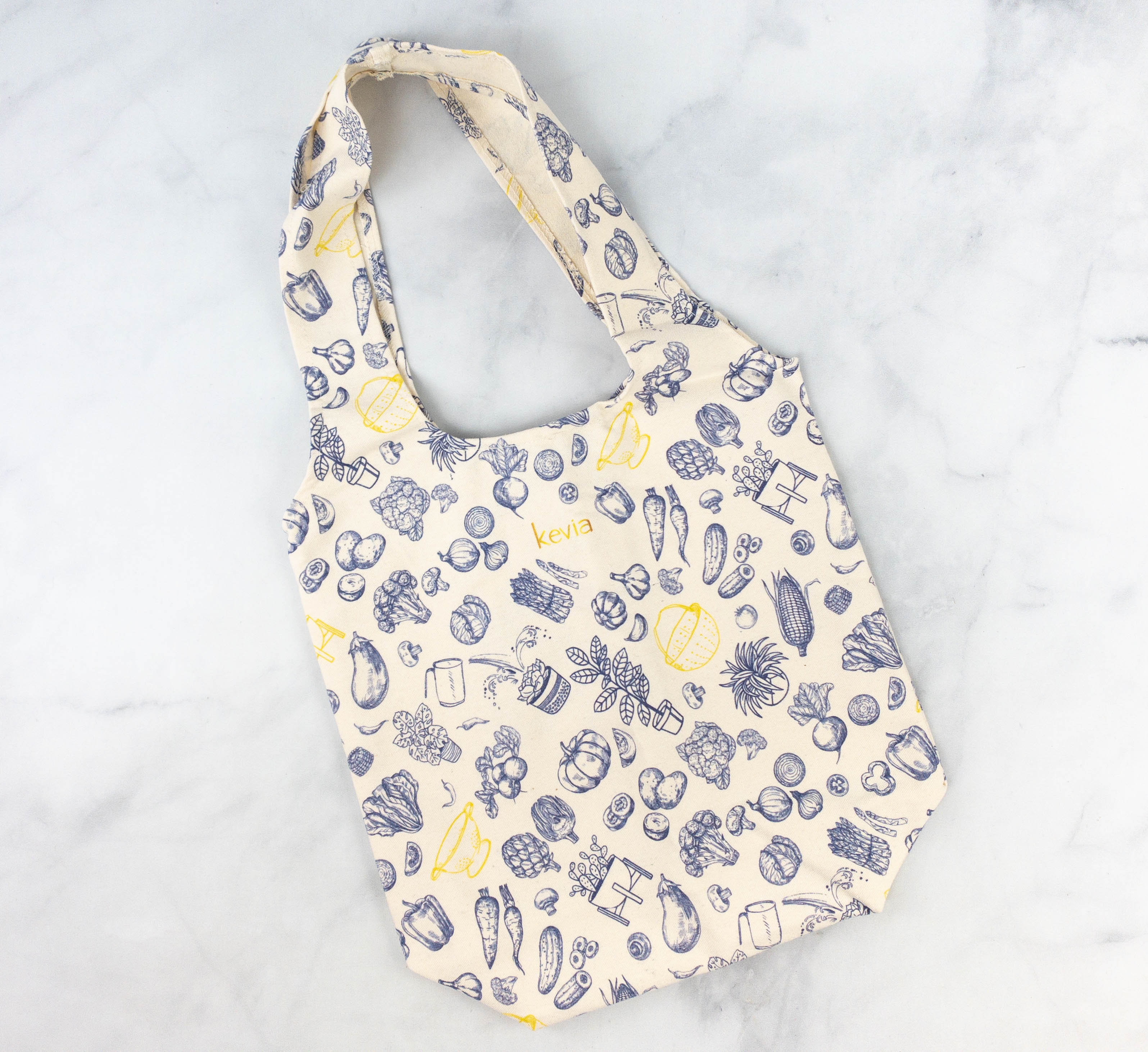 Zero Waste Bag. This reusable bag is so cute! It's a good alternative to single use plastic or paper bags, especially when buying groceries. It's also spacious so you can put a lot of items inside. Plus, it has long handles that make it easy to bring anywhere!
The bag is made of unbleached organic cotton, which means there are no harsh chemicals used in the process. Meanwhile, the Delft Blue print is inspired by earthenware from the Netherlands. It features different produce and even plants! I think this is super cute and it totally gives me a vibe that reminds me of my mom (she had a bunch of towels with similar motifs and was a big fan of Nordic designs).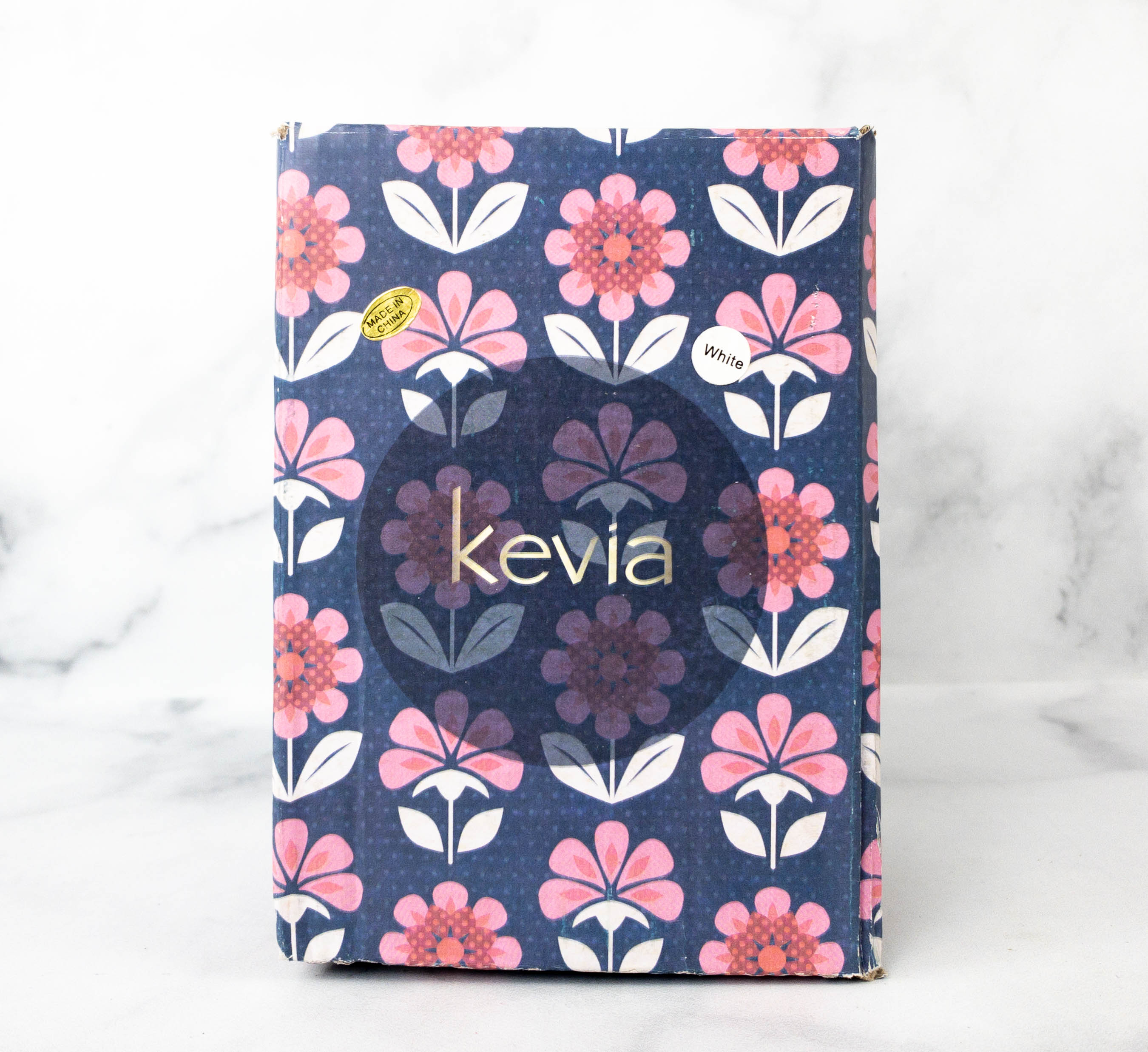 Nordiska Soap Dispenser. The soap dispenser was packed in this lovely floral box.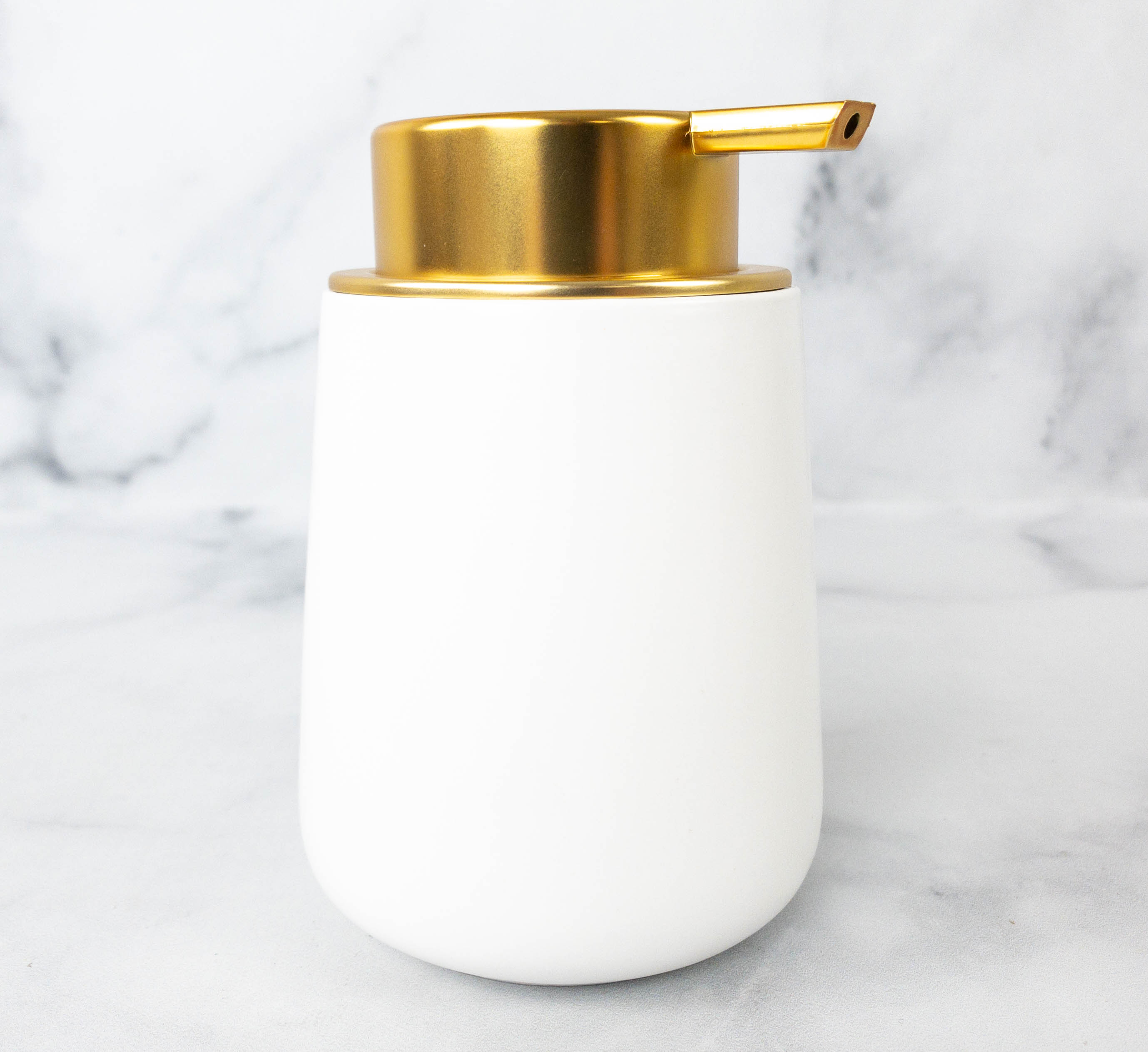 I love the elegance that Nordic soap dispenser exudes. It looks great on my sink! It's also reusable, so all you need to do is to refill it when you run out of soap. Definitely better than single-use plastic bottles!
There is a built-in pump so it's easier to use. It holds a good amount of product as well! Instead of buying soap that comes into plastic bottles, I would use pouch soap in this container. I mostly get mine from Grove.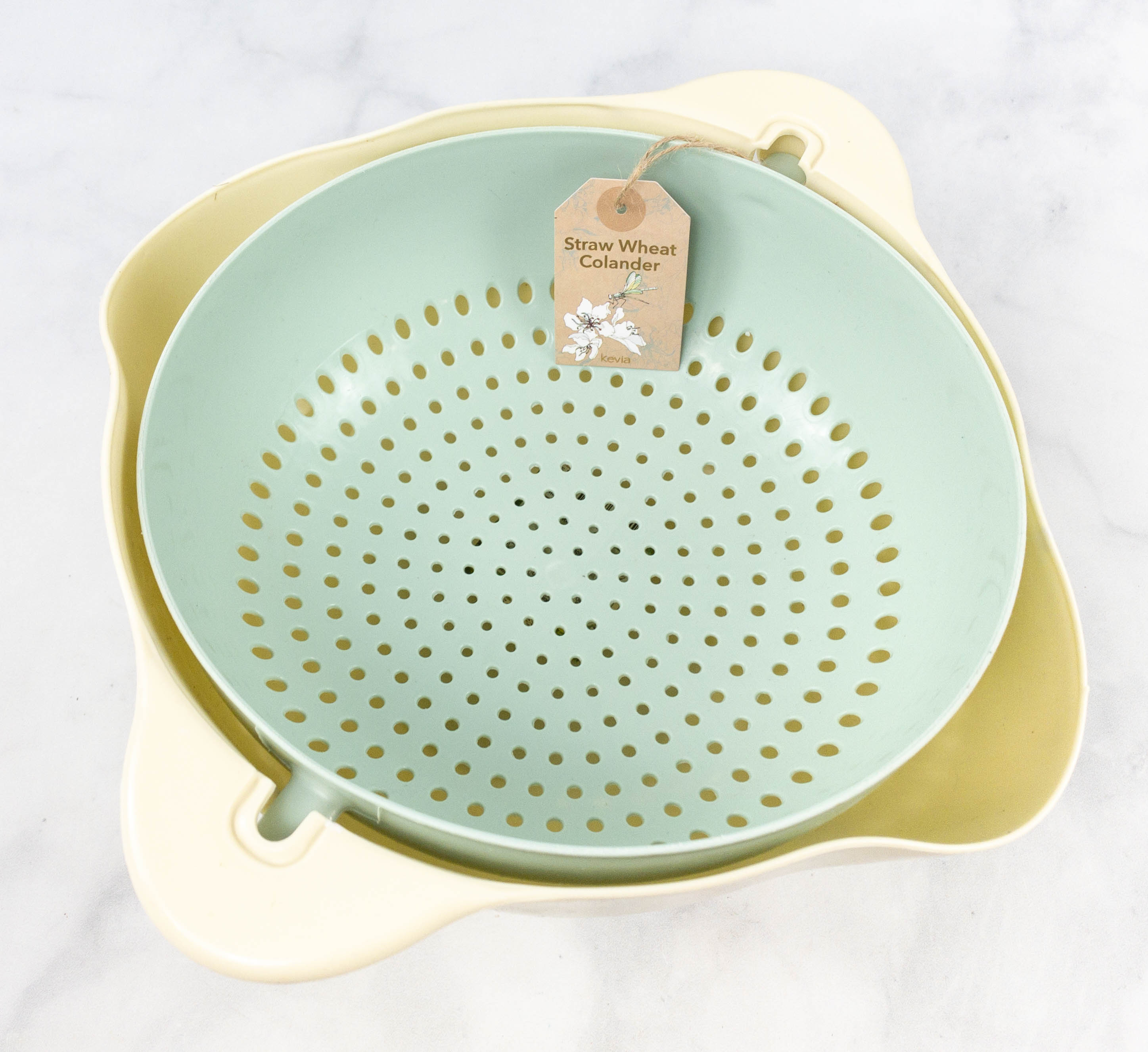 Straw Wheat Colander. This colander is made with wheat straw plastic, a greener alternative to traditional plastic because it's compostable.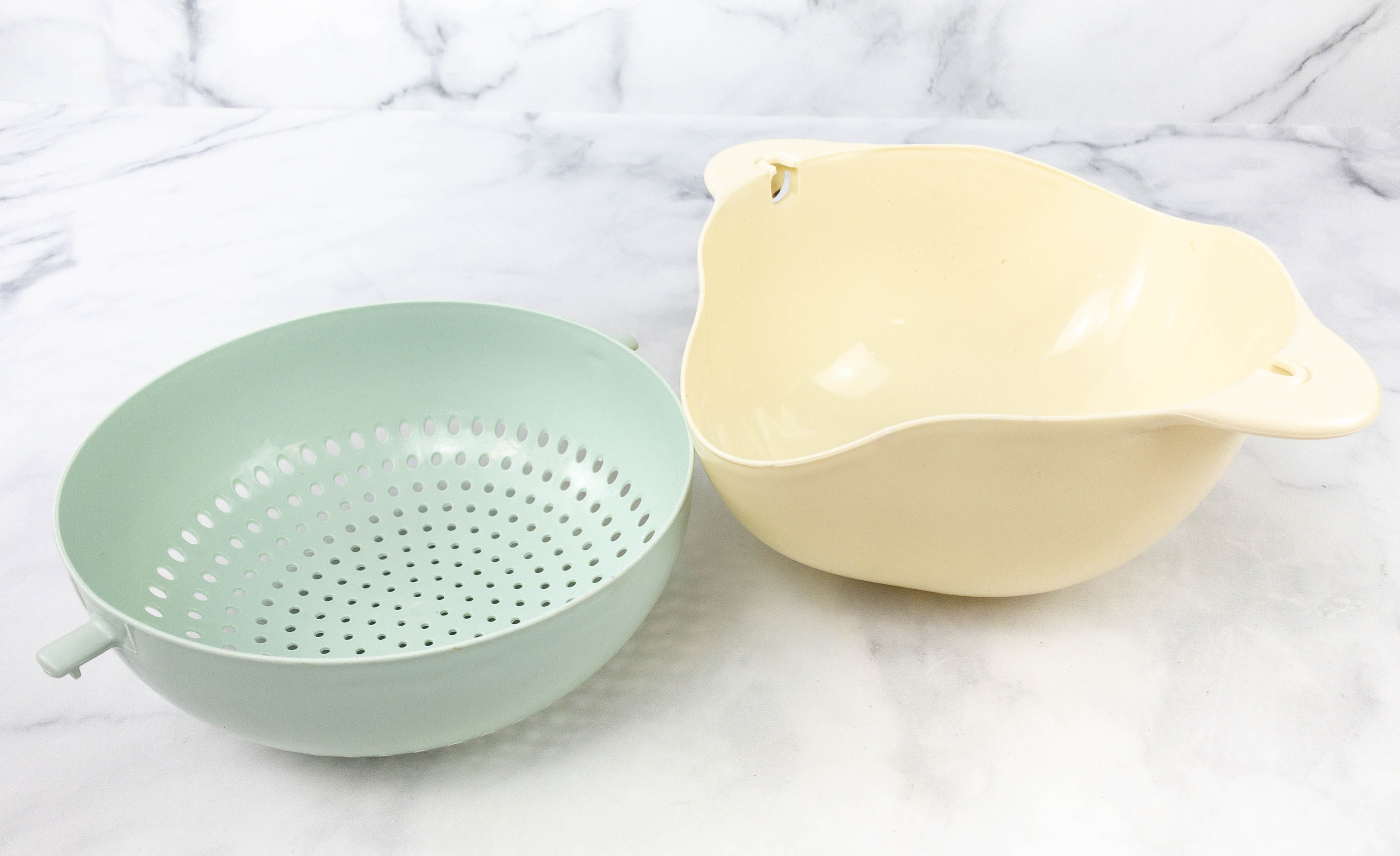 It came in two parts, with the removable colander on the inside and a big bowl on the outside. It's recommended to be handwashed but it's also dishwasher and microwave safe.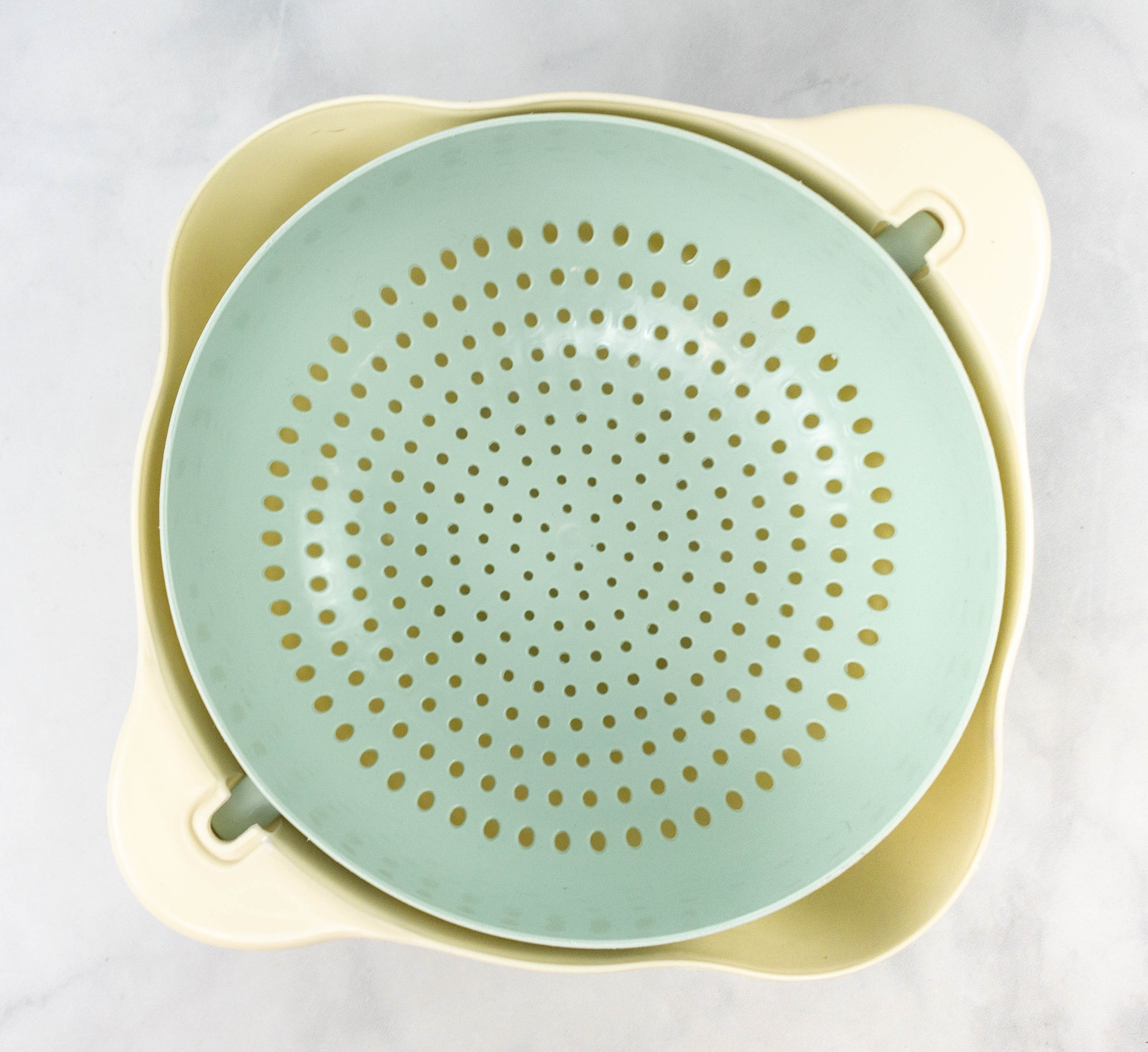 Here's how they look like when they're assembled!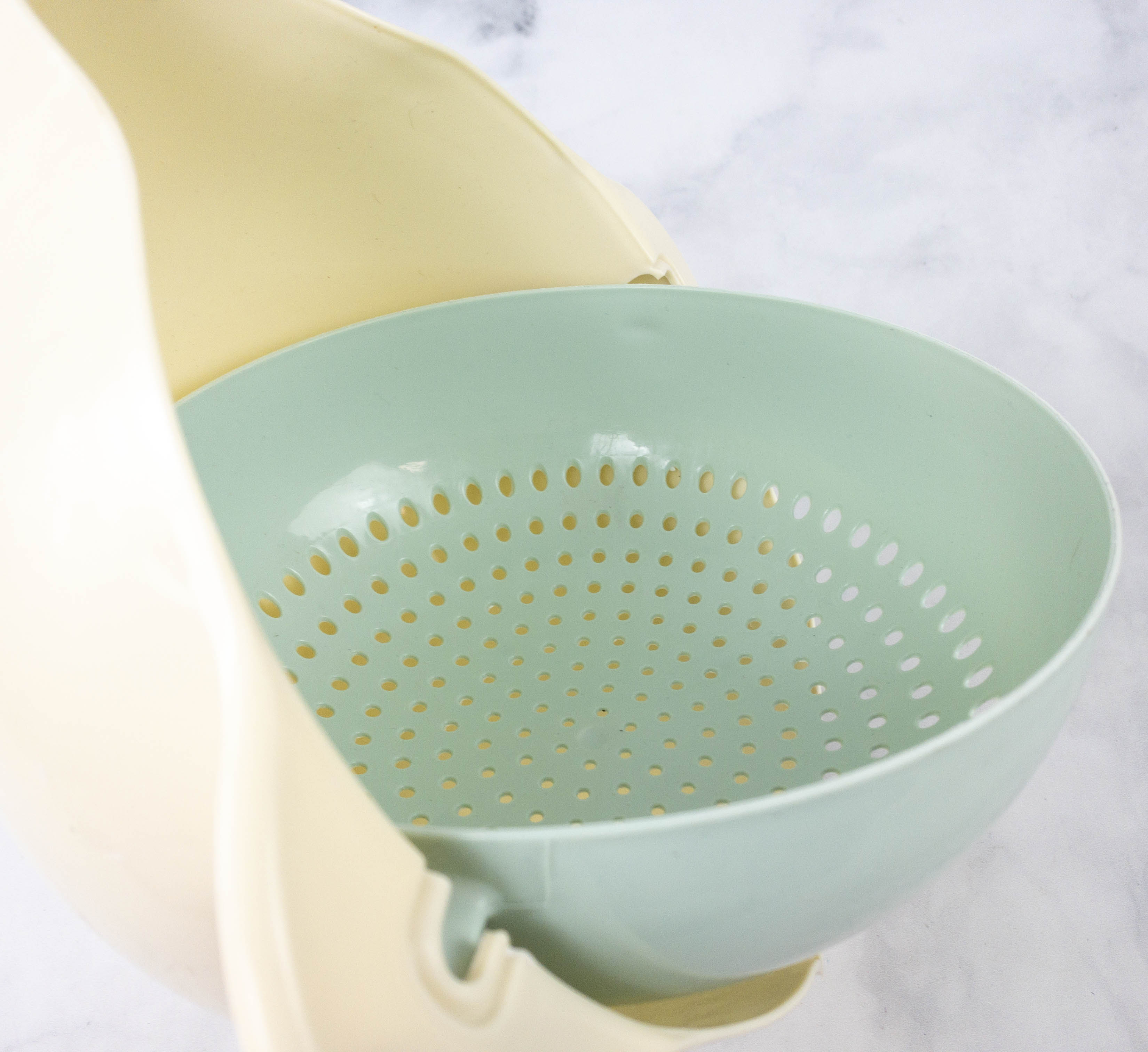 This is an easy way to rinse your vegetables or drain your pasta! The colander swivels so you can wash your veggies in the bowl and not worry about them falling out when draining the water. Another advantage of this design is you will be able to conserve water. Instead of disposing gray water, you can use it to water plants! We'll be using this for berries and other fruits all summer long!
Via Mercato Shea Butter Soap. The soap was wrapped in a pretty floral paper! I received the shea butter soap but other subscribers might have received the cold press soap.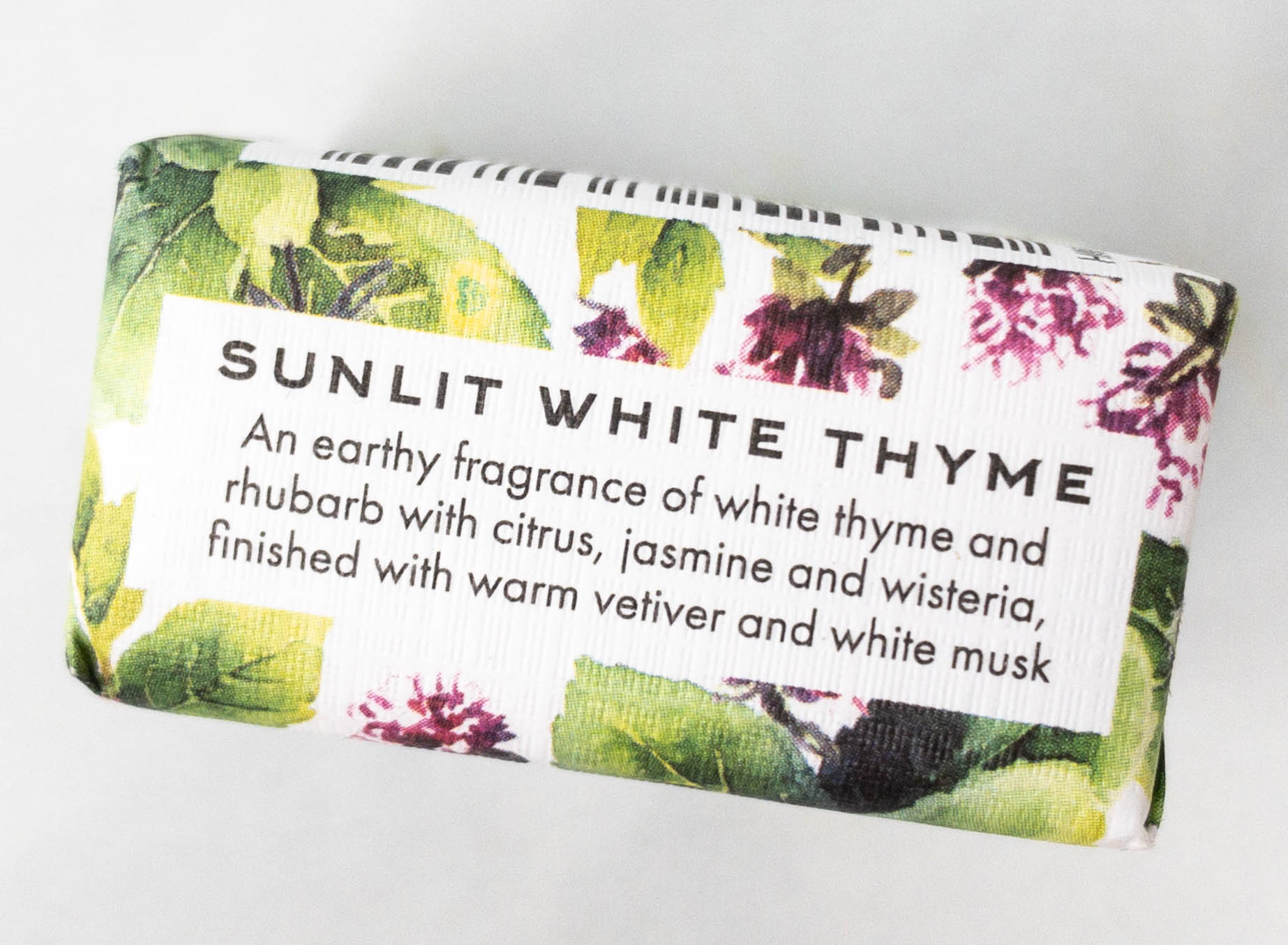 It smells absolutely wonderful!
An earthy fragrance of white thyme and rhubarb with citrus, jasmine and wisteria, finished with warm vetiver and white musk.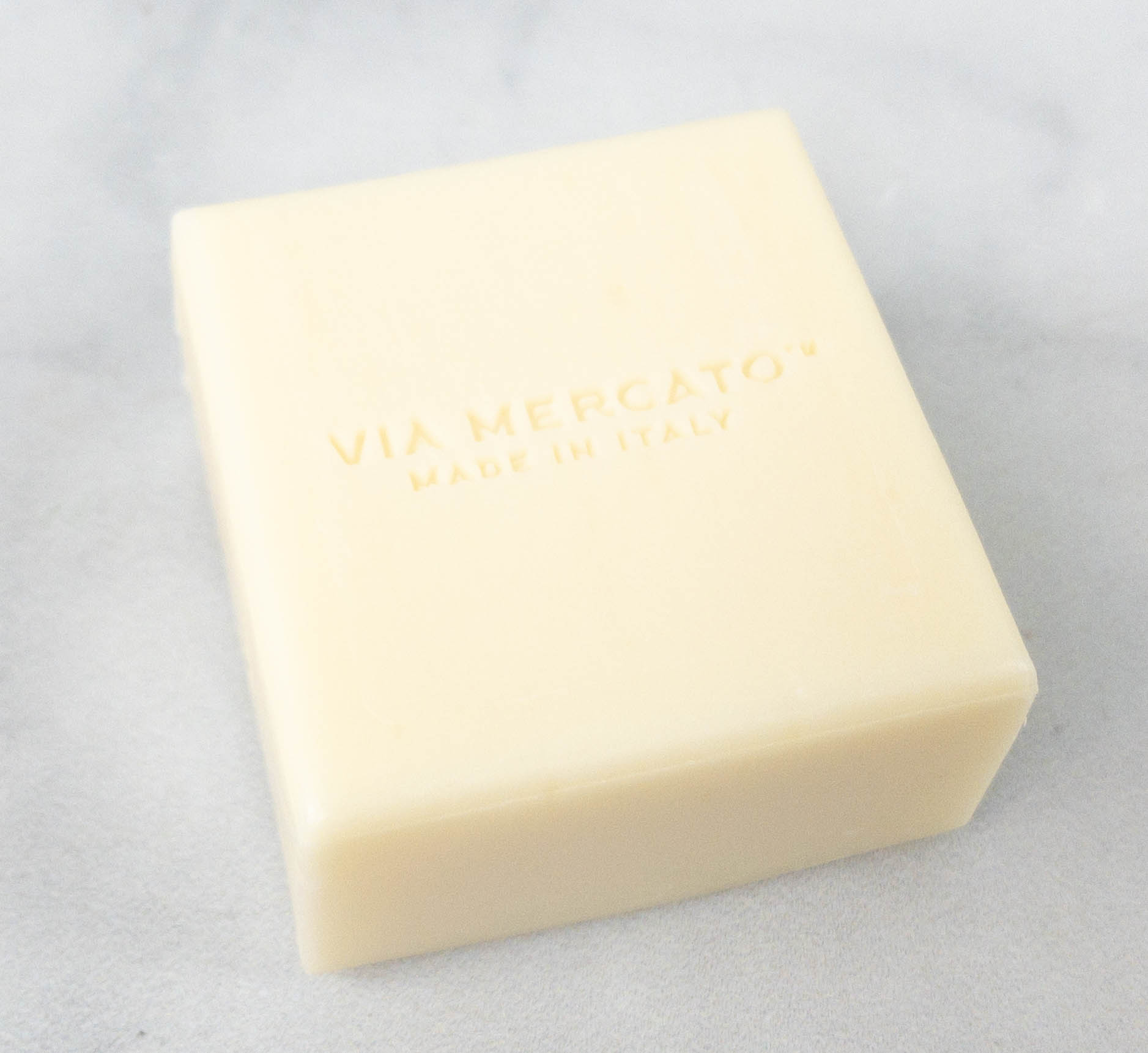 It contains shea butter which is known for its nourishing and hydrating properties. The soap makes my skin soft and clean after use, plus the musky floral scent lingers for a long time.
Zero Waste Seagrass Basket. Lastly, here's a Vietnamese basket made with sustainable seagrass. The blue tassels make it really stylish!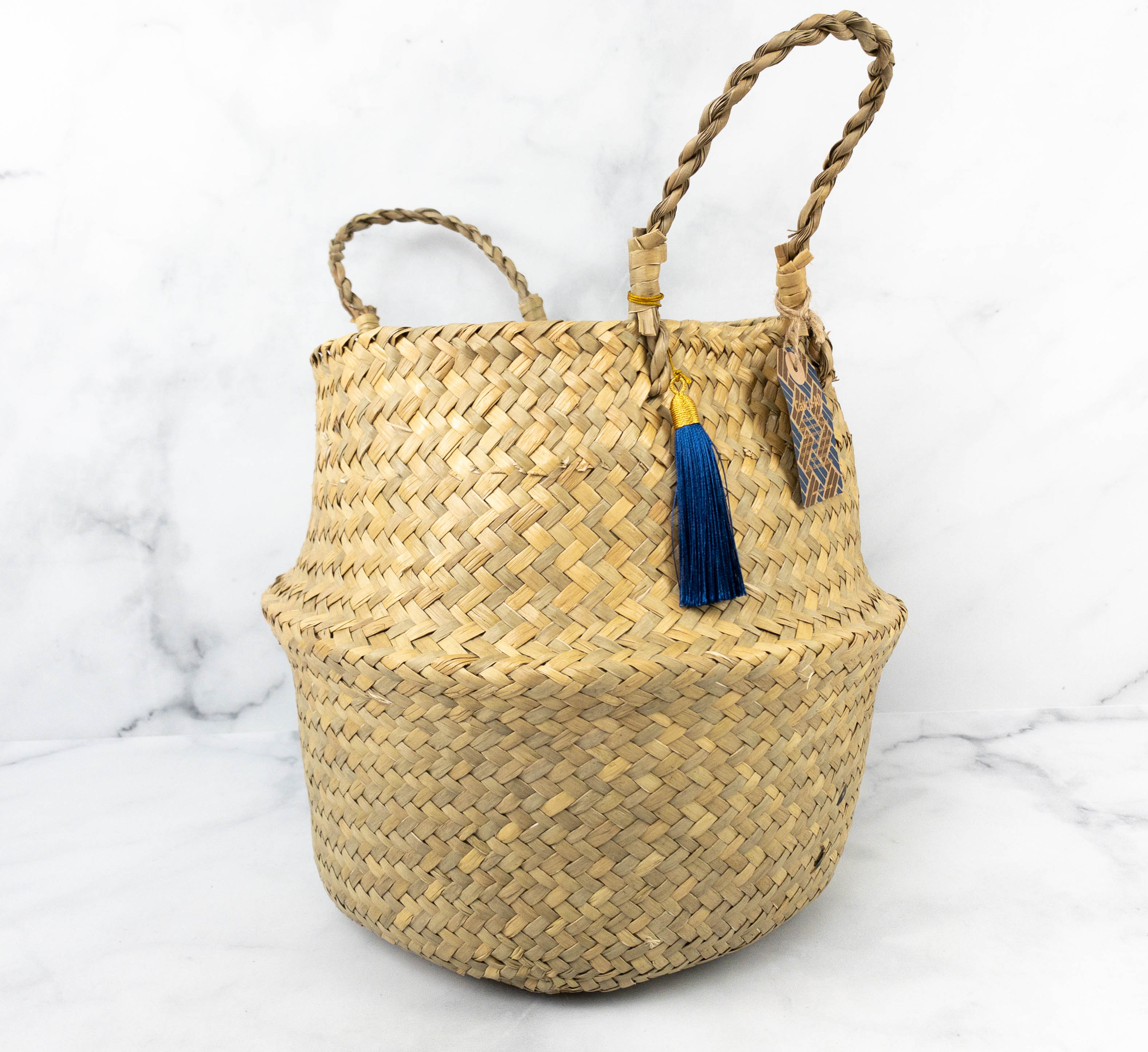 It has handles that make it easy to carry from one place to another! This is great for stashing toys, crafting materials, and other items. It can be used simply as a decorative piece if you prefer.
I didn't get my annual subscriber bonus. When I reached out, they said it wasn't on the customization but said they'd sent it out right away.
This quarter's Journee box is packed with different eco-friendly products that bring us closer to a zero waste lifestyle. Most of them are items I can use at home, like the soap dispenser, basket, dish cloth, and colander. There's also a soap made with nourishing shea butter, plus an eco bag that I can take with me when running errands or shopping for groceries. My favorites are the tote bag because of the lovely print, and the fab colander! It's a pretty cohesive curation overall, and it's great that they dedicated a box to promoting green and sustainable products! This box is still available at time of posting – the next box will be the June KYOTO box, and I hope global shipping will stop delaying the boxes!
What do you think of this quarter's box?