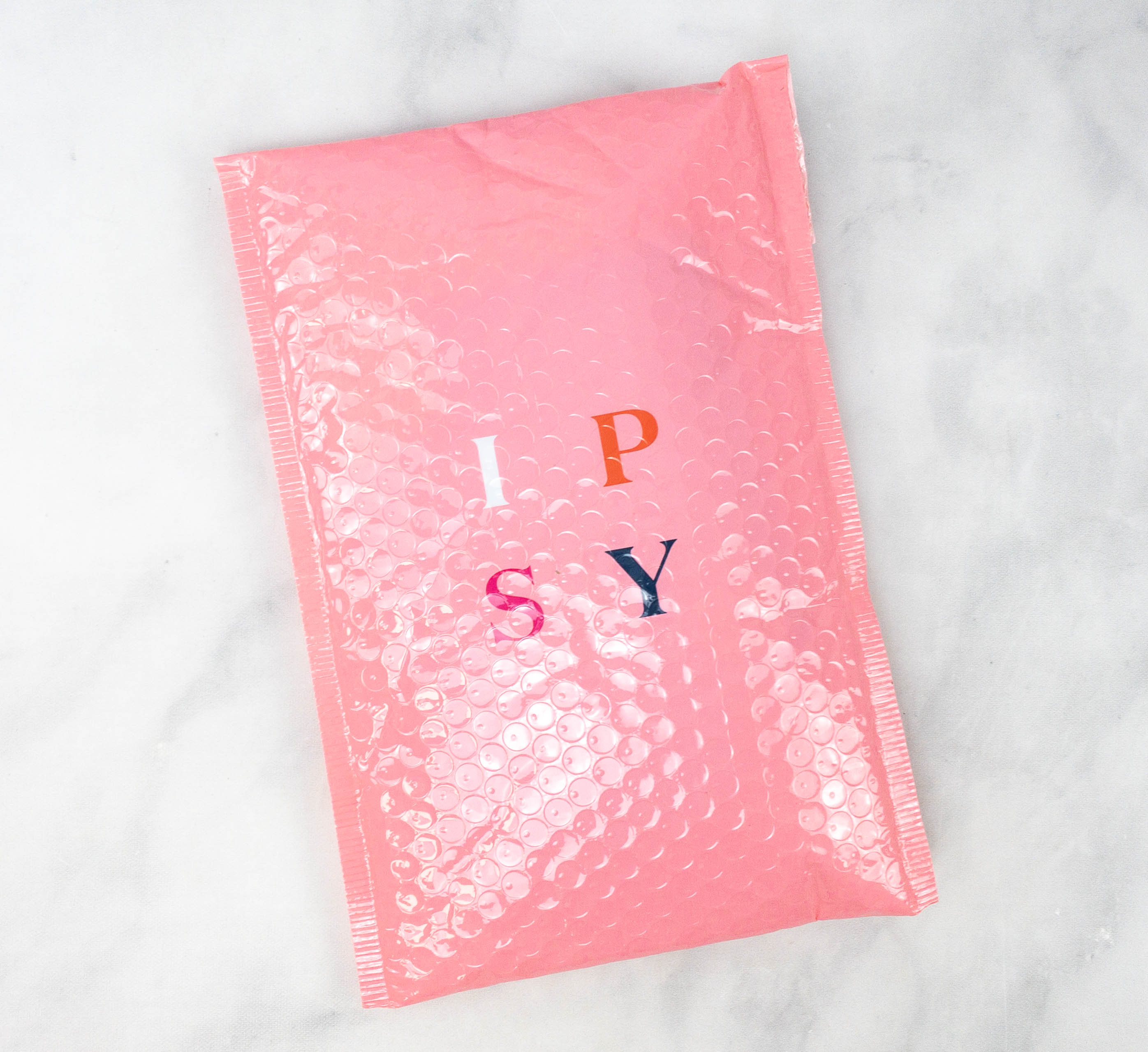 Ipsy is a monthly beauty subscription. You get five makeup, beauty, skincare, and hair care items in a cute bag for $12 a month! It's the most popular subscription box and a great way to sample new colors and beauty brands that you may have never heard of, as well as some of the bigger names. Ipsy also offers a Glam Bag Plus for $25 a month. They have just launched Refreshments, a monthly stock up add-ons subscription for personal care items, and there's also Glam Bag X – a celeb curated quarterly upgrade.
There are many bag variations every month for Ipsy – log in to your account to check out how-to videos and tips for your products.
IPSY was founded on a singular mission: to inspire individuals around the world to express their unique beauty. Everything we do is to support you on your journey to self-discovery, so you'll feel confident letting your unique beauty shine every day.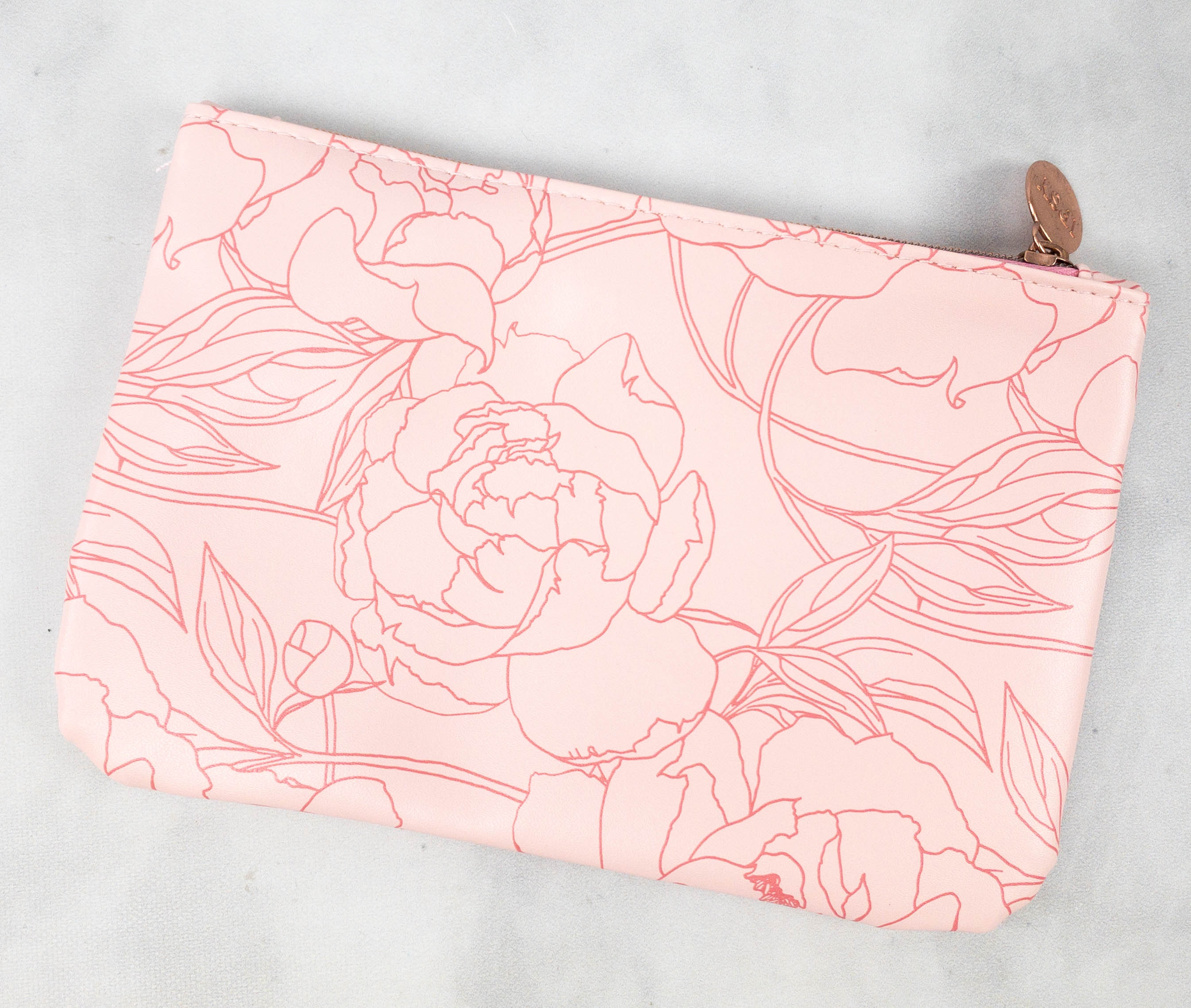 Ipsy Glam Bag. The bag this month is simple but pretty! It came in a light pink color with darker pink lines that depict flowers!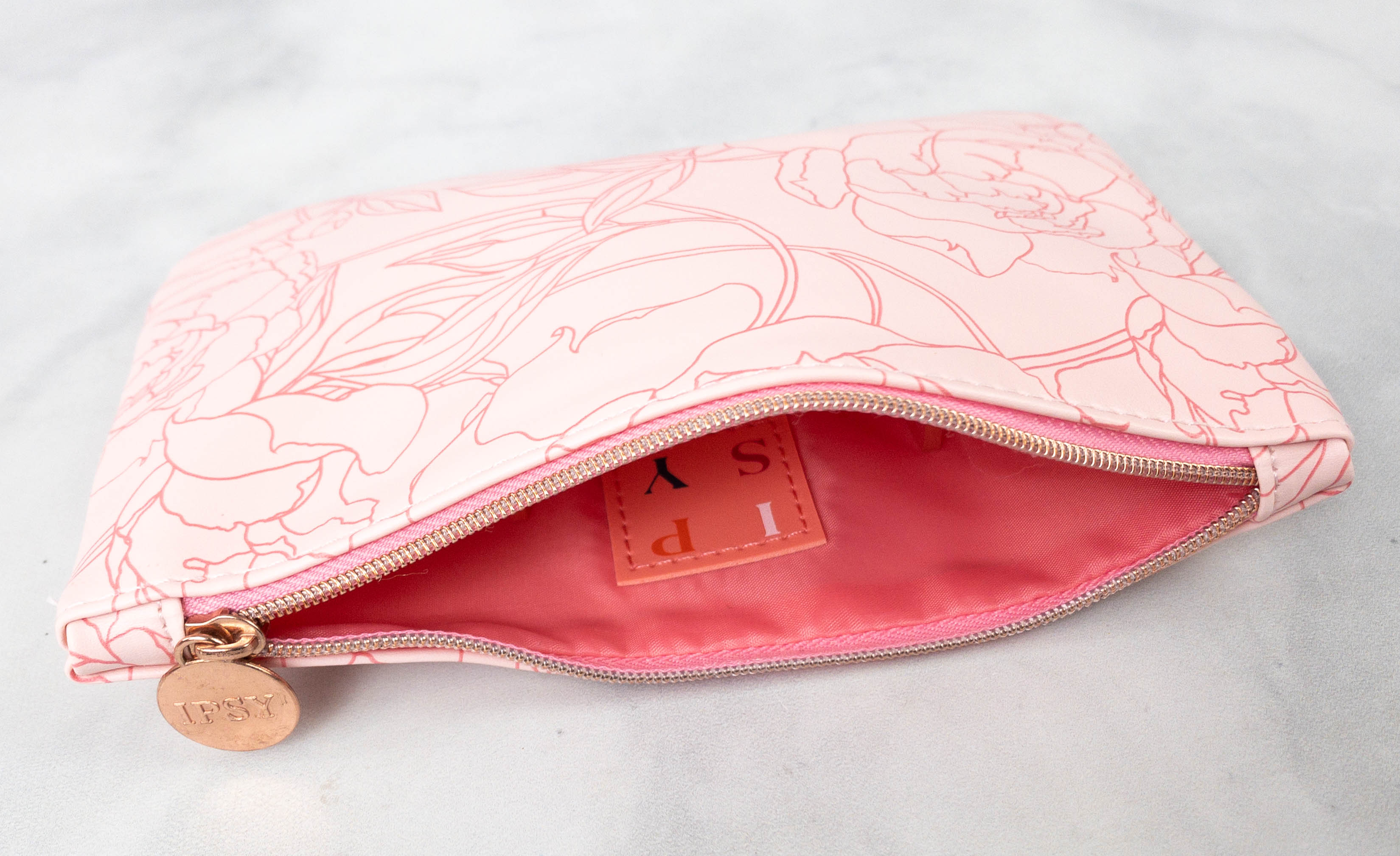 I like the rose gold zipper because it adds a girly charm to the whole look. There's also an IPSY logo inside the pouch as well as on the zipper pull.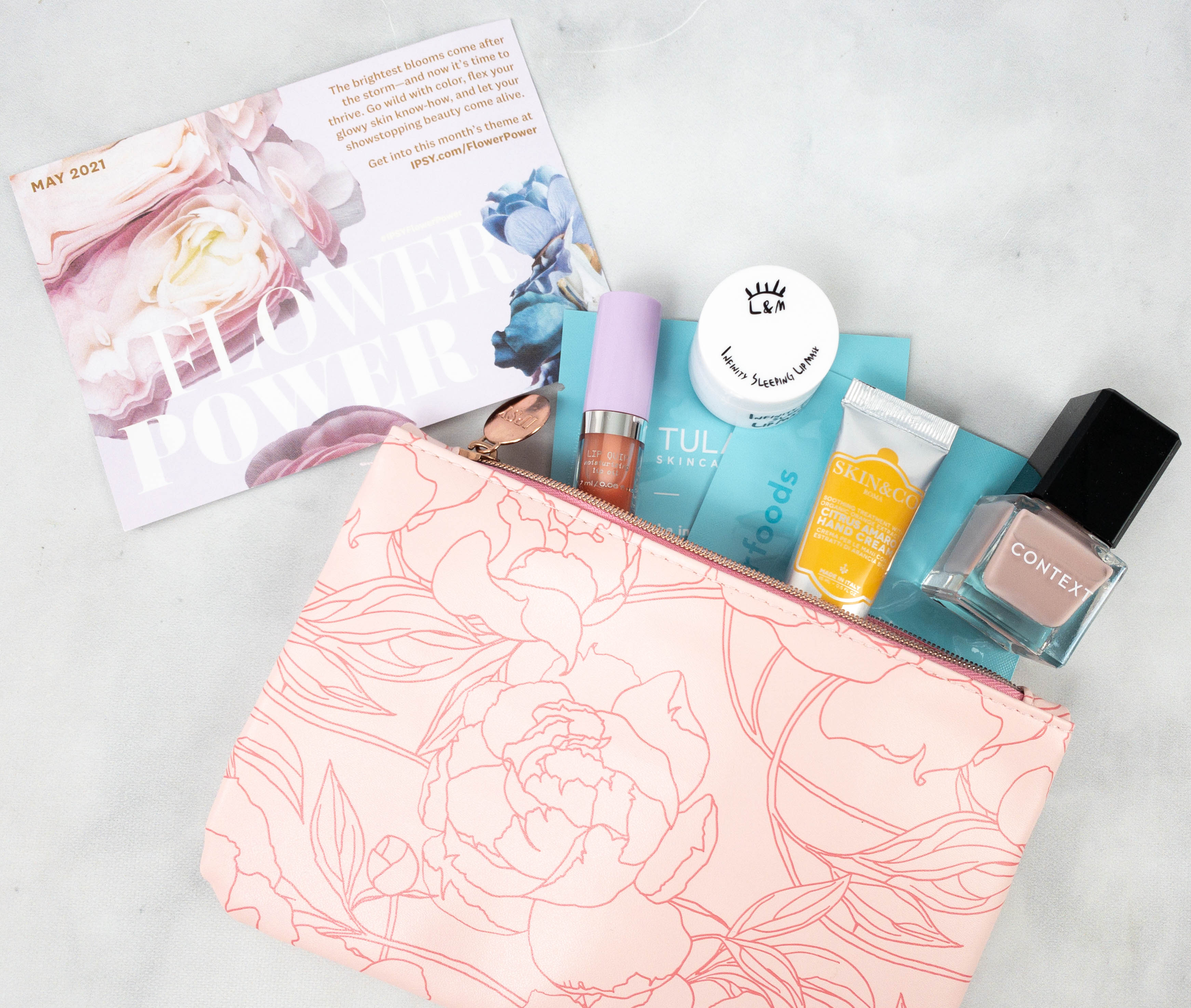 Here's a sneak peek of the items!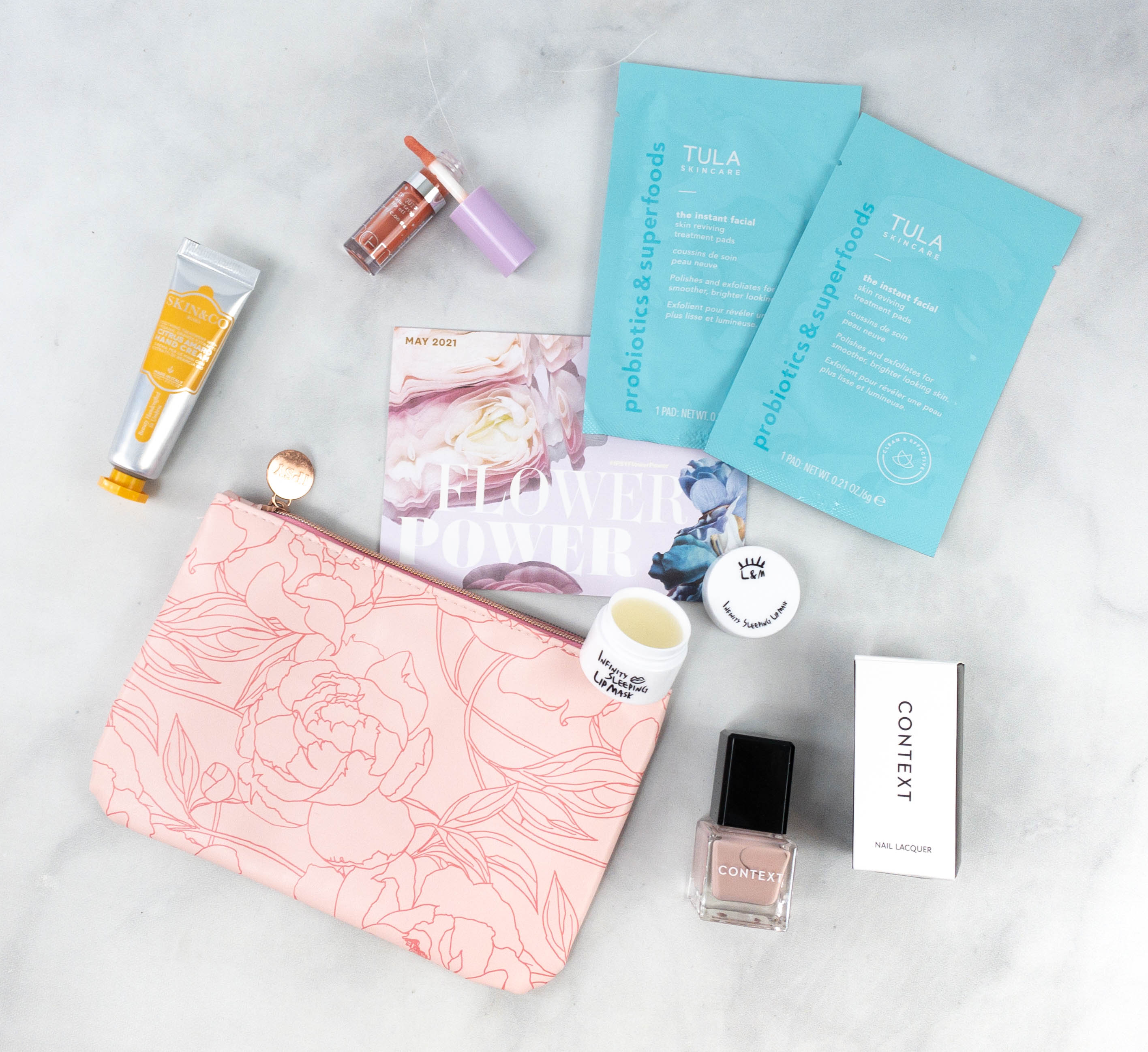 Everything in my bag! FYI you can find tips for use and ingredients on the Ipsy app and website.
TULA Skincare Probiotics & Superfoods The Instant Facial ($7.38) These treatment pads gently exfoliate the skin, leaving it soft and smooth after. Each pad is infused with probiotics and papaya fruit extracts that works to balance and brighten the skin. Other key ingredients are witch hazel and willow bark that minimizes the appearance of pores for younger, radiant-looking skin! To use, simply slide your fingers into the pad pocket and use the white (smooth) side over dry face. Then, flip it and use the blue (textured) side for exfoliation for 1-2 minutes before rinsing. It's ideally used 1-2 times per week for best results.
I love Tula products but this wasn't my favorite. It kinda felt like rubbing wet toilet paper all over your face – and looked like it too!  I rinsed but it didn't really get everything off. That being said, I think the solution was fairly strong and my skin felt super smooth (but a bit of lint!) afterwards.
Skin & Co Citrus Amaro Hand Cream ($6) To make sure my hands stay soft and hydrated no matter the weather, here's a hand cream formulated with shea butter. It provides long lasting moisture and hydration and unlike other hand creams, it dries quickly and doesn't leave a sticky feeling after use. It even has a bright and lovely citrus scent that's vibrant and energizing.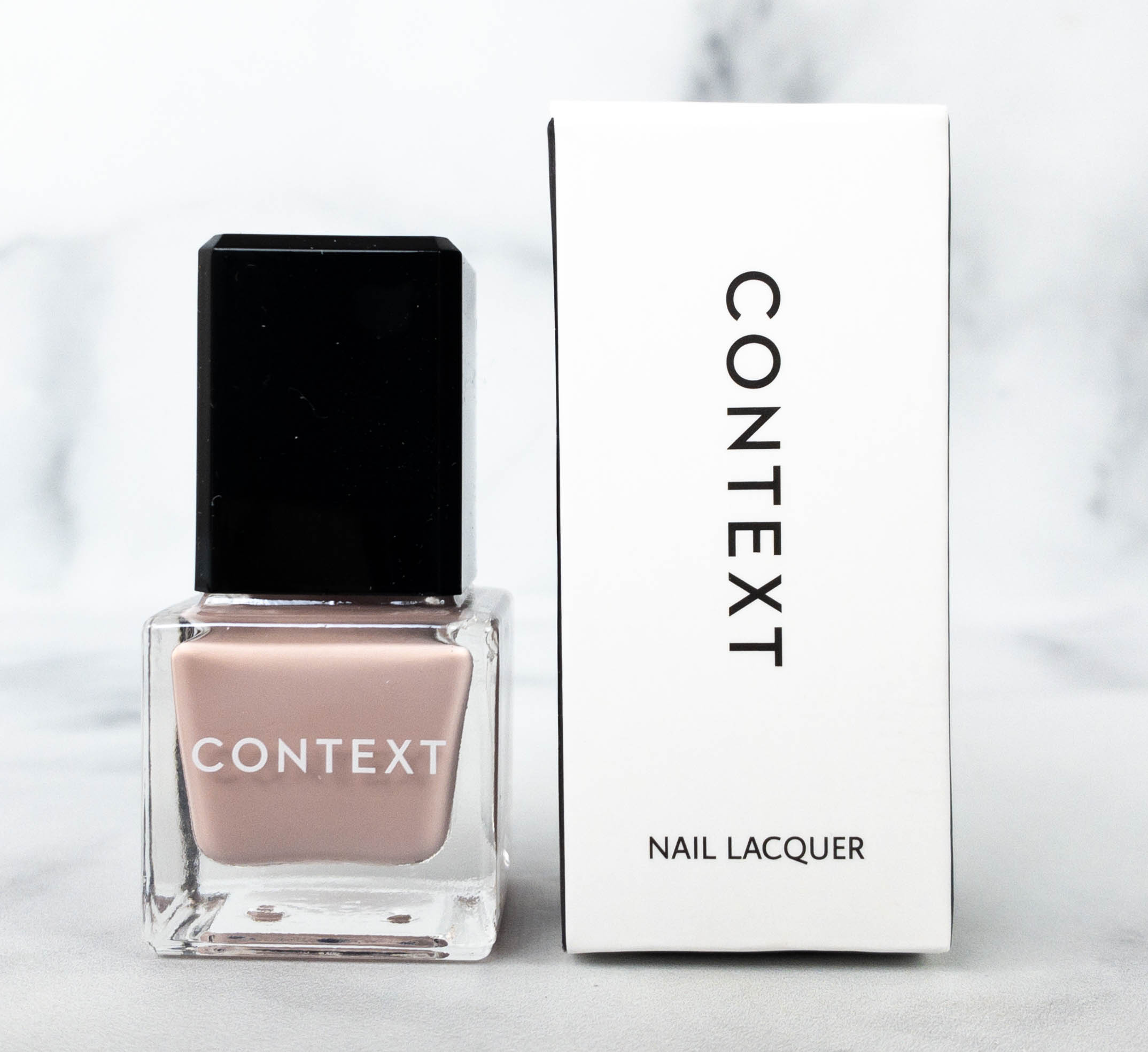 Context Nail Lacquer in 018 Body Talk ($15) I love this skin tone nail polish color! It looks very classy and has a shiny finish.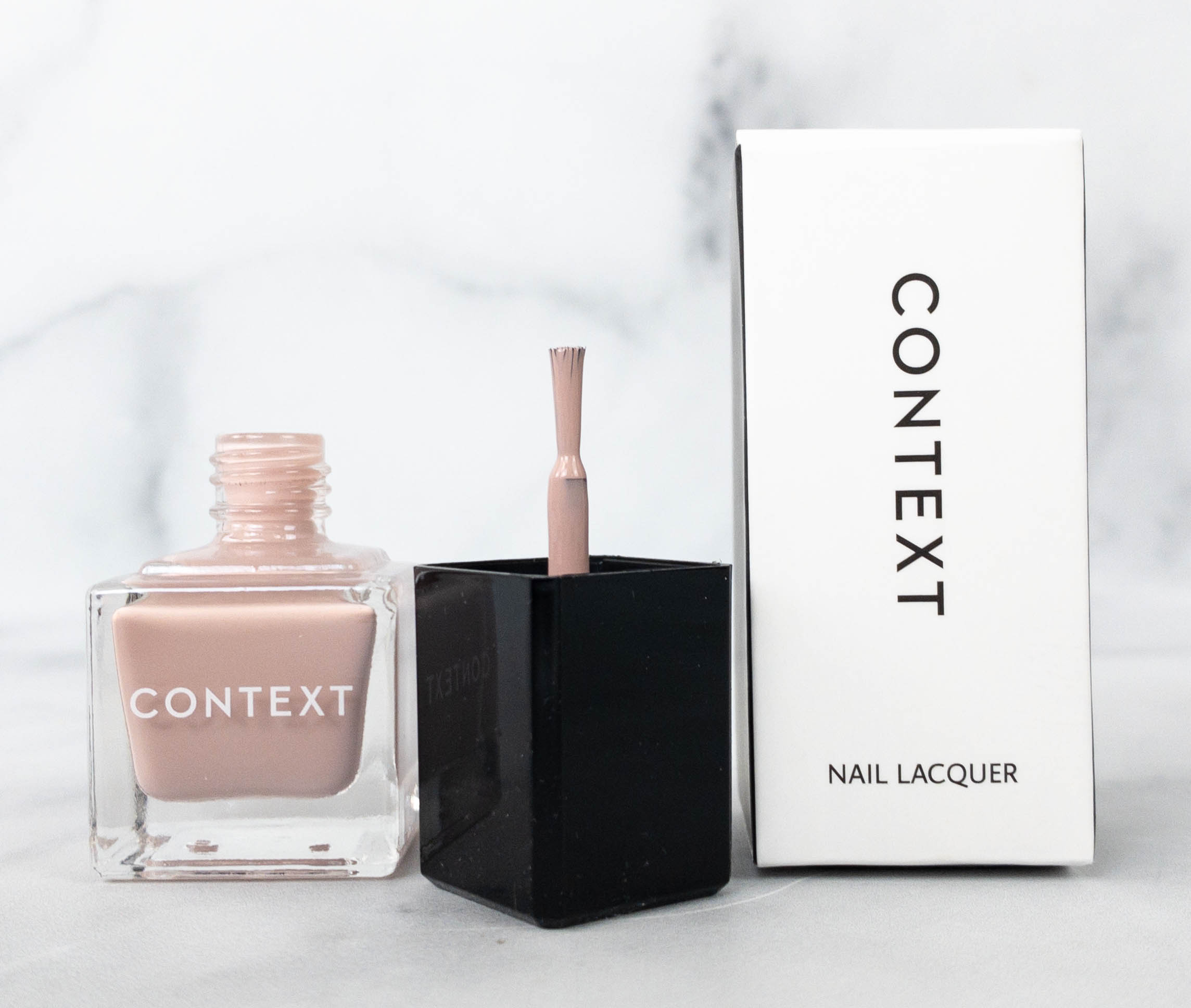 What's even better is that the formula of this nail polish is vegan and free from formaldehyde so your nails stay strong and healthy! I had regrets about not choosing this one in choice , but I got it anyways. WINNING!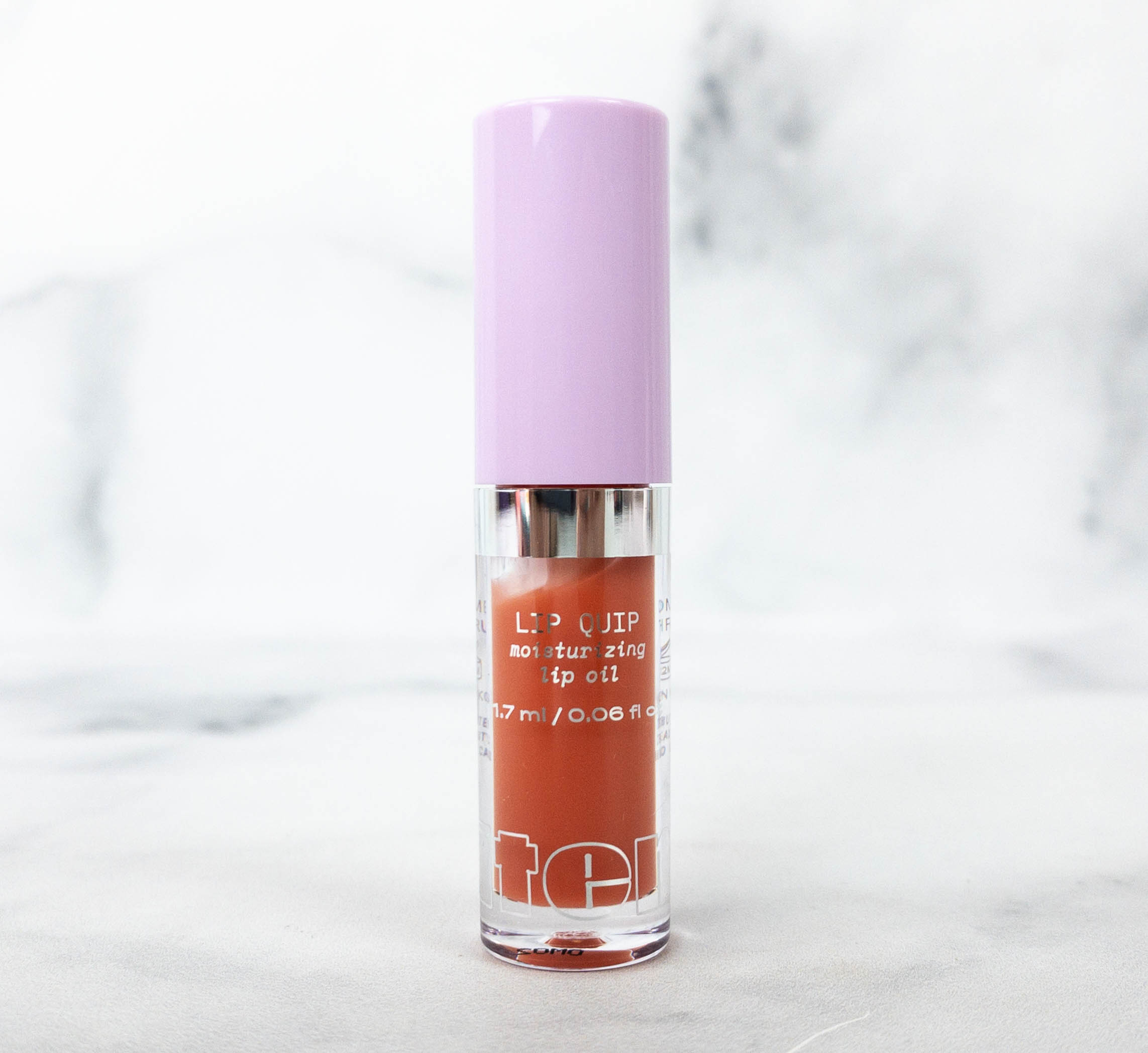 Item Beauty Lip Quip Moisturizing Lip Oil ($14) It's a tinted lip oil that keeps the lips looking plump and juicy. Aside from providing hydration, it adds a nice touch of color on my lips. I received it in a rosy shade, which is flattering on all skin tones.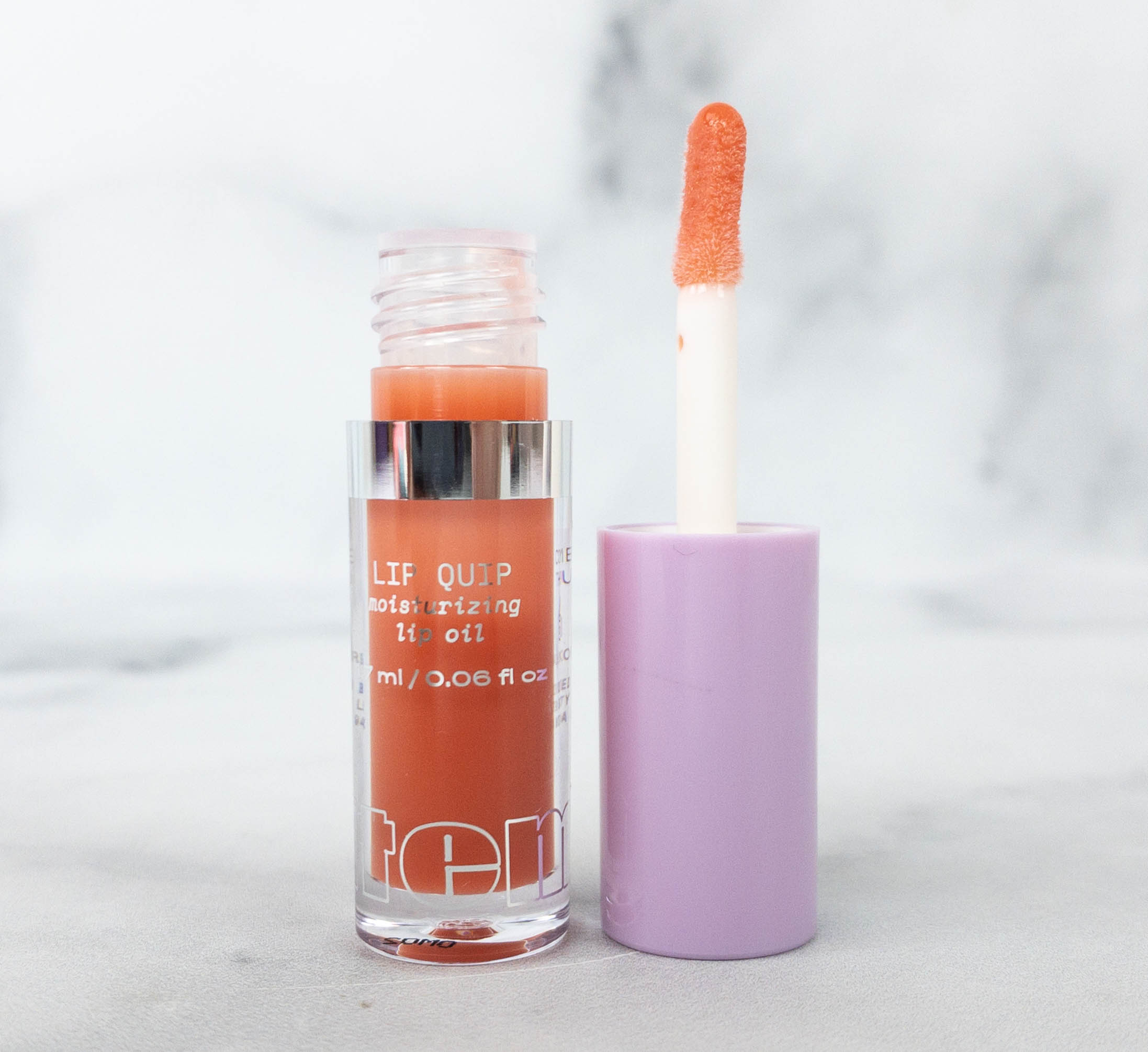 It also provides a beautiful shine without the sticky feeling. The formula contains shea butter, jojoba oil, camellia oil, and almond oil which are known for their moisturizing properties.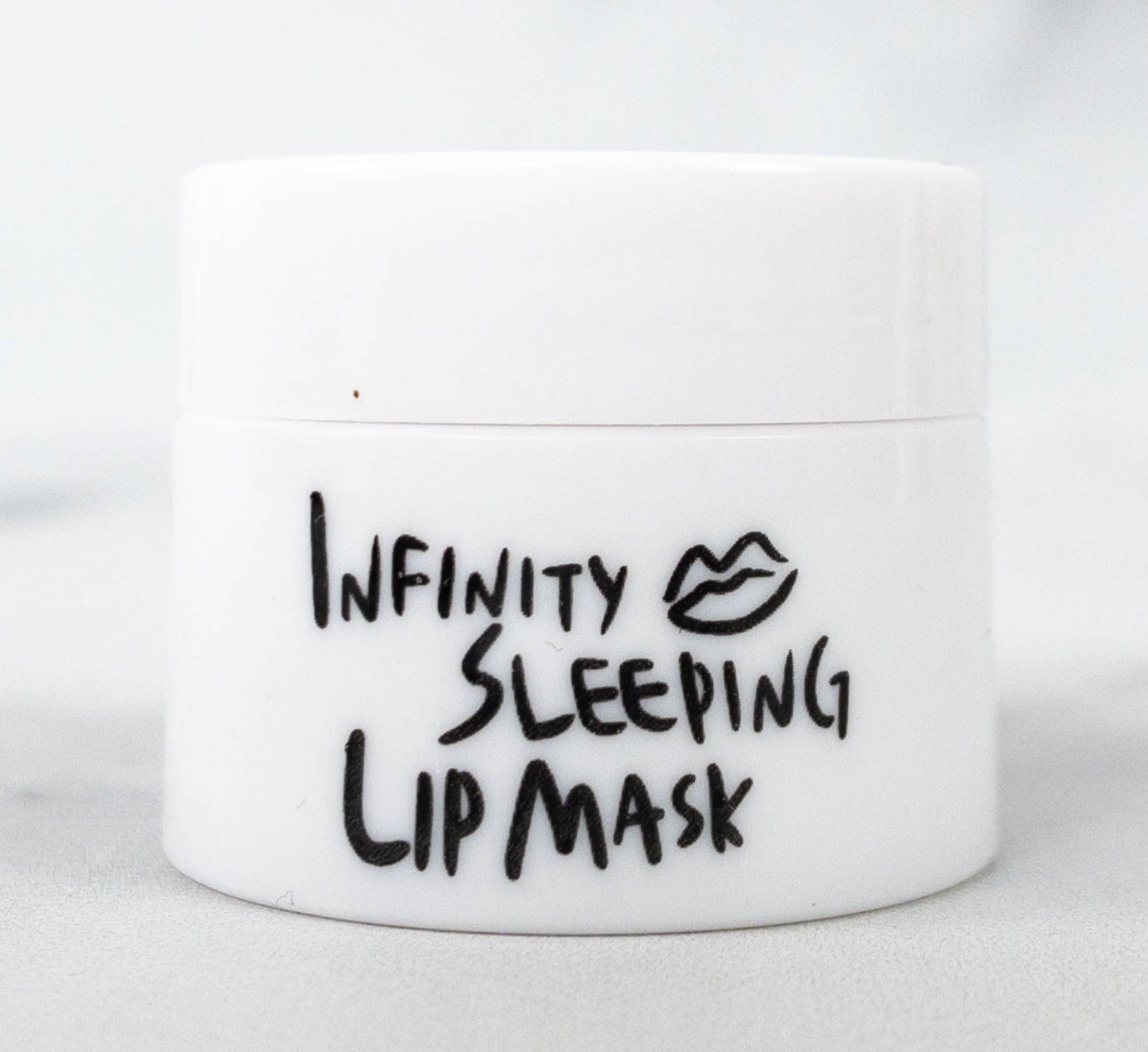 Looks N Meii Infinity Sleeping Lip Mask ($2.40) This lip mask is ideally applied at night before bedtime if you want to achieve softer and smoother lips the next day. It contains castor seed oil which prevents water loss and jojoba oil that protects the lips.
This can be used under a lipstick as well. Just apply a thin layer and then top with your favorite lipstick, even the matte ones!
For $12, I received $44.78 worth of items in this month's IPSY Glam Bag and that's such a steal. The variety of items in the box is also nice, which includes lip products, exfoliating pads, and a hand cream. There's even a nail polish with a beautiful shade ideal for everyday wear. My favorite from this bag would have to be the lip oil. It provides hydration and it also leaves a nice tint that enhances my natural lip color. The nail polish is a super close second and I really feel like I scored with this month's bag. All the items came in a cute, pink bag which is great to bring when traveling. If you want to sample new beauty products from popular brands, this subscription is a good way to do so!
What did you get in your Ipsy this month?